Restaurant Review – Farewell Dinner of Korean Mexican Fusion:
One of my bridesmaids, Jess, recently accepted a new job position in Pittsburgh… and while I was so excited for her, I was sad to see her go!  Jess and I met during our sophomore year at Georgia Tech, and then discovered that we played high school soccer against each other while growing up in Augusta!  So as part of our send-off for her, we decided to have a fun girls night out at Takorea.
Takorea is a Korean Mexican fusion restaurant with locations in midtown Atlanta and Dunwoody, GA.  A group of us got together after work to have dinner and catch up before Jess' big move.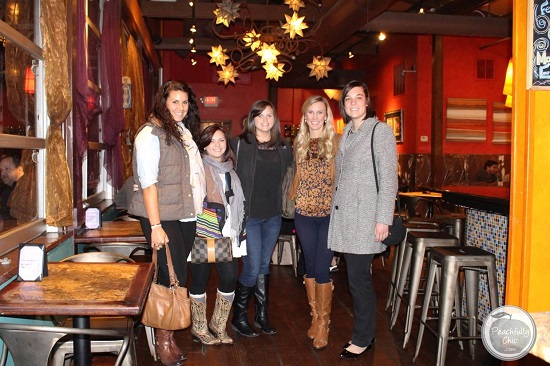 We had to try out a few drinks during happy hour!
The food was good… we all tried something a little different.  The menu was full of various taco and burrito combinations.
The great thing about checking out this place on a weeknight is that it wasn't too crowded.  I can imagine it would be packed on the weekend though… especially given the midtown location off Juniper.  With a red orange glow and stars lighting the room, it definitely sets a fun funky mood.  And I'm looking forward to eating there again soon… just as long as it doesn't mean it's another send-off for a friend!
Have any other recommendations of must try midtown restaurants?  I love trying new places, and if you're in the area and have a chance to try Takorea, let me know how it goes!