When October rolls around, I know it's a great chance to change up my style and whip out some of the spookiest decor and get a little creepy for Halloween.  This year, I decided to create a series of holiday tablescapes that would inspire my readers with different decor ideas as you plan your holiday gatherings. Some elements of these holiday table settings can easily be replicated with the right pieces from your hostess toolkit, by repurposing existing home decor for a new twist or by adding inexpensive elements picked up from your local party boutiques.
For this year's Halloween theme, I chose to create two settings.  The first was a chic pastel Halloween table and bar cart complete with skeleton dinner guests.  The second Halloween theme was centered around our main dining table with plenty of seating ready our next dinner party.  I wanted to create something a little more traditional using rich dark colors that felt both Halloween-inspired but also elegant and whimsical.  To keep things classic, I decided on a midnight black and crimson red tablescape.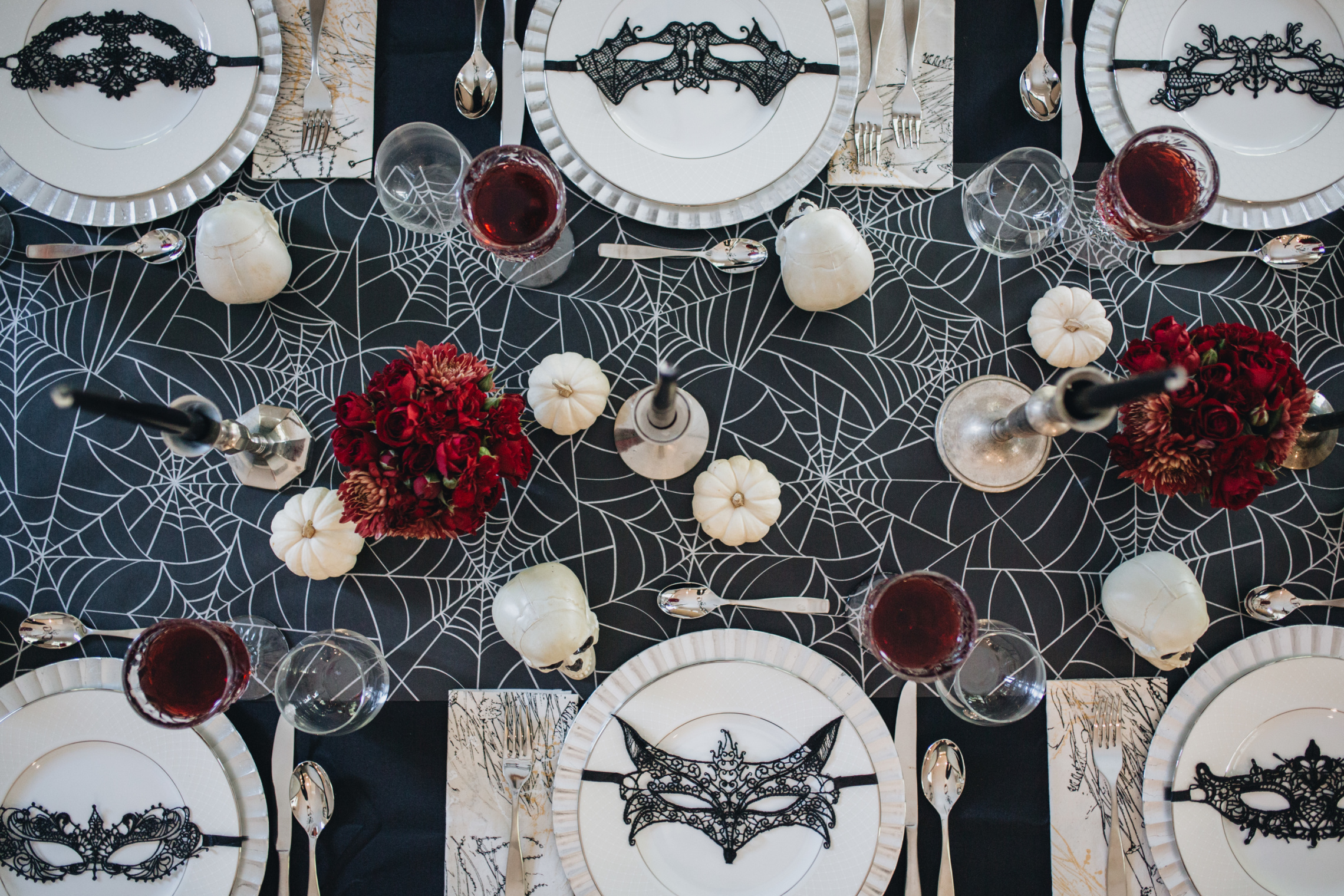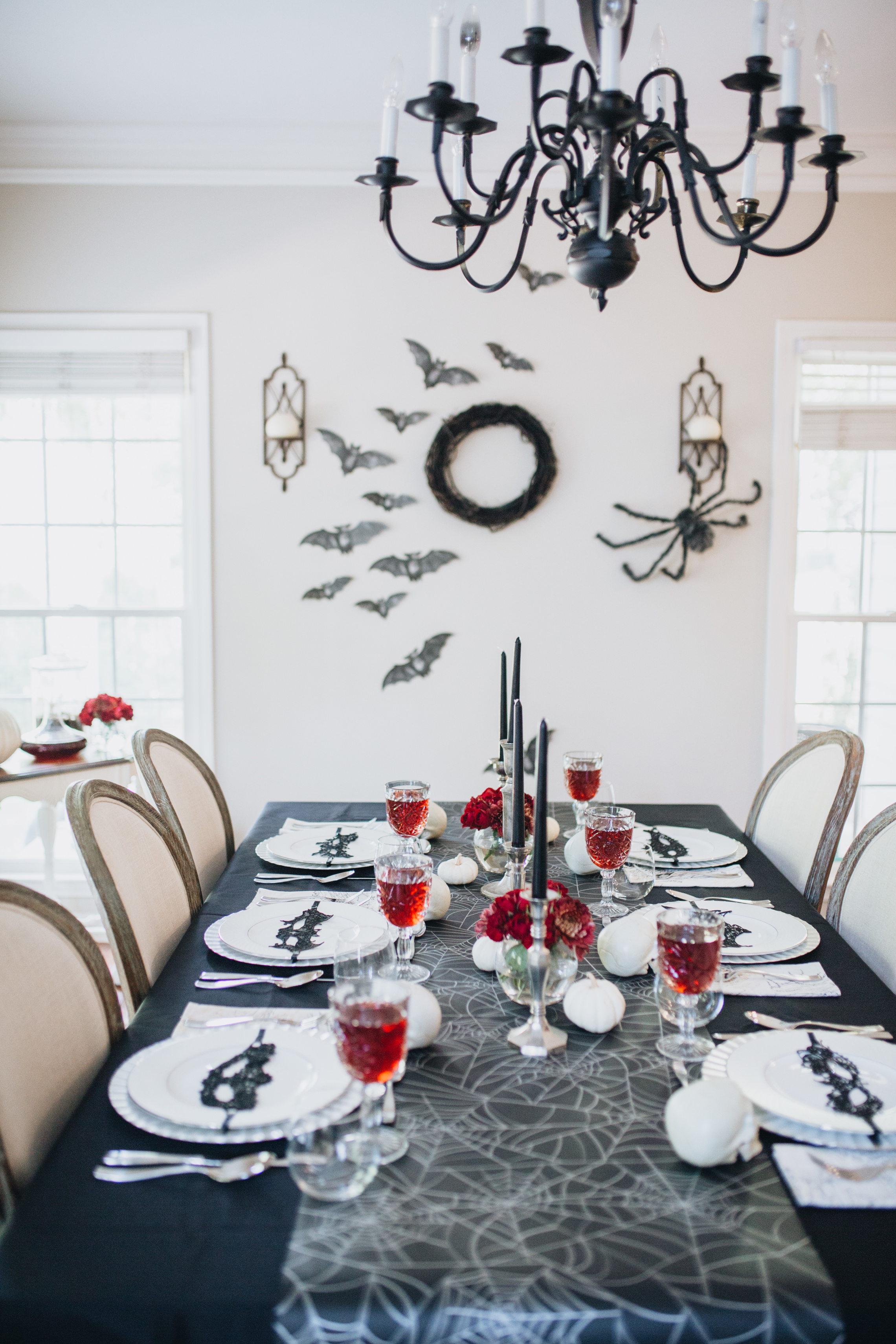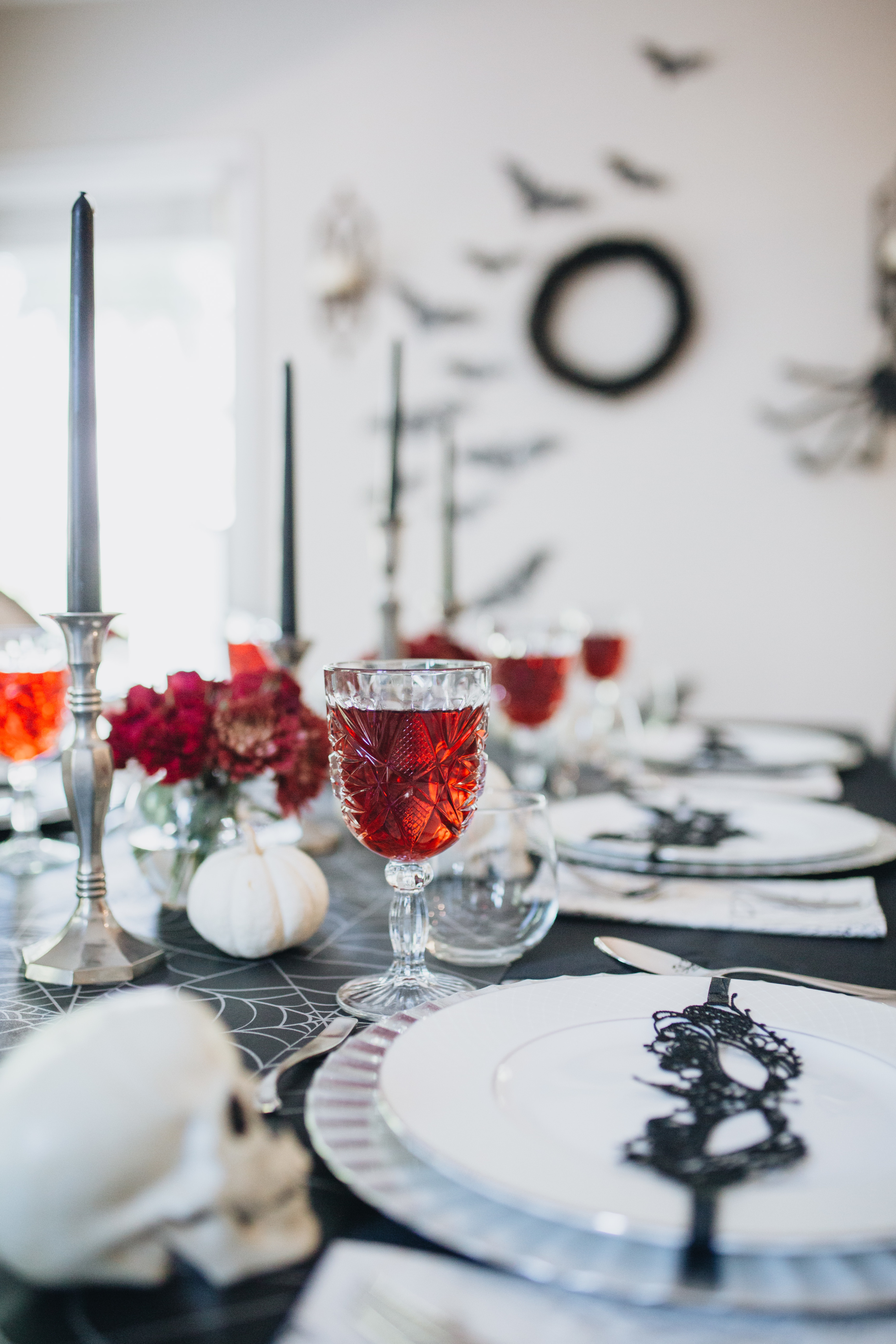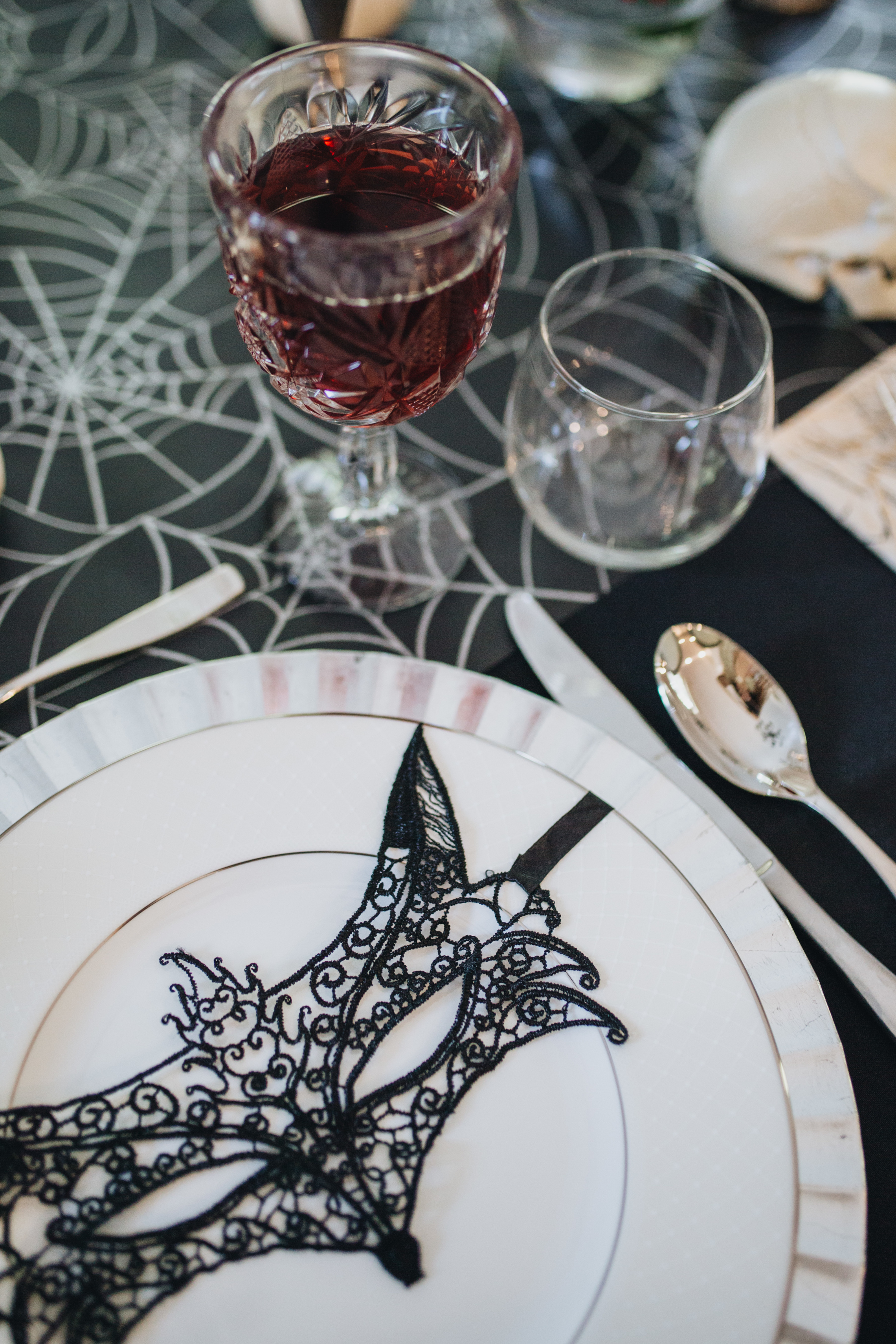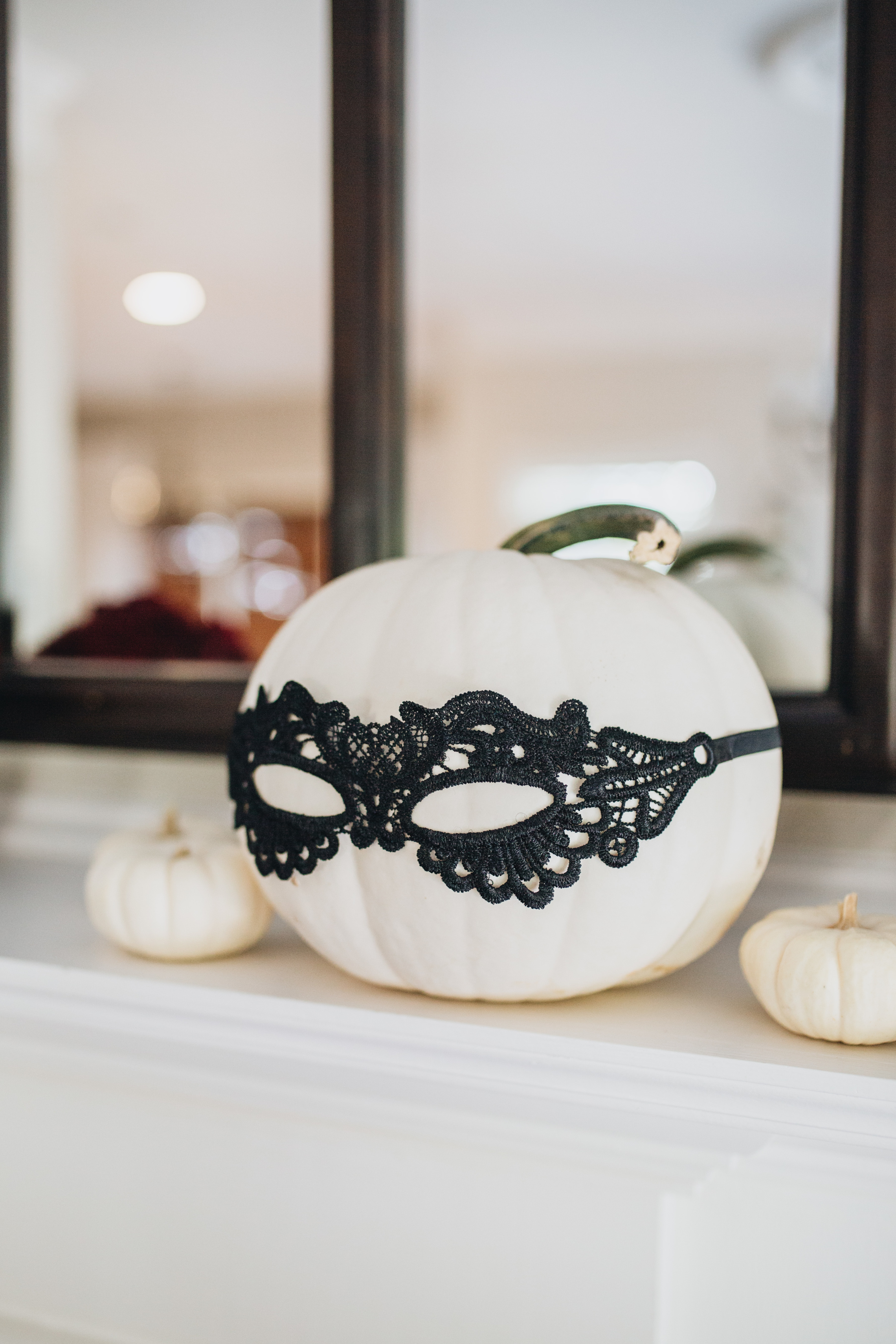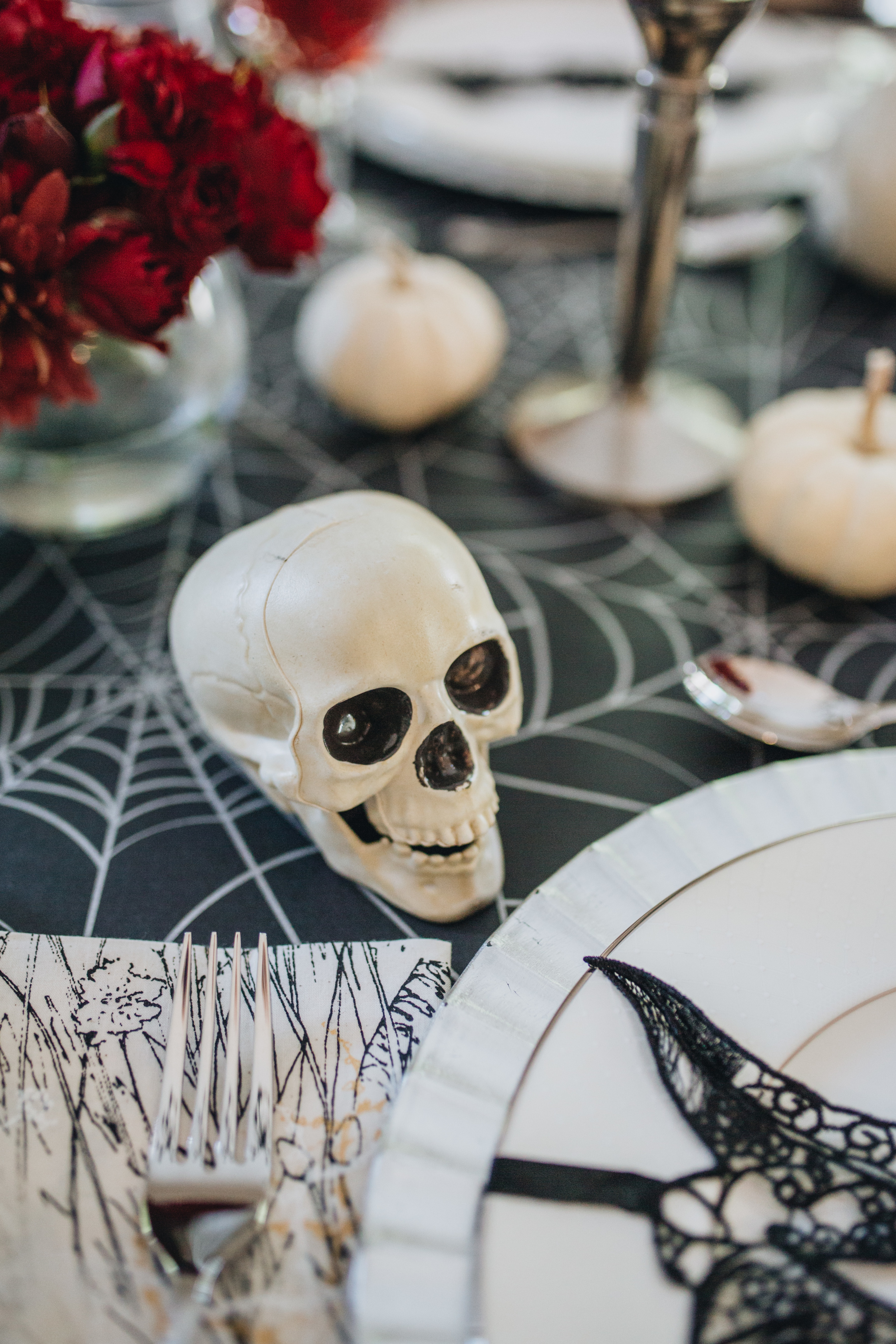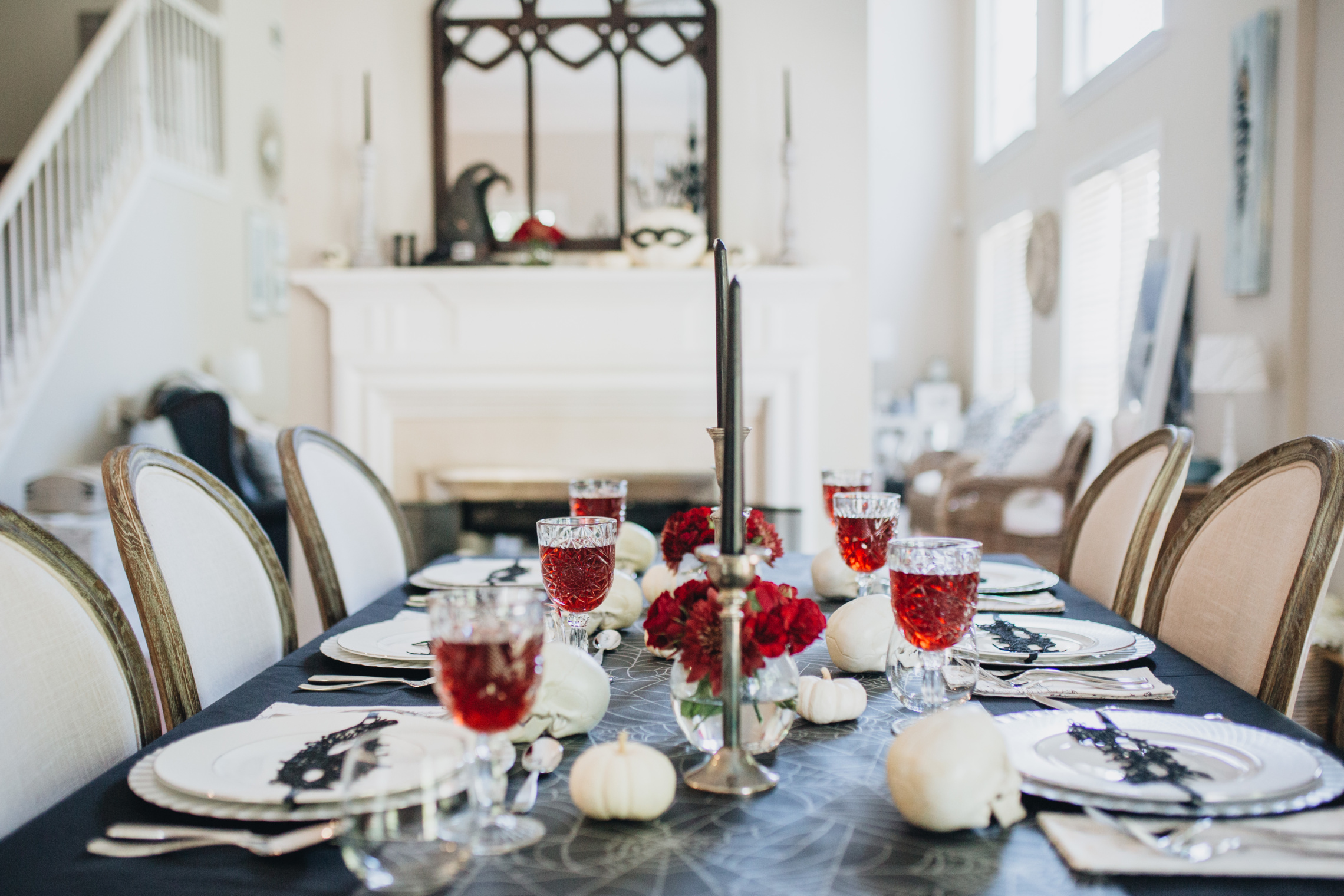 The Foundation
I used a black linen tablecloth for my base and added a paper spiderweb table runner from Swoozies.  Beyond having a white linen tablecloth in your hostess toolkit, a solid black tablecloth is also a great addition to your entertaining essentials. Starting with a black tablecloth, it's easy to create an intimate atmosphere for dinner with softly-light candles over a dark table or showcase a pop of contrasting color with a unique place setting.
The ease of adding paper table runners makes customizing solid tablecloths an incredibly easy way to design unforgettable dinners.  Swoozies has been my local go-to shop for many seasonal decor items, but I know they will always have great paper party products in stock to match almost any theme I dream up.  This spiderweb table runner was the perfect addition to create this low fuss elegant tablescape foundation.
Centerpiece Staples
When in doubt, there's no easier way to build a beautiful tablescape than by adding floral arrangements and candles.  And if I'm not working with one of my favorite florists, E.Vincent Floral Designs, for centerpieces, I'll swing by Costco or Trader Joes to pick up some inexpensive flowers so that I can pull together a few simple floral arrangements. I stopped by Trader Joes for the flowers that I used in my lemon-inspired floral centerpieces but bought these deep red and crimson flowers from Costco this time.  I assembled the floral arrangements in some round glass vases that I picked up from the Dollar Tree years ago that continue to be a great staple to keep on hand.  The small crimson red floral centerpieces were the perfect height to keep things interesting but not distract from the rest of the Halloween accents that adorned the table.   
I also stopped by a few local thrift stores (you know they are my go-to destination for starting any table design), and found these lovely little silver taper candle holders.  I added black taper candles to complement the black tablecloth and paper spiderweb runner and add a bit of height to the table.  The tall thin candles are another classic element that is not over the top yet add some interest to the table setting. Mini-ghost pumpkins also made an appearance as they were loosely placed throughout the table runner to fill-in any uninteresting gaps in the design.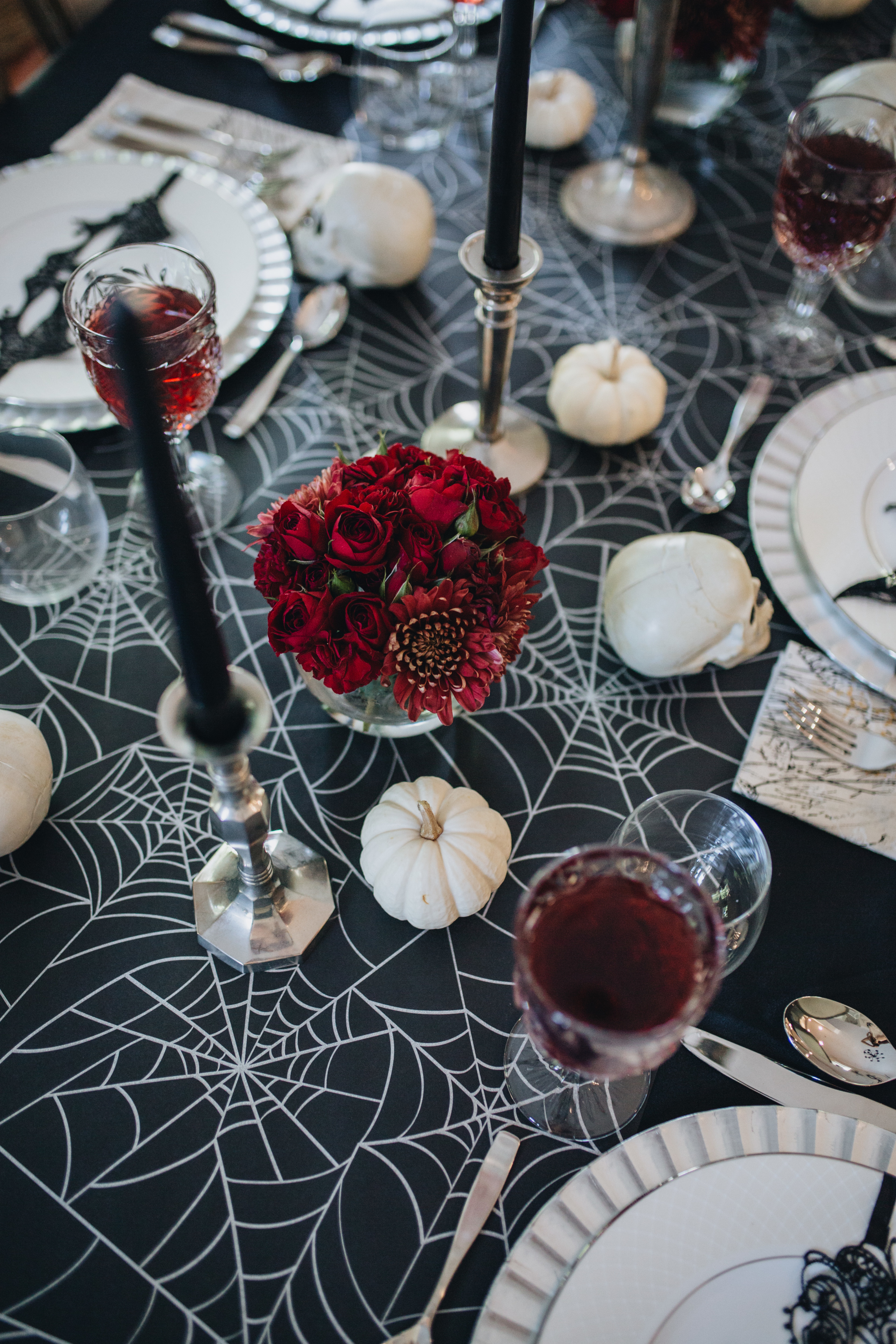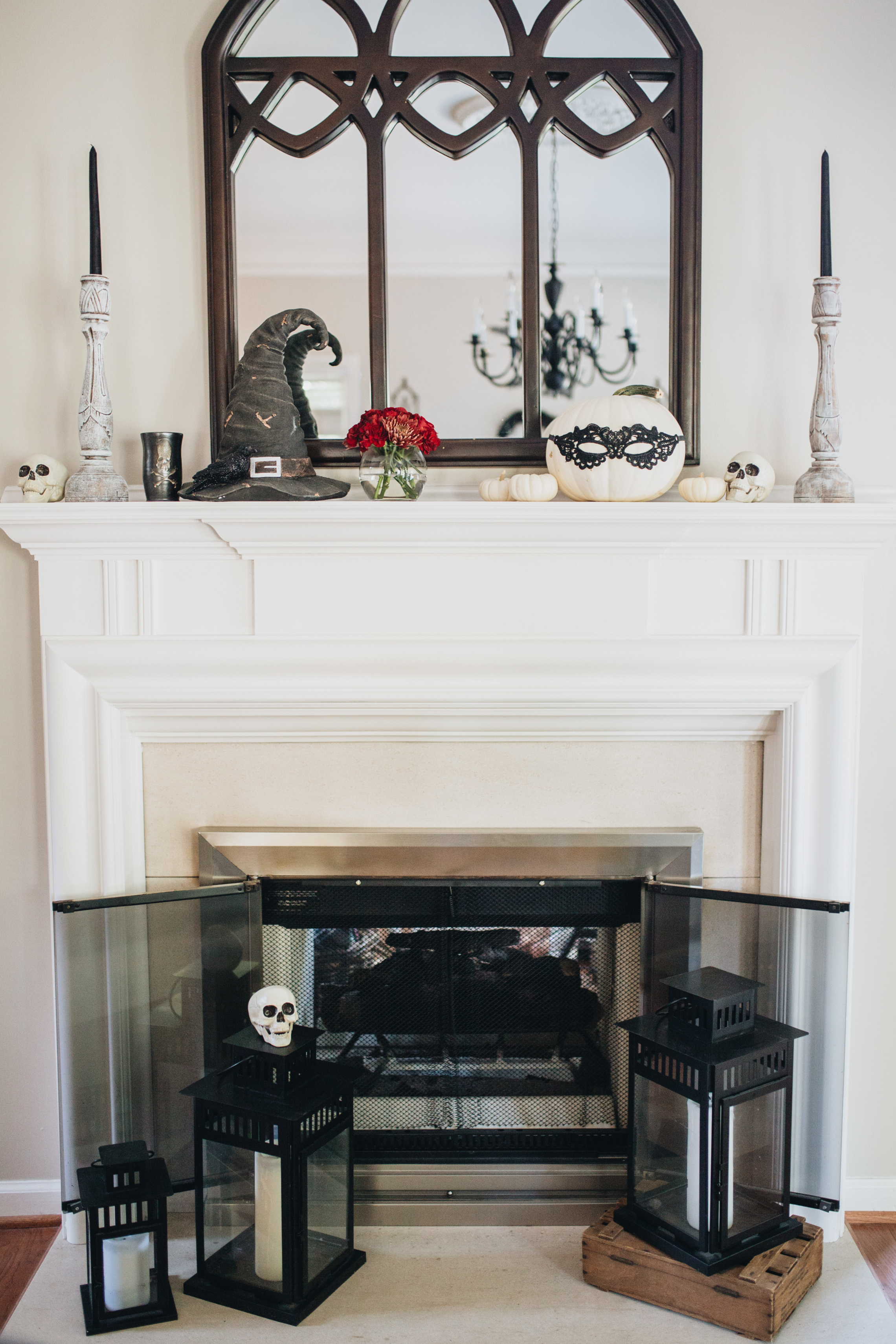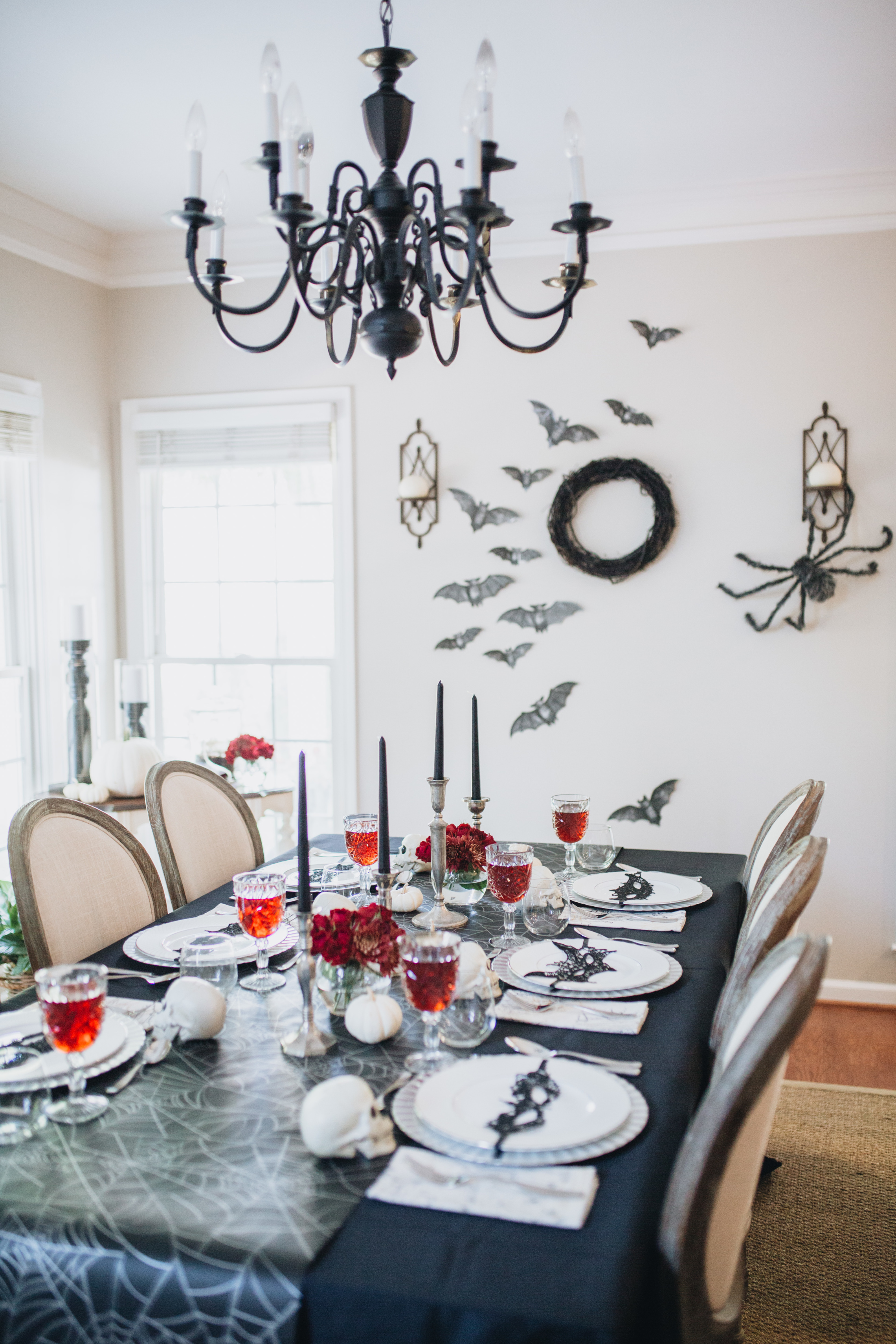 The Place Setting
I used my classic oversized silver flatware and plastic silver chargers for each place setting which I was happy to see highlighted the spiderwebs on the paper table runner.  The flatware was a wedding gift years ago, but the silver chargers were a recent find from my first trip to At Home.  You may recall I found a lot of the pastel Halloween decor during this same trip, so I'm sure I'll be a frequent shopper before you know it.  I topped the silver chargers with our Lenox wedding china (the same that I used for our black and gold Halloween table design) to keep things elegant.
The glass drinkware was a combination of wine goblets that I found from the Dollar Tree (another favorite for inexpensive dinner party finds!), and stemless wine glasses that were also a wedding gift from years past.  The wine goblets might have been one of my favorite aspects of this table setting because you could really see the intricate glass design when filled with the red wine… and I love knowing that you don't have to spend a ton of money to get an upscale dinner table look.  The stemless wine glasses were used for water since we were already using the goblets for wine.
Finally, I added beautiful hand-made linen napkins by Flowering Blue to each setting.  The uber-talented Louisana artist, Mia Kaplan, creates aprons, napkins, and placemats designed with intricate wildflower-inspired patterns.  These added the perfect bit of natural elegance with a color pattern that played well with the rest of the tablescape.  Mia has a very unique story and you can read more about her specific journey to establishing Flowering Blue here.
A Custom Touch 
I love adding a small custom touch to each place setting that fits the mood but also brings a bit of delight to the dinner.  Sometimes a custom touch comes through in the dinner menu such as a specialty dish or signature cocktail, but for this elegant black and red Halloween tablescape, I decided to adorn the plates with a beautiful black-laced mask at each guest's place setting.  I ordered a pack of 30 black-laced masks from Amazon and was thrilled with the unique designs for each mask – no two were alike.  I was less thrilled with the smell of them upon arrival though, as they had a gasoline aroma that was extremely pungent.  Thankfully I ordered everything early, so I had time to soak the masks in a wash and lay them flat to dry in advance of using them for my tablescape. They were a beautiful and elegant touch for this Halloween tablescape and I would say for the price, they were definitely worth the extra effort to remove the smell.
In addition to the lace masks, I placed a small skull by each place setting to further tie-in the Halloween theme.  As far as Halloween decor goes, I can confidently say that the plastic/ceramic skull collection I've accumulated over the years has become the workhorse decor for most of my Halloween-themed parties and I don't see that stopping anytime soon. I mention this because skulls are fantastic neutrals that will never go out of style and can be added to any Halloween design with ease, so it's worth investing in these if you're just starting to build your Halloween collection.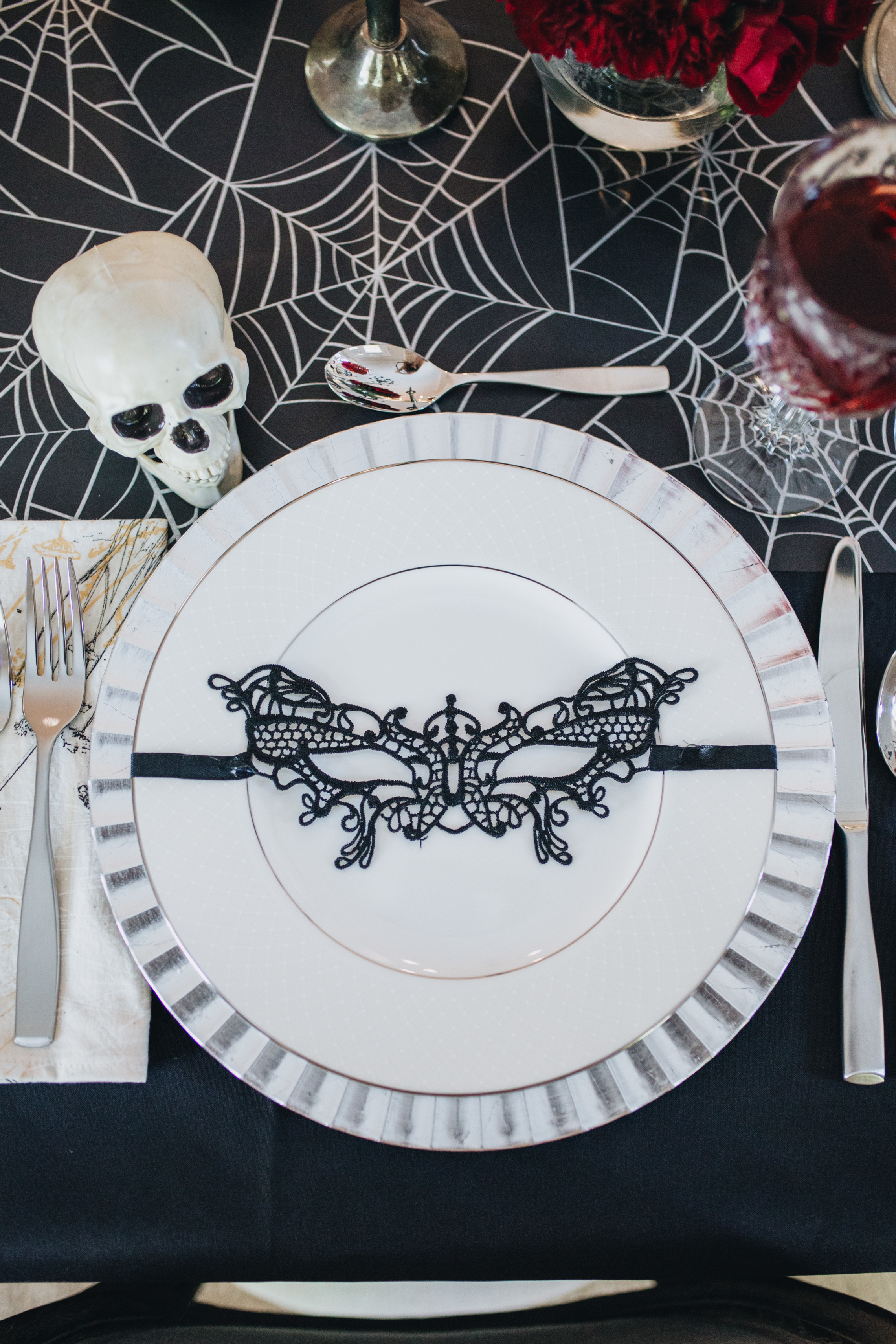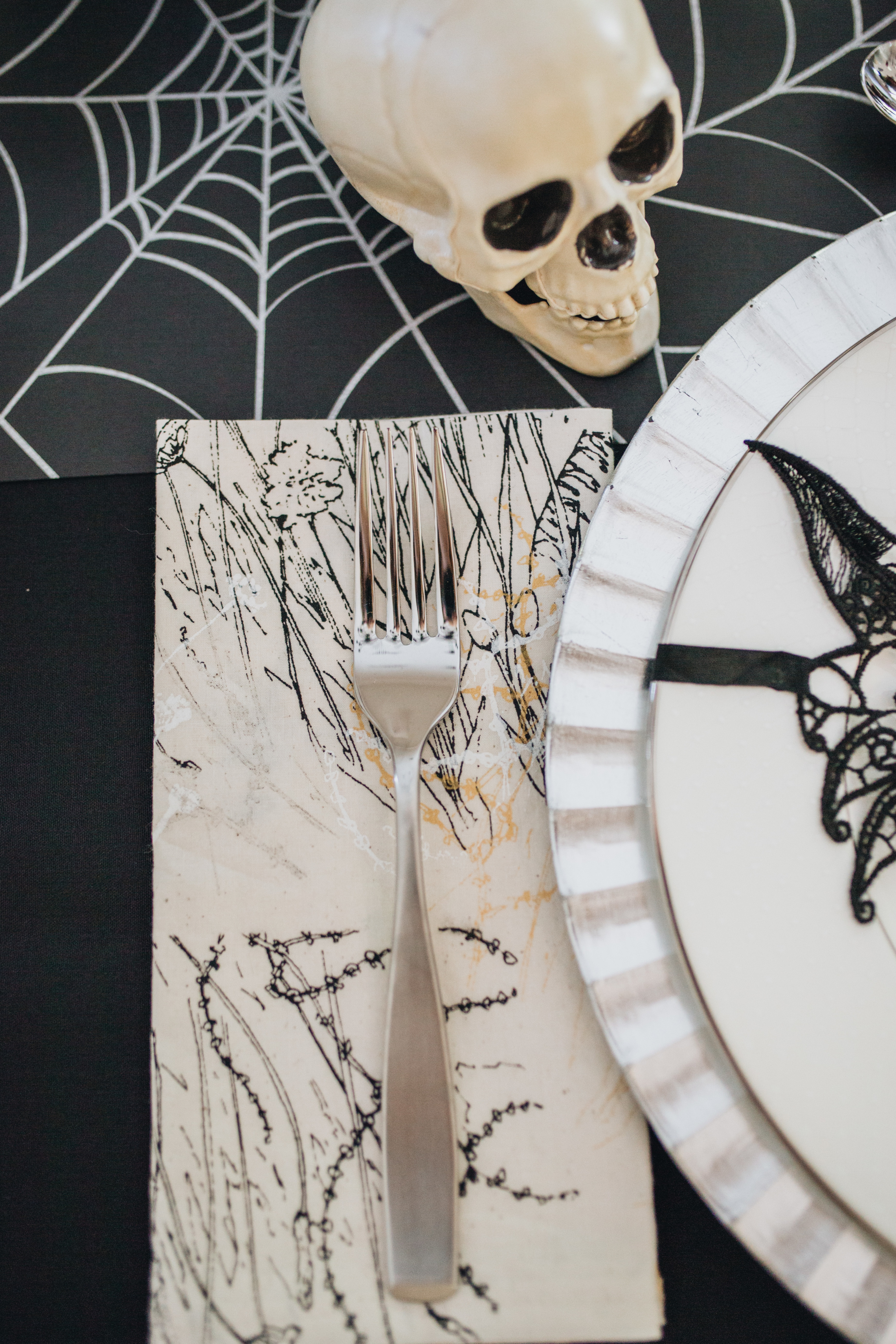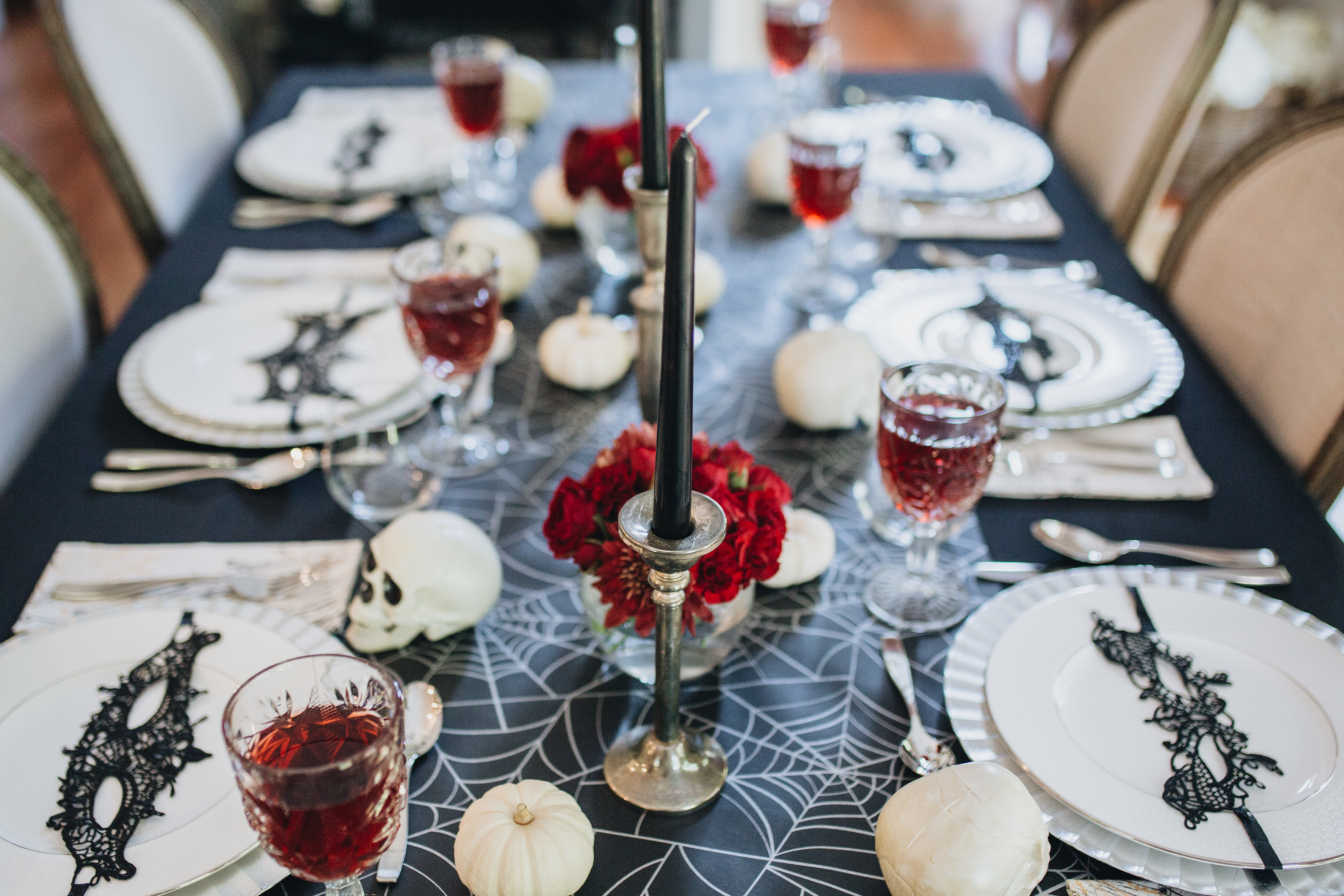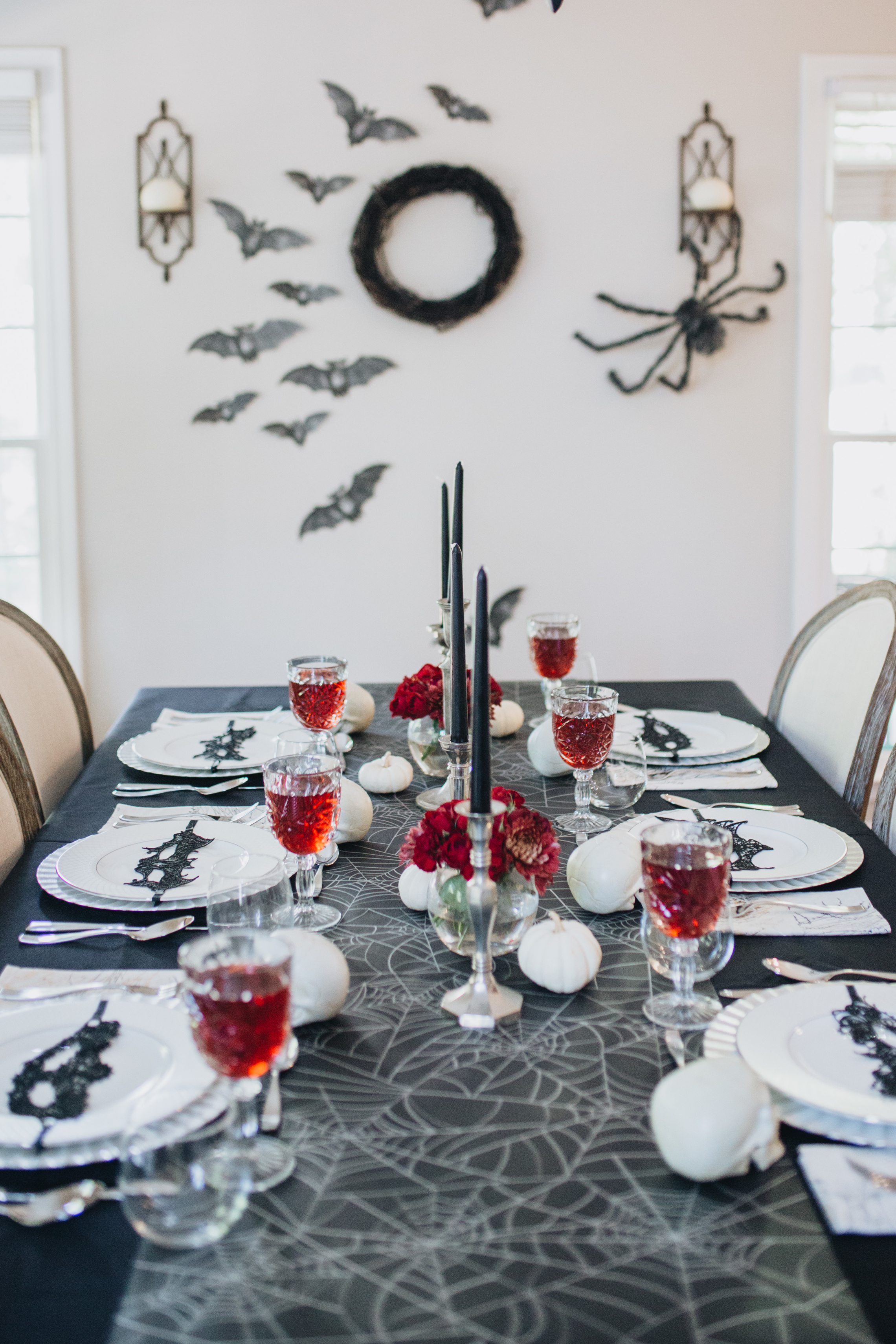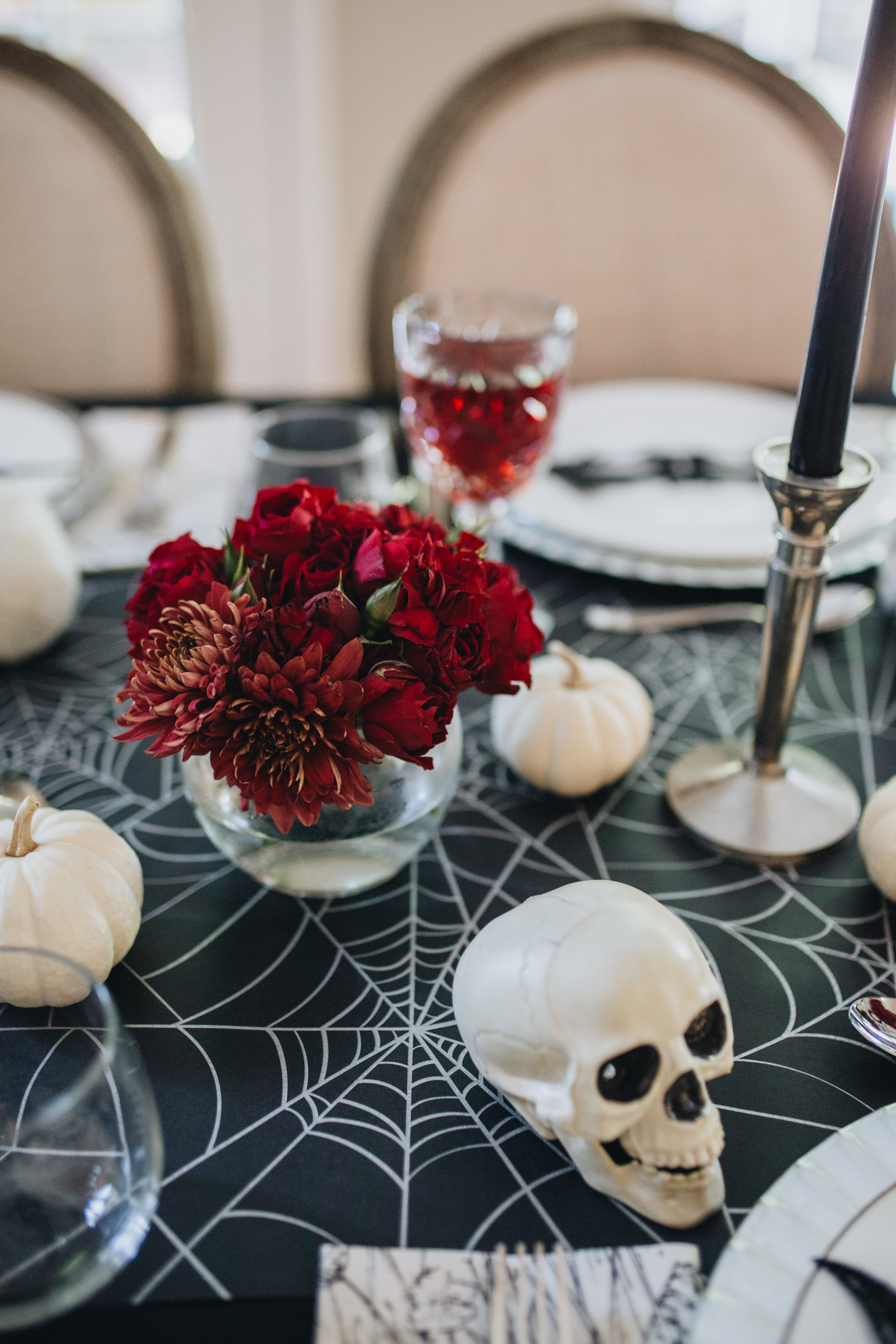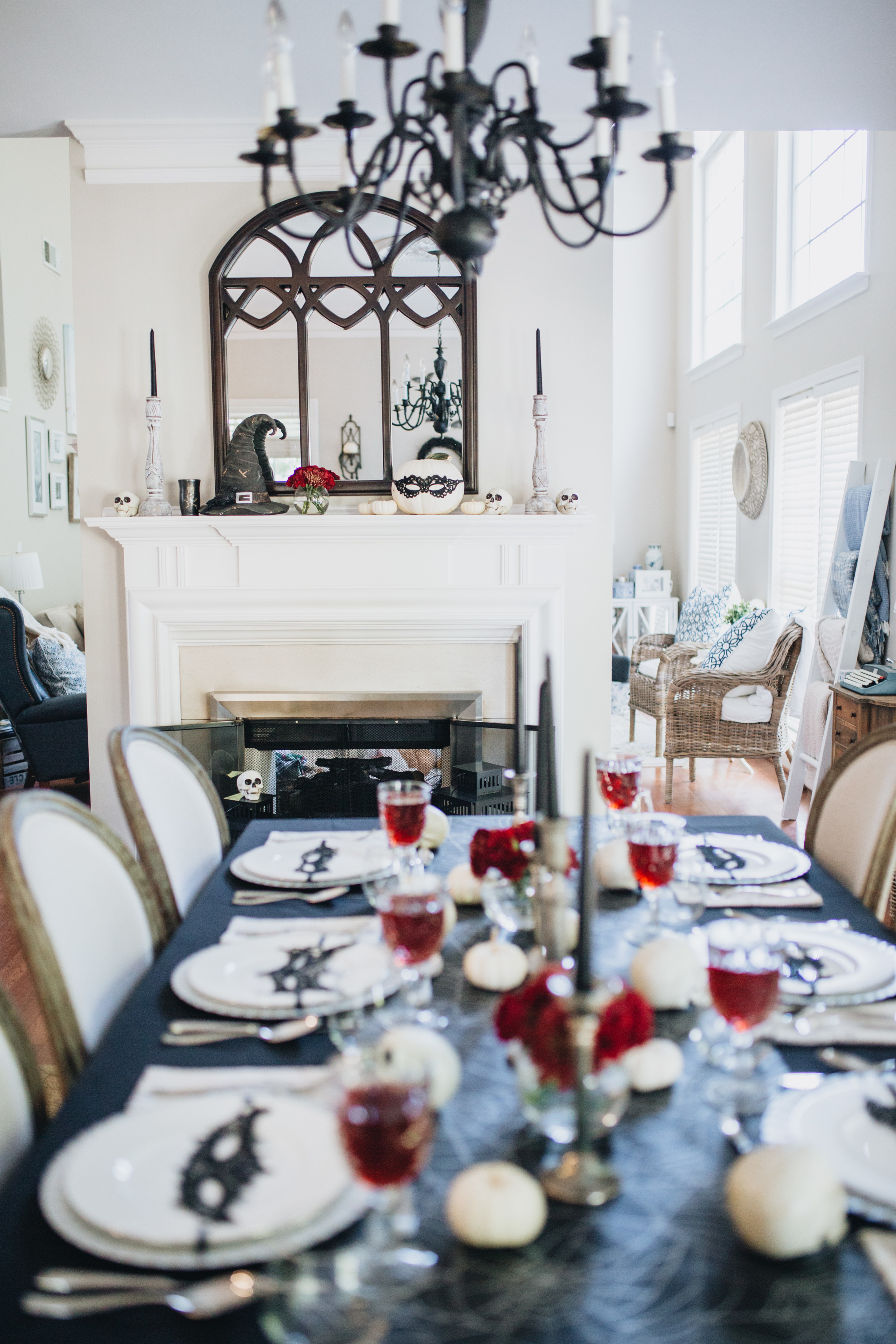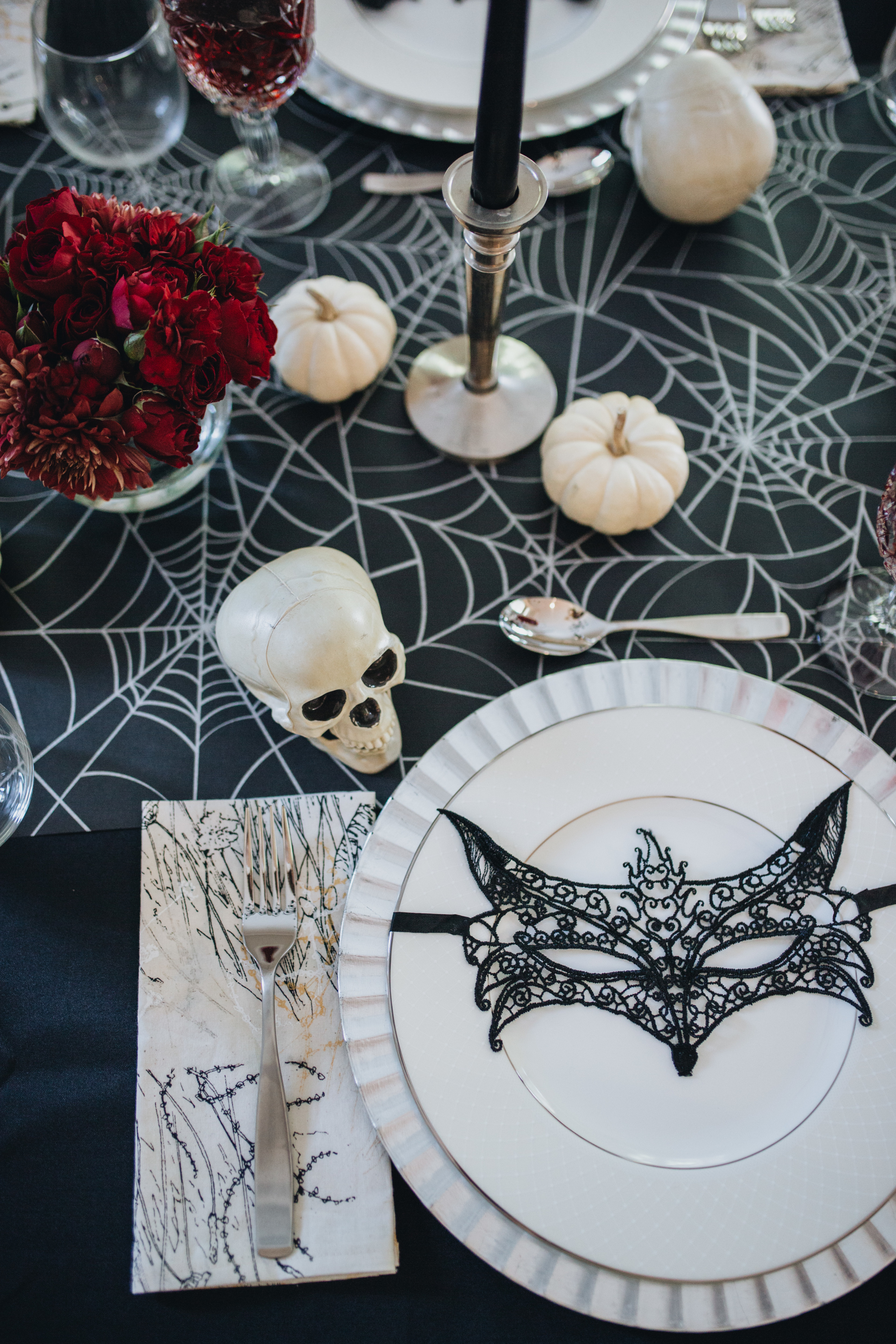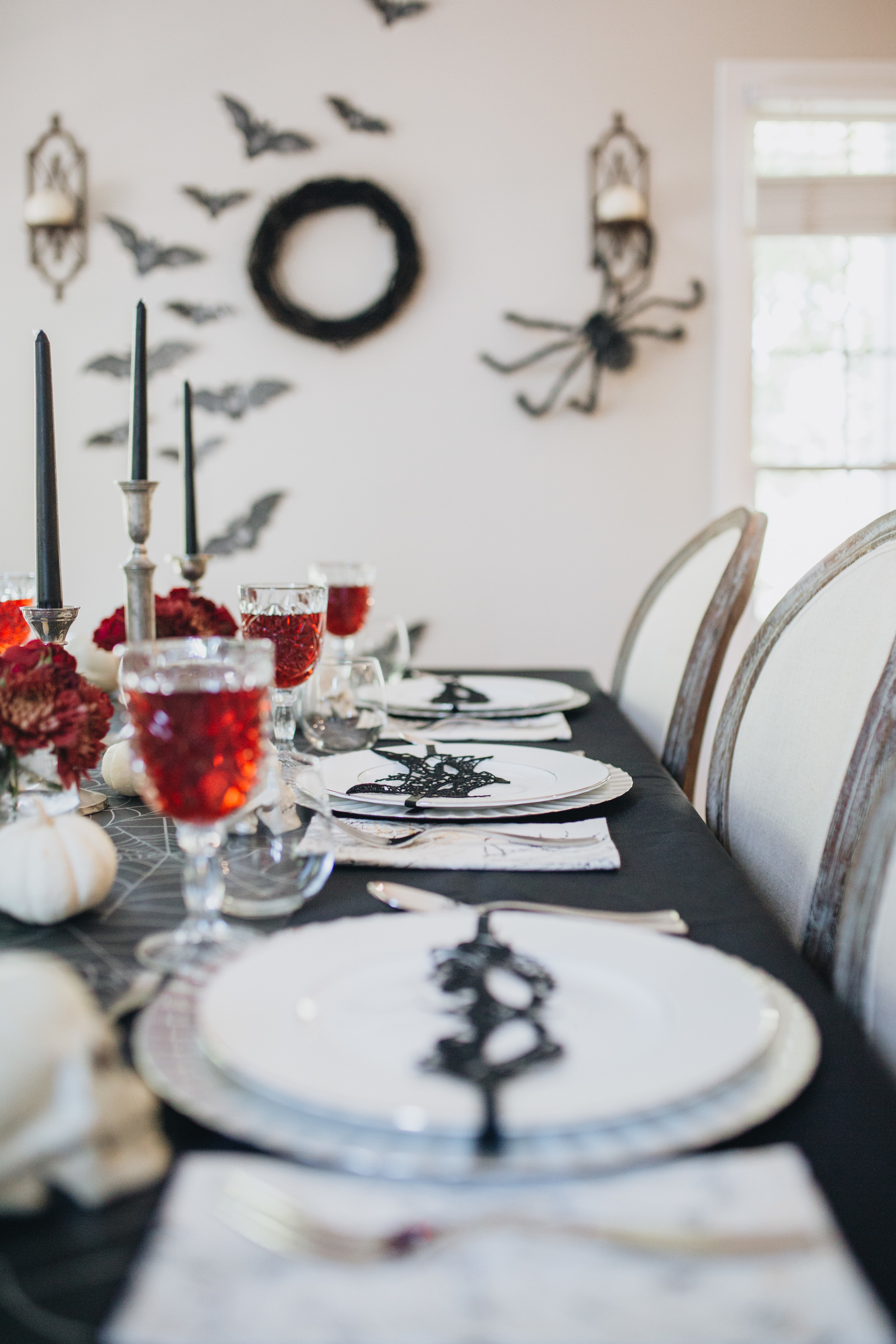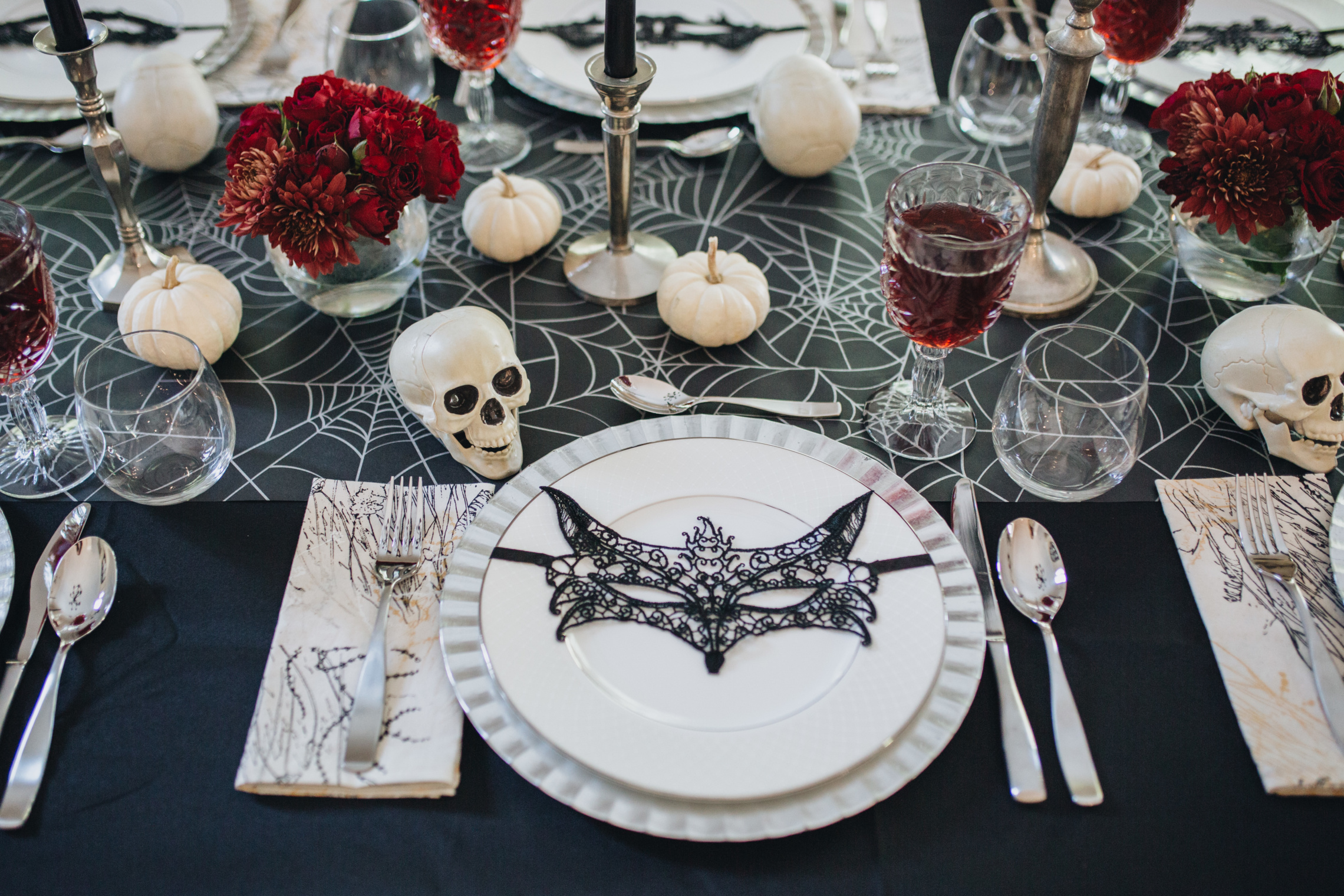 Shop the Story:
---
I'm always in the mood to celebrate a holiday and I love creating beautiful tablescapes that create a sense of fun and wonder when guests arrive.  I hope that by sharing this black and crimson red themed table design it's easy to see that anyone can create an elegant Halloween tablescape.  To create your own memorable Halloween tablescape, remember to focus on a solid foundation, centerpiece accents, complementary place settings, and custom touch.  Happy Haunting Y'all!