Life is short.  Live it with zest.  ????
I wrapped the last days of summer over a lemon-themed Amalfi-inspired dinner party and I'm excited to share the table setting details from my lemon party decor below.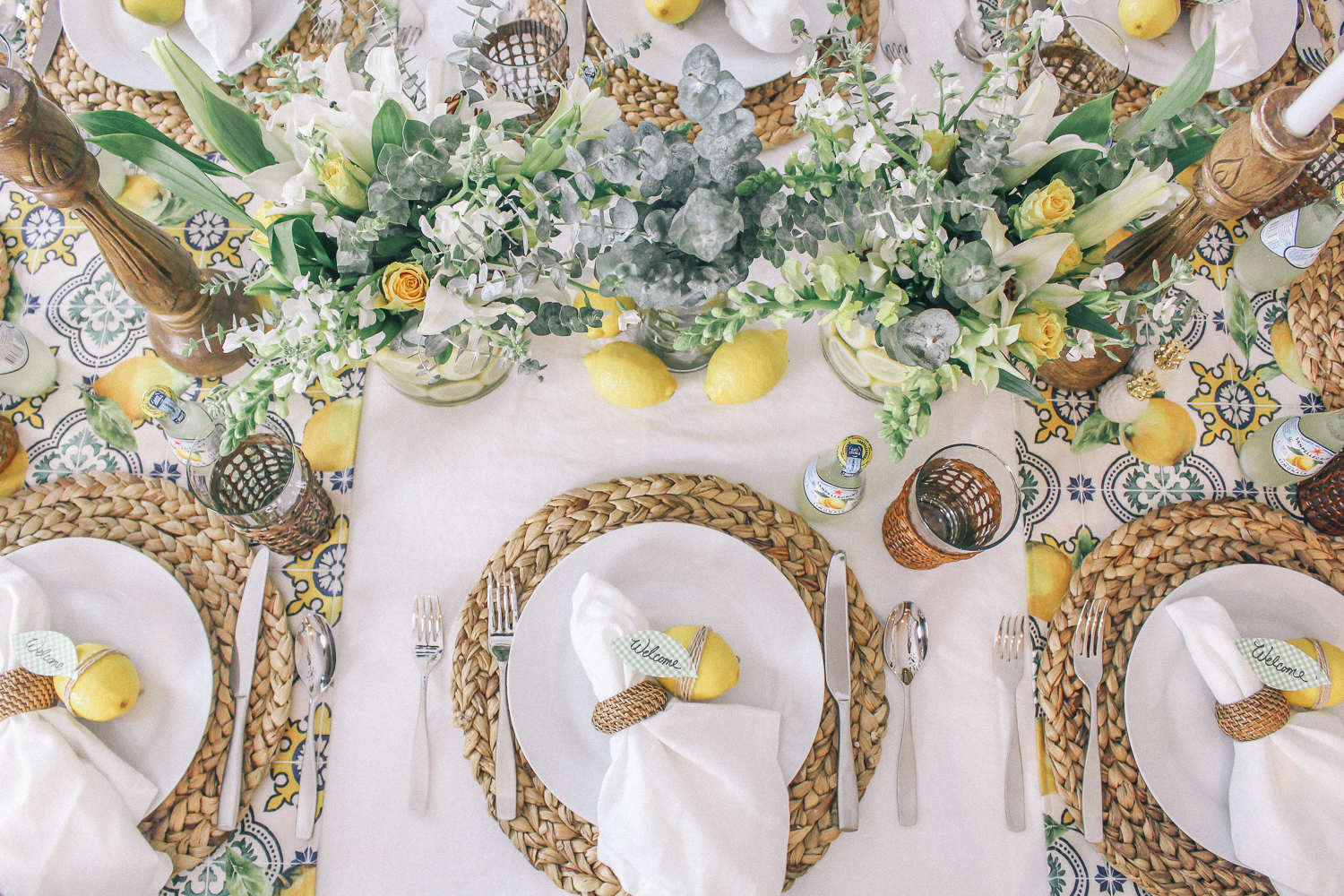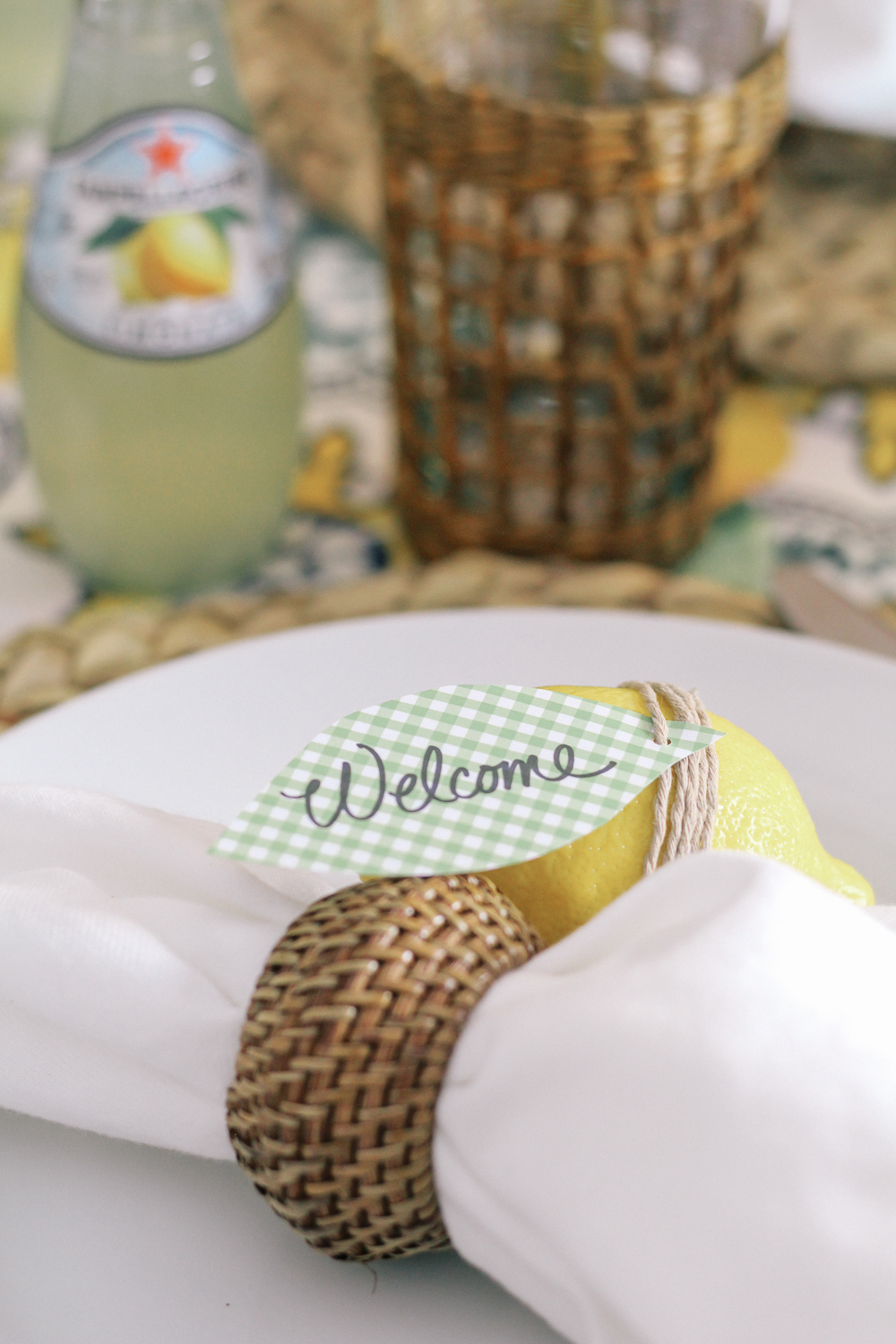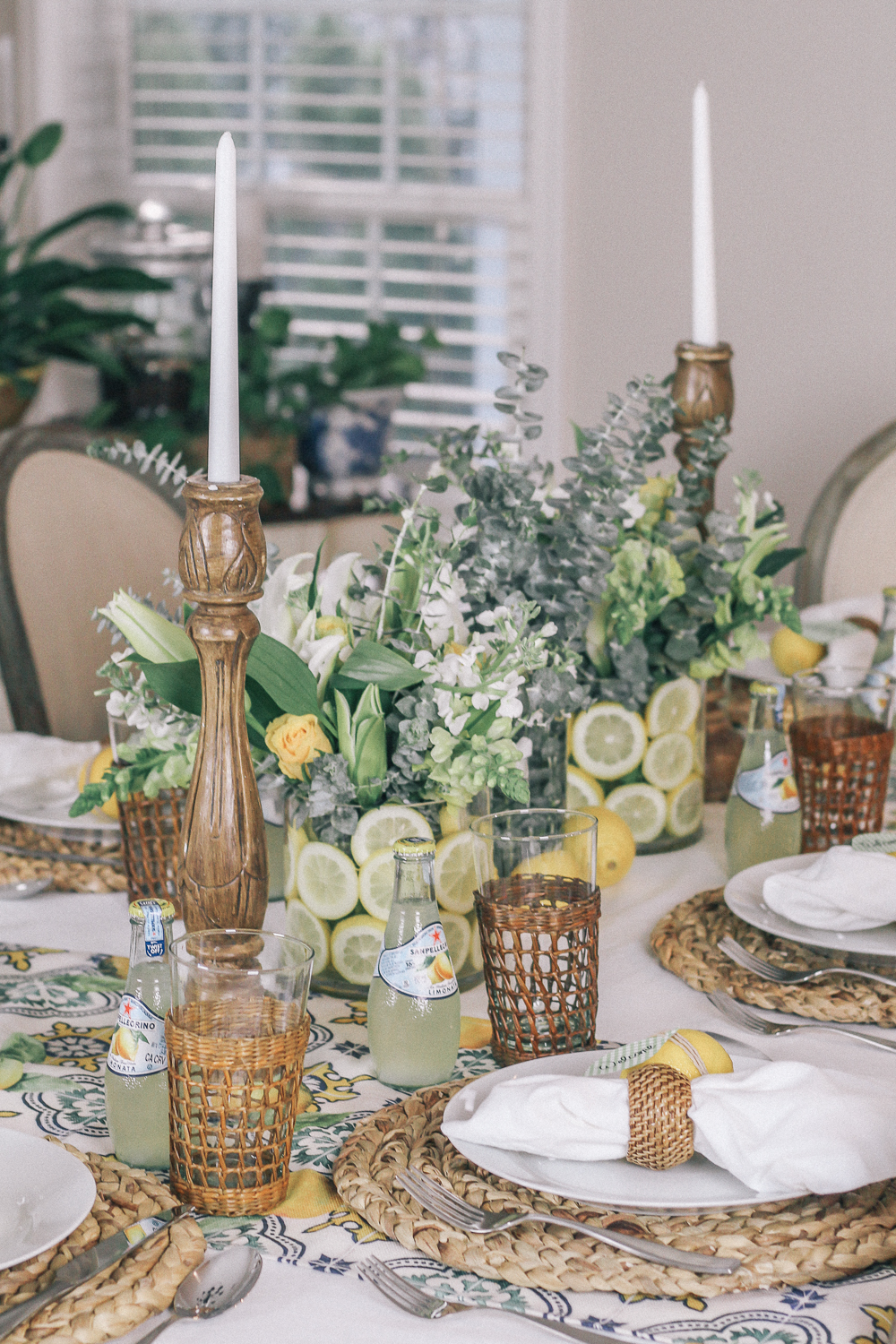 The Lemon Party Idea
As kids return to school, August marks the end of summer for some people.  For me, however, while temperatures in the South still seem to swell into the 90's well into late September, I'll always view Labor Day Weekend as my official farewell to summer.  With so much traveling this past summer to destinations like South Walton, New Orleans, Beaufort, and Winston-Salem, I wanted to host a lemon-themed end-of-summer dinner party with a small group of friends that I don't get to see as often as I would like.
The hubby and I love to entertain and hosting dinner parties is a fun way for us to serve guests unforgettable meals and make great memories around beautifully designed tablescapes.  And because we like to entertain with dinner parties often, my typical travel souvenirs tend to be items that I can incorporate into our next gathering.  The only souvenirs that I brought back for myself from Italy were a pair of custom-made sandals and lemon-printed table runners from the Amalfi Coast.  I've worn my rose-gold strappy sandals all summer and was determined to use the table runners this year too.  So when I finally nailed down a date to gather our friends for a Friday night dinner party at the end of August, I knew the theme would be inspired by lemons and I would finally get to use our runners.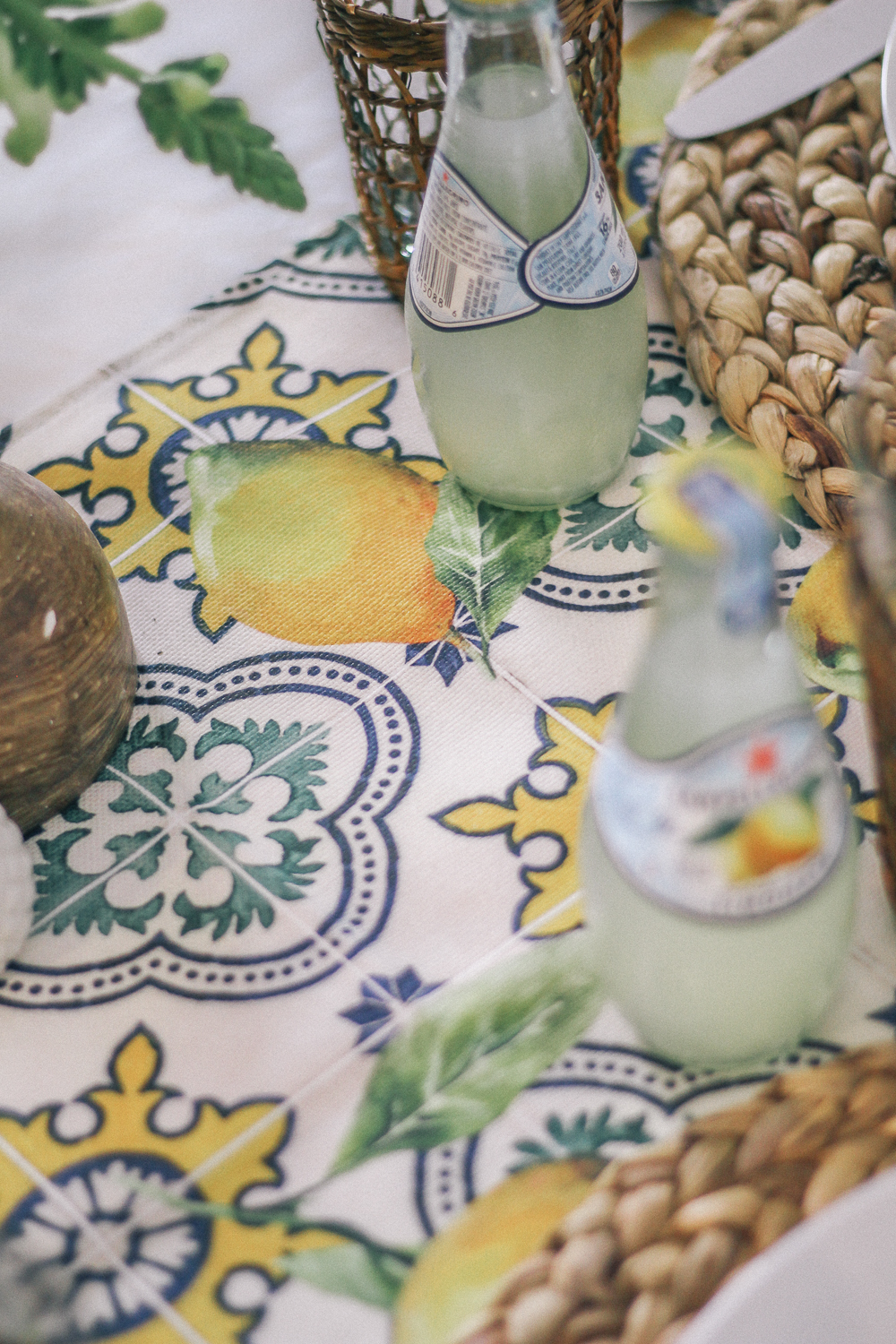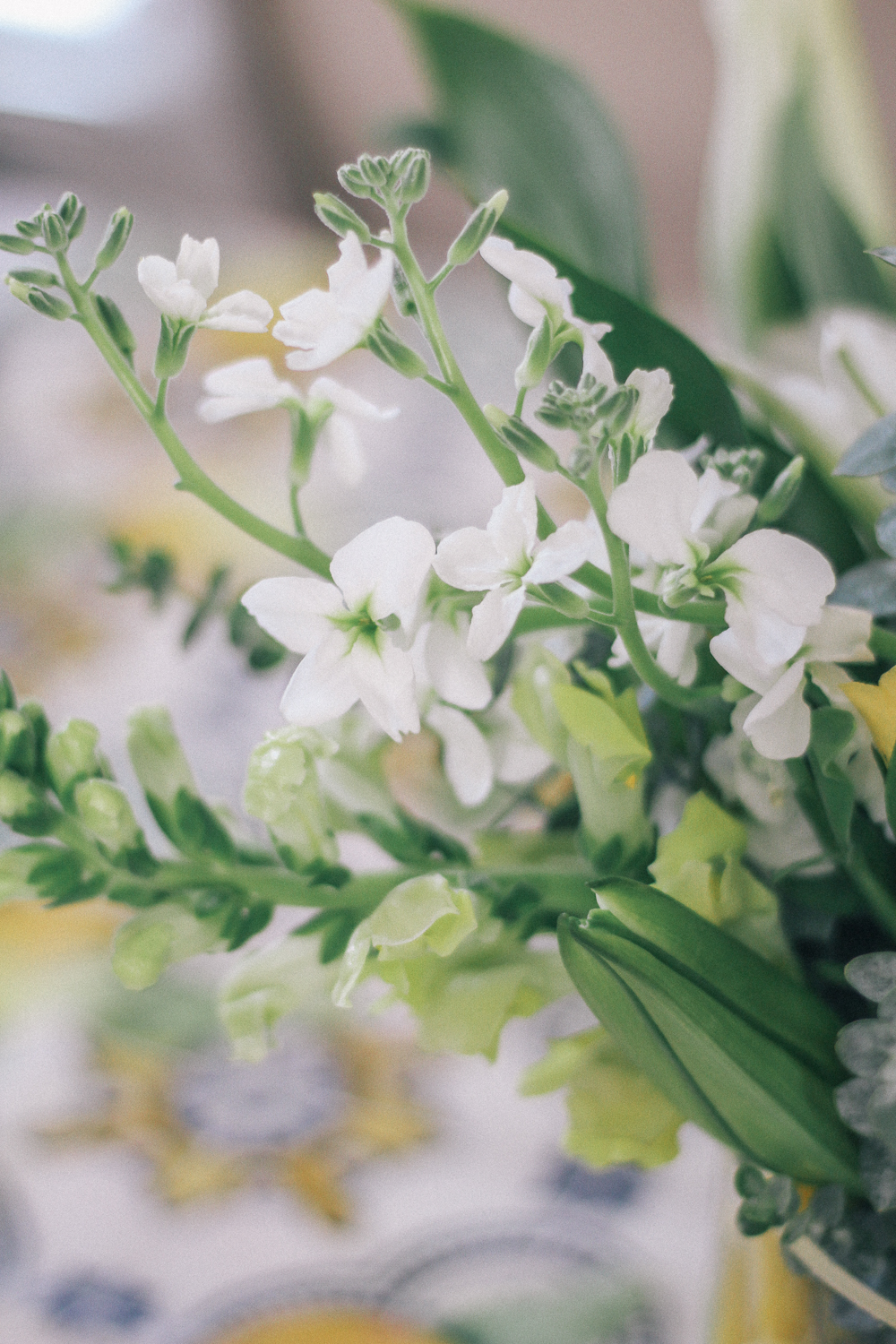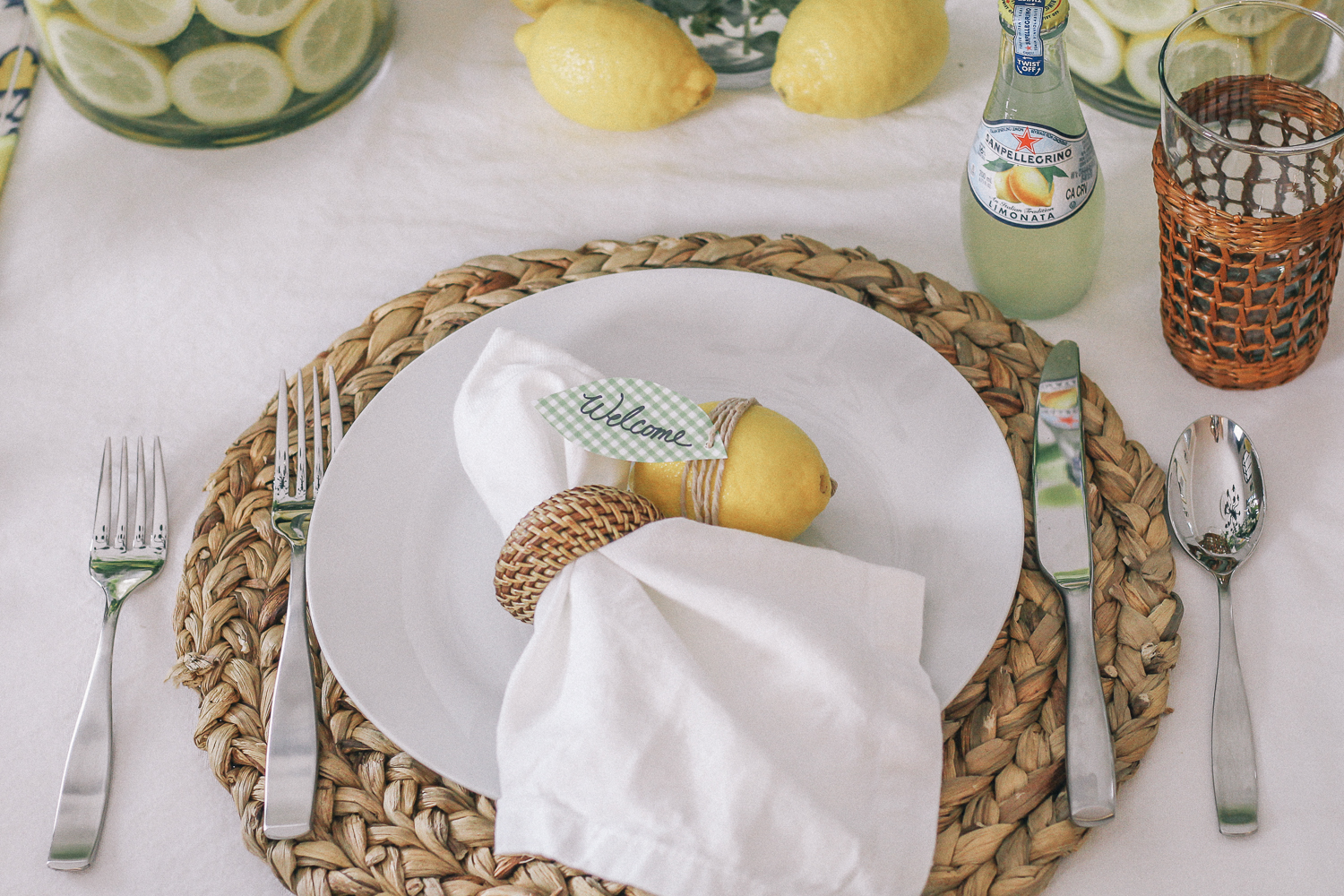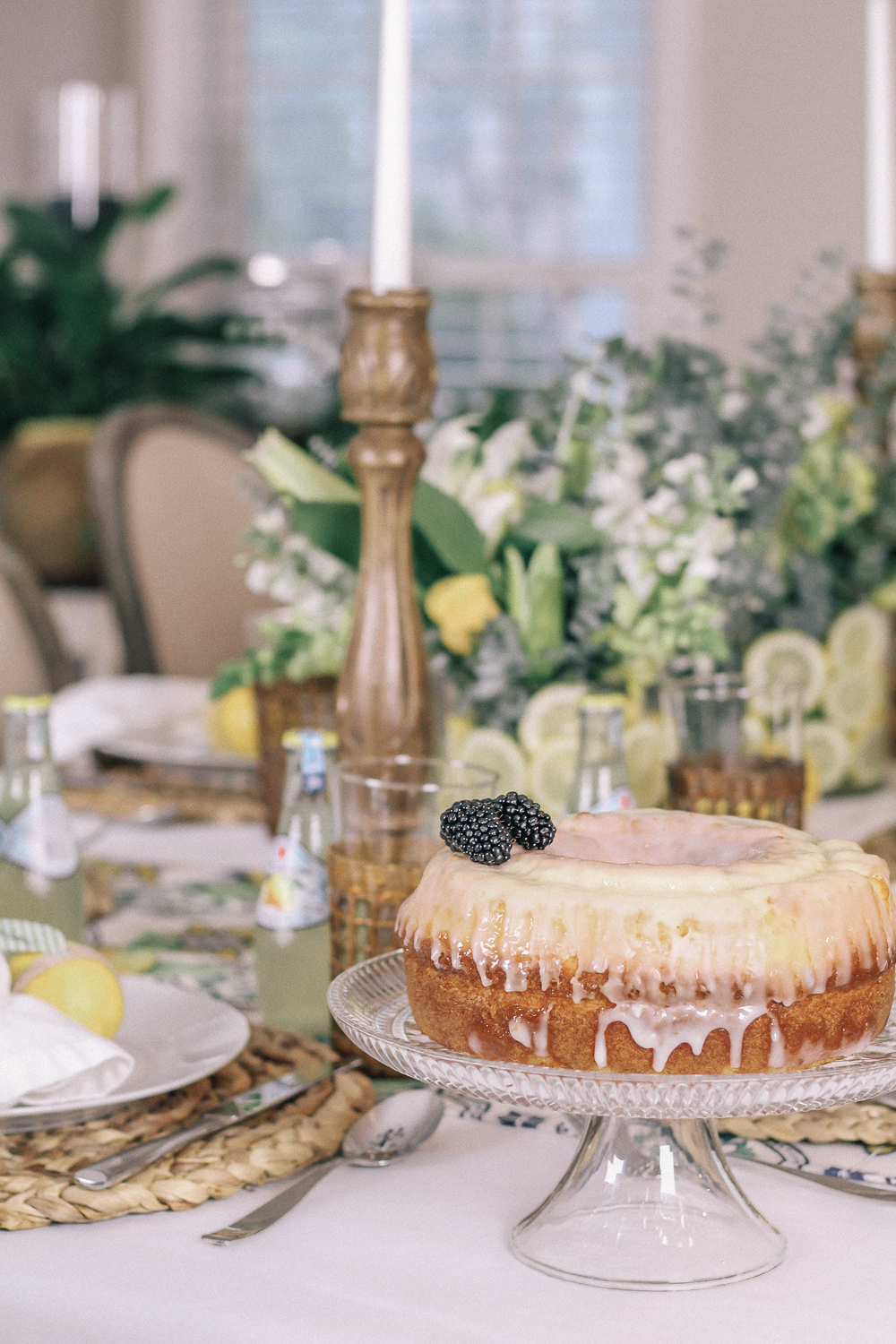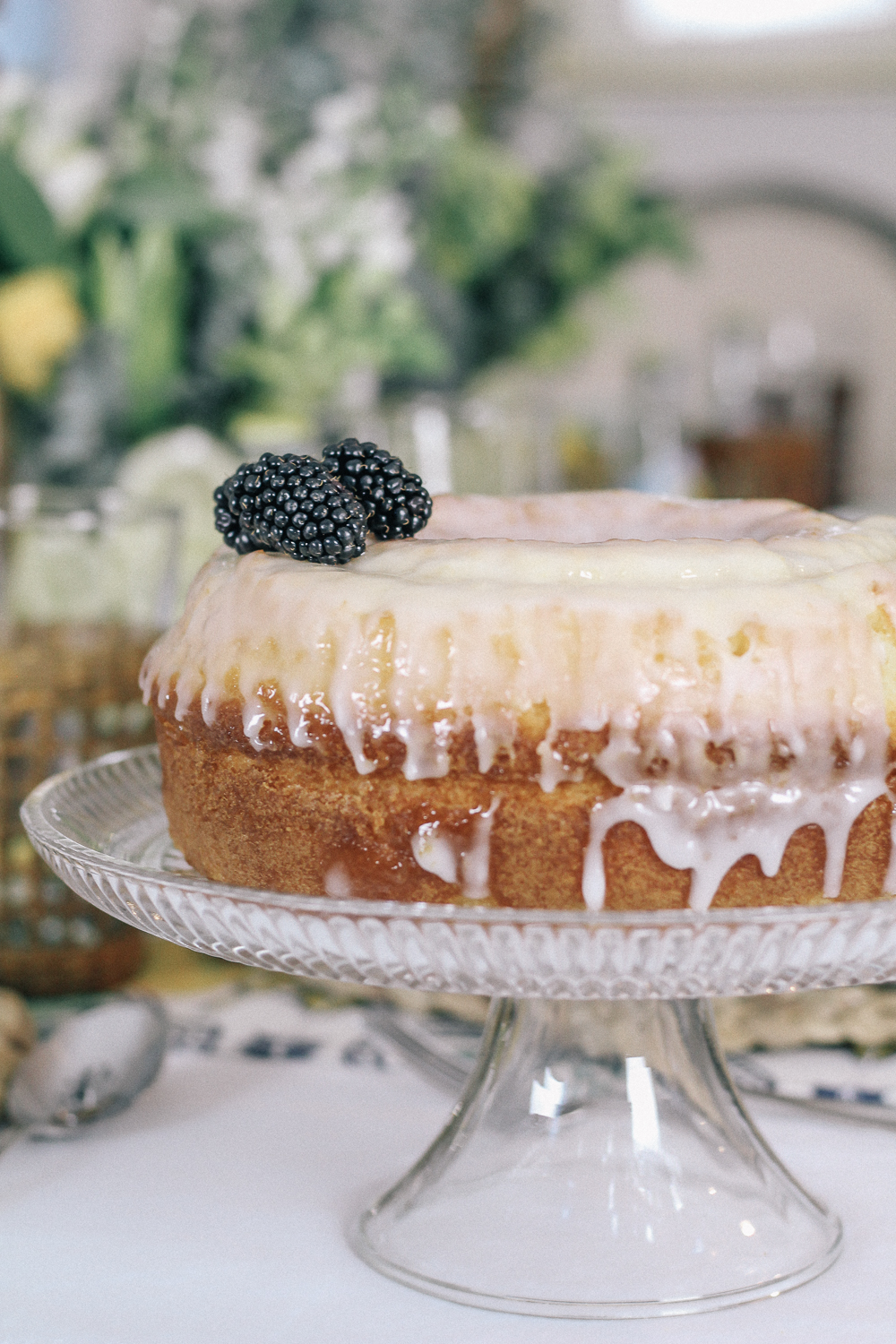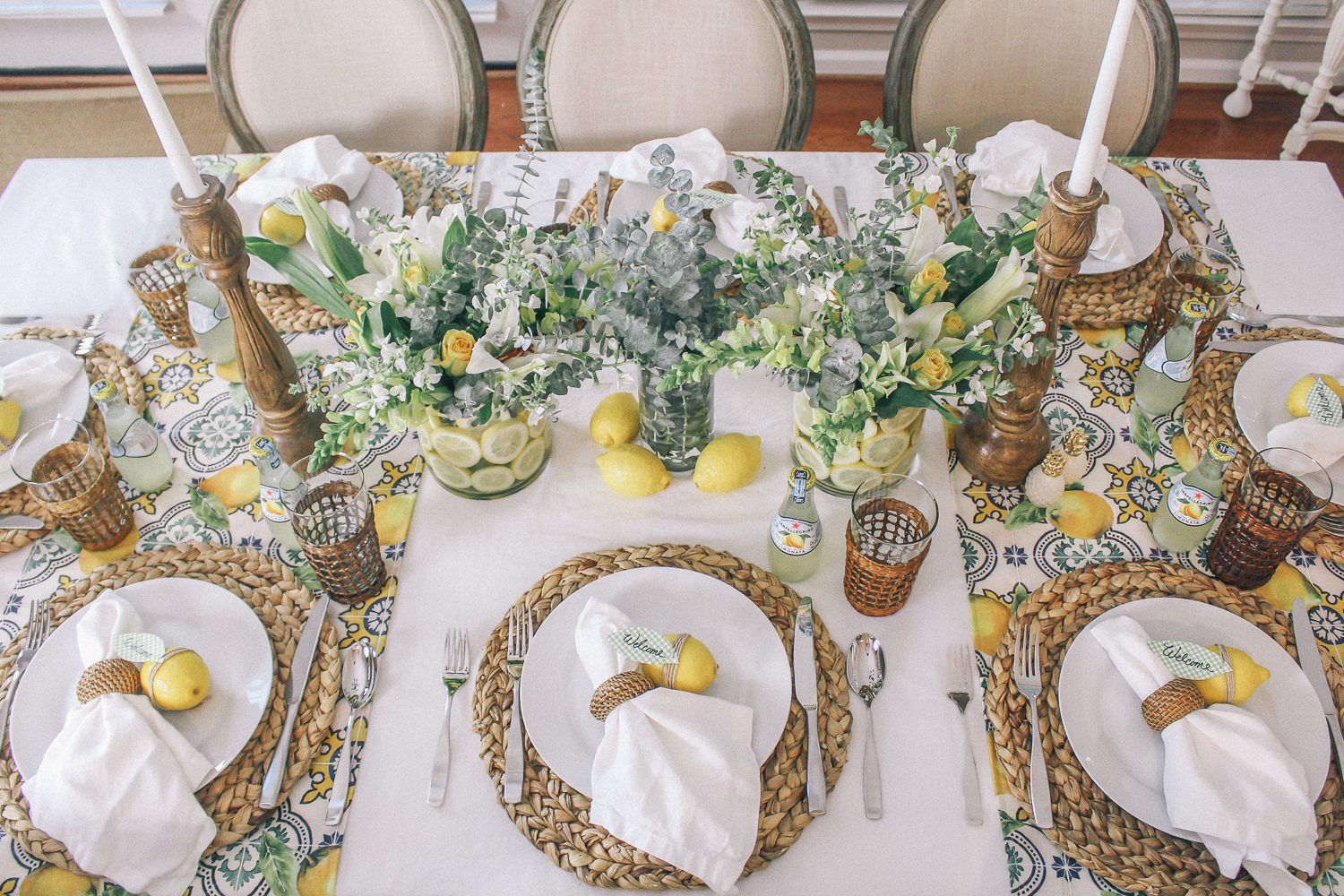 Getting Started
The tablescape started with the base of a white linen tablecloth and my two Italian table runners set up parallel running across the width of the dining table.  I layered on crisp white plates over natural woven seagrass chargers for each place setting.
Lemon Party Decor
To make the lemon party theme really pop, I added sliced lemons to line the vase of my floral centerpieces.  I purchased extra lemons and filled a few glass vases with whole lemons too.  To make sure guests felt welcome and add a personalized touch, I created simple lemon place cards that said "Welcome" but could easily be customized with guests' names.  As a final send-off, I sent guests home with miniature lemon-infused olive oil that I placed inside clear bags filled with yellow shredded paper and tied with a green paper leaf that I accented with green watercolor.
Going Au Naturale
In addition to the woven seagrass chargers, I mixed in other wooden and woven elements to keep things au naturale. Wooden candle pillars created a great accent piece to complement the lush green and yellow floral centerpieces.  I used my Amici Bali Hiball Glasses that had woven cupholders that tied in perfectly to my rattan napkin rings.
The Menu
Knowing that we wanted to use lemon as part of our main dish, I worked with the hubby to develop a dinner menu perfect to celebrate a summer of fun.  He manned the Big Green Egg as I added the finishing touches to the tablescape.  In the end, we came up with a tasty offering that was definitely one for the books!  We snacked on a Charcuterie Board that Cynthia pulled together with delicious Tillamook Cheese and Spinach Dip that Luisa brought.
The hubby's Smoked Stuffed Mushrooms were probably the biggest hit of the night along with the colorful and refreshing Watermelon Tomato Salad that Maryashley brought (which I've shared the recipe here)!  The full menu is below and I'm happy to share more details – just leave a comment below if you have any questions!
Appetizers:
Charcuterie Board with Tillamook Cheese
Spinach Dip
Smoked Stuffed Mushrooms
???? ???? ????
Entrée:
Lemon Spatchcock Chicken 
Steamed Broccolini
Baked Garlic Green Beans
Roasted Fingerling Potatoes
Watermelon Tomato Salad
???? ???? ????
Dessert:
Iced-Vanilla Pound Cake
with Blackberries & Vanilla Ice Cream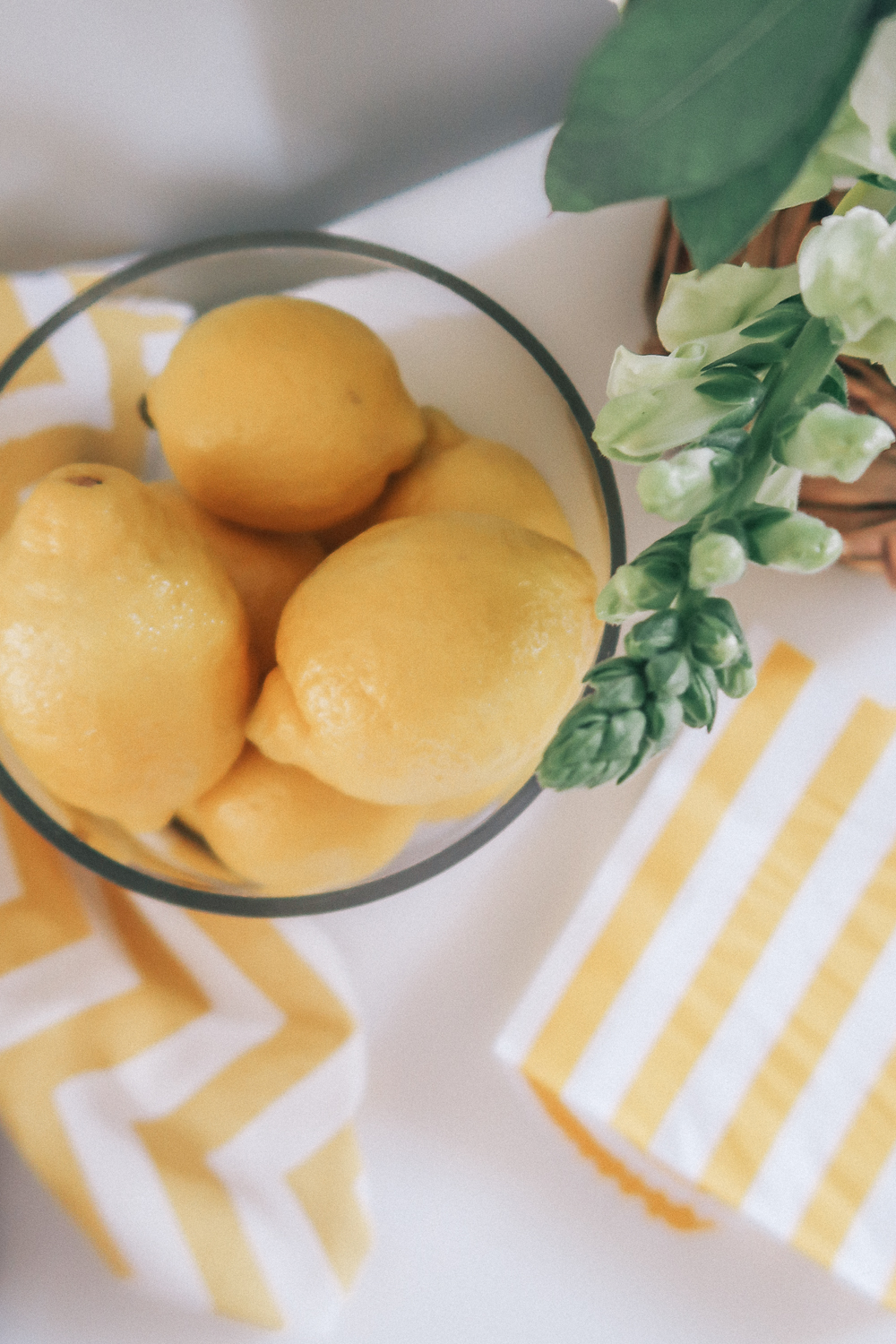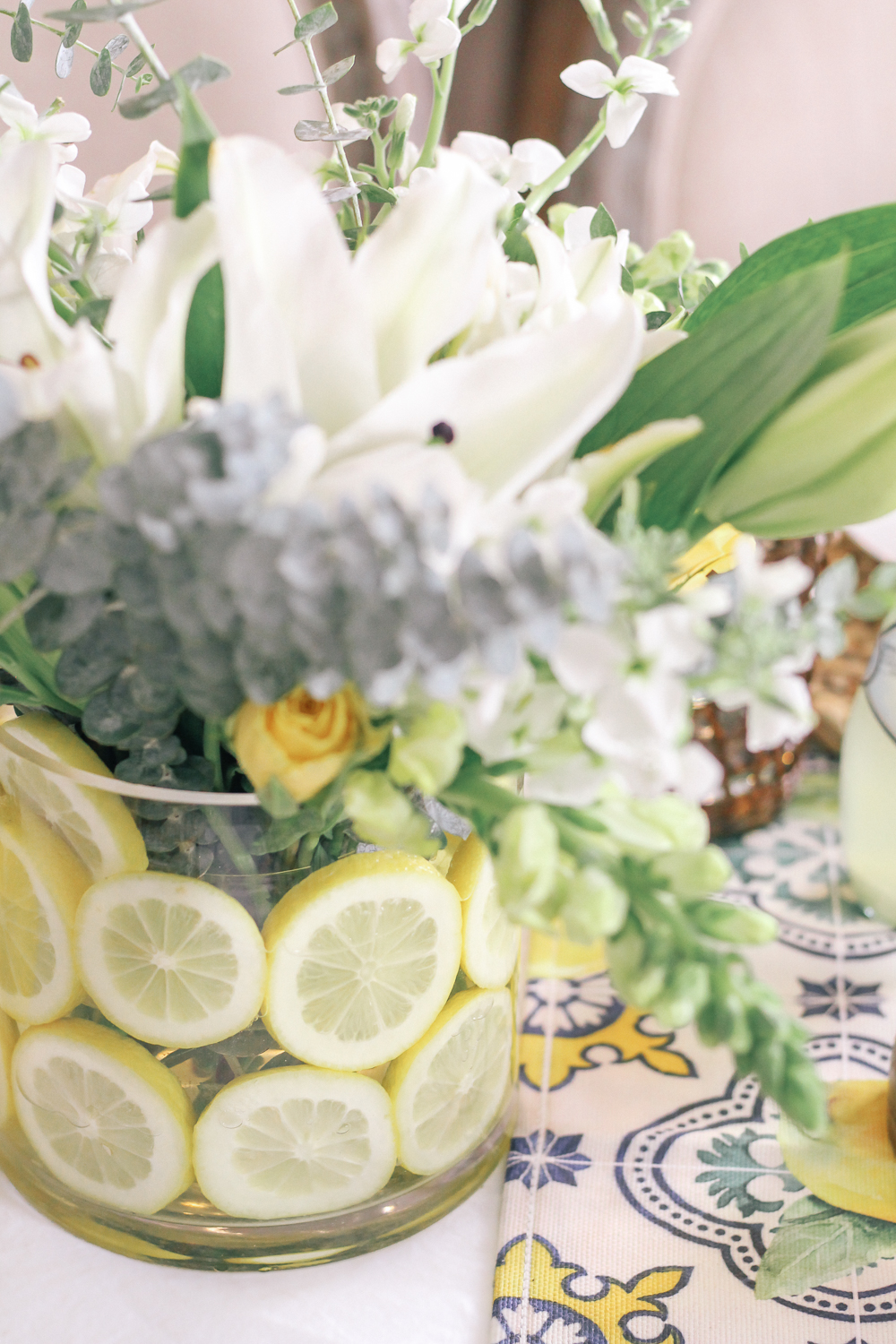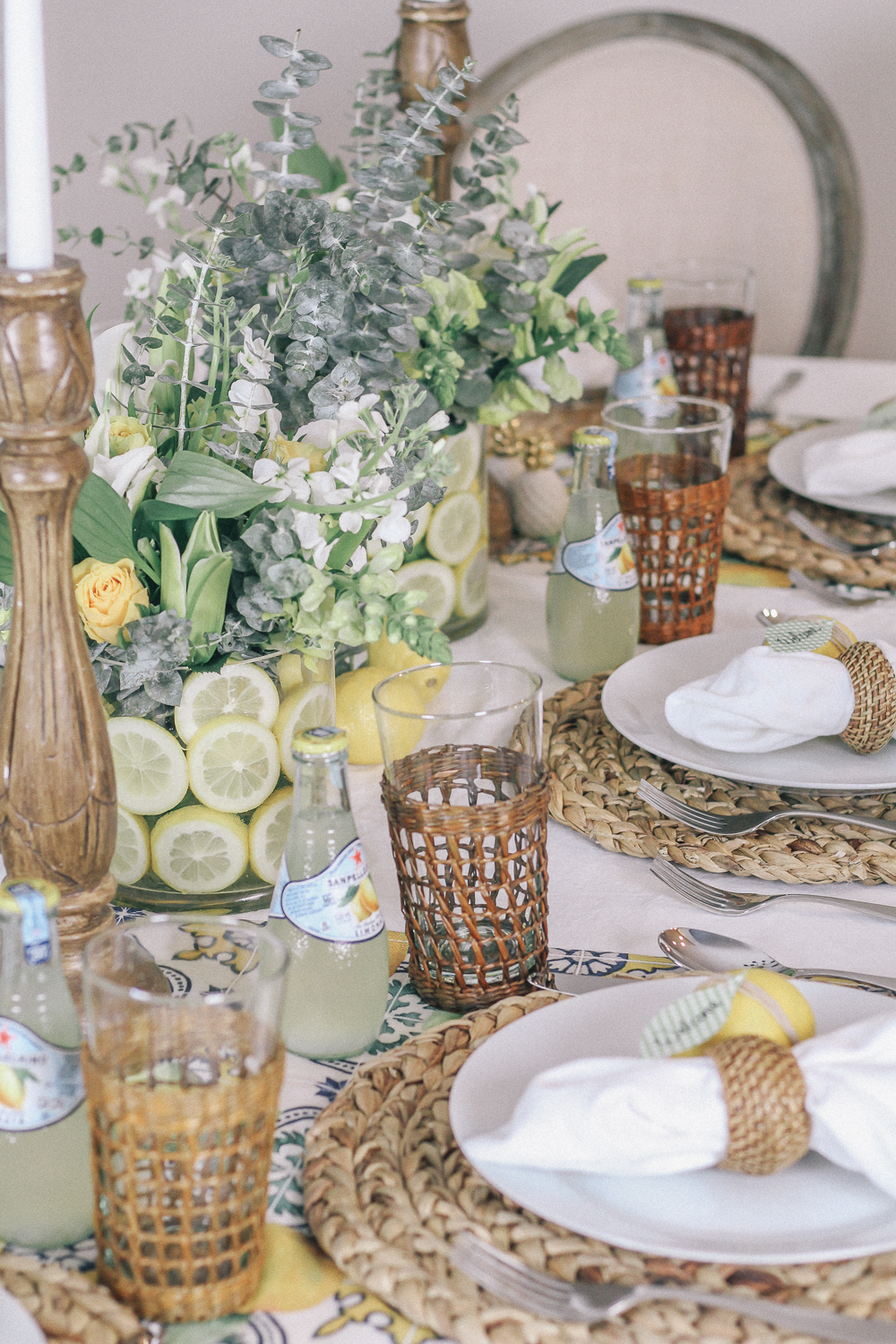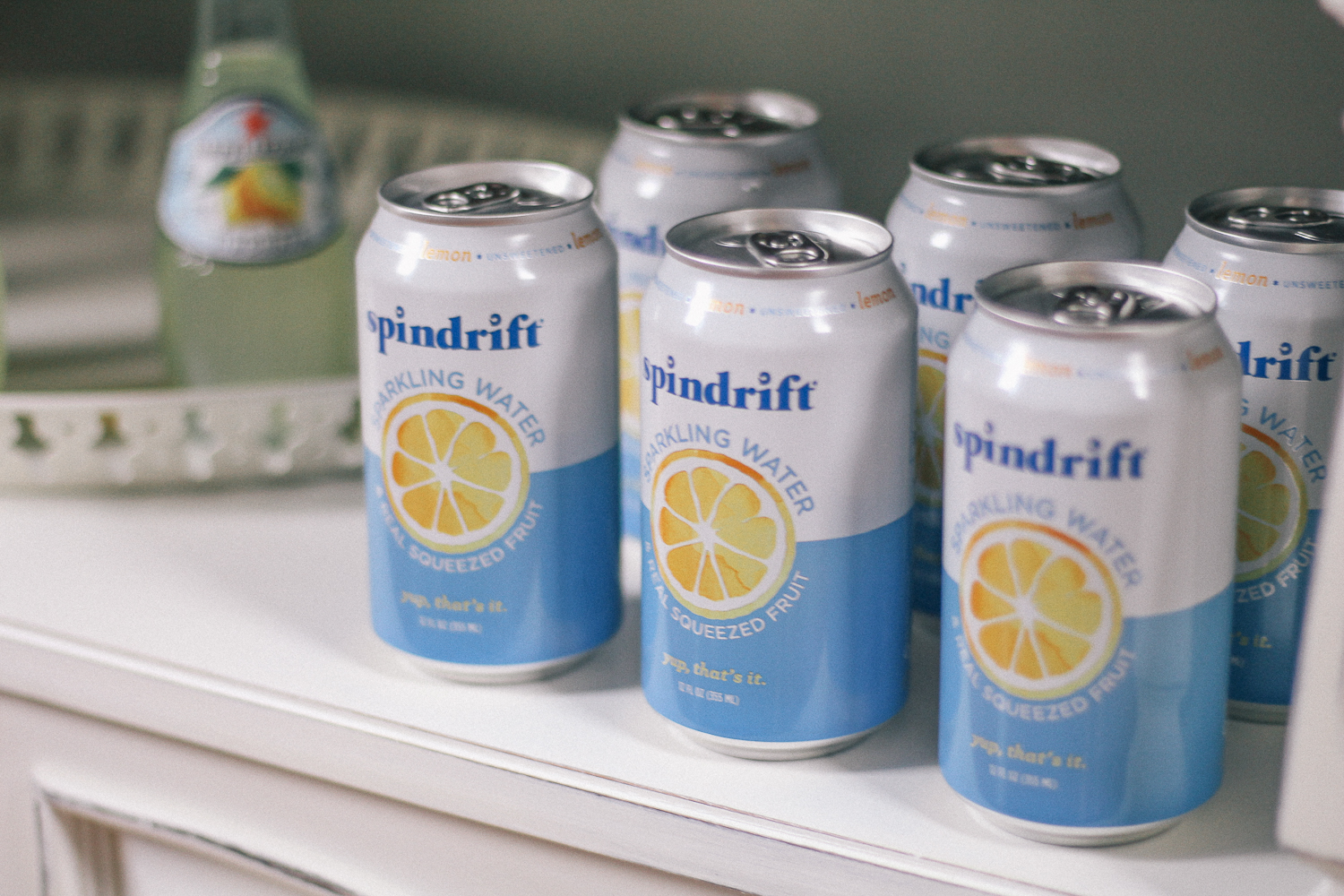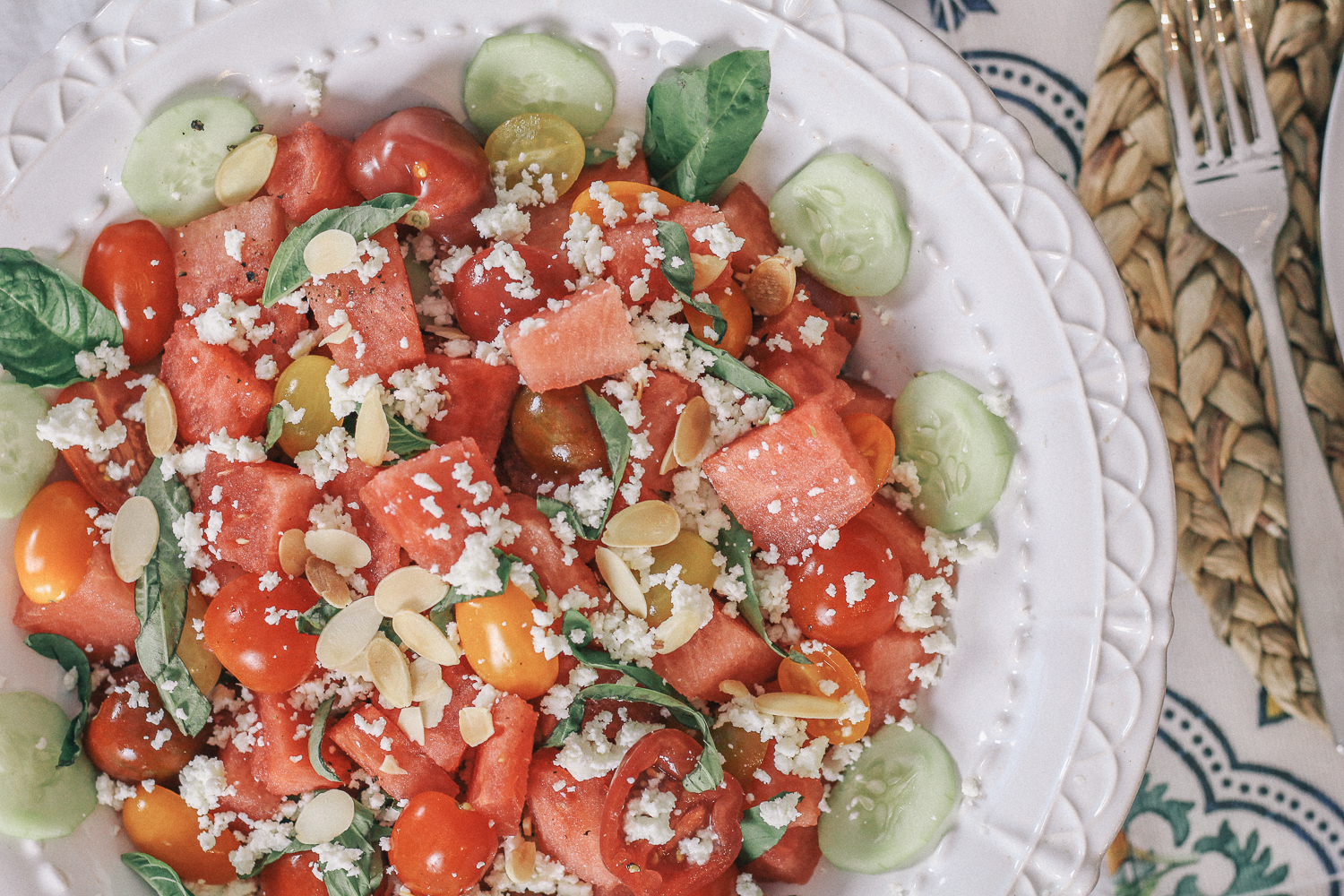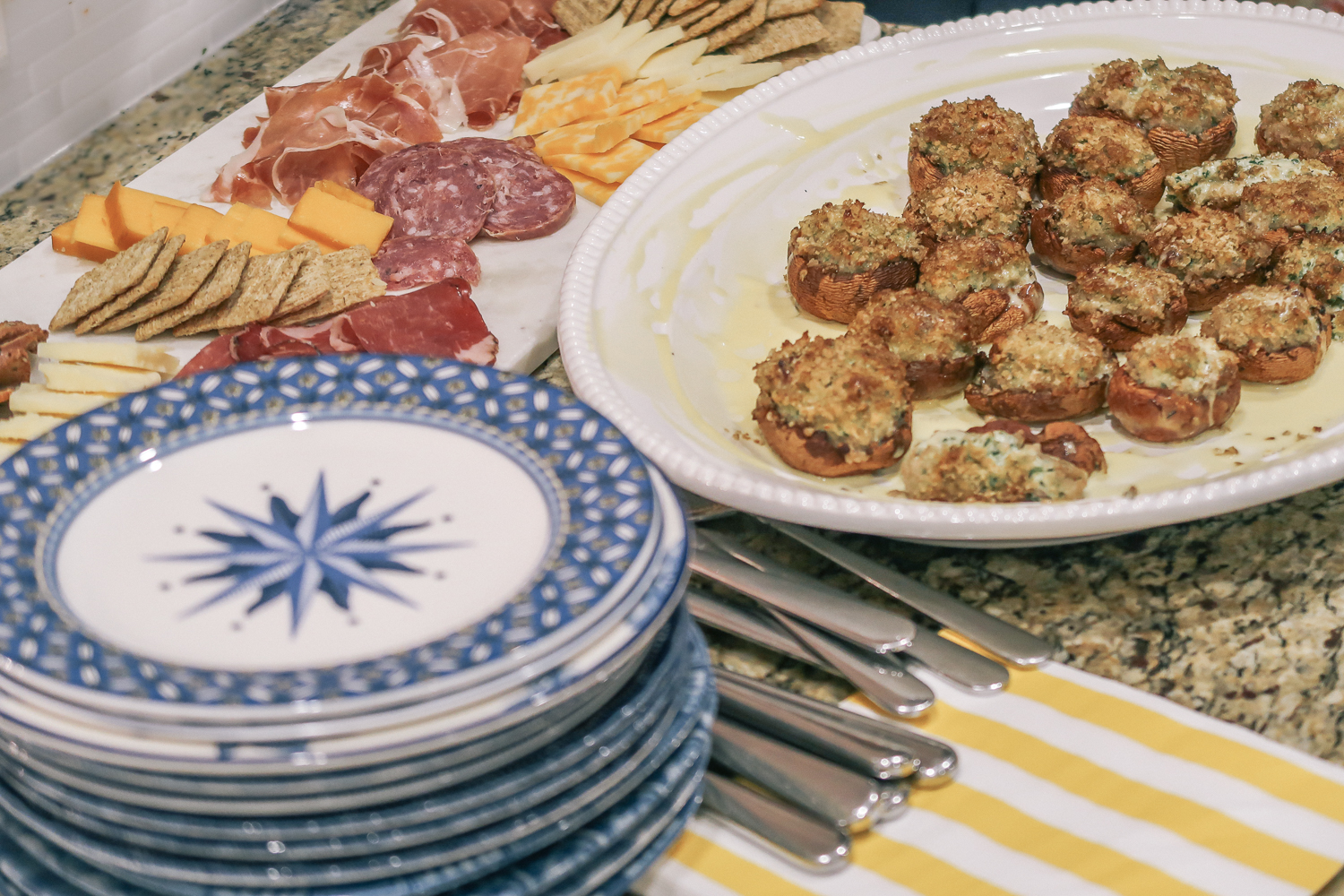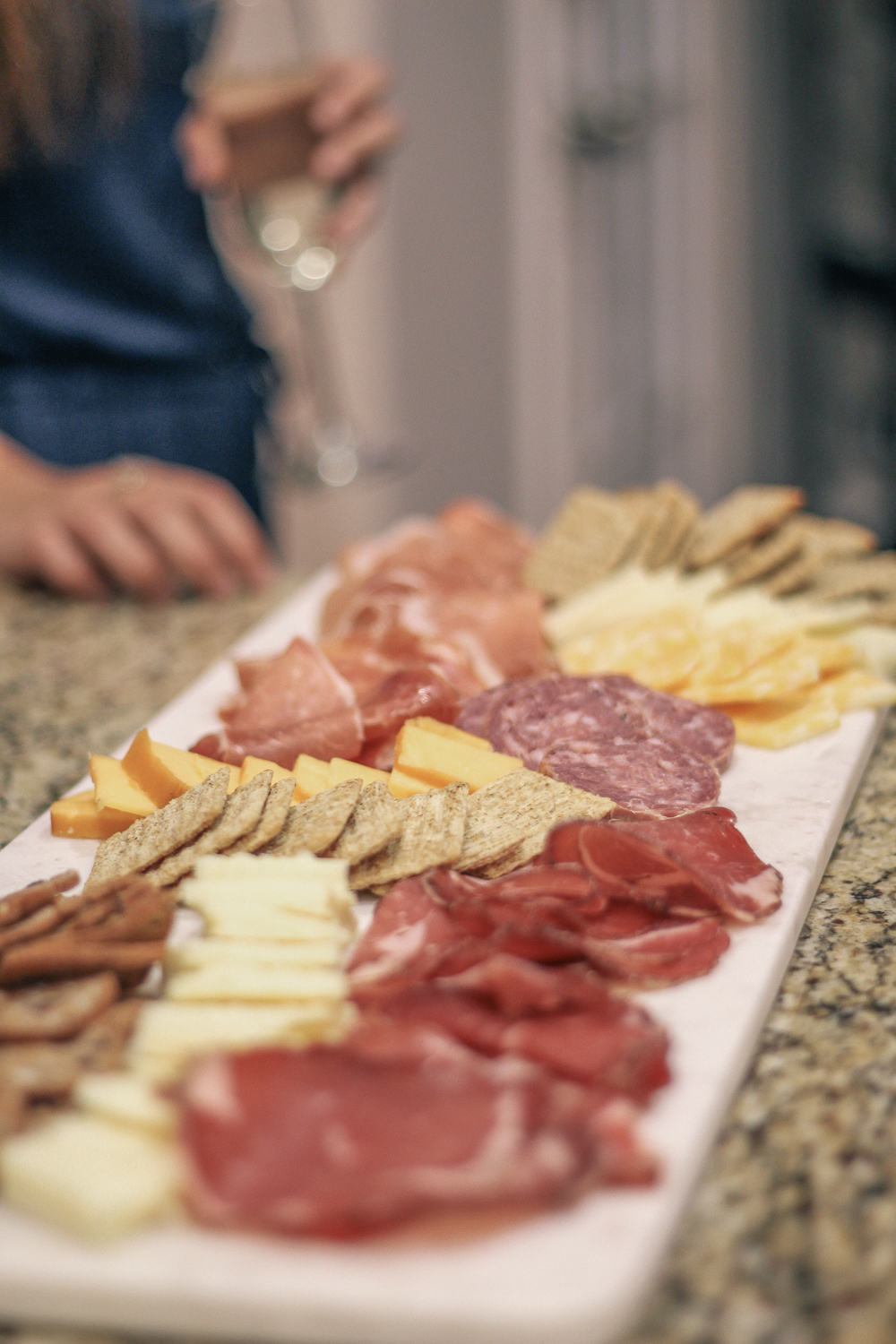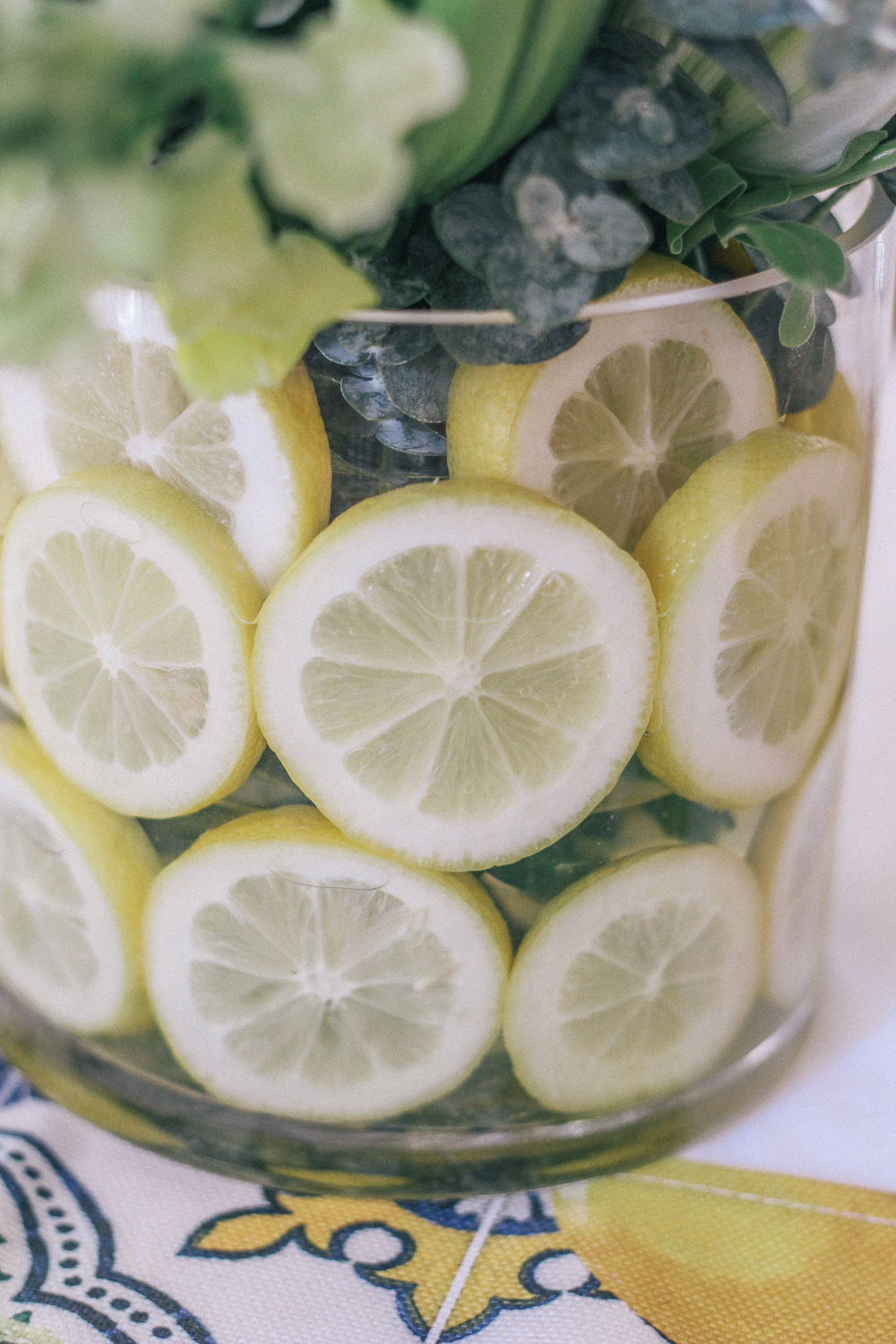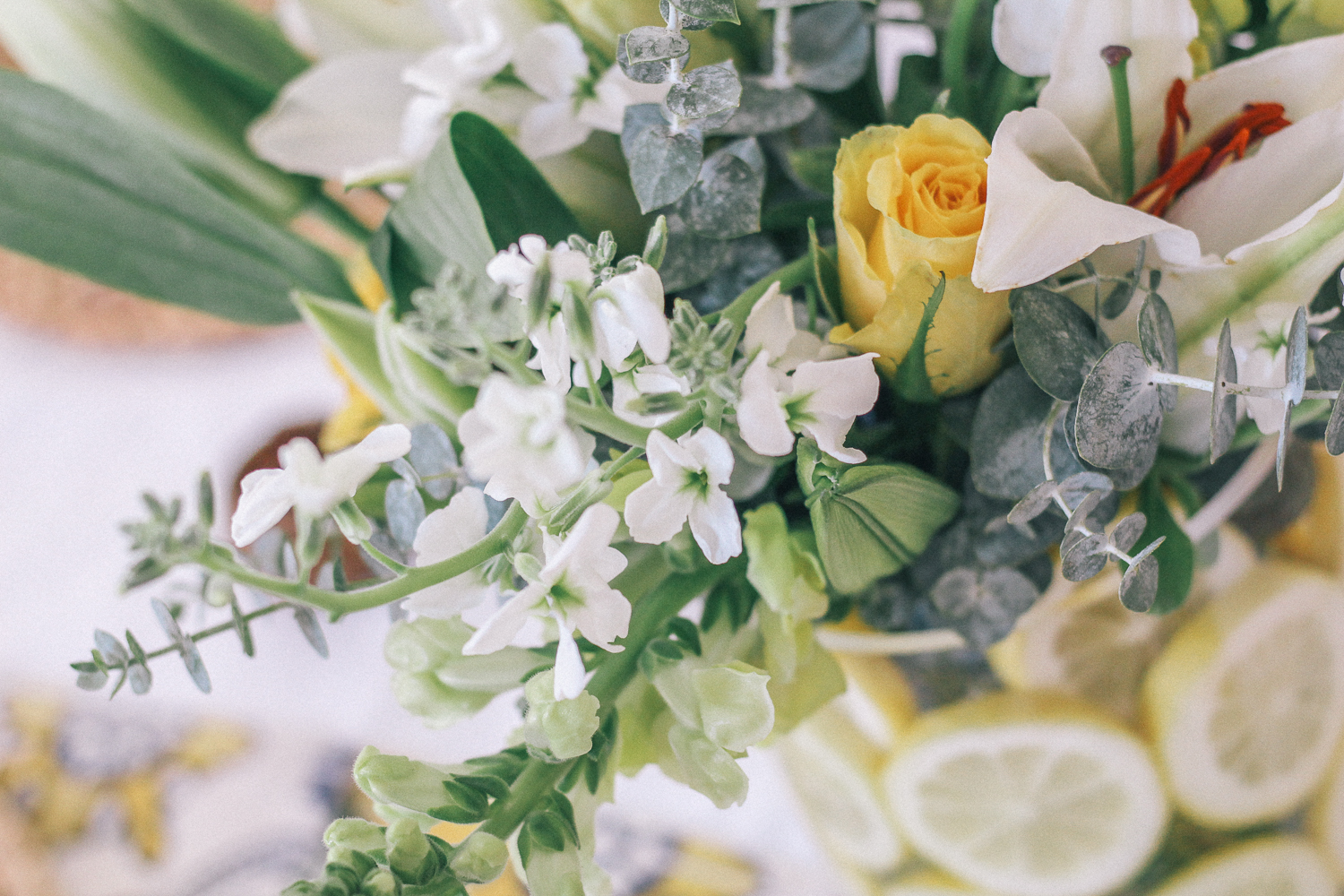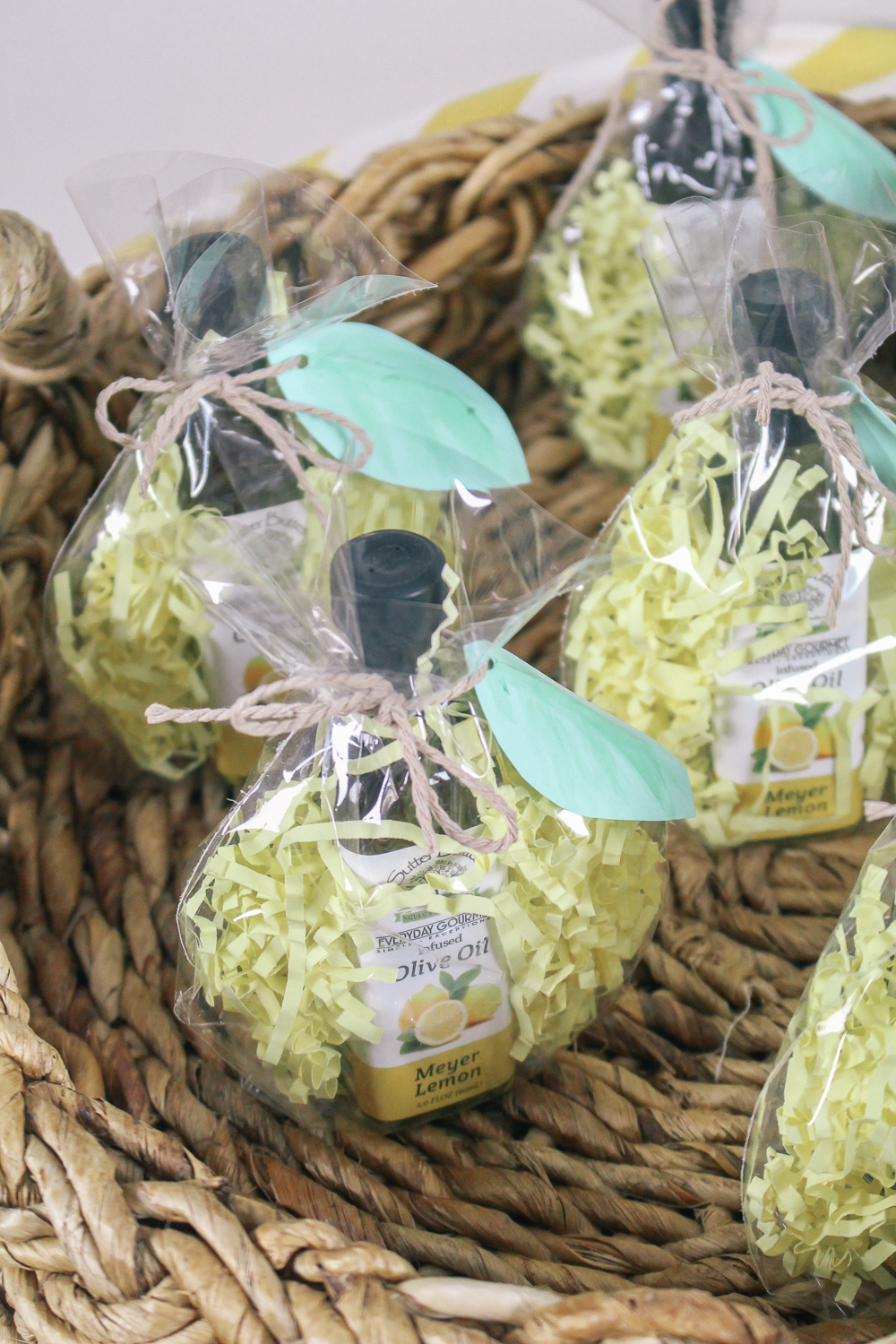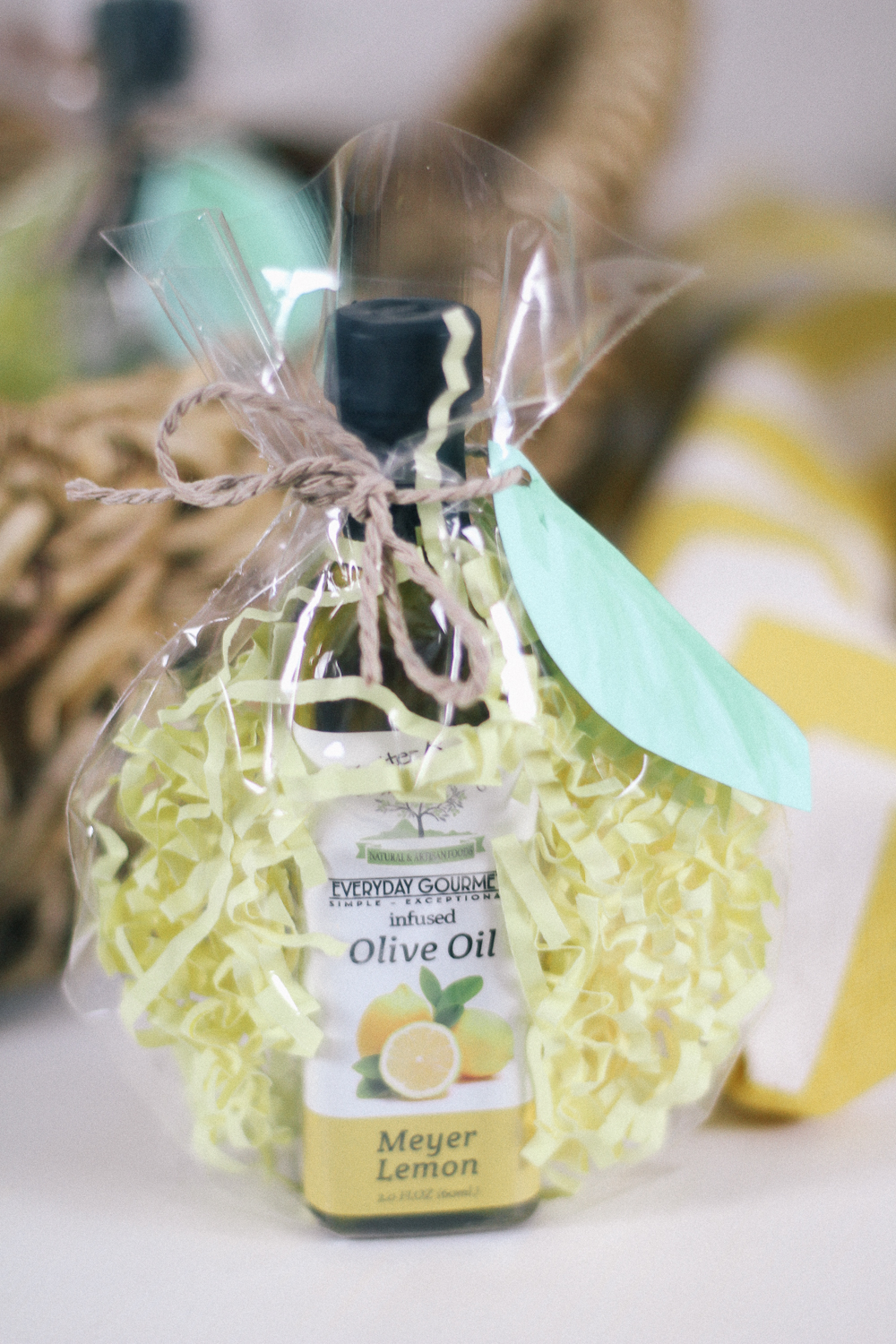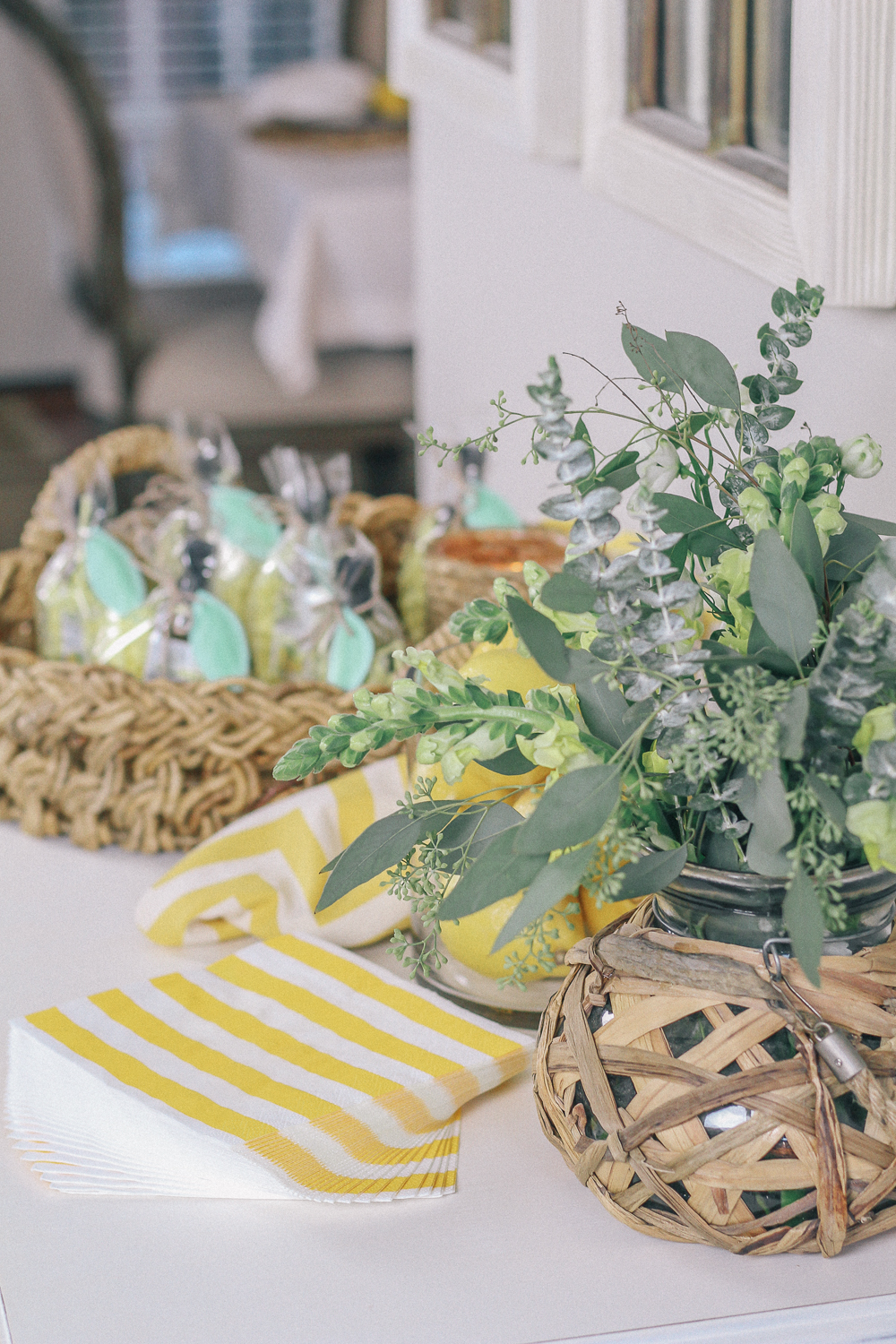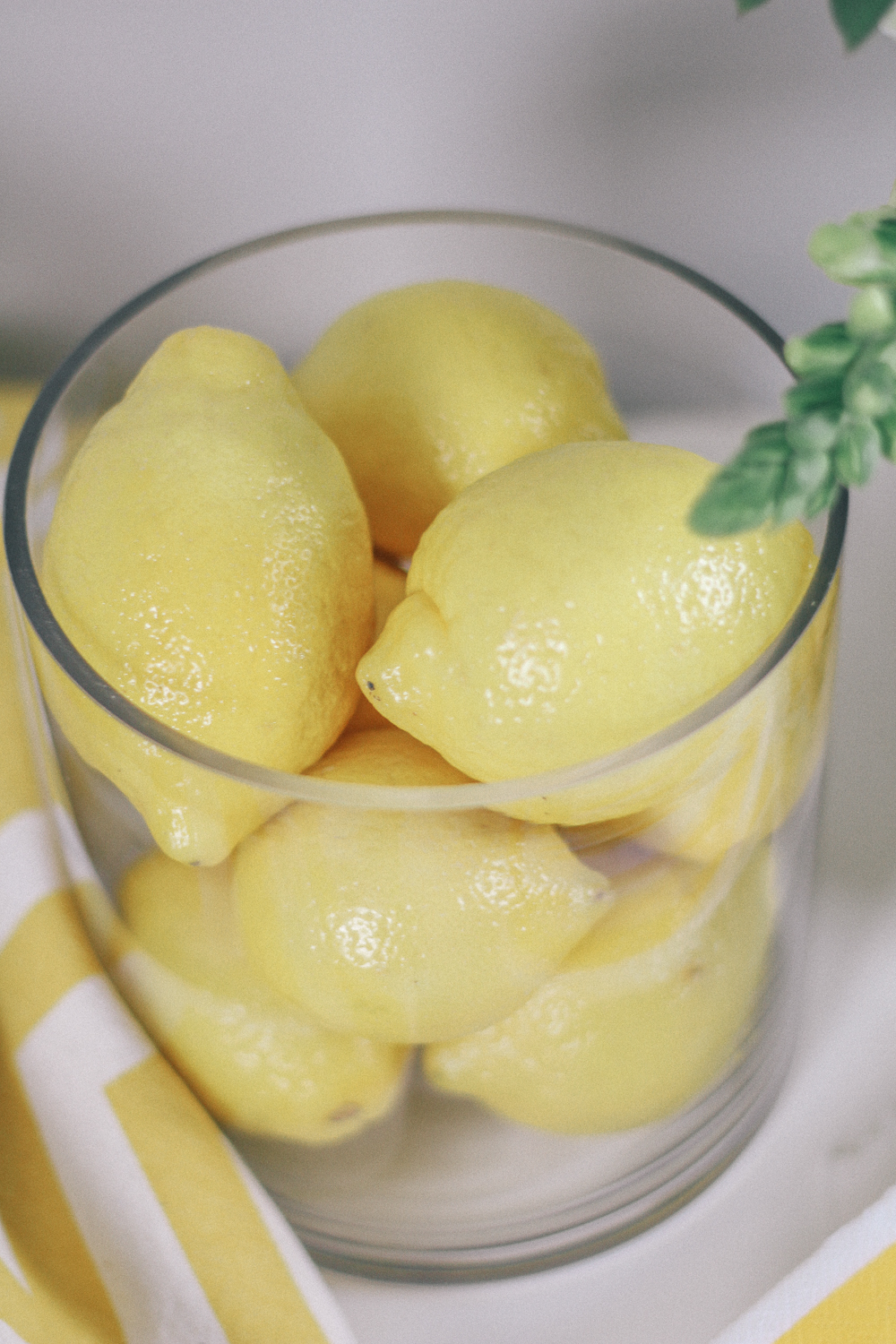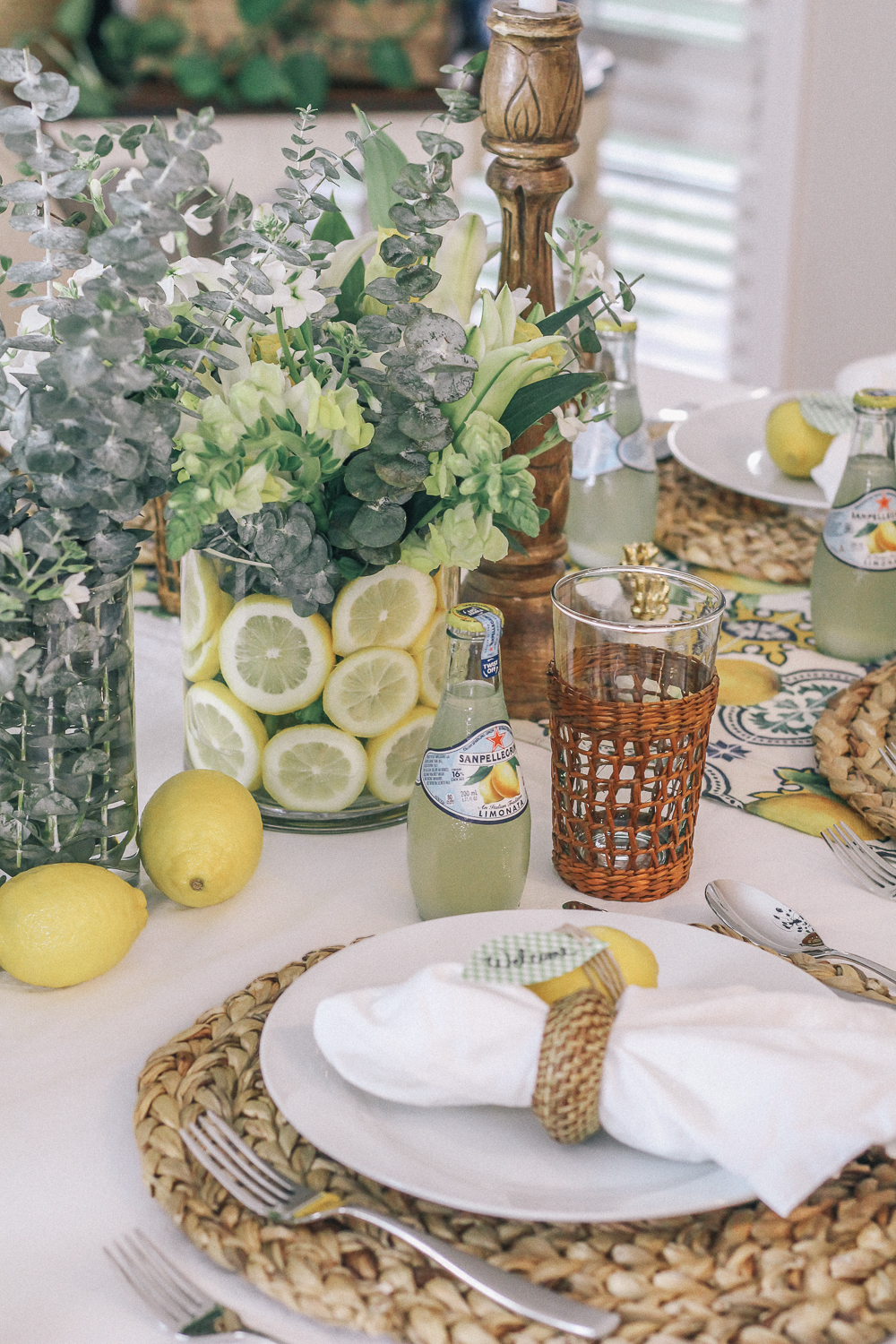 The Gathering
Our end-of-summer dinner was a delightful evening spent gathering with friends. I was thrilled that we got to share the night catching up over a delicious dinner.  The hubby and I had not hosted a couples dinner party since our Friendsgiving last fall for Thanksgiving… needless to say, I was itching to plan something fun and this was long overdue!  I recapped our lemon-themed dinner party with a fun video that you can watch here.  I'll be sharing more entertaining ideas and inspiration so make sure you pop back over soon and don't forget to check out the Peachfully Chic Youtube channel for videos recaps and behind the scenes. Until next time…