The Whiskey Tasting Edition:
As I mentioned when sharing the recipe for Supreme Chick-Fil-A Chicken Nuggets (bacon, cheese, and mushroom – oh my!), we just celebrated Kevin's birthday last weekend at our new home and it was the first time we've had the pleasure of entertaining!   While we are planning to have a housewarming at some point in the next couple months, we wanted a smaller get together with an intimate group of friends for this go round.
I was a little stumped on what I should do to celebrate Kevin's birthday this year.  You see, over the last four birthdays that I've had the privilege to surprise Kevin for almost every birthday he's had… This sets the bar pretty high for myself (atleast in my mind).
In the first year, I planned a surprise birthday dinner in his hometown with old high school and college friends.  The last few years I coordinated with his family and friends to make surprise trips to visit us when we lived in New York, and then when we moved to Atlanta.  We already knew his Dad was visiting for his birthday and to see the new house… so I had to think outside the box this year.
I landed on hosting a surprise whiskey tasting!
This definitely took a little work on my side since I don't drink whiskey and had no idea where to start. Actually, I don't drink dark liqueurs at all – the elevated number of toxic compounds make those morning after hangovers unbearable for me.   #truestory   #askmybacheloretteparty
I did some research online and found reviews from all over giving me tons of suggestions on the best whiskey out there for my middle range budget. I eventually just ended up at the local package shop around the corner from our house and told them I was planning a guy's birthday party and I needed help.  They were a huge help!  I knew I needed to include Woodford Reserve (Kevin's go to whiskey), but I needed 4 others to include.
[line]
Here Are The Whiskies We Chose:
Woodford Reserve – 90 Proof, 7.3 Years, 750 ml, $35.99 (official whiskey of the Kentucky Derby)
Angel's Envy – 86 Proof, 6 Years, 750 ml, $44.99
Eagle Rare – 90 Proof, 10 Years, 750 ml, $33.99
Elijah Craig – 94 Proof, 12 Years, 750 ml, $31.99
Booker's – 124 Proof, 7.4 Years, 750 ml, $59.99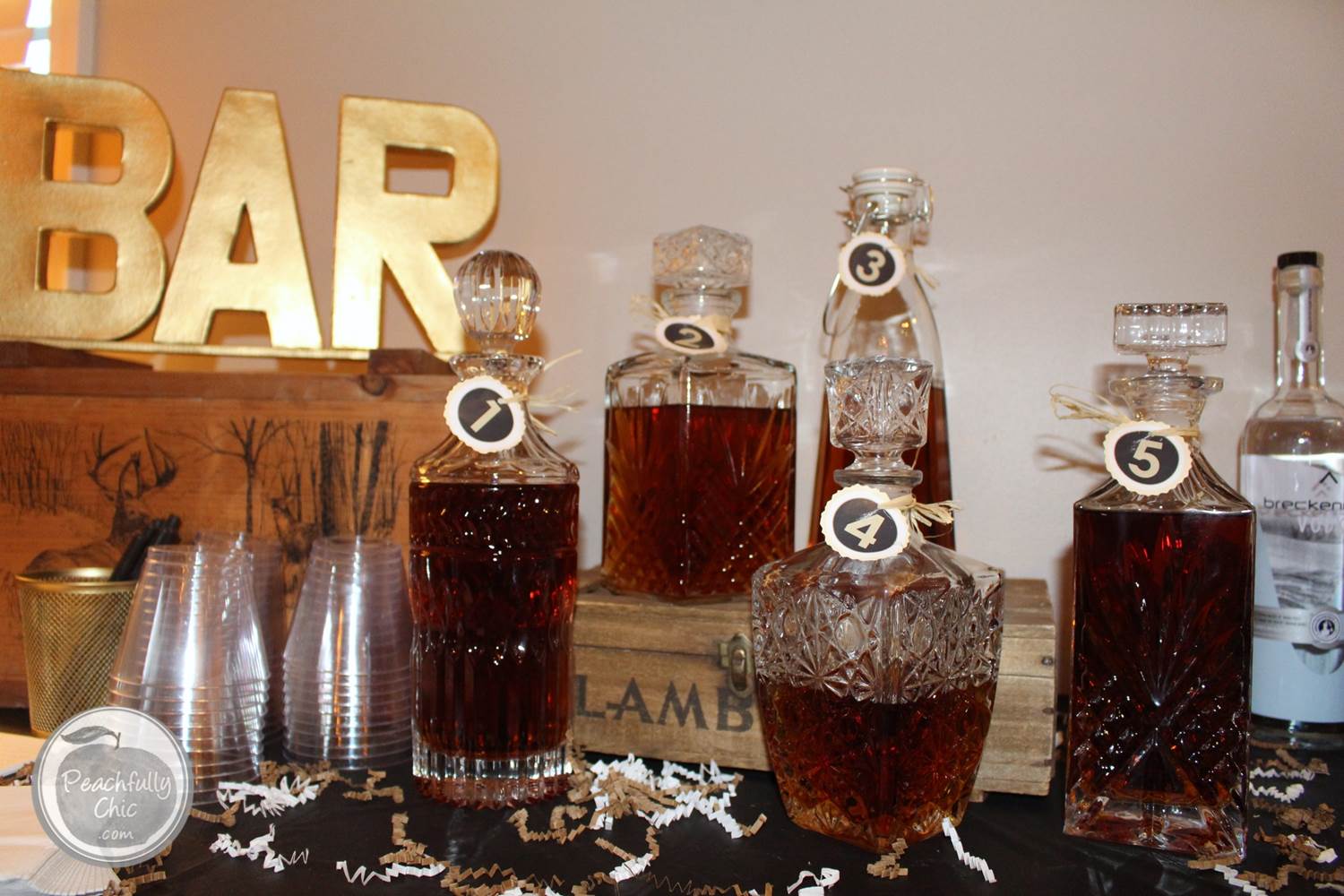 As I mentioned, I seriously know nothing about whiskey, so I left it to the guys at the store to help me decide.
I didn't realize that these were in fact all made in the US, so when I made the signs for the party ahead of time, I had already plastered "WHISKY" without the "E" all over everything.
No, I wasn't drunk when I put it together and my spell check was working fine.
As I understand it, whisky/ey is kind of like color vs. colour.  The thing is, whiskey is spelled "WHISKEY" in most of Ireland and the United States, but everywhere else in the world, it's known as "WHISKY".
I was trying to keep things original by using "whisky" on all my decor since I thought I was going to pull in some international brands, but I guess it would have made sense for me to just use "whiskey" with the "E" since everything at our tasting ended up being made in the US!  Whomp. Whomp. Good thing that didn't affect the tasting itself! 😉
[line]
Whiskey Tasting Essentials:
I ordered the decanters online in advance from the $12 – $25 each range.  One of the decanters arrived broken and I didn't have time to replace it, so I improvised with a glass holder I found for $5 at HomeGoods. To mix things up, I poured all the whiskies into their own decanters and then labeled each with a number so we could keep track of them.
Download the Decanter Numbers here:
DECANTER NUMBERS: guys-birthday-party-manly-whiskey-tasting-sheet-numbers
I bought a Chalkboard Party Banner from Target that I customized using chalkink markers. It ended up being the perfect length!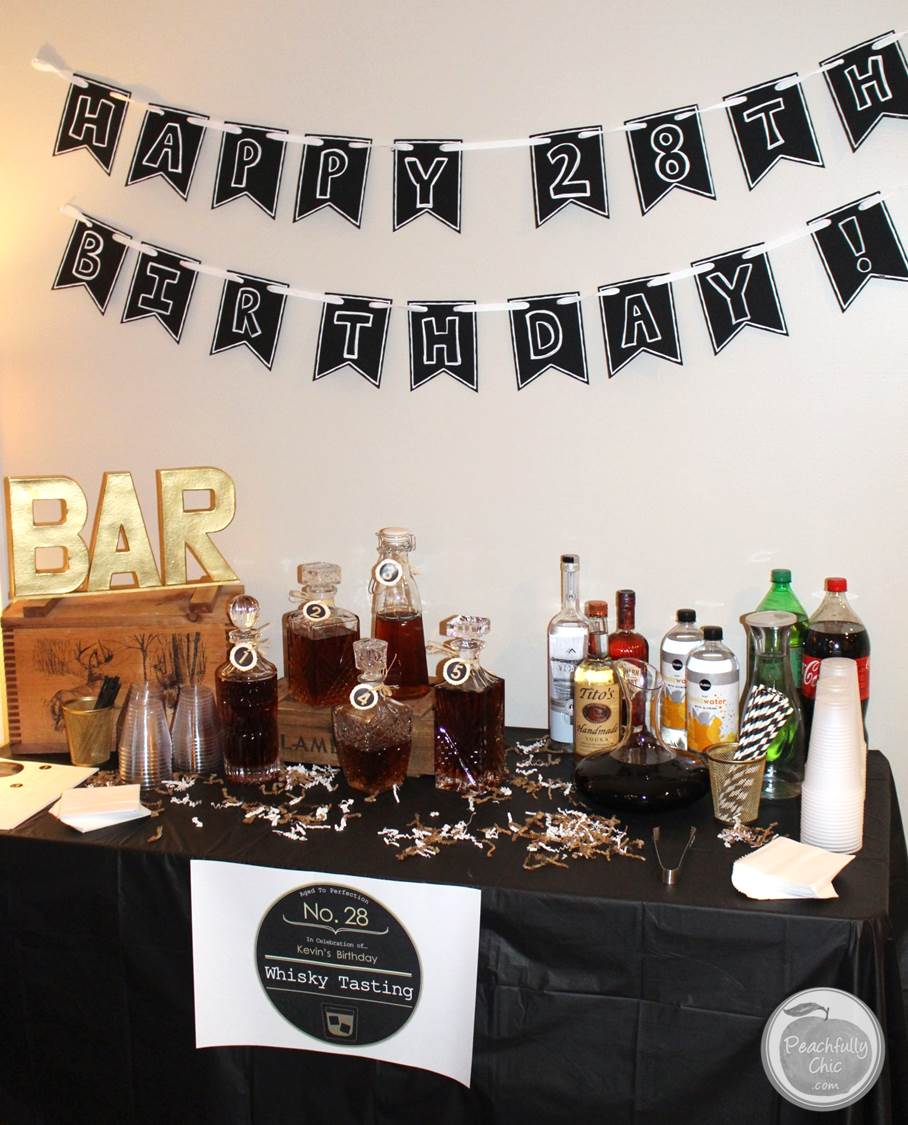 I made a decal as the invitation and printed slight variations to decorate the house.  Kevin may have been slightly embarrassed by me taping up these giant signs, but since this was the first time some friends were coming over, I plastered one up on the front door nice and big just to make sure they knew they were at the right house!
Download the Decal Sign PDF here:
INVITATION:  guys-birthday-party-manly-whiskey-tasting-invitation
WHISKEY TASTING DECAL:  guys-birthday-party-manly-whiskey-tasting
WHISKY TASTING DECAL:  guys-birthday-party-manly-whisky-tasting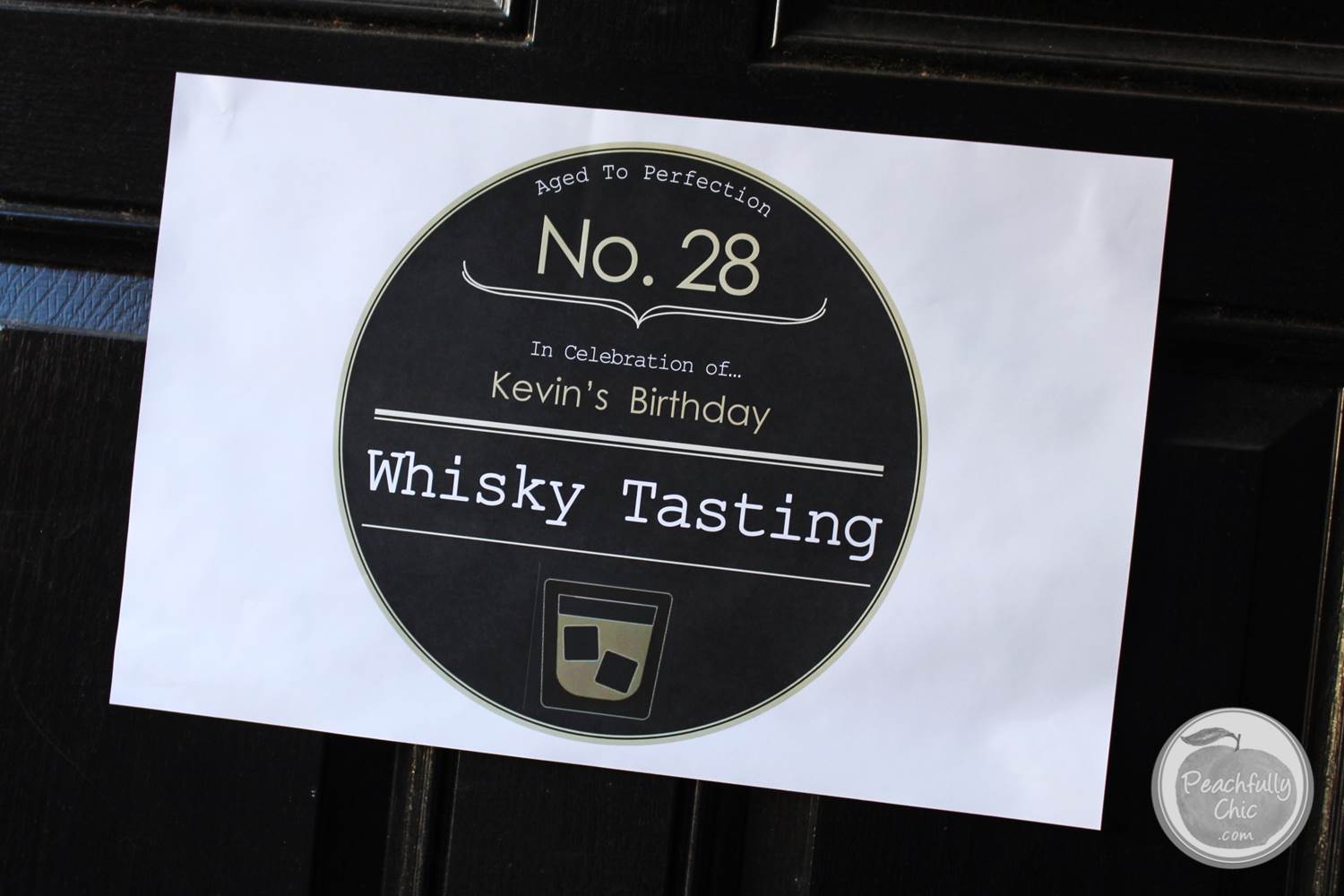 And I reused the BAR sign I made for our wedding… you can find out how to make one yourself here!  It's super simple and a great accent to any party!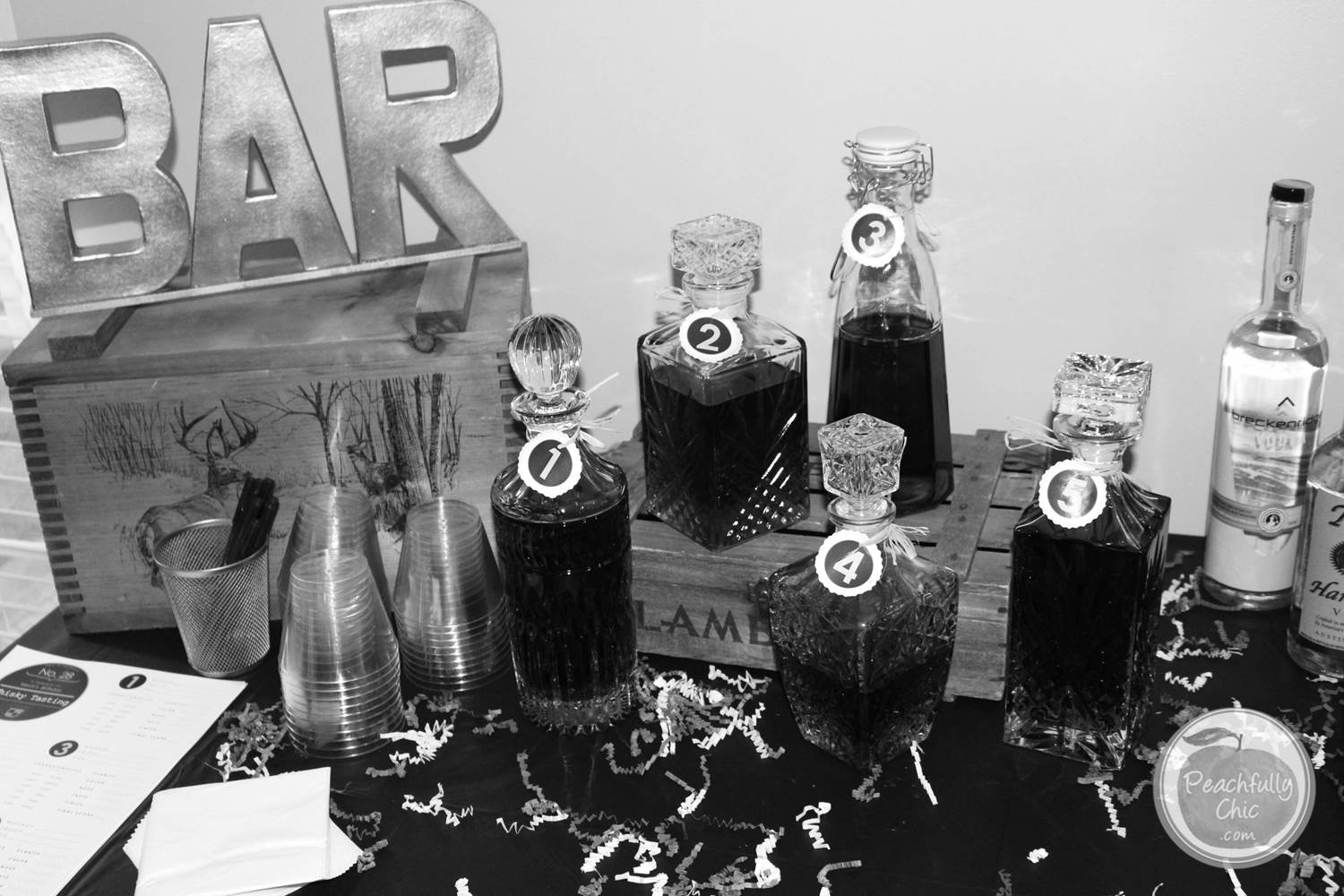 I also created a rating sheet to fill in.  I told everyone that they would taste and rate the whiskies first, then to share their thoughts on their favorites, and finally I would reveal the name of each whiskey that they tried at the end.  They all seemed to like this part and it was fun hearing what some of their thoughts were as they went along.
Download the Tasting Sheet PDF: 
 WHISKEY VERSION: guys-birthday-party-manly-whiskey-tasting-sheet-whiskEy
WHISKY VERSION: guys-birthday-party-manly-whiskey-tasting-sheet-whisky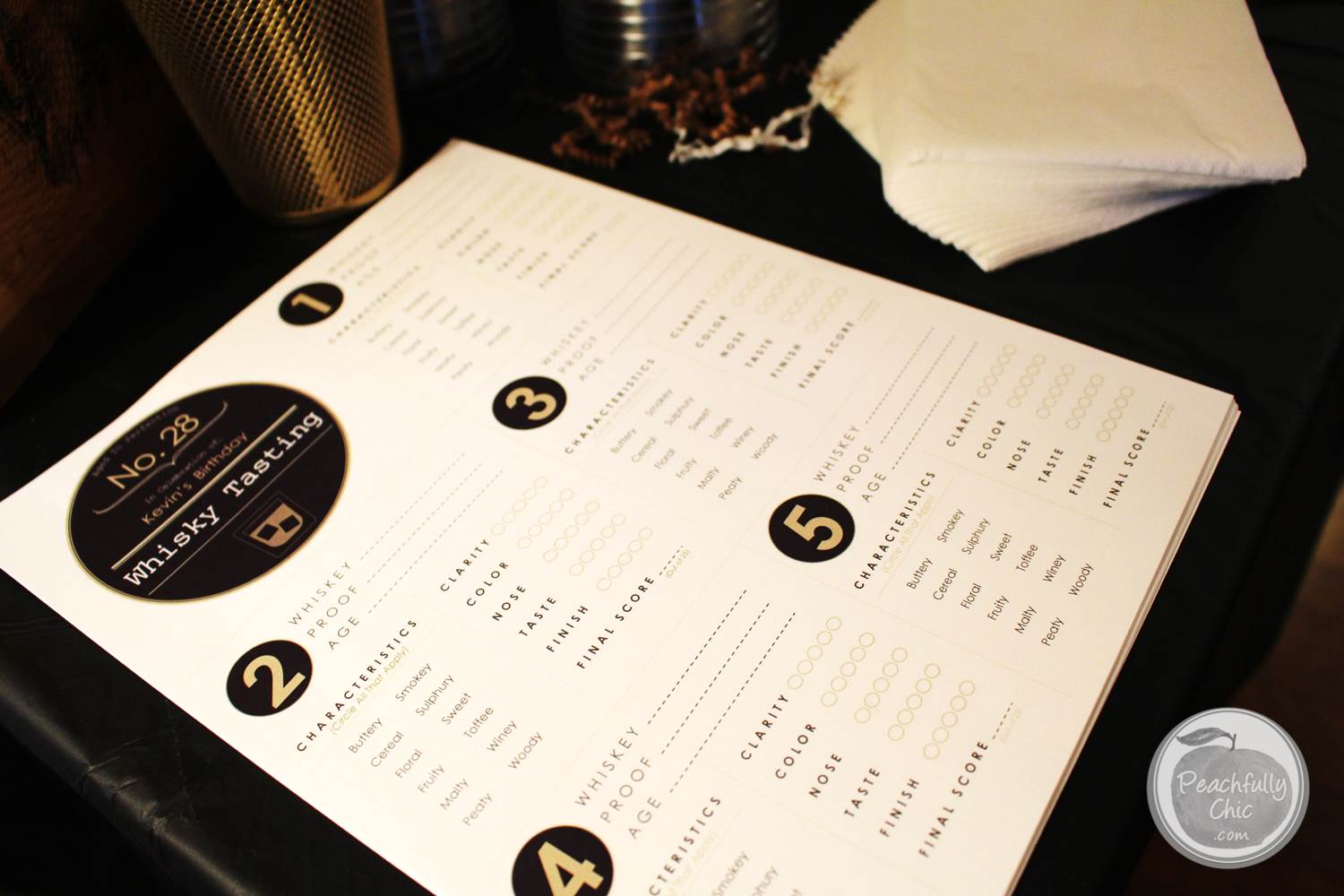 Download All Party Decor Here in a Single Zip File: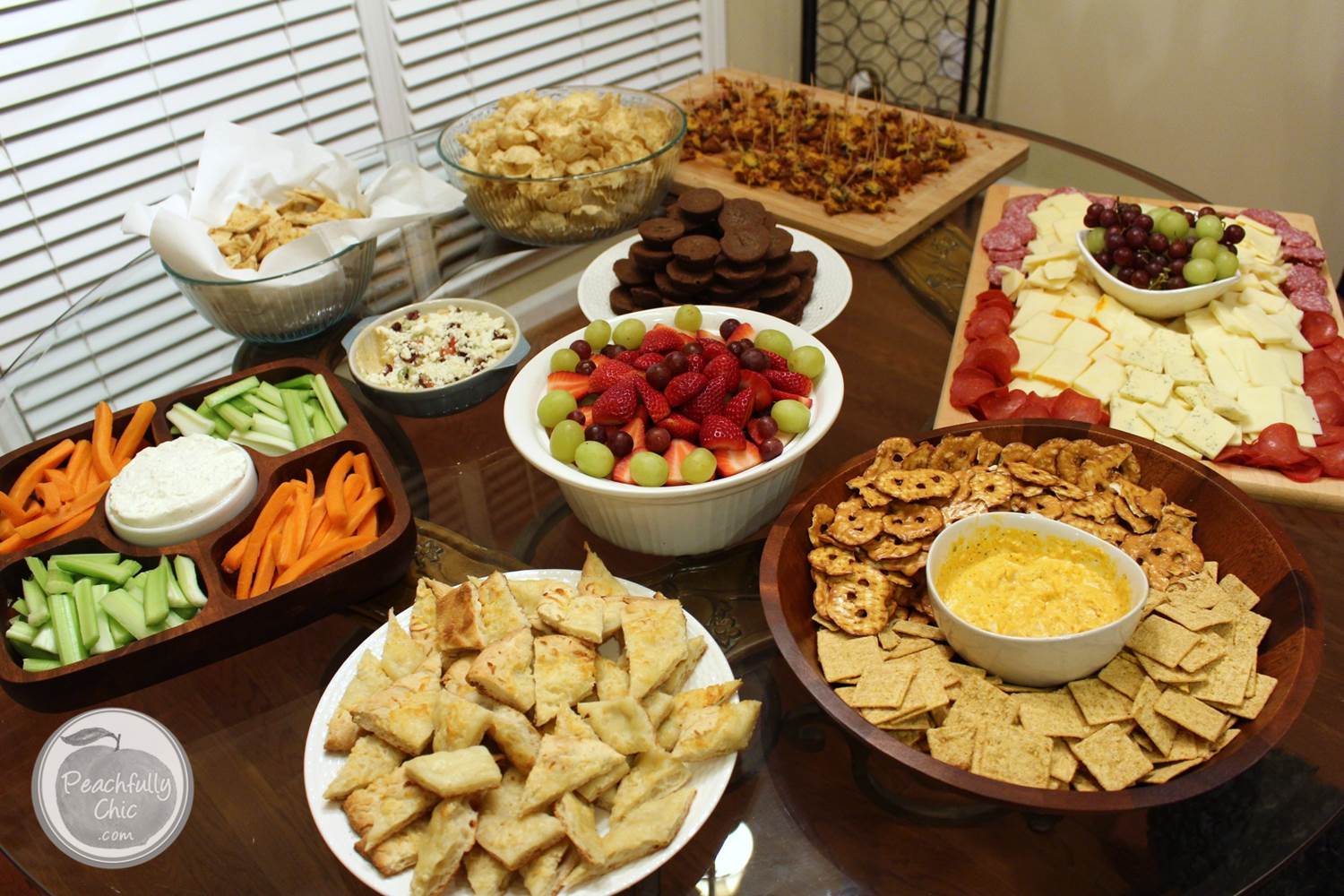 We put together lots of cheese variety (I heard cheese goes well with whiskey) and added in some other snacks to keep everyone full, including those Supreme Chick-Fil-A Chicken Nuggets.
I made sure to include two carafes of water so that people could rinse their glasses or clean their tasting palate (some used beer instead) and also put an ice bucket on the table for those who wanted to chill their whiskey a little before tasting.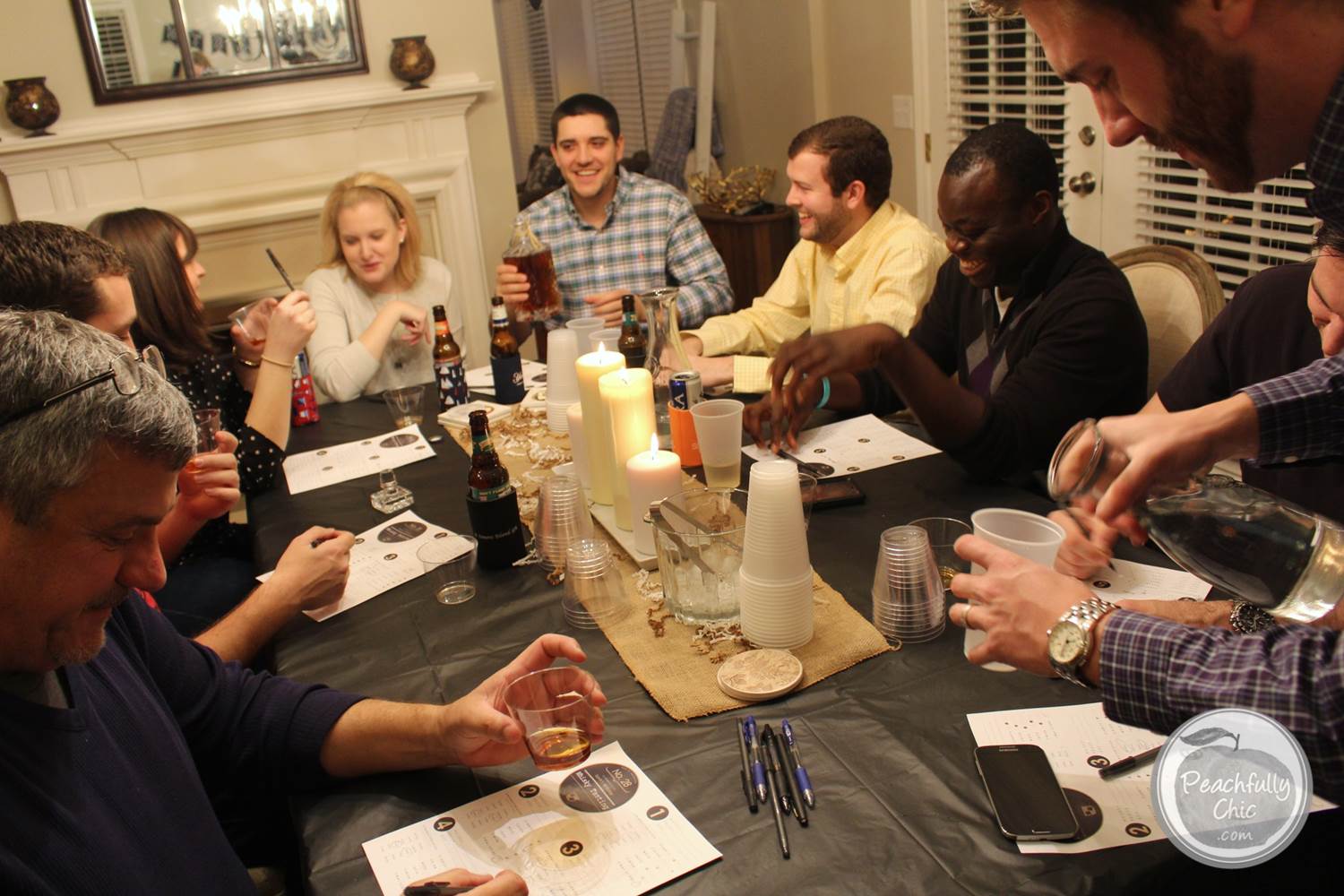 Cheers to my handsome husband for another wonderful year celebrating your birthday!
 Overall I think this was a fun twist for anyone who may be planning a guy's birthday party.  I tried to find a manly birthday theme, and this seemed like it was a good fit.  I'm not sure how I'll step it up next year, so I welcome suggestions if you have any for me to start brainstorming now!
And I have to say it was so much fun having everyone over for Kevin's birthday that I'm really looking forward to getting the rest of our house in order so we can host our official housewarming party sometime in the next couple months – rooms filled with boxes not shown above 😉  But I'll be sure to share photos of it all coming soon!