'Twas the Night Before Christmas:
It's Christmas Eve and I just wrapped up work for the next week and a half – you won't see me in the office again until after the New Year!!  So we've got a few things buzzing around our house today. The white stag of 2015 is around the corner!
1.  New Sofa from Macy's
Our new comfy sofa is arriving today from Macy's Furniture!  To be honest, I didn't realize that Macy's even sold legit furniture, but there's a furniture gallery here in Atlanta at Perimeter Mall that schooled me otherwise.  This worked out because they actually have some pretty great pieces that we could test out in person AND we could finally use some of those wonderful Macy's gift cards we were blessed to receive from our wedding!
Kevin actually picked out our sofa.  It wasn't my number one choice, or number two… I would have preferred a sofa +  love seat combo; but we compromised and Kevin agreed to let me have complete control over picking out all accent pieces to jazz up the space around the sofa… and we're already squared away on the end tables!
I have to admit though, the size of the sofa is really is going to work great in our space.  Kevin wanted a huge sectional that could fit everyone, but I really think he was already planning on hosting a Superbowl party before we had even reached the register.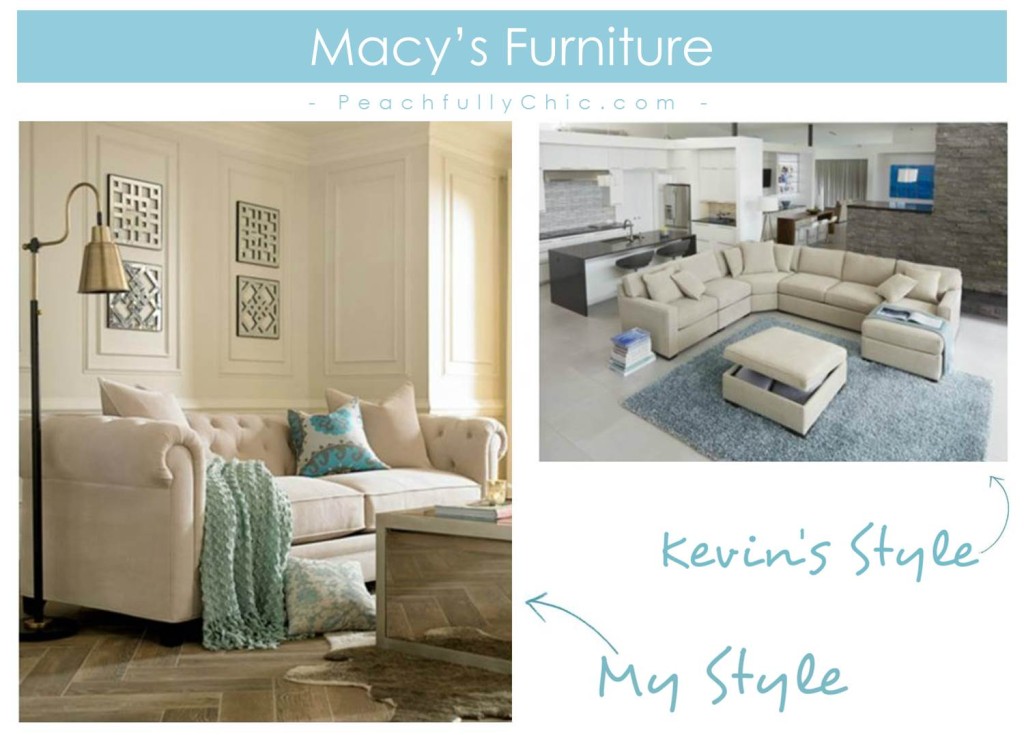 Now we're just waiting on the delivery guys from Macy's.  …Who knew they would deliver a couch on Christmas Eve???  It's kind of like our own delivery from Santa… except for the fact that Kevin and I paid for the sofa ourselves, and some guys on a truck are delivering it a day early.  Oh well, we're very excited to finally start putting together more of our house!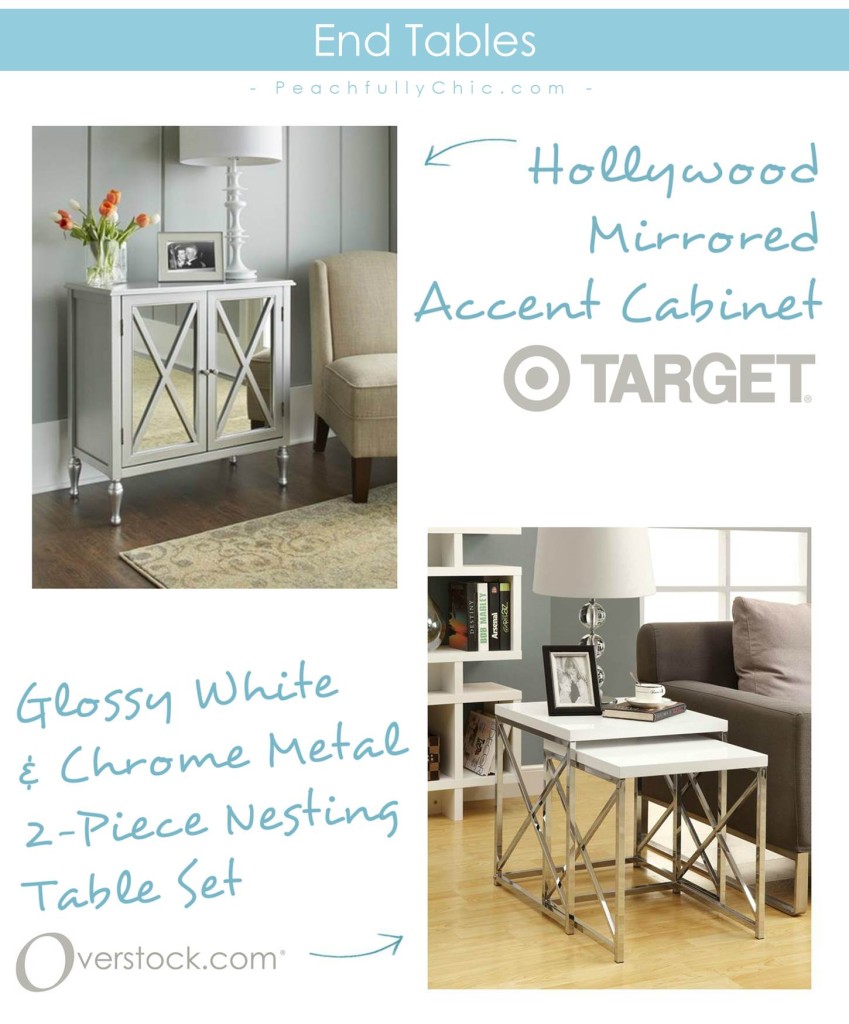 The end tables I found are pictured above.  The Hollywood Mirrored Accent Cabinet was specifically purchased from Target to hide all our electronics inside and still function as an end table to fit between the end of the sofa and the window wall. It's literally going to either fit perfectly, or be an inch too wide for the space.  It was a gamble based on how accurate my measuring skills are… and I won't lie – I'm challenged in the area of taking accurate measurements for anything from furniture, fabric, or really anything spacial related.  Thinking about this now as we wait for our sofa, I'm wondering why I didn't get Kevin's help ahead of time.  Oops – too late now.  Guess I'll have to let you know if it fits!
The Glossy White & Chrome Metal 2-Piece Nesting Table Set was actually listed on the Target website, but I just happened to Google it and found the exact same version sold for about $50 cheaper on Overstock.com.  Trust me, it pays to double check what's out there in the world of e-commerce!  I'm not worried about this fitting since it's going on the end of the sofa with a ton of open space.
Anyways… I'll keep you posted as the furniture arrives and we furnish out the rest of the house!!!!
[line]
2. Kids Presents
Five nephews (my oldest brother's son, my sister's two boys, and my cousin's twin boys) later, I'm totally over Christmas shopping.  It's not like I have to shop for kids but a few times a year, but I'll be the first to admit that it's definitely a challenge for this non-parent.  I wanted to steer away from the typical gun type toys and my goal was to give some sort of gift that would inspire them to be creative or get outdoors and be active.
After over an hour in the toy aisle, I caved and went with Lego's for the three youngest.  You can't go wrong with Lego's right? I threw in a pack of that kinetic sand for good measure (that stuff is seriously cool!).  Lastly, I picked up a light-up tracing pad kit from crayola with some extra tracing paper for the older twin boys.  I remember vaguely having something similar when I grew up and I hope they like it!  And I'm so glad that's over. Now on to wrapping everything…

[line]
3. Road Trip
Lastly, Kevin and I are departing on an overnight road trip to Augusta, GA to spend Christmas Eve and Christmas with my family.  Unfortunately we have to drive back to Atlanta Christmas night because Kevin has to go into work, but atleast it's only about a 2 hour drive. Coming back home tomorrow night and having time to unpack and then re-pack for a week long trip for colder weather as we're flying out to New England on Saturday afternoon to visit Kevin's family!
Yes, that's a lot going on and we've been super busy trying to upack the new house… but we really would travel as far as we needed to if it meant spending the holidays with family.  I hope you all have a Merry Christmas and Happy Holidays!!!!  Safe travels to anyone else braving the weather and heading out to see family near and far….