A Hand-crafted Wooden Watch:
Once upon a time… there was this idea to take advantage of natural daylight stemming back from ancient civilizations.  This philosophy lead to the development of daylight savings time which is right around the corner on November 1st.  Now I've got the perfect new timepiece to help me fall back in time… The Sydney Series Maple and Gold wooden watch by JORD.
JORD is "…focused on creating timepieces that are modeled after a modern lifestyle. They value sustainability, efficiency, and experiential living. They make our watches for people who don't just have somewhere to be, they have somewhere to go."
Since JORD makes hand-crafted wood timepieces that tell a story and they are all about starting the conversation, on a recent Girls Getaway trip to Barnsley Resort, I brought along my new Jord watch to keep me on schedule for the trip.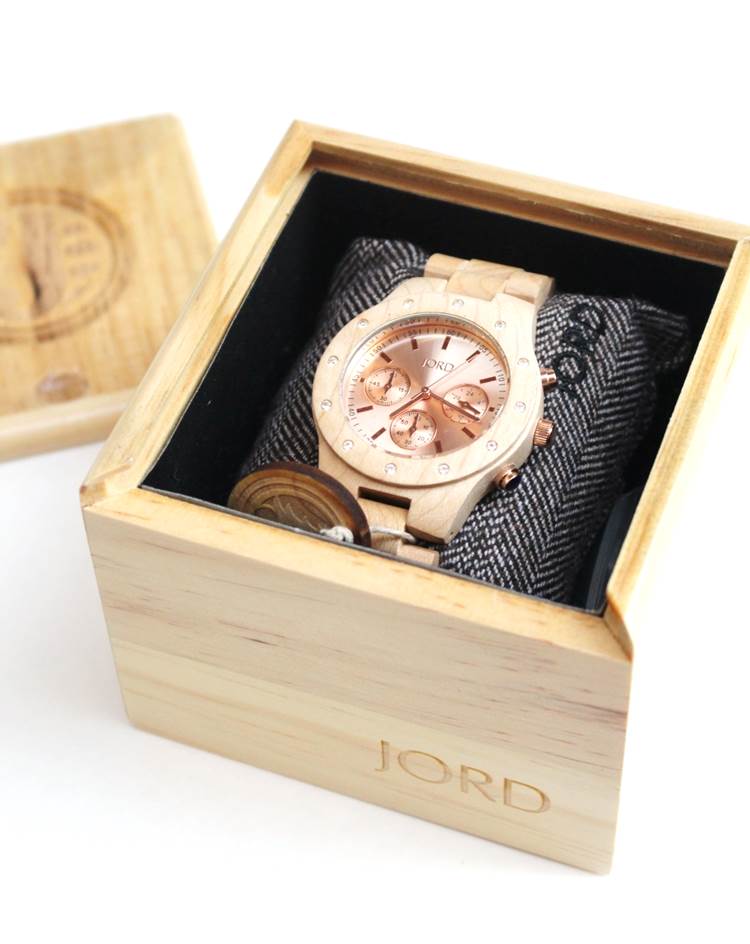 The Maple and Gold Sydney rosegold faceplate coincidentally matched perfectly with the blush hat I bought for New York Fashion Week last month!
I love that the hard maple wood used in Jord watches come from Northeastern North America.  And while most of their watches are made from the center heartwood of a tree, their maple wooden watches like my Sydney series is made from the outer rings of the tree, called sapwood.  And since maple wood can burn easily, I like to think of it as a dainty version perfect to bring a touch of timeless class right to my wrist 😉
And I was really impressed when it came to the details that go into the "glass" front along with their full explaination, where they talk about the sapphire glass (a synthetic crystal vs. real glass) front which apparently is known as the definitive material for transparency and durability. It's one of the hardest and most scratch resistant materials on earth second to diamonds!
So the next time you are in the market for a new timepiece, a unique gift, or just trying to add to your watch collection… pop over to JORD and check out the options they have for cool wooden watches!
Which JORD watch do you like the best?