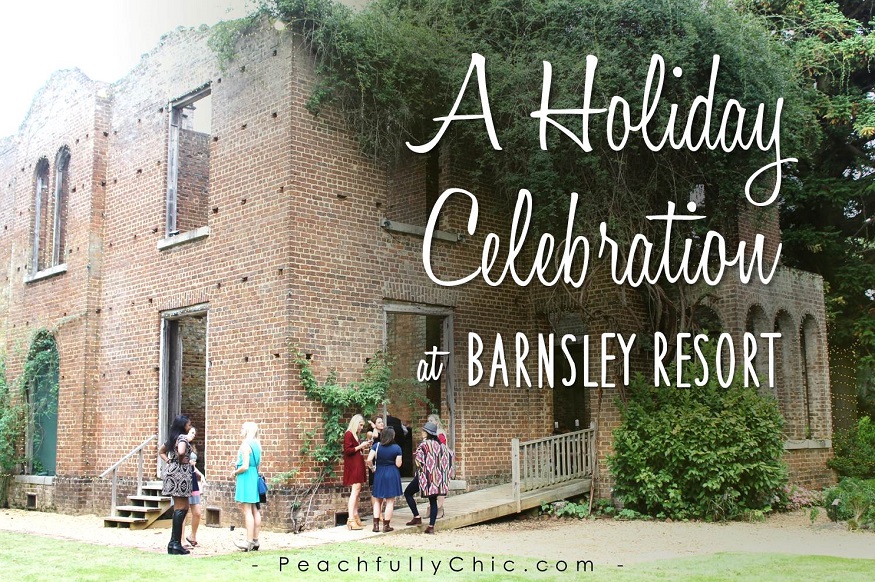 Since I recently posted part 1 of the whimsical weekend girls getaway at Barnsley, I left off at the moment just before we headed out to dinner in the old ruins on the property.  This is where the real history of Barnsley Resort came to life right before our eyes.
The original manor at Barnsley Resort was built on a true love story.  In the 1940's, Godrey Barnsley purchased 4,000 acres in north Georgia to build a beautiful Italianate villa in the Georgia foothills for his wife, Julia.  The manor was called Woodlands and the design and elaborate gardens were inspired by the work of pioneering landscape designer, Andrew Jackson Downing. Tragically Julia fell ill and passed away before seeing it's completion, but the property was a work of art.
During our trip, we dined al fresco in the stately manor house ruins and it was simply magical.  We arrived to see the beautiful gardens surrounding the ruins and climbed the stairs to explore more of this intriguing place.
The exposed red bricks were both warm & inviting but also a bit haunting at the same time as we reflected on the history of this treasured place.  Wandering through the ruins with a glass of bubbly in hand & listening to the strumming of our acoustic guitar playing songstress, I marveled at the impressive size and grandeur of property before being ushered into the living room for more details on Barnsley's backstory.
We heard from Barnsley Resorts's museum director and resident "wine snob" before taking our seats at the dining table that was perfectly decorated to combine elegance while inviting relaxation.
We dove into our menu for the night and tasted delectable combonations of duck and other seasonal flavors prepared by the chef with locally sourced ingredients.
Beyond the fact that Barnsley makes the perfect backdrop for a fairy-tale wedding, the old ruins are decorated every year for the holidays complete with twinkling lights, a magnificent Christmas tree, and much more to ring in celebrations of this special season.
Holiday Lights at the Ruins runs from November 26th – January 3rd, so you have plenty of time to see the splendor and all the events kick off with a special Fourth Annual Lighting of the Ruins on the evening of November 25th.
We saw first hand just how perfect Barnsley is at putting together breathtaking and memorable experiences with our dinner and after-party for the girls getaway, but it was nice to hear that they plan special events all year-long and that some of the wonderful holiday events were just around the corner.  Here's a few that I thought might be fun to share from their online calendar.:
Official Lighting of the Ruins event on

November 25

(

5-6:30 p.m.

) featuring Santa Claus, live reindeer and musical performances
Wreath-making classes (

November 28 and December 5

)
"Gingerbread Workshop" (hosted by the resort's Fairy Godmother on

November 27

)
Elaborate holiday dining presentations for Christmas Eve, Christmas Day and New Year's Eve
Marshmallow toasting and making s'mores at numerous fire pits, complimentary for resort guests
We left the manor ruins and took a short walk through the dark night, passed the private gardens, and ended up at the after party completely equipped with highlights of each blogger, a fun photobooth with props, full drink selection and a smores bar with bacon & nutella!
Barnsley Resort's "Fairy Godmother" brought a bit of magic together for a wonderful post dinner celebration for everyone by planning everything.  The fire pit outside was raging and ready for roasting marshmallows and creating the perfectly custom designed smore.
  The Fairy Godmother is the go-to person for creating magical proposals or granting birthday wishes… and she even works as a "Furry Godmother" making all four-legged guests feel pampered too.
Did I mention that Barnsley Resort is pet friendly?
Well they are!  So that means our little peek-a-poo, Berkeley, can join me on my next trip to the resort.  I absolutely love it when he gets to tag along with us on our travels.
Of course it wouldn't be the holidays without everyone there to celebrate… including the four-legged fur-babies of the family!
As the night concluded, we retreated to the private sanctuary of our cottages to unwind from the day's events.
After relaxing spa treatments, horseback riding adventures throughout the countryside, and phenomenal food, our whimsical weekend girls getaway was already unforgettable.  And while I highly encourage a trip to Barnsley Resort anytime to enjoy the magic for yourself, I'm confident that the holidays will really make it so much more special.
Oh and don't forget, I've still got Part 2 of my Whimsical Weekend at Barnsley Resort to share with you all of our escapades for day two… so pop back over soon!