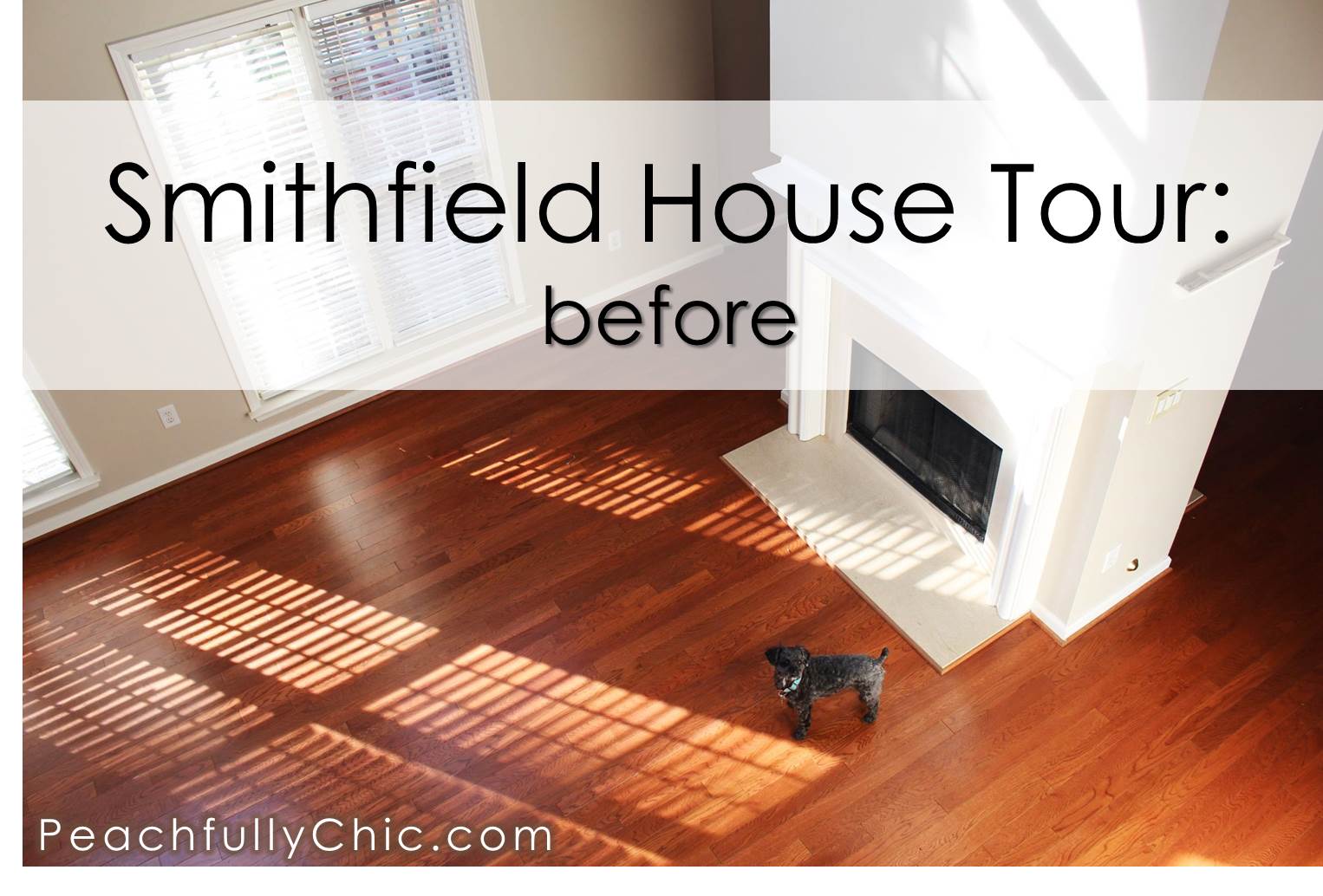 A Tour of Our New House In All Its Empty Glory!
I've been surrounded by a sea of never-ending boxes for the last two weeks since we moved into our new house a couple weekends ago.
It's been so neat coming home after work to "our house" and it's still a little surreal that we actually own this place, but I have to admit it's been a little overwhelming at times.  Don't get it twisted… we feel incredibly blessed that we made it through the whole home-buying process with our sanity somewhat still intact and are now able to call this place our home, but with both Kevin and I working full-time… I feel like we really only make a dent on our lengthy to-do list during the weekends (and they fly by!).  I guess that's an official "Welcome to Adulthood / Home-Ownership / Reality" haha  😉
So as excited as I am about our new house… I have to occasionally remind myself what it actually looks like without all this chaos around AND that there will be a light at the end of the tunnel!   My new mantra: "Just keep going… only a few more boxes to go!"
Who wants to come over and finish unpacking for me??? 
Here are a few house highlights:
---
3 Bed + Study
2.5 Bath
2750 sq. ft
2 Car Garage
Stainless Steel Appliances (gas stove!)
Double-sided Fireplace (love it!)
Fenced In Backyard
Walk-in Closets
Butler's Pantry
Security System Monitored
Built in 2000
New Roof
2 Story
Hardwood floors
Super tall ceilings w/lots of natural light!
Less than 1/2 a mile from local park w/tennis, pool, soccer, softball fields, etc.
15 minutes from midtown Atlanta
---
House Tour Photos:
---
Without further ado (and by special request from Melissa over at The Rambling Llama), you can check out the photos of our house tour below (with special cameos from our peek-a-poo, Berkeley):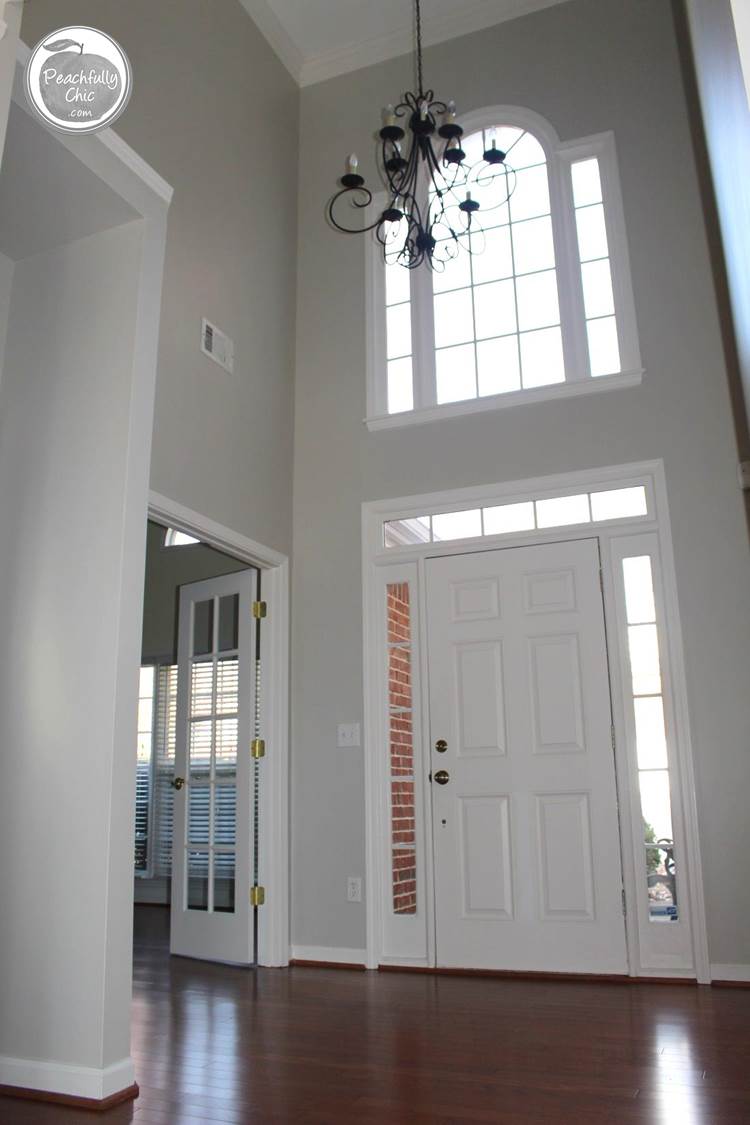 To the left of the front door… you can see there are french doors that open up into my new study/office/craft room. EEK! I can't wait until we get this room all set up …so many activities!
I was testing paint samples on the wall below.  Funny story… we ended up not going with any of those colors!  But more on our painting adventures in a future post to come.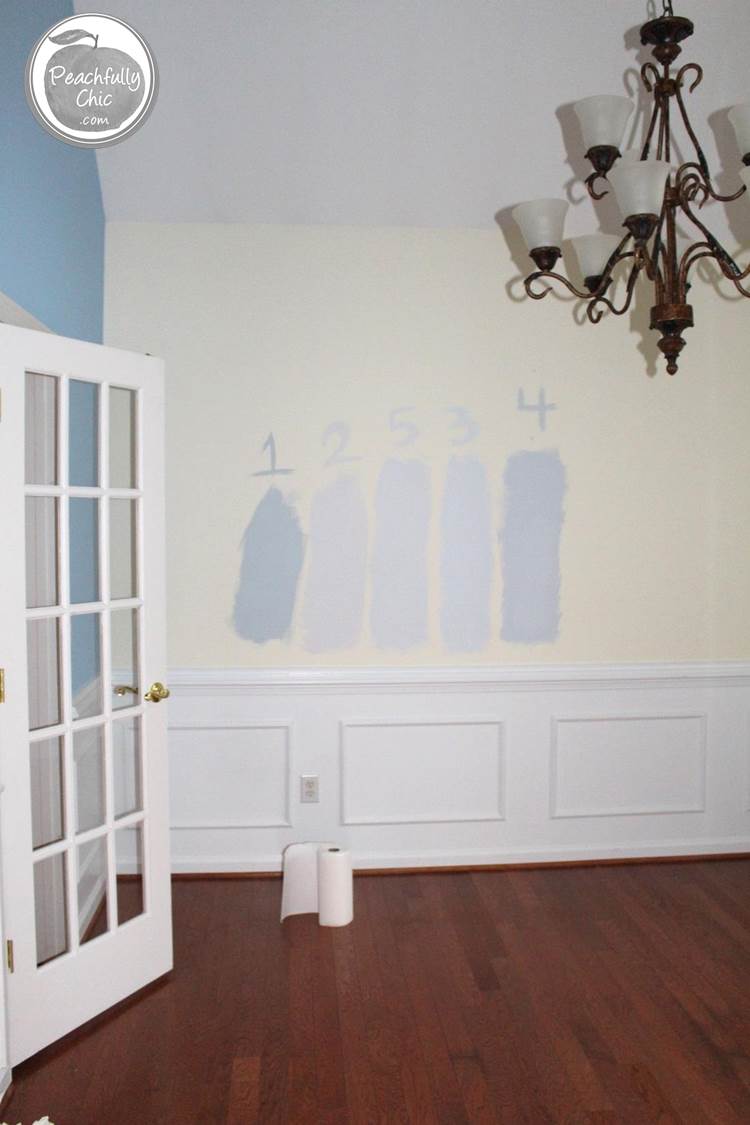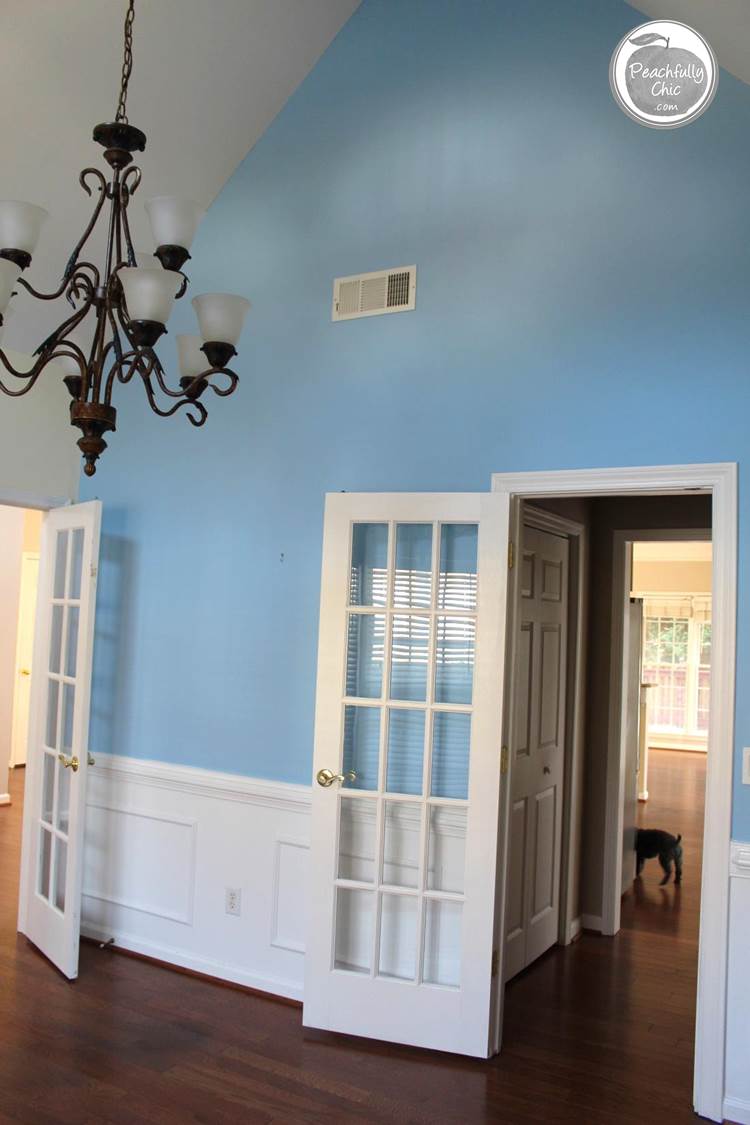 Loving the super tall 15 ft ceilings in this room!
Which then flows through to the butler's pantry (+ Berkeley's butt shot)  😉 and then into the kitchen.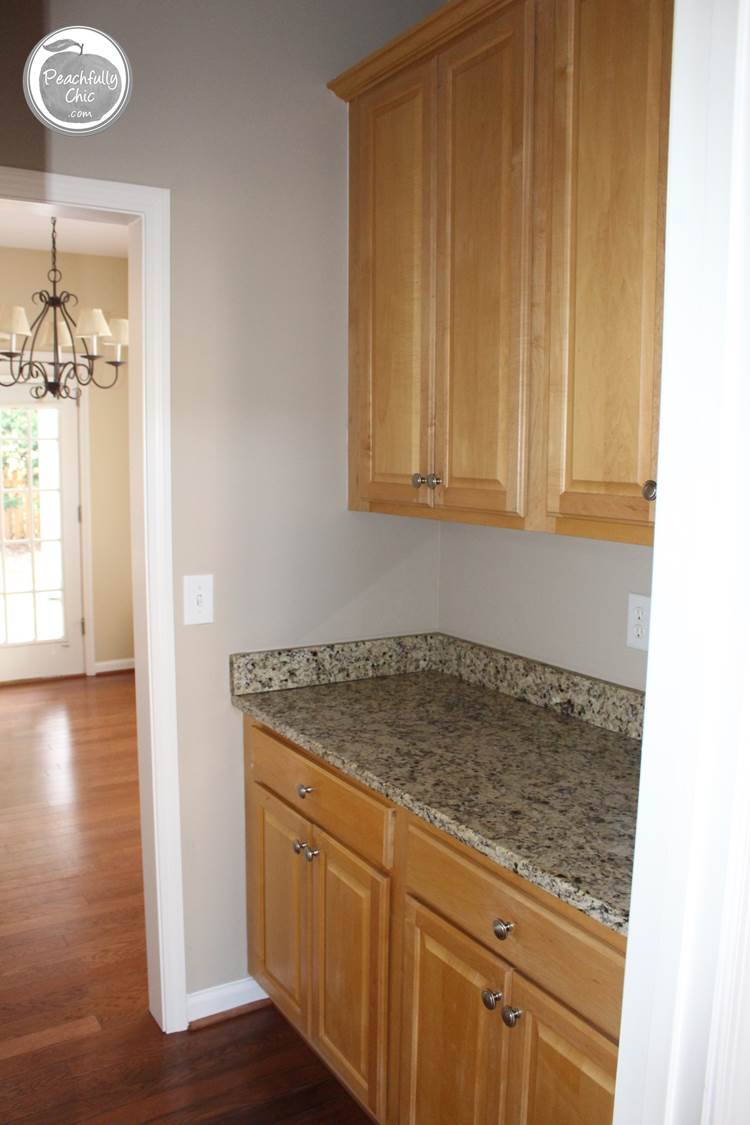 On to the kitchen! While I eventually want to paint the cabinets white, they are in great shape for now.  I love the openness of this room and how it flows into both the breakfast nook and the dining room.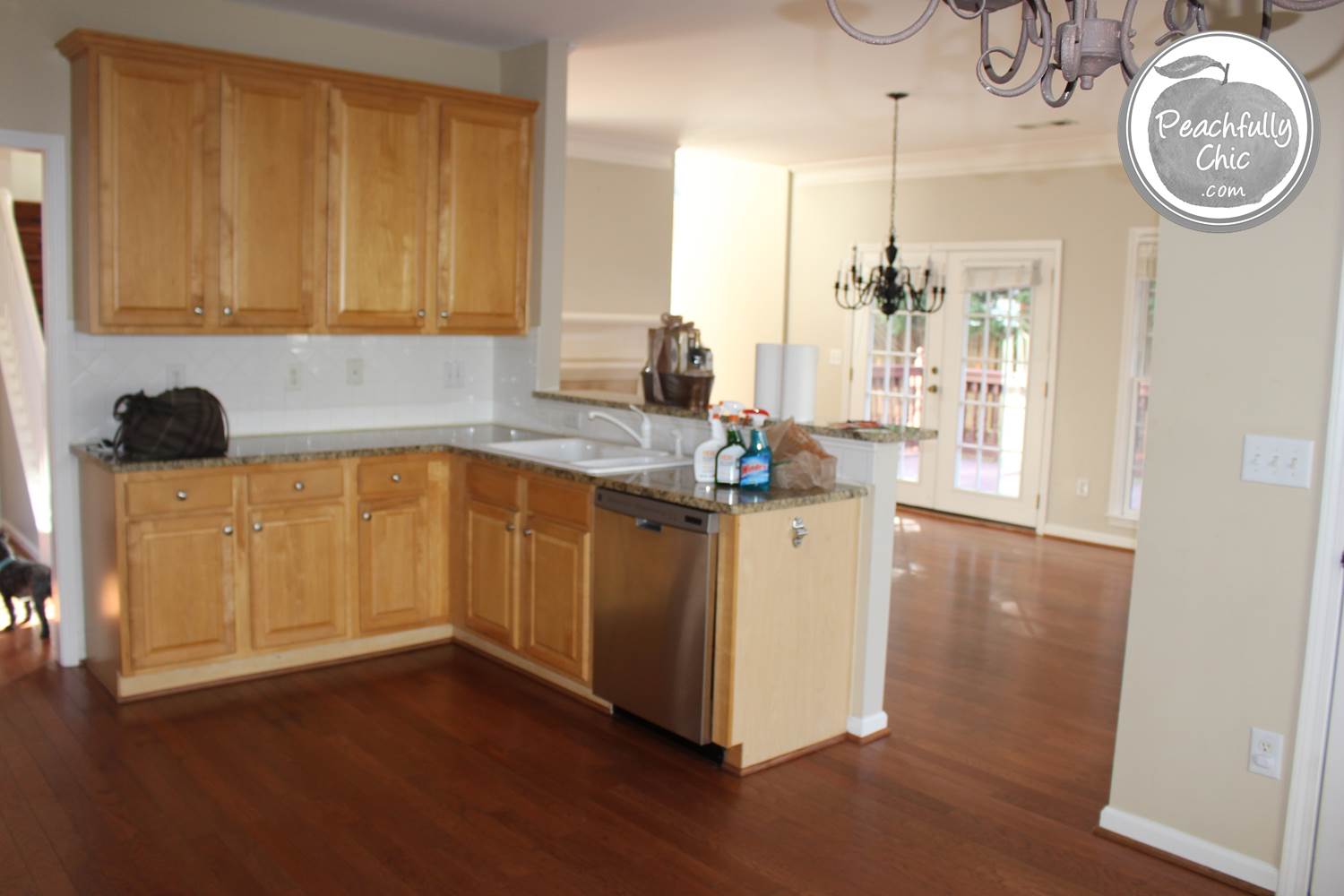 And I love that we have two back doors. One that opens up to the side covered patio from the breakfast nook in the kitchen and french doors that open up to the back porch.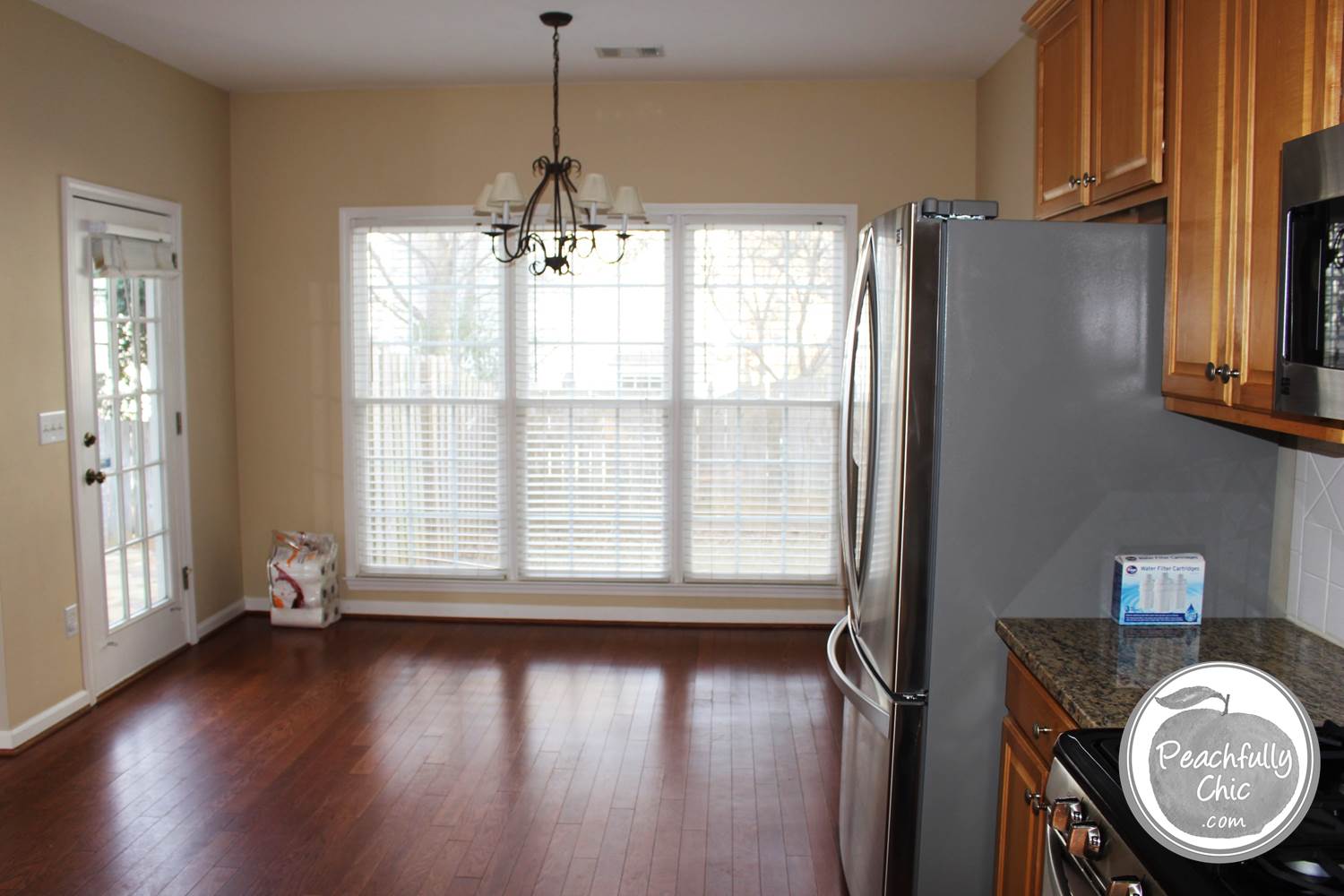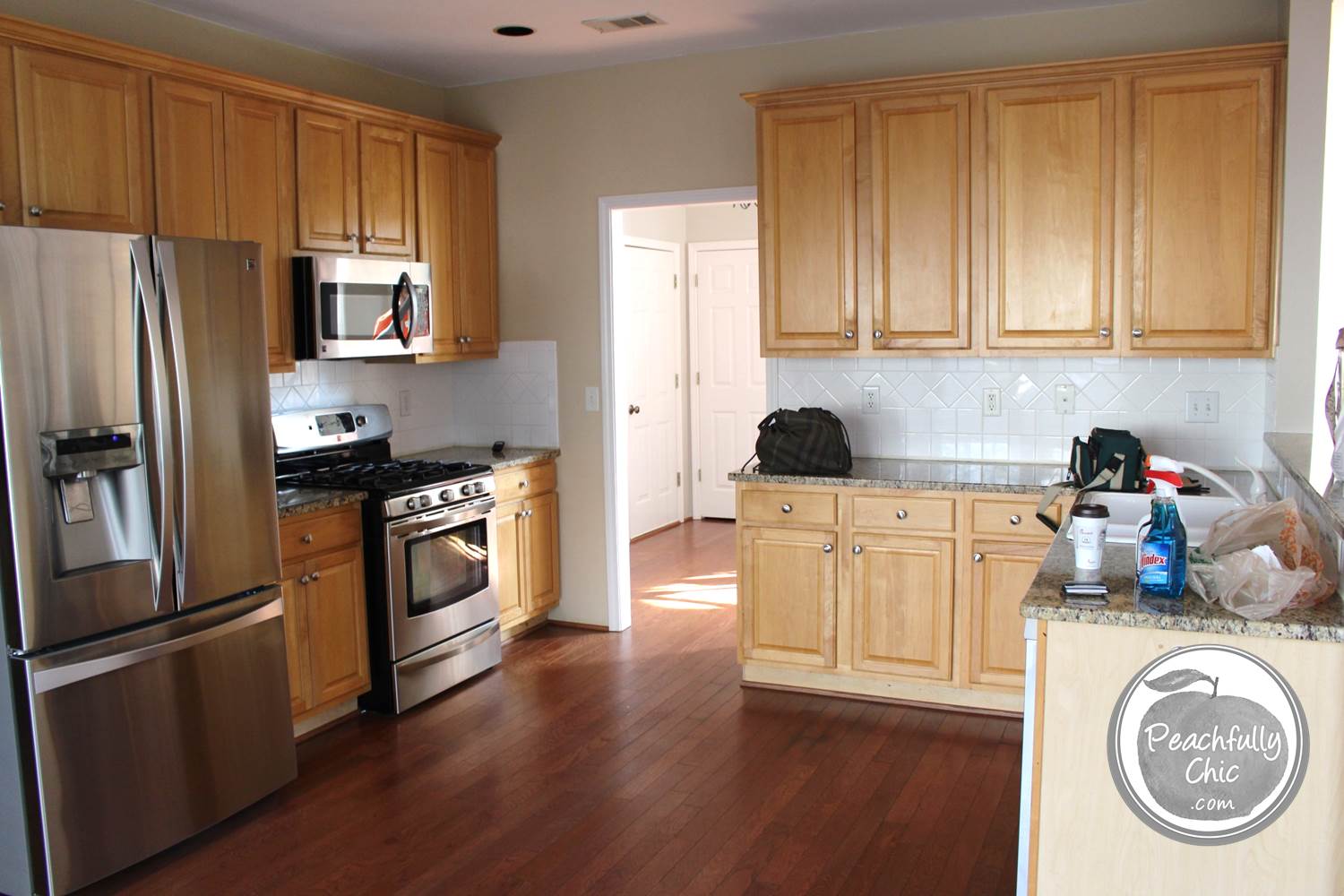 The previous owner left the stainless steel appliances which made it very easy for us since we didn't have to worry about purchasing new appliances.  One less expense for our growing expense budget!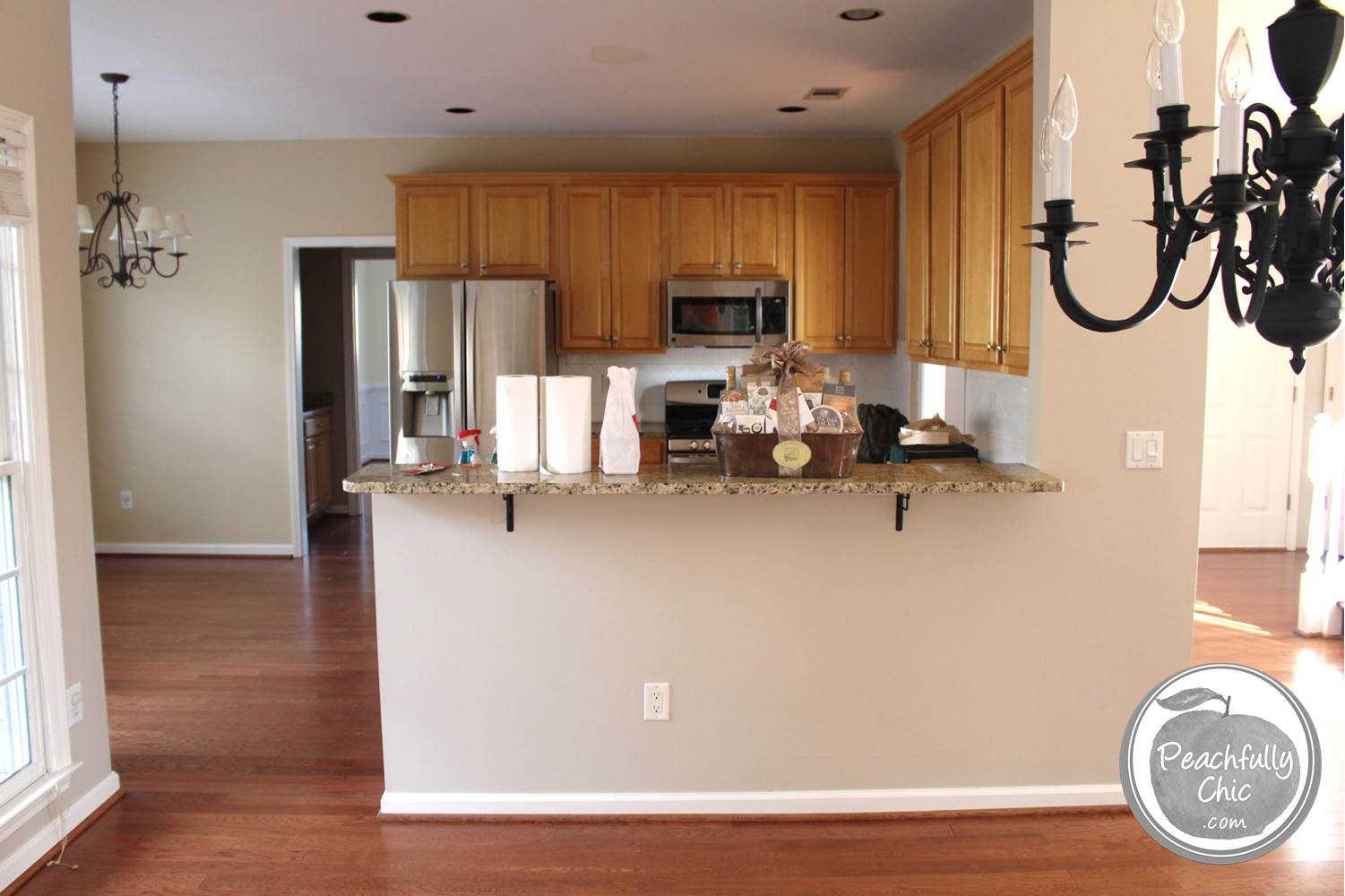 The photos below show how the front foyer flows down the hall into the dining room and kitchen.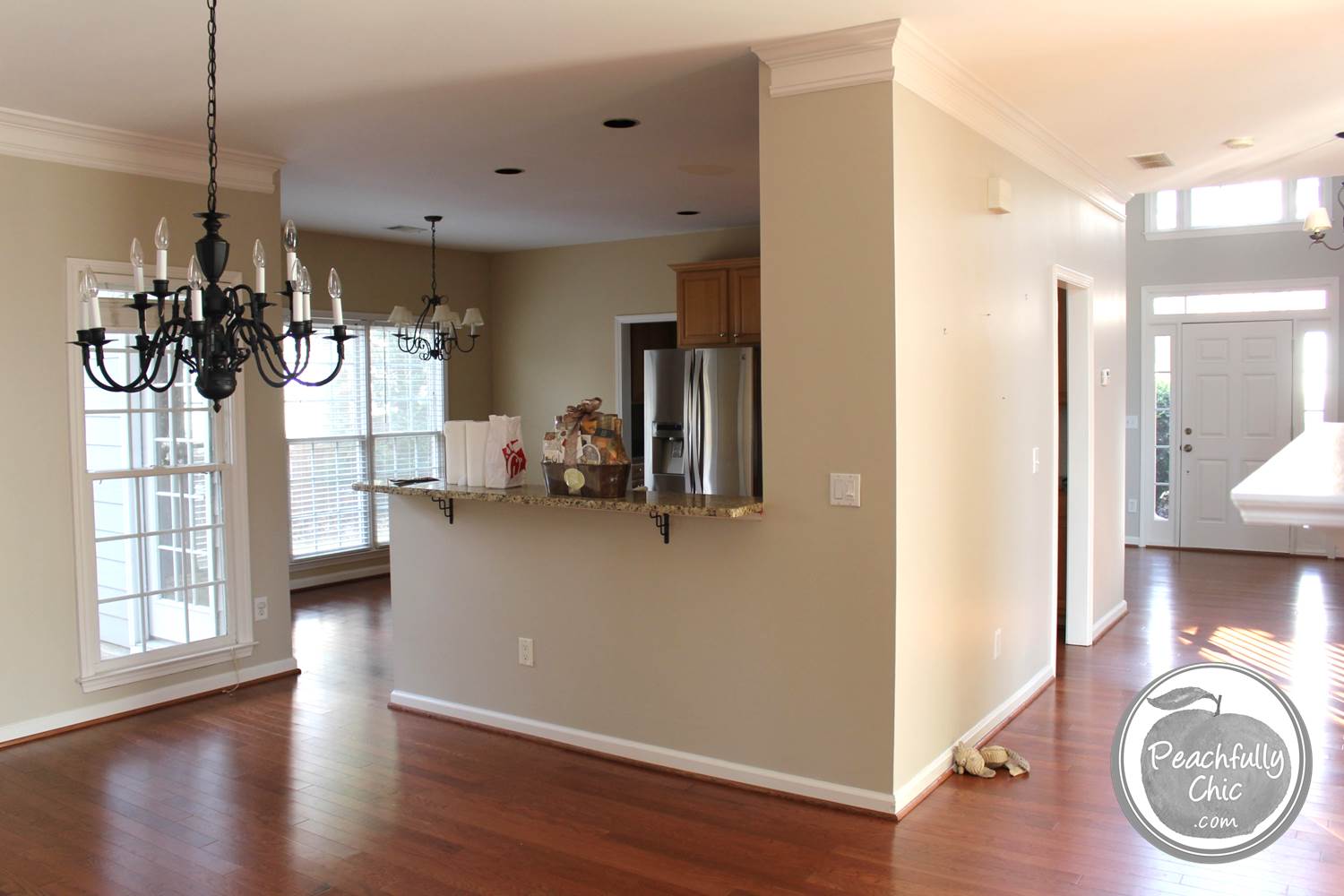 The previous owners lit the double-sided fireplace with the chimney flue closed apparently, which caused some burning on the marble around the fireplace… You can see it in the pic below, but after putting in a little elbow grease using an HDX Easy Eraser (similar to Magic Erasers, but they're The Home Depot's cheaper private label brand which works just as great!), the fireplace looks good as new. I'll post after photos once we get further along in our unpacking process!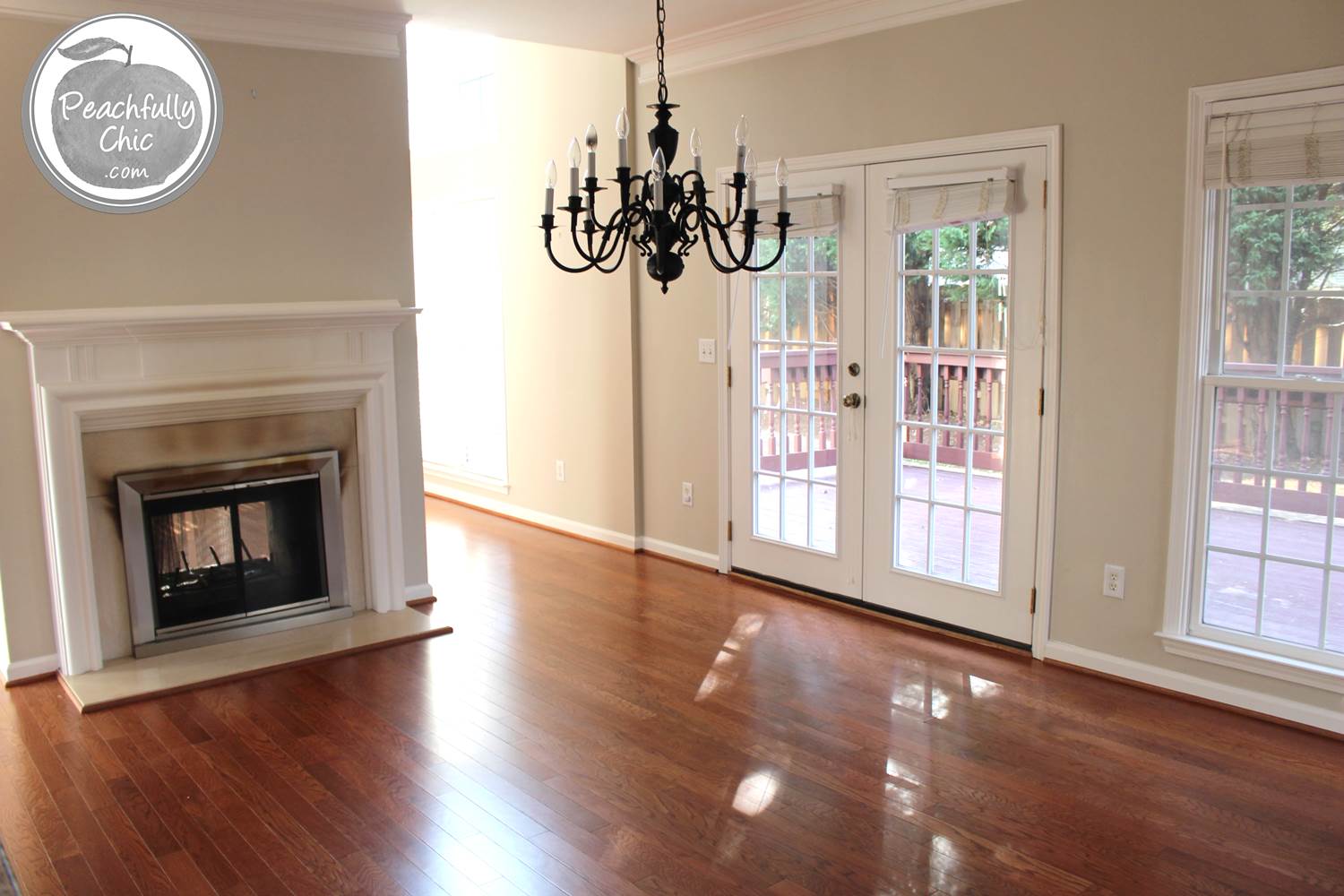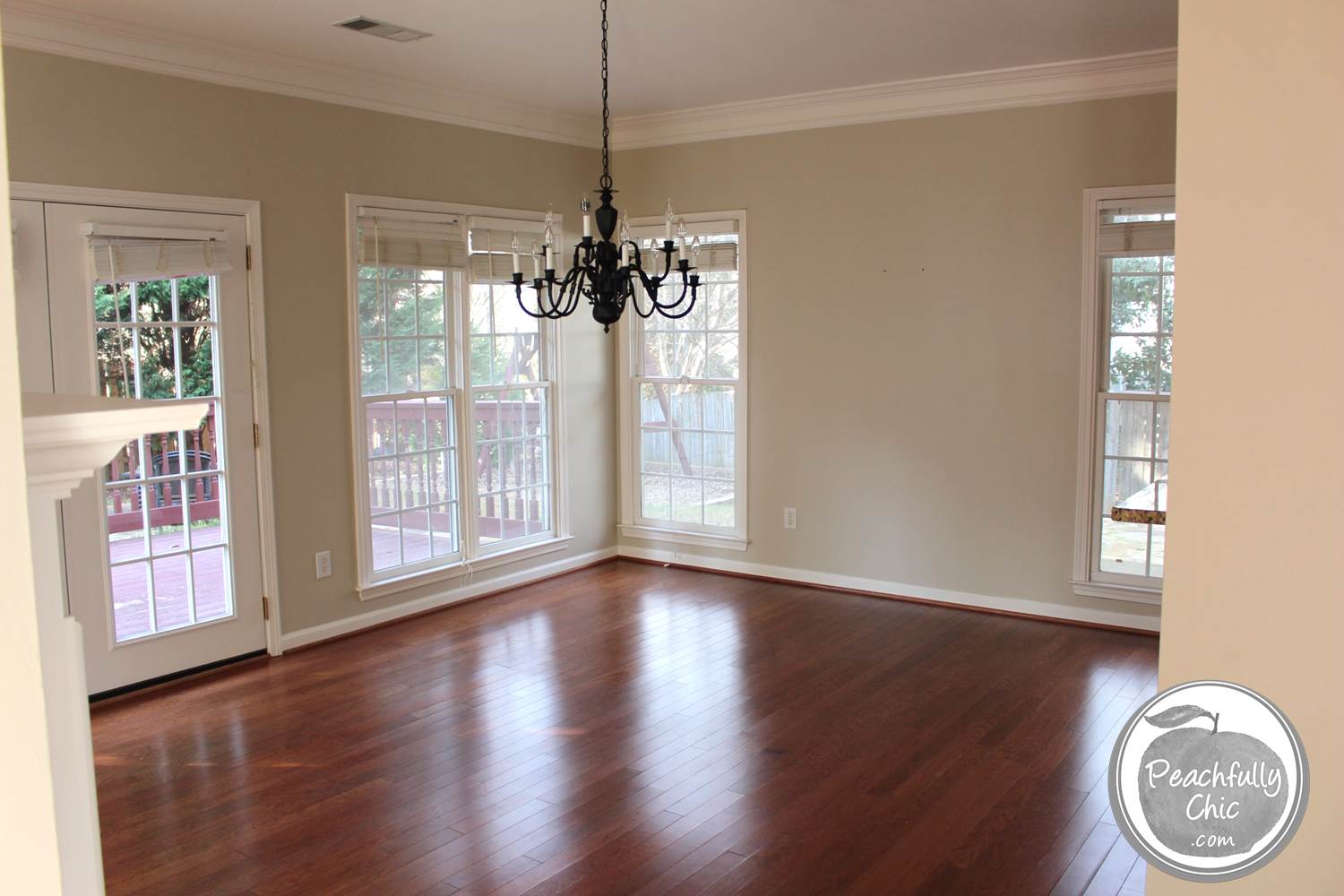 Our fenced in backyard below.
I LOVE the size of the evergreens planted along the back fence… they really give us some serious privacy from our neighbors who are a stone's throw away.  The red porch? Not so much… but Berkeley's already found a spot that he loves crawling under there and digging, so at least someone's enjoying it!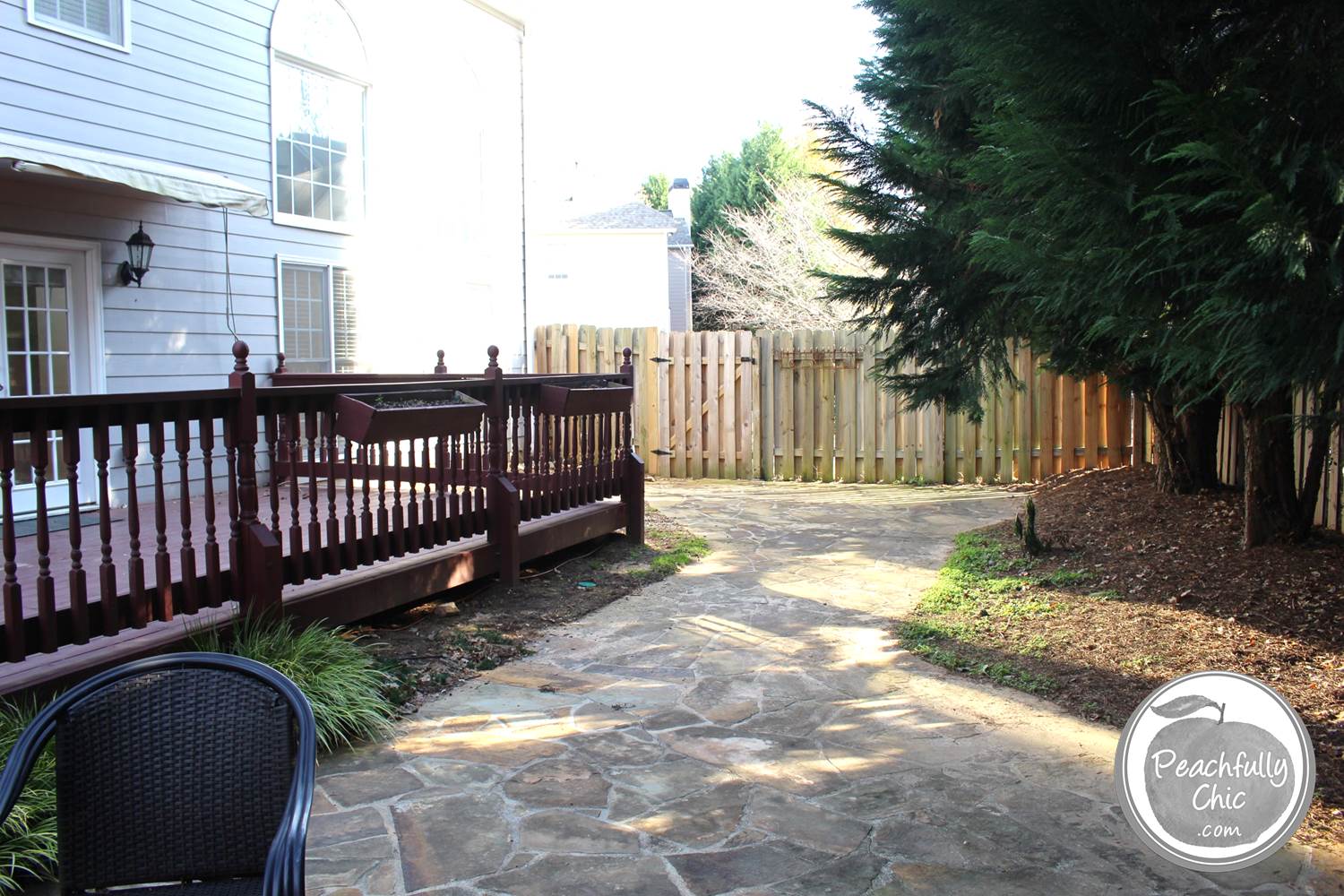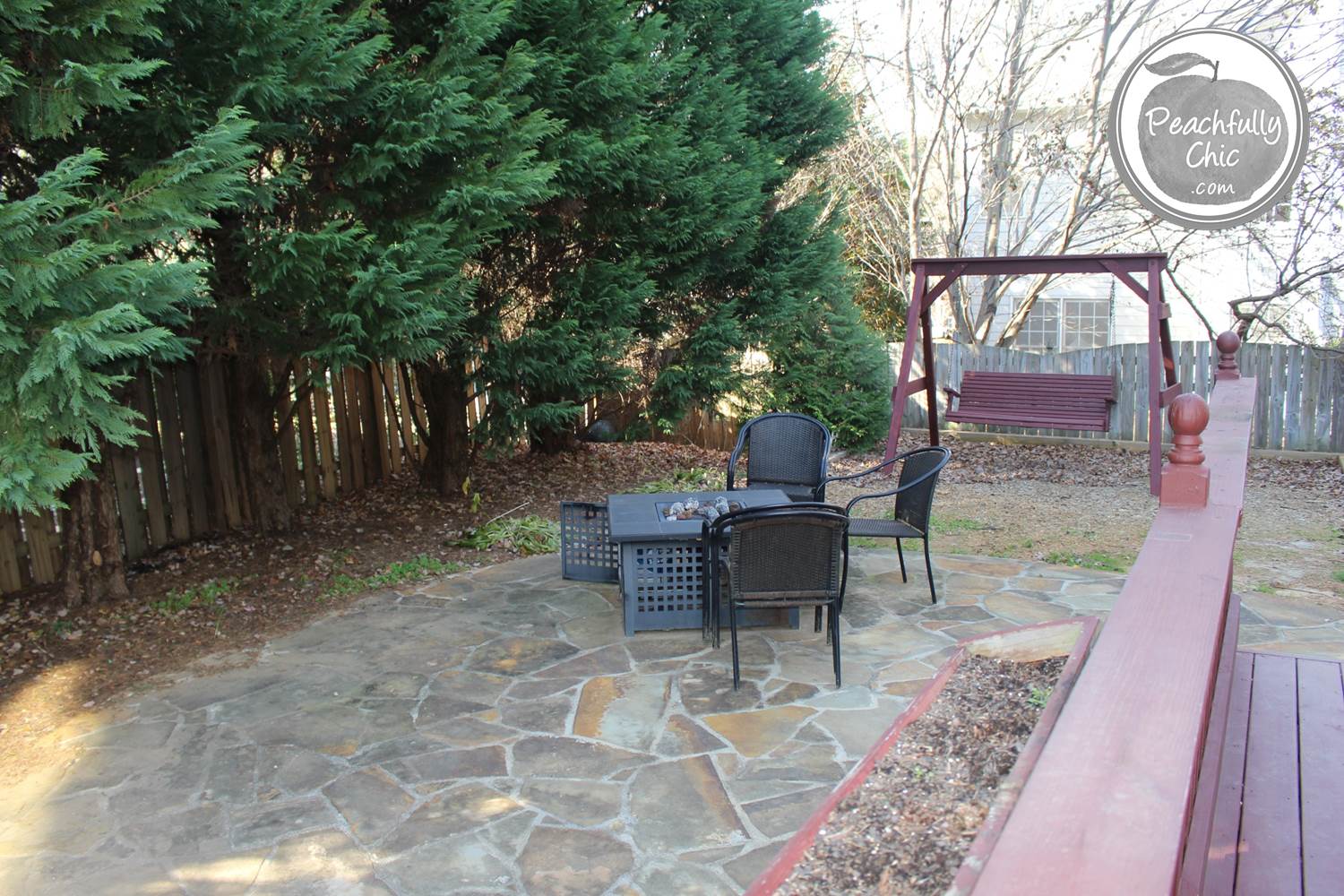 This is the half bath that's right off the hallway on the main floor with all it's circa 2000 brass glory –  All that will be changed out immediately.
Of the two photos below, the second pic shows the true colors a bit more as I turned off the light after taking the first pic.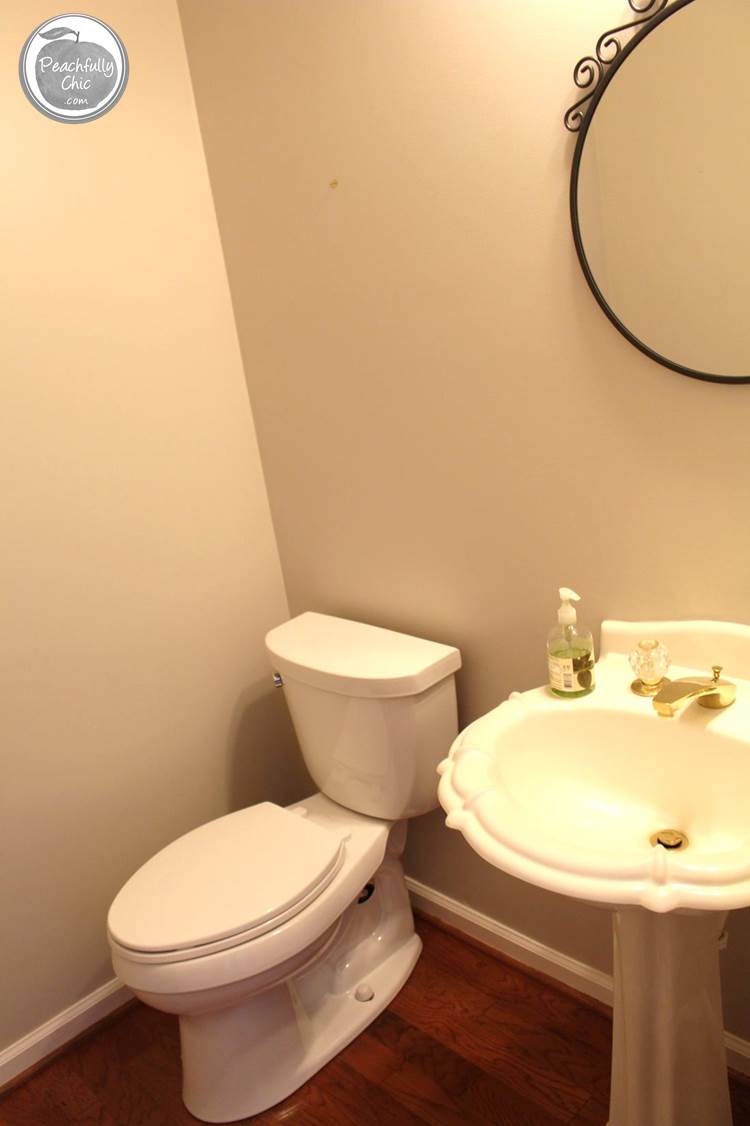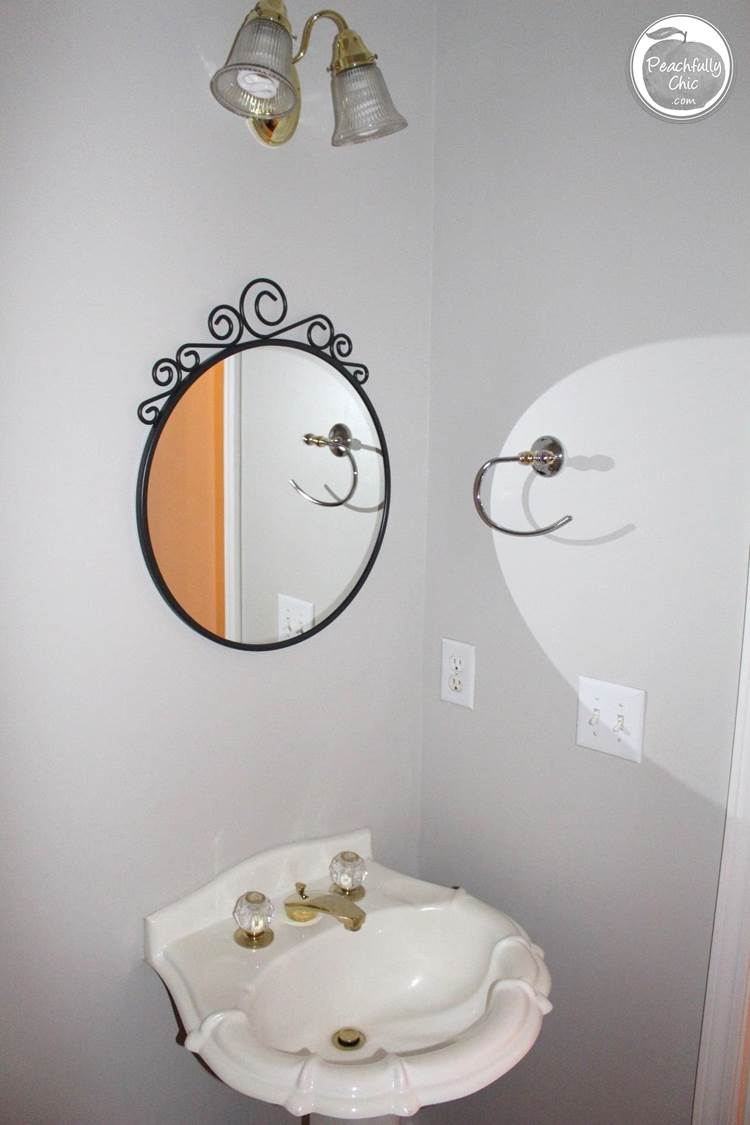 Our living room with massing 18-ish ft tall ceilings… I can't entirely remember the exact height.  Already planning the curtains we'll be hanging, the amount of work it will take to clean the windows, and the 30 yards of fabric I'll need if I decide to sew the full length drapes myself!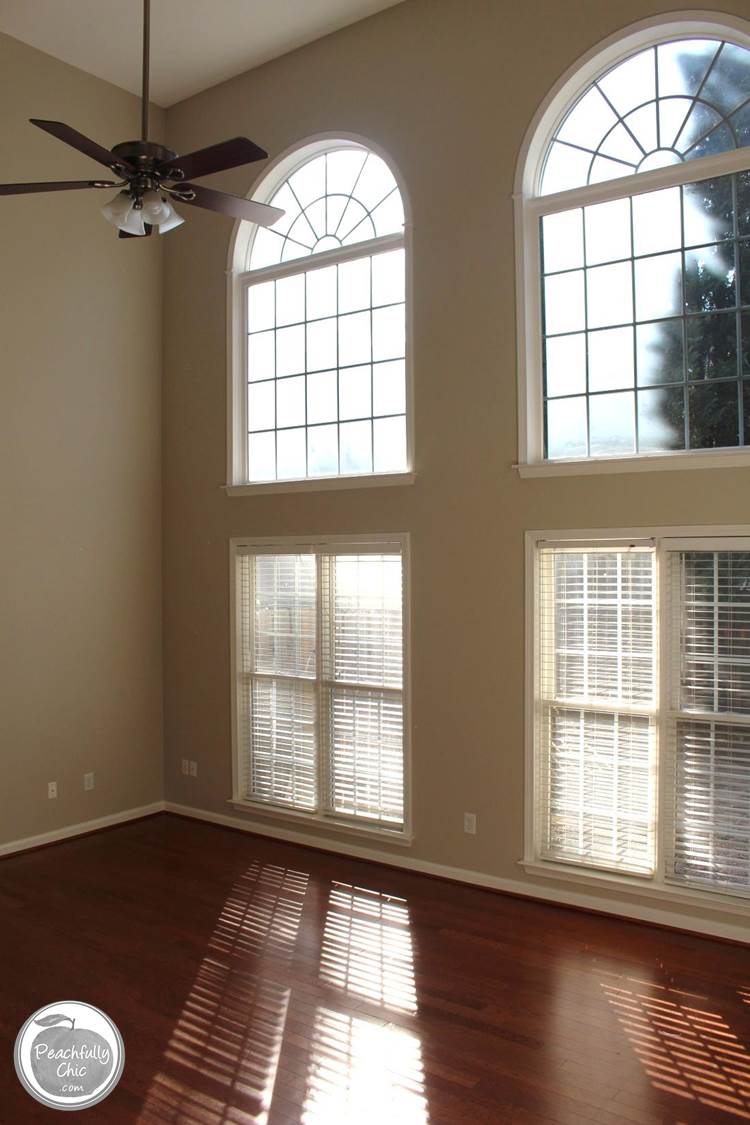 Our double sided fireplace… clearly one of the main selling points for me!!!!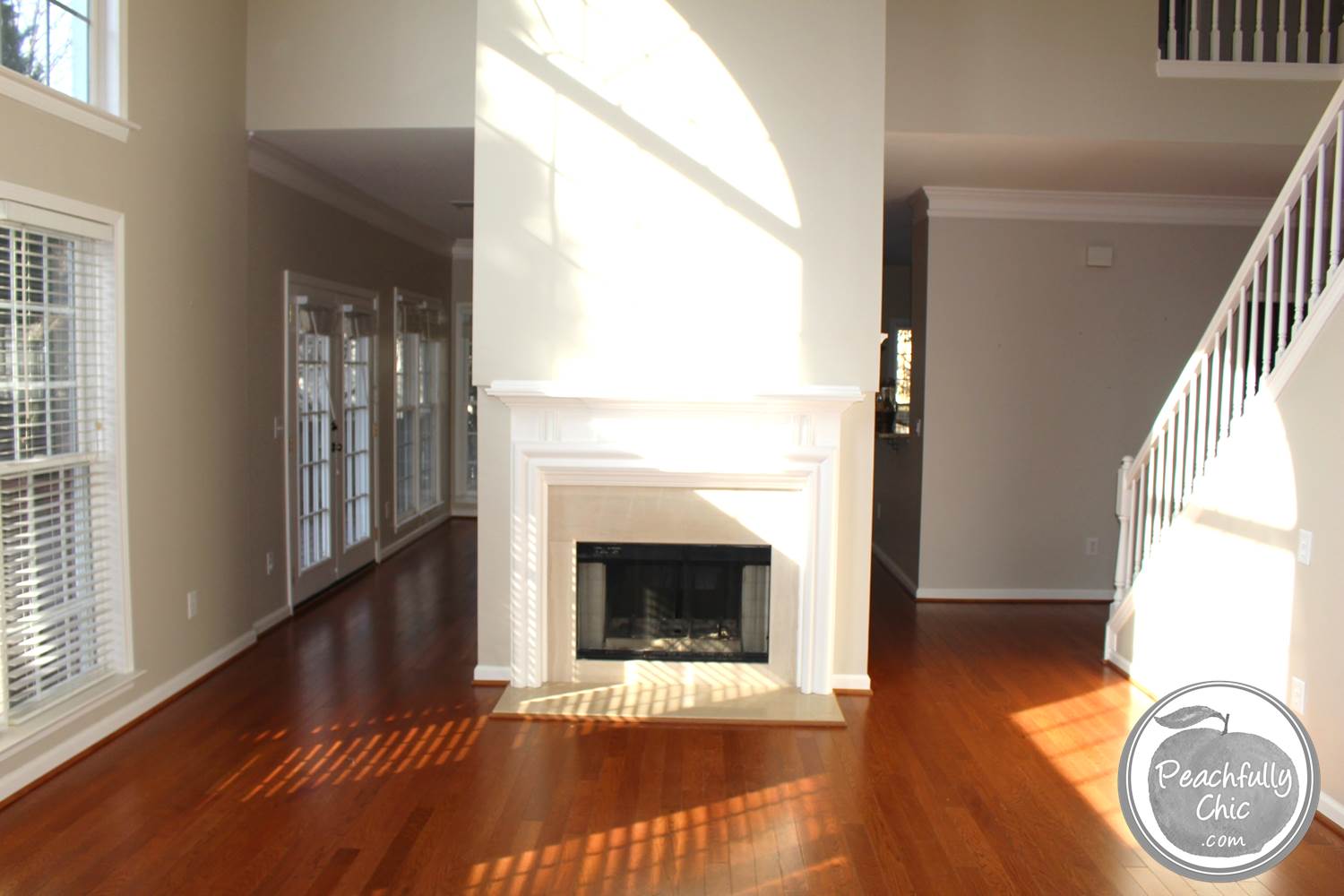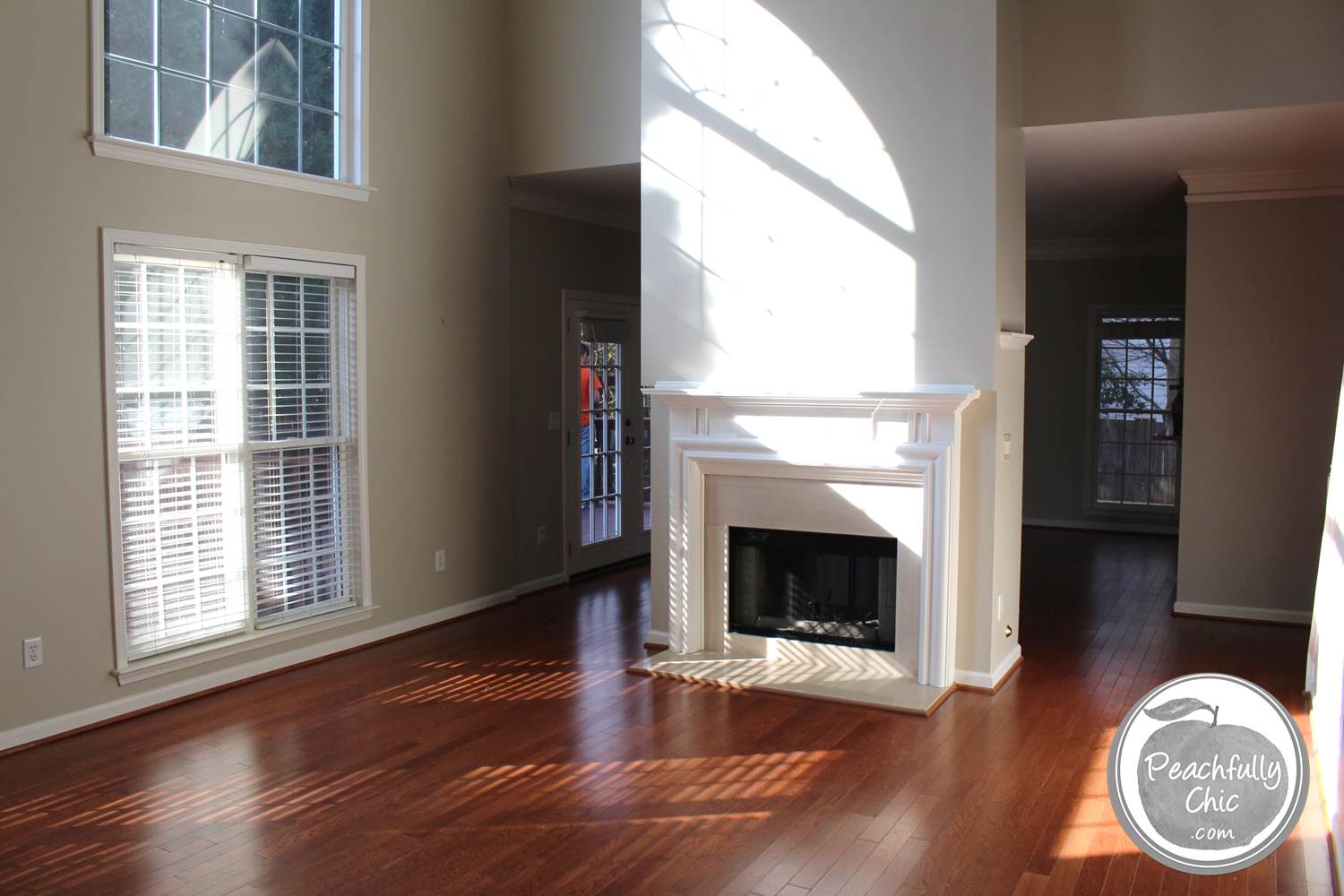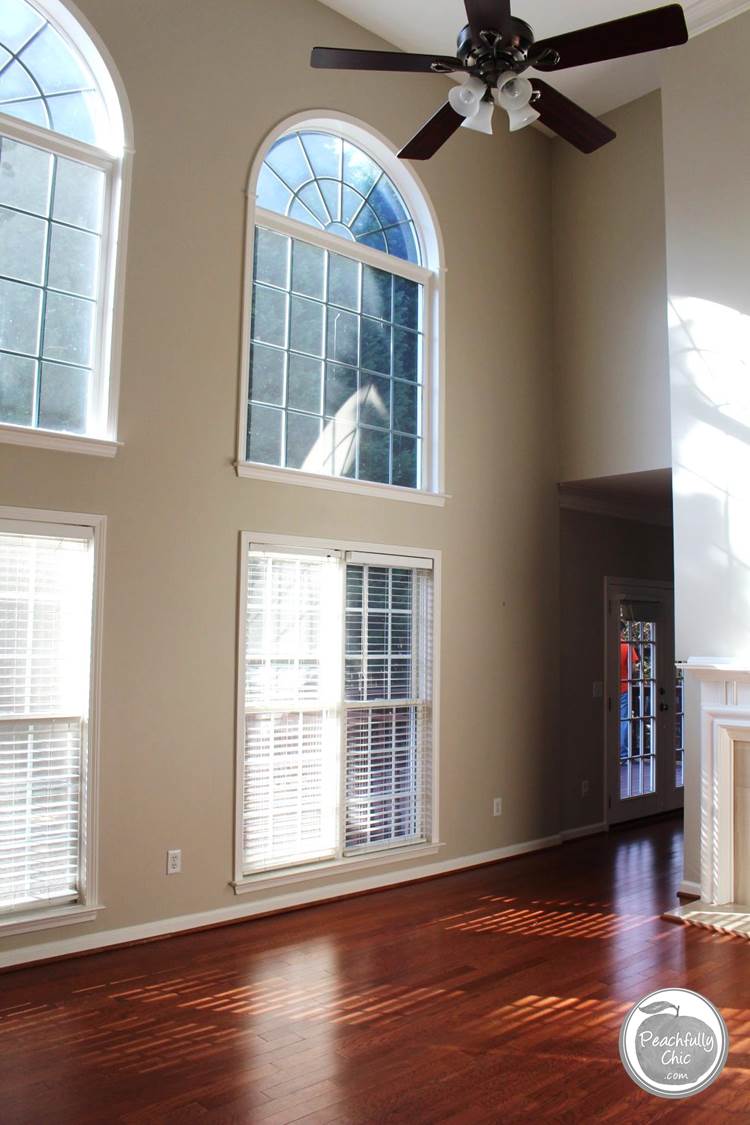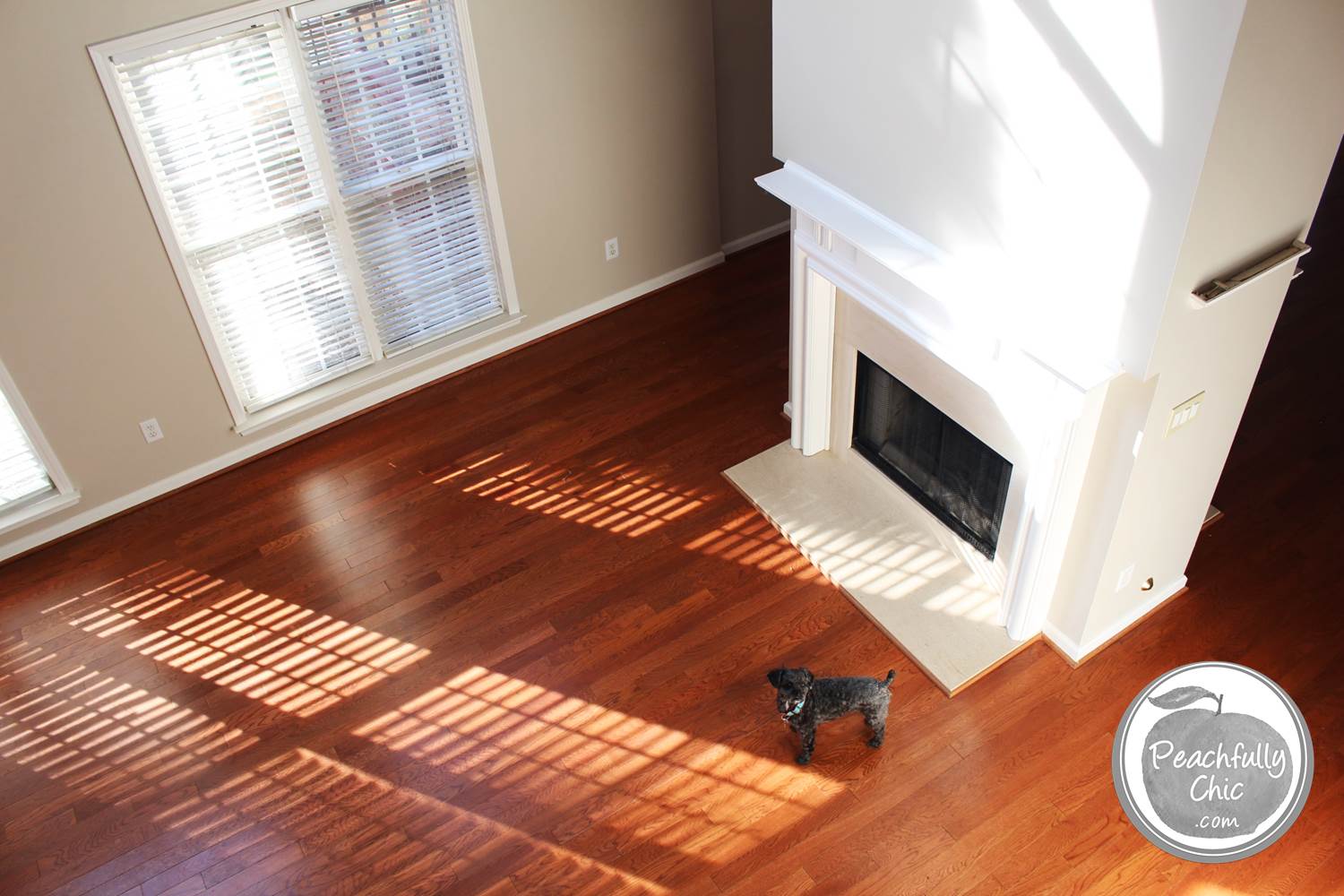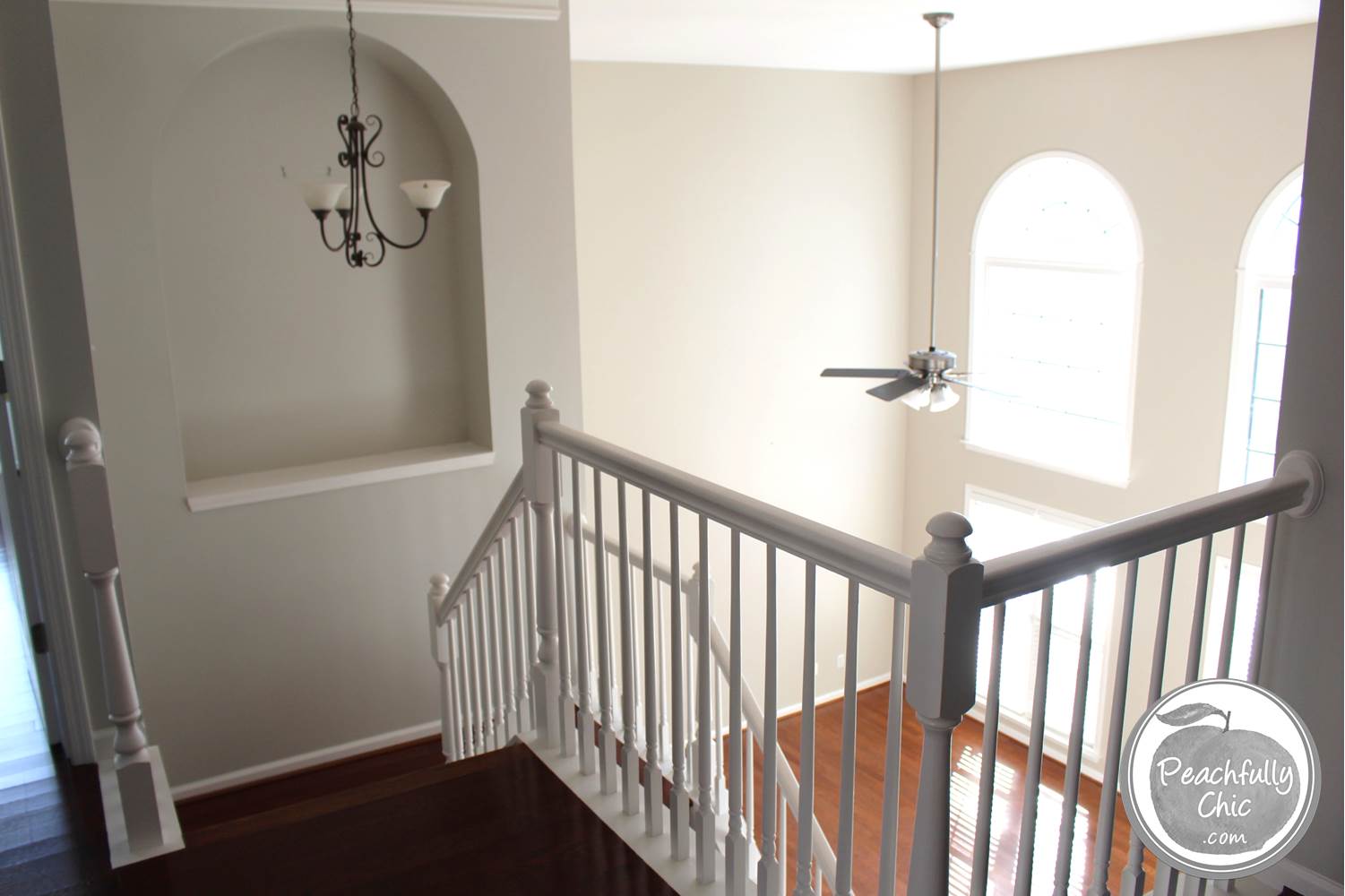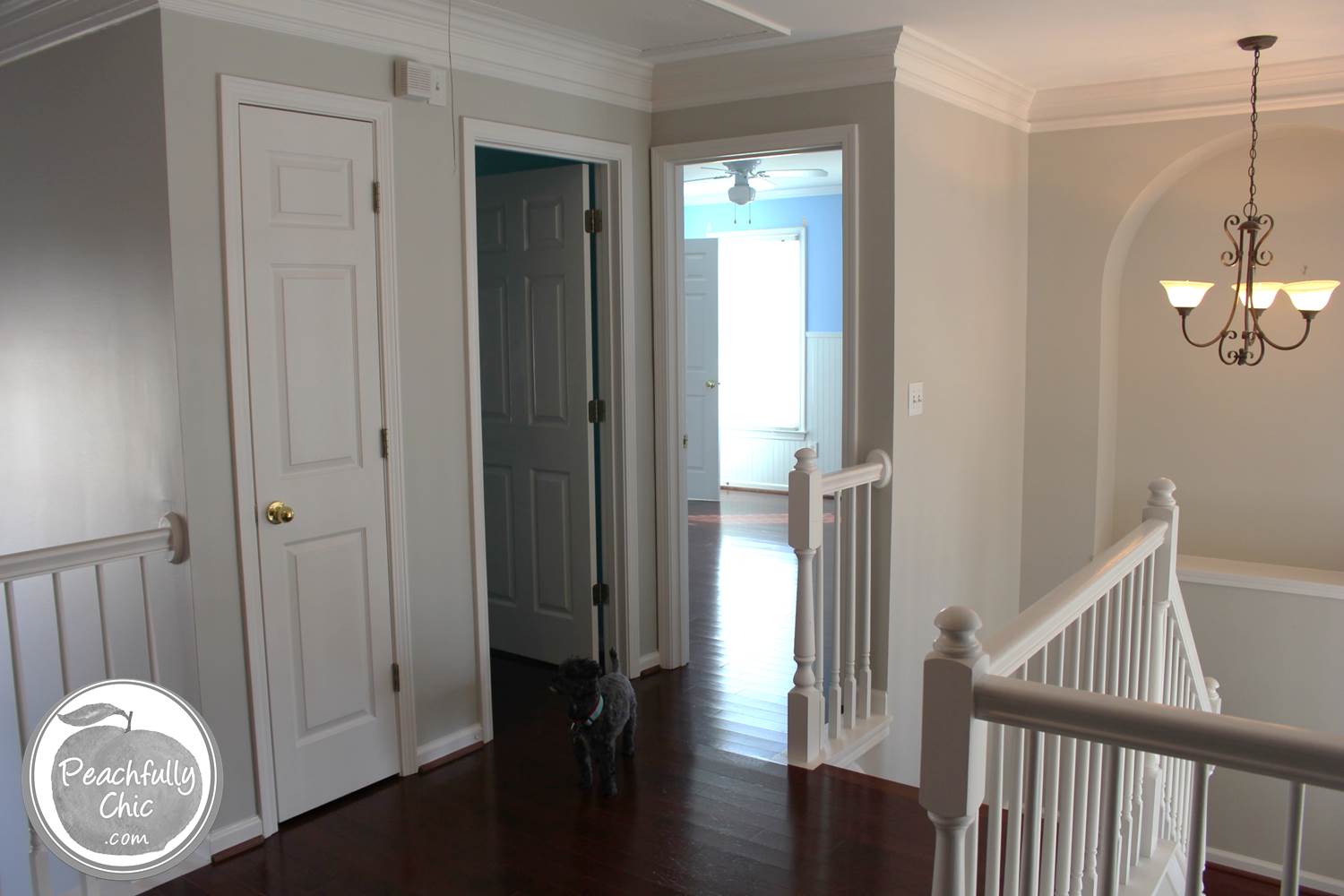 Leading up the stairs, we've got a hallway with two guest bedrooms. One in a VERY bright turquoise color and the other in a very bright baby blue.  Our master is in a dark teal, so the previous owners really must have had a thing for that family of color.  As much as Kevin and I love the color blue – in almost any shade (see my love of Navy in my head-to-toe classic look) – painting was/is on the top of our to-do list.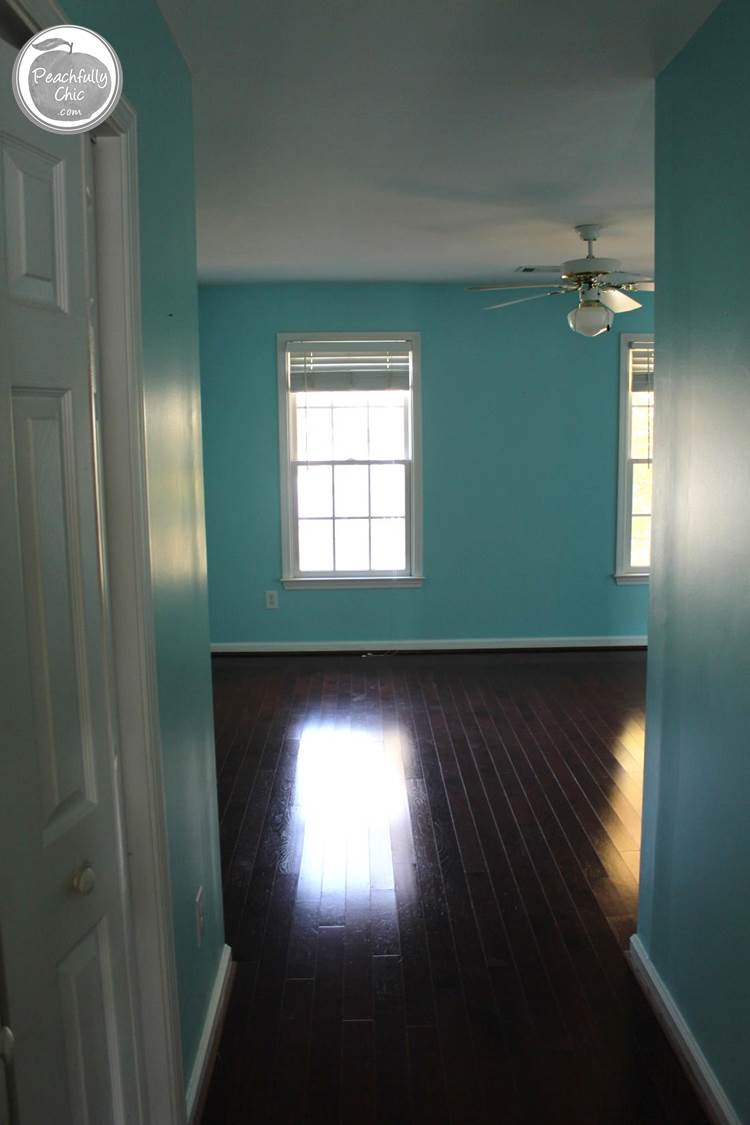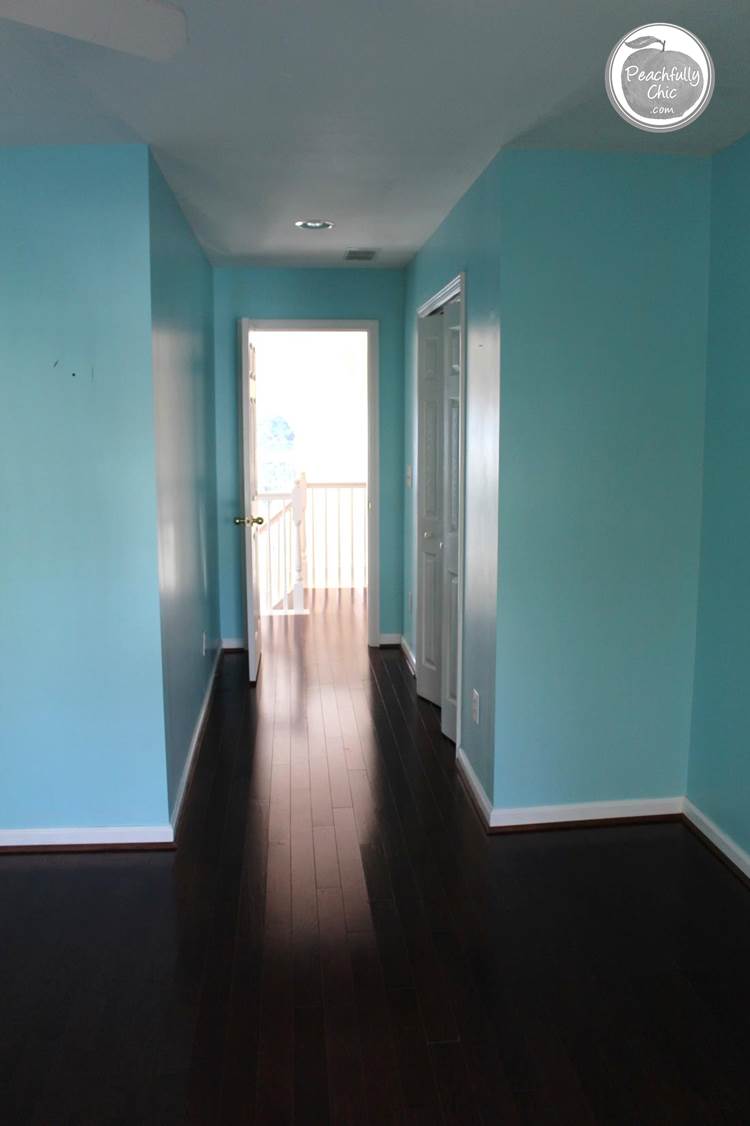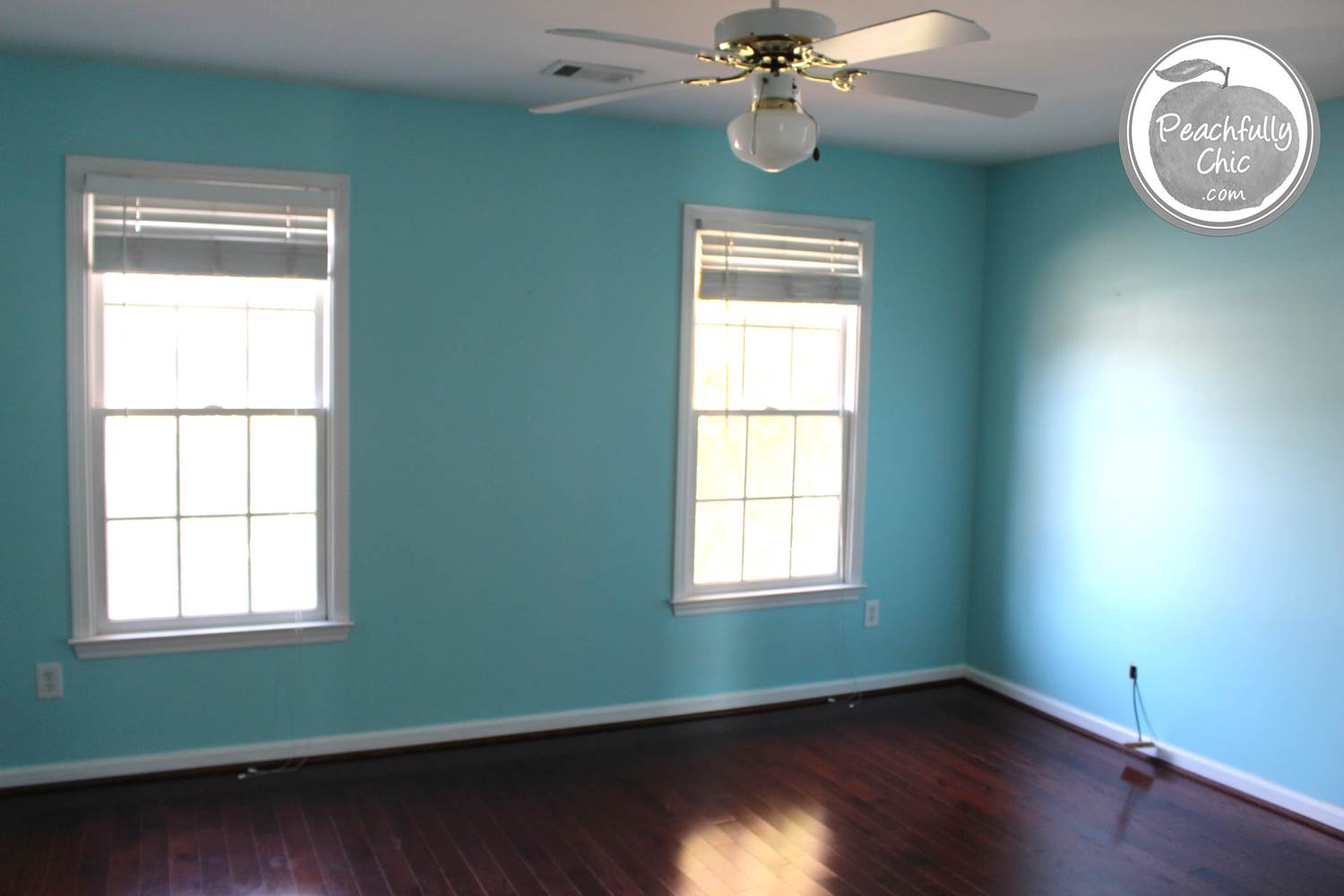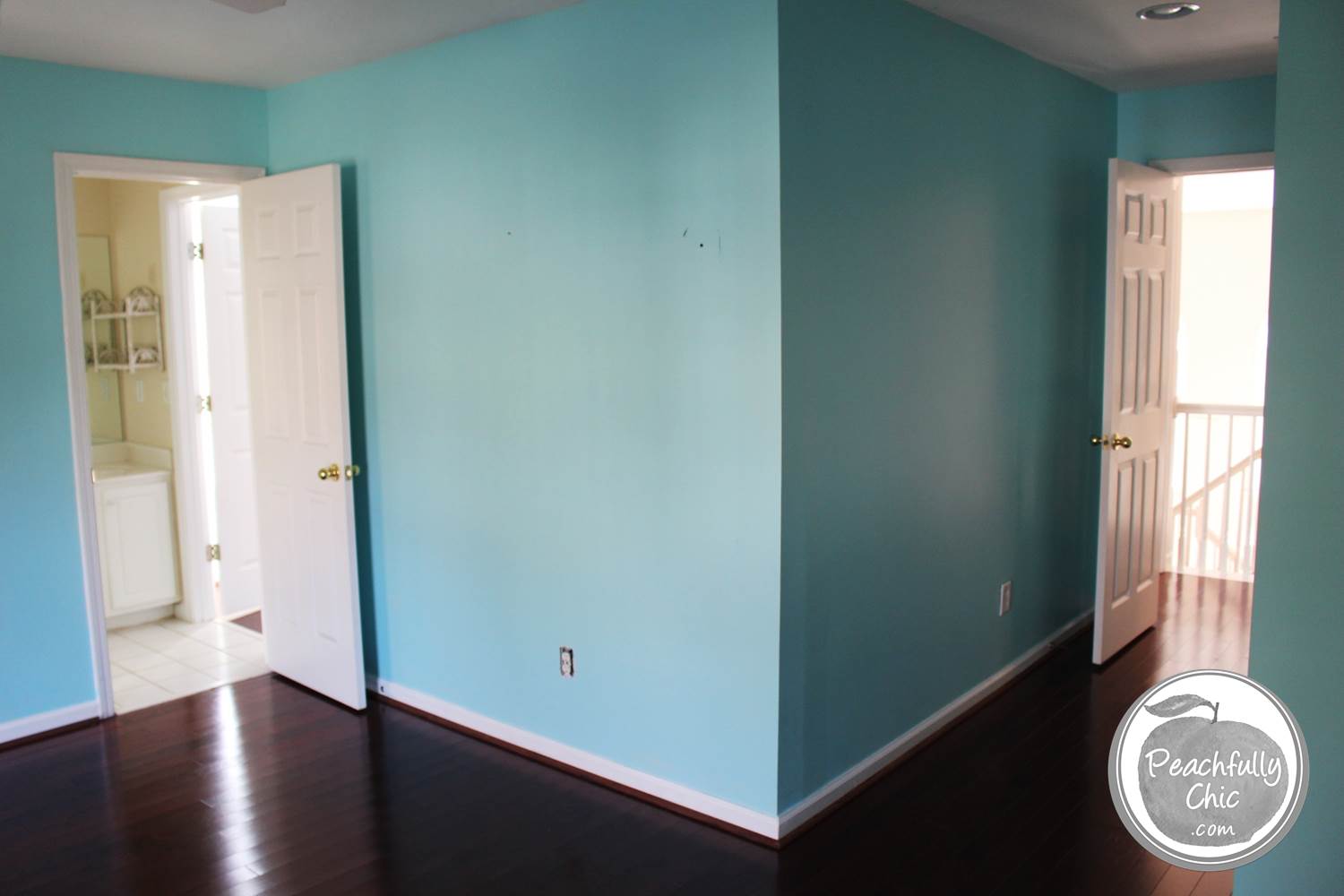 The two guest rooms share a jack-and-jill bathroom set up which I love.
And I love the beadboard in our second guest room!  Of course, the first thing that my mom said was, "Oh this will make a nice nursery for a baby!" — Slow down there mom… we just got married and moved in!  😉 But yes, I do agree.
Because Kevin had already agreed to it before we even bought the house… this will be his closet, and I get to use the Master all to myself!!!! Woo-hooooo!!!!!!!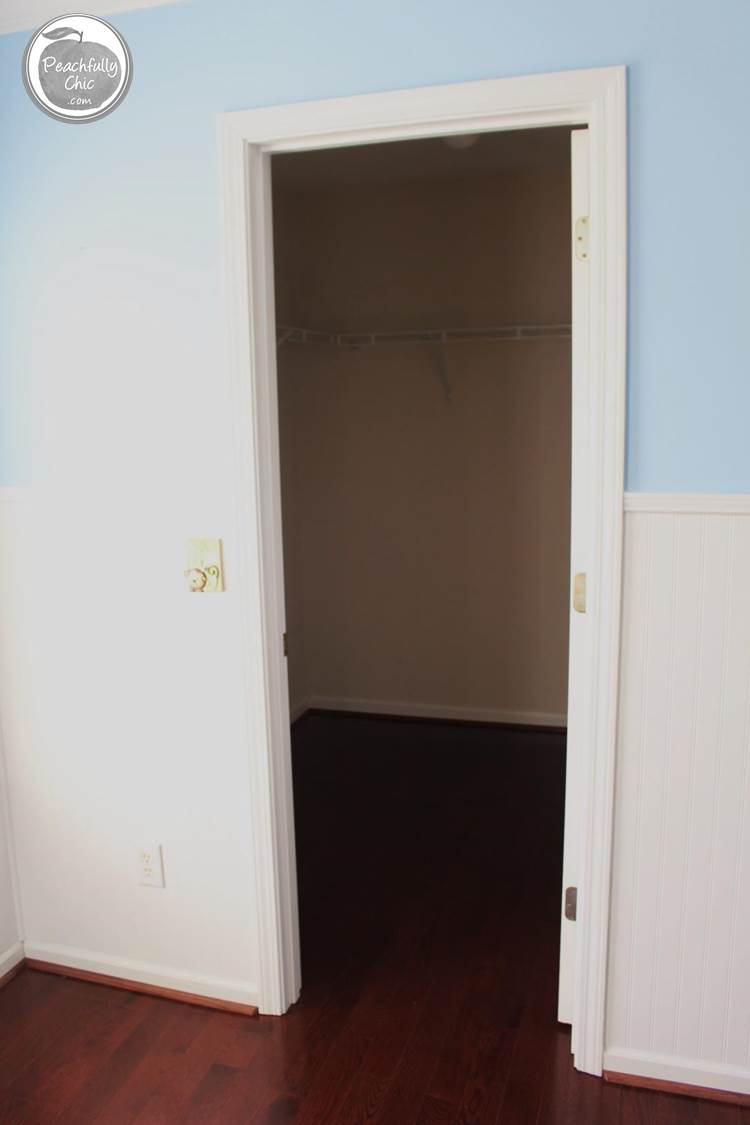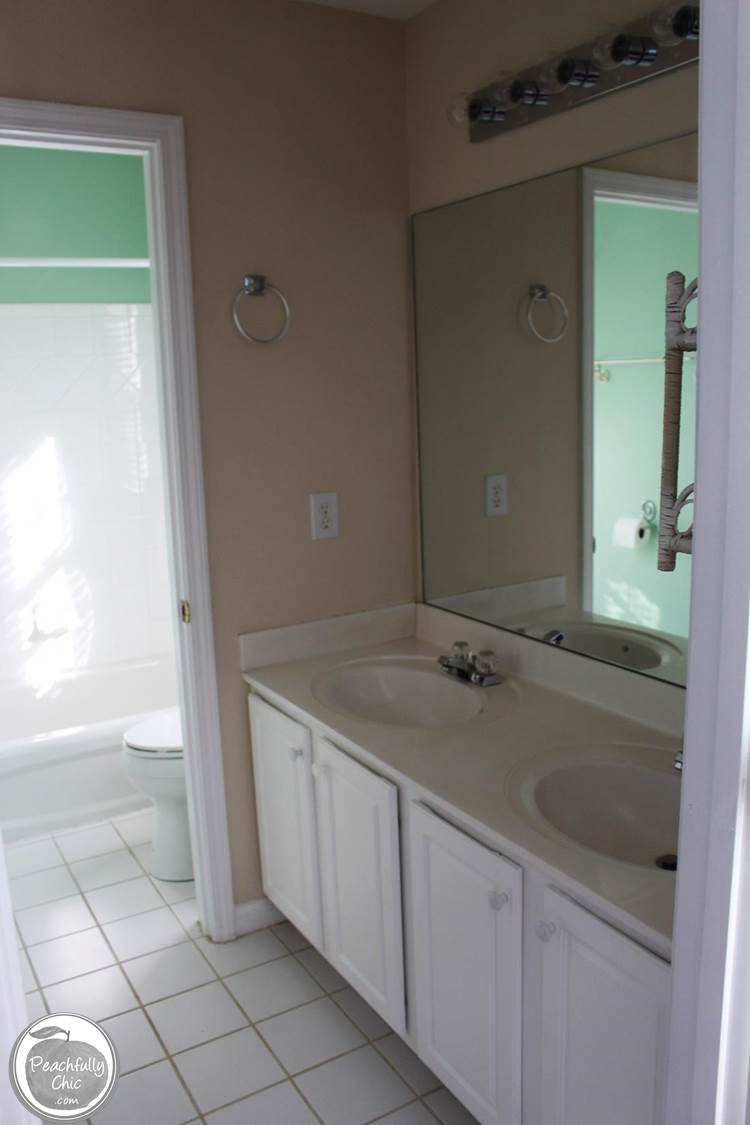 And this is our jack and jill guest bathroom. Again needs a slight face-lift with some paint and a few new fixtures… but it's got great bones!
Now on to our Master bedroom and bath… with the dark teal paint.
I can't get enough of the tall tray ceiling though!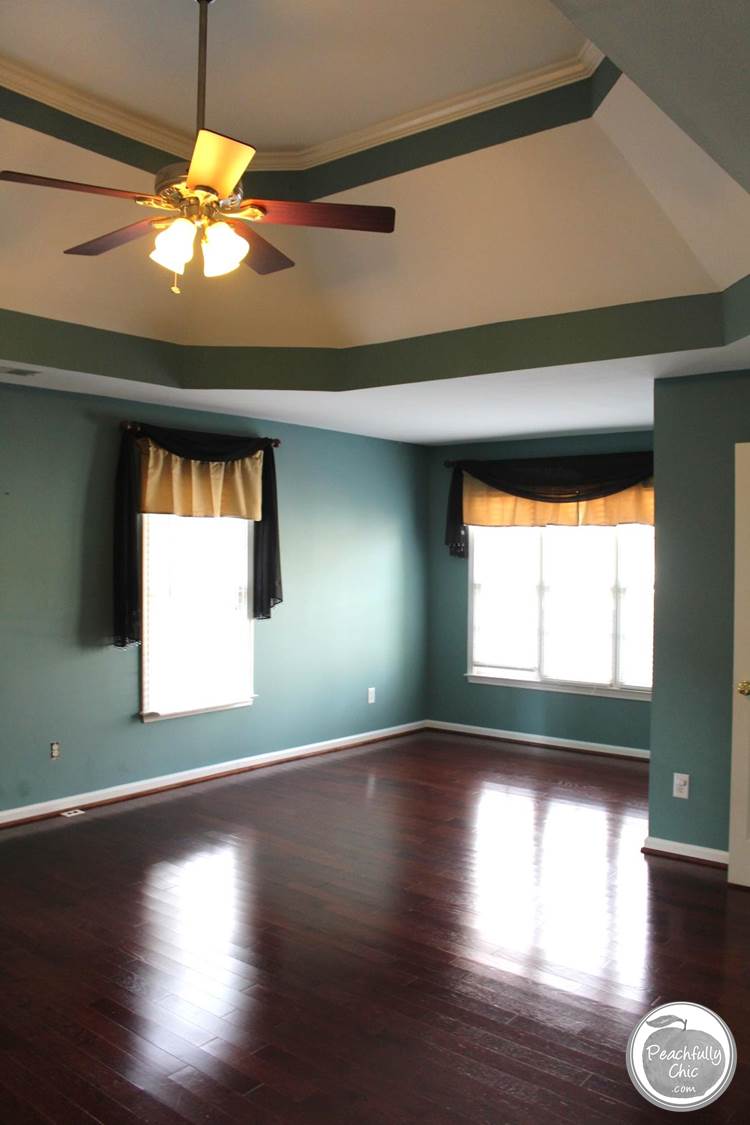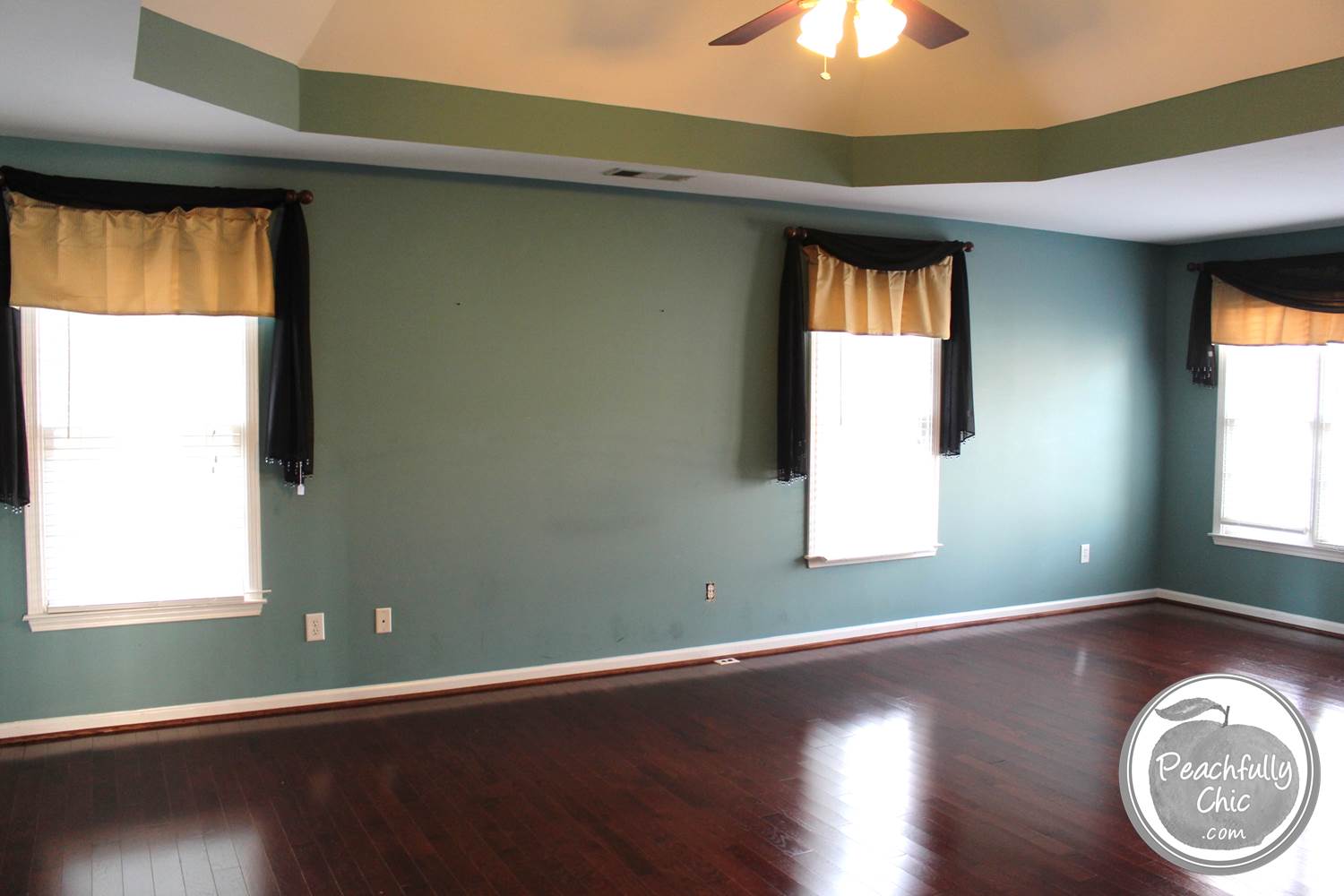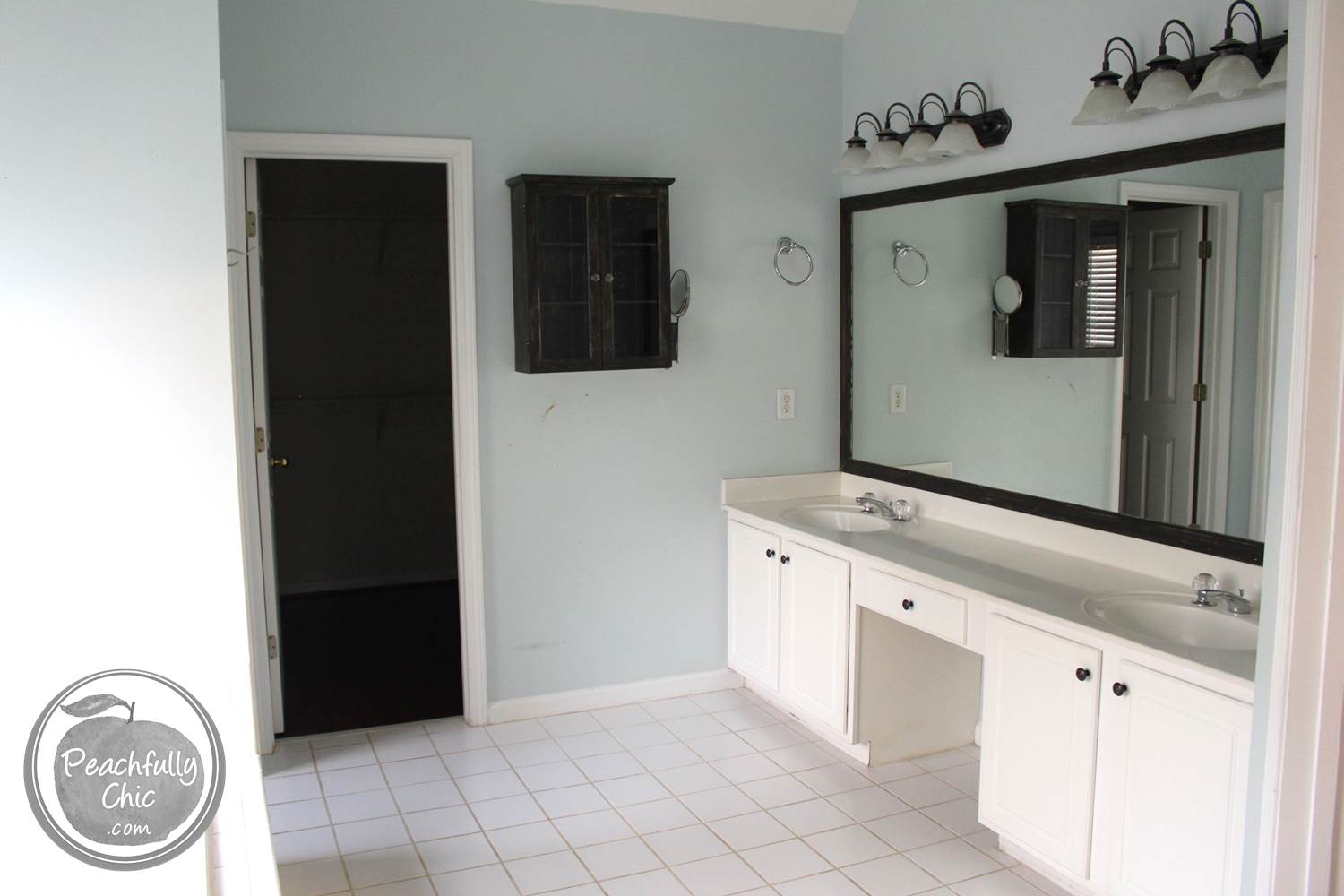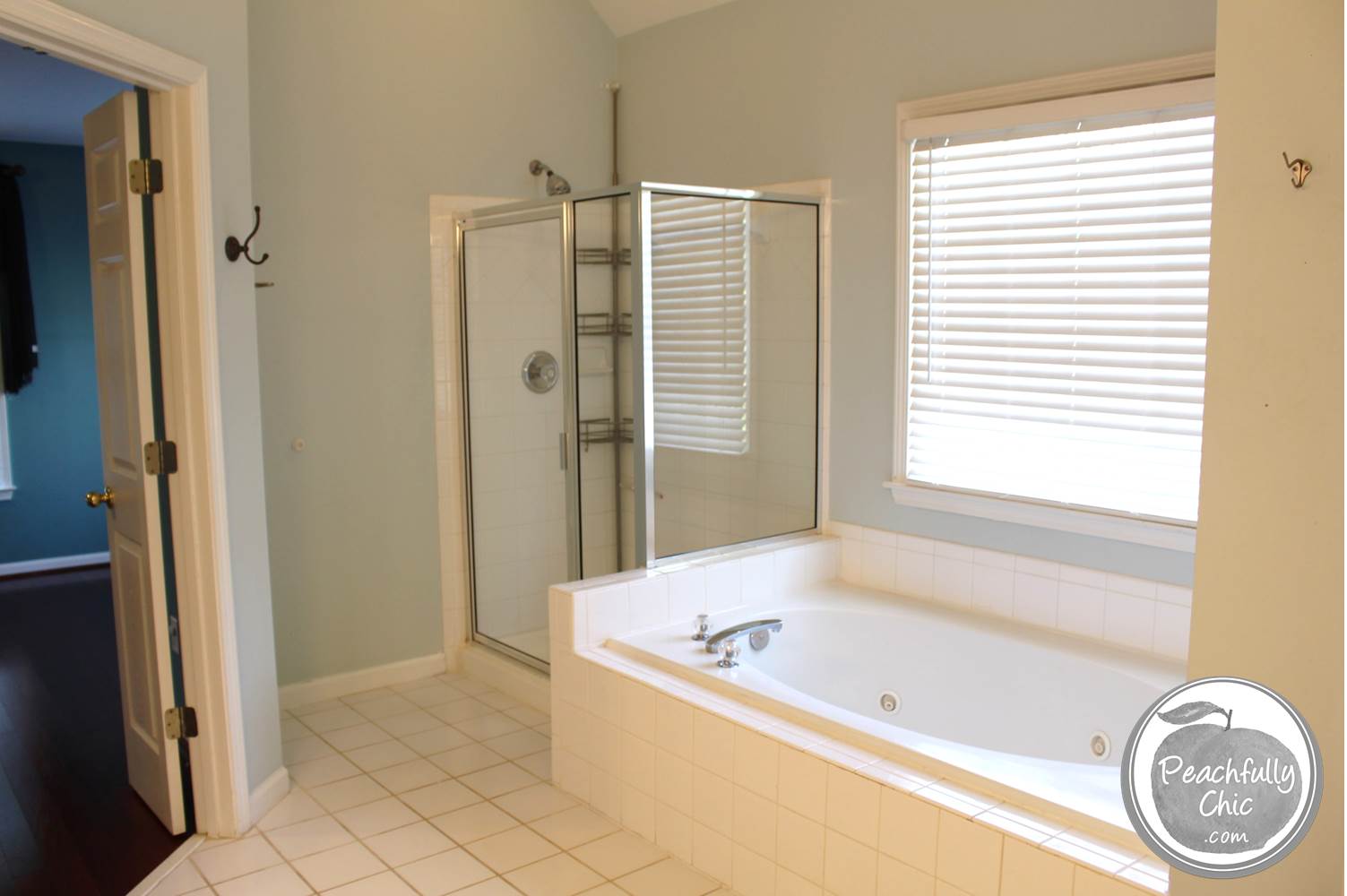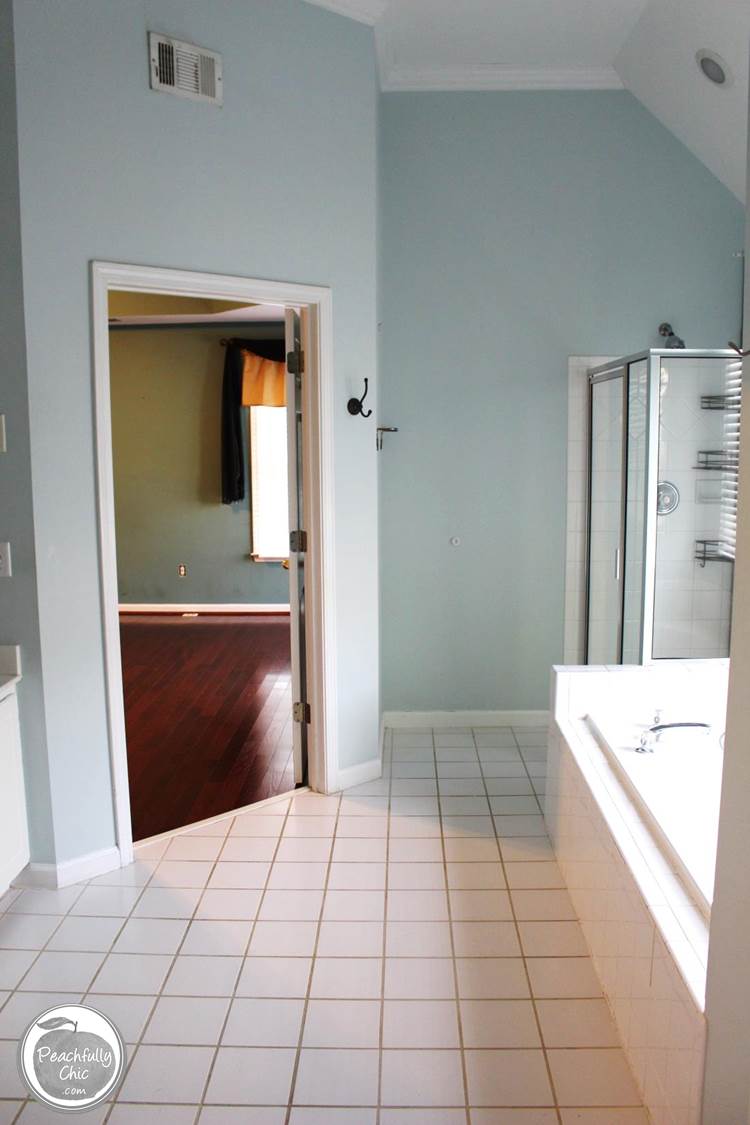 Through the bathroom is my master walk-in closet!!!! Oh how I have plans for you….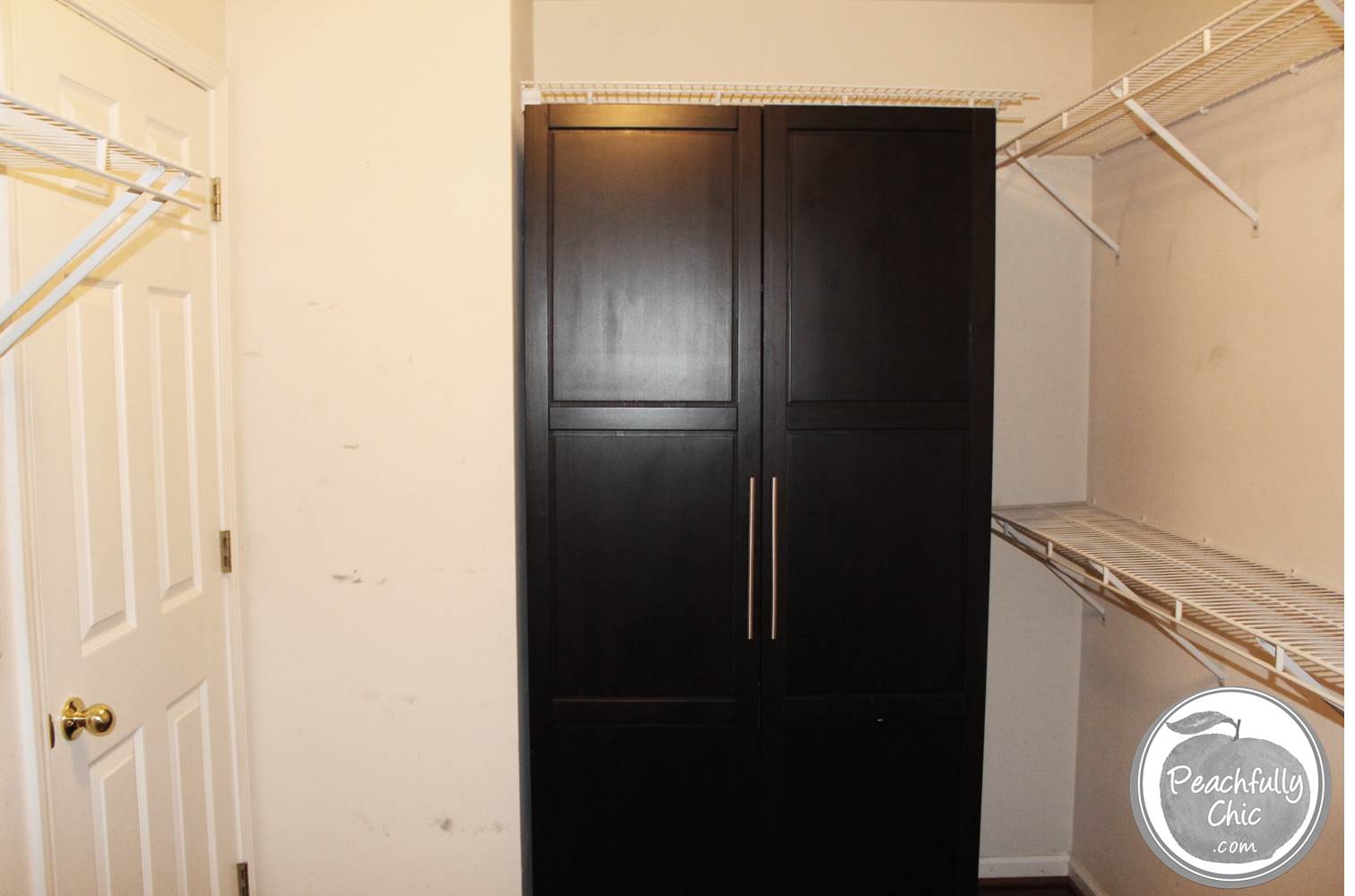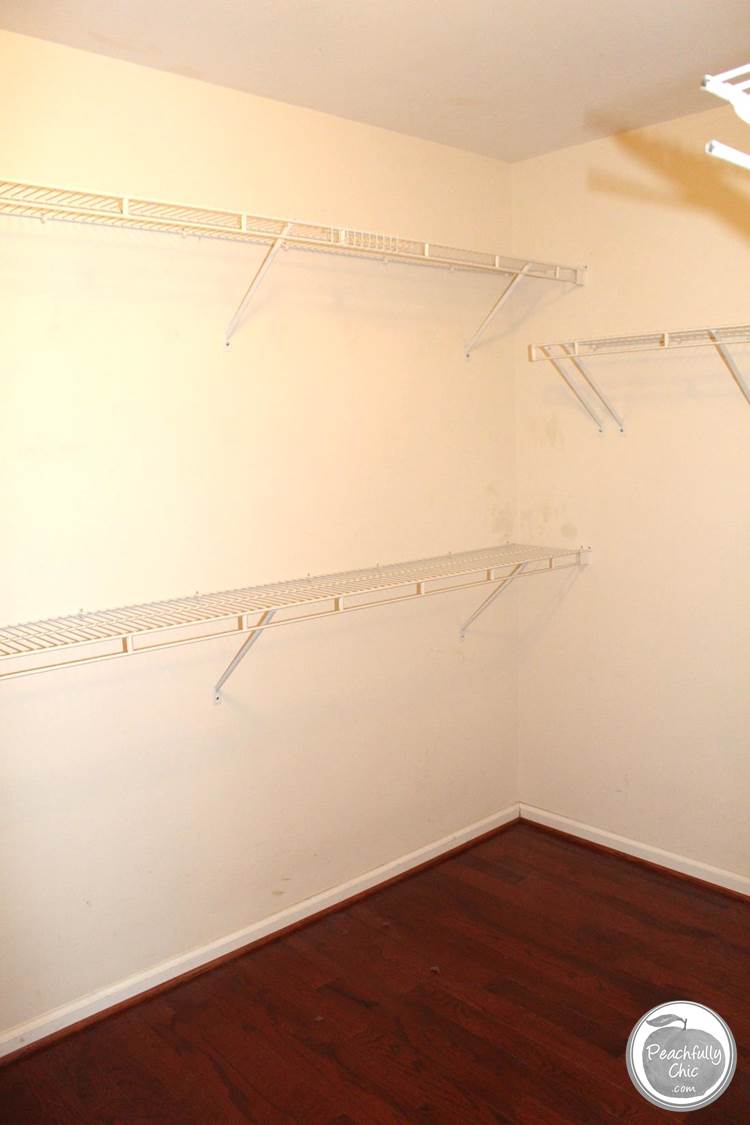 And now for the glamorous stuff…. The laundry room and the garage! haha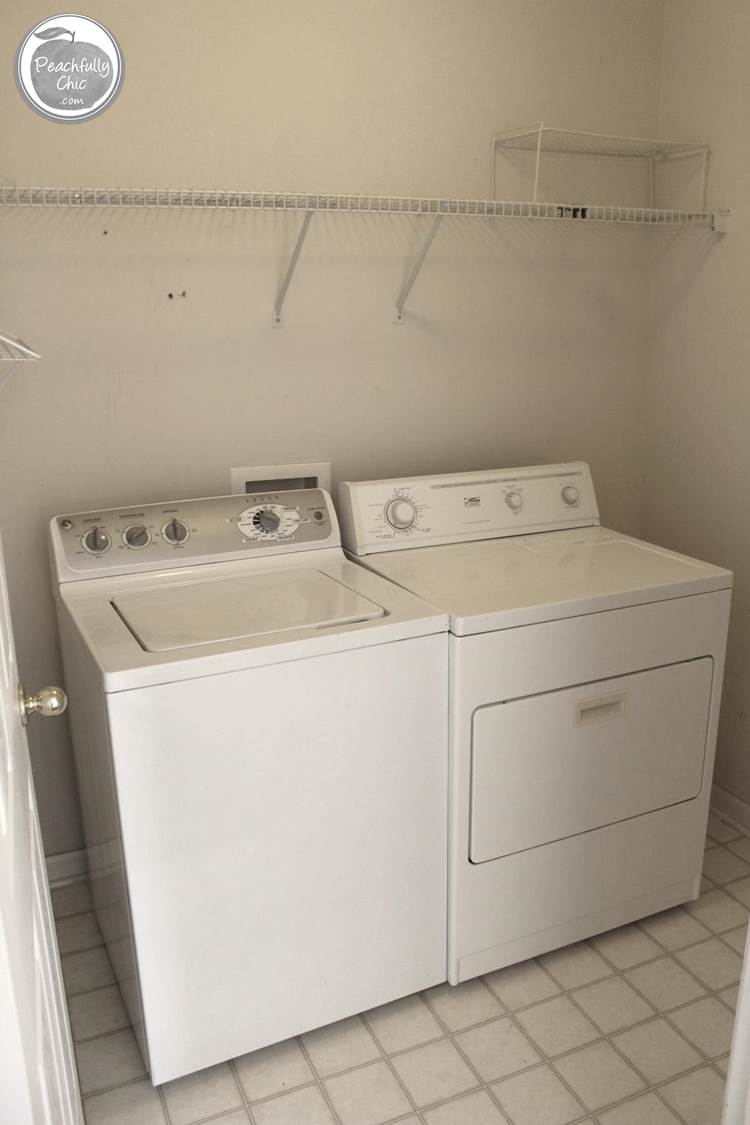 I really am excited about this little alcove in the garage… I'm already imagining all the fun little projects I'll be building or refurbishing in this area.  The previous homeowner even left this great storage system (which I plan to paint) and that work bench in the alcove.  Those will definitely come in handy!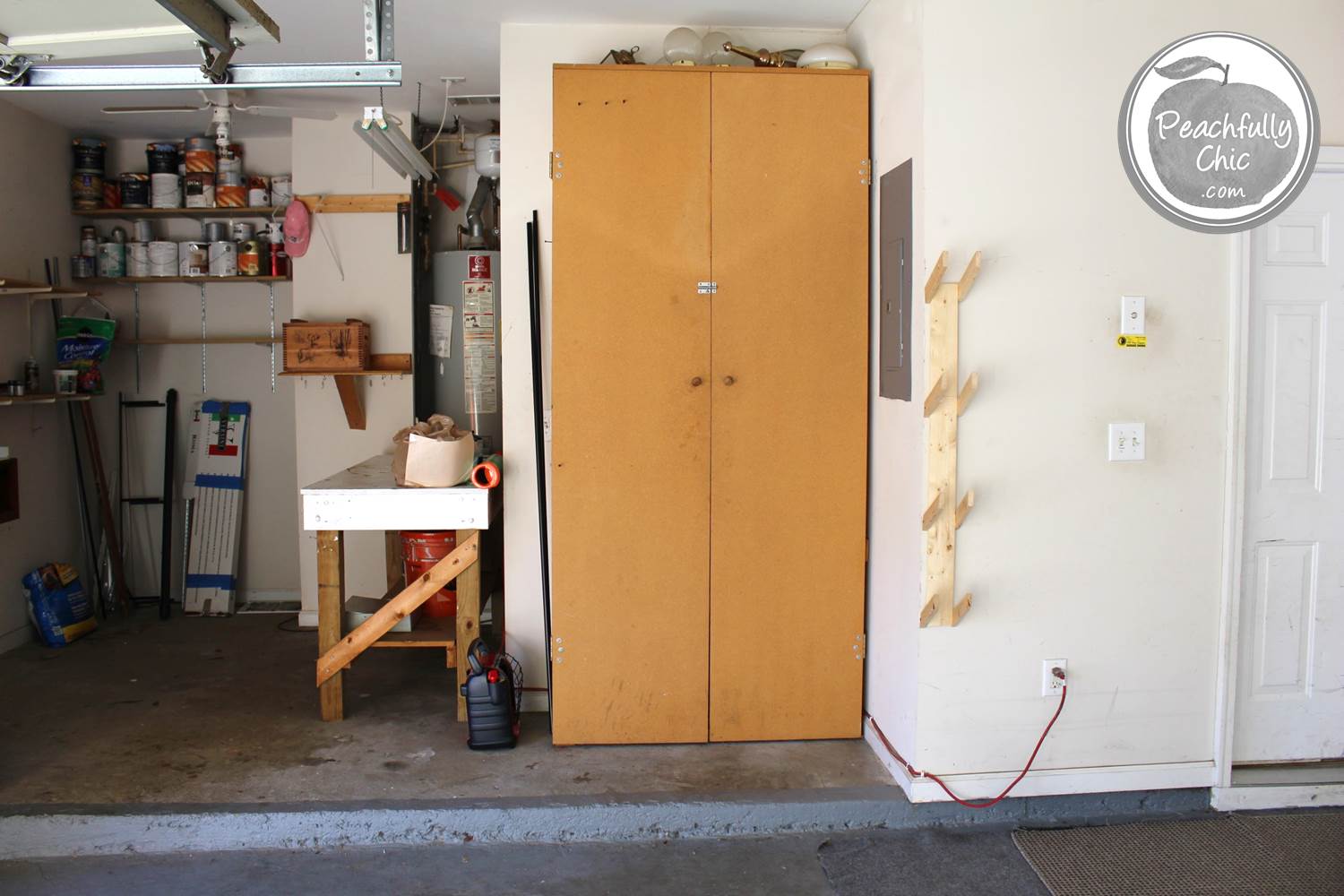 Well, that's the scoop. I hope you enjoyed snooping touring our new home!  I can't wait to show you the makeovers as we work our way through the rooms and add our personal touch to the whole house.
We're starting with the living room… so don't forget to come back and check out more as we unveil the rest.   Let me know if you have any suggestions on what we should do on that huge empty back wall in the living room…. We just mounted a TV over the fireplace so we're putting the sofa against the back wall, but we'll need to decorate above it with something!  I'm open to creative suggestions!!!
Plus, I'll be sure to give you an updated house tour at some point down the road when we've finally settled in though.  Thanks again for stopping by!