I've always wanted to plan a fun outdoor picnic at the beach to soak in the coastal sunset of summer.  I finally pulled something together wanted to share a bit of inspiration for the perfect beach picnic dinner.  Towards the end of summer last year, I planned an intimate birthday beach picnic dinner for my mom near our family AirBNB home in Beaufort, SC.  We packed up some delicious picnic-friendly dishes and headed over to the beach just before sunset for the perfect evening celebration.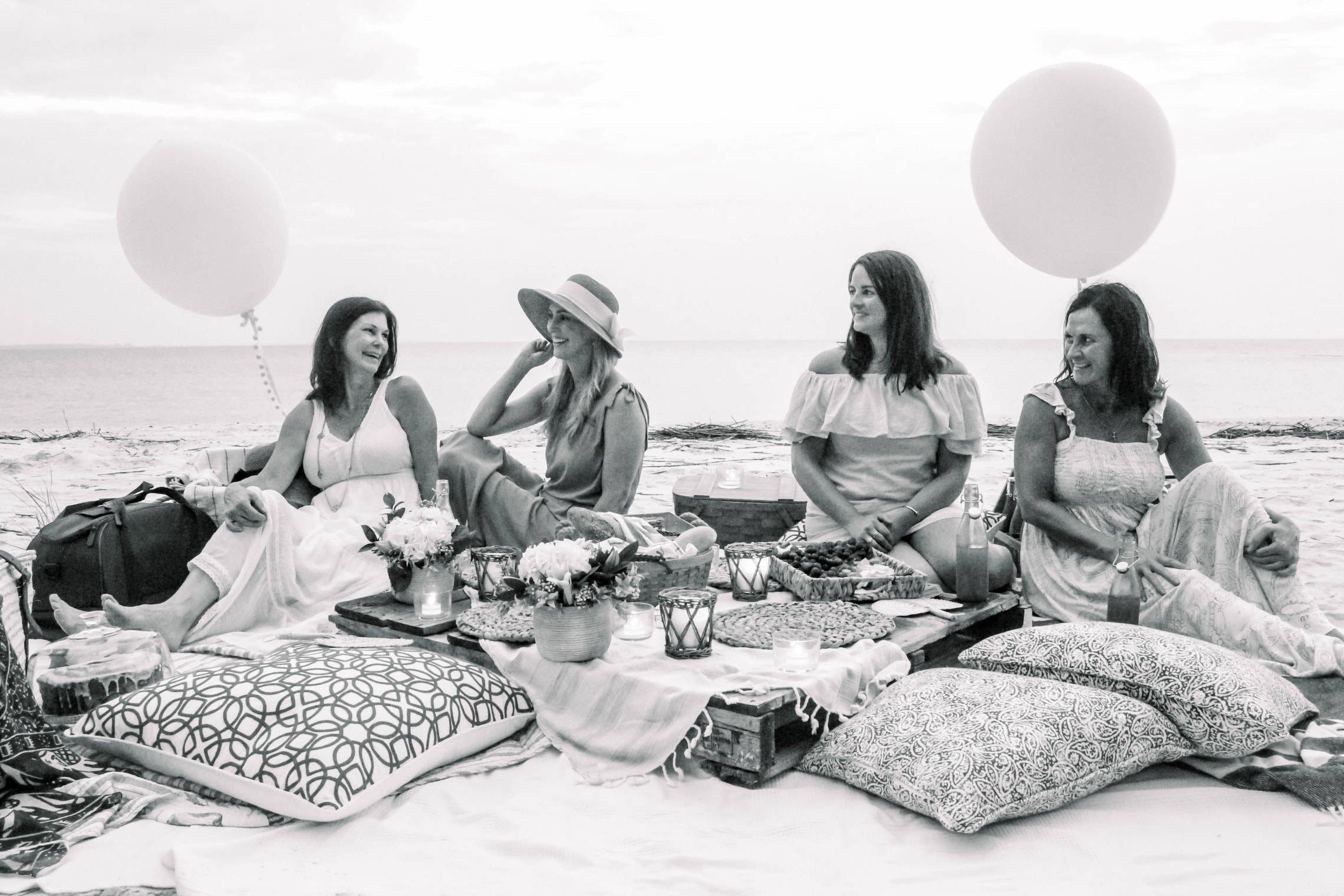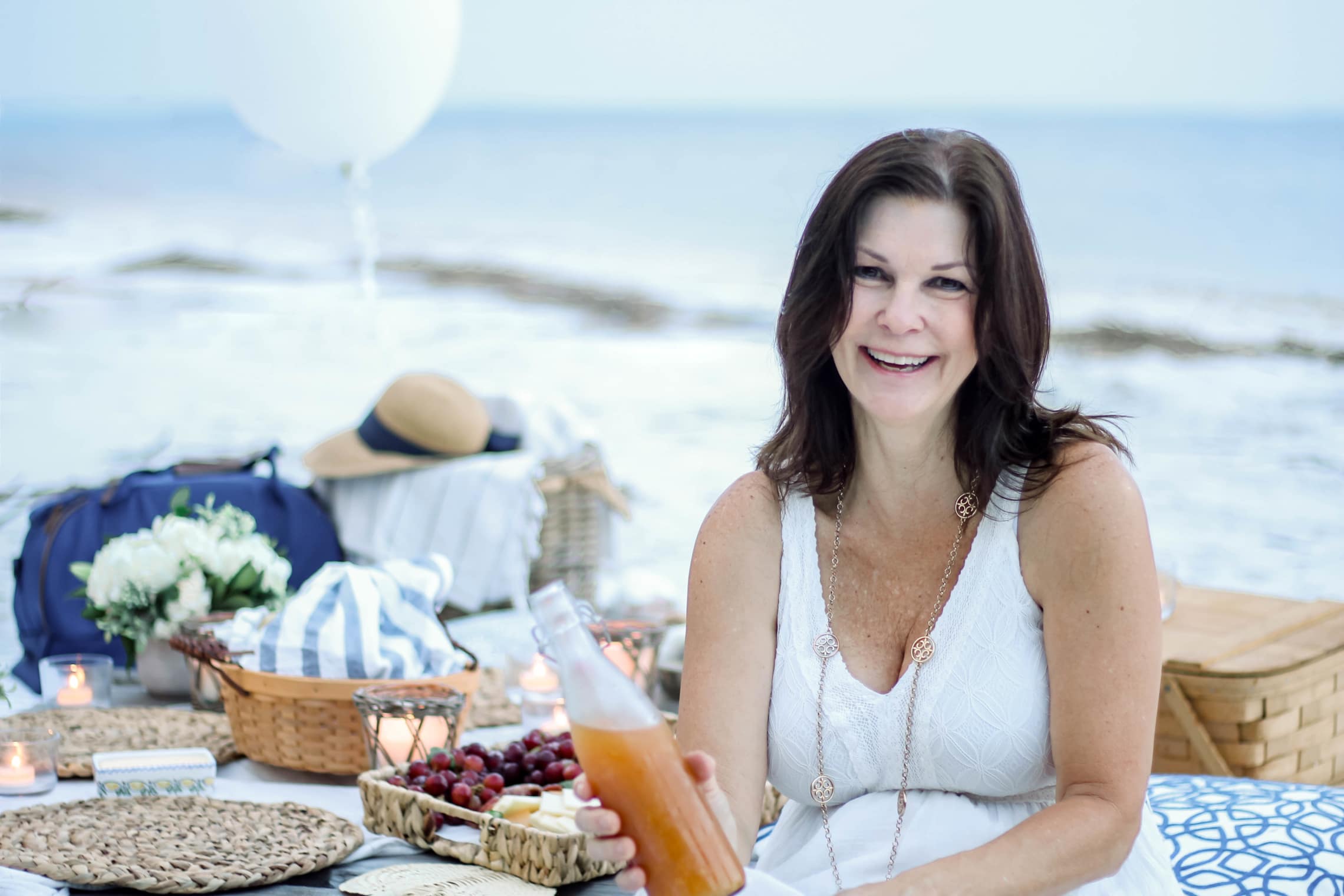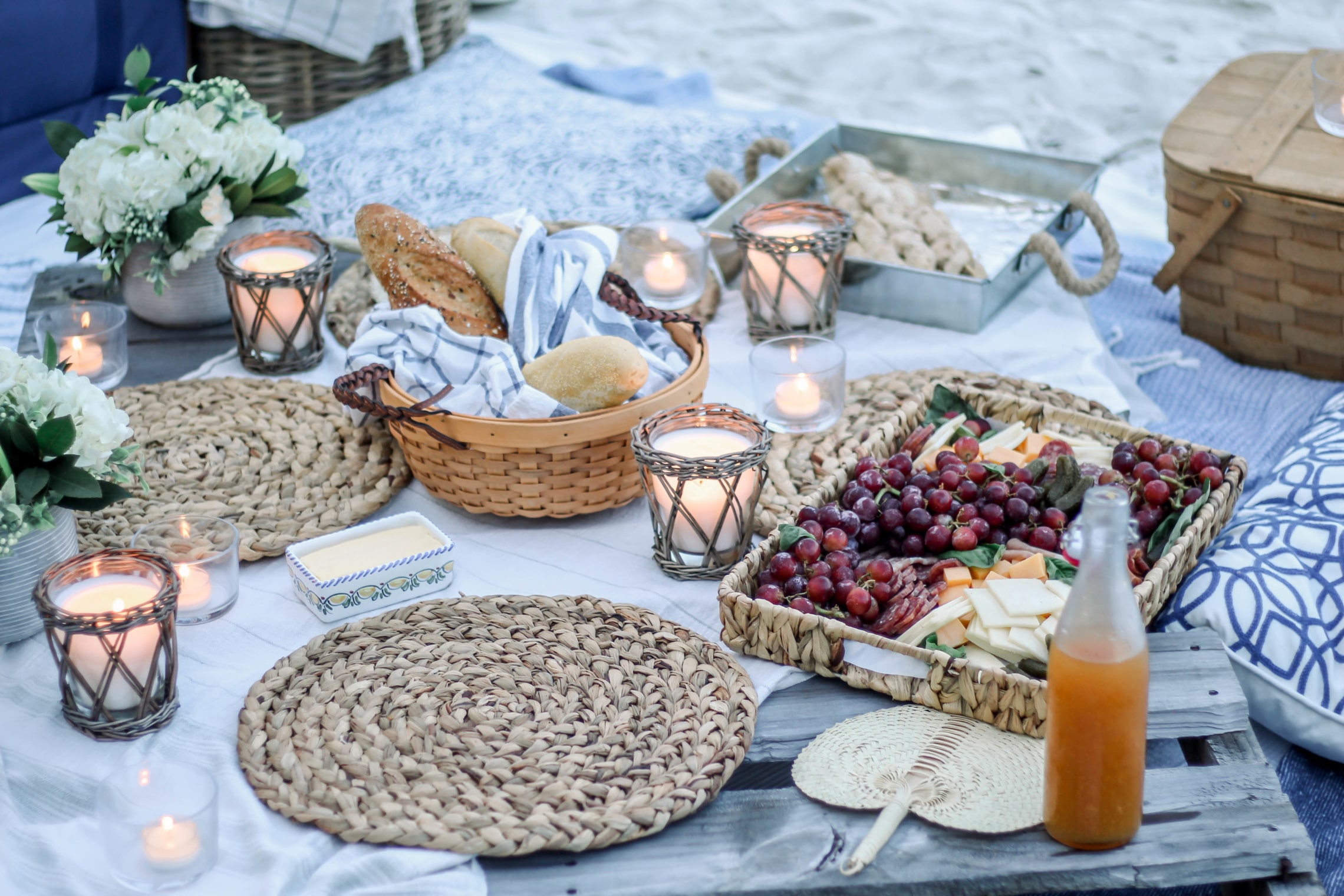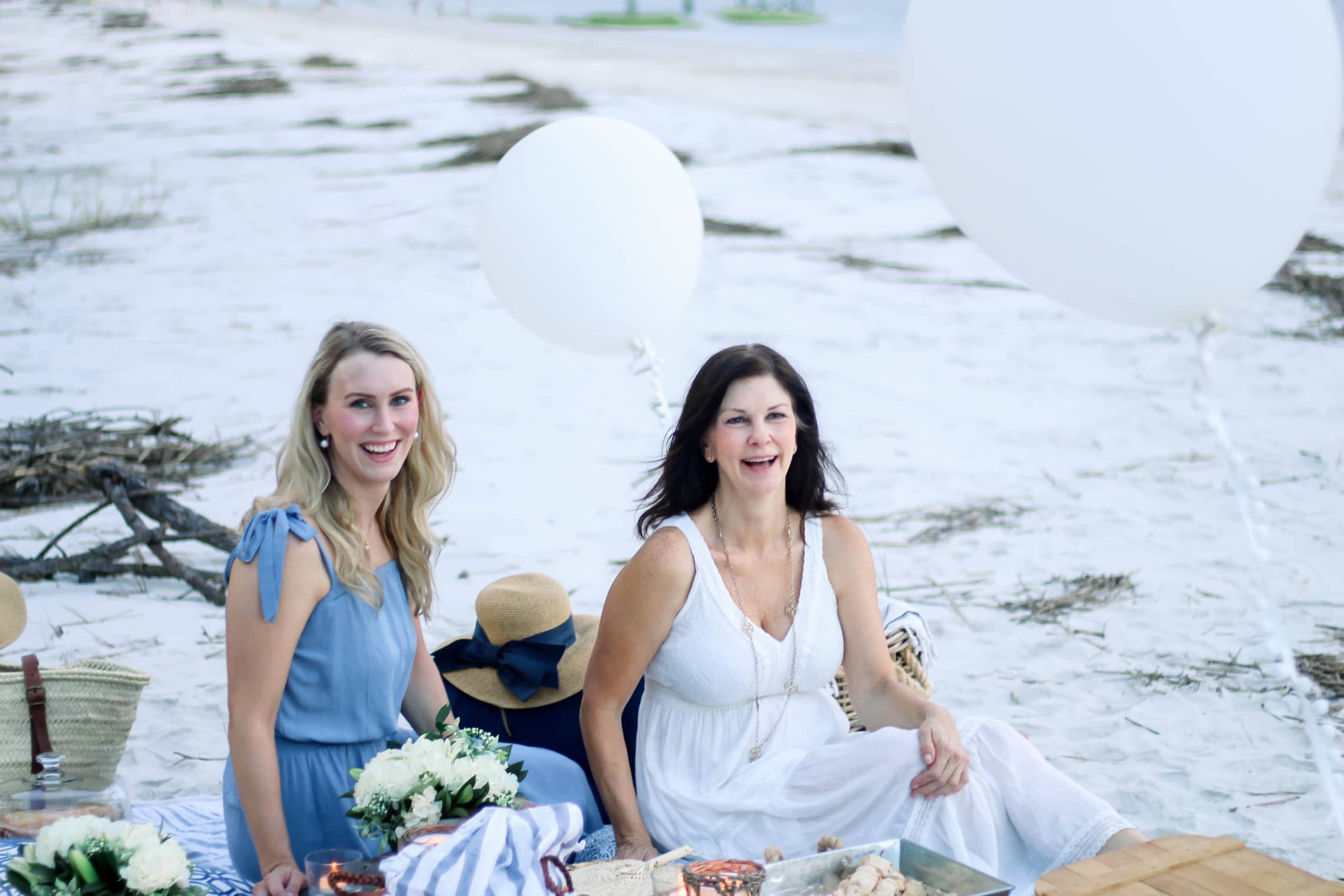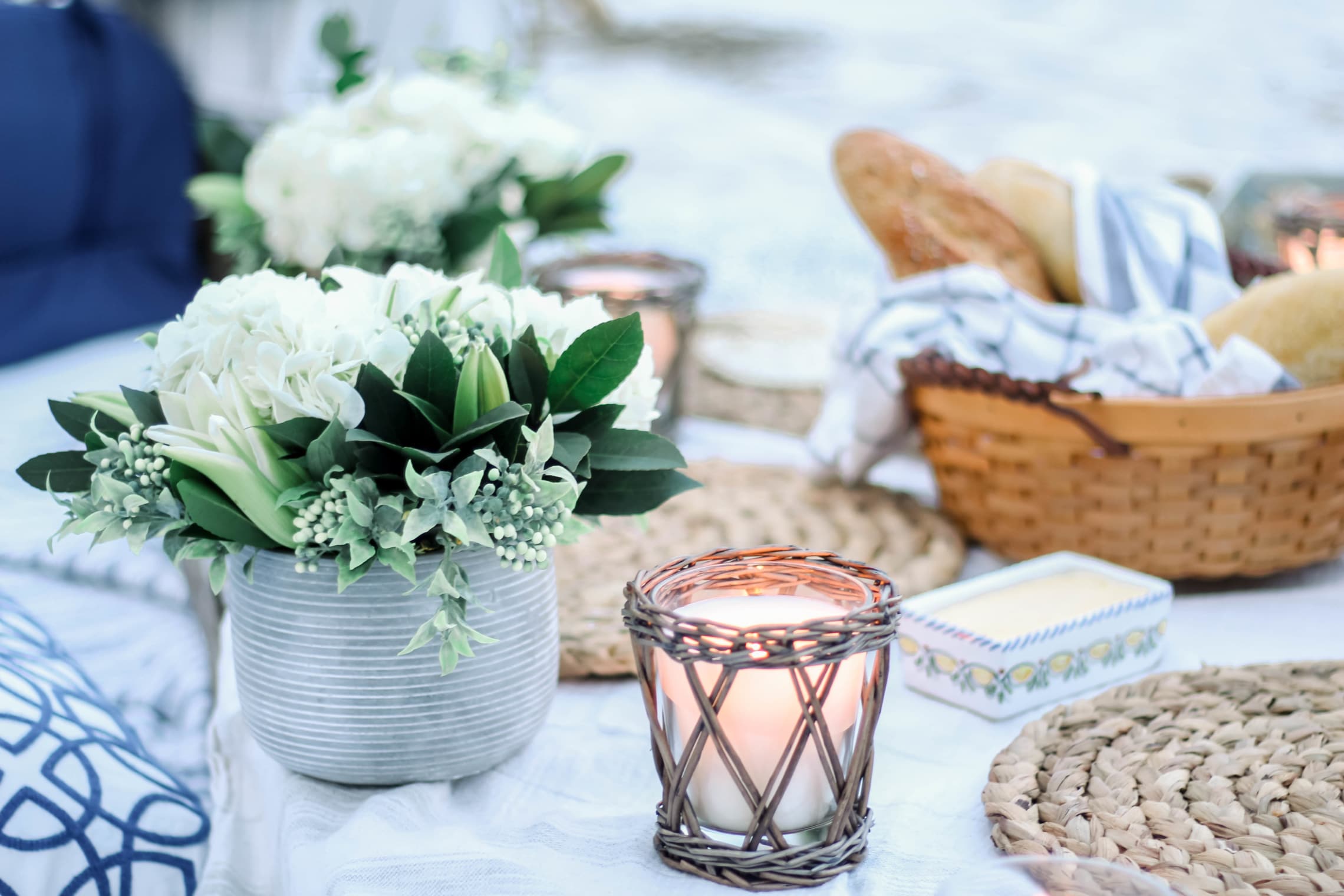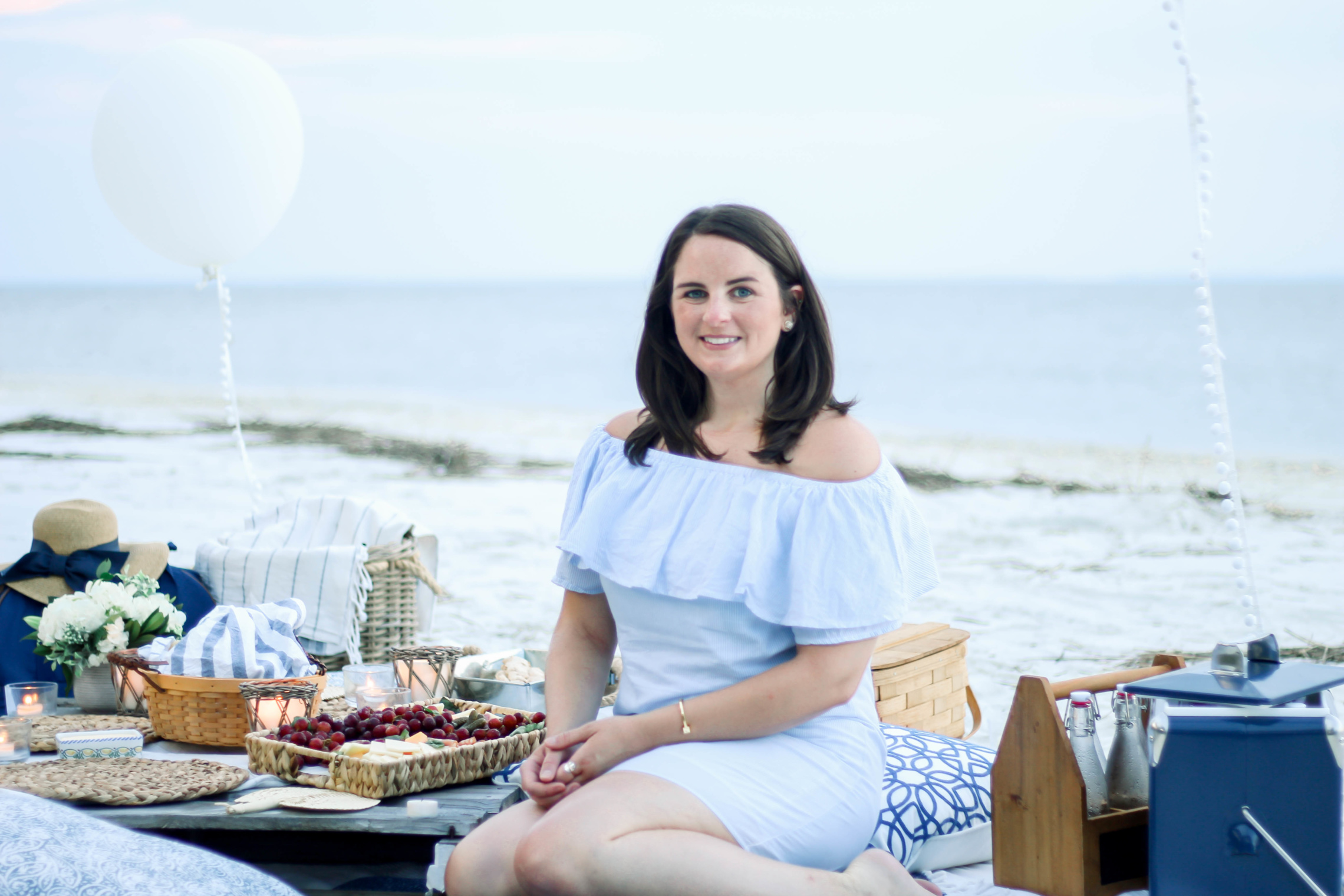 Beach Picnic Essentials
---
When I started thinking about the color theme and what the look of the beach picnic should be, I, of course, started by browsing Pinterest.  Most of my home is filled with blue and white accents, so I thought that using what I had around the house instead of buying anything new would be an easy and inexpensive route for the picnic decor.  I pulled together the inspiration board below, which something that I do almost anytime I'm planning a party.  This helps me stay focused on gathering pieces that complement the theme and avoid unnecessary purchases.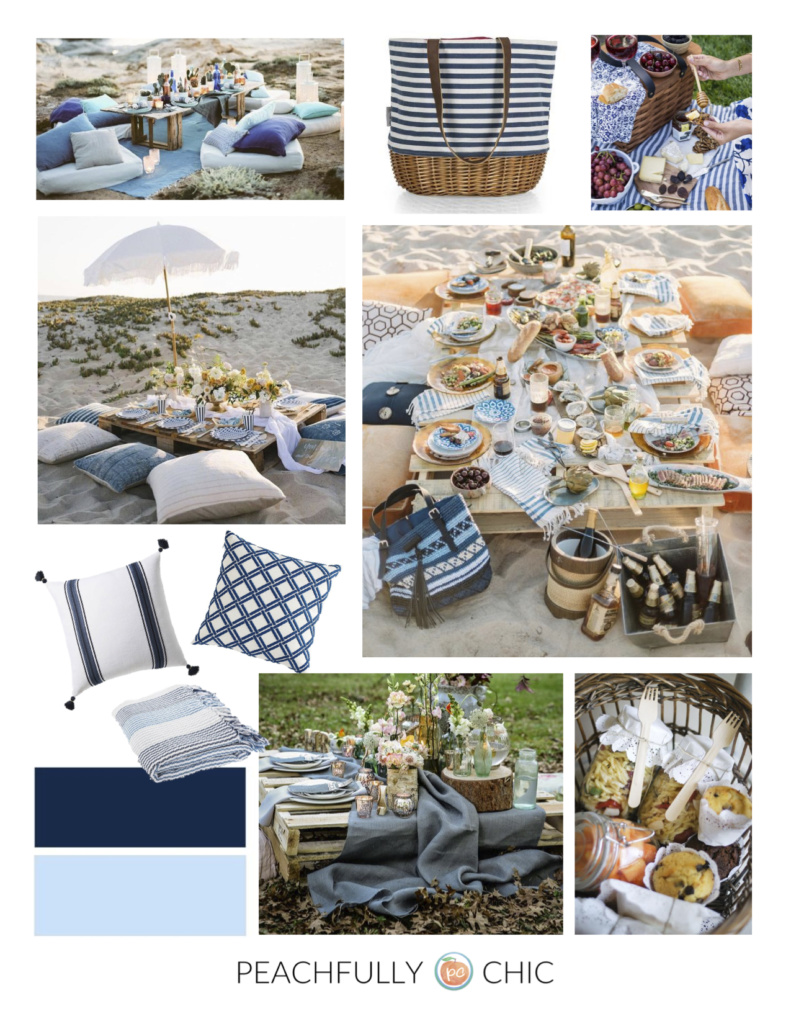 Our blue-themed picnic complemented the coastal water quite nicely once we got it all set up.  This is a rundown of what I used to create the perfect birthday beach picnic dinner:
Pillows & Throws: We started with a base layer of white and blue patterned blankets and quilts to keep the sand away from the food and off of our clothes. I added several pillows (all pulled from my living room & outdoor conversation set) to create soft seating and a comfy place to relax.  I also used one of the Turkish towels I brought home from Istanbul as the tablecloth.
Drinks & Coolers: I funneled our drinks into glass swing-top bottles that I brought in a small retro-style cooler to keep cool.  I had these glass beer bottles from Amazon that worked perfectly to keep things sealed until we got to the beach.
Table:  I loved the idea of repurposing a wood pallet to create an elevated picnic table and I actually found this weathered one discarded by the side of the road.  I thoroughly inspected it for bugs, mold, or broken pieces before deciding it was "clean" enough to load into the car.  I actually liked that it was a little weathered since it complimented the background of driftwood scattered along the beach.
I'm not afraid of picking something up on the side of the road if I can give it new life, but if that's not your style, you can always try to pick up a free wood pallet from industrial areas, grocery stores, department stores, or other wholesale stores. There are a ton of businesses that use wood pallets for bulk deliveries only to discard them to the trash, so I was originally planning to just ask around if I hadn't found the one I did.
Lighting & Mosquitos:  Beach bonfires are not permitted in most of South Carolina, including the beaches near our vacation home in Beaufort, so we used several citronella candles to give us light as the sunset and to protect us from mosquitos & other pests. We also burned incense sticks since we were in the Lowcountry with plenty of "no-see-ums" or "sand gnats" everywhere.
Servingware: I wanted to keep things natural, so I used a mixture of water hyacinth chargers with baskets and woven trays to further embrace the outdoor setting.  I also used biodegradable palm leaf plates & disposable wooden flatware that made clean up easy.  We packed most of the food in mason jars, but some items I just prepped in a covered tray to make them more accessible for munching.
Birthday Accents: To keep things simple yet festive for my mom's birthday, I combined a few small white floral arrangements with a couple of oversized white balloons tied down with white pom fringe.  Lastly, I provided handheld woven fans for each person to keep cool until the Summer heat dissipated with the cool coastal breeze.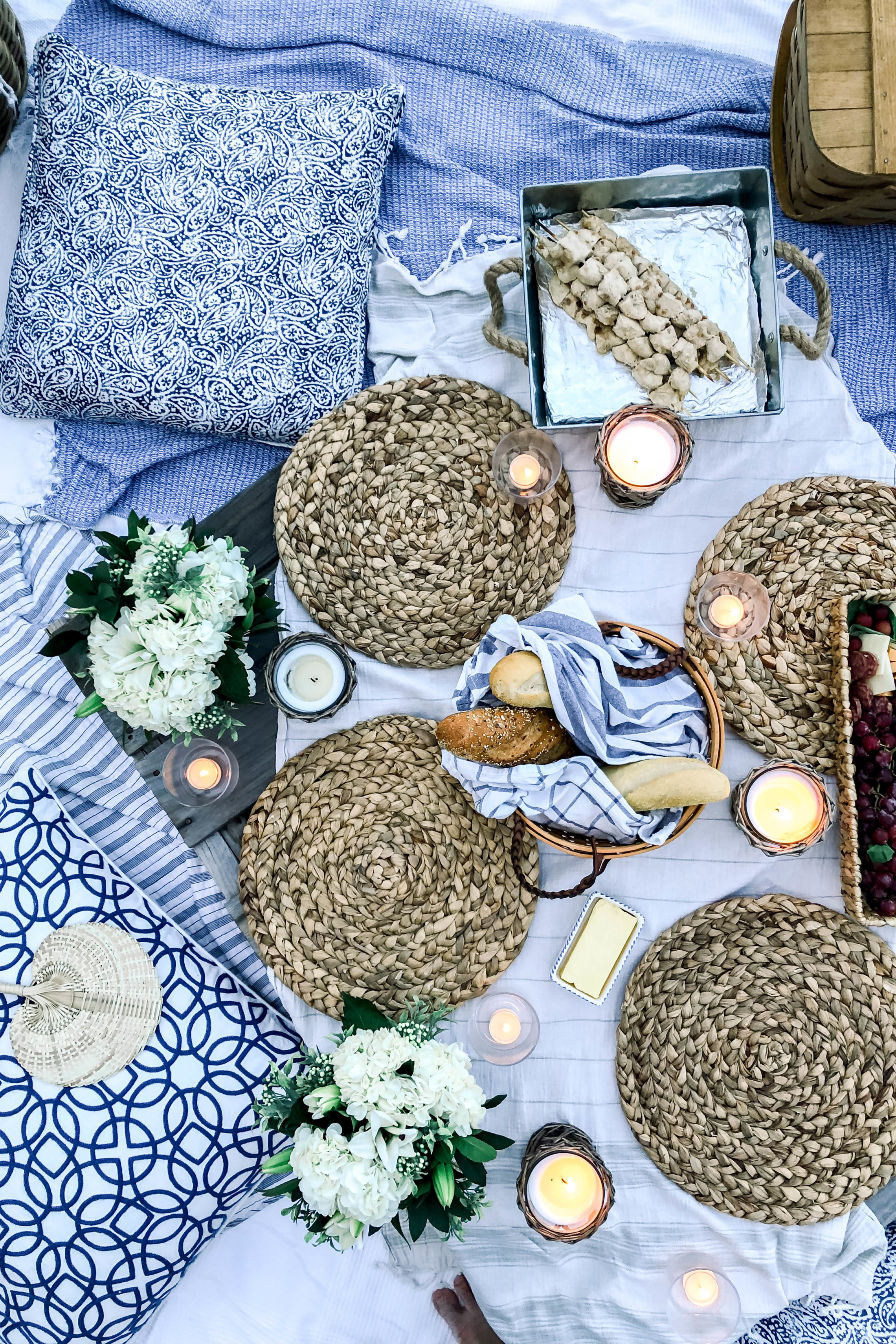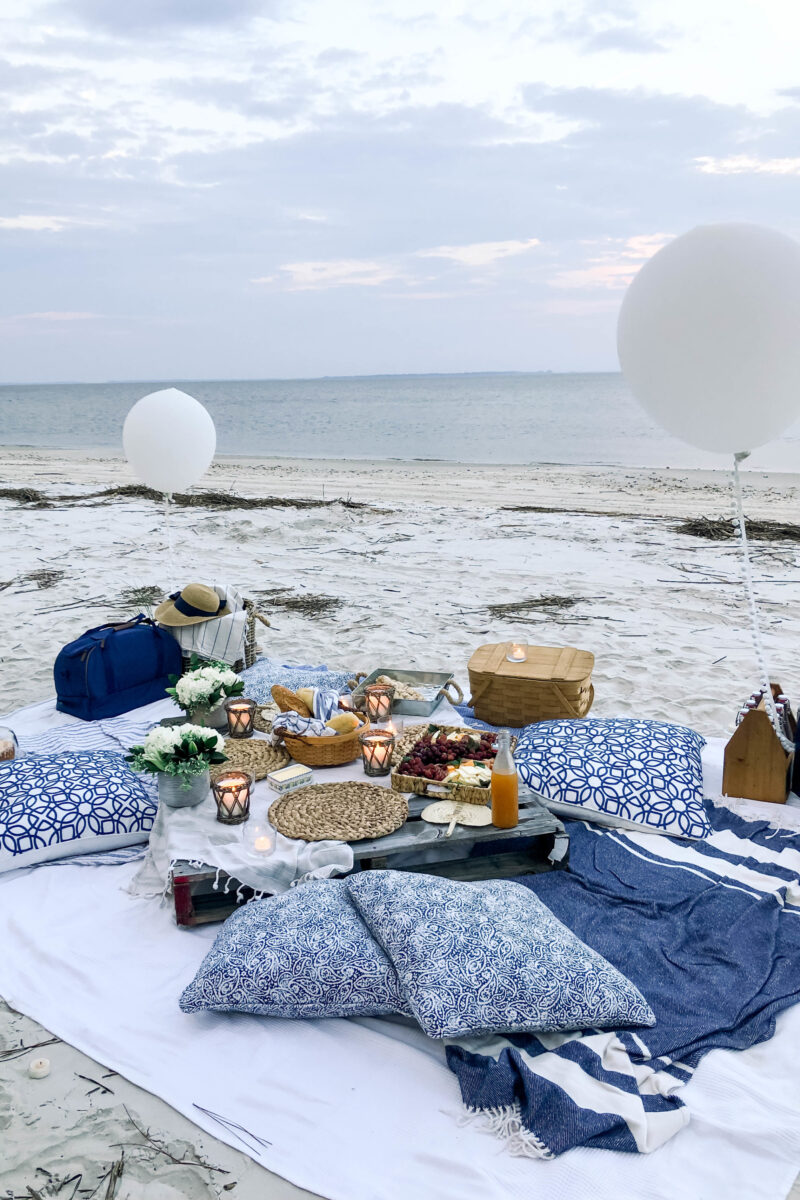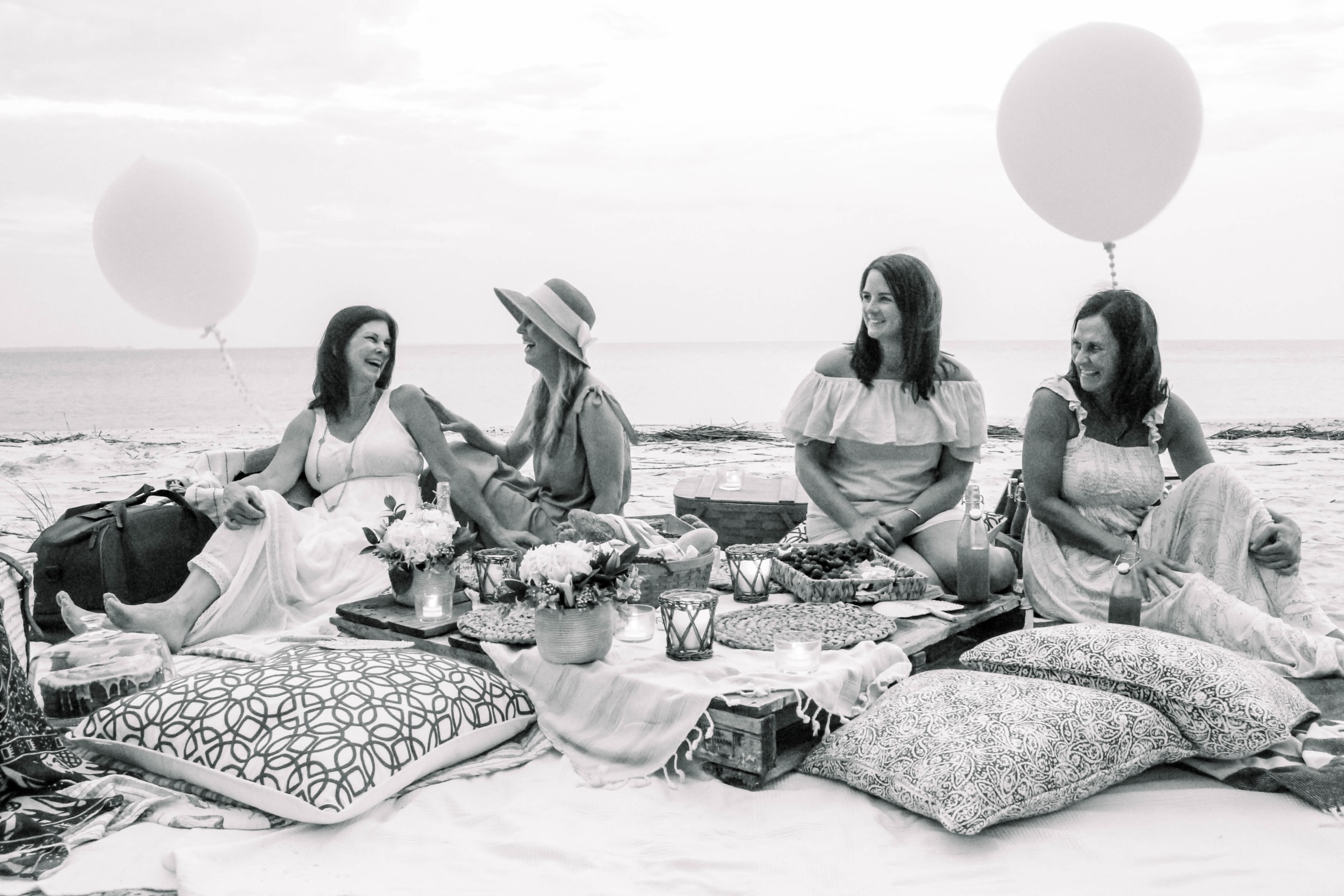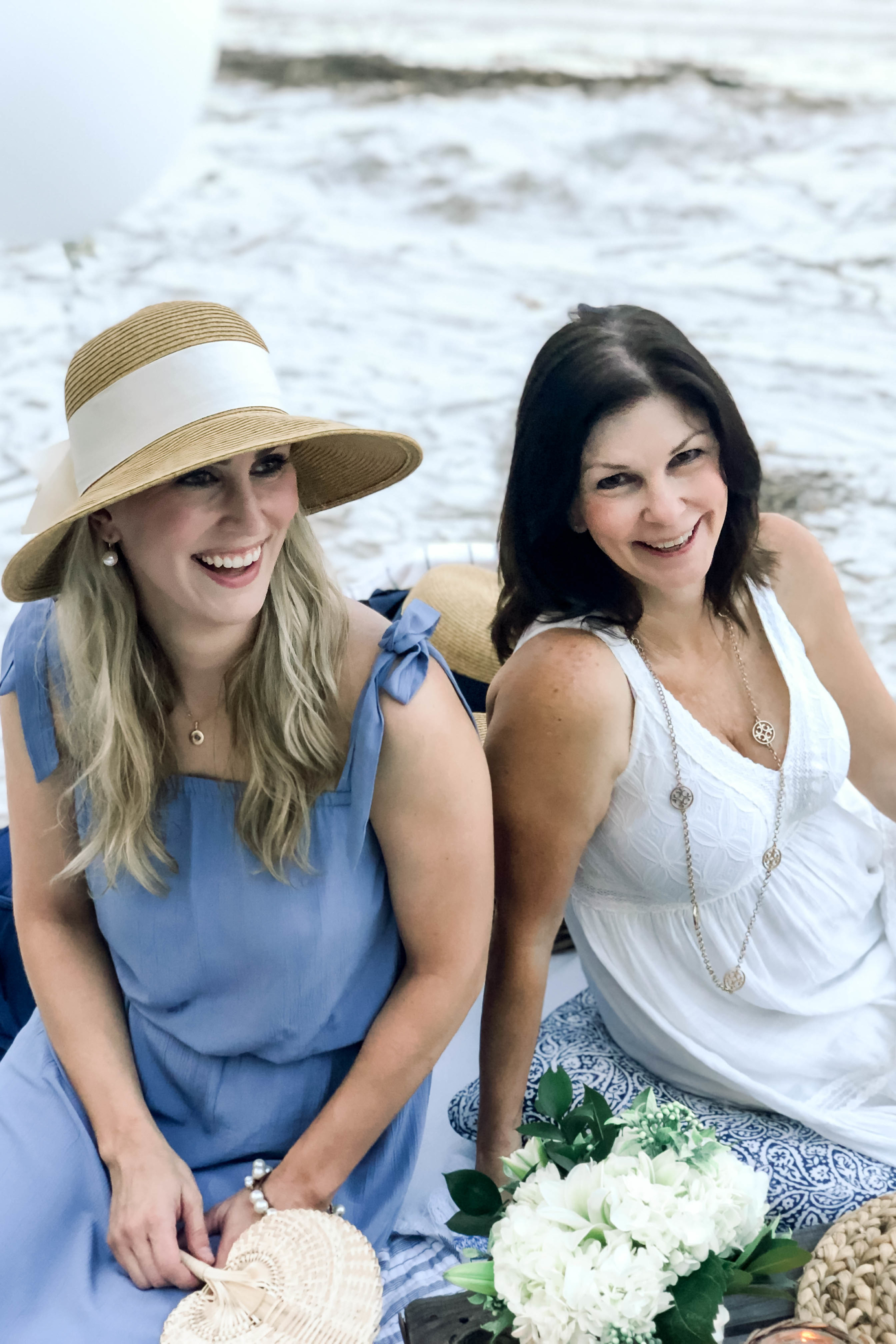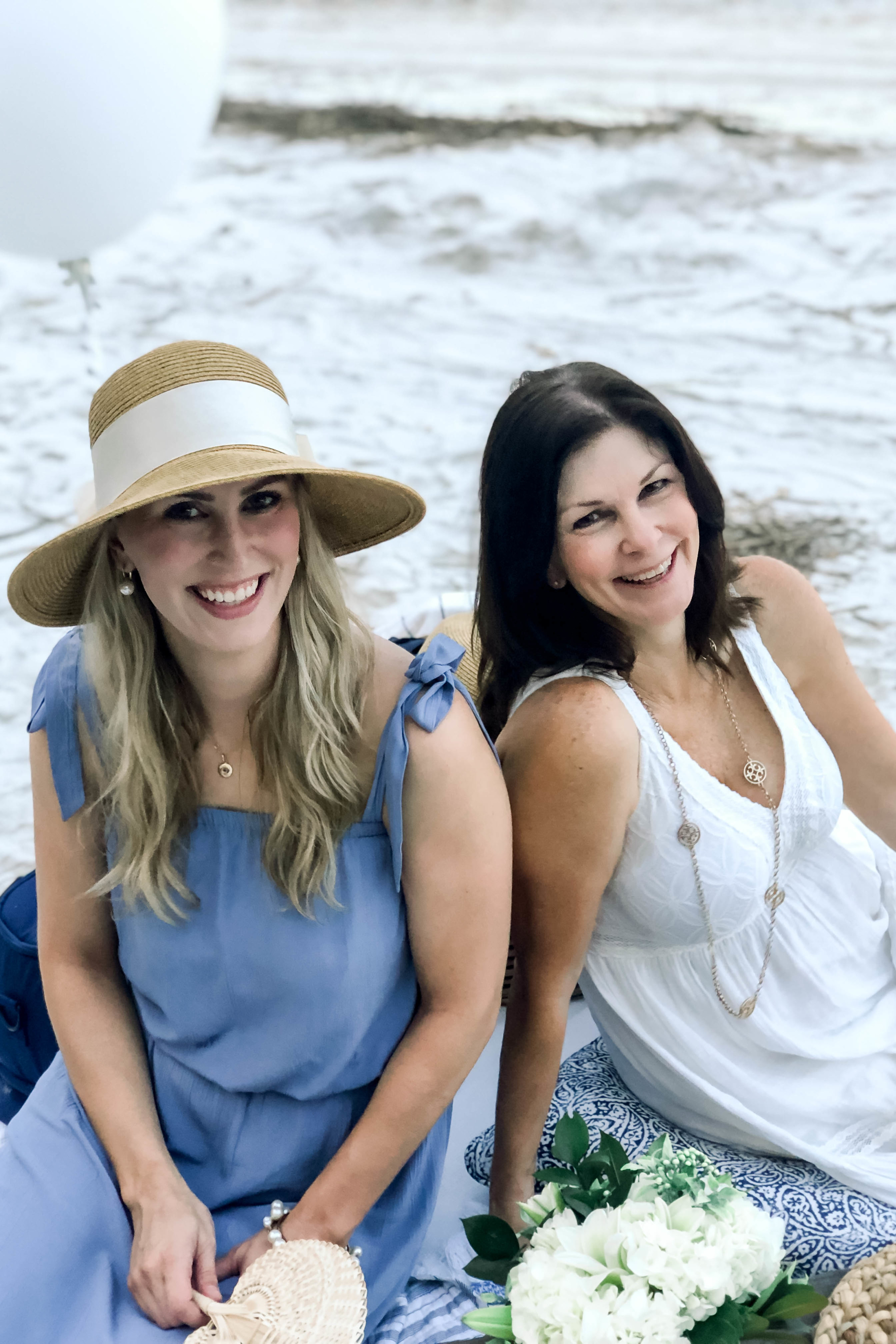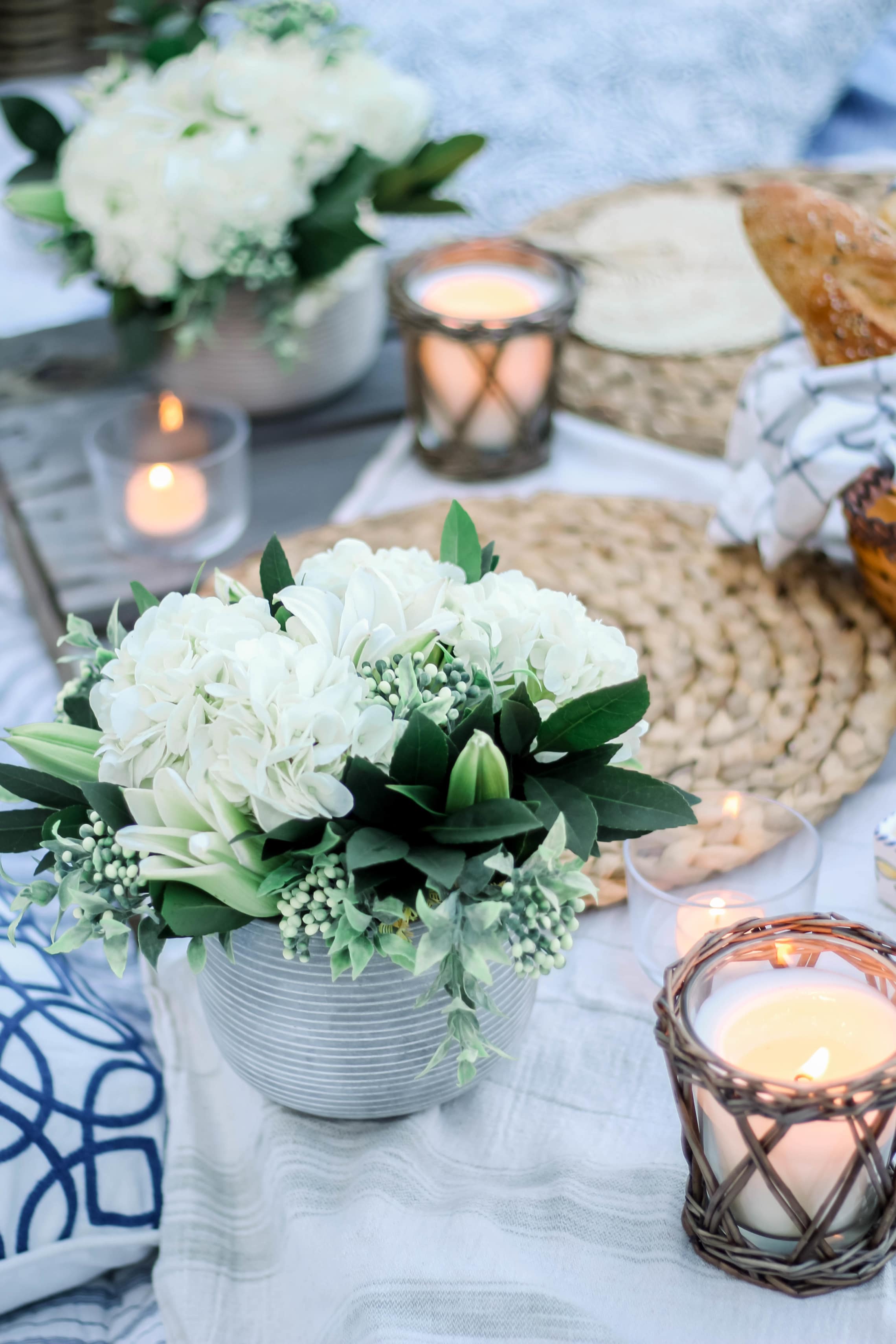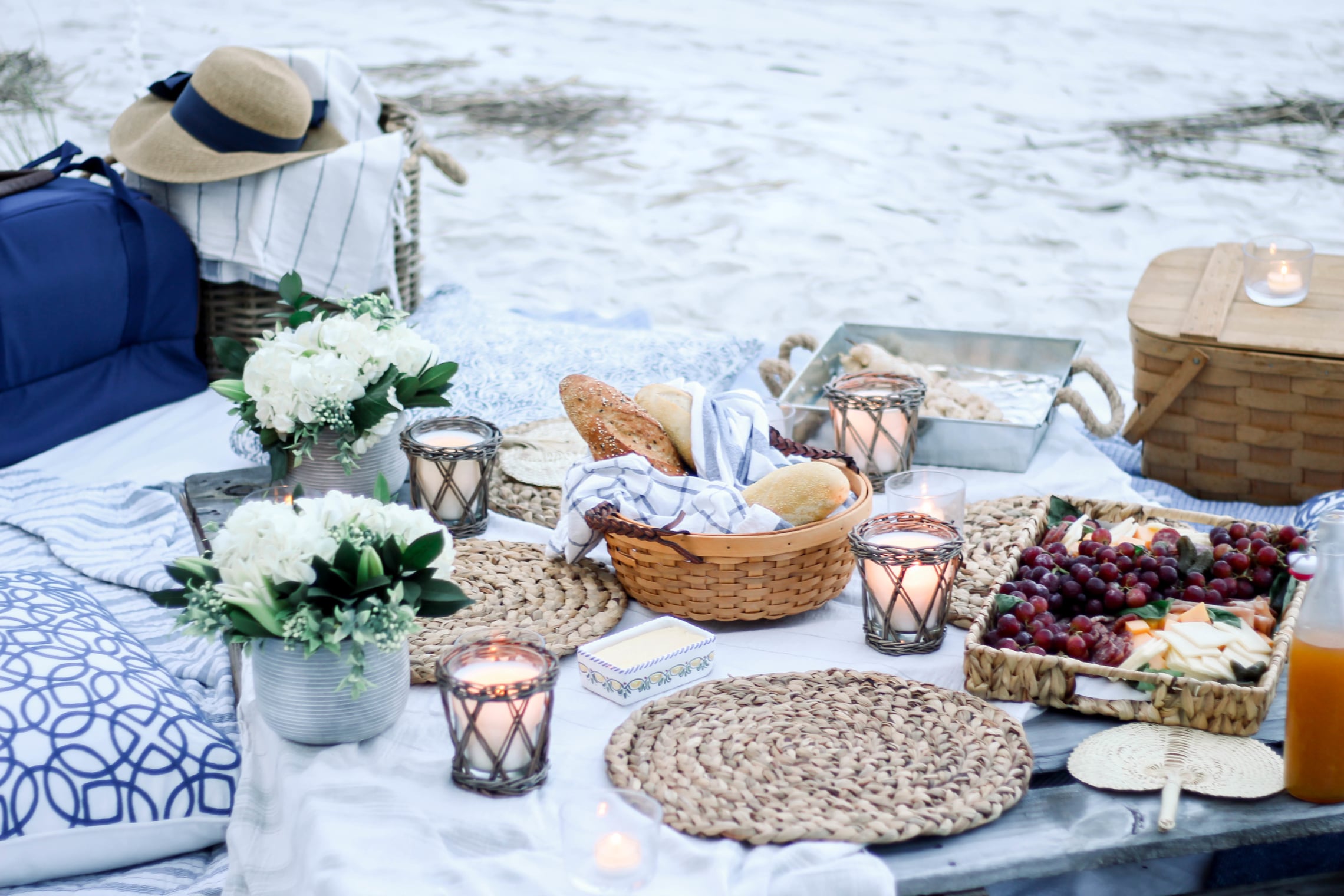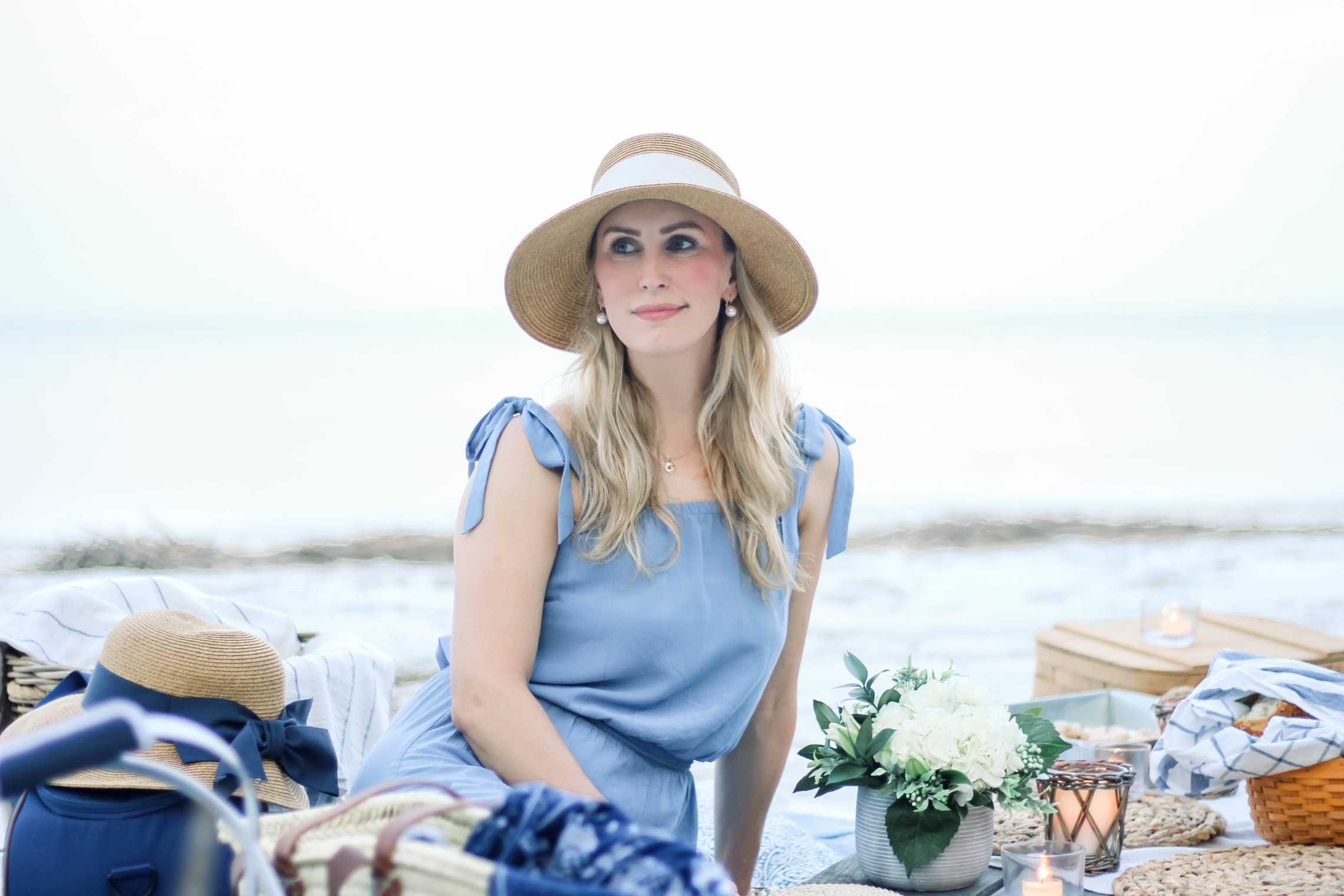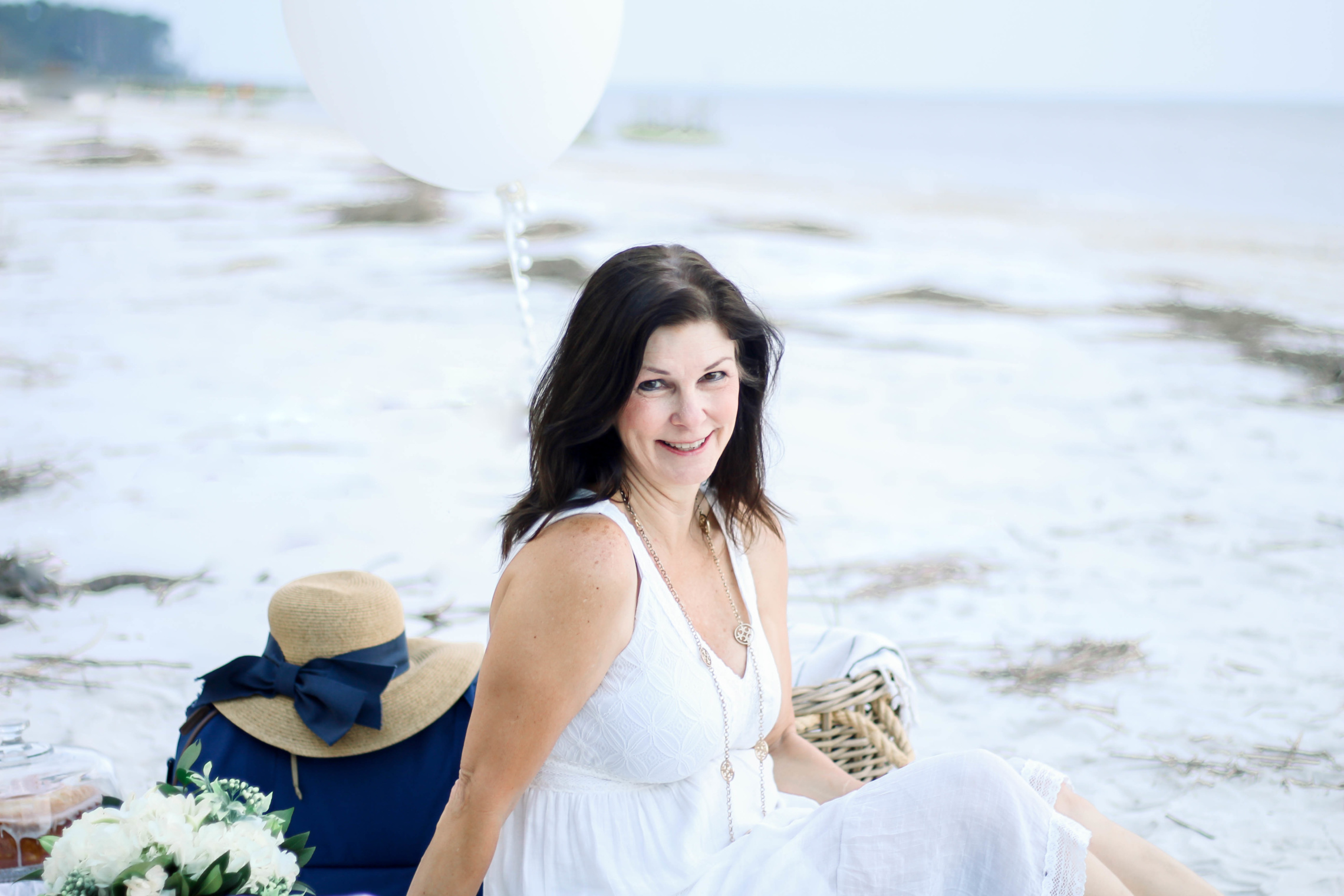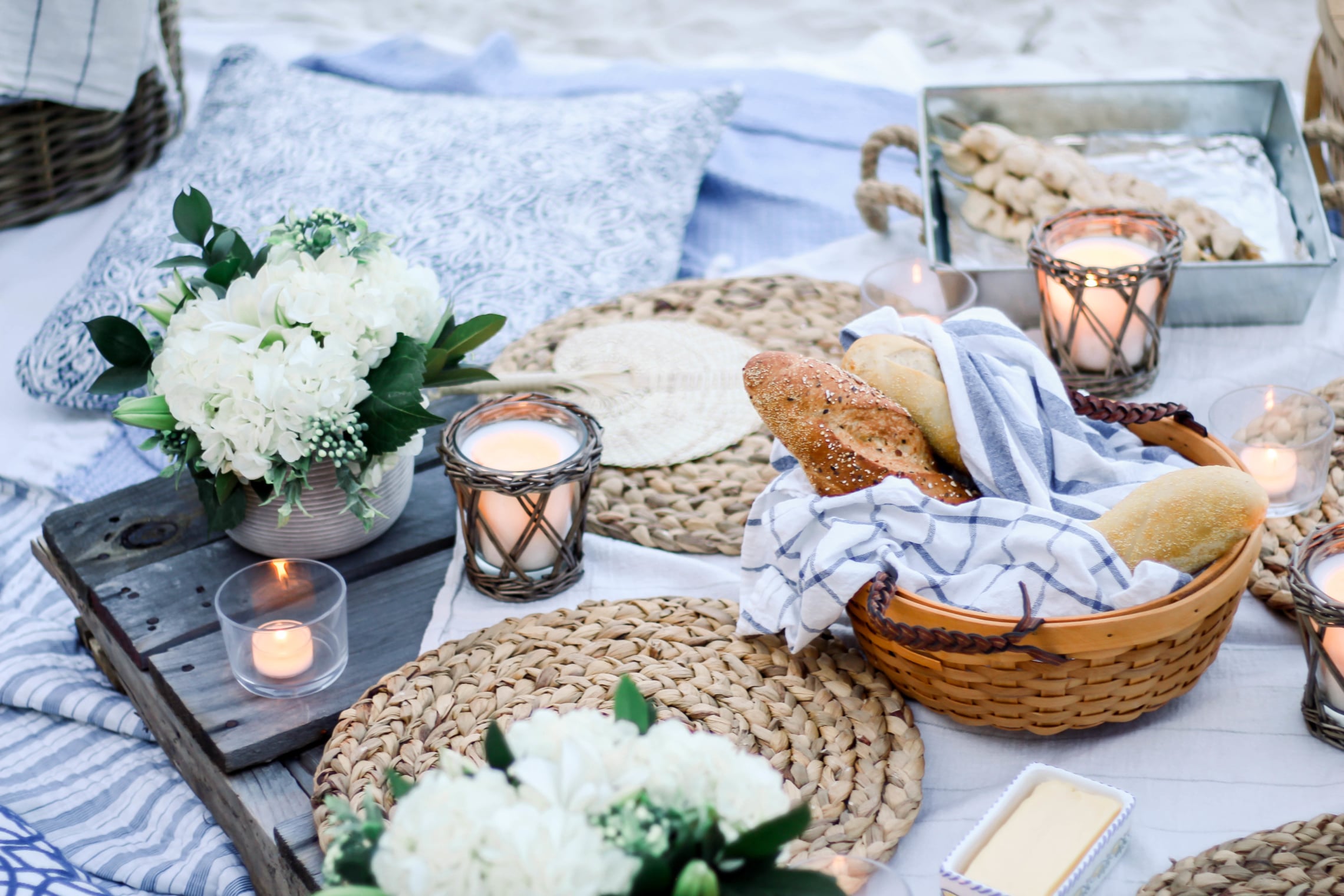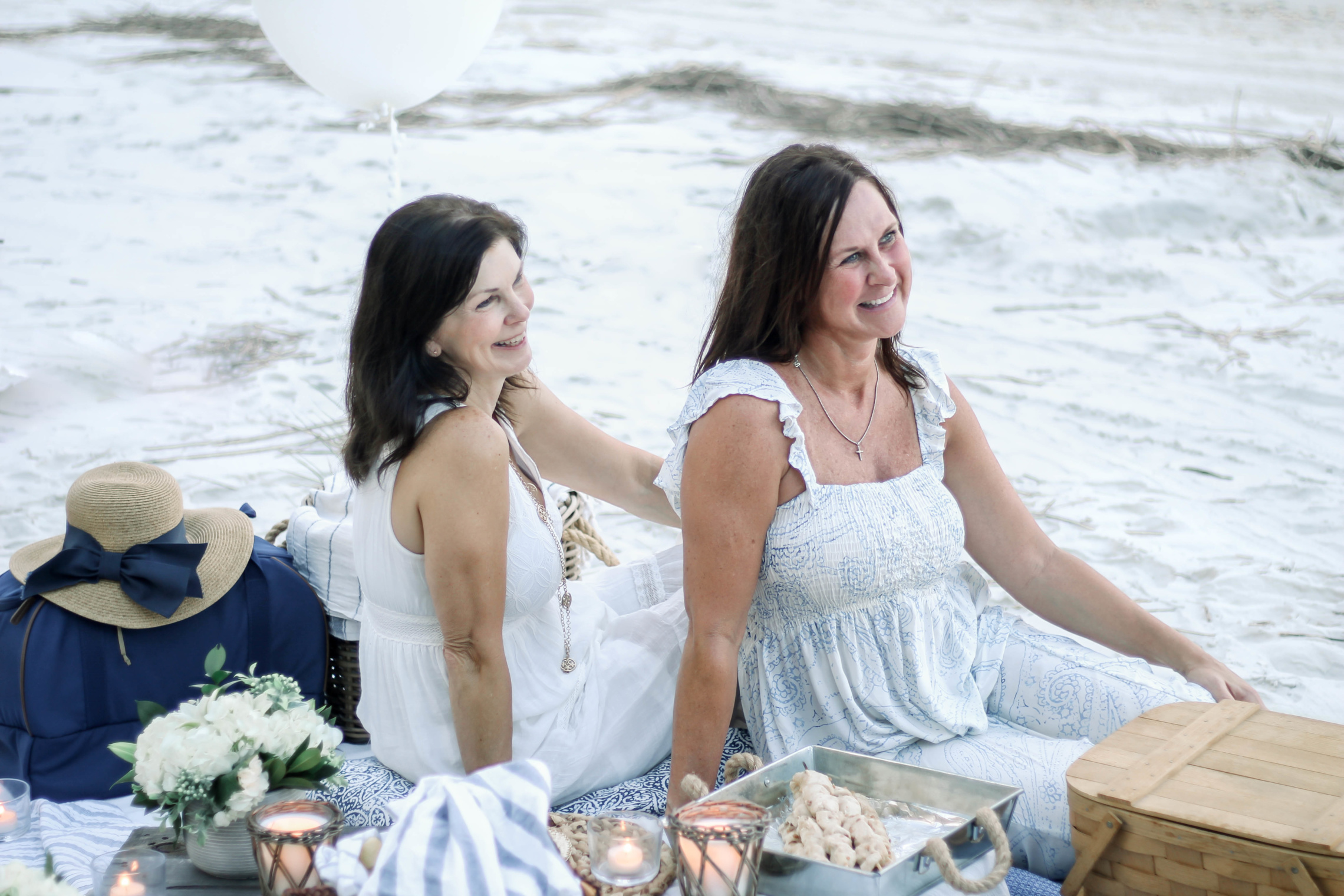 Picnic Dinner Menu
---
I started planning out our menu about a week in advance because I knew we needed to have some light yet filling dishes.  My mom's birthday is in August, so although we were on the beach with a cool breeze coming off the water, we still had a few hours of extreme Southern summer heat to contend with before the sunset. This is what we ended up with: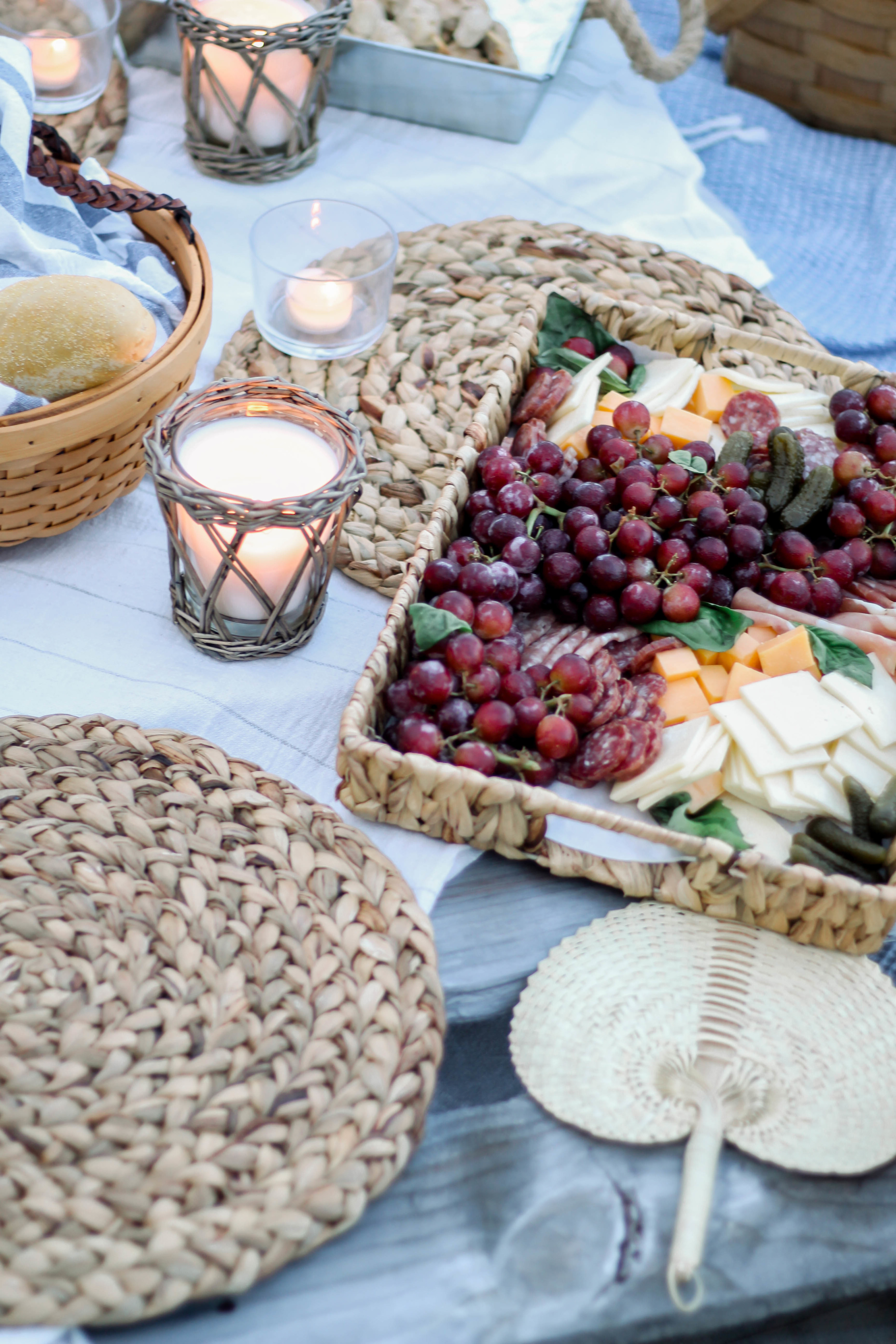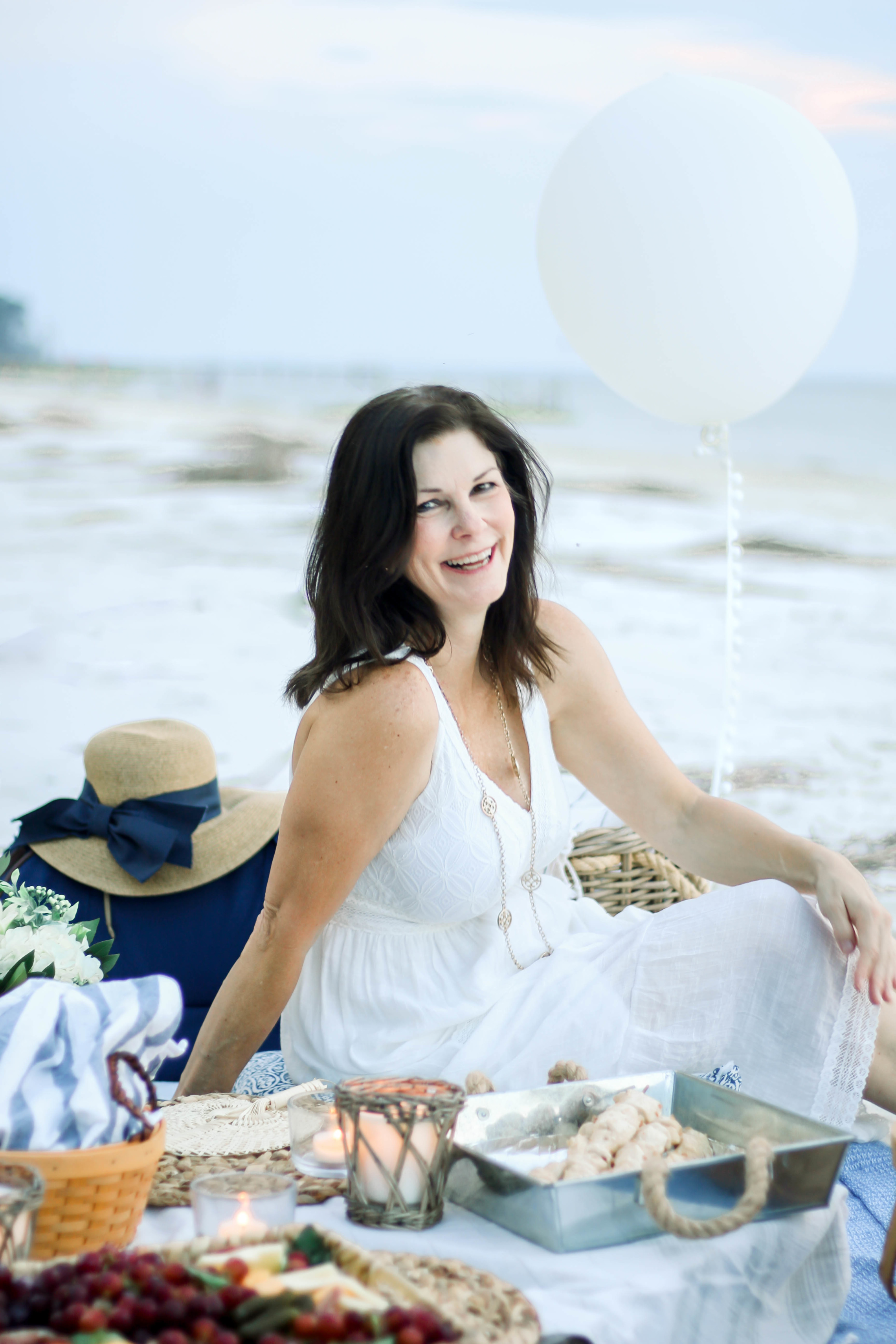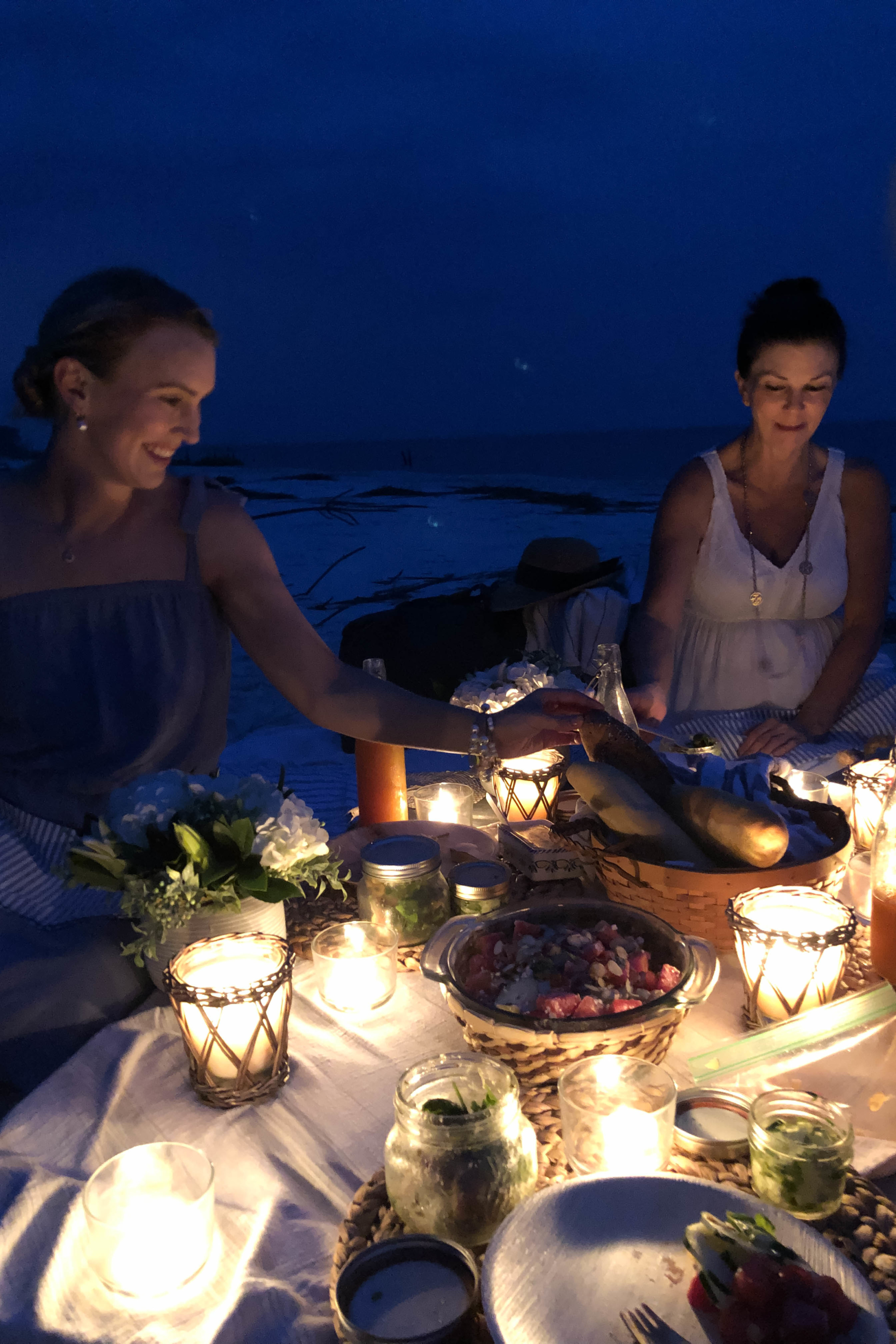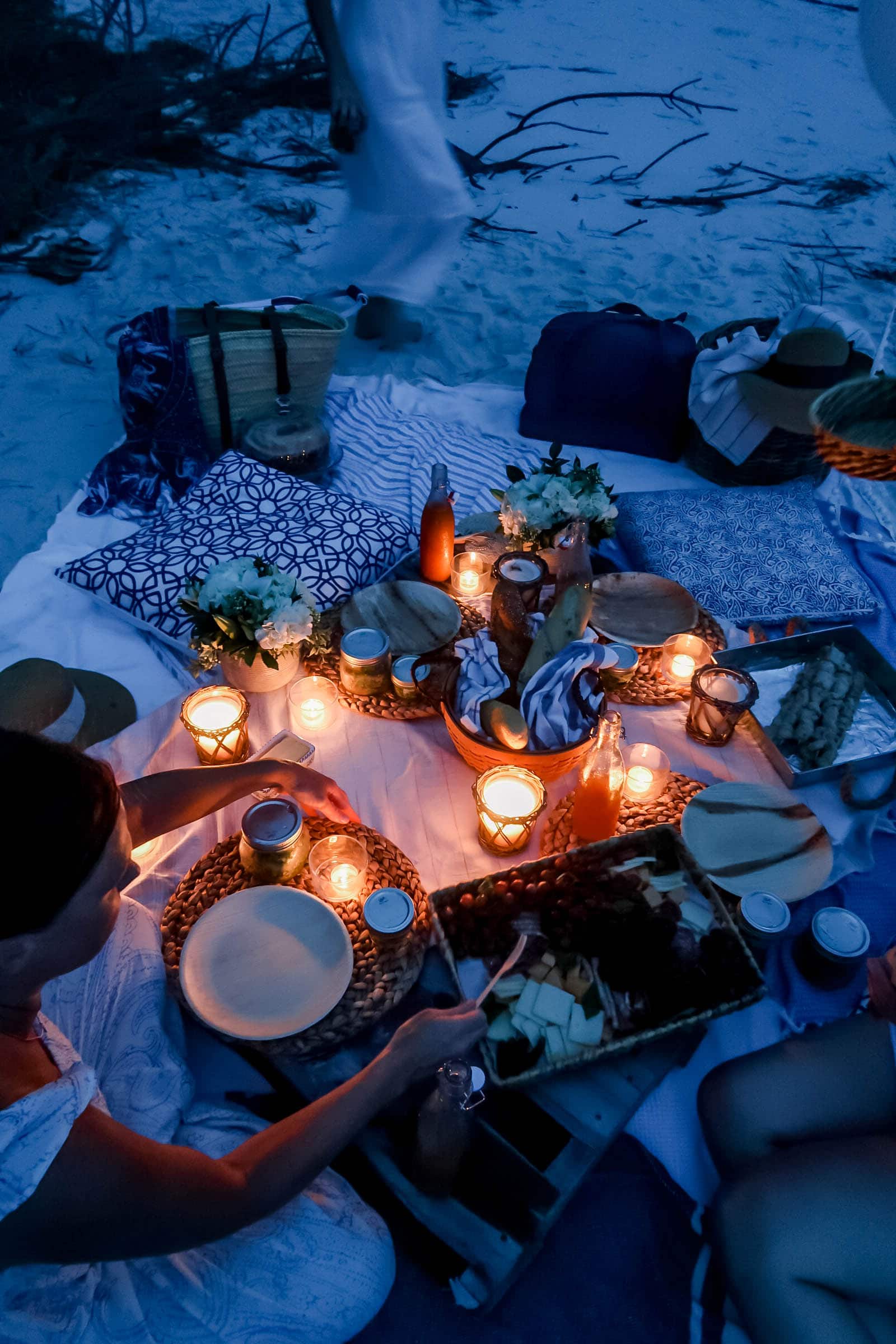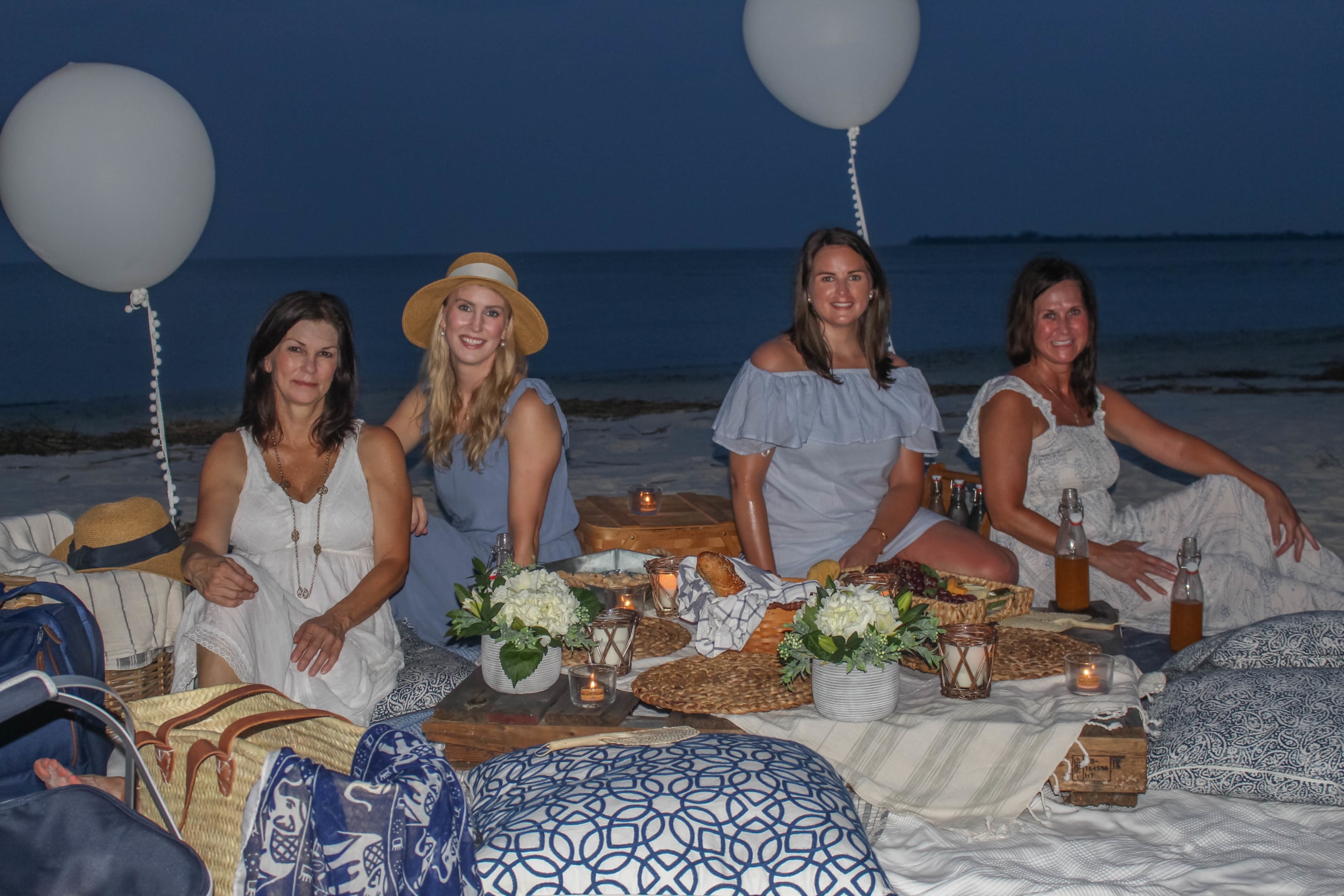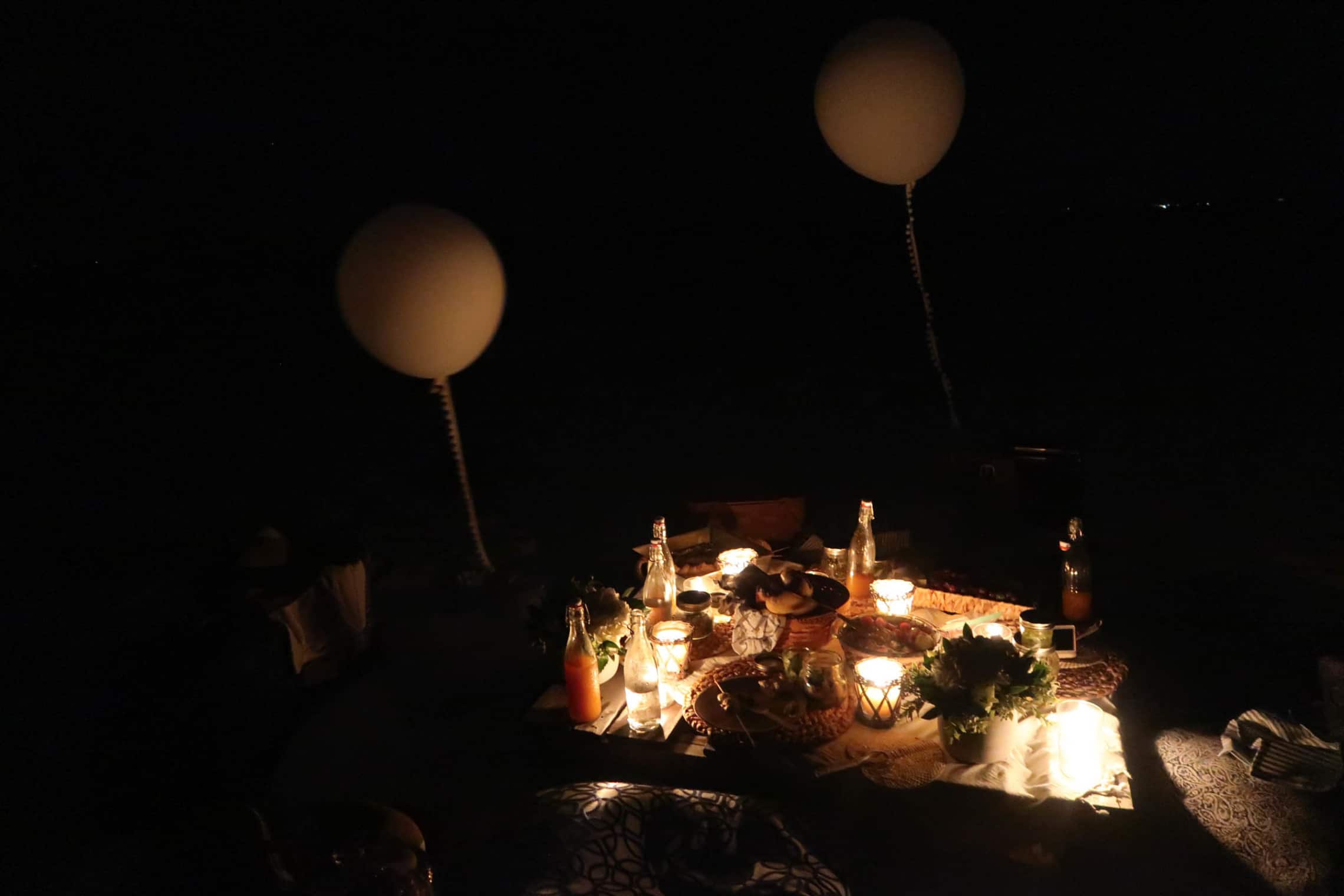 If you are familiar with some of my travel posts, you'll know I love going on adventures with my mom (ie: Savannah, Winston-Salem, etc) so I am thrilled we were able to celebrate her birthday last year even if we might be a little restricted on how we go about things this year with social distancing.
Our girls trip was a nice intimate festivity for my mom's birthday and allowed us to enjoy the last days of summer.  We caught a turtle's nest hatching the first night and topped things off with this beach picnic dinner the second night. While we've been a little restrained this year, hopefully, we can all gather again soon.  Pulling together this lovely little evening for my mom's birthday was so much fun and I hope it provided some inspiration for your own beach picnic dinner no matter the occasion.