A huge thank you for supporting the brands that support Peachfully Chic. While this post is sponsored by Tuesday Morning, all thoughts and opinions are completely my own.
---
One of my favorite things about our Smithfield House is that we have a space for our family to grown into.  Since we have three bedrooms and we don't have kids just yet, I love that we have the extra space for guests to comfortably stay when they visit.  Although we've been in our home for four years (almost exactly today) our guest rooms are still a work in progress.  I honestly haven't put much TLC into making them what I want, but I'm starting the process now to revamp those forgotten spaces in my home.  I recently collaborated with Tuesday Morning to create a space in one of the rooms that would truly welcome guests the right way and I'm sharing my list of 8 guest room essentials below including the awesome pieces I found at Tuesday Morning.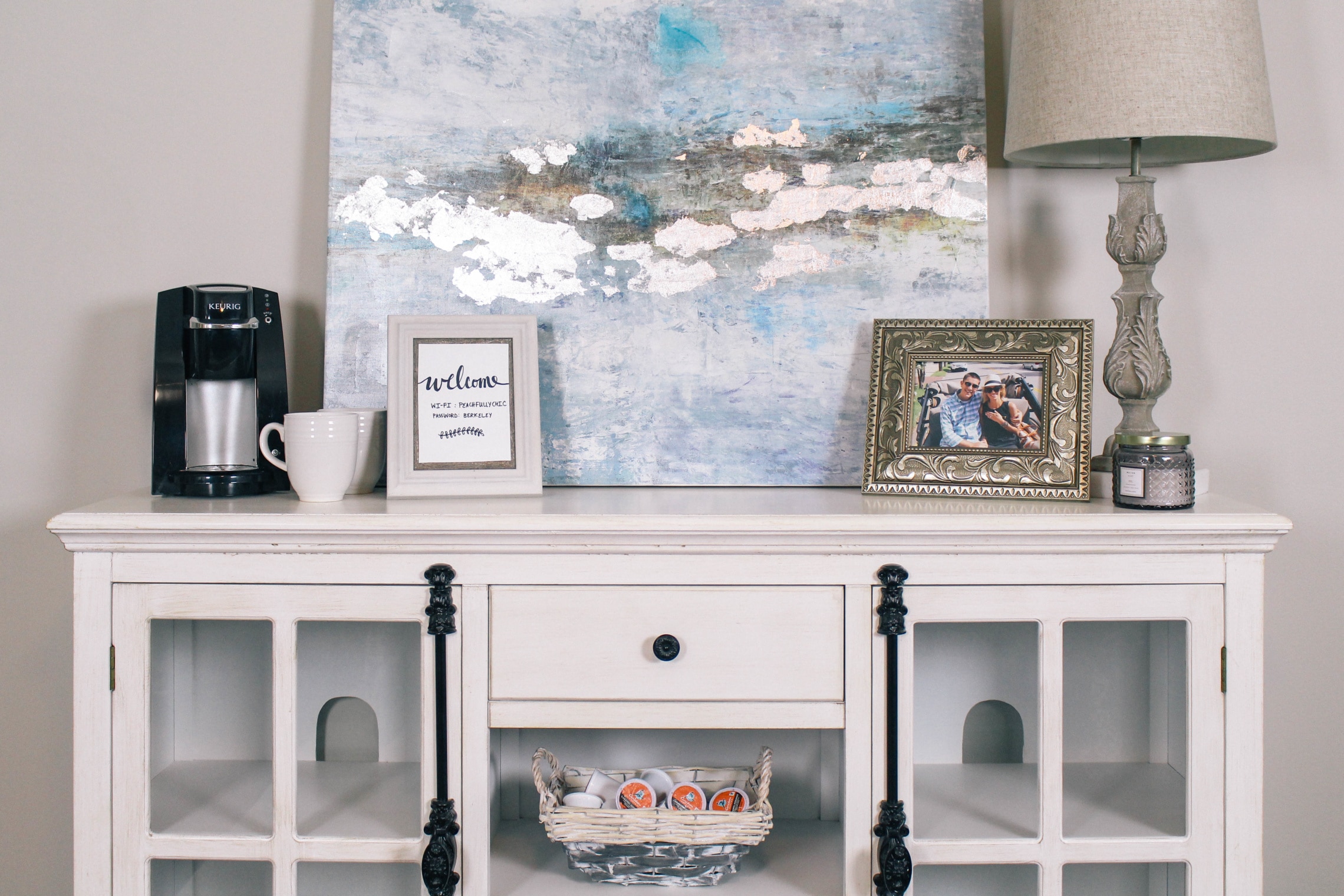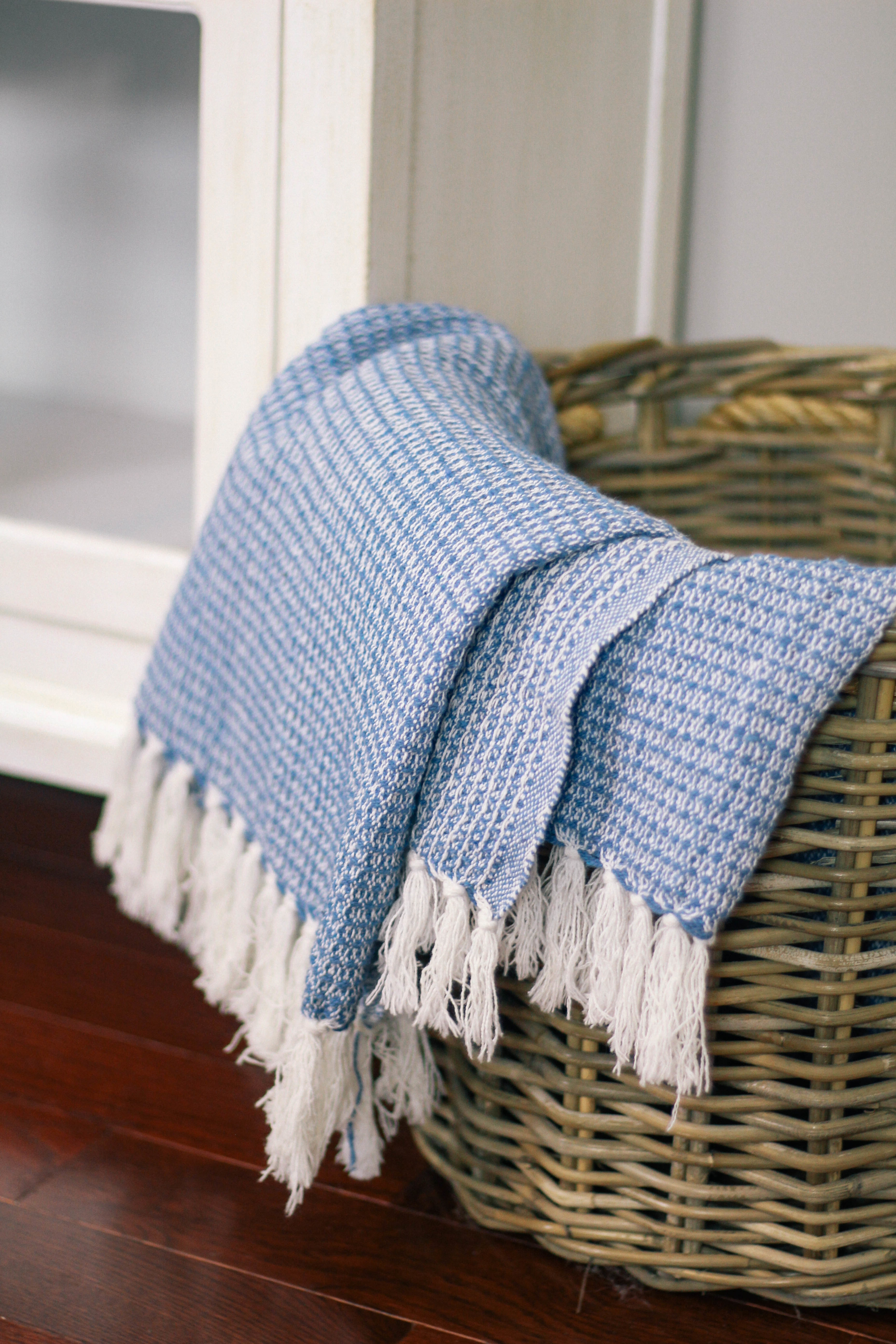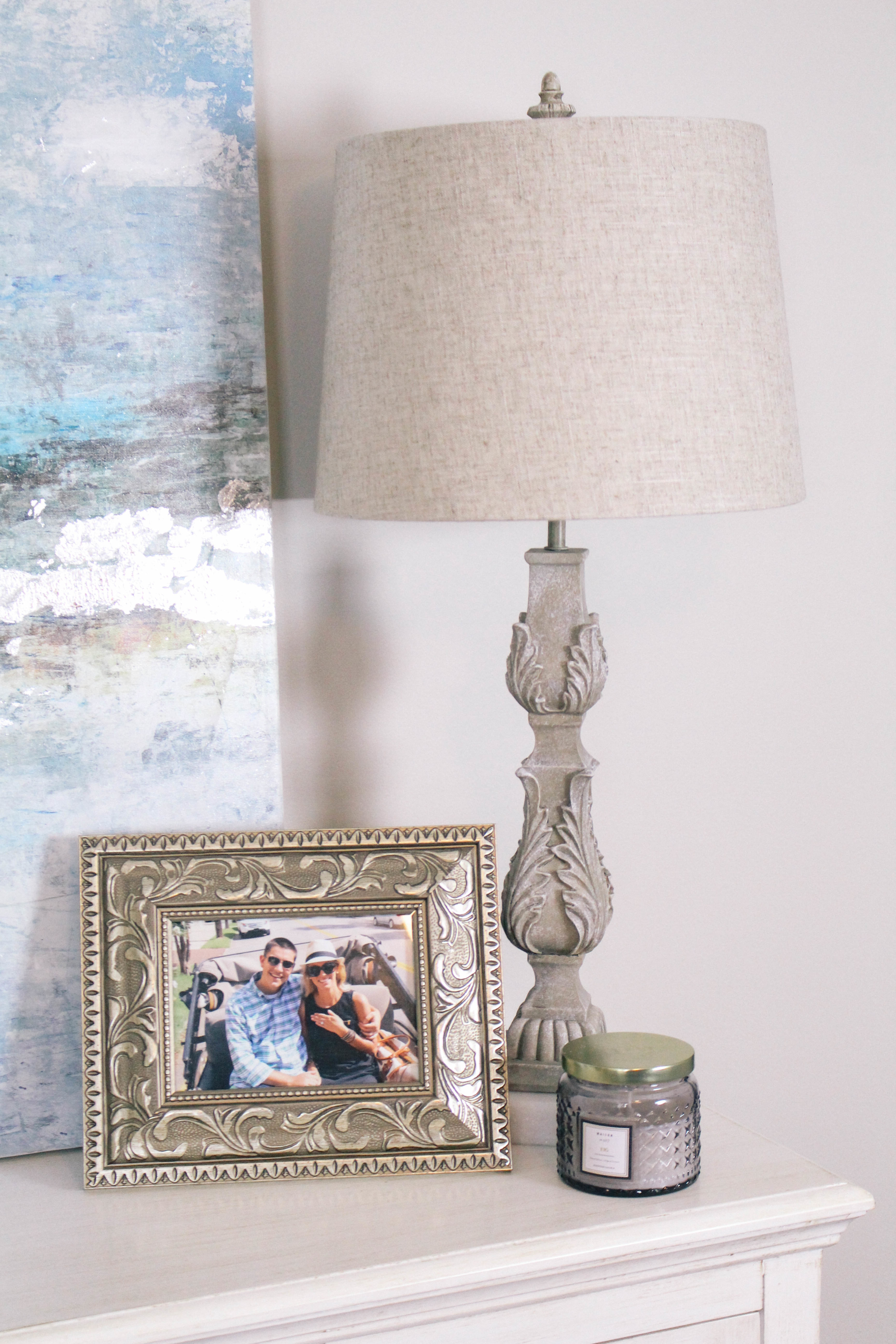 1. Space to Unwind
Beyond providing a comfortable place to sleep, I think it's important to provide guests with a space to unwind and unpack.  I picked up this beautiful white cabinet from Tuesday Morning and I love the contrast of the open shelving against the glass doors. I was totally smitten when they hubby and I stumbled across this furniture piece and after thinking it over for about a week, I knew I had to have it. Luckily it wasn't sold yet and I was able to bring it home to my guest room.
Eventually we will probably hang a TV or mirror on the wall in this room above the cabinet, but for now it's a great furniture piece to display art, house all the other guest room essentials, and provide a surface for visitors to utilize during their visit.

2. Welcome & Wi-Fi
We have an automatic door lock on our front door, so guests can come and go from the house as needed.  This is great because they sometimes arrive before we get home from work and it's nice to present a "Welcome" note along with the Wi-Fi login and password front and center.  Of course you can leave details like this on a sticky note, but how much cuter is it when it's presented in a classic frame?

3. Lighting
I know the lighting in my guest room is a little dim for now because we still need to change out the overhead fan, so I picked up this beautiful lamp from Tuesday Morning to make sure guests had a bright place to get ready.  It's always frustrating when I try to get dressed to put makeup on or try to relax and read a book in a dimly-lit room while traveling so I think it's crucial to give guests great lighting.  I loved the design of this particular lamp so much that I actually bought two and I'm going to place the second matching one on a yet-to-be-found night stand on the side of the bed.  Stay tuned for updates when I find one!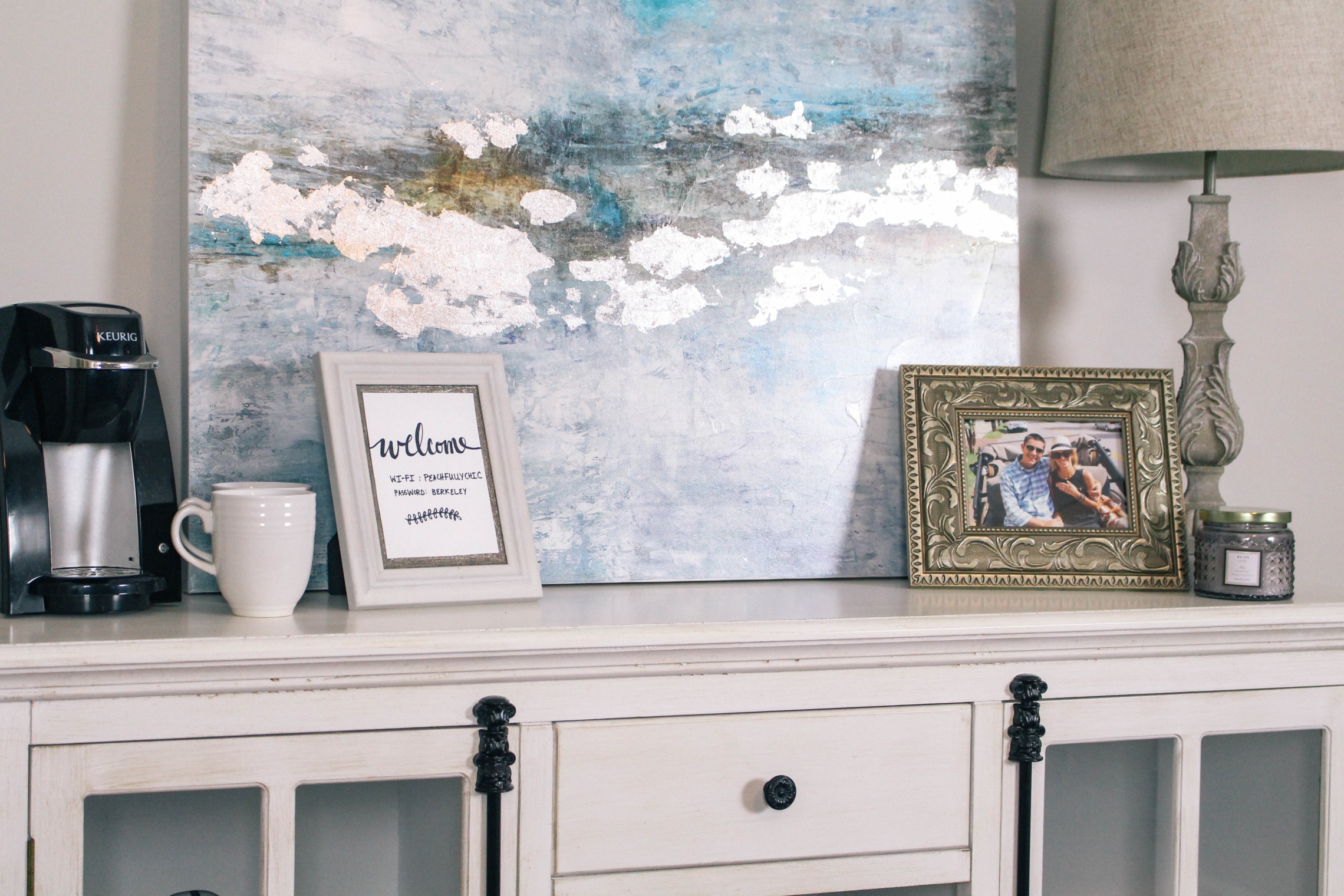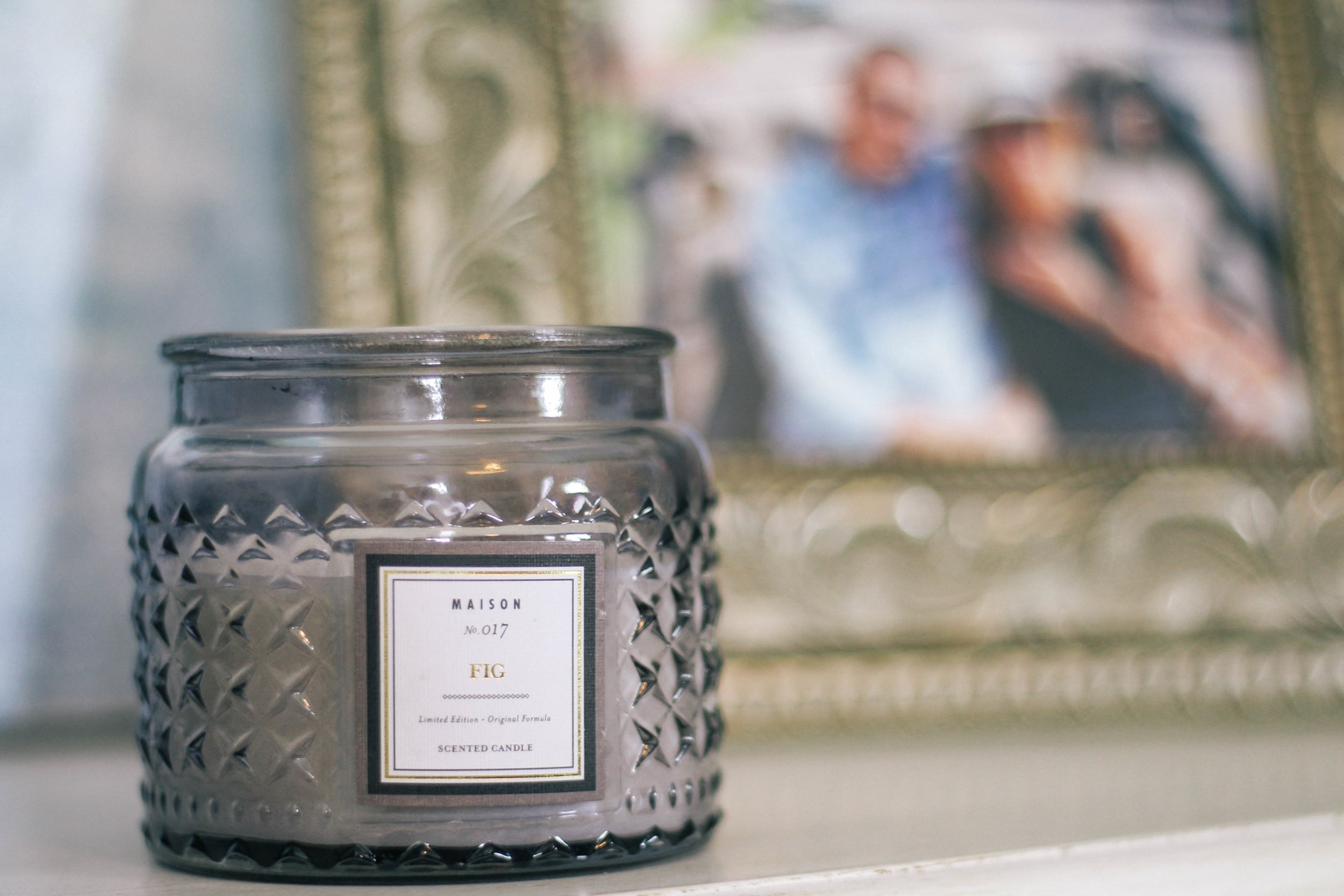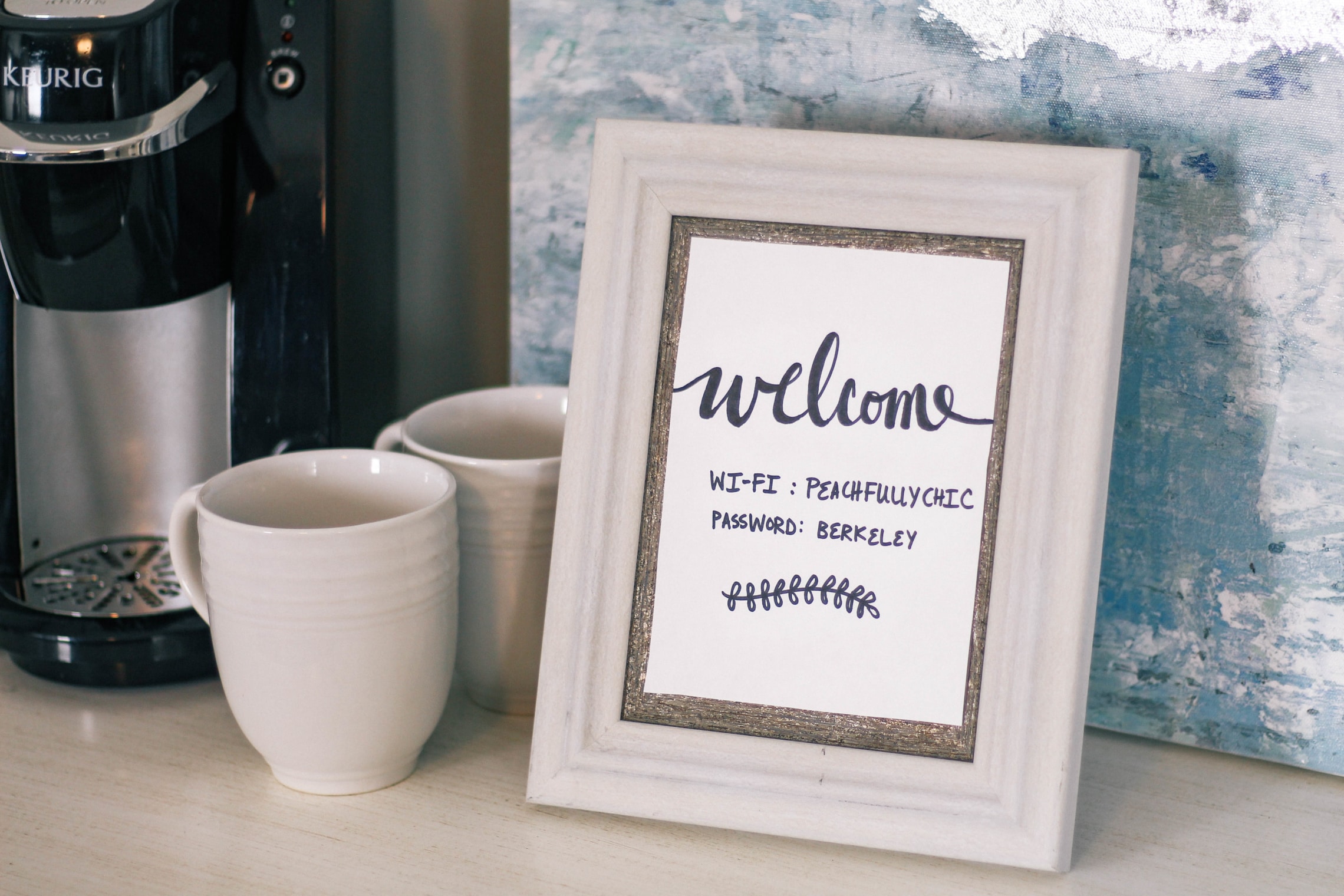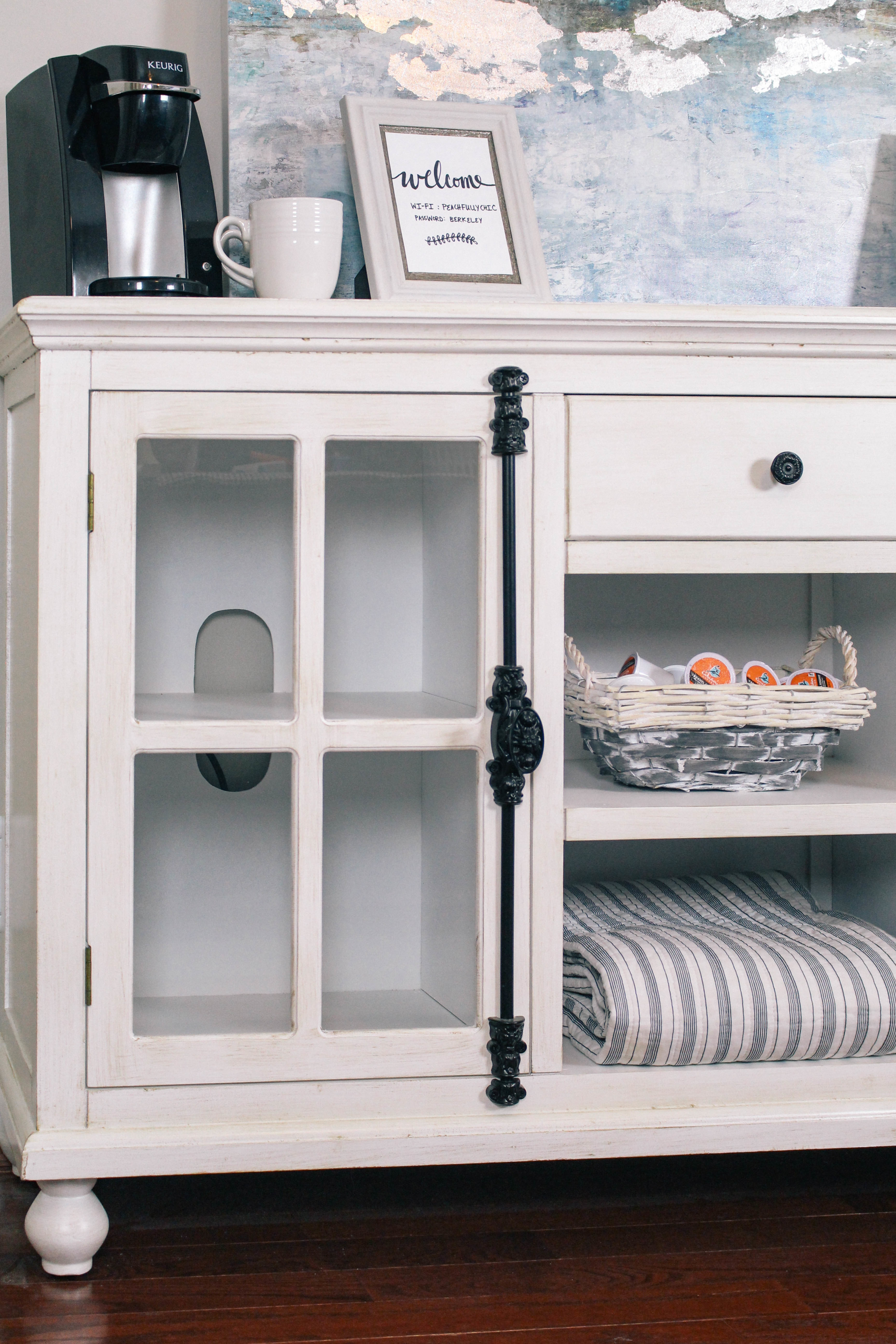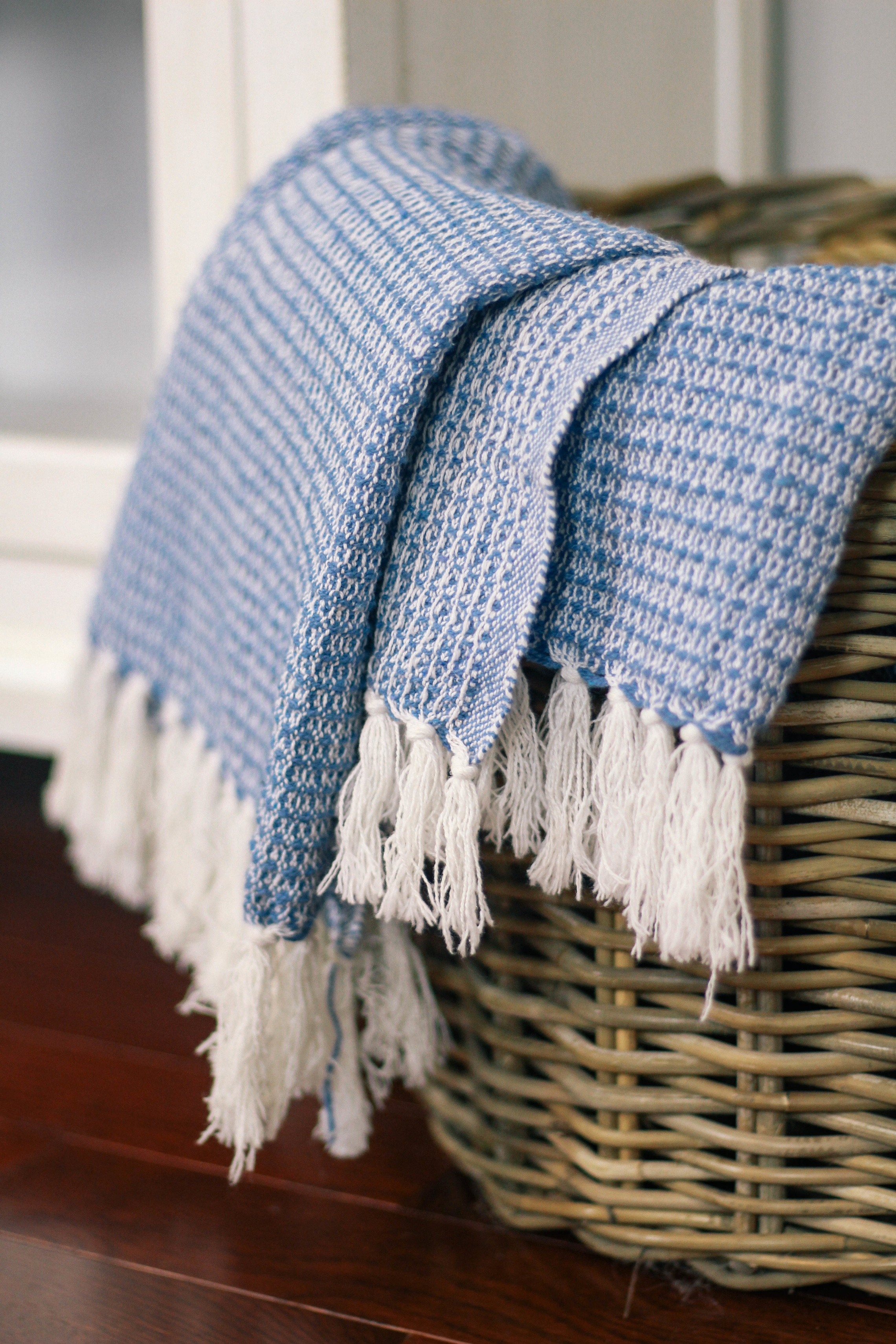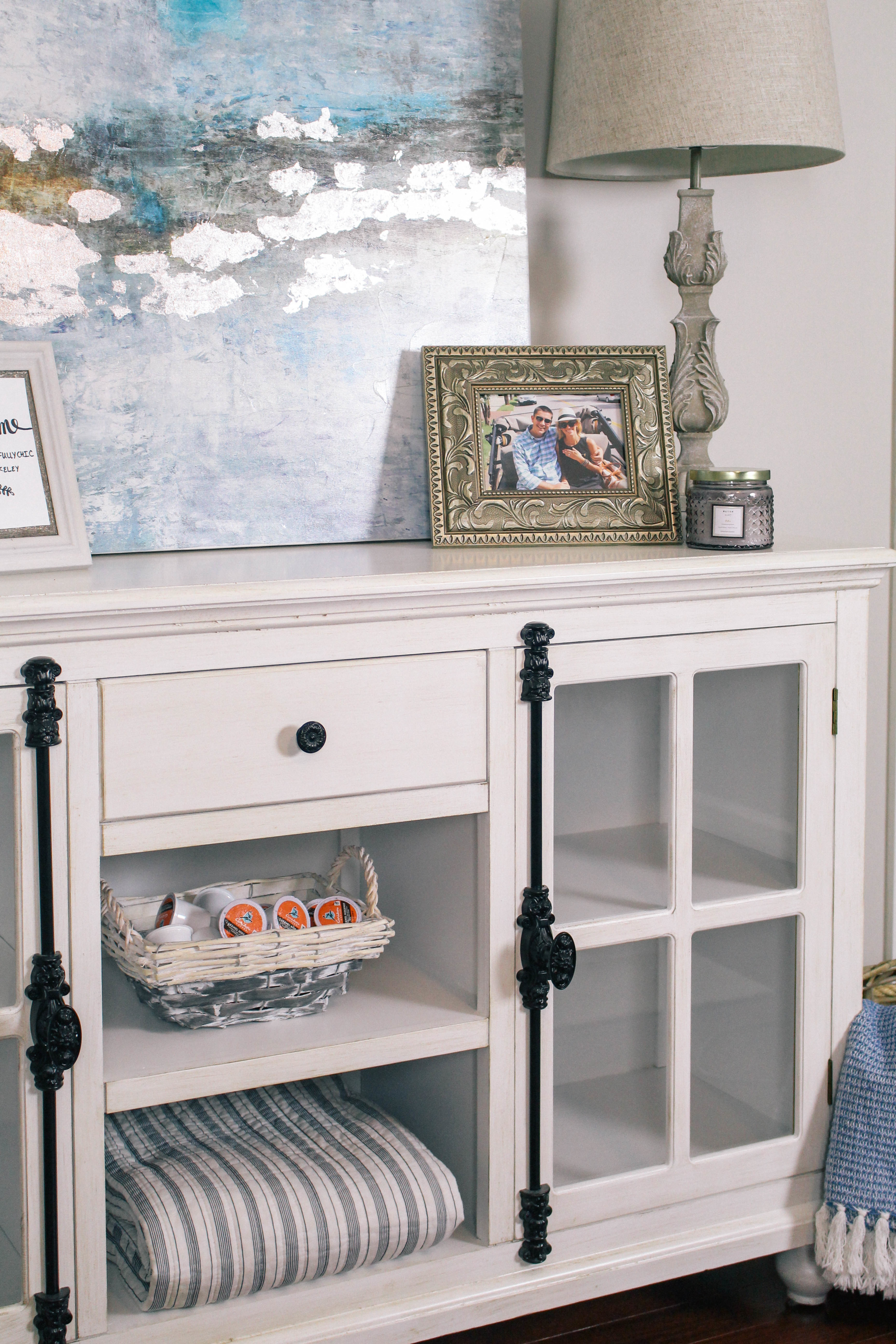 4. Luggage Rack
In addition to a dresser or cabinet with surface area, another great way to provide space for guests to unwind is by adding a luggage rack.  This is definitely one of my favorite guest room essentials and can easily be folded and stored away when it's not in use.

5. Morning Coffee
While I'm definitely more of a tea drinking kind of gal than coffee, I know I'm out-ranked on this most of the time.  I also know a lot of people enjoy coffee first thing in the mornings, so it's great to provide guests the option to brew a small cup of coffee in the seclusion of their room.  It's nice that they can have the option to relax on their own before the day gets started or the rest of the house wakes up.  Plus, your guests don't have to worry about trying to figure out how to use your kitchen coffee maker.  You can add other options beyond coffee such as tea or hot chocolate too, but I know a lot of people would say coffee is essential!

6. A Signature Scent
One way to immediately welcome guests into your home is by creating a signature fragrance for guests to enjoy a soon as they step in the door.  This doesn't mean you need to contact a perfumery to create a custom scent, but it does mean figuring out what candles or essential oil fragrances that you like, and sticking to it.  I've currently on the fence between a lovely gardenia scent or a comforting fig scent so I've got a little more testing before I nail down a signature fragrance for my home.  Something to consider if you find a candle with a lid, guests can always add the top back on if they aren't partial to the fragrance.  Regardless of what scent I decide, I know I'll be able to stock up on candles & oils from Tuesday Morning and know I'll get a great value as well.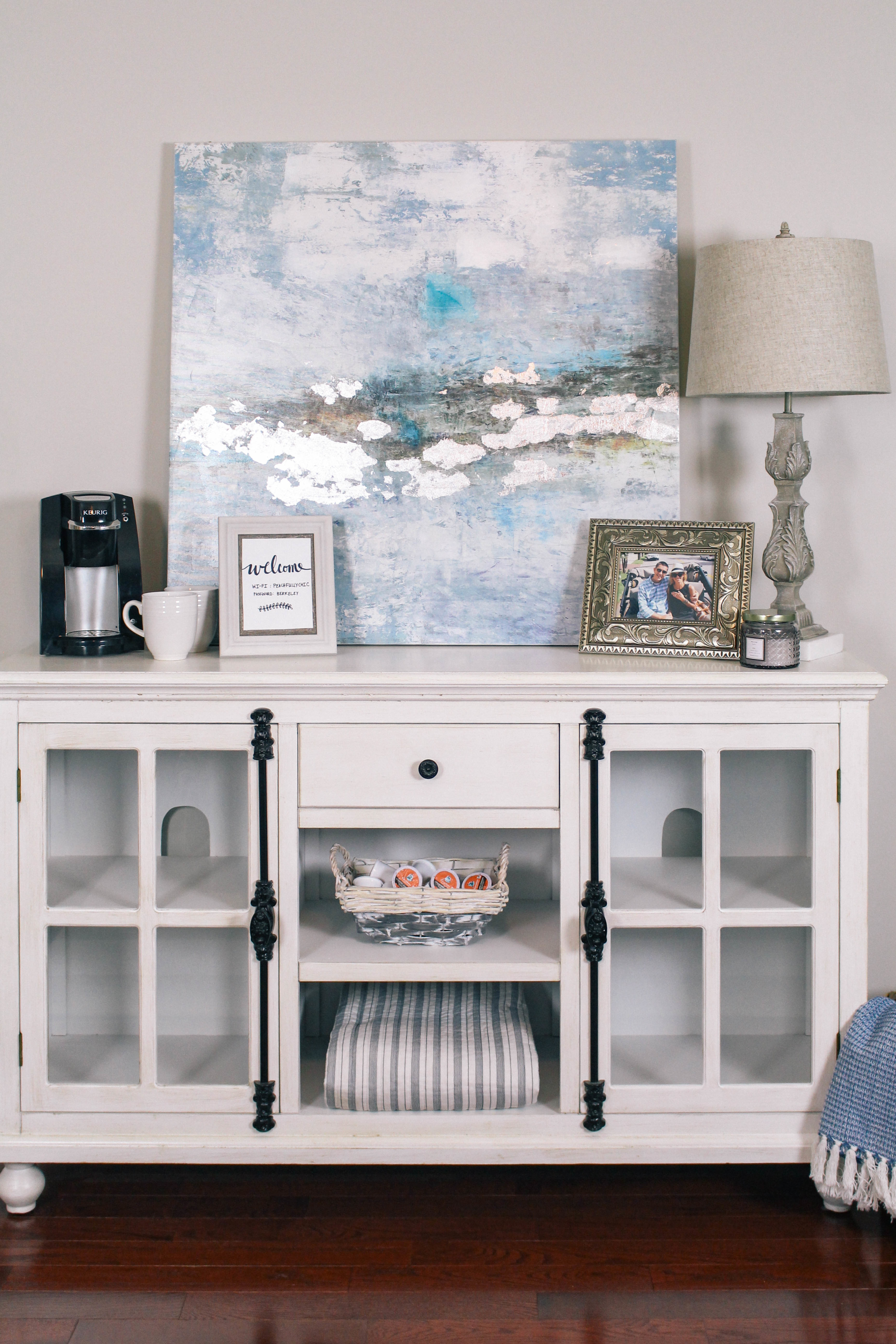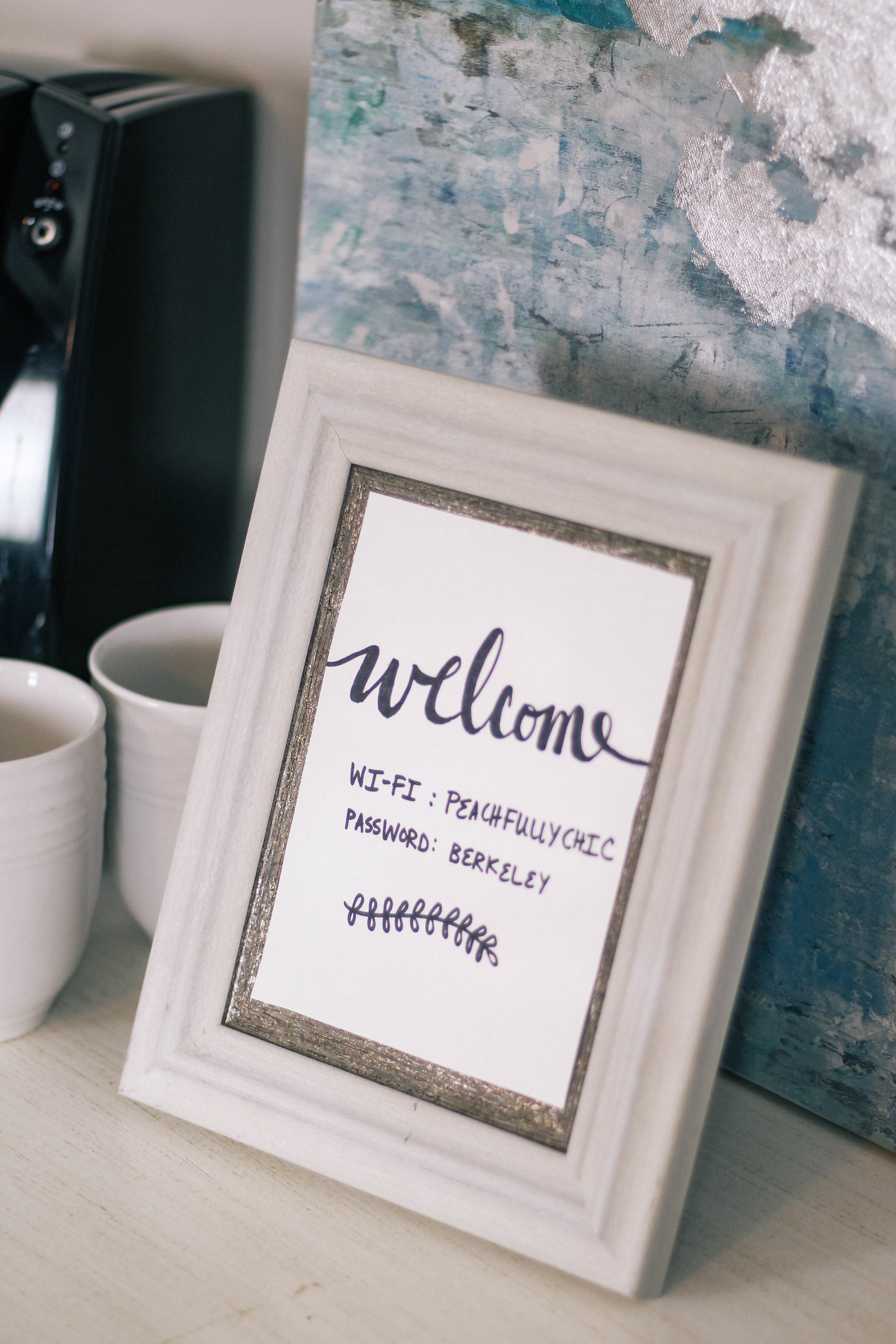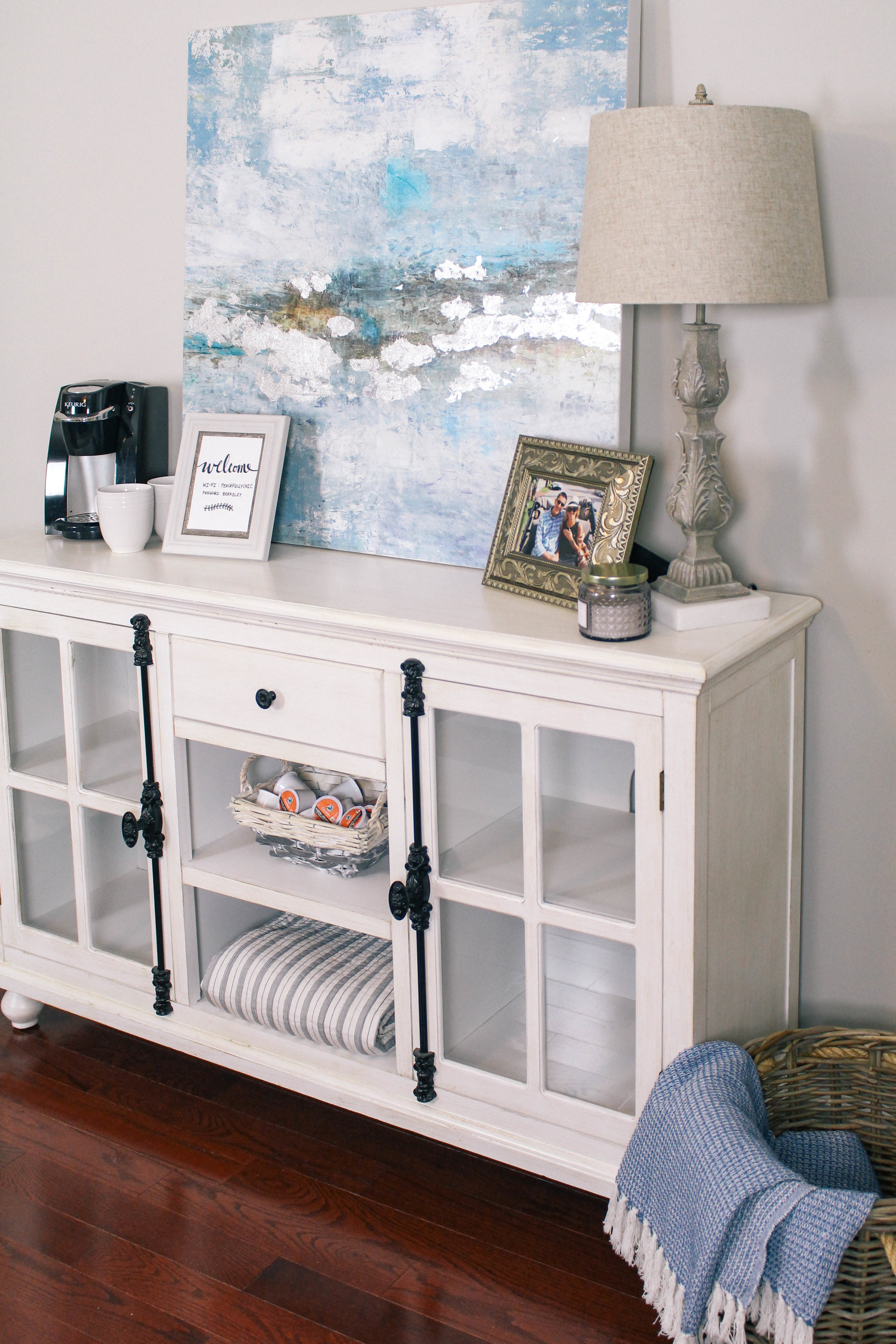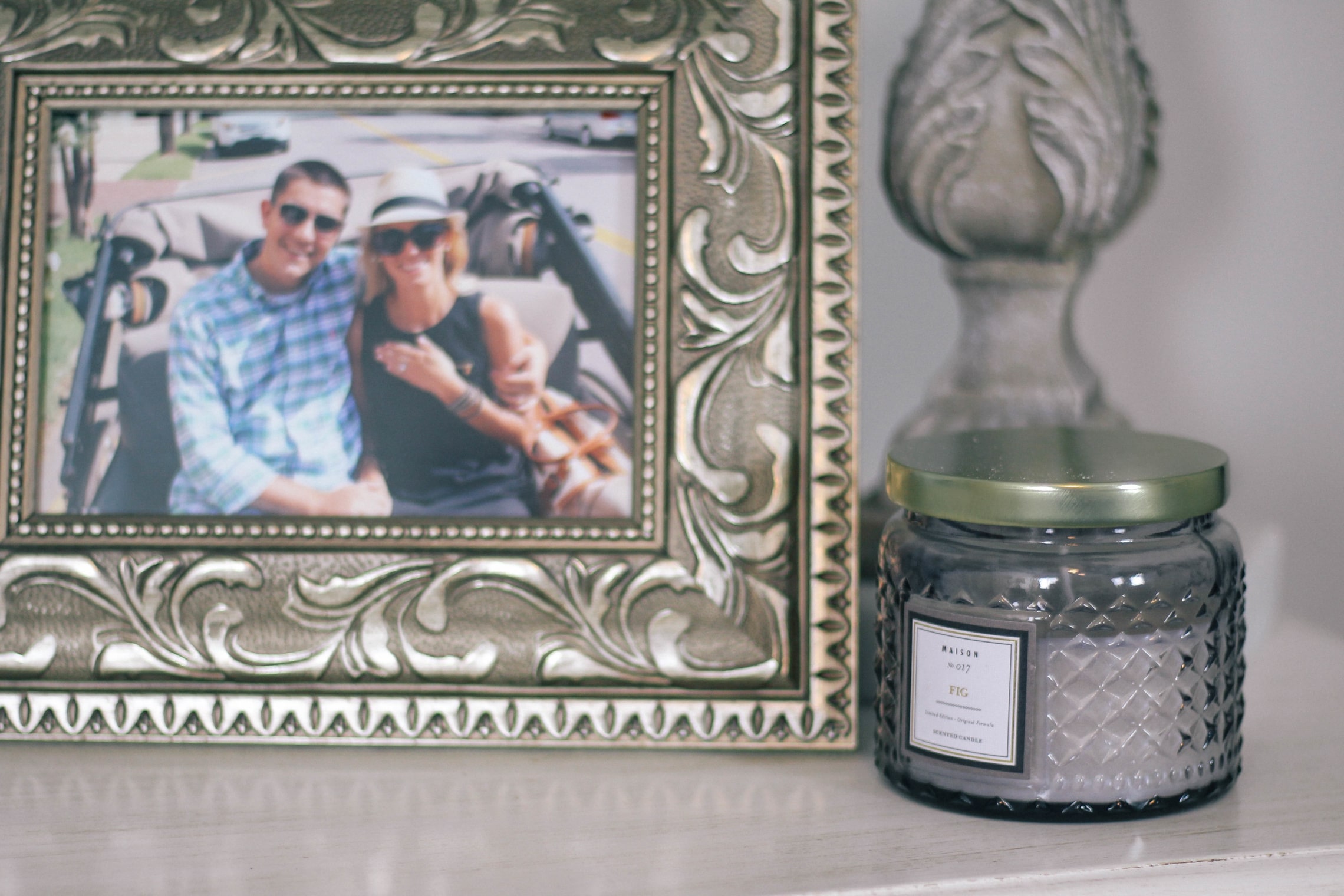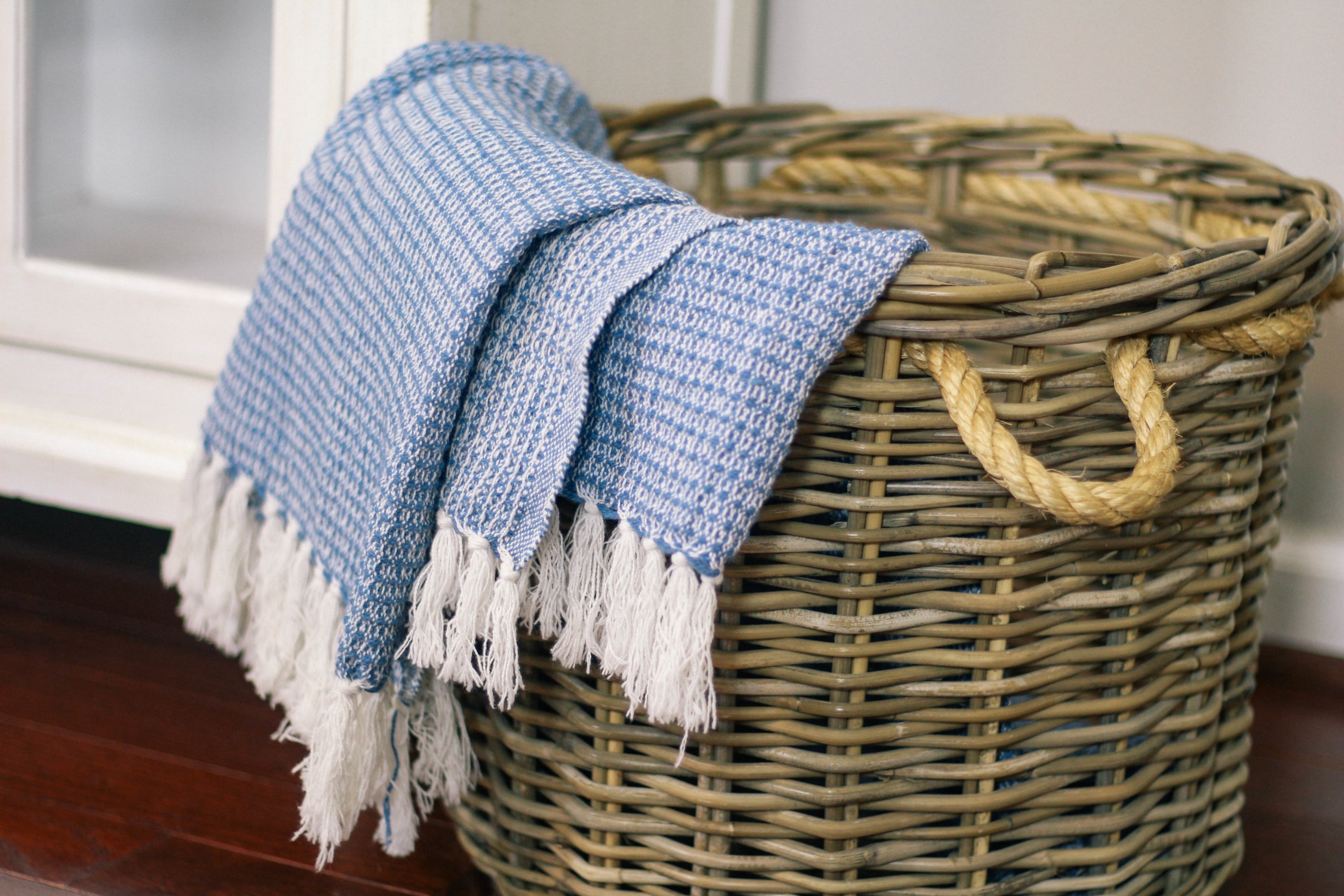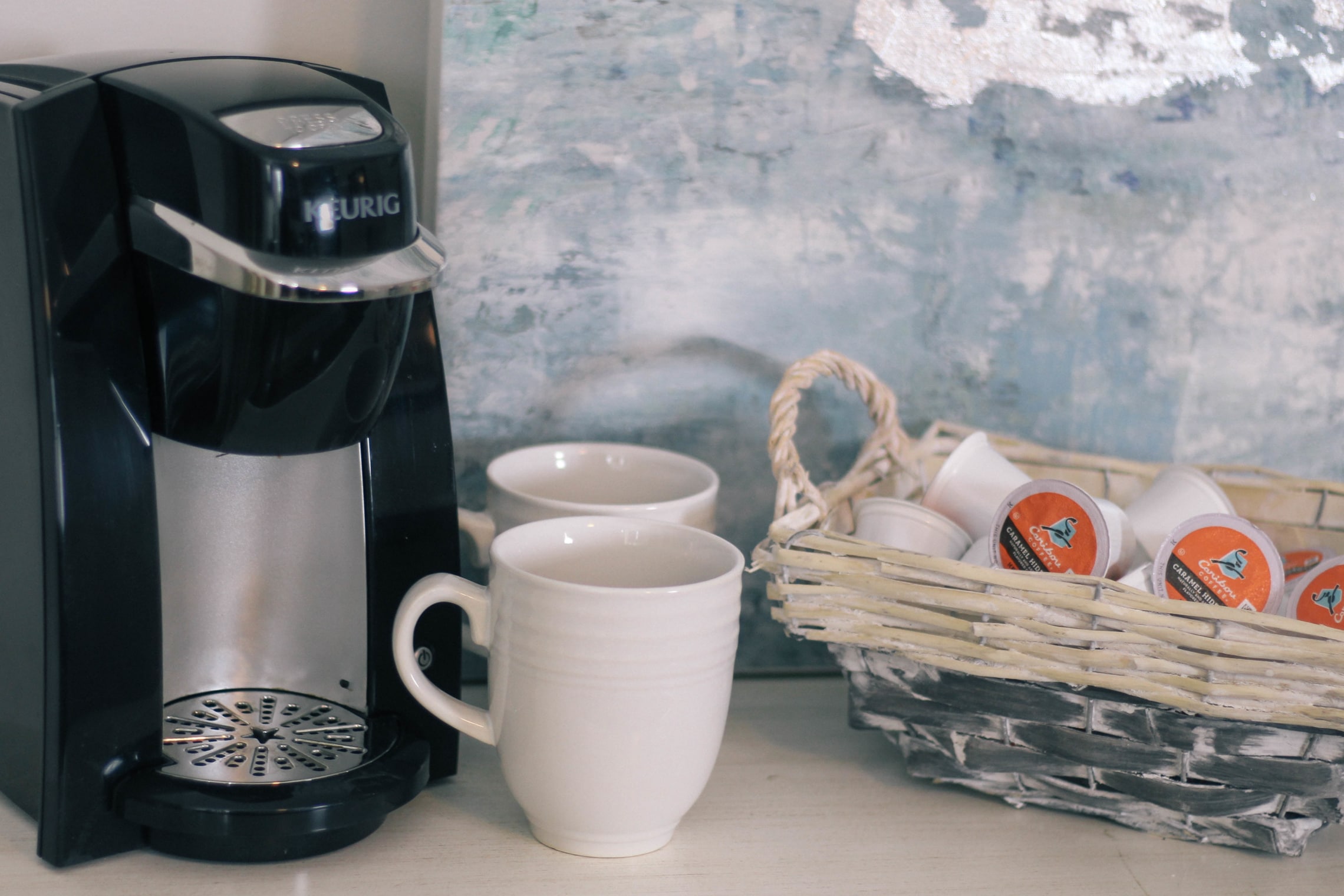 7. Extra Warmth
While it doesn't get as cold in Atlanta as it does in other parts of the country, I always like to include an extra blanket or throw in the guest room so our visitors can layer on and snuggle up as needed.  Tuesday Morning is consistently one of my favorite spots to find inexpensive yet stylish and cozy throws that match the decor in my home perfectly. I tend to avoid purchasing crazy, trendy or seasonal patterns that I might have to switch out often and look for more classic options like stripes, plaids, and solid colors that are a little more versatile.

8. Fresh Flowers
Lastly, I love adding fresh flowers to our guest rooms when I can.  I'm still working on doing this consistently, but I think it's a beautiful touch to add a bit of nature to a room and it lets guests know you've taken an extra step to make their stay more enjoyable.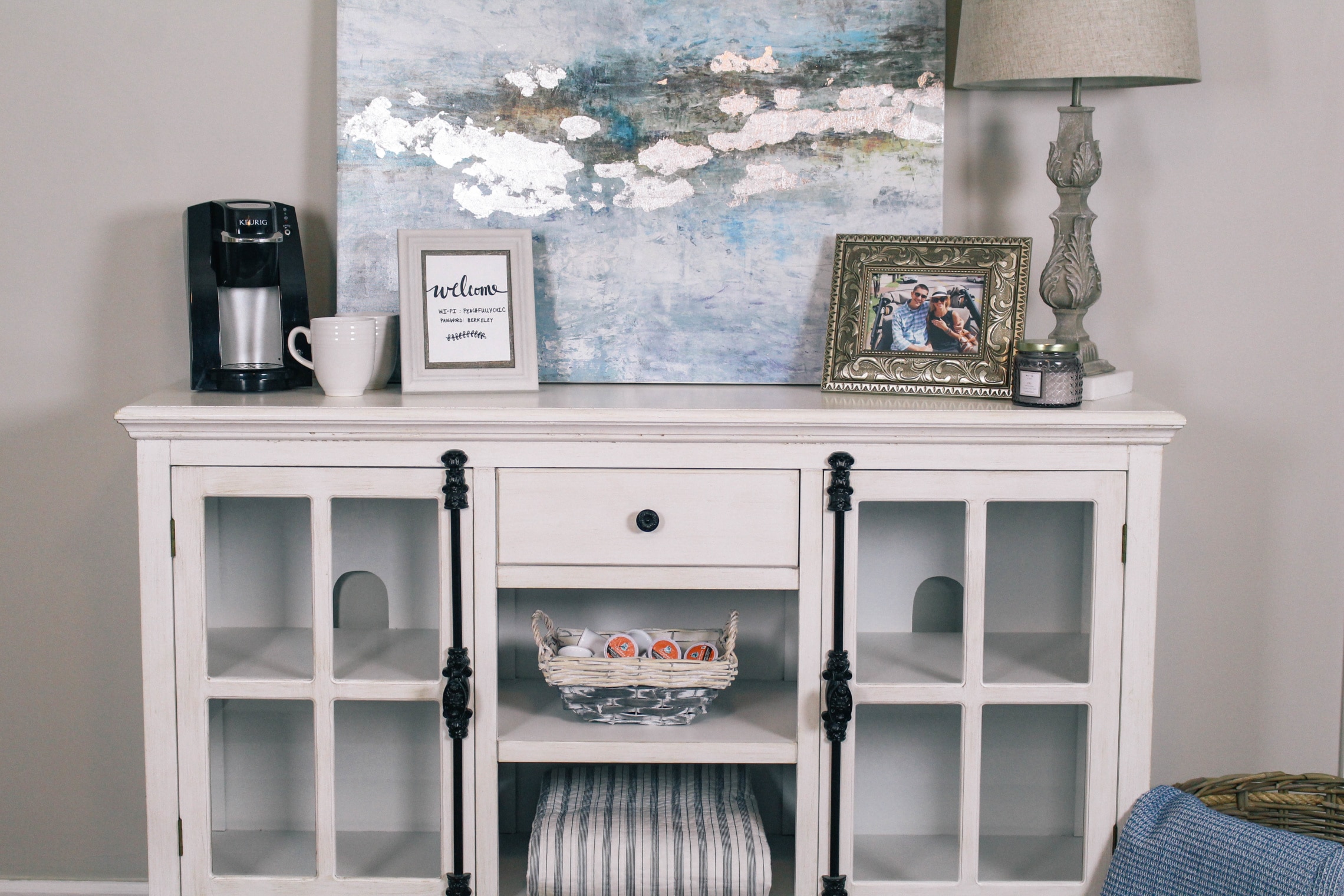 Nothing on this list of eight guest room essentials is out of the ordinary and you might even be able to repurpose some items from around your home, but if you find you're missing out on some things, I suggest dropping by Tuesday Morning and taking a peek around.  It's truly one of my favorite shops (ask the hubby) and I probably stop by at least once a week to pick up home decor and other entertaining essentials that I've featured in a ton of my tablescape designs.  Their buyers hand pick items every day to offer new deals which means I'm in there quite often.  They carry everything from furniture and lamps to k-cups and candles so you're bound to find what you need and probably some additional things you didn't even know you wanted. 😉  Basically a variety of everything needed to express your personal style at awesome prices.
Hopefully this revamp of my space and this list of guest room essentials will inspire you to create a lovely environment for your visitors to relax, unwind, and make themselves at home.  I'm very excited with how this space turned out after the makeover, and since I haven't really decorated my other guest room either, this little project has inspired me to tackle some of the other forgotten spaces in my home!  Do you have a place in your home that needs some TLC?  Did I miss anything on this list?  Leave a comment below and let me know what guest room essentials you use.