Winding down after a fun-filled party celebrating our son's 2nd birthday last week, I'm finally sharing some long overdue photos from his 1st birthday last year which followed a Peter Rabbit-themed blue gingham color palette.
For Logan's first birthday, I planned a sweet afternoon at the park filled with delicious easy picnic-style food and on-theme decor creating the perfect day to celebrate our little one!  I can't believe how time has flown by… and if you're interested, you can see where it all started with this first video sharing our Halloween pregnancy announcement here, but scroll down to see how much our sweet boy has grown along with all the details for planning this eventful Peter Rabbit picnic in the park birthday!
Although I've been in Atlanta for the last few years, we moved to Augusta during Covid to take advantage of my job position working remotely, be close to family, buy an investment property and take our time to find the right place for our next home back in Atlanta. Because of all this, I didn't really feel like hosting a ton of folks at our small cottage-style home and instead opted to rent a small pavilion at Boeckh Park just across the Savannah River in North Augusta. It was covered (in case the weather wasn't great), inexpensive and beautiful. Boeckh Park sits riverside and is tucked right in the middle of the beautiful Hammonds Ferry neighborhood.  I discovered it while running on the paved Greenway Trail that winds through the neighborhood and around the Greenjackets baseball stadium, and I knew it was the perfect spot for an April birthday picnic! I featured Hammonds Ferry in my tour of Augusta video recap and it is still one of my favorite areas in the Central Savannah River Area.   It's even more special now that it provided the perfect backdrop for a very special first birthday party for Logan.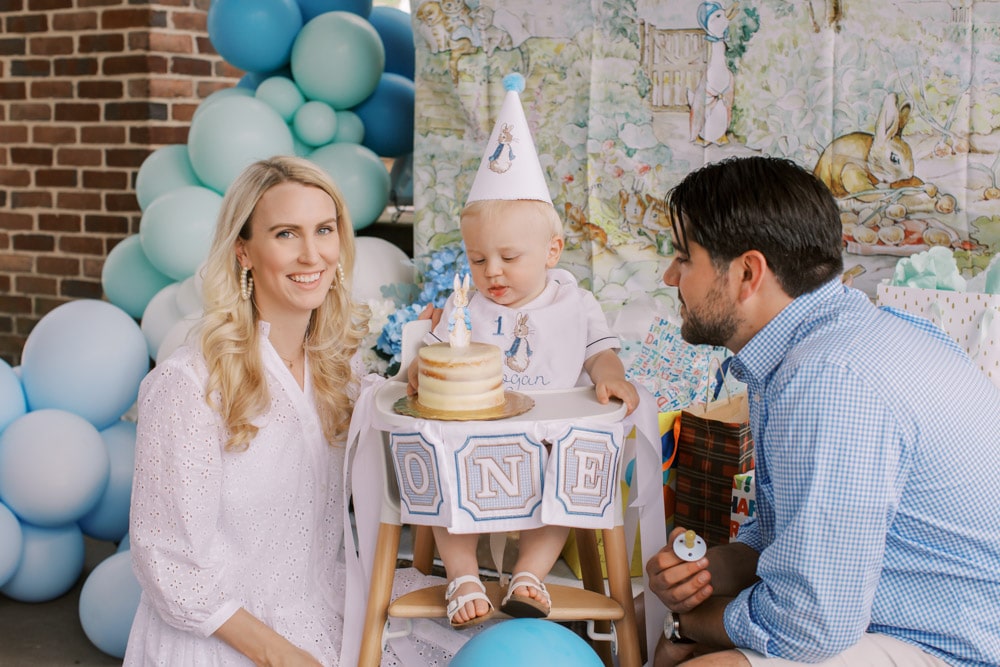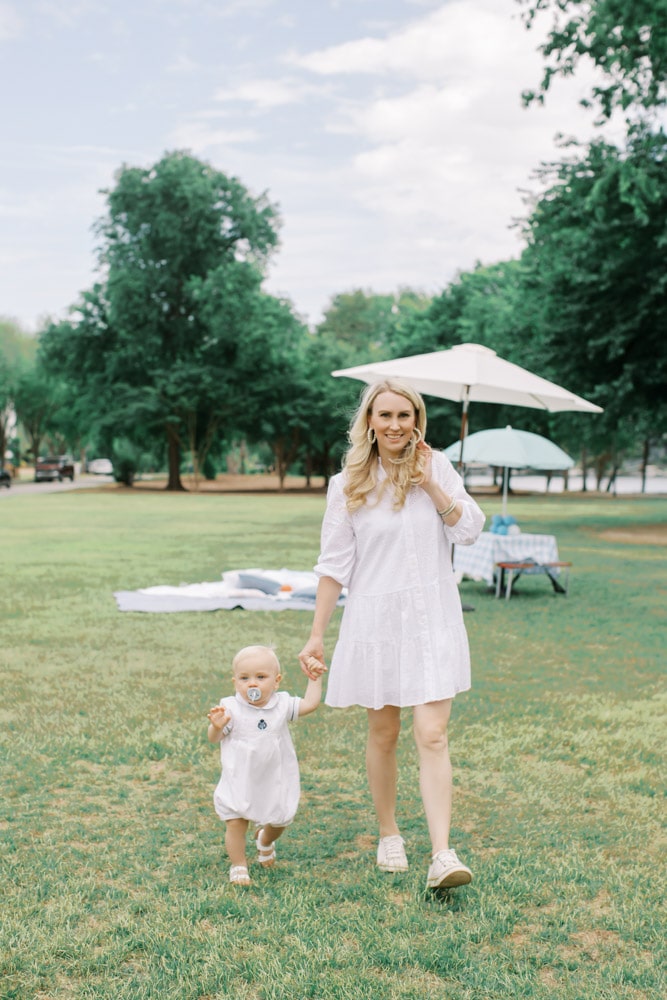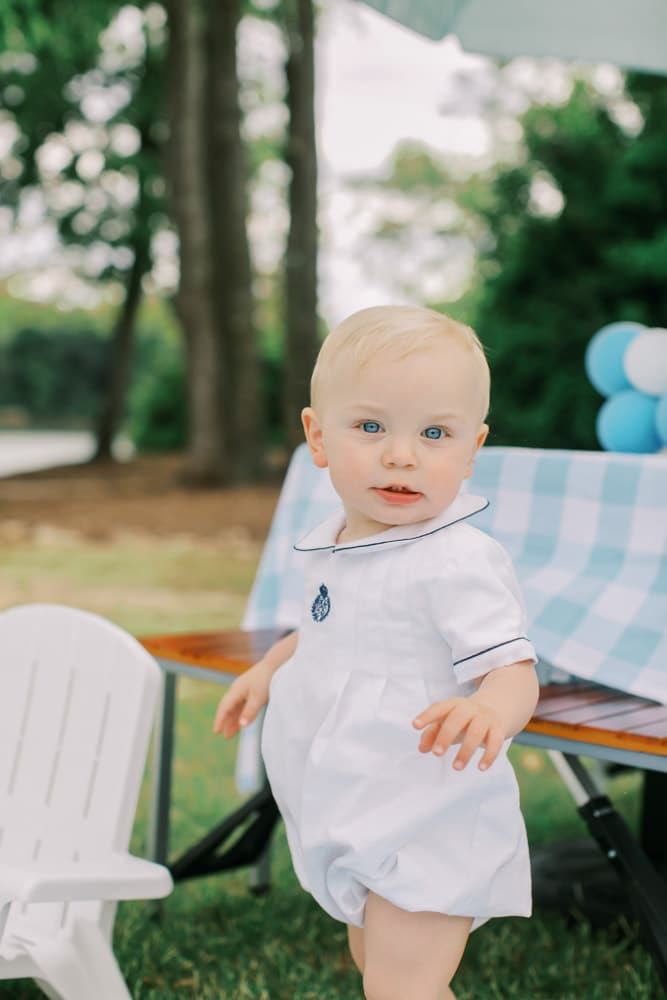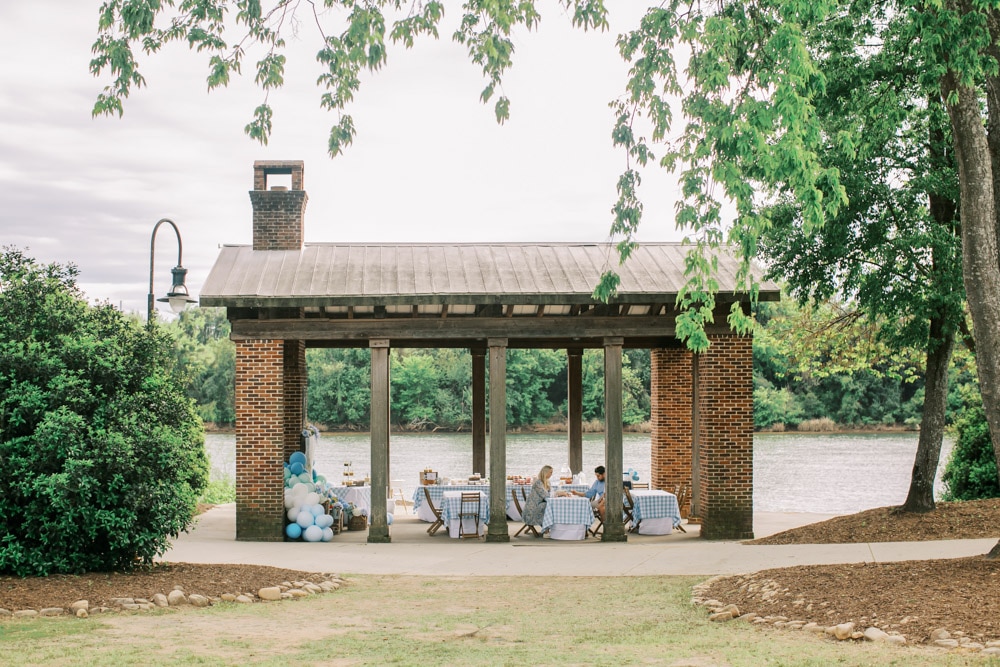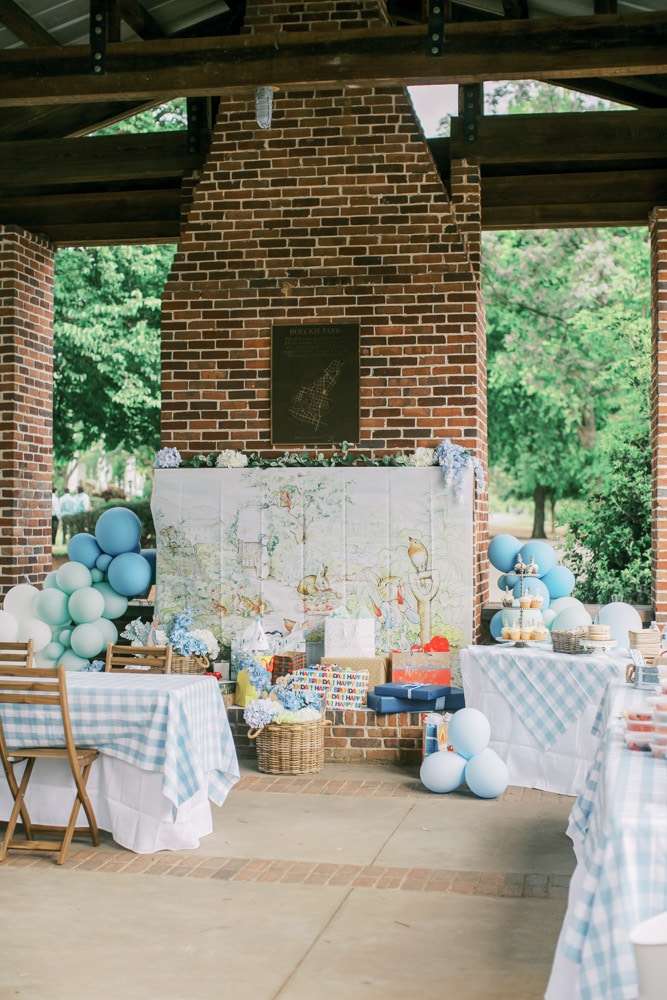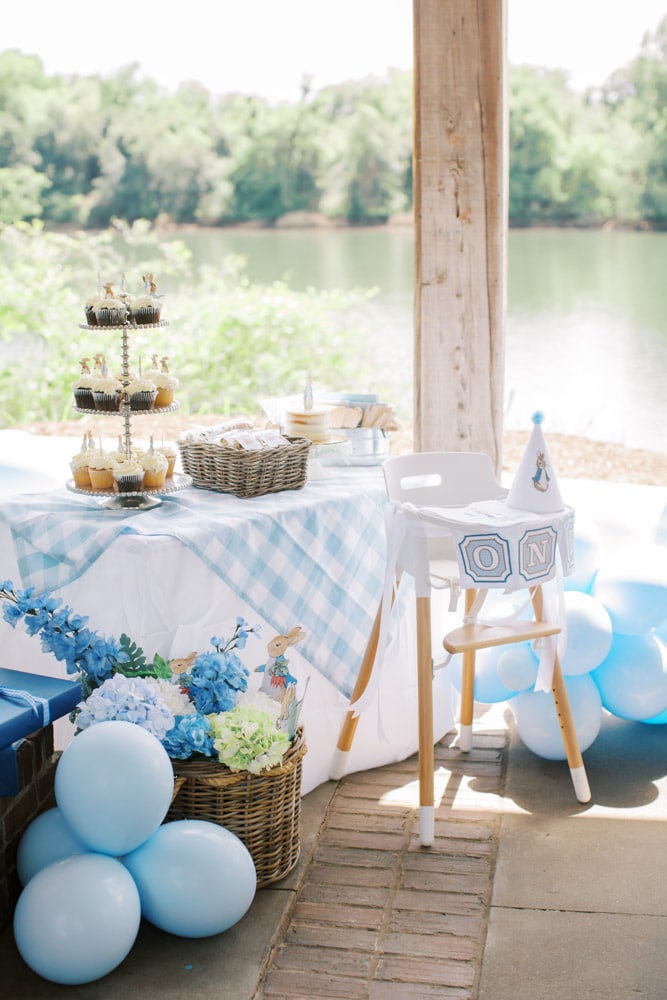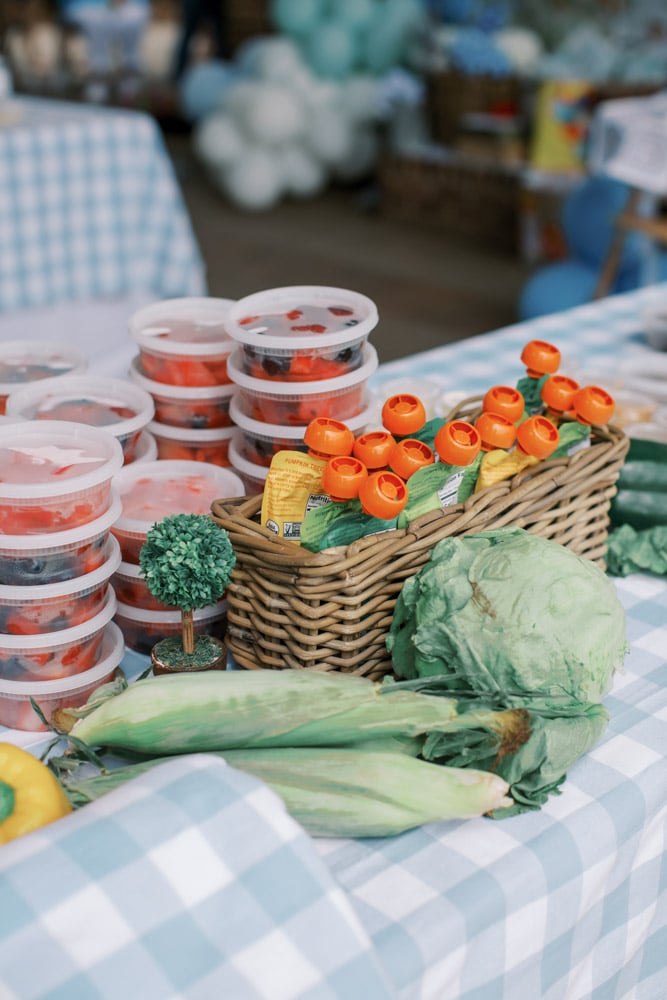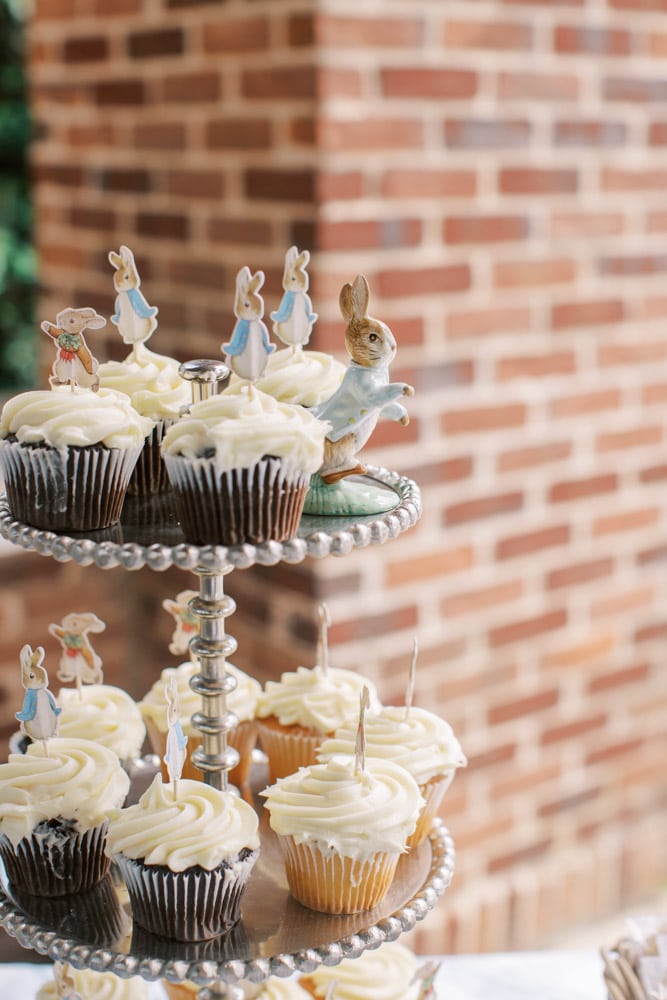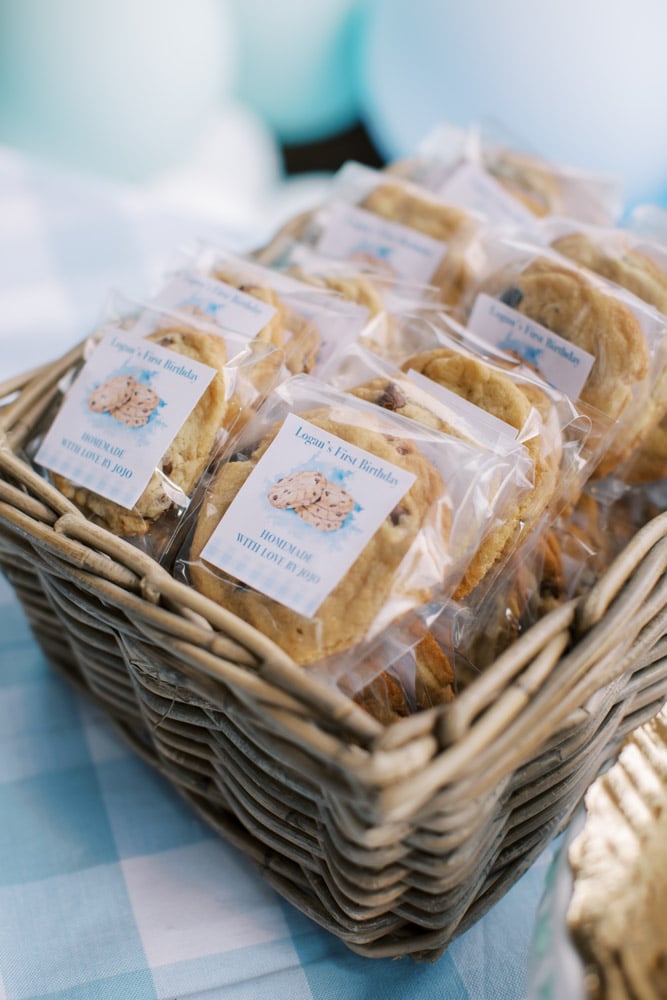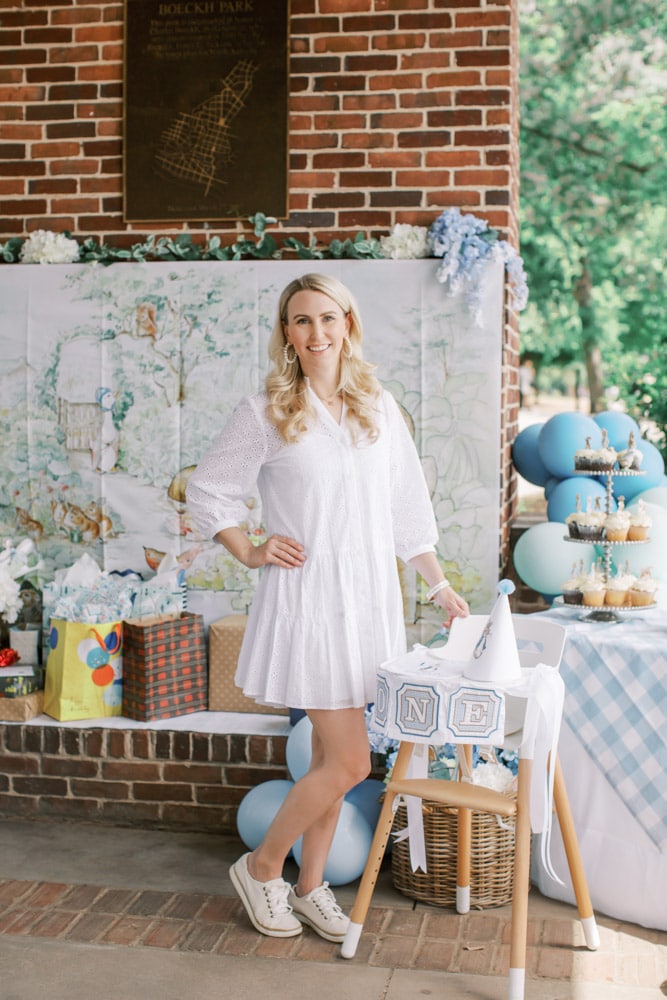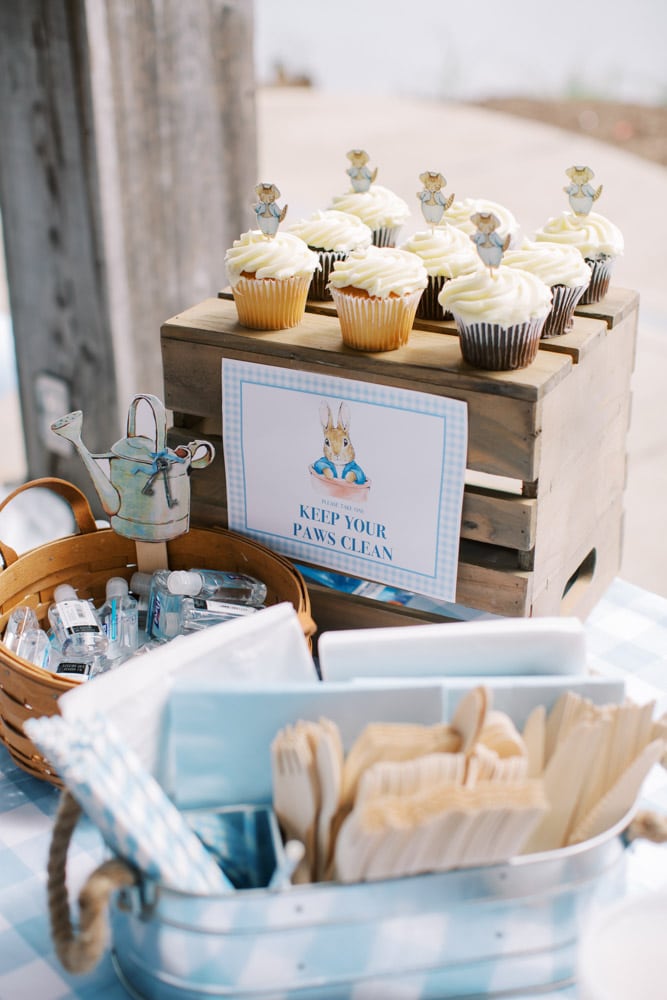 Easy Picnic Party Menu:
---
I didn't want to go crazy with a super detailed food menu for the birthday so my aim was an easy picnic party menu with just a few staples and some sweets to celebrate. Because Covid was still pretty relevant during Logan's 1st birthday party, I wanted to make sure we were taking extra precautions in the food we served.  I ordered several sizes of plastic storage containers that I could easily prepare to transport to the park and set out for guests to grab individually without fear of folks gathering around open-air food or an exposed buffet line.  They worked out perfectly as I was able to order CFA chicken nugget trays and divide them up into the containers so each person had one. We cut up a ton of various fruit and raw veggies to safely pack everything at home in advance.  My father-in-law made three-cheese macaroni and cheese and we even served that in the containers as well.  We weren't going to leave our guests hanging without any dips for the nuggets & veggies, so we even prepped small portion cups of ranch & honey mustard.  I added easy Peter Rabbit Fruit Pouches to the menu that were very on-brand for the party and I knew Logan would enjoy them later if we had leftovers.
Because we were in my hometown and all of the guests were family (mine from Augusta and my hubby's from New England), we catered to our audience and served both sweet & unsweet tea along with bottled water with some custom labels I designed and printed using waterproof matte labels.  My husband's mother brought delicious homemade chocolate chip cookies that I placed inside individual plastic sleeves and labeled with another custom sticker I designed and made using my sticker maker.  I've used my sticker maker for several parties to add a bit of personalized flair and it's perfect if you're a DIYer who likes to really customize things or a procrastinator and don't have time to preorder your sticker designs from a professional website. Can you guess which one I am? 😉
As an added touch, my mom brought some fresh veggies to decorate the table as a nod to Mr. McGregor's garden in the Peter Rabbit stories so we laid those out around the food containers.  I added a small basket of hand sanitizers for guests to clean up before dining with a cute reminder from Peter Rabbit to "Keep Your Paws Clean" and used blue & white striped pop-up laundry baskets that I lined with trash bags so guests had a place to toss their trash while at the park.
The Menu

:
---
Chick-Fil-A Chicken Nuggets
Three-Cheese Macaroni & Cheese
Assorted Fruit: Strawberries, Watermelon, & Blackberries
Assorted Raw Veggies: Carrots, Tomatoes, Broccoli & Cauliflower
Peter Rabbit Fruit Pouches
Homemade Chocolate Chip Cookies
Simple Vanilla Cake with Cream Cheese Frosting
Chocolate & Vanilla Cupcakes with Cream Cheese Frosting
Sweet & Unsweet Tea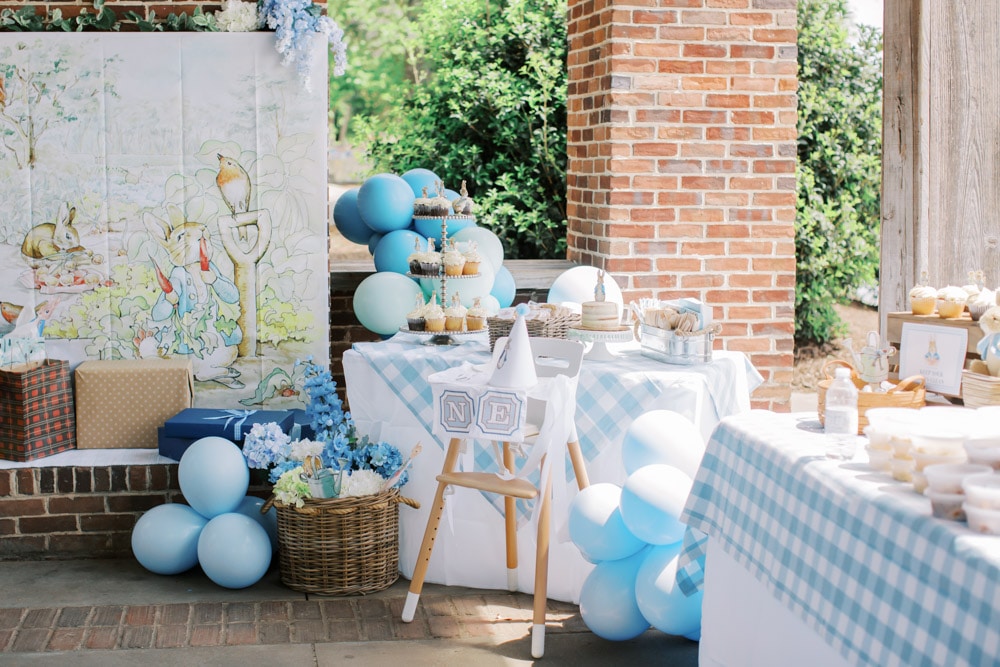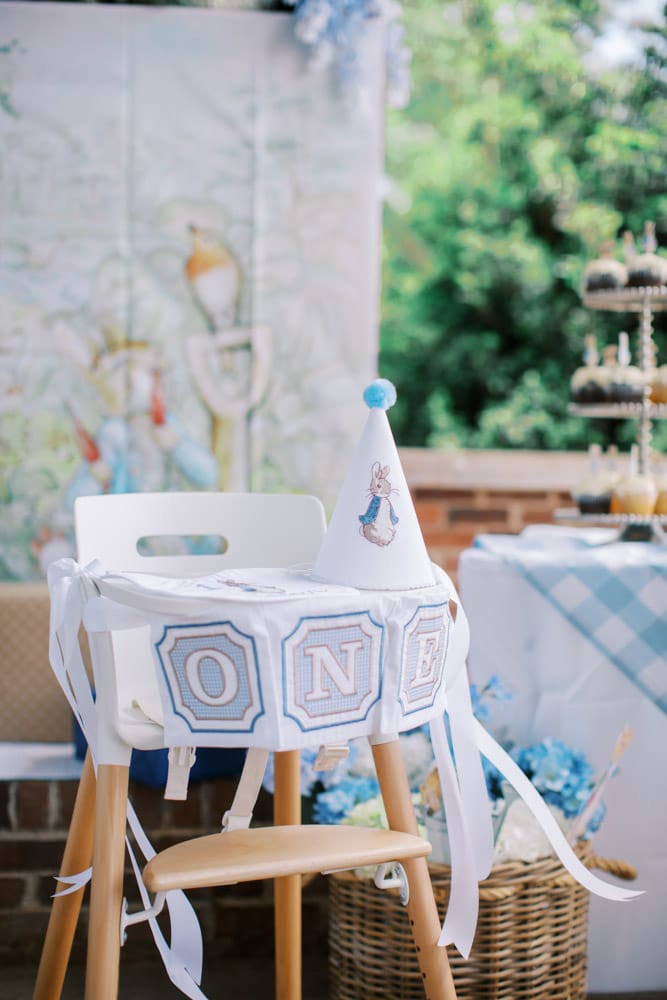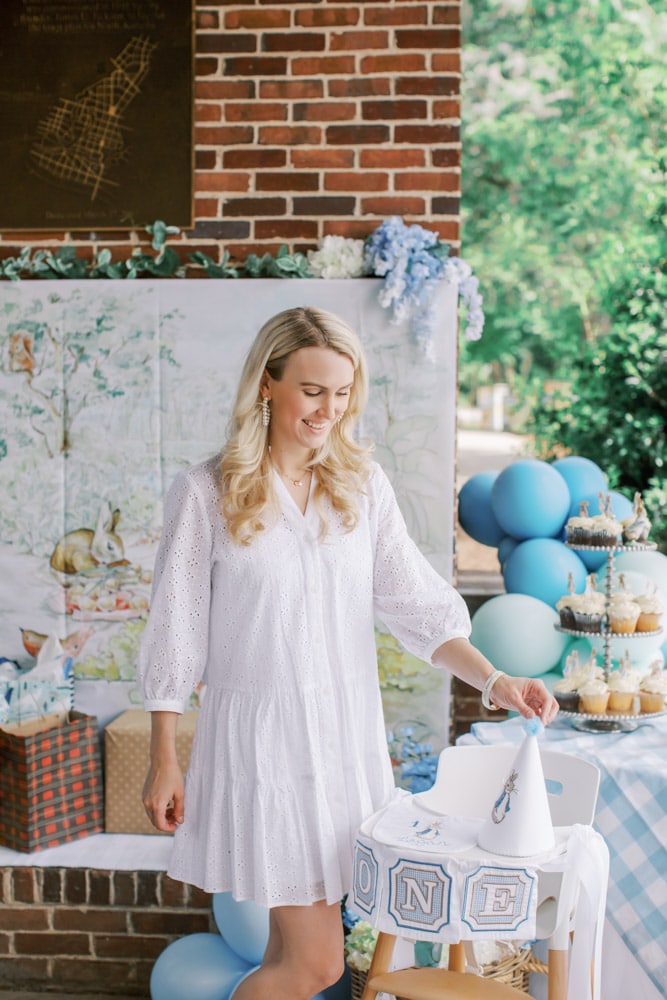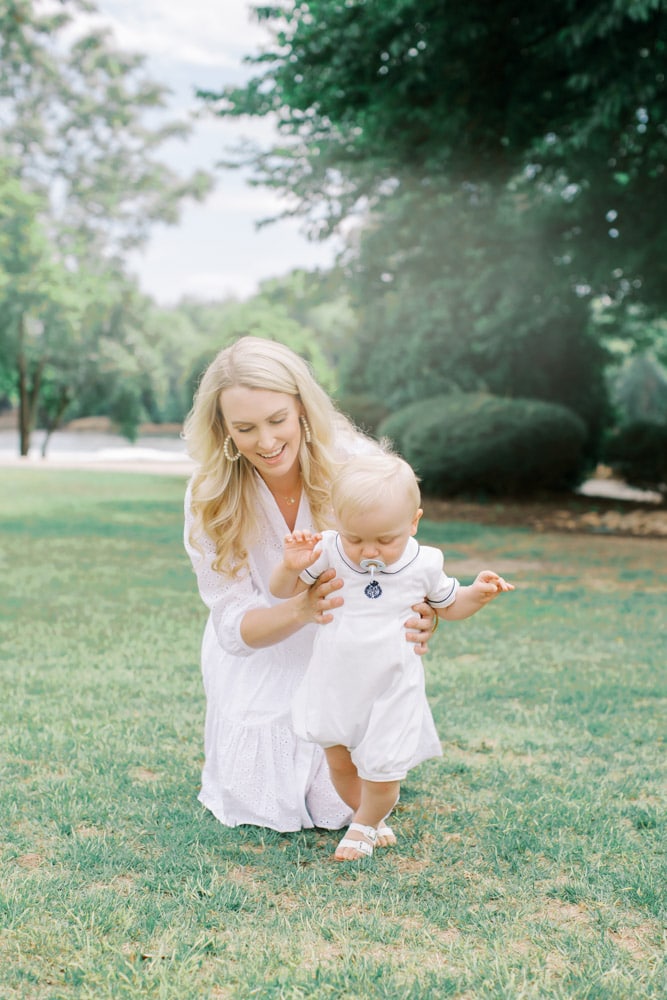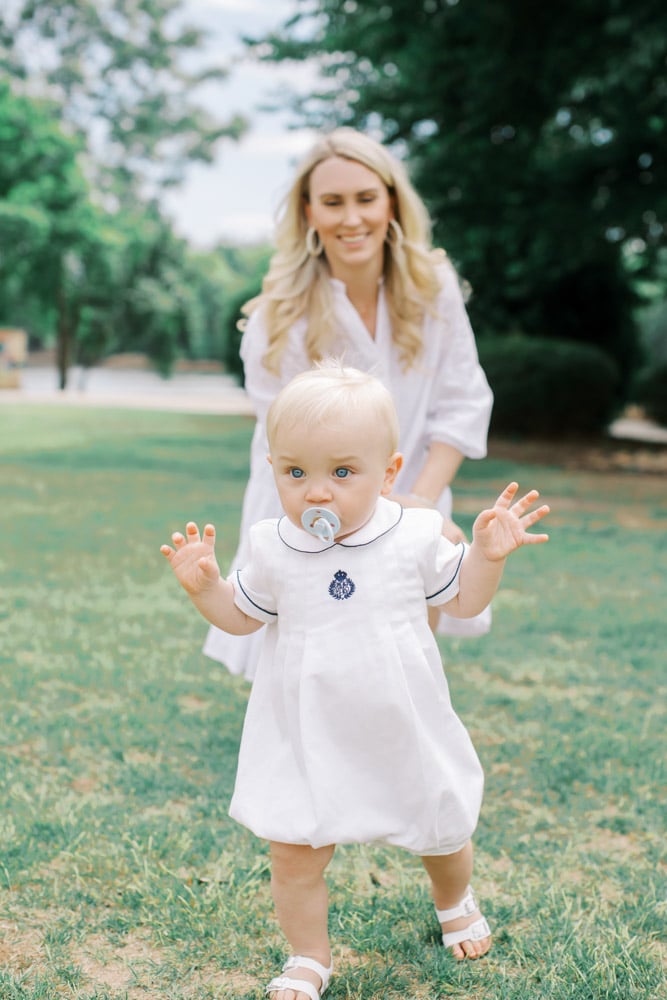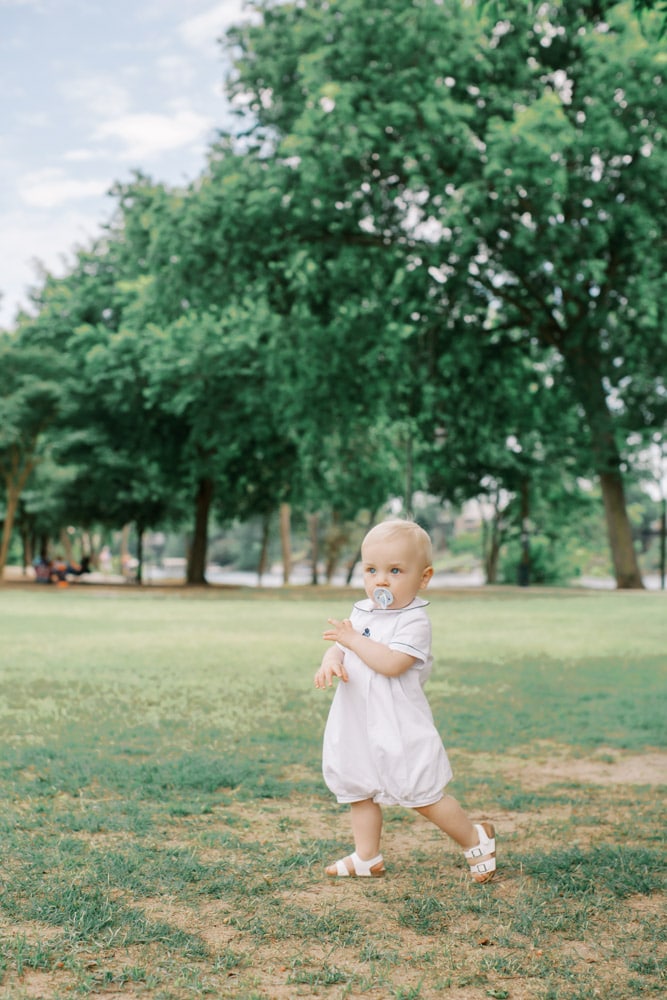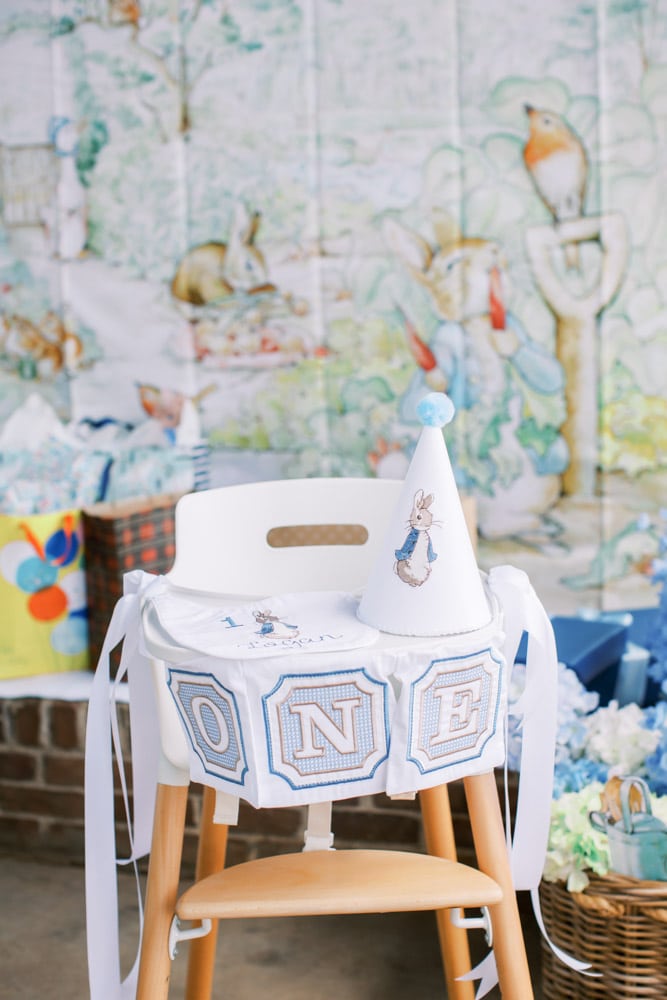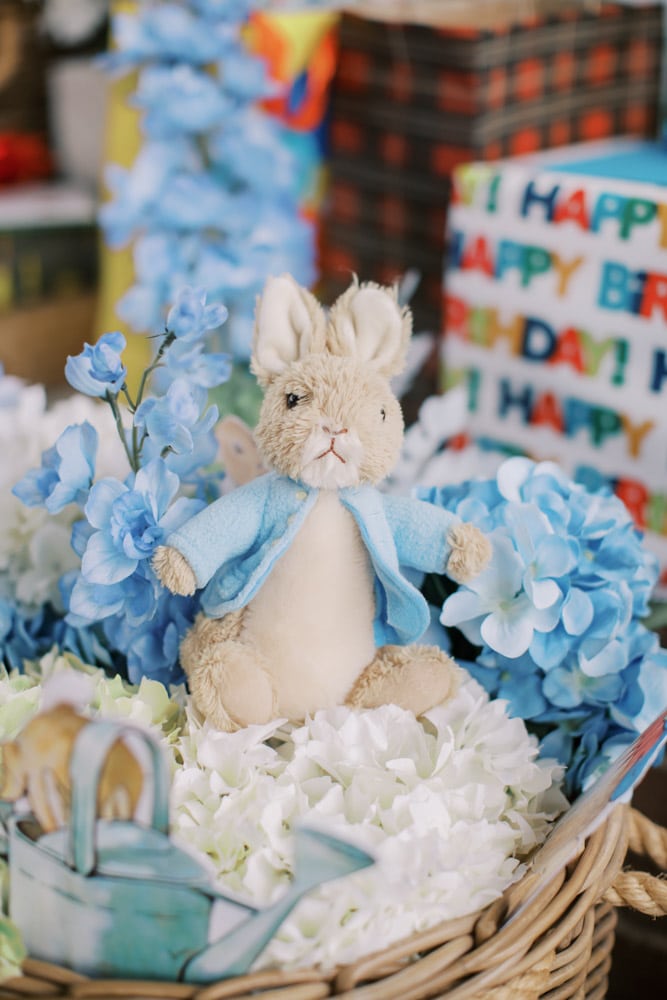 The Peter Rabbit Design & Decor:
---
From the moment I found out Logan was a boy (on his birthday!), I was thrilled for all the blue that would naturally fit into our already heavily blue-filled home.  It was no exception when planning his birthday party that I was excited to weave in pastel blue and white gingham with the sweetest little vintage Beswick Peter Rabbit figurine my mom gifted Logan to drive the decor theme.  Locking down a Peter Rabbit-themed birthday party picnic made things incredibly easy to plan because there is so much adorable Peter Rabbit decor in the market to choose from to bring this to life!
Thankfully I already had tables and chairs from other events I've hosted in the past because the pavilion was empty and didn't come with any of that with the rental fee.  I used fitted white linen tablecloths topped with pastel blue & white gingham linens to coordinate all the tables and provide a lovely matching backdrop for the party. I had purchased wooden folder chairs a few years back from IKEA and they were perfect to break out from storage for the celebration.
I brought Logan's high chair from home to make sure he had a place to sit during his celebration and my mom and I broke out our embroidery machines to make a beautiful "one" banner for the front of it along with a Peter Rabbit stitched bib and hat.
We purchased an inexpensive Peter Rabbit backdrop and I picked up a box of Beatrix Potter books to set around for entertainment and decor too.  I created a quick little one-sheet highlighting Logan's first year that I planned to hang in his room after.
Most of the other decor I pulled together from around the house and thankfully I had a lot of helping hands in our family to set everything up!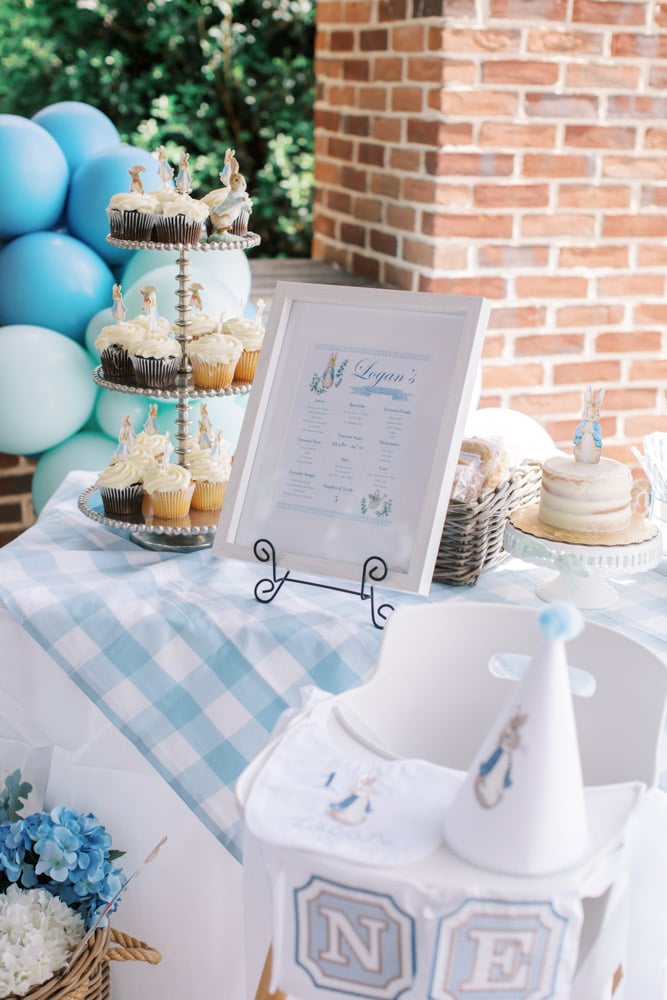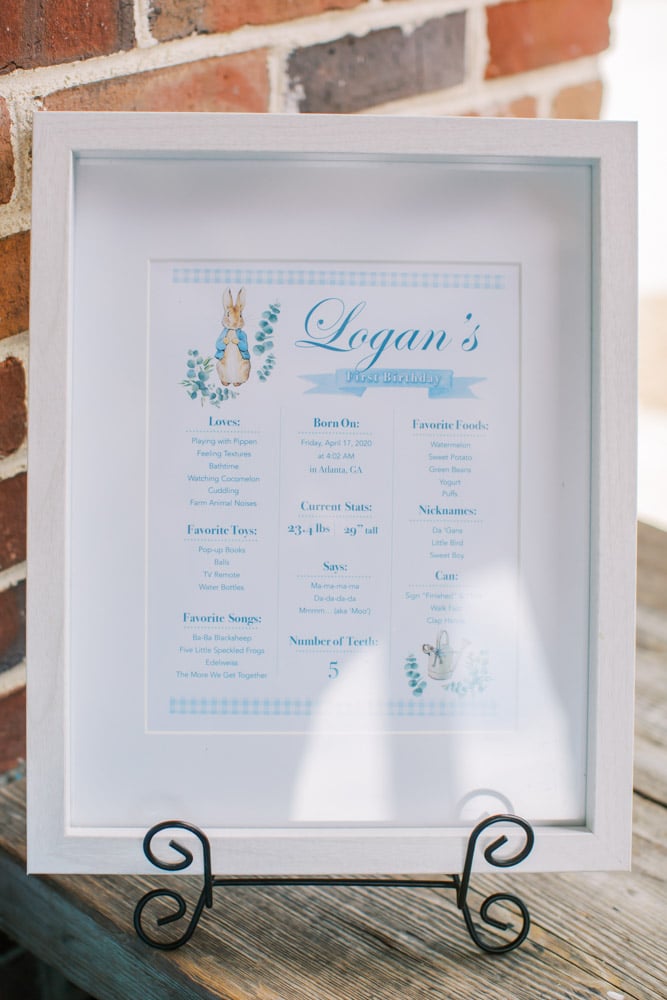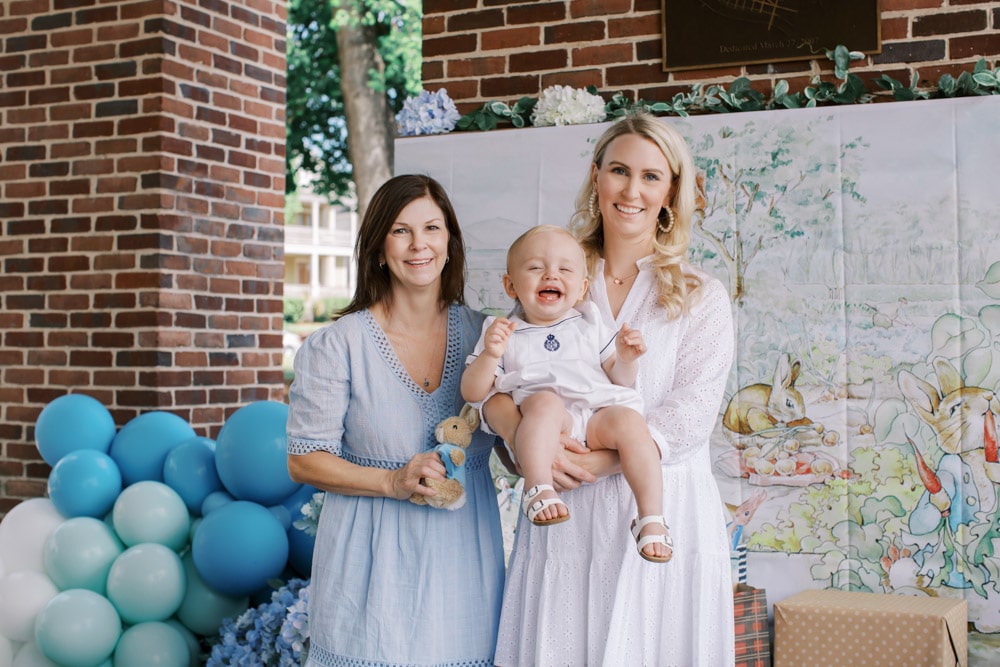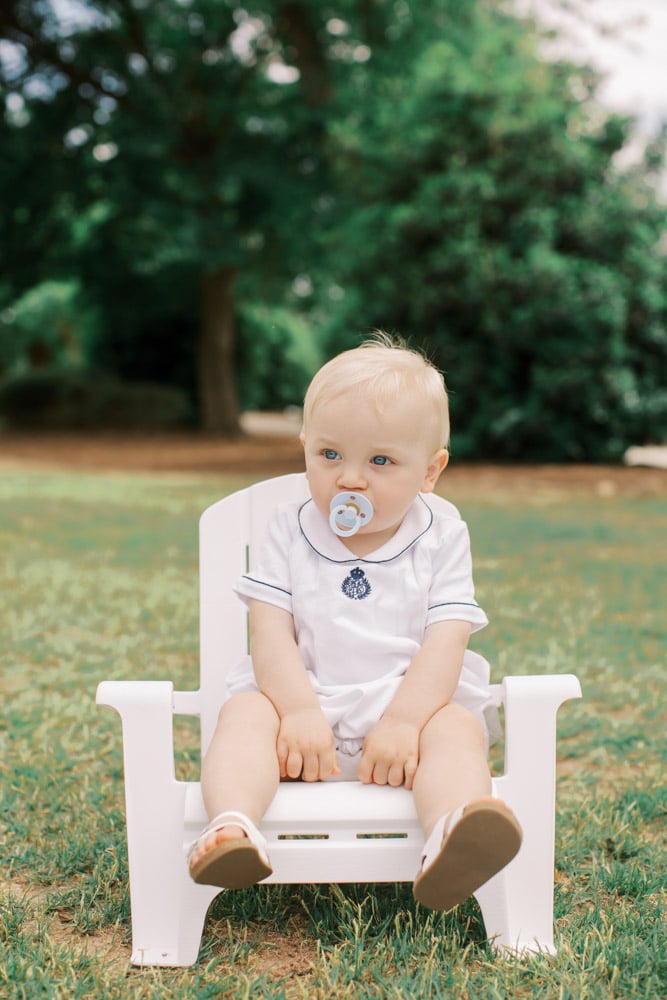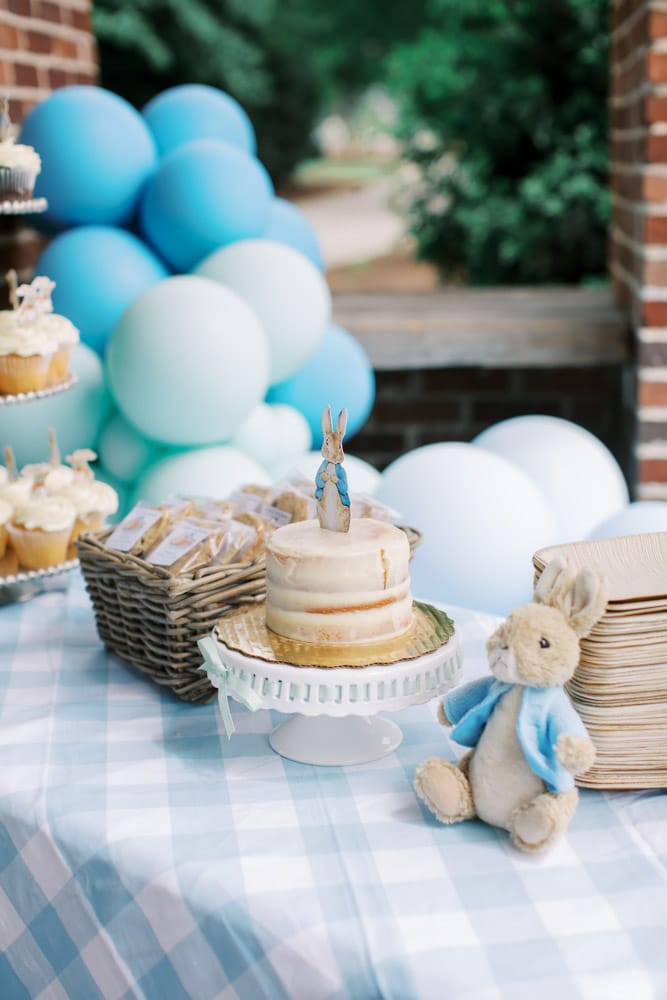 In addition to purchasing some Peter Rabbit goodies to support the birthday party picnic theme, I crafted together some rough printouts that I was able to use around the party and on the cake.  My formatting isn't perfect, but I thought I would share a few of the printouts for all those other DIY moms out there looking to create magical birthdays on a budget!
I'm sharing a free PDF download of the Peter Rabbit printouts I roughly made, including the shell of the birthday one-sheet and the "Keep Your Paws Clean" sign.  Put them in a frame or add these to some popsicle sticks and tuck them into flowers, on cakes, and all over the party.  Keep in mind they are FREE and I'm not a professional designer so they will not be perfect – Enjoy!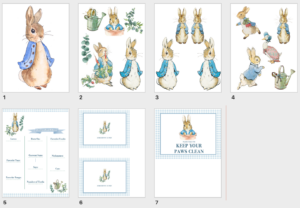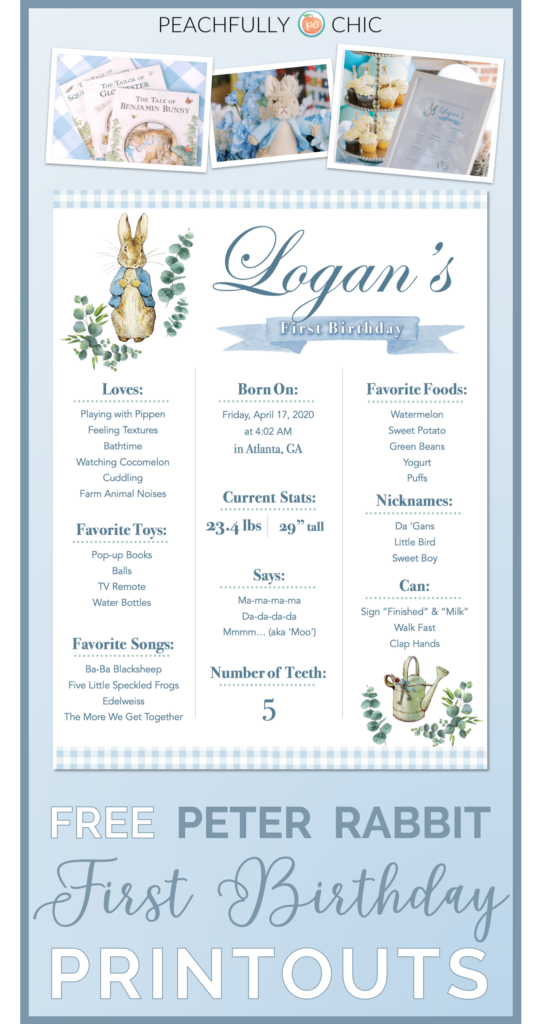 Although the day was gorgeous, by the time we brought the birthday cake out, Logan was not feeling that well.  I thought he might be a little tired and that something was off, but I didn't expect in the middle of singing happy birthday that Logan would vomit all over his cake, chair, and the floor!  And in true mother's tradition, some of it landed on my white dress as well.
I didn't realize then that it was the start of his first of many ear infections but after the birthday cake incident, he seemed to feel better for that day at least.  He relaxed a bit on the picnic blankets and pillows with his grandparents while I changed dresses (thankfully I was still packing extra clothes for myself and Logan anytime we left the house).  He spent the rest of the day reading books with his great-grandmother and we wrapped everything up shortly after. Before everyone headed home, we grabbed a quick photo of the family grandkids & great-grandkids and called it a day!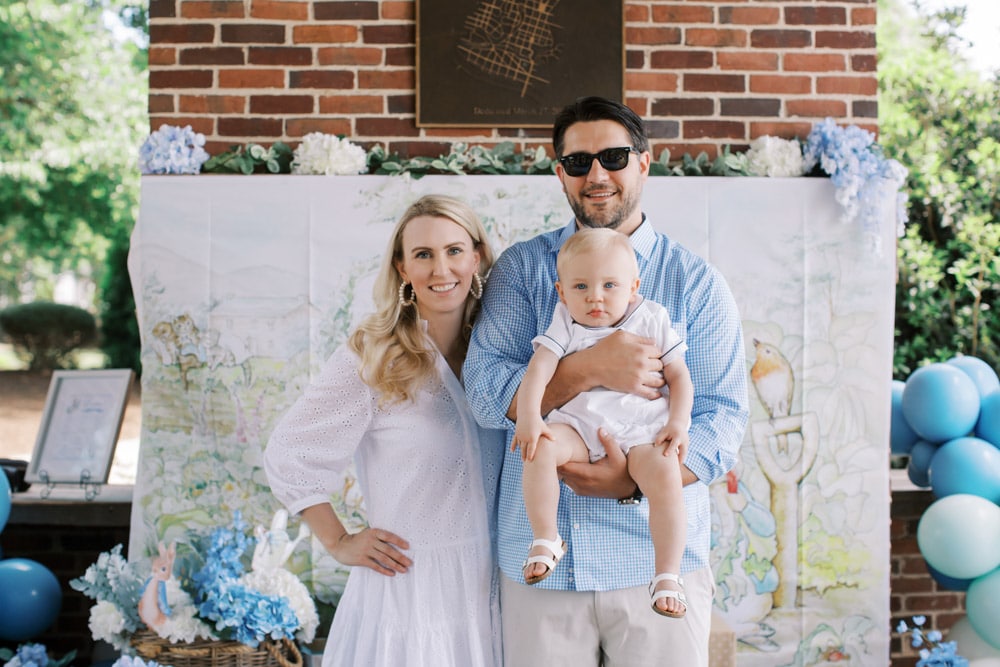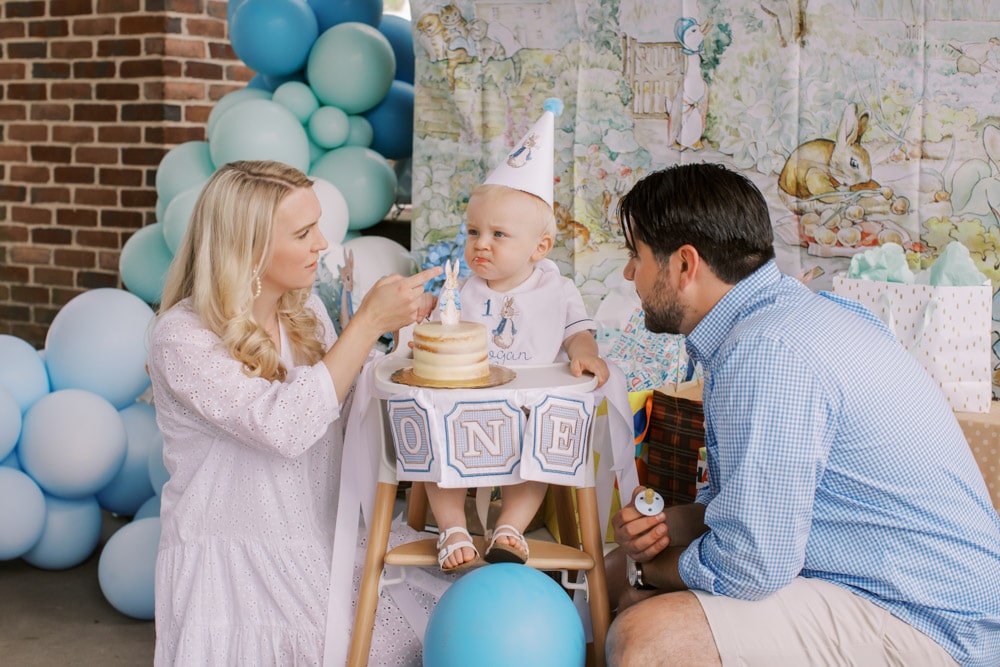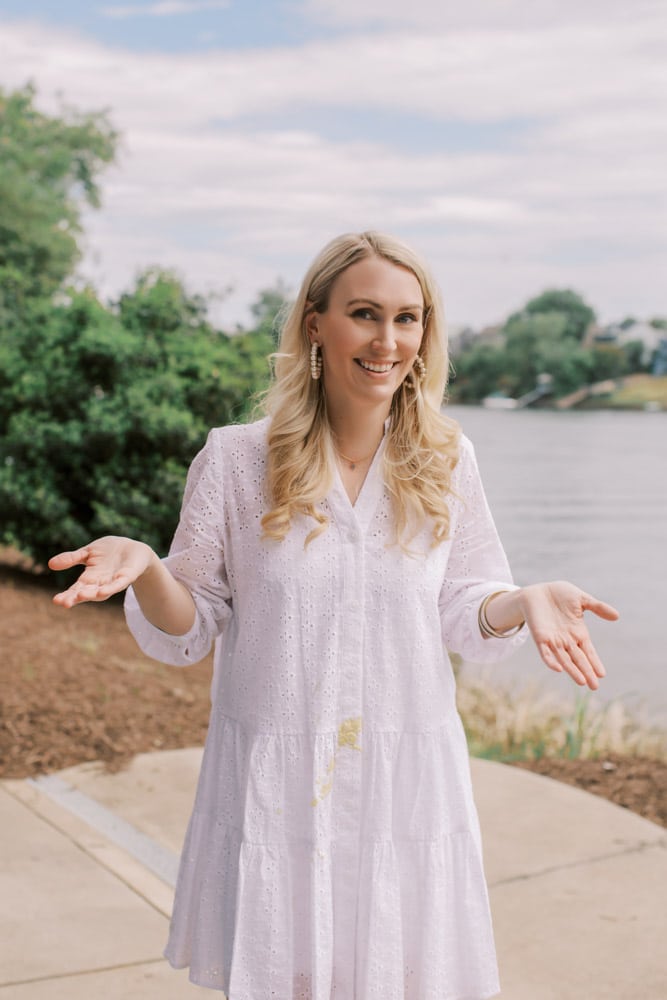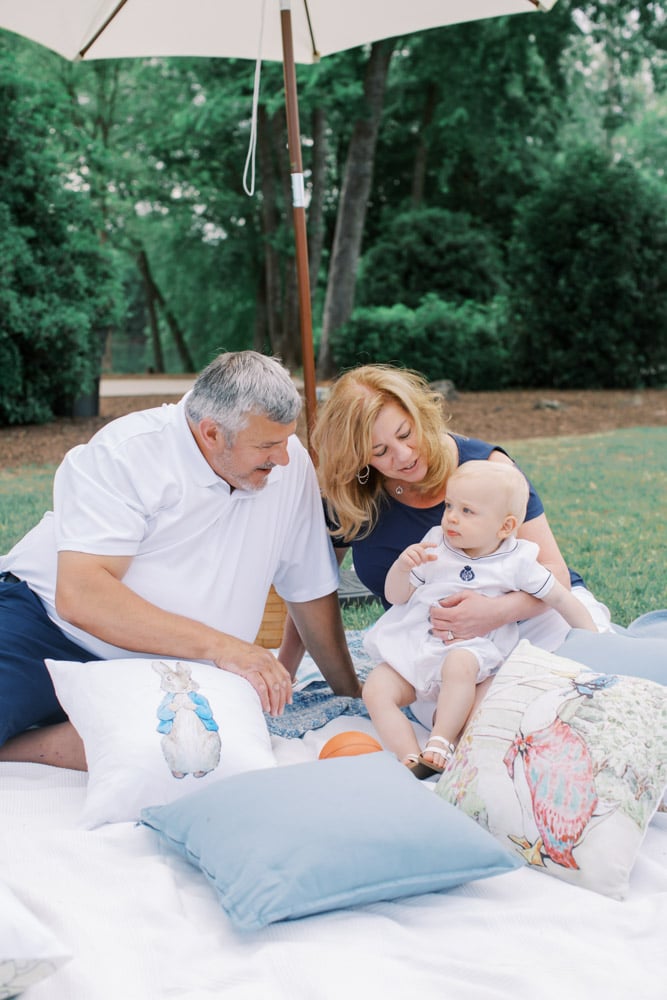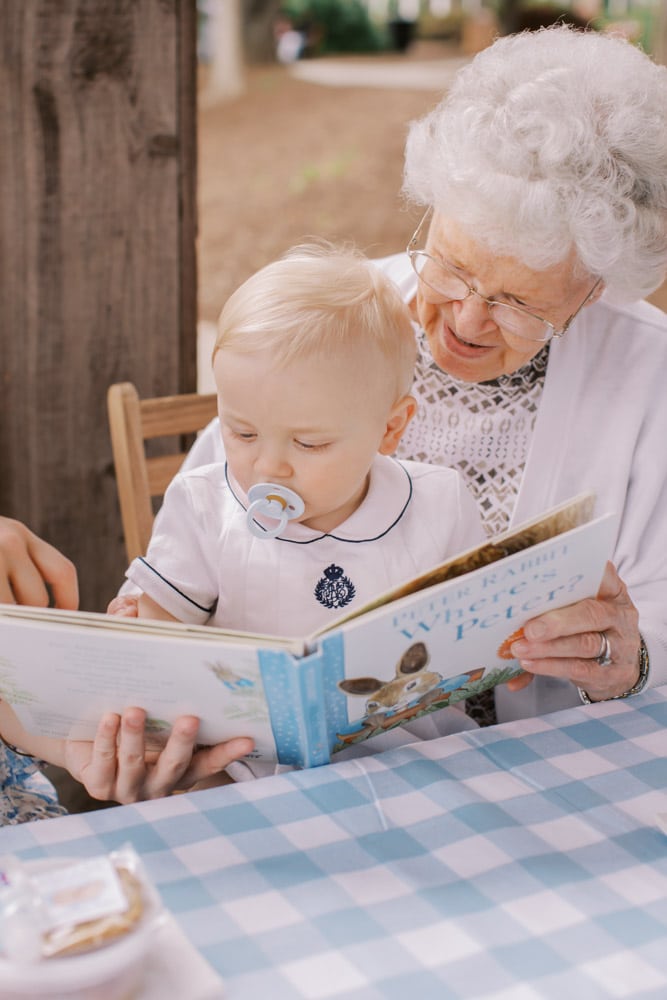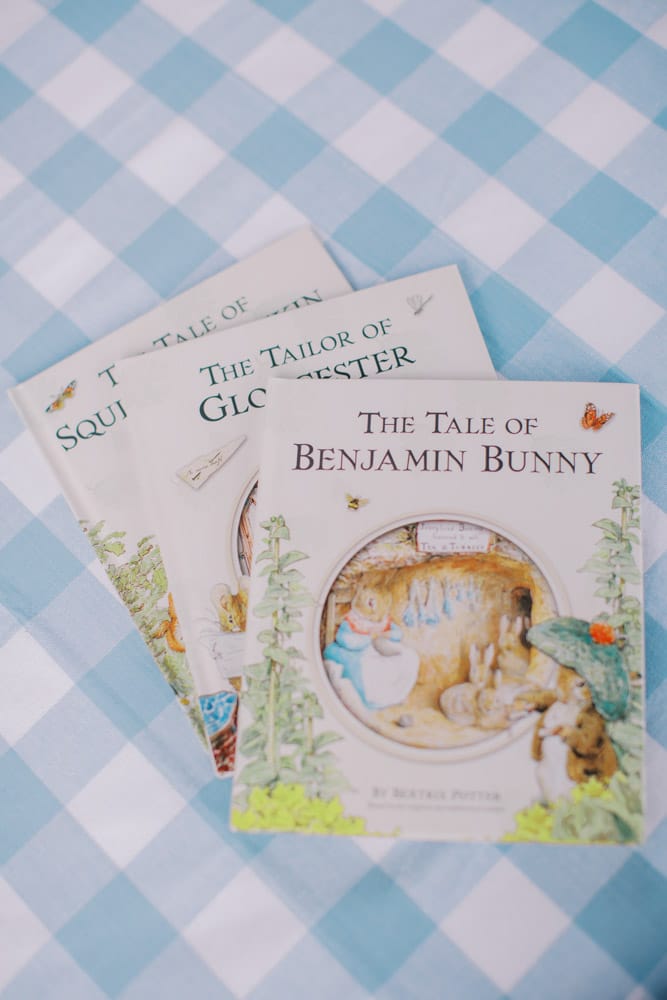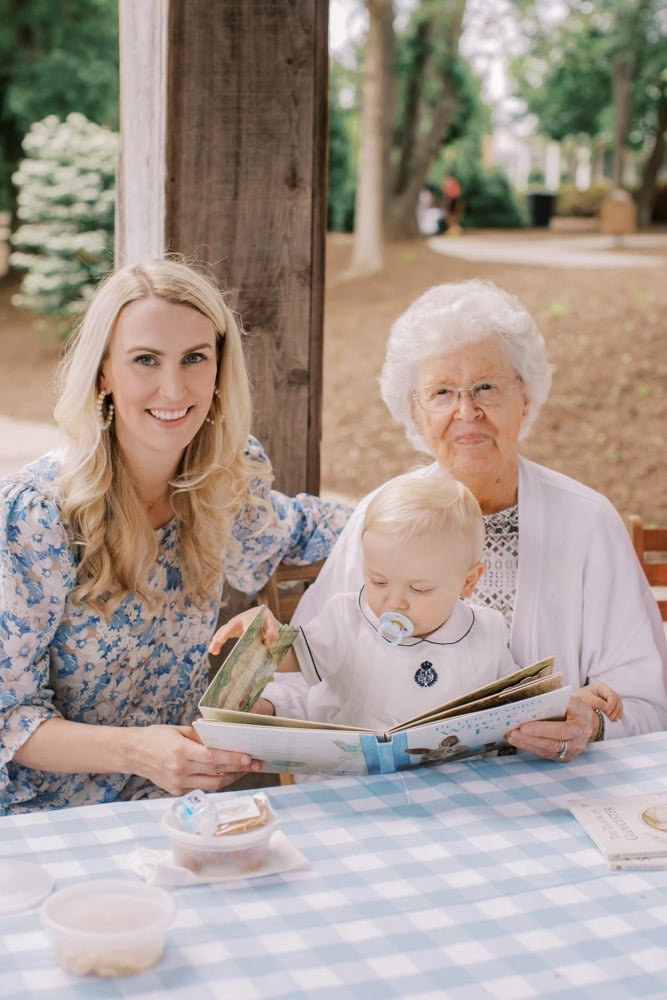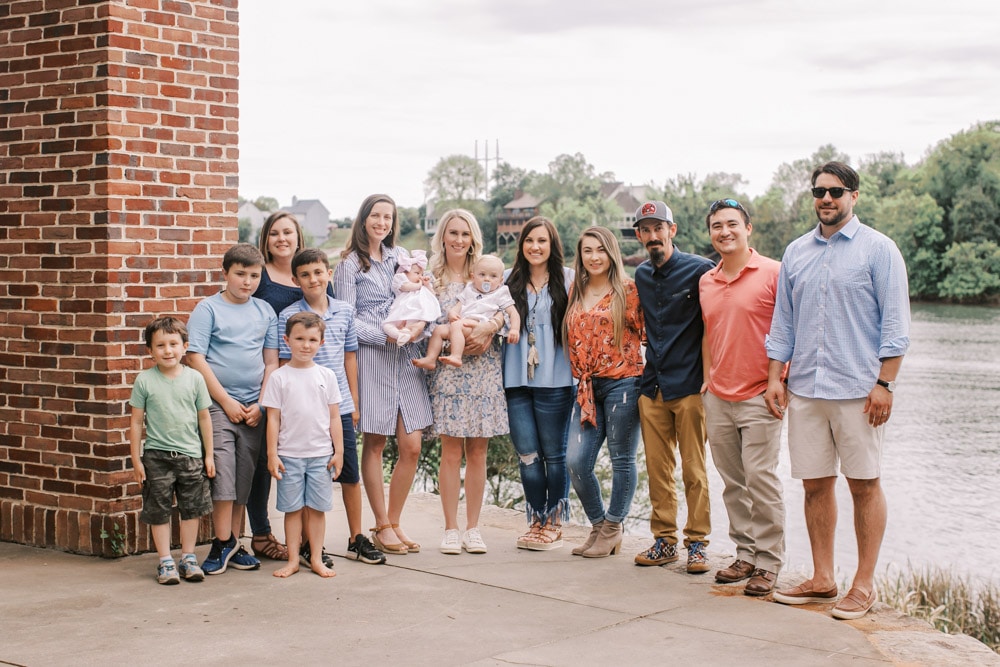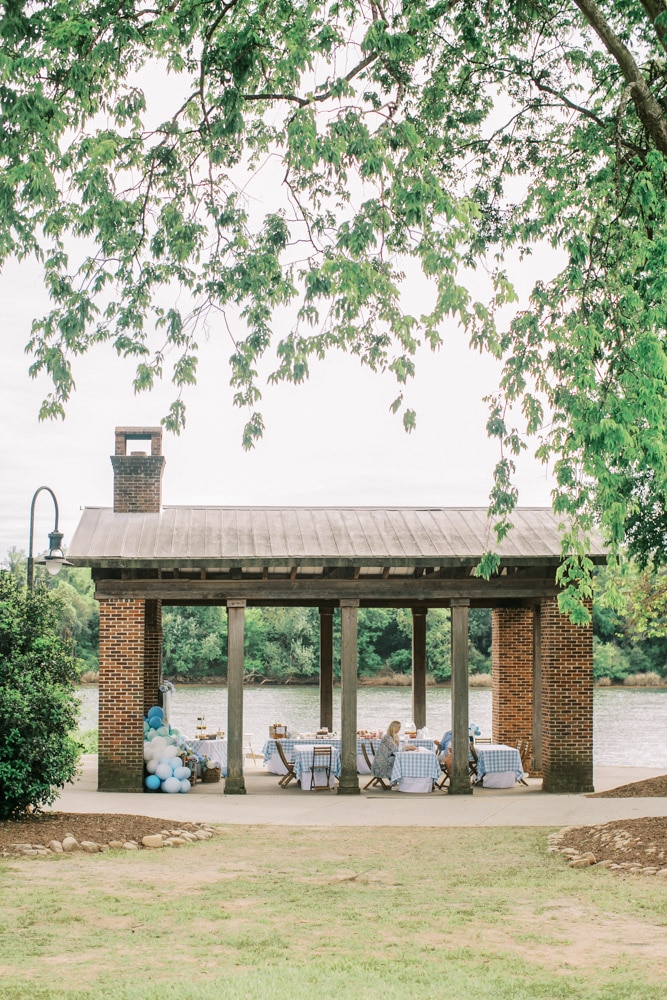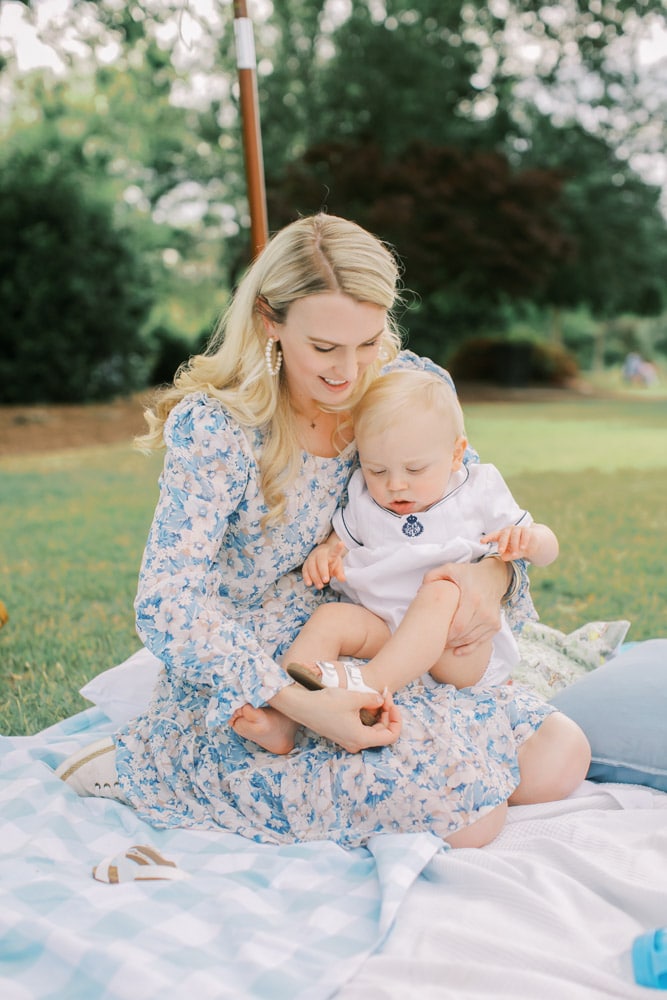 In addition to the natural beauty of Boeckh Park and the Savannah River as our backdrop for the party, I wanted to add some balloon garlands to the mix. I ended up ordering several different sizes online, mixed and matched colors and double-stuffed some with white and black balloons to customize the colors.  While I didn't have a ladder to hang the garland as high as I would have liked, it all came together and helped me hideaway some extra supplies that I didn't want in sight!
For the DIYers: Quality balloons are worth the investment. They're more likely to hold their air so you can inflate & prepare your balloons in advance (even the weekend before) to save setup time on the big day!
If you're considering making your own balloon garland instead of hiring a skilled artist, I would recommend getting a double air pump for the larger balloons and a hand pump for the smaller 5″ balloons.  Be careful of trying to use the smaller balloons on the electric air pump because they will burn out the motor – trust me, I learned that the hard way!
_____
Thanks to the help of our parents and my sister, we were able to pull everything off successfully! I was also glad to have my favorite photographer Irina Chepko there to capture all the memories of this special day. With perfect weather, the picnic party was so much fun to get outside and enjoy quality family time celebrating our baby boy's first birthday.