Cool Vibes, Eclectic Charm, Fantastic Food:
Let me start by expressing my extreme hesitation in sharing with you this little piece of taste-bud heaven located in midtown Atlanta called R.Thomas' Deluxe Grill.  It's not that I don't want everyone to experience such a wonderful place through both the phenomenal food and the cool vibes at R.Thomas', but it's probably the one place in Atlanta that I most frequent for food at anytime of the day, and it's fun to have a go-to spot that I don't really have to wait to grab a table.  Whether it's a recovery tasty breakfast after a long night out (something my body reminds me I'm not as prime to handle as my college days), a fun brunch catching up with the gals, sneaking away from the office for a delish lunch, or just popping by for a late night dinner… you really can't beat the eclectic nature of this random little shack pieced together on the side of Peachtree Street.  R.Thomas' is the spot that I take all my out-of-town guests atleast once during their visit.
R. Thomas' Deluxe Grill:
1812 Peachtree St NW, Atlanta, Georgia 30309
404-881-0246
http://www.rthomasdeluxegrill.net
Beyond the fact that there's something on the menu that everyone and anyone would enjoy, from breakfast food to quesadillas to a slew of other goodies, this place even has Vegan and Vegetarian options too!  You've probably driven by R.Thomas' all the time as you cruise down Peachtree Street toward Buckhead, but never given it a second glance.  That's what my coworker said as we met up for lunch there last week.  Be sure to park in the free lot behind R.Thomas' (look for a small "Entrance" sign where you should turn in) in order to avoid paying for parking in the gated lot next door.  After you park, don't be alarmed to see a row of caged tropical birds along the side of the building near the entrance – they just add to that fun eclectic culture that I mentioned before!   See the text from my coworker below as she walked up to meet me:
Like I said, you'll wonder what kind of shack I've suggested you check out as you walk up and see a brightly colored dumpster welcoming you with R.Thomas' painted across it, but the food is well worth it – Trust me!  The colorful lights inside just add to the flair and makes it an even cooler atmosphere after the sun goes down. But as far as the good stuff goes, there's really nothing on this menu that you can go wrong with, but here are a few of my favorites:
Breakfast:  French Toast with sliced bananas lightly dusted with powdered sugar, real maple syrup, bacon, and a side of R.'s Classic Home Fries is a must.
Lunch:  Farmers Market Range Chicken marinated char-grilled boneless breast served on marble rye bread with romaine, special sauce, and guacamole with a side of Garlicky Green Beans.
Other:  Magic Quesadilla spinach tortilla marinated portabella mushroom, white cheddar, zucchini, peppers, and onions.
Drink:  Any of R.'s Fresh Real Juices (they are squeezed in the back made fresh to order on site!)
Kevin's Favorite:  Benedict Thomas served on nine-grain toast with homemade Hollandaise, bacon, and a side of R.'s Classic Home Fries.  Plus a refreshing Bloody Mary!
I ordered the Chicken Market Sandwich pictured above with garlicky greenbeans and fresh guac, and my coworker ordered the Magic Quesadilla pictured below.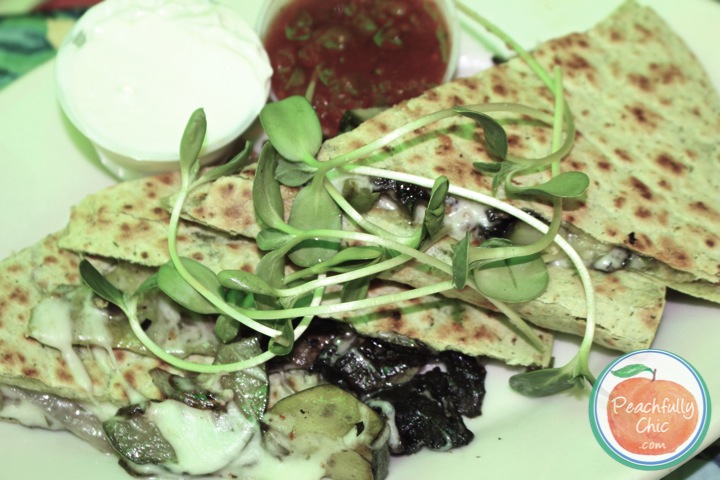 So go check out R.Thomas' Deluxe Grill… My coworker was sold!  They even said they'll be coming back again soon!  You'll be pleasantly surprised with this healthy choice restaurant open 24-7…  I promise!  Cool Vibes, Eclectic Charm, Fantastic Food.  What more could you ask for?  Let me know what you think, I won't be offended if you try it and don't like it, but I'm not sure how that's even possible 😉  Enjoy!