The Final Swing Before the Ring!
Over the weekend, one of my wonderful bridesmaids, Christina, planned a Baseball Themed Bachelorette Party for me.  It's the perfect alternative to a traditional girls night out bachelorette party for me, because I've always loved the Atlanta Braves and all the softball/soccer/golf/gymnastics/etc that I grew up playing every year!
The night started with a fun lingerie party with a few games like "Wedding Taboo", a naughty alternative to "Pin the Tail on the Donkey" that involved the poster of a man wearing only his boxers, and a funny "Mad Libs" advice sheet.  The drinks were flowing and she decorated with cute little sayings all over to commemorate mine and Kevin's engagement.
Each snack had their own adorable phrase!  She made red velvet cupcakes (one of my favorites!) with little blue A's on top… which obviously stood for Allie, but also represented the Atlanta Braves! 🙂
It's strange to think I'm the "Future Mrs. Vayda", but don't worry… I'm still planning to keep all my social media names as "Allison Cawley" so you'll still be able to find me!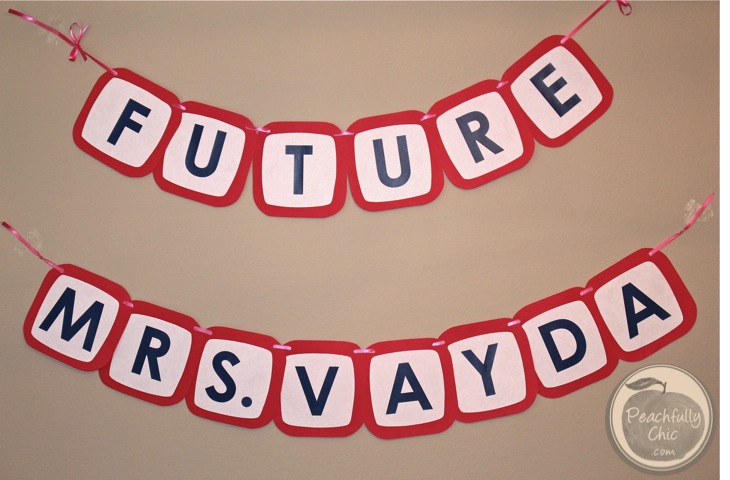 Below we're putting on a little extra lipstick in order to play the variation of "Pin the Tail on the Donkey" – it was so funny watching everyone spin around and then trying to kiss the poster!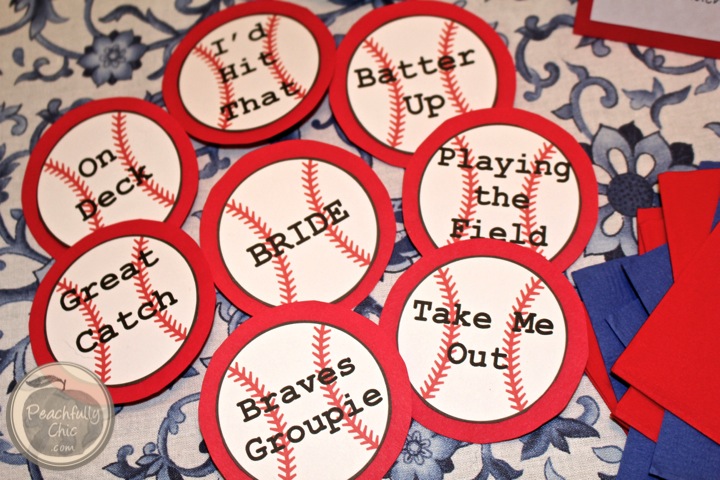 These were little paper tags she put together by hot gluing pieces of paper to safety pins.  We all picked one to wear to the Braves game… I wore the "Bride" of course!
These were the fun mad libs marriage advice one sheets that Christina put together.  Let's just say some of these were hilarious and some of my friends have down right dirty minds!!
And the good stuff below… a sneak peek into some of the wonderful bachelorette gifts my friends bestowed upon me.  I'm so blessed to have such a fantastic group of ladies to call my friends!
The first present had a bunch of underwear tied together with ribbons…. I kept pulling them out but I felt like it never ended – Such a clever idea!!
A sweet "Bride" tumbler that will be perfect for the gym and keeping water at my desk at work!  Also, although one of my bridesmaids lives in Seattle, she sent a sexy little number on her behalf 😉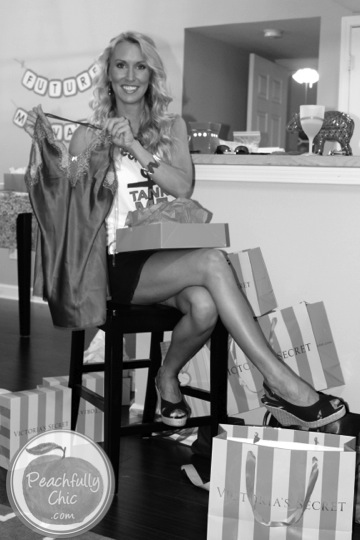 Before we left, I set up my camera on auto-timer to take a set of photos.  This is probably one of my favorite things to do when I get a group of family or friends together.  It really gives you the opportunity to take a few good ones, then let loose!  We decided to get a little goofy!  Just keeping it real!
Finally, the last surprise before we got to the game were the amazing signs that the girls designed & printed onto posters (thanks Melissa!) that honestly may have been my favorite part! Here's what they read: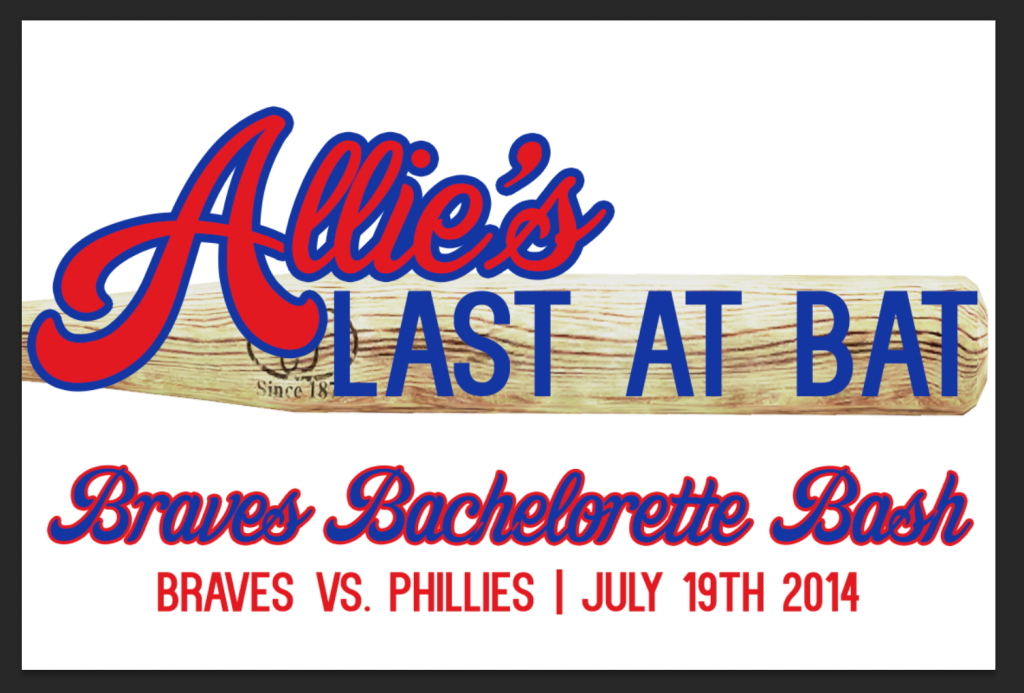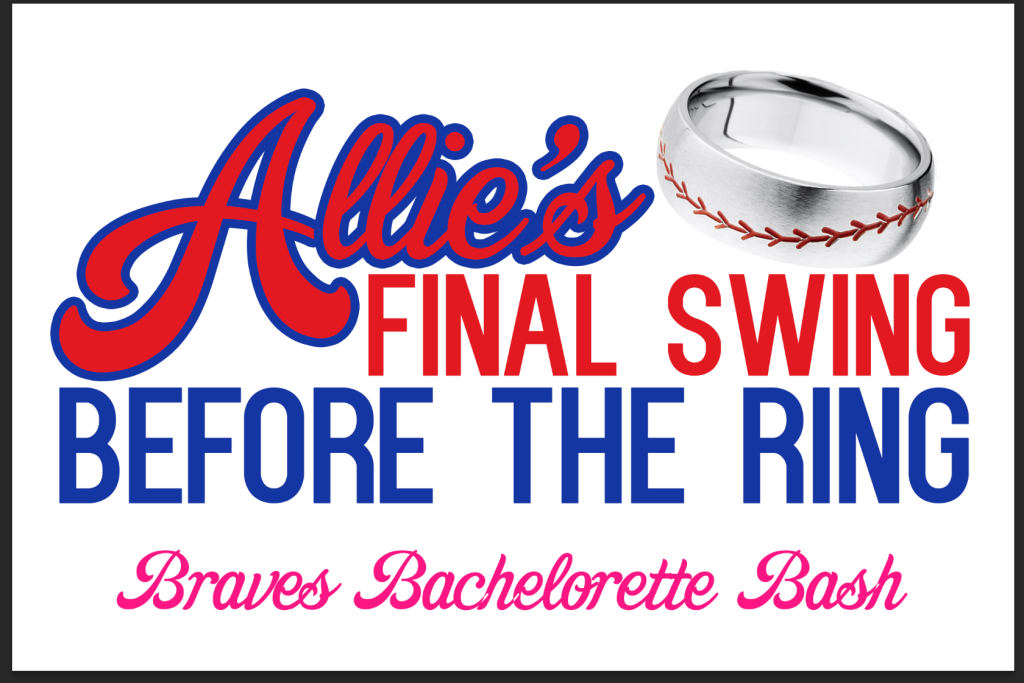 We held them up at the Chop House inside the stadium where we had drinks and watched the game.  They even made me wear one of those tiaras… I was willing to have a little fun and go all out (seriously… when am I actually going to wear a tiara out in public, let alone to a MLB baseball game)!  Here we are live in action!!
And before heading out into midtown for some nightcaps, one more group pic.  You can even see the shirt Christina designed for me to wear. It read, "Tank Me I'm the Bride To Be."  It was perfect since I'm kind of a fanatic when it comes to anchors and the colors matched the Braves perfectly!
So I hope you enjoyed the sneak peek inside my fun Baseball Themed Bachelorette Party this weekend!  It was a blast and I will always be grateful for such wonderful friends!  Let me know if you have any questions about planning your own Baseball Themed Bachelorette Party, and don't forget to share this with those friends who may be looking for a fun alternative to the traditional bachelorette party!
Check back again soon as I'll be posting more fun as I continue my DIY projects leading up to the wedding, plus share more delicious recipes and more!