As soon as we started seriously planning to start our family, I wanted to know as much about pregnancy and newborns as I could find.  Of course, I had my sister and a few friends to lean on for their experience and wisdom, but with so many old wives tales floating around of what not to do along with all the rules to follow for pregnant women, I wanted to be educated enough to chart my own path.
So after scouring the internet, asking friends, and chatting with our doulas for recommendations, I came up with what I thought was a great list of modern must-read pregnancy books.  I immediately ordered all of these and got to reading.  Unfortunately, as my pregnancy progressed, my morning sickness got worse and I didn't end up making it through all of these completely, but I did make it through most.  The hubby read some too and I think this list of pregnancy books definitely helped us feel more confident as we started our path to parenthood.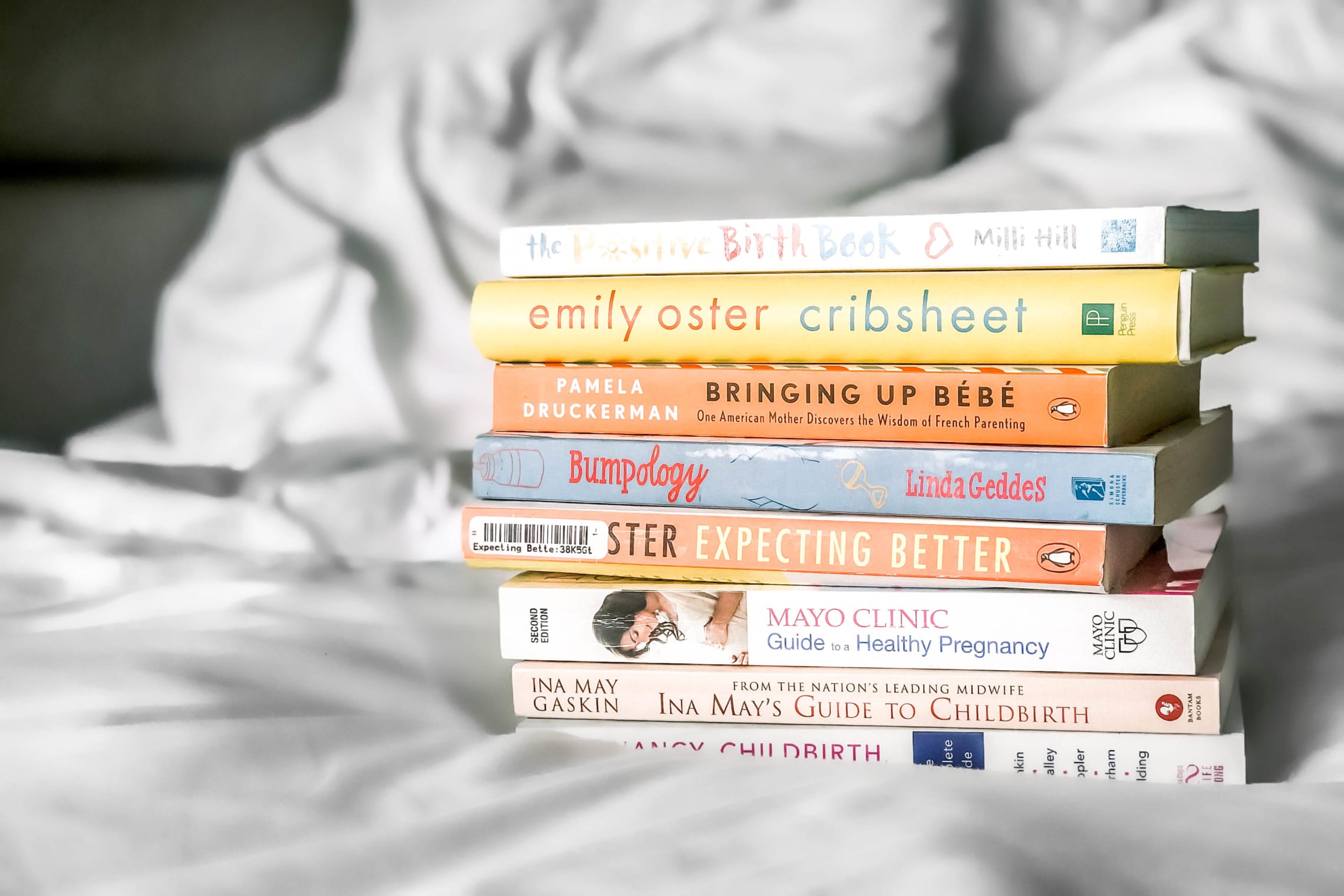 Pregnancy Books:
---
The Mama Natural Week-by-Week Guide to Pregnancy and Childbirth –  This was the first pregnancy book I bought.  I found it extremely helpful with week-by-week guidance for ridding our home of certain chemicals, practicing a healthy lifestyle, and much more.  While it does focus on going for a "natural" delivery, I still really enjoyed it knowing that I would go the epidural route.
Birth Partner 5th Edition: A Complete Guide to Childbirth for Dads, Partners, Doulas, and All Other Labor Companions – I bought this one for the hubby to read.  I wanted to make sure he had the knowledge to support me best during delivery and it was very detailed.  He liked it a lot and I could tell it made him feel more empowered and prepared for what he would see.
Bumpology: The Myth-Busting Pregnancy Book for Curious Parents-To-Be – Q & A format that also compares UK vs. US practices.  I didn't finish this but enjoyed the first few chapters I read.
Mayo Clinic Guide to a Healthy Pregnancy: 2nd Edition – This was a very straightforward book covering week-by-week breakdowns for each trimester on what to expect during your pregnancy for your growing baby. While it reminded me of something I would need to read in health class, the no-fluff approach made it was probably my favorite.
Cribsheet: A Data-Driven Guide to Better, More Relaxed Parenting, from Birth to Preschool – Great for those who want to make their own decisions based on stats.  It can get into the weeds, but if you're more inclined to appreciate knowing the numbers before making a decision, check this one out.
Expecting Better: Why the Conventional Pregnancy Wisdom Is Wrong–and What You Really Need to Know – Another stats driven book written by an economist.  Breaks down the numbers behind actual myths & old school advice. I didn't finish this book, but it did make me feel better in some choices that went against tradition.
---
A few more books that kept popping up as must-read pregnancy books so I ordered them but never got around to reading: 
Ina May's Guide to Childbirth "Updated With New Material"
Pregnancy, Childbirth, and the Newborn: The Complete Guide
The Positive Birth Book: A New Approach to Pregnancy, Birth and the Early Weeks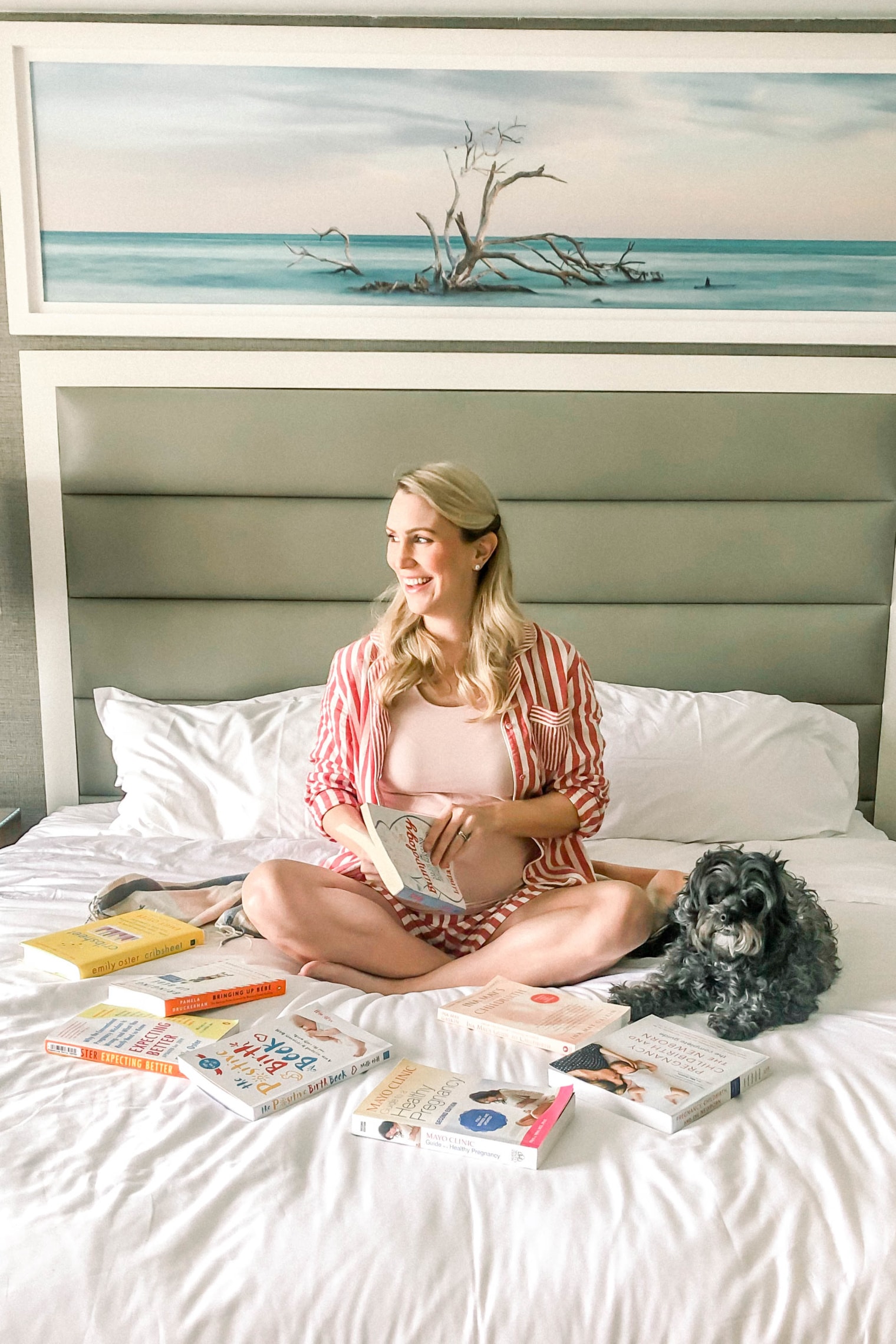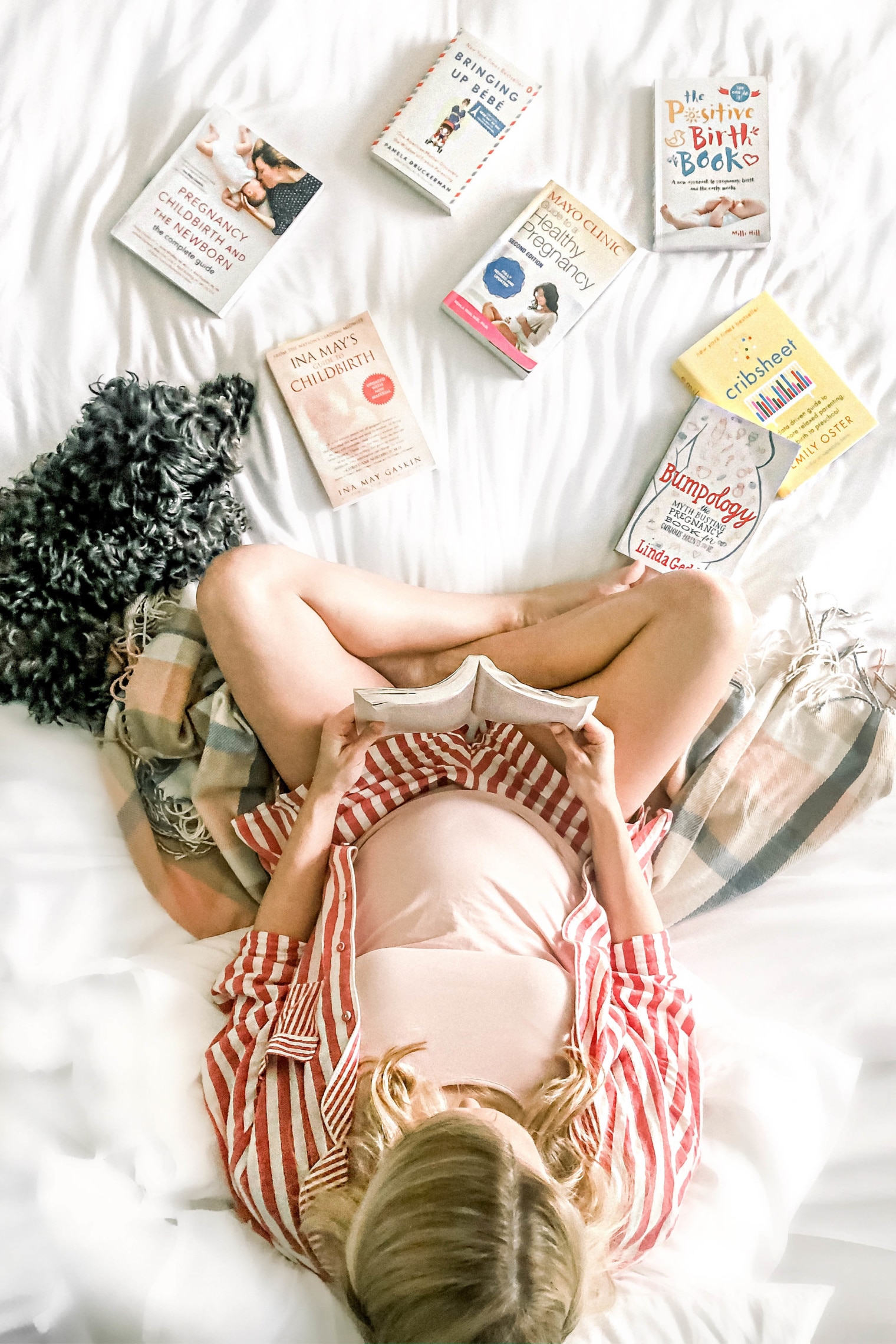 Additional New Mom Books:
---
Moms on Call Basic Baby Care  – This was written by two Atlanta nurses who have loads of great advice.  Several friends have followed their methods & schedules with great success. The hubby and I both started reading the 0-3 month book around 38-weeks… Let me just say that their swaddle method and schedules alone are worth it, but the books overall are great.
PS: This is the swaddle I purchased that's half the price of the official Mom's On Call swaddle and almost the same size.  It worked perfectly for us and I loved the design.  The fabric works so much better to stay tight than any other muslin blankets we bought too.
Bringing Up Bébé: One American Mother Discovers the Wisdom of French Parenting  – Lots of recommendations for this book came when I posted a story for book requests.  I'm still working on it though!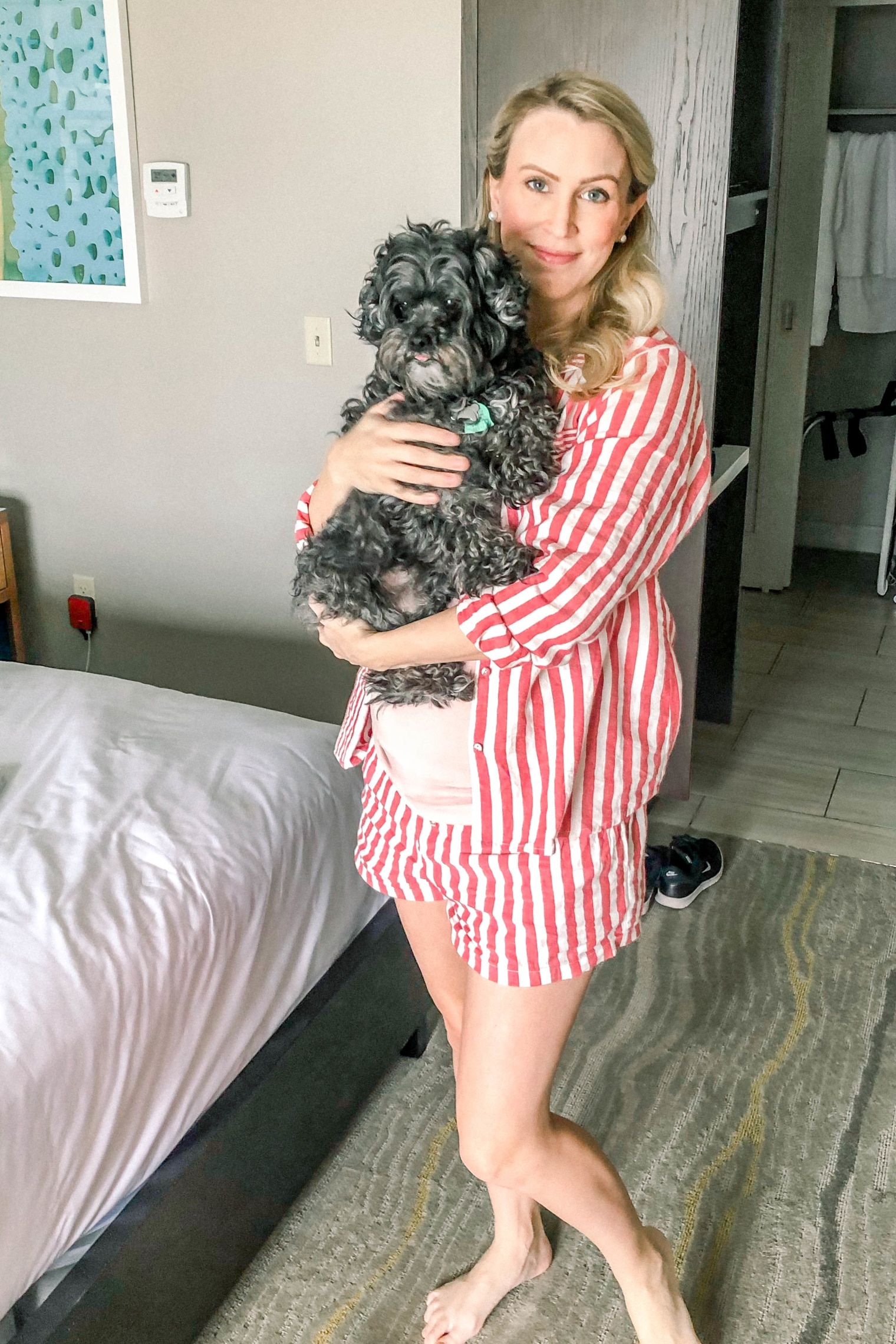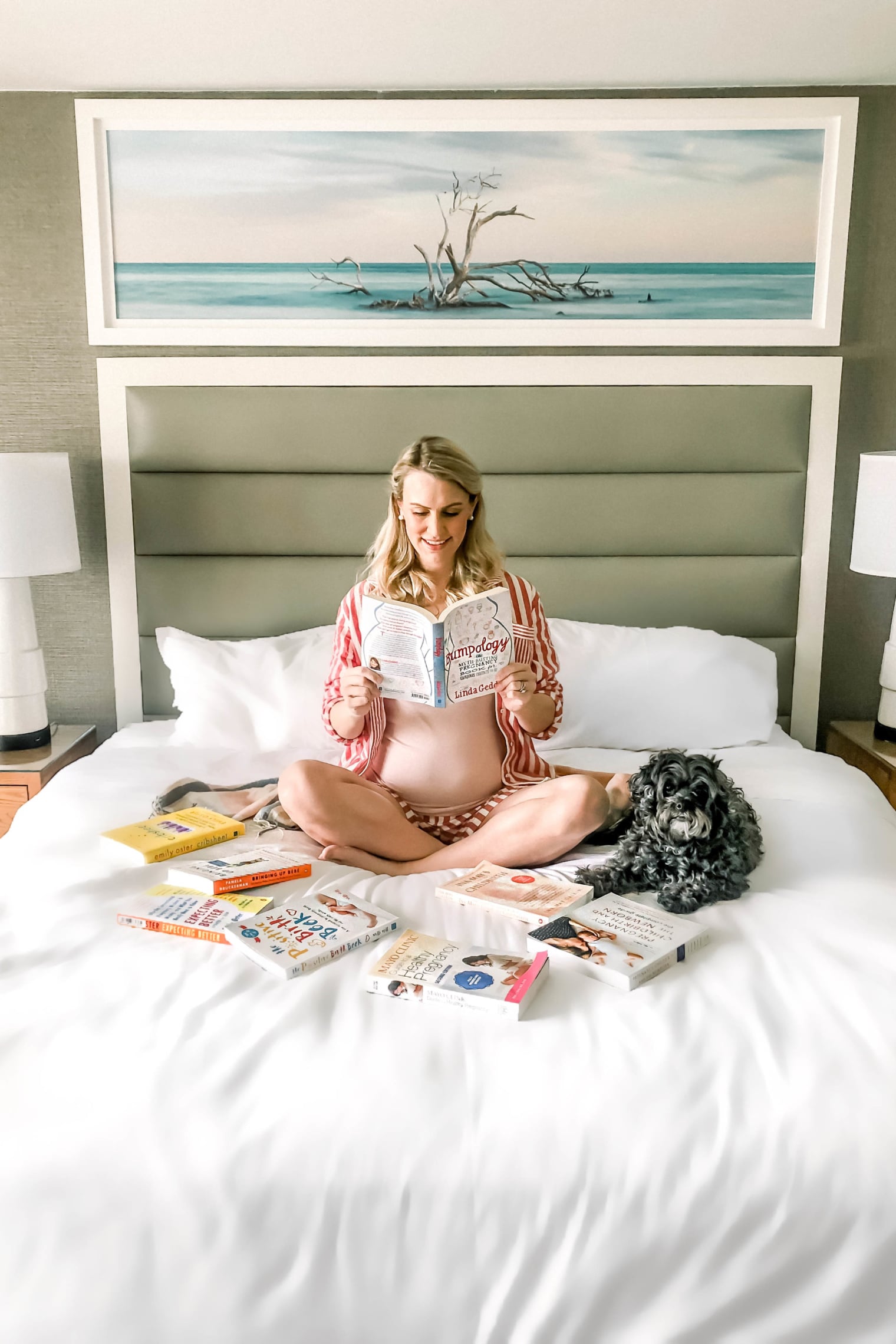 I hope this modern list of pregnancy books helps you with your new mama journey.  Since this is a living list, if you have any other books that need to be incorporated here, please leave your recommendations below!