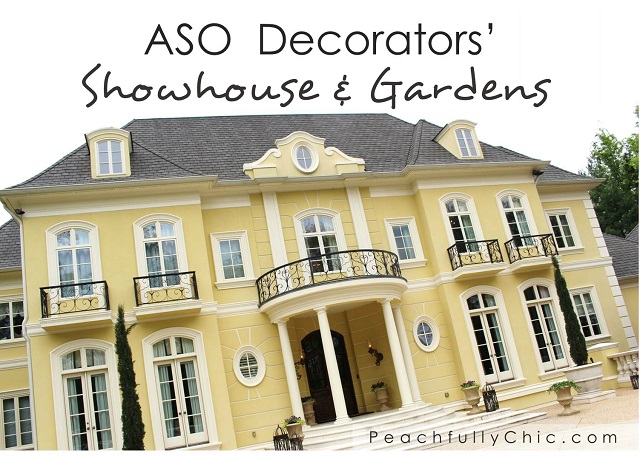 Interior Design Inspiration at It's Best:
The 2015 Decorators' Showhouse and Gardens "Château Soleil" opened last Friday in it's 45th consecutive year and I had the opportunity to attend media day last week to preview the designs within this 14,000 square foot estate.
Every year, the Atlanta Symphony Associates hosts the Decorators' Showhouse and Gardens to raise funds in support of the Atlanta Symphony Orchestra.  Each room, nook, and garden on the estate is assigned to a designer who is responsible renovating the space into a beautiful masterpiece.  After the complete makeover and transformation of the estate has been completed, patrons can purchase tickets to tour the estate and see all the creativity live in person!
So without further ado… I snapped a ton of photos to share with you below and hopefully inspire you to see the house yourself in person before it closes this year on May 10th!
One of my favorite rooms in the home was the front study designed by Parker Kennedy in bright cheerful colors.  It's the first room on your right as soon as you walk in… you won't miss it.  Co-founders, Lance Jackson & David Ecton, were in the room sharing their inspiration for the design when I first arrived, and they told me how they started with the beautiful custom wallpaper.
They used mostly vintage furniture except for a few Taylor Burke (all-American) made chairs, and lots of Robert Allen fabrics.  It's so neat to see designers use such bright pops of color in such a tasteful setting!  This is my kind of study!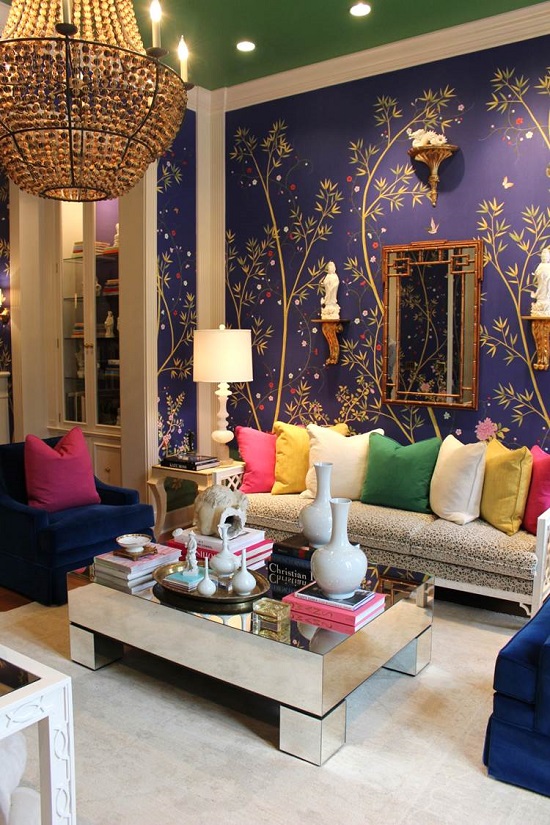 Parker Kennedy is known as "Preppy on the Edge" — How can you not just LOVE that!!!
This year, the Château Soleil estate is located off of Northside Drive in Atlanta (just outside of Buckhead), designed by renowned architect William T. Baker, and built in 1998 with six bedrooms, seven bathrooms, and four half baths.  Now that's a big home!
I can't even tell you how much I loved the entire home.  Every room had it's own unique flair and special touch from each of the designers.  Of course I came home immediately brainstorming on ways to may our new home that much more special… but I'll have to just admit that that's a work in progress – I mean, it's not like we have a huge estate or anything compared to this grandeur although I was trying to figure out if I could move into one of the rooms when no one was looking 😉
Below…. this was the Master bedroom on the main level.  Designed by Robert Brown, it was beautifully done with cream and neutrals, but in a warm inviting style that kind of made you want to curl up on the couch and read a good book.  The room was so fresh and airy, I was so inspired that I'm already planning a trip to visit Townhouse, which is Robert Brown's retail shop and design atelier and I can't wait!!!  Who wants to join me!?
The Master bedroom flowed into the "his" bathroom and closet.  It was such a tasteful yet masculine approach to giving him his own space.  His closet was incredible and designed by California Closets.
California Closets, Barbara Snook, told me they are quickly expanding in the Southeast (4th location in Atlanta is opening in Cobb County soon), so I'm looking forward to see what that brings for our market. I know my hubby would have loved this (even if he wouldn't admit it!).  Now I just need to figure out how to replicate this look in my master closet at home… it's actually not too far off in shape and size!
On the other side of the Master bedroom, you can find her bathroom and closet.  And talk about a perfect fit… I was in heaven.  It was designed by Danielle Rollins and Bill Ingram of Rollins Ingram – I absolutely love all of their work!
Not only did the bathroom come tricked out with a soaking tub that vibrated in sync with the music, but between the vanity, extensive walk-in closet and the fact that the color palette is white and navy… I'm swooning!
Then it was onto the dining room… talk about elegant.  WOW.
It was designed by Randy Korando and Dan Belman of Boxwoods.  Randy gave me the full back story on the home and told me that almost the entire estate's interior walls were covered with some version of canary sunflower yellow paint.  Ewww…. I'm just glad they sent some professionals in for the complete makeover.  Can you imagine!?!?  Over 14,000 Sq Ft of yellow walls???  I think something that bright might have hurt my eyes haha
But seriously, the dining room was the perfect balance of extravagance and comfort.  Once again, because so many blue hues were used in this room, it was definitely one of my favorites in the house.  The tablescape was already set and ready for me to entertain… you can't beat that!
Oh and that chandelier… such a beauty!
Jessica Bradley designed the Laundry & Pantry.
How cute is that little nook at the bottom with a bed just for pup!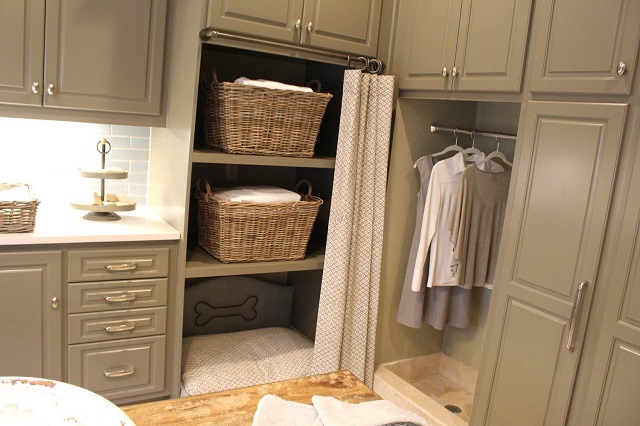 Vern Yip (yep, that's right the HGTV Design Star) designed the Breakfast and Family rooms and I'm still swooning over the gorgeous colors he chose to bring this space to life.
The walls in my home are eerily similar to what he used in these rooms…. I wonder if that's a sign that Vern should come over and redesign our new house?  Pretty please?? With sugar on top??? 😉
After spending most of my time inspecting every inch of thread and color that Vern used in the Family and Breakfast rooms, I was running short on time (it was my lunch break after all!), so I quickly jetted through the rest of the estate.
Patricia McLean designed this lovely little Guest Room 2 and Bath… She told me she started with the fabric as inspiration and I think it was a success!  The room was fresh and fun… just perfect for the spring!
Guest room 1 was designed by Bryan A. Kirkland and focused on bringing bringing a boutique hotel feeling into the home but still make it inviting.  I think it was a success!  The rich colors were really warming and I was tempted to just take a quick cat nap on that huge bed (loved the frame!) 😉  They called it the "Golden Bordeaux Boudoir" which I thought was just perfect.
I can't even tell you how darling the nursery was!  Kimberly Greg of Knotting Hill Interiors really pulled together a delicate balance of soft pastels without making the space look washed out.  I loved the clever little node to the Atlanta Symphony Orchestra as she repurposed a cello into a floor lamp and she pulled in some personal touches to give it a really intimate feeling.
A few other shots I grabbed of the estate….  Trust me, there's so much that I didn't even include in this recap – Can you believe it!  You won't be disappointed to spend the $30 on a ticket and tour this estate if you enjoy beautiful things.
Melanie Turner designed the Guest bed and bath on the main level.  This was my last stop before heading outside and it was definitely worth the wait!
I thought it was such a neat concept that she told me that she actually kept the original blue and white toile wallpaper in the room, and showcased how you can actually pull in other design elements and make something old beautiful again!  But my favorite piece in the room was this refurbished console she found at a thrift store and then added new life to it with a custom malachite top.  The emerald really pops throughout the room with that lush velvet drapery and that console table top.
And of course Frontgate was present with some beautiful outdoor living pieces.  I honestly can't ever seem to get enough of their ideas on how to really jazz up an outdoor space and make it a family room… like this extra wide covered seating and table.  And for those new homeowners on a budget like us, you should check out the outlet section of Frontgate.  There's even a brick and mortar location just 15 minutes north of Atlanta that I LOVE to frequent!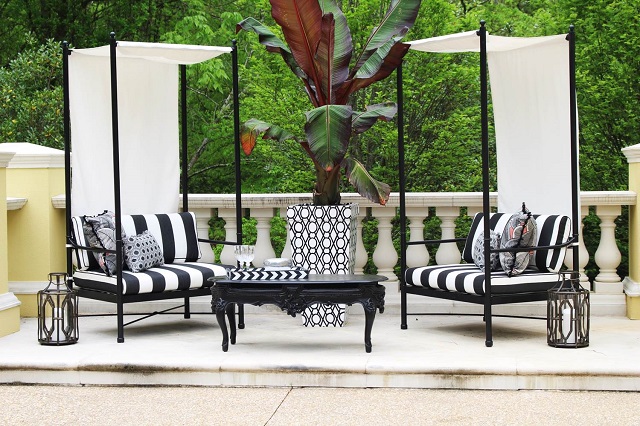 If you're interested in seeing the 2015 Decorators' Showhouse and Gardens in person (which I highly recommend – it will truly blow your mind!), then you have until May 10th and you can find out about purchasing tickets here.
And here's a recap breaking down of EVERY section of the estate matched with all the designers.  I'm definitely missing more than a few… so this is a great resource if you are looking for a designer or just more inspiration!
If you make it over, keep an eye out for various sunbursts that artists tied back into the name, "Château Soleil", and various nodes to music for the ASO.  Don't forget to tag me @allisoncawley to let me know how much you love it!!!! 😉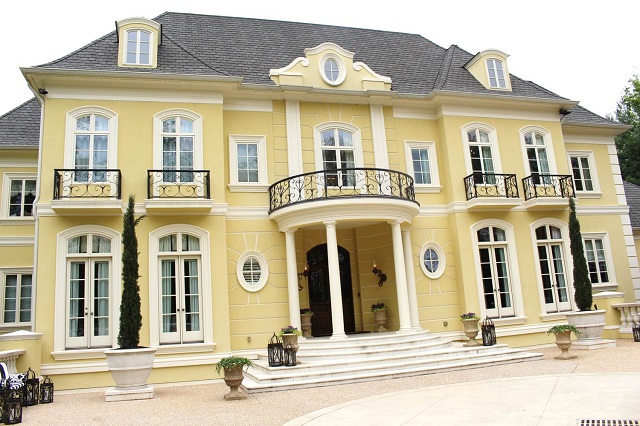 If you end up making it over to the estate, let me know what you think!
And if not, hopefully the photos I shared above will inspire you to create some design magic in your own home!!