Networking in the Blogger Community:
I was nominated for my first Liebster Award from Ali over at Thirty and a Half and I'm so excited to join the ranks of many other bloggers who have already participated in this tradition!  I know there are a few different awards flying around… but Ali reached out and I couldn't resist following along and answering her questions 🙂
The purpose of the Liebster Award is to help discover new bloggers, and is given to bloggers by other bloggers… so let's get started!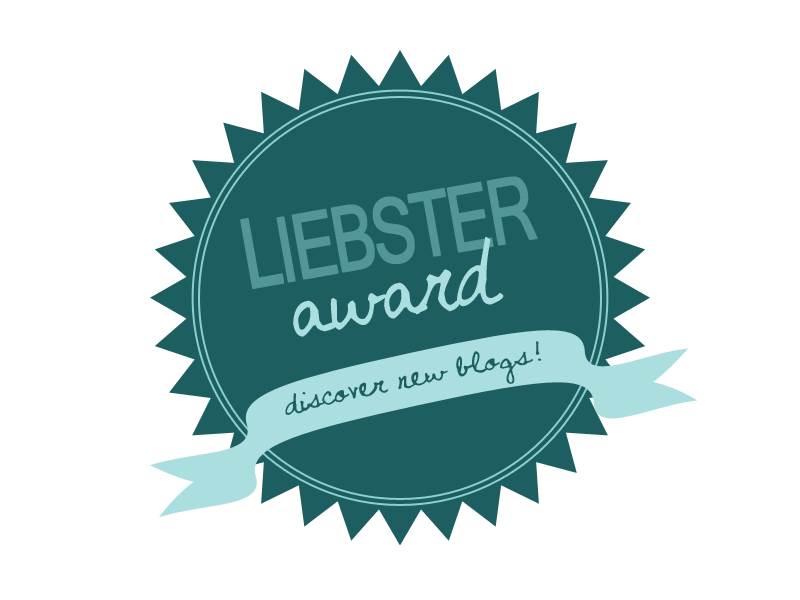 The Rules For This Award Are:
Answer the 11 questions that the person that nominated you gave you
List 11 facts about yourself
Name 11 bloggers to nominate for the Liebster Award that have under 200 followers (I'm basing this on Bloglovin but not exactly staying under 200 followers – give or take a few that I still wanted to share with you!)
Give your nominees 11 questions to answer
[line]
My Questions to Answer From Ali @  Thirty and a Half:
Why did you decide to start blogging?

  I started blogging last spring because I always found helpful tips and inspiration for fun DIY projects on other blogs… since I was planning our wedding, I wanted to share our all our wedding planning projects (still a work in progress getting all of these posted!) and other inspiring things that help me build a more positive life!

What is the meaning behind your blog?

 My husband actually helped me come up with the name.  I told him the idea that I wanted to portray with this new lifestyle blog, and kept brainstorming different buzz words that had a feeling of being light, fun, and happy.  I've always loved the idea of combining words to create something new, especially "cheerfully" with other words. Since I'm from Georgia, I thought it might be fun to include "peach" in the name given the natural connection.  So Kevin actually suggested that I combine "peach" with the tail end of "cheerfully" to make PEACHFULLY and then he tacked on CHIC, since he said I remind him of that.  After weeks of brainstorming and not really having an 'ah-ha moment' I was ecstatic to hear Kevin's suggestion and immediately I knew it was perfect fit for what I wanted people to feel about my blog by just reading the name!

What do you do for fun?

  I play on a co-ed softball team with a lot of great people and when I have time, I love playing golf too.  Traveling is one of my favorite things to do… now to just find some more time and money to do so!  As you can see from my posts, I'm a huge fan of all things DIY, so the more creativity I can explore the better!   

What is your favorite movie or TV show? 

That's a tough one… I've got too many to go through them all, but here's a sampling of some of my favorite movies:  Pride & Prejudice, For Love of the Game, Cool Hand Luke, Dirty Dancing, A League of Their Own, The Holiday, Stepbrothers, The Departed, The Great Gatsby (both new & original)…. among others!

Who is the person that inspires you the most?

 I would have to say that's two people… my father's parents inspire me the most. My grandparents have always been a rock for our family and have always been there for me. They are the most unconditionally loving and selfless people that I have ever known.

Who is your celebrity crush?

 There's a lot of really hot young new celebs that are probably much closer to my age, and it may be that "old soul" that I've been told that I have, but I'm going to have to say it's a tie between a few of them: Kevin Costner, Gabriel Macht, Jim Caviezal, a young Paul Newman (his eyes – I die!), or a young Robert Redford – is that weird?  Ok, I'll throw in Nacho Figueras for good measure!  I think part of the attraction is that beyond their studly appearance, I would watch any movie starring these men (even if it's a bad one) and be totally content!  And even though Gabriel Macht doesn't really shine too brightly in any of his early work… I was sold when this power yielding debonair stud dominated the small screen as Harvey Specter in USA's Suits – I'm a sucker for a confident well dressed guy in a dapper suit!   Plus, I'm totally fangirling on Anna Kendrick right now – she's so incredibly talented!!!!  I can't wait for PP2  😀

Do you prefer Apple or PC/Android?

  Apple

What is your favorite holiday and why?

 I love hot summer days under the sun, so I would have to say Independence Day; but Halloween (for the costumes) and Christmas (for celebrations with family, snuggling, & decorations) come in a close tie for second.

What is your dream vacation? 

 My dream vacation would probably to spend a life of non-stop travel hitting as many countries in the world as possible.  For a somewhat more realistic dream vacation I really want to spend some time traveling more in France, Italy, and then down all around the Mediterranean.

What is the best blogging advice you have received?

 Get to know other bloggers… there's a big support system out there that's built into the blogging community – there are a lot of great bloggers that are more than willing to share their blogging experiences to help you make the most out of yours!

When do you start decorating/preparing for Christmas?

 Normally, I'm good with pulling out the Christmas decorations a few days after Thanksgiving… I don't have any specific timeframe, but Kevin would probably want us to pull them out Thanksgiving night if I were up for it!  Since we'll be moving into our new house in two weeks and then to Augusta for Christmas and Boston for New Years, I'm not even sure if we'll be pulling out all the decorations this year!  This will be a game time decision once we're in our new house! 
[line]
11 Facts About Me!
I have an adorable salty Peek-a-Poo, named Berkeley.
Prior to playing softball, soccer, and golf in high school, I competed in gymnastics and archery tournaments growing up – That's right, I was shooting in Cabela's tournaments before Katniss ever made it cool  😉
I moved to Istanbul, Turkey for 9 months after graduating from GA Tech to work as an Au Pair.
I didn't walk at my GT graduation because I was already in Turkey!
 I've been skydiving.
I get serious motion sickness very easily – No road trip novels for me!
I'm IAB Digital Media Sales certified… aka I have a black belt in digital advertising.
I can have Pride & Prejudice playing in the background on repeat all day everyday.
I married the love of my life on August 31, 2014 in picturesque Mt. Pleasant, SC (yippee!!!)
I have an unhealthy amount of love for queso and sour cream.
I'm so excited to have finally decided to move forward and share my heart with you all through this blog!
[line]
Part 2 of My Nomination… I'll Nominate These 11 Lovelies:
[line]
And 11 Questions for My Nominees:
Why did you start blogging?
What's the story behind how you came up with your blog name?
What current artist & album are you in love with at the moment?
If you could have dinner with anyone (living or deceased) who would that be?
What are your favorite words of wisdom to live by?
What's the best "splurge" item you've ever purchased?
What are your top 3 favorite blogs?
What's the best blogging advice you've been given? The worst?
What's your favorite post that you've written?
Are you a party thrower, goer, or avoider?
If you could keep only one thing out of all your worldly belongings, what would it be?
I look forward to reading your answers! 🙂