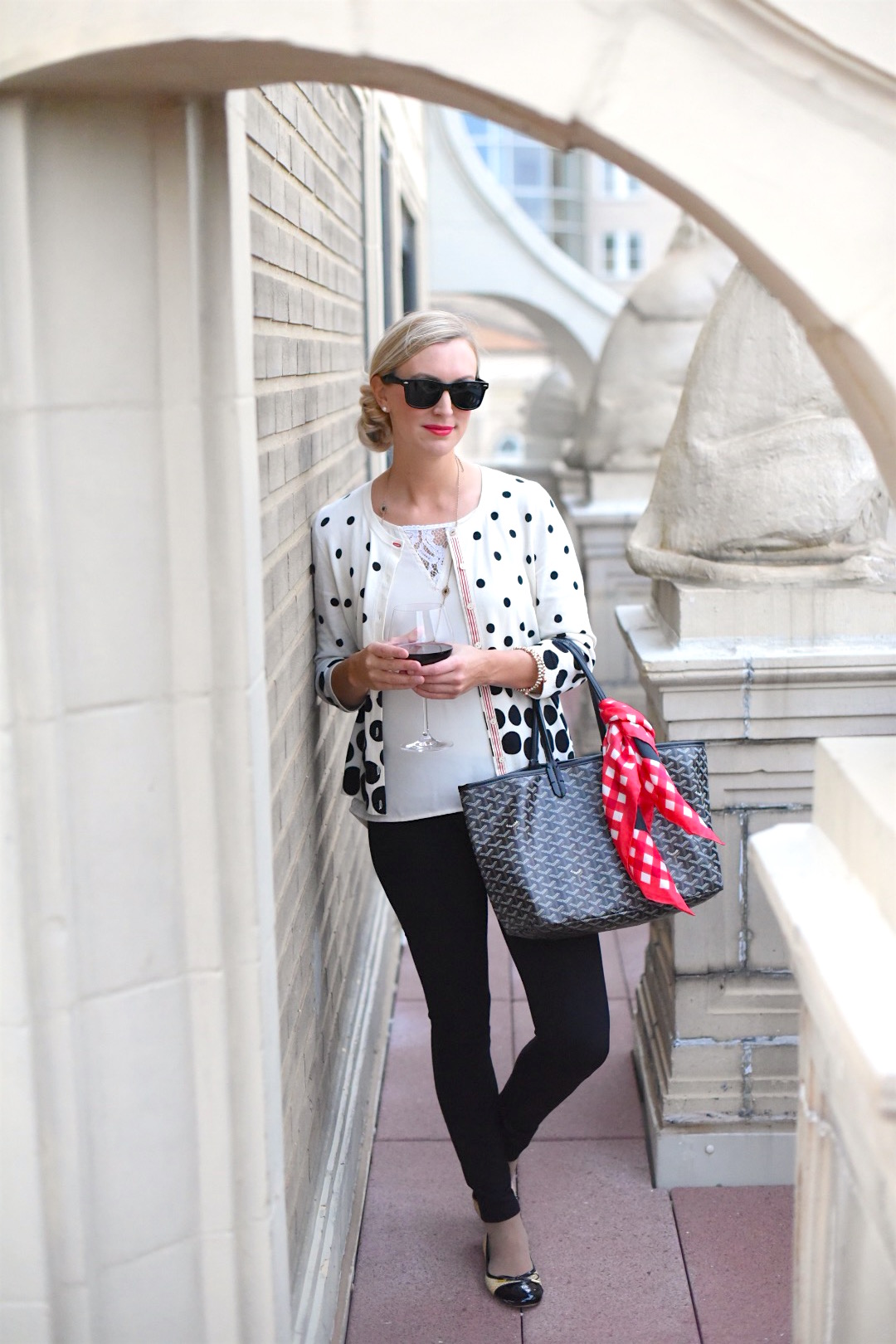 Polka Dots, Confidence, & Pops of Red:
There's nothing more attractive to me than confidence.  And while I believe that starts from within, it doesn't hurt to have a killer look to boost that confidence even more.  In fact, that's why I'm so impressed with Talbots' new O, The Oprah Magazine for Talbots Capsule Collection that benefits Dress for Success, an international not-for profit organization that empowers women to achieve economic independence by providing a network of support, professional attire and career development tools to help women thrive in work and in life.  In stores through April 3, the 7-piece limited edition collection contributes 30% of net proceeds to Dress for Success and features the most darling black, white and red pieces like my polka-dotted cardigan and the beautiful floral and gingham silk scarf I tied to my tote below.
Beyond grabbing yourself a mentor who can guide you through personal and professional development, there are some tips I follow when dressing for success in the workplace.
5 Tips on Dressing for Success:
---
1. Invest in a Steamer.
If your outfit is riddled with wrinkles, you automatically lose some of your swag.  I have both a full sized steamer and a small travel steamer which are essential to any woman's wardrobe. I like steamers better than irons because you don't run the risk of ruining your clothes if the setting is too hot like you might with an iron.
2. Discover Your Colors.
Some people gravitate to a specific color scheme because they know it compliments their skin tone or hair and eye coloring.  Figure out what works best for you.  The more you can stay in line with purchasing pieces for your wardrobe that align with a specific color palette, the more choices you'll have for mixing and matching for even more looks.
3.  Don't forget your hair.
Sometimes people might not think of their hair & makeup as part of a "look" but nothing brings that polished look down than having a crazy hair day.  Even if you don't have time to dry, curl, or straighten your hair to perfection, there are plenty of easy online tutorials that will show you how to throw quick & beautiful hairstyles together.  My go-to hairstyle on-the-go is a low chignon that makes me feel polished and chic – even if I didn't have time to wash my hair that morning!
4. Quality Over Quantity.
If you've read any of my other posts, you're probably already familiar with my passion for quality over quantity.  While that goes for all things in life, my attire is top of the list.  Don't get me wrong, I'm all about finding a great deal or shopping trends at a lower price point (why spend a ton of money on something that will be out of style next season!?); however, I would rather buy a few less $10 tank tops that might make it through the summer if that meant I could purchase another pair of Tori Burch ballet flats instead.  Quality pieces will last you as long as you take care of them properly.
5. Love & Care.
Along the lines of quality pieces, you must take care of the clothes that you've invested in by reading their laundry labels and following them!  Some items truly are dry clean only, but I wash most clothes in the machine and then hang everything to air dry.  This is perfect because it's not fading or shrinking your clothes in the dryer, and instead making sure your investment lasts!