It's time for a little hocus pocus now that we've reached the month of October.  I've always loved Halloween and there's no shortage of spooky decor on this blog like the DIY large eyeballs or the carnEVIL themed party, but I thought I would change things up a bit this year and share some pastel Halloween ideas and inspiration.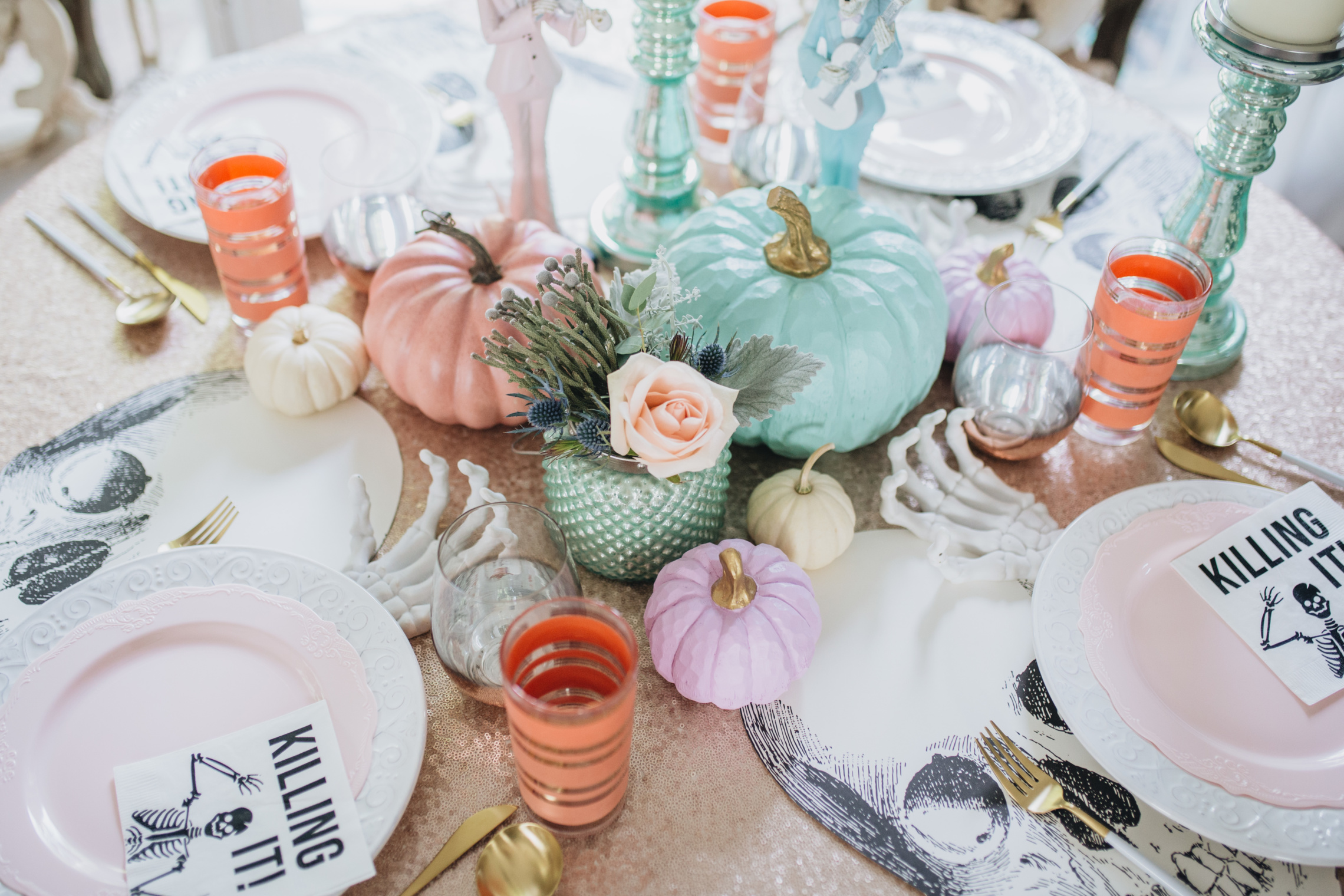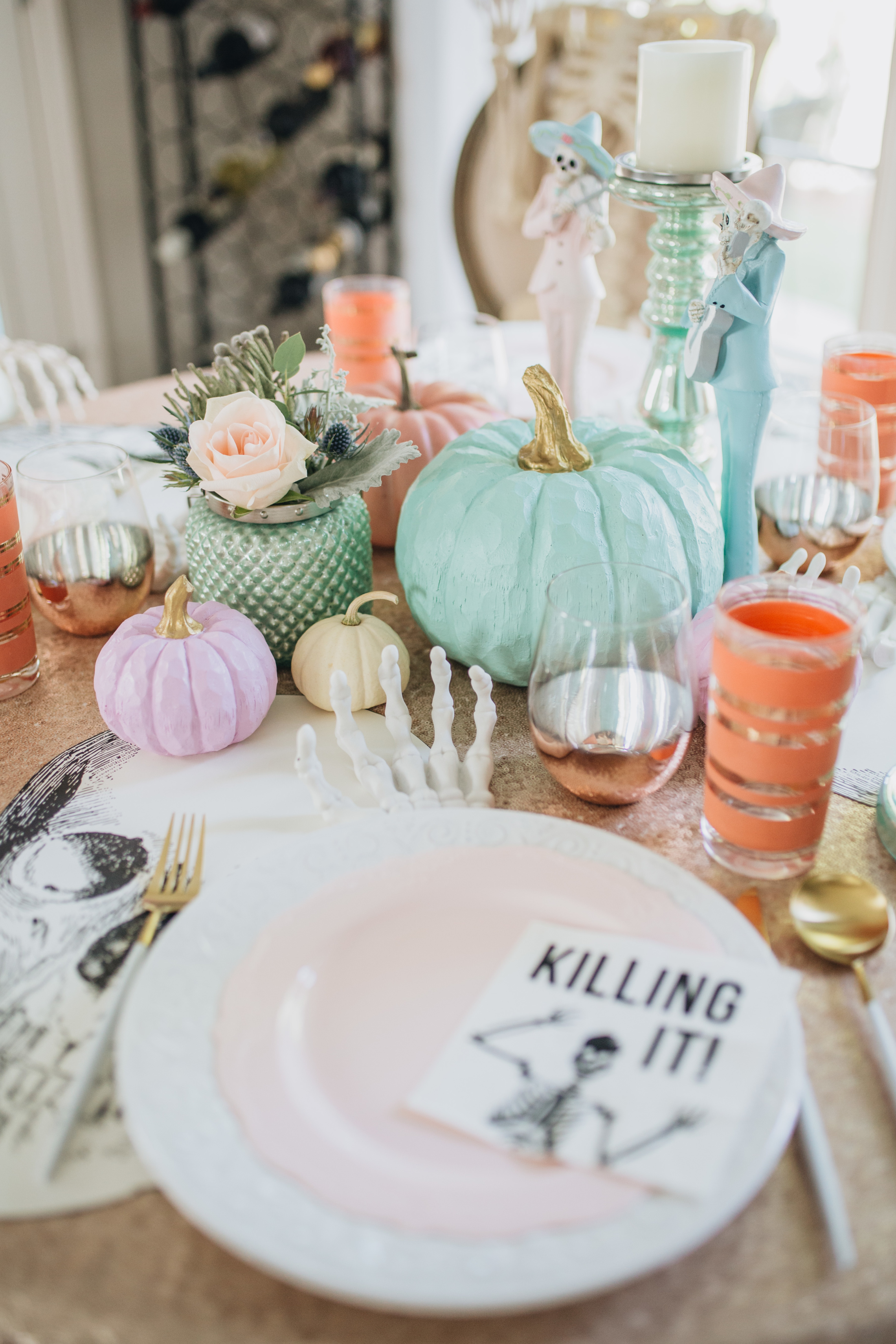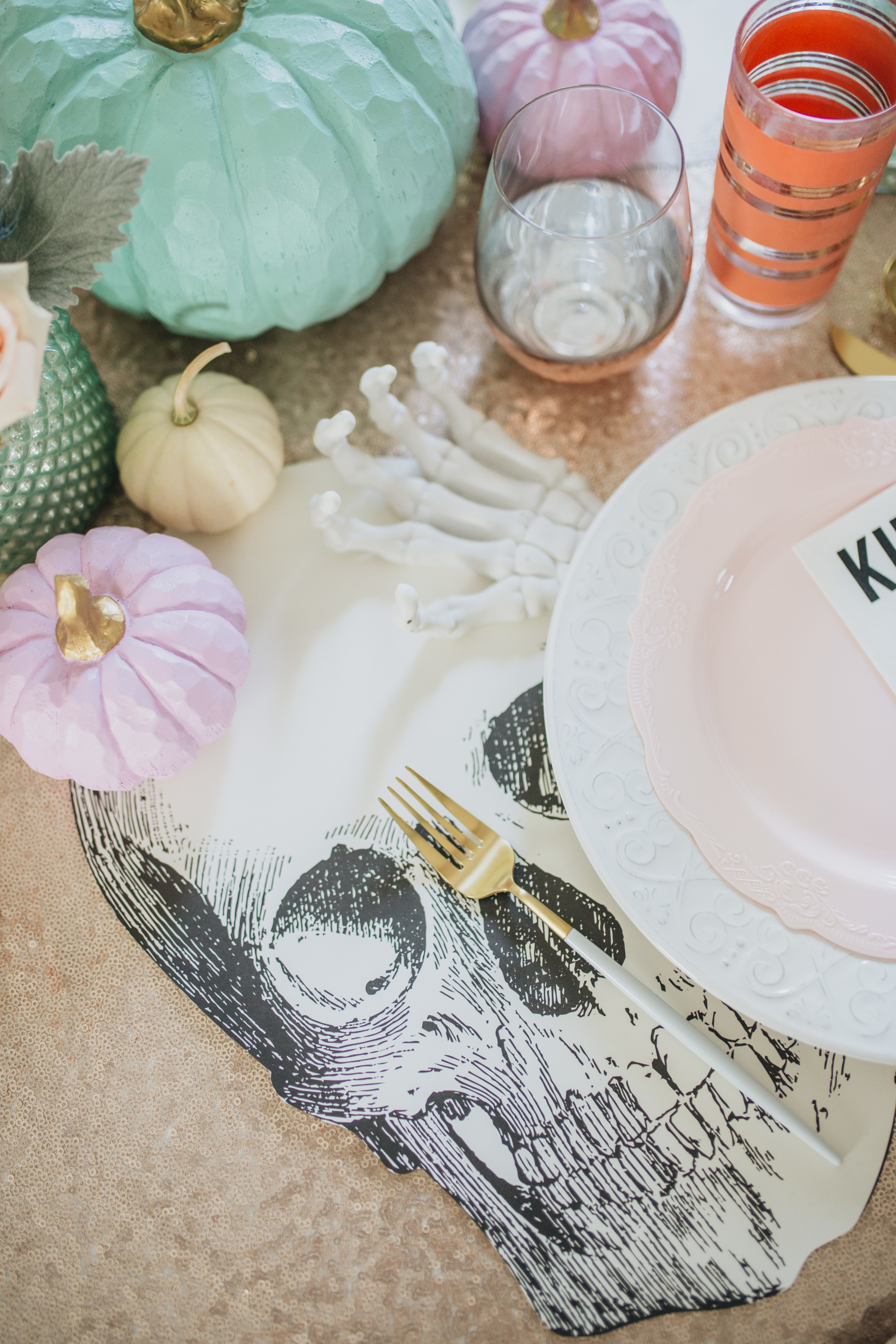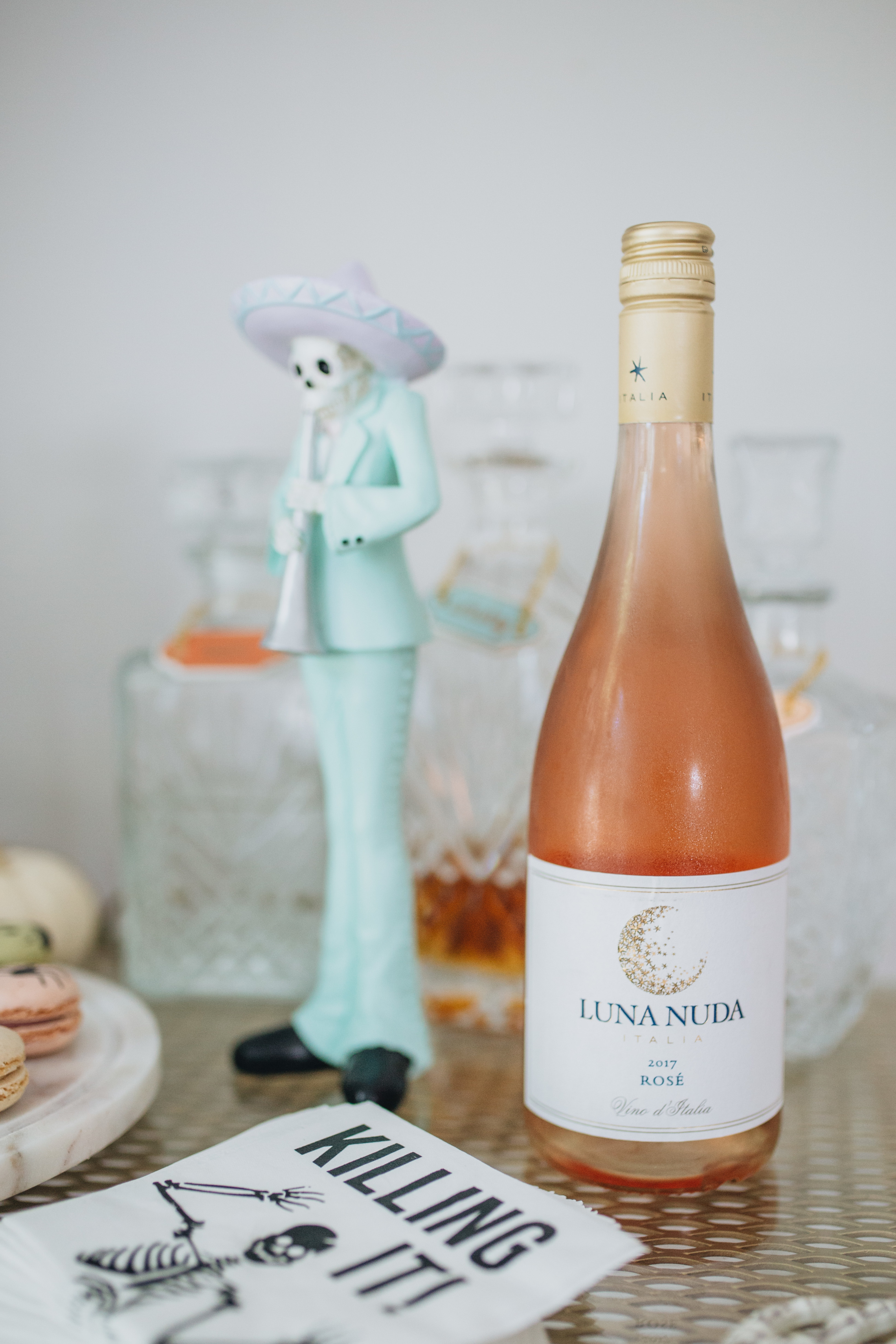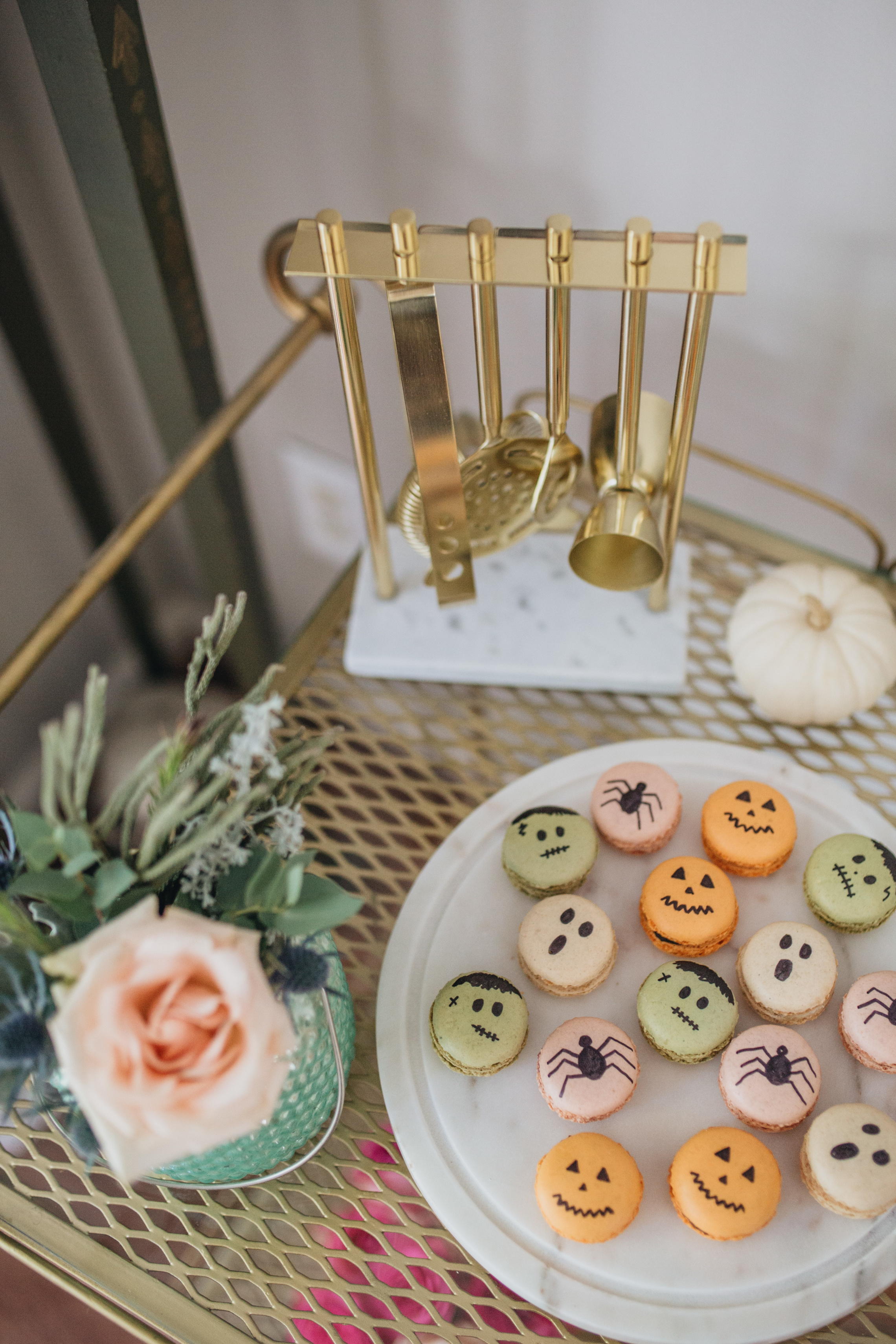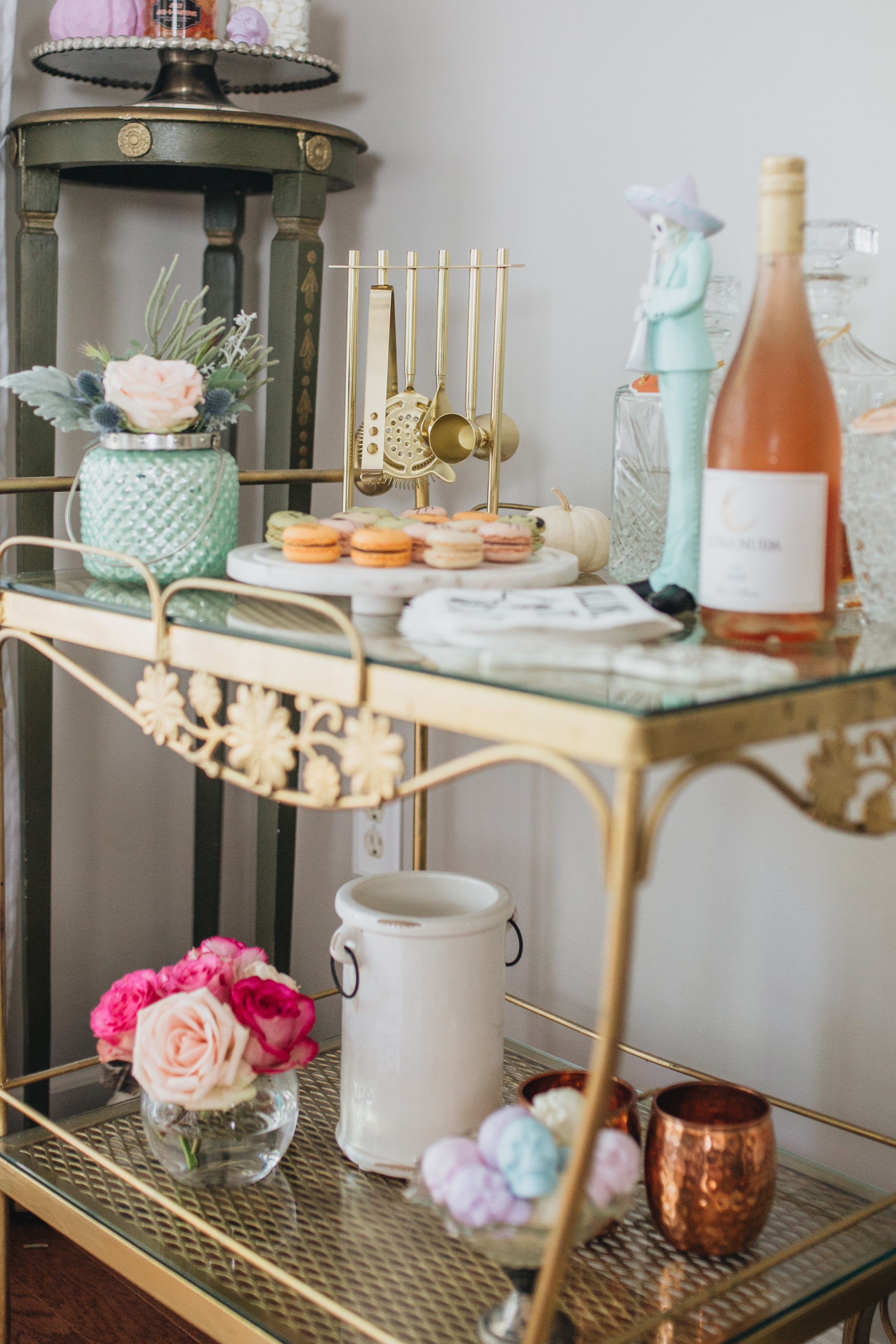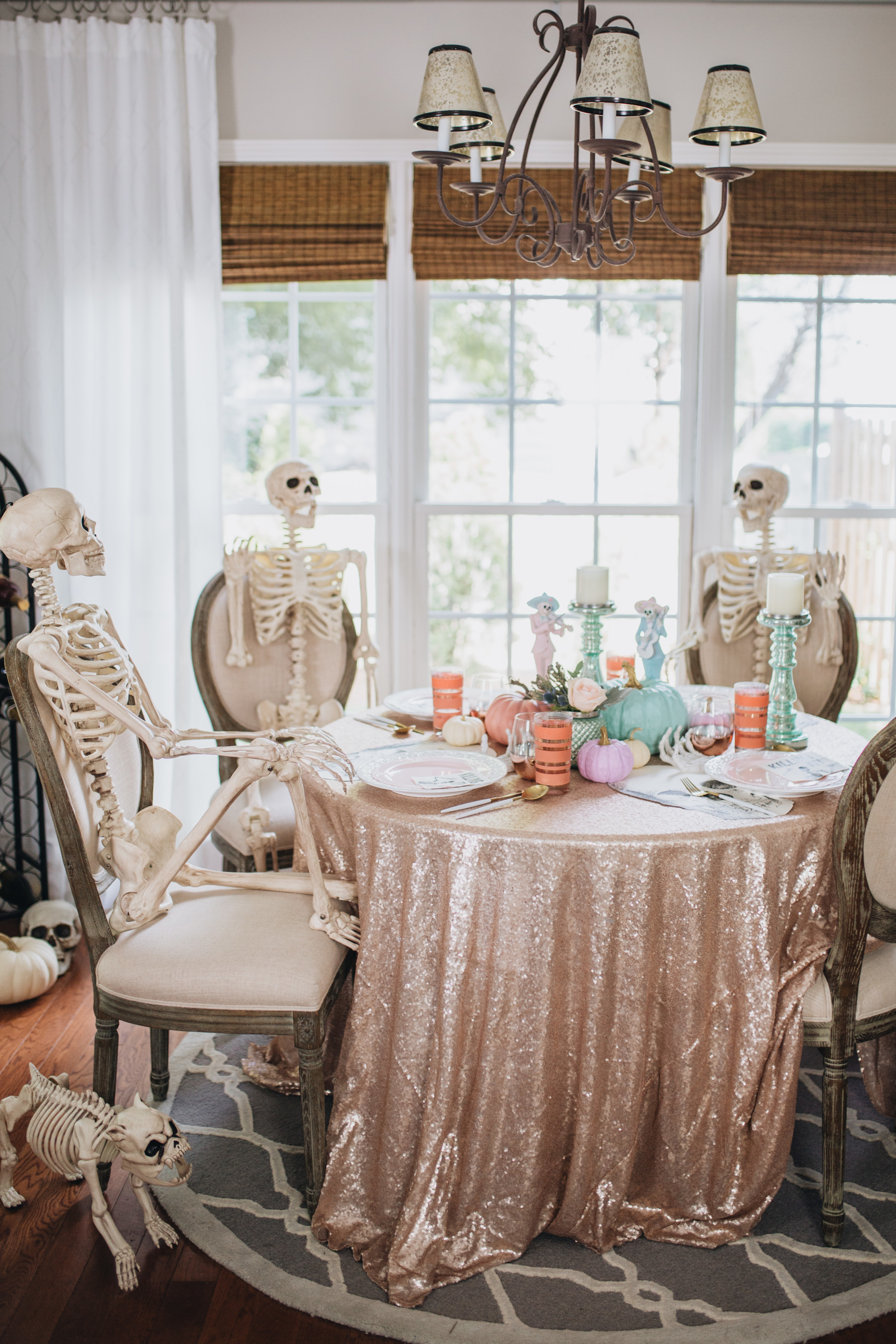 Sequin Tablecloth:
I decided the perfect place to start decorating for a pastel Halloween would be with a rose sequined tablecloth.  It's the same tablecloth that I used at our wedding reception.  I don't often have the opportunity to use this sparkling linen so I was thrilled to break it out and put a little twist on Halloween.
Pastel Pumpkins:
It's not Halloween without pumpkins.  So it's only natural to make sure we had a mix of pink, purple, turquoise and white pumpkins to decorate with.  I waited until the white "ghost" hit the pumpkin patch and decided to supplement them with a few pastel-colored pumpkins that I picked up from At Home.
Two-toned Flatware:
A favorite in my hostessing arsenal is the two-toned gold and white flatware set that will be making several appearances this holiday season.  Their unique contrast provides a simple added touch of interest to the table setting.
Skull Placemats:
A simple and easy way to add custom-holiday decor to any tablescape is by leveraging paper placemats like these Die-Cut Skull Paper Placemats from Swoozies.  Using paper placemats is a quick and inexpensive option to add a specific touch to each place setting.  You can pick up a pack for each holiday and keep them on hand for any impromptu shindigs you might want to host on the spur of the moment.  I'm particularly looking forward to using the other holiday paper placemats from Swoozies throughout this holiday season.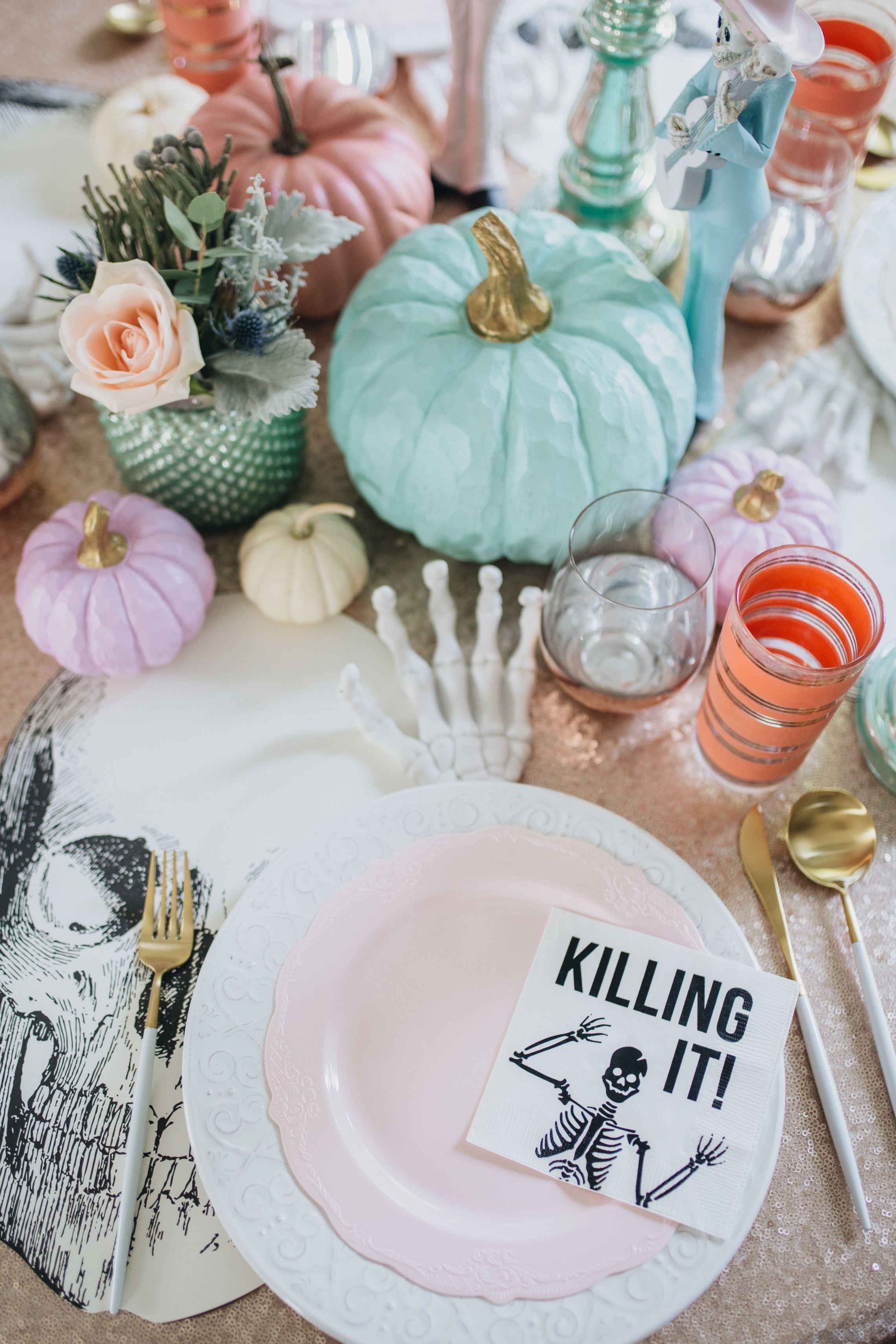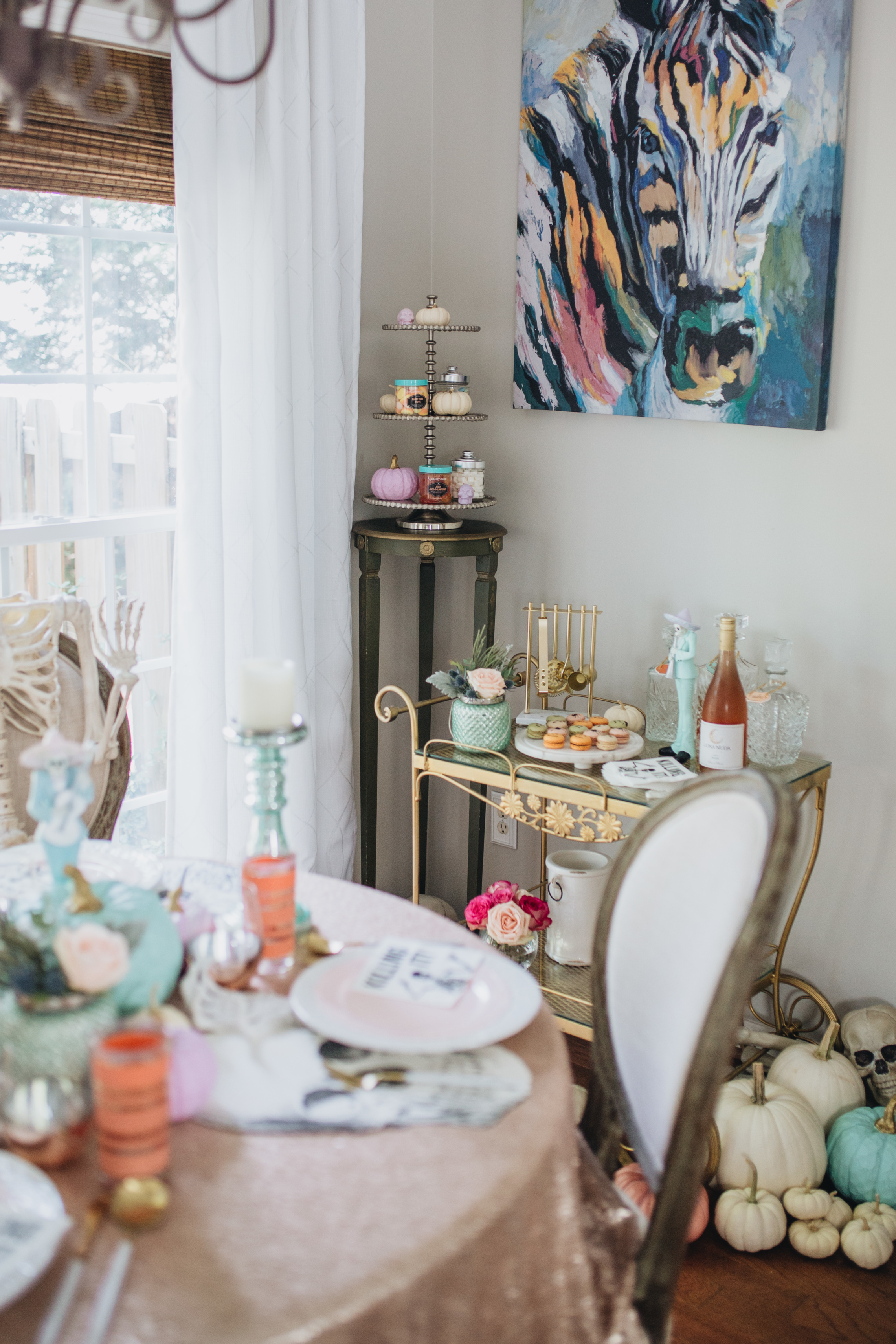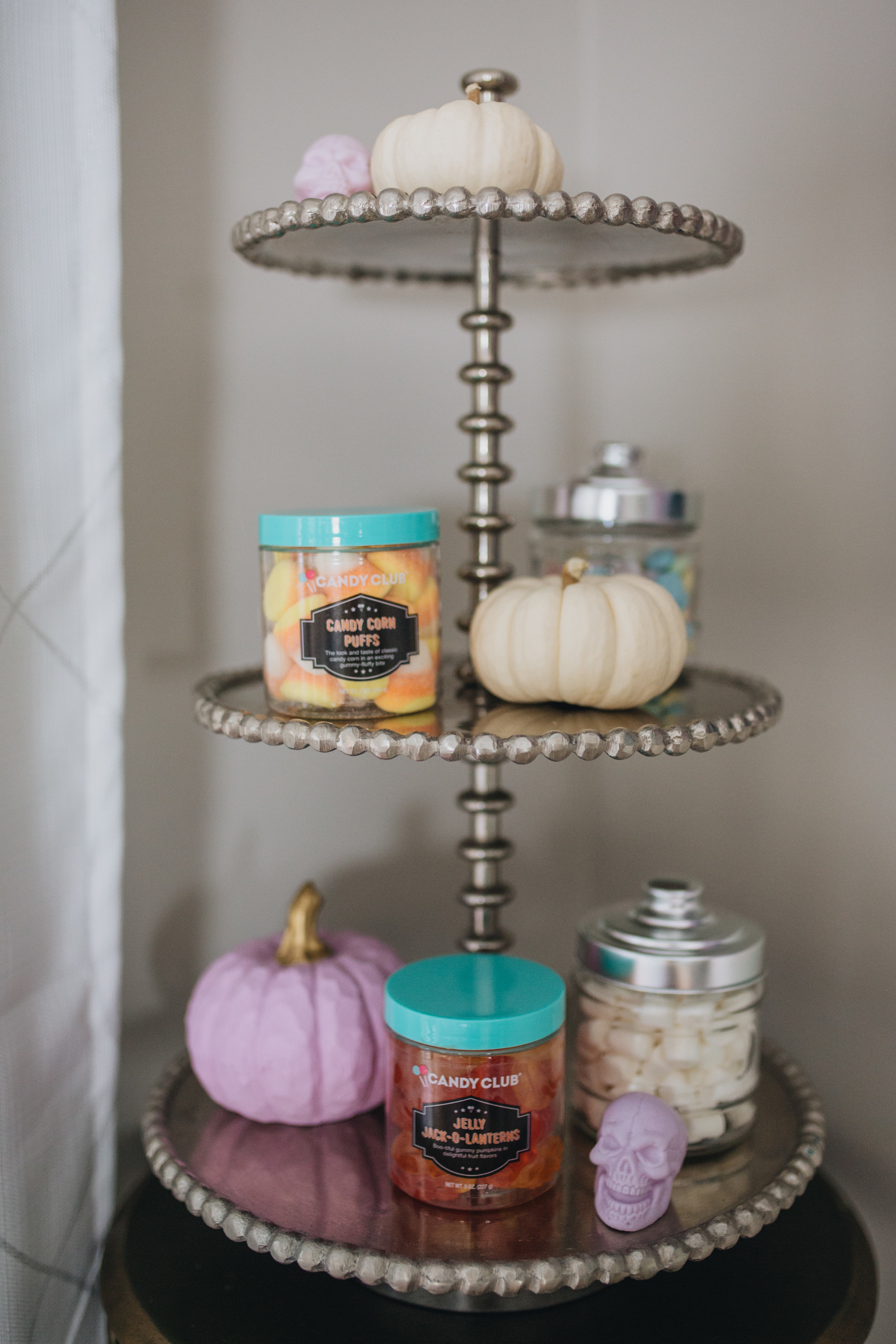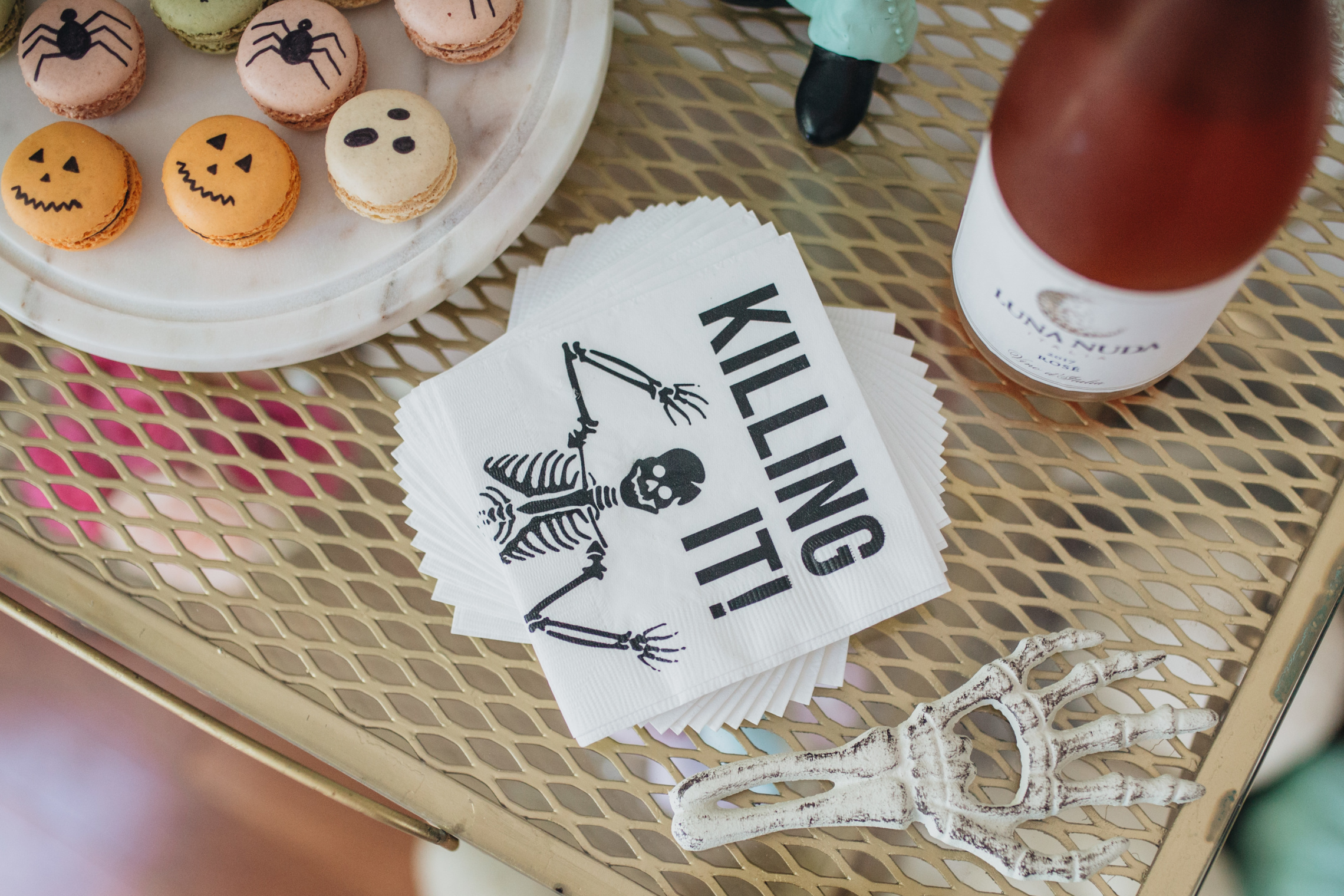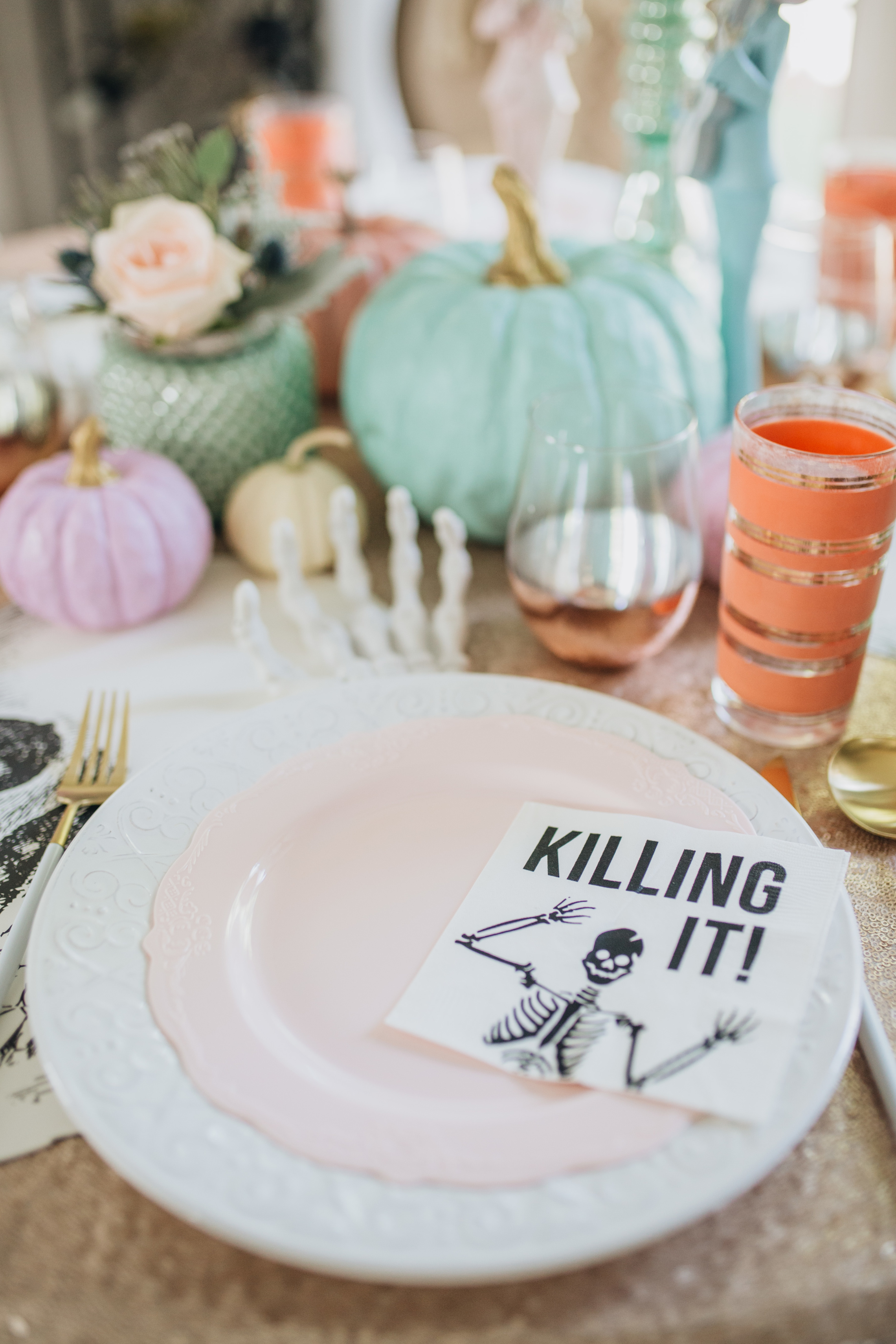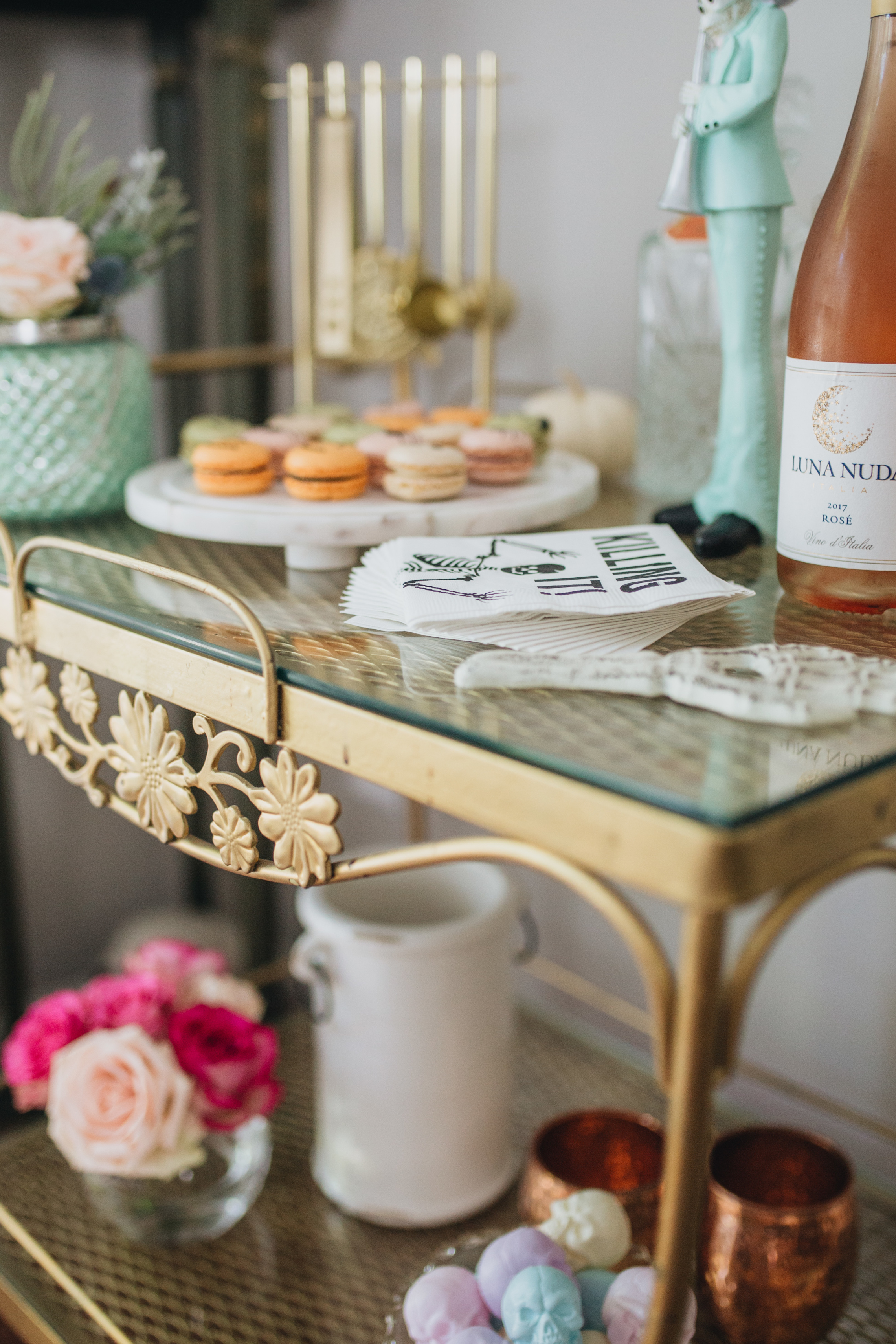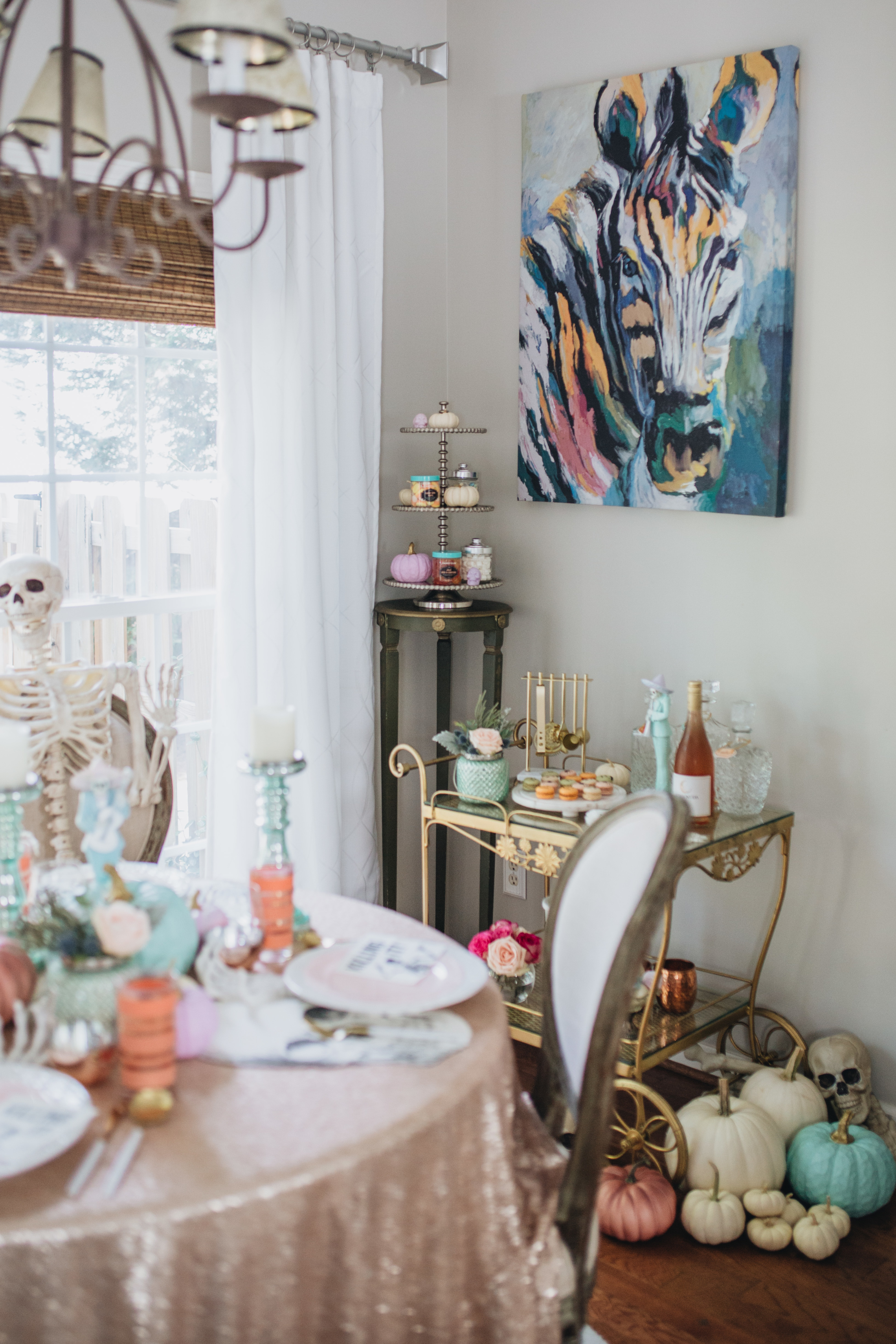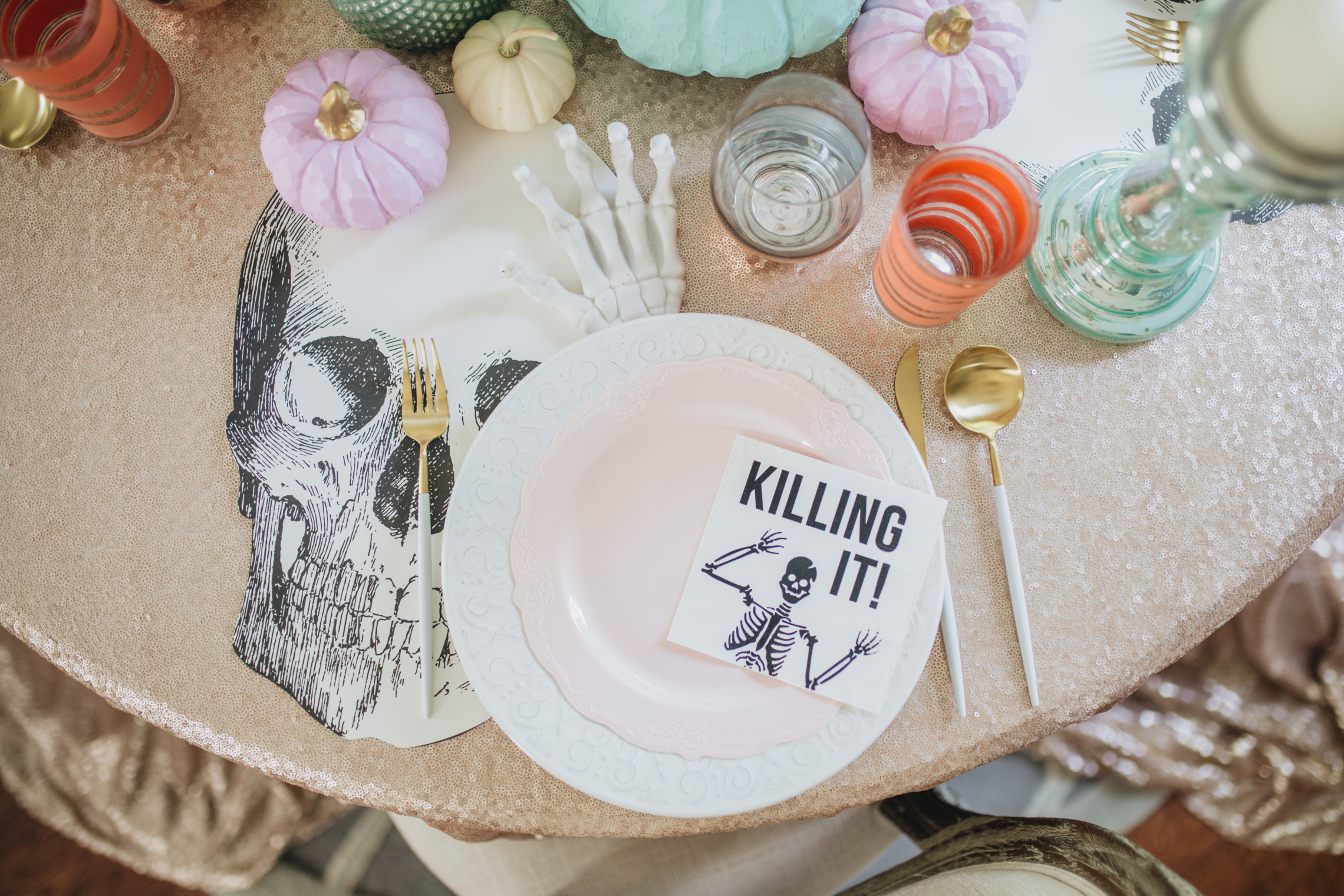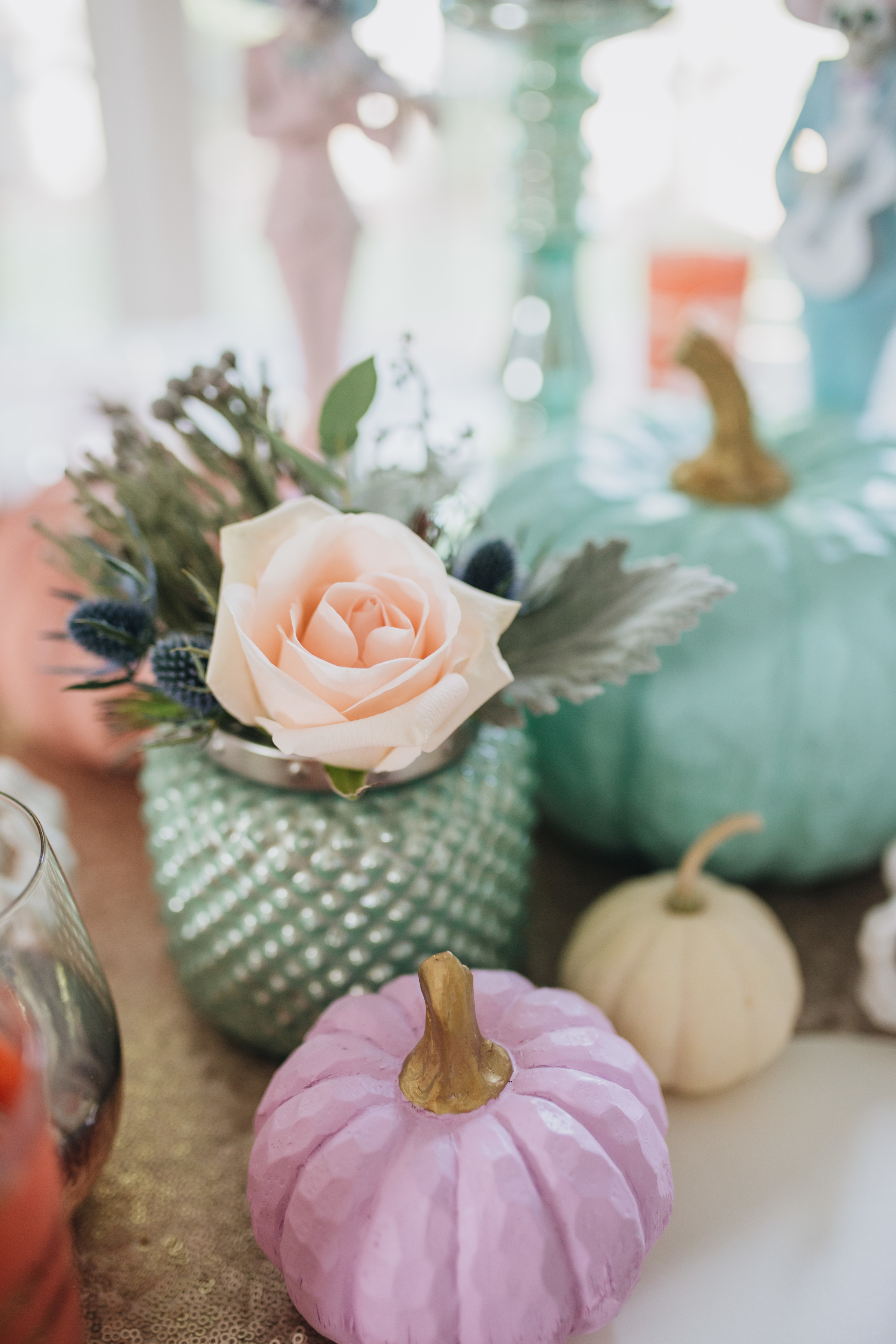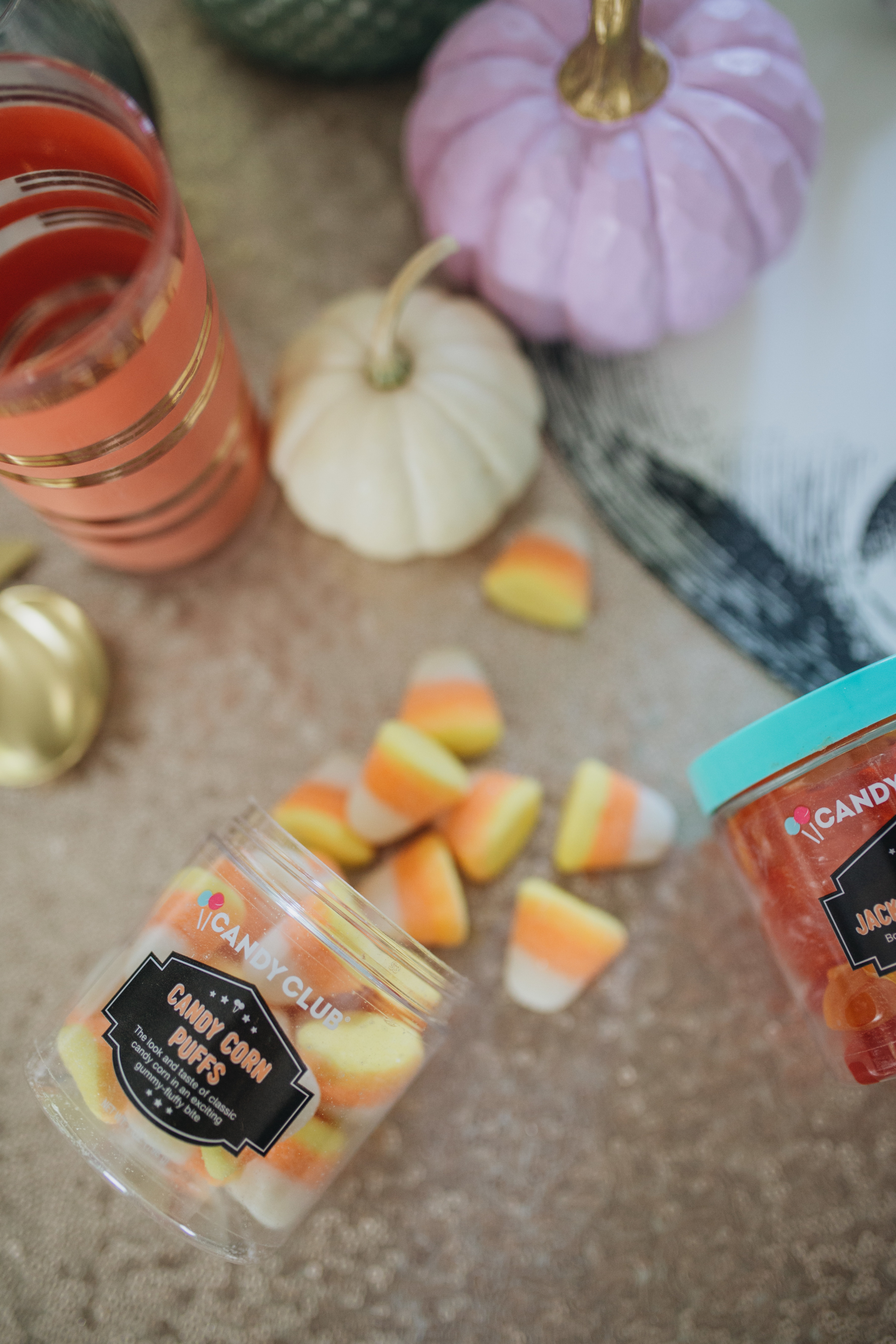 Floral Arrangements:
The obvious option to naturally decorate for a pastel Halloween party is by adding flowers.  It's a little obscure to use fresh pink flowers for Halloween, but when you're inspired by a pastel-pallette, it just makes sense.  The flowers were designed by my dear friend Erin who owns E. Vincent Floral Design.  She's incredibly talented and always brings a unique aspect of design to all of her arrangements.  These little teacup arrangments were no exception and played beautifully off the pink plates I used.
Sweets:
Of course, it wouldn't be Halloween if we didn't include candy and sweets.  Swoozies hooked me up with some of their new Candy Club Jelly Jack-O-Lanterns and Puffy Candy Corn.  Beyond filling that need for a sweet sugar rush, these distinctively packaged candies looked beautiful against all the other pastel-colored decor.
I also included sweet pastel DIY Halloween macarons. You can check out the details on how I made these semi-homemade macarons to complement the party here.
Rosé Pink:
Delicious cocktails are a must at any gathering, so I reached for Luna Nuda Rosé to complete this pastel Halloween party.  While some people think of rosé as the highlight of a well-stocked summer party, I say drink what you enjoy all year round.  Not only did I enjoy this perfectly pink bubbly, but it also complemented the decor for this Halloween bash perfectly.  I also like to keep a stocked bar of other spirits available for guests to enjoy from the bar cart too.  Just make sure that you keep a bottle opener on-hand like this festive skeleton hand bottle opener from Swoozies.
Plastic Plates & Paper Napkins:
While I do love investing in cotton table linens and long-lasting dishware, I also appreciate the ease of using paper napkins and plastic plates.  I started with decorative white plates from Tuesday Morning and layered on an equally decorative pink plastic plate for color.  To add a bit of flair, Swoozies provided fun "Killing It" paper napkins that make me feel a bit sassy each time I read it like I should get up and dance 😉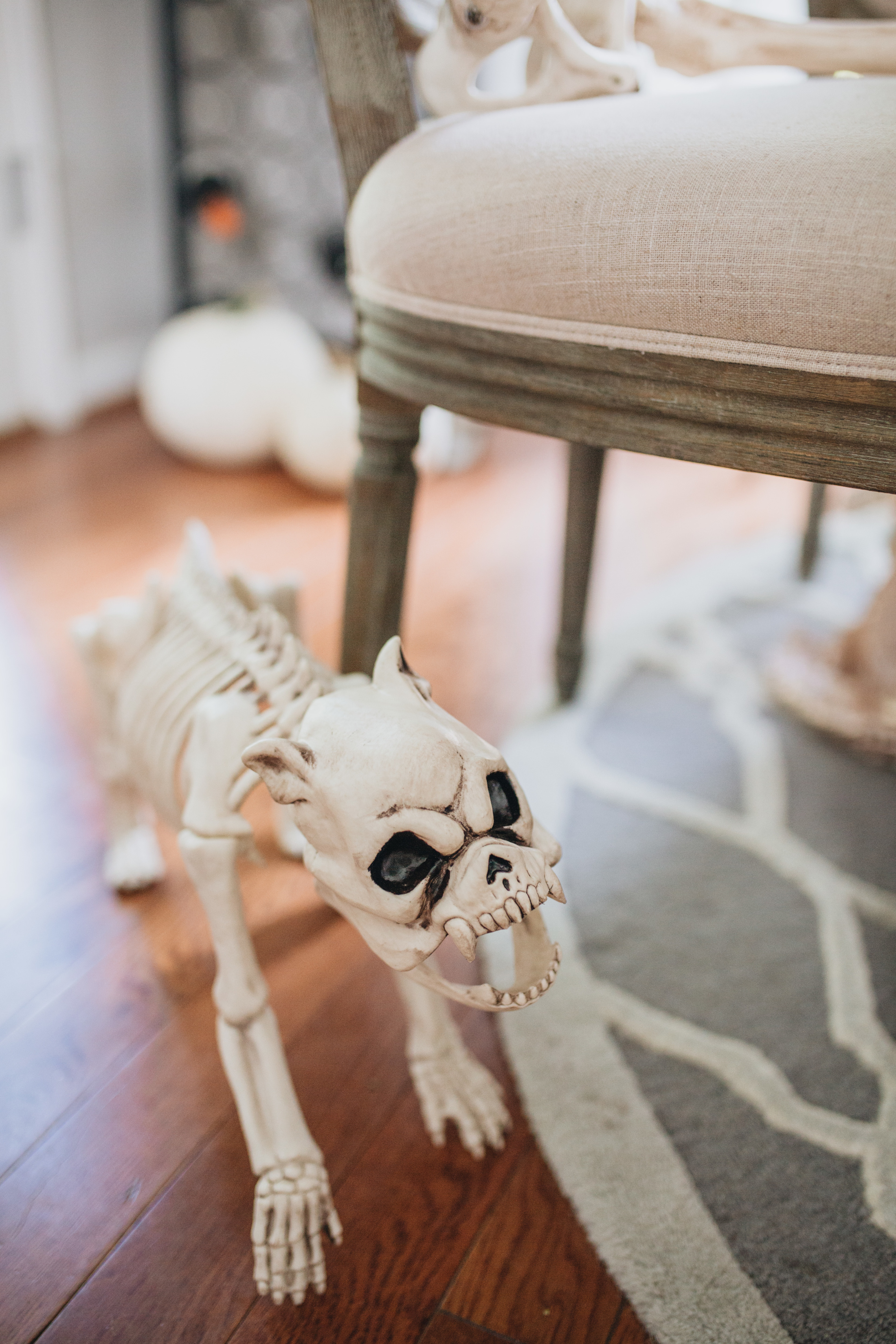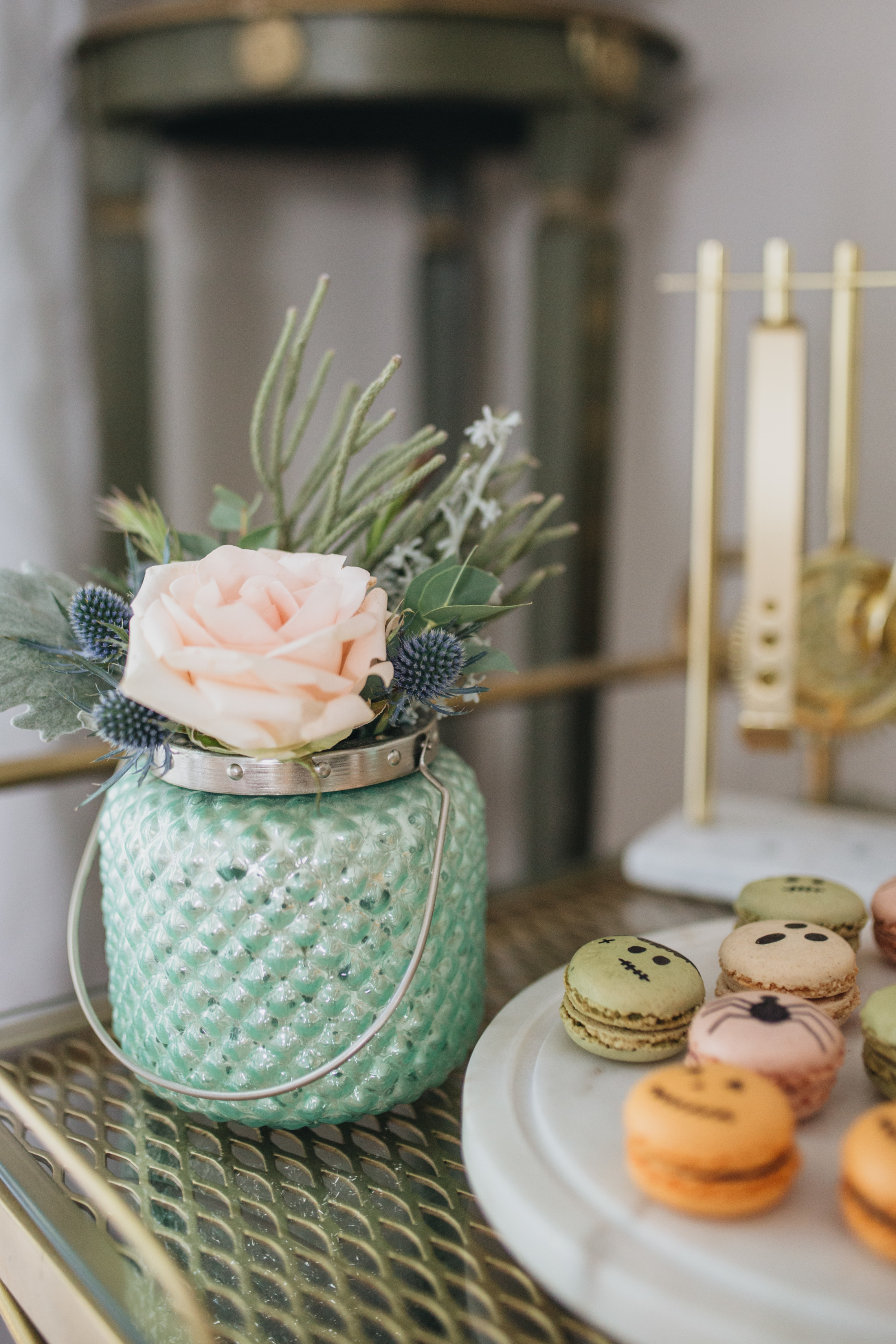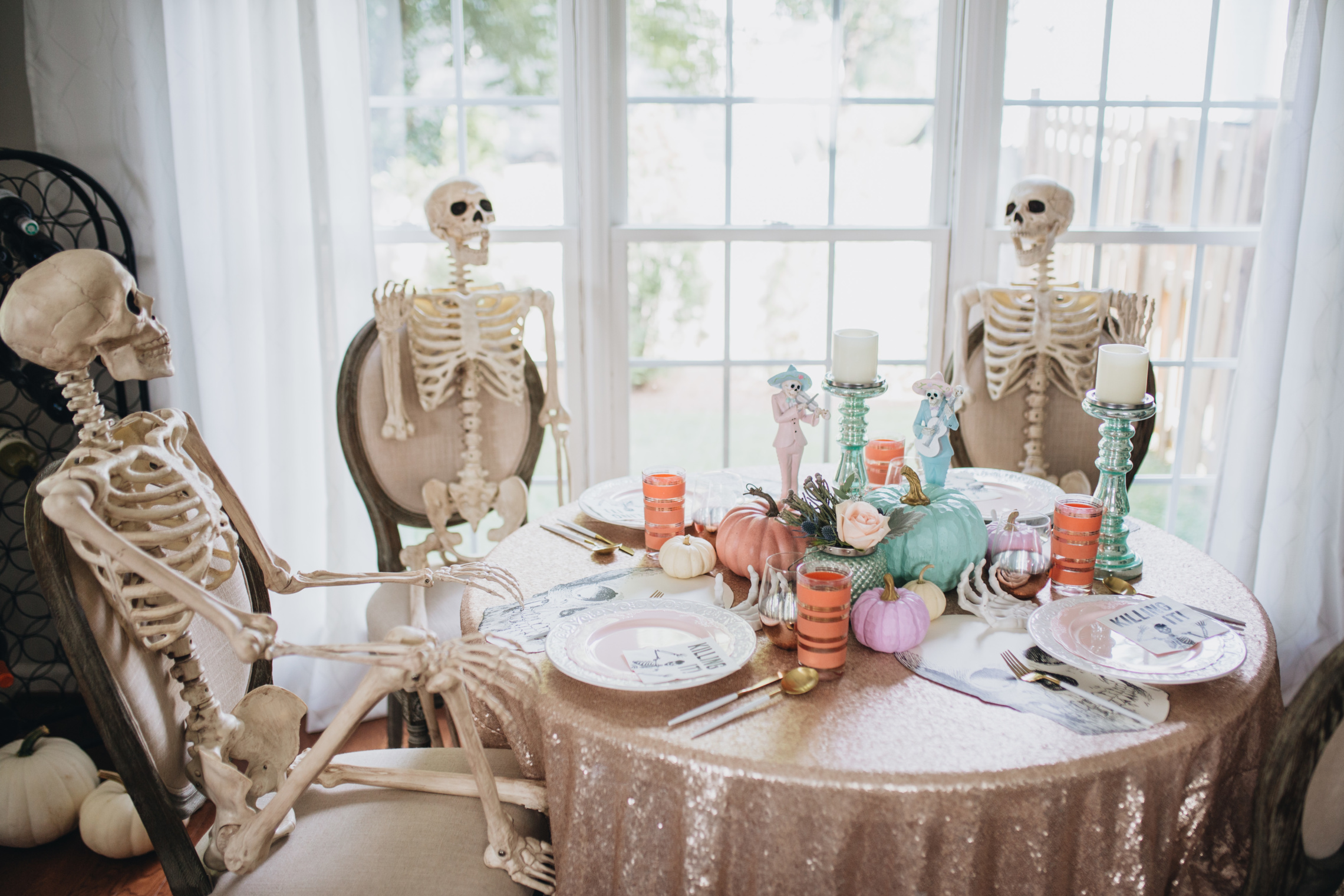 Glassware:
For the final touch, I added colorful vintage coral glasses that belonged to my great Aunt paired with stemless wine glasses dipped in blush metallic.  The beautiful wine glasses were from At Home as well, but it means more to me that I can find ways to incorporate a little family heritage into my tablescapes with these printed glasses.
---
Shop the Story:
If you're thinking of turning Halloween on its head, consider using these pastel Halloween ideas for inspiration and direction.  The most important thing to remember when decorating a tablescape or preparing for a party is to not take things too seriously.  Have fun and do be afraid to try something outside of the norm. You might be surprised and delighted by what your results may be!