National DIY Day Celebration:
Today is the first official National DIY Day, so earlier I posted a teaser on Instagram and Twitter about a photo with three DIY Projects in one photo: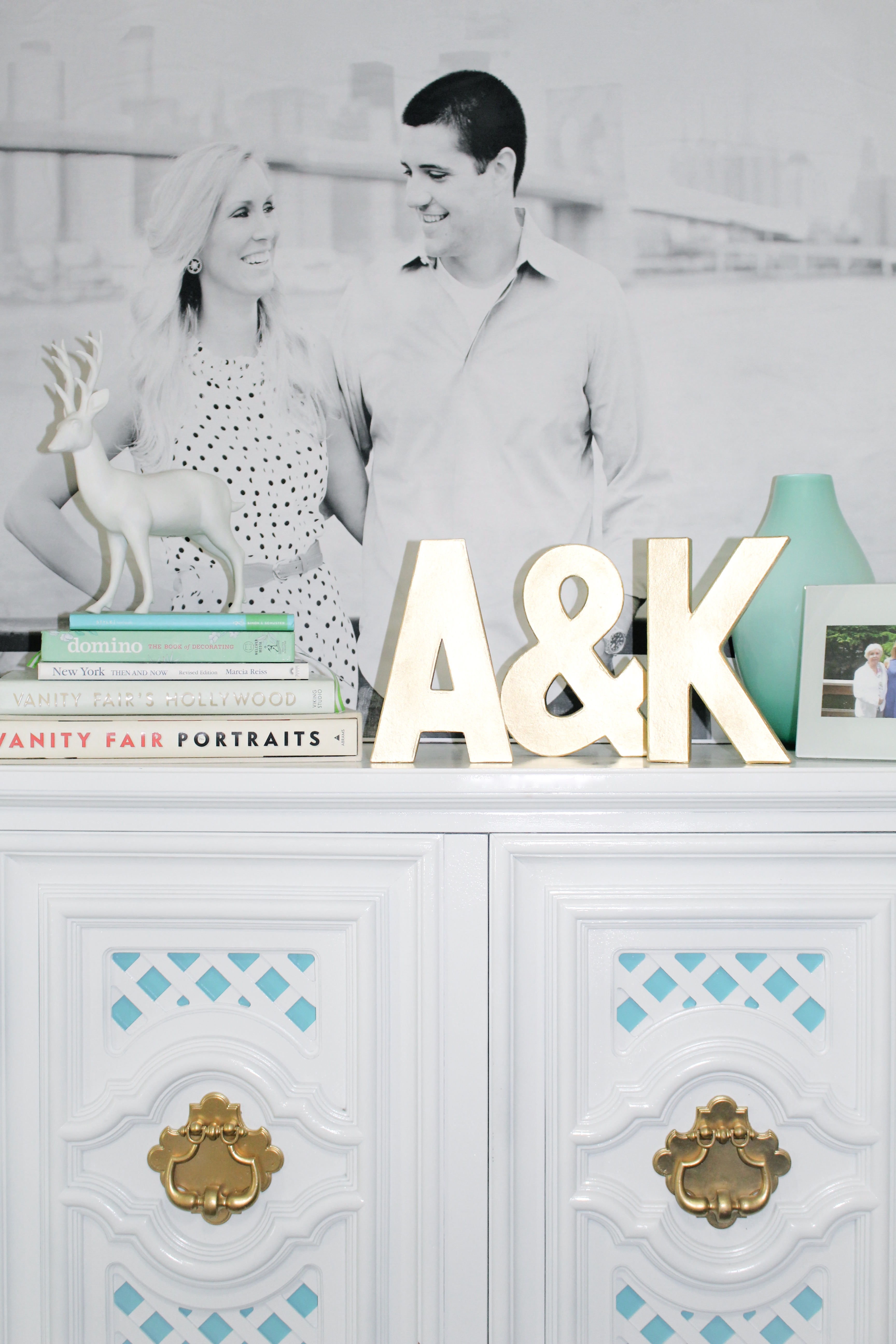 ---
The Scoop on 3 DIY Projects:
---
1. Giant DIY Poster:
You may recall in my first post of the DIY Marquee Love Letters series, I shared a pic of that awesome 4′ x 3′ poster from the photoshoot of our last weekend in New York.  This was a $20 project that created a huge statement piece for our home!  All you have to do is take a saved high resolution file image to Staples on a USB thumbdrive, and tell them how large you need the image printed.  In this case, we printed a high resolution photo in a 4′ x 3′ Engineers black & white print.
It's very important to make sure you print it in black and white, and on regular paper. The prices increase very quickly when you start changing the paper type and adding color. Our print was only about $6.
Next, just head over to The Home Depot and buy a giant foam board.  They come in VERY large sheets of 4′ x 8′, so you can purchase a sheet and ask THD employee to cut it down while you are theres so it fits in your car 😉
Next, spray adhesive to the back of the foam board, and carefully lay the image you printed on top and you're done!   You could add hooks to the back or just prop it on top of a dresser like we did.
---
2. DIY Initial Blocks:
You might recall when we made a DIY Bar Sign using paper mache letters for our wedding… if not, you can see the full set of instructions here!  We're basically doing the same thing, but with one less step.  So all you'll need is the specific block letters you want, which you can purchase from your local hobby store like Joann's here, and whatever color spray paint you like.  We used one of my favorites, Rust-oleum Metallic Gold, for our letters.
Let your letters dry, and set them up wherever you would like to decorate!  We included these in our wedding, and then moved them into our new house for decoration.  See them displayed on the mantle at our reception peaking out of the corner of the photo below: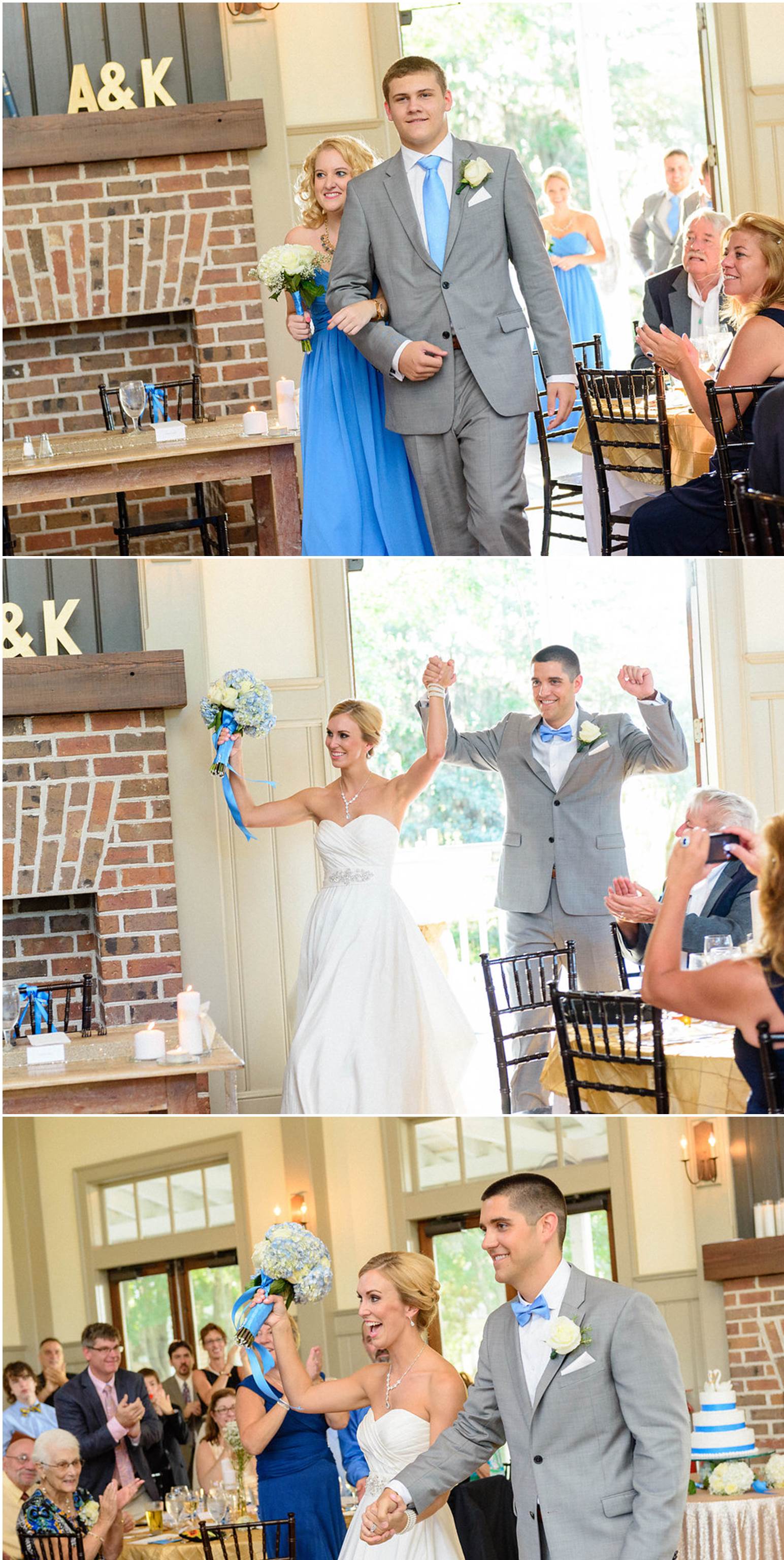 ---
3. DIY Dresser Makeover:
The dresser isn't a project that I've shared here before, but it was a labor of love when we still lived in our apartment with such a small balcony space to work with.  We had just taken a beach trip to Florida, and living in the moment when saw a furniture consignment store on our drive home that said 75% Off – we turned around and pulled in for a quick shopping session!  Thankfully the hubby (then fiancé) was already wise to my quirks and was on board with seizing the day!
So we loaded up my 4Runner (literally packed to the brim!) with our new wooden armoire, and headed home.  We set up shop on our balcony, and after giving the entire thing a thorough cleaning with vinegar, we broke out the white rust-oleum semi-gloss spray paint and started on our mulit-day project.  We removed the hardware and used  Rust-oleum Metallic Gold spray paint to liven them up.  I have a thing for gold accents… can you tell?
I used a little teal accent paint between the lattice and after everything dried, I secured the hardware and posted the armoire in our bedroom for use!  And a long ago before and after:
---
So on this National DIY Day, I hope you remember this:
No matter your skill level, you can always express your creativity in a fun unique way.  Choose colors that complement your style, fit your time, and work for your lifestyle!  
So Happy National DIY Day!  Keep crafting and trying new adventures!