Valentine's Day has entered a whole new level now that we've got a toddler in school.  While it's lovely to plan a romantic dinner with the hubby, I wanted to make sure I made our son's Valentine's Day super special by setting up a little surprise red & pink decor at his kid's table in our kitchen and sending some age-appropriate Valentines to his classmates.  Our little one has been obsessed with bubbles since he started walking around 11-months, so I thought sending Valentine Bubbles would be the perfect option for his toddler class at school.  Check out these free DIY Valentine bubbles printouts I designed and how I made these easy toddler-friendly Valentines!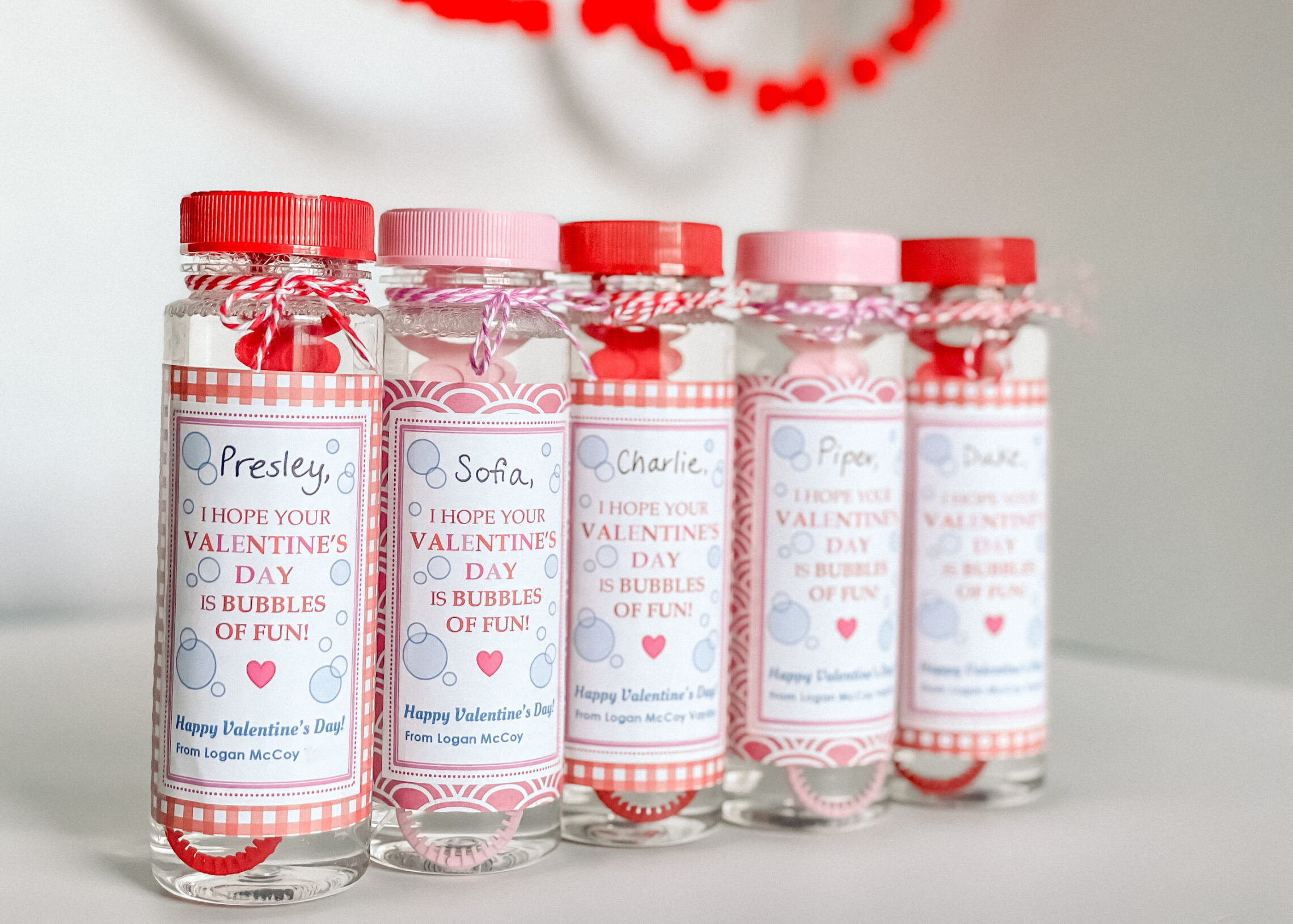 I found great-size single bubbles at the Dollar Tree (big fan over here for inexpensive crafts and party supplies) that featured Mickey Mouse-, Minnie Mouse-, and Spiderman-themed labels.  I had originally planned to just tie a cute Valentine card to the bubbles and call it a day, but when I got home I realized the labels could easily be removed to reveal a clear look directly at the bubbles.  Favoring less animation graphic designs for cleaner more simple designs, I opted to remove the labels of the characters and just tape my DIY handmade Valentine cards to the front of the bubbles.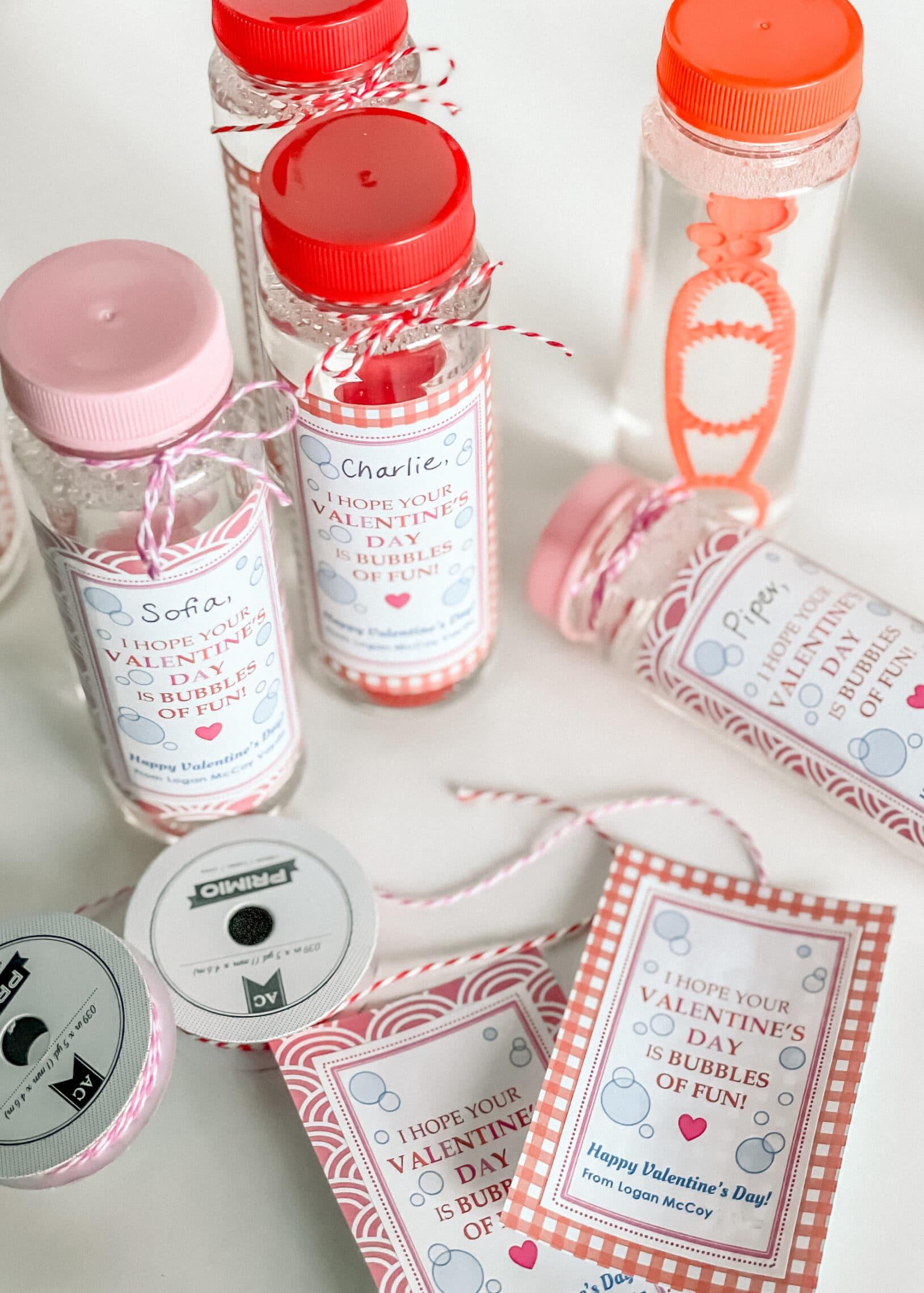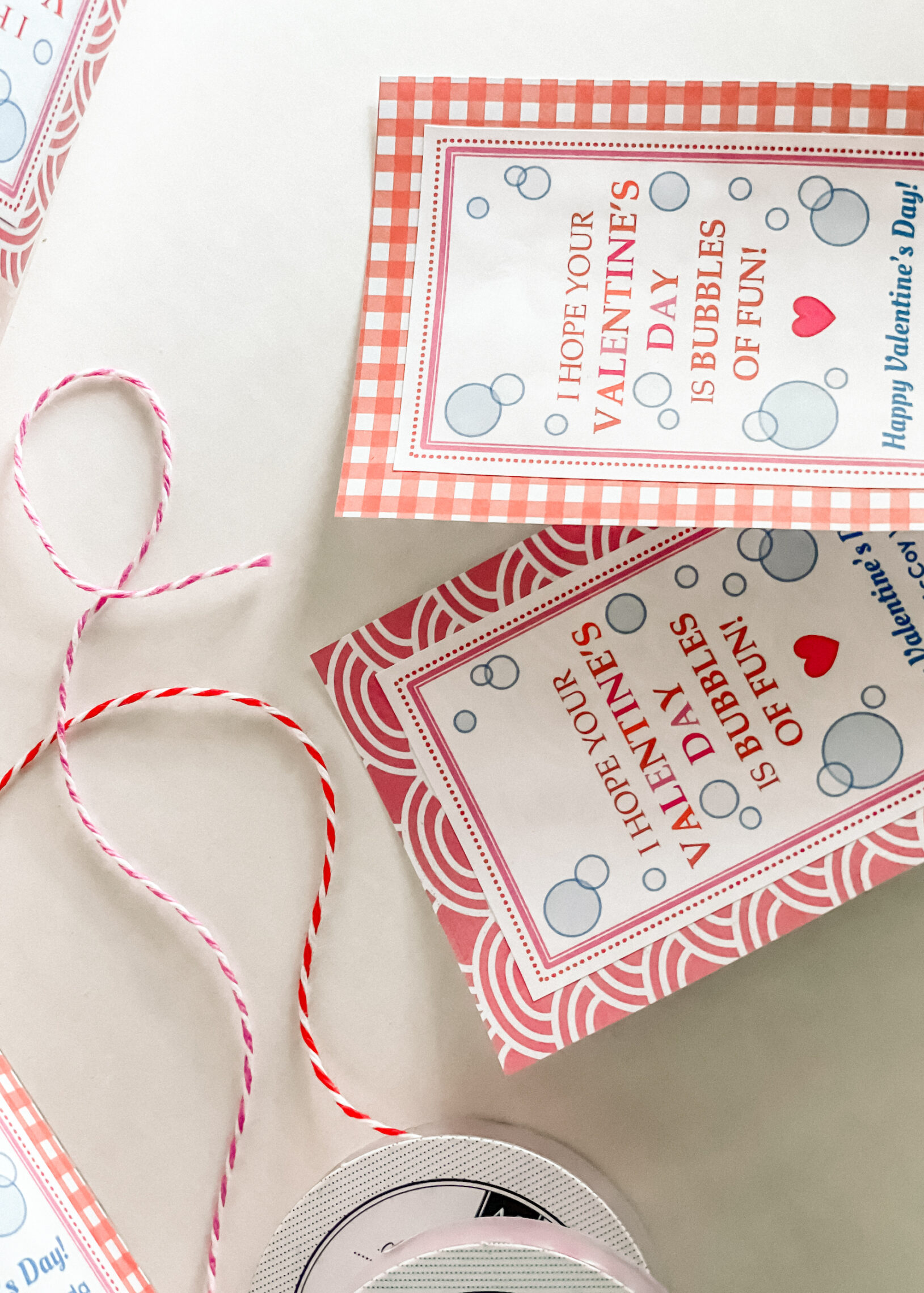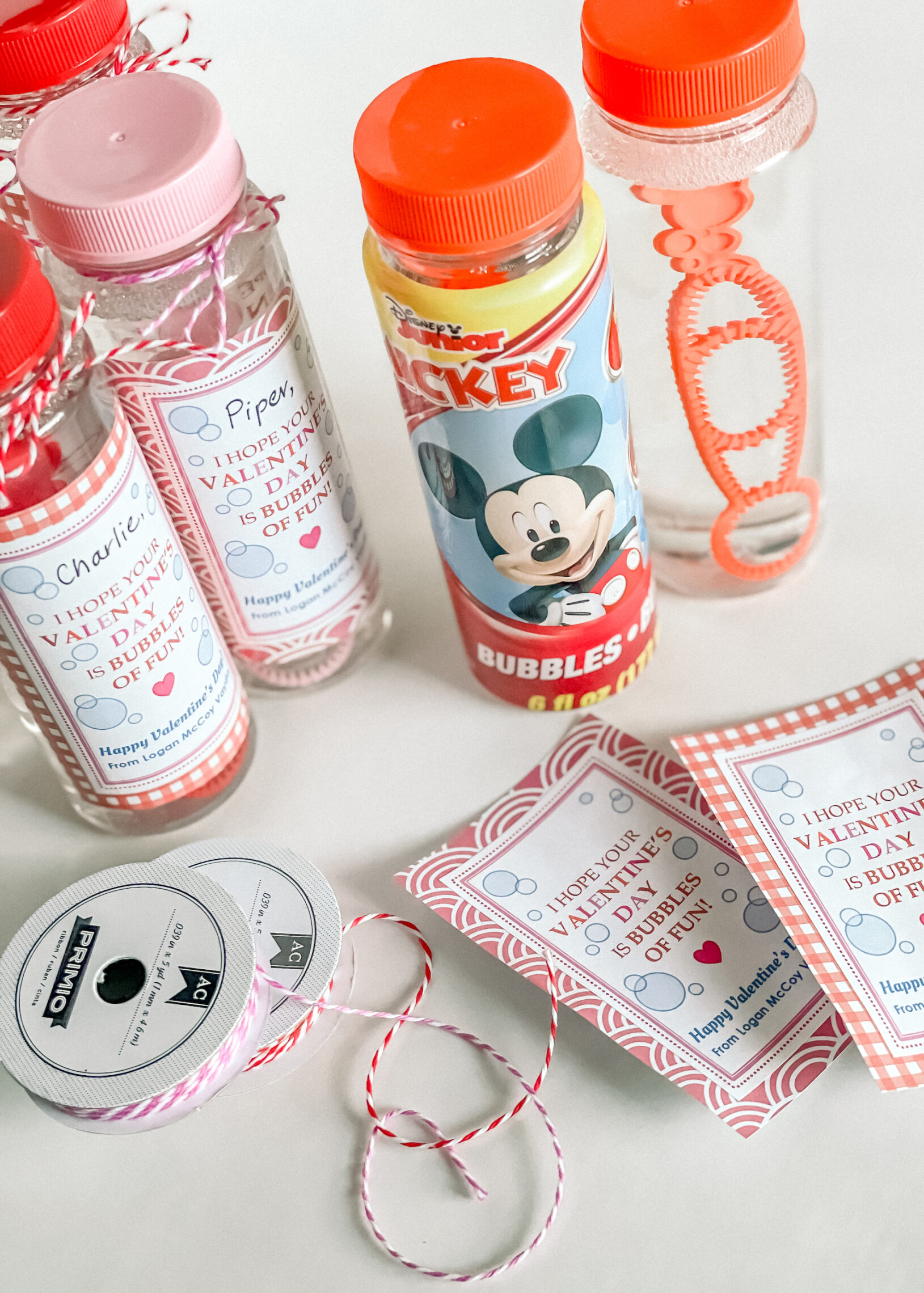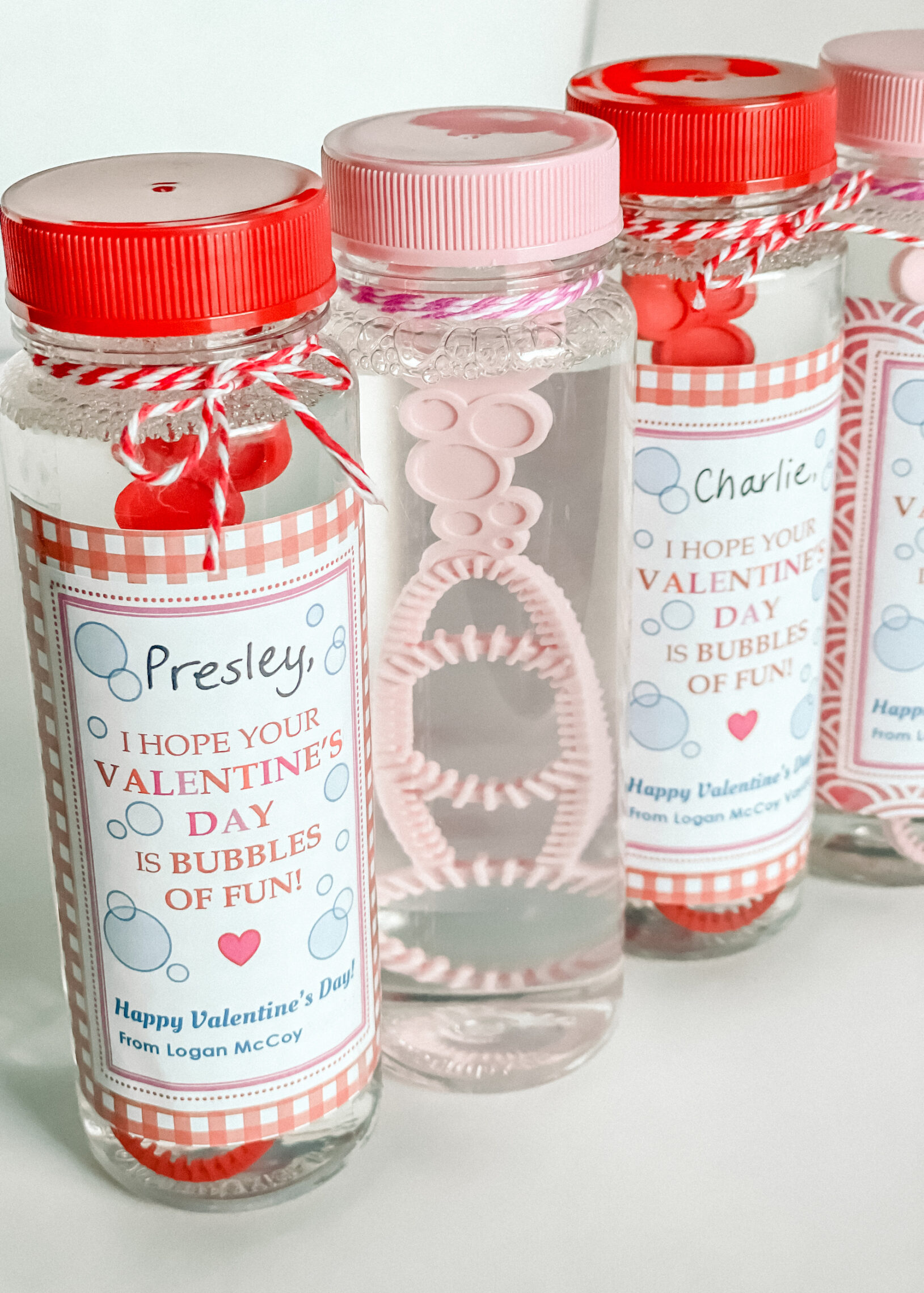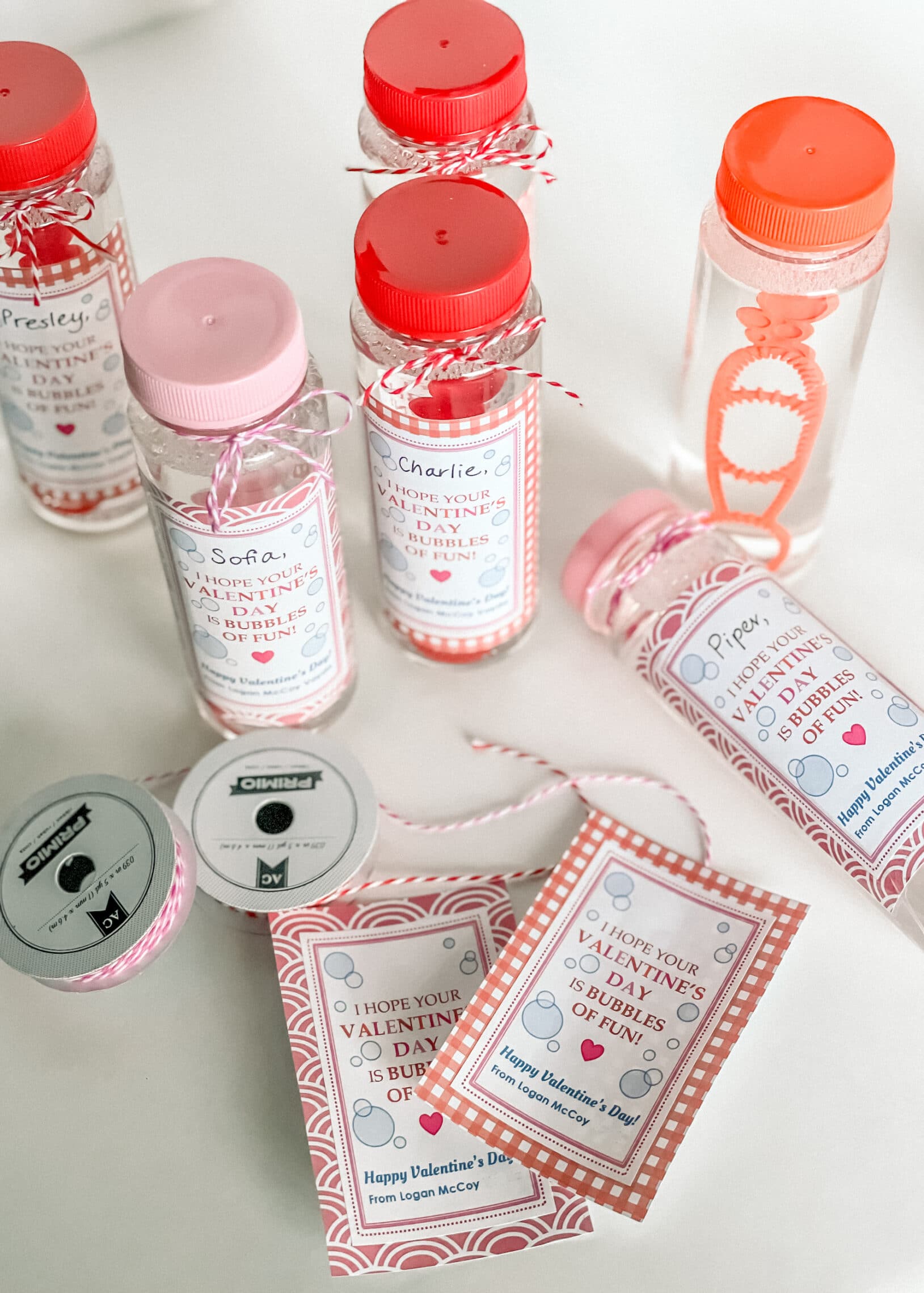 The bubble tops and wands matched Valentine colors of pink & red for the most part (overlooking the orange lid!) which complemented the printable DIY Valentines I've designed and shared here for you to download for free.  I had some extra decorative scrapbooking paper in various pink and red patterns so I cut the printed DIY Valentines and glued them to the scrapbooking paper to add a little border.  I carefully used clear Scotch tape along the vertical sides of the Valentine labels to attach them to the bubbles. The pop of extra color and pattern made the printed DIY Valentine cards stand out against the clear bubbles.
Thankfully we had a small toddler class to account for making Valentine's cards for but these were pretty simple to make. I typed my son's name at the bottom before printing and then handwrote his classmates' names on the bubbles, but you could have easily added their names to be printed there too. This free Valentine bubble printout generates nine Valentines on a regular sheet of letter printer paper.  If you're wondering how you might be able to add names to these and customize them further, you can always save the printout as an image (.jpg) and open it in something like Powerpoint on your computer or via an online editing tool like Canva.  To top off the final look, I added a bit of red, pink, and white twine wrapped around the base of the lid and tied with a bow.
I hope you enjoy this idea for an easy toddler-friendly Valentine card with this FREE Valentine bubbles card printout.  May your Valentine's celebration be filled with love and your toddler enjoy a Valentine's Day filled with bubbles of fun!