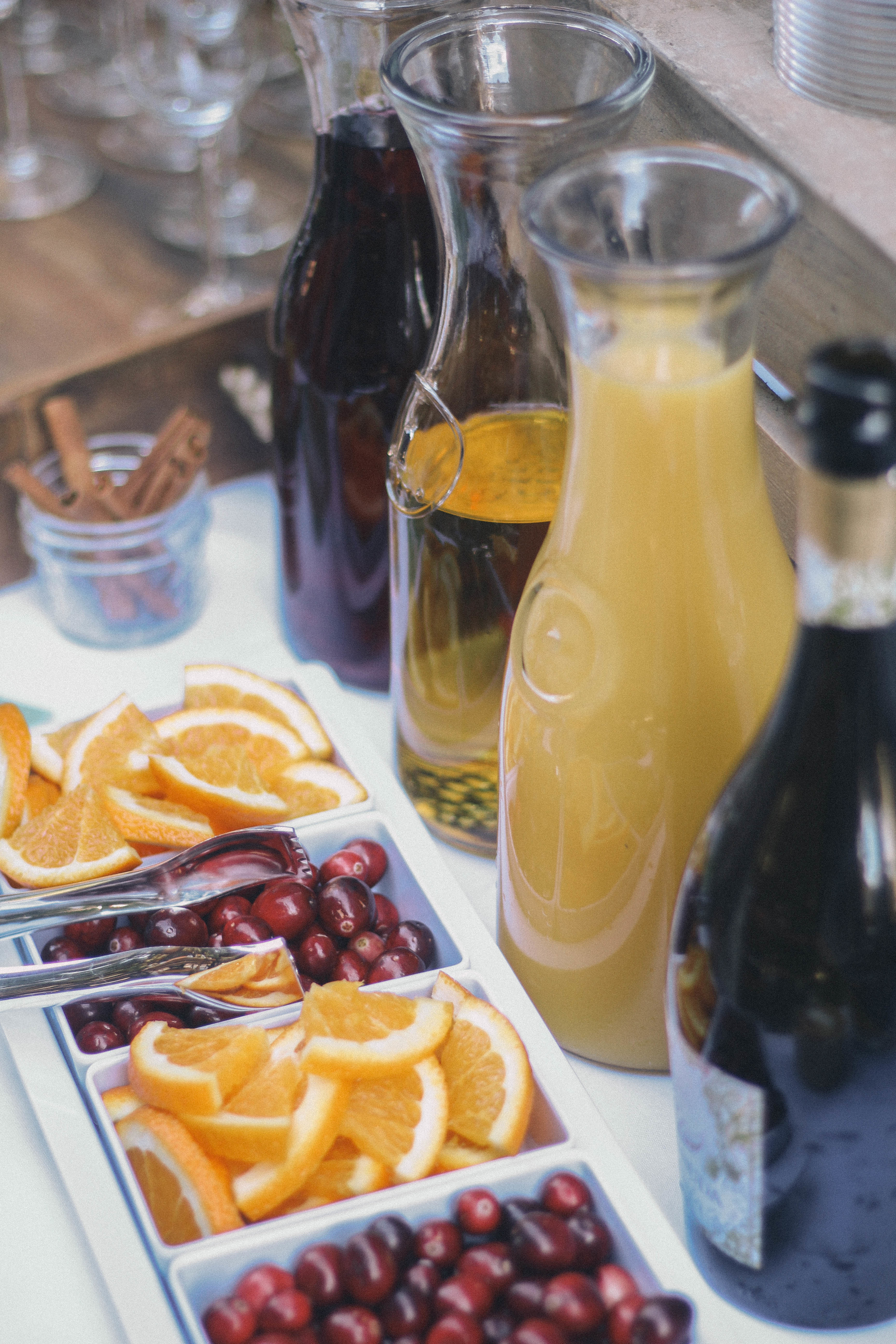 It's Fall y'all and there's no better time to get together and enjoy a beautiful brunch with friends! I recently shared our Fall tablescape that I put together for a fun Friendsgiving that we hosted the other weekend to kick of this season of gathering so I pulled in some of that décor and put together a fun fall Brunch.  I love any excuse to serve as hostess and enjoy the company of our loved ones.  This year I partnered with Luna Nuda Wines and Callie's Hot Little Biscuit to serve up a delicious brunch that can easily be pulled together as an alternative to the big Thanksgiving day meal.
I'm always so grateful when we can connect and catch up with friends and family over intimate dinners or drinks, but sometimes it's just not feasible to organize when we've all got busy schedules.  I decided to pull together a fun Fall brunch with a mimosa bar and biscuit bar because it provides a nice opportunity to gather all our friends together at one time.  Guests can drop-in and help themselves throughout the brunch to whatever they would like while the hostess gets to relax and enjoy the party instead of trying to organize a sit down meal. Win-win! 😉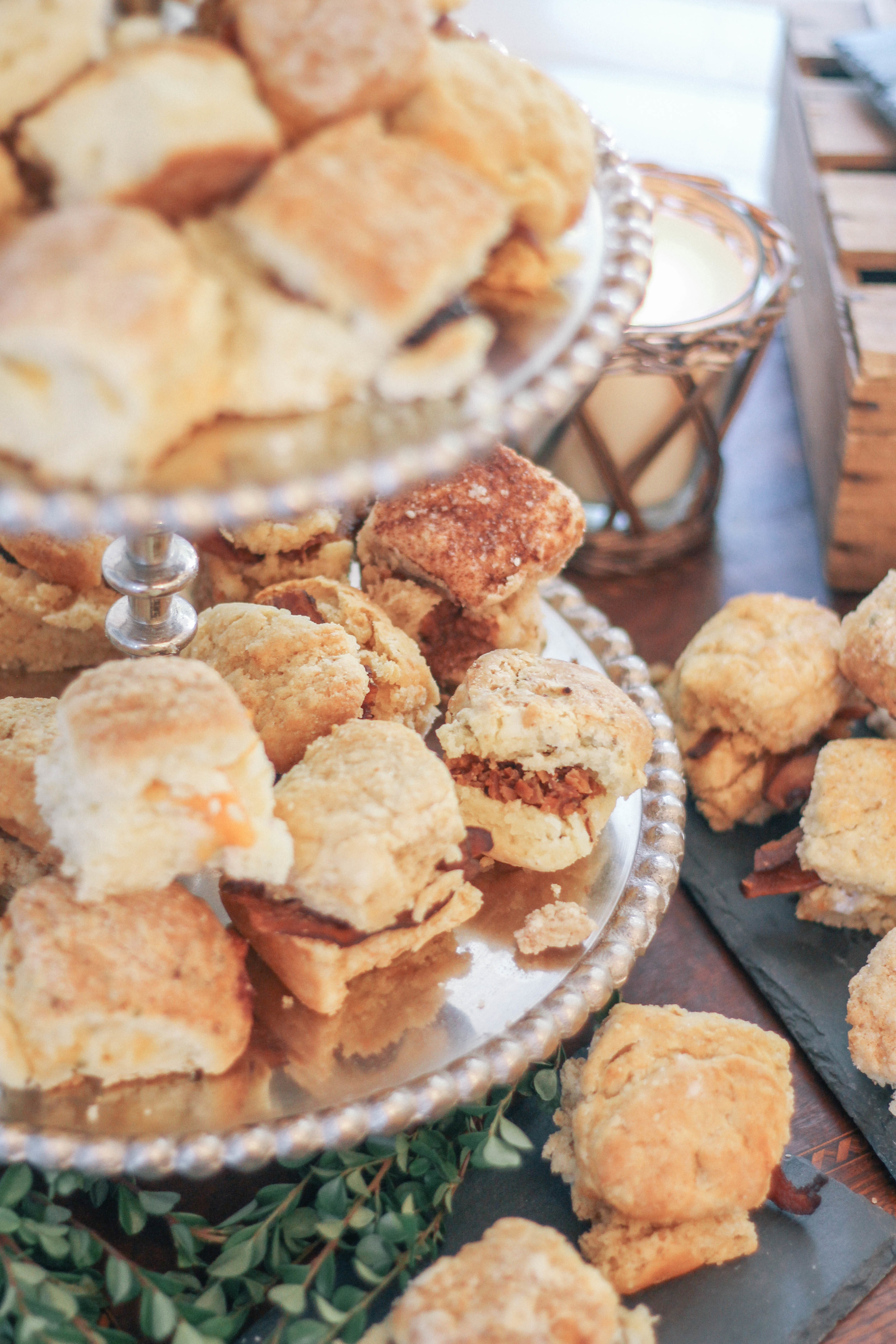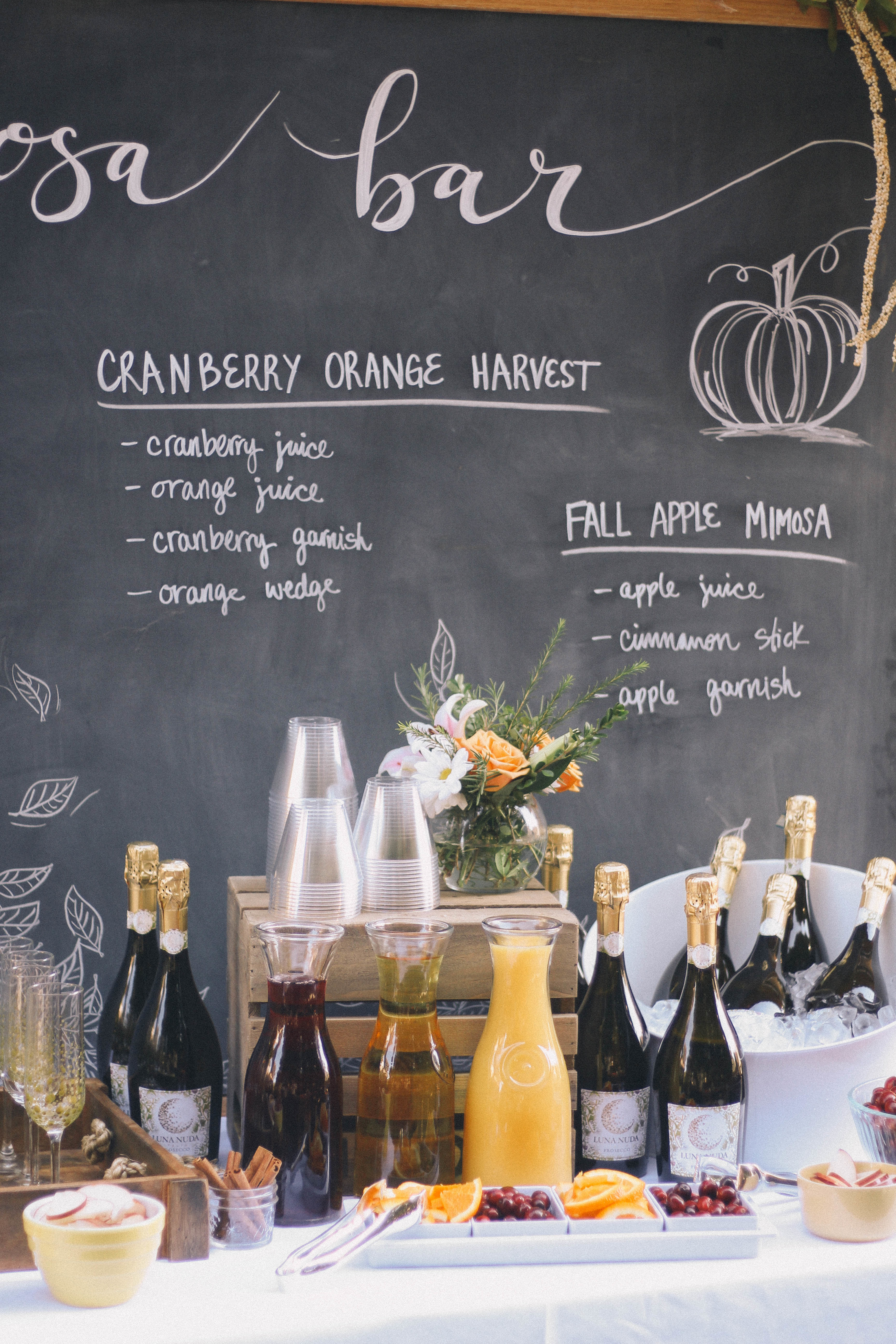 The Biscuit Bar
Callie's Hot Little Biscuit was founded in Charleston and they have a ton of delicious biscuit flavors to choose from both in their shops and online.  I stopped by their Atlanta location in the neighborhood of Virgina-Highlands on the morning of our Fall brunch. There was a bit of a line since it seems that everyone in the neighborhood knows that this is the go-to biscuit destination, but luckily, I used Callie's new curbside pick-up and was in-and-out with my biscuits within just a few minutes with no wait time! The whole pickup process was incredibly quick and easy which was great because it gave me more time to prep for our guests.
Some of Callie's classics include pimento cheese biscuits, veggie or meaty biscuit bowls, and avocado biscuits.  They also have seasonal varieties like the Sweet Potato Biscuit that they featured in shop during the month of October (which can now be found on their website) and Fall specials that included Cinnamon Stickies and Smoked Sausage Biscuits.  For my brunch biscuit bar, I served up dozens of assorted biscuits, Cinnamon Stickies and their new Sweet Potato Biscuits.  The Black Pepper Bacon was an exceptionally tasty addition to the mix as well as a nice surprise for our meat-loving guests.  It was a so nice to just pop in and pick everything up that all I had to do was set up the biscuits.  Callie's has a great website to order biscuit mixes and other goods to be delivered, but if you're near one of their three locations (two in Charleston and one in Atlanta) I would highly encourage you to try their catering options and curbside pick-up.
The Mimosa Bar
Now that I had the brunch biscuit bar set up, it was time to make sure that the mimosa bar was ready to serve with Luna Nuda Prosecco.  In preparation for our brunch, I designed a whimsy little chalkboard sign as a signal directing guests to enjoy the mimosa bar and try out a couple of fall mimosa recipes.
I included Luna Nuda Rosé on my chic pastel Halloween bar cart design and have loved keeping a bottle of their wine on hand to enjoy.  When I decided to feature a Fall Brunch Mimosa Bar during this Fall gathering, I knew Luna Nuda Wines would be the perfect fit.  Guests loved the juice options along with a variety of seasonal garnishes like apples, oranges, cranberries and cinnamon. Scroll down to see the recipes below for my Fall Apple Mimosa and the Cranberry Orange Harvest Mimosa.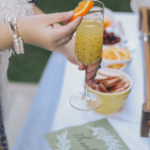 Cranberry Orange Harvest Mimosa
Ingredients
3

Parts

Luna Nuda Prosecco

1

Part

Orange Juice

1

Part

Cranberry Juice

1

Orange Wedge
Instructions
Pour your bubbly. Tip: Tilt your glass and pour the prosecco slowly down the side of the glass to prevent foam on top!

Add a splash of orange & cranberry juice.

Garnish with an orange wedge & enjoy!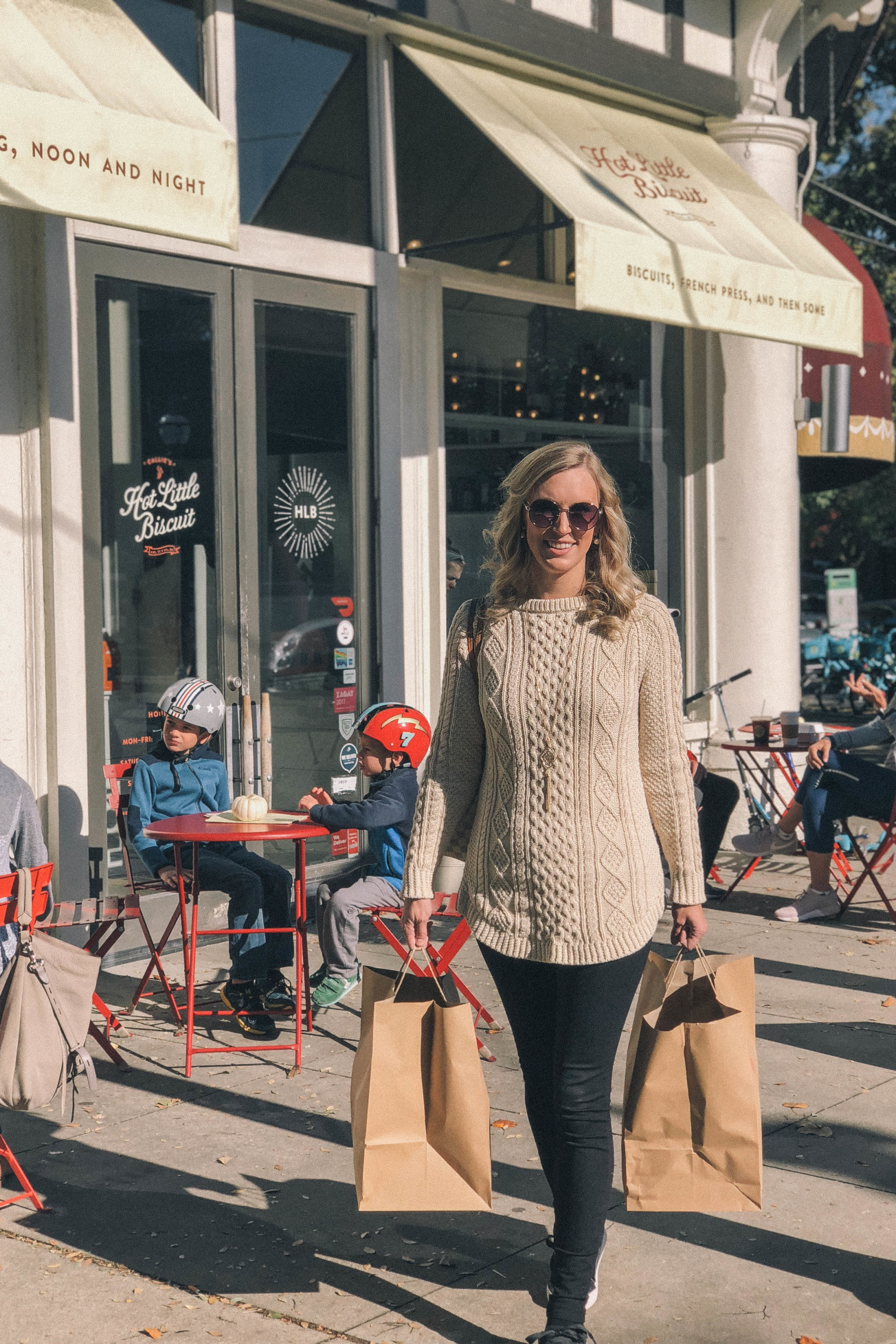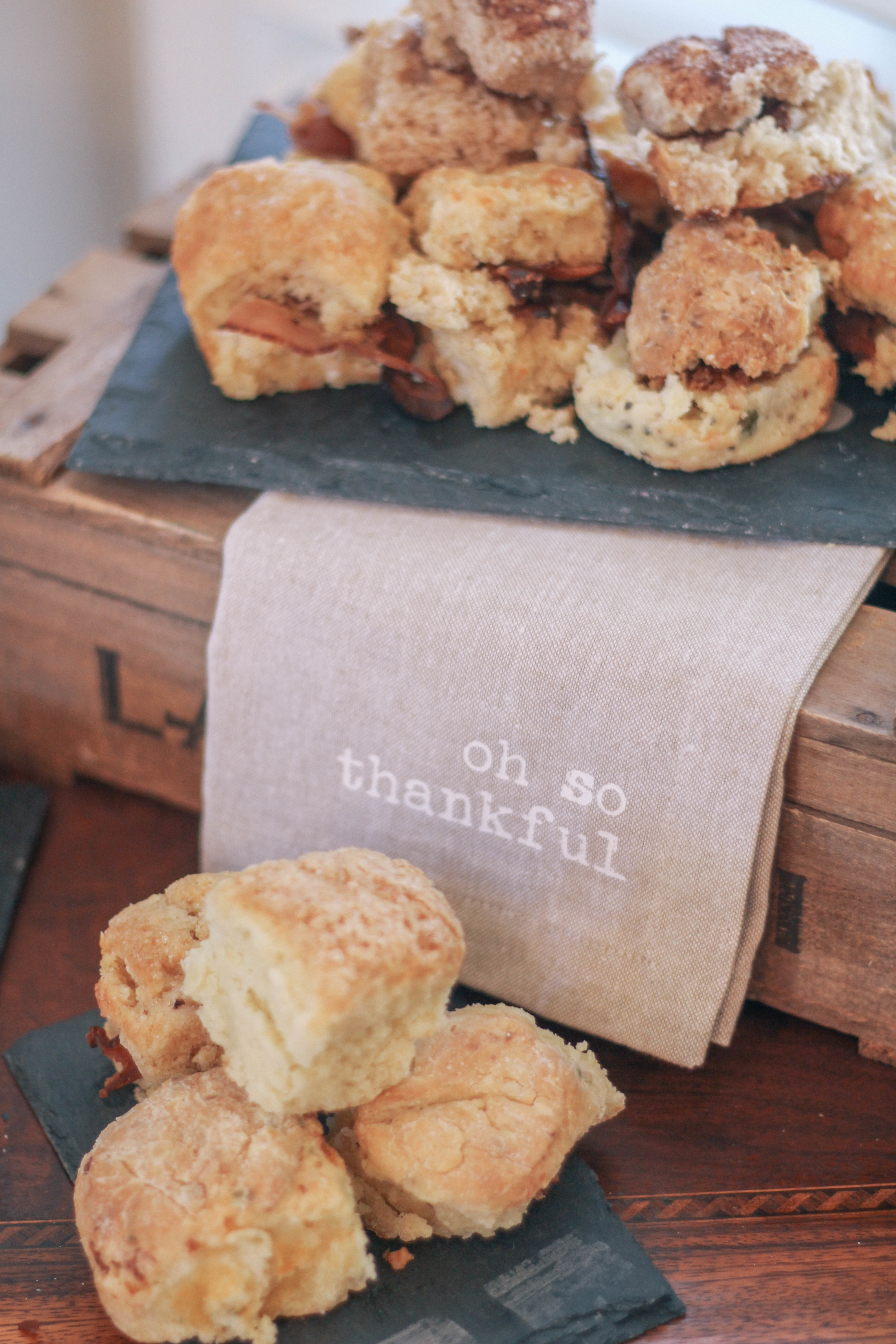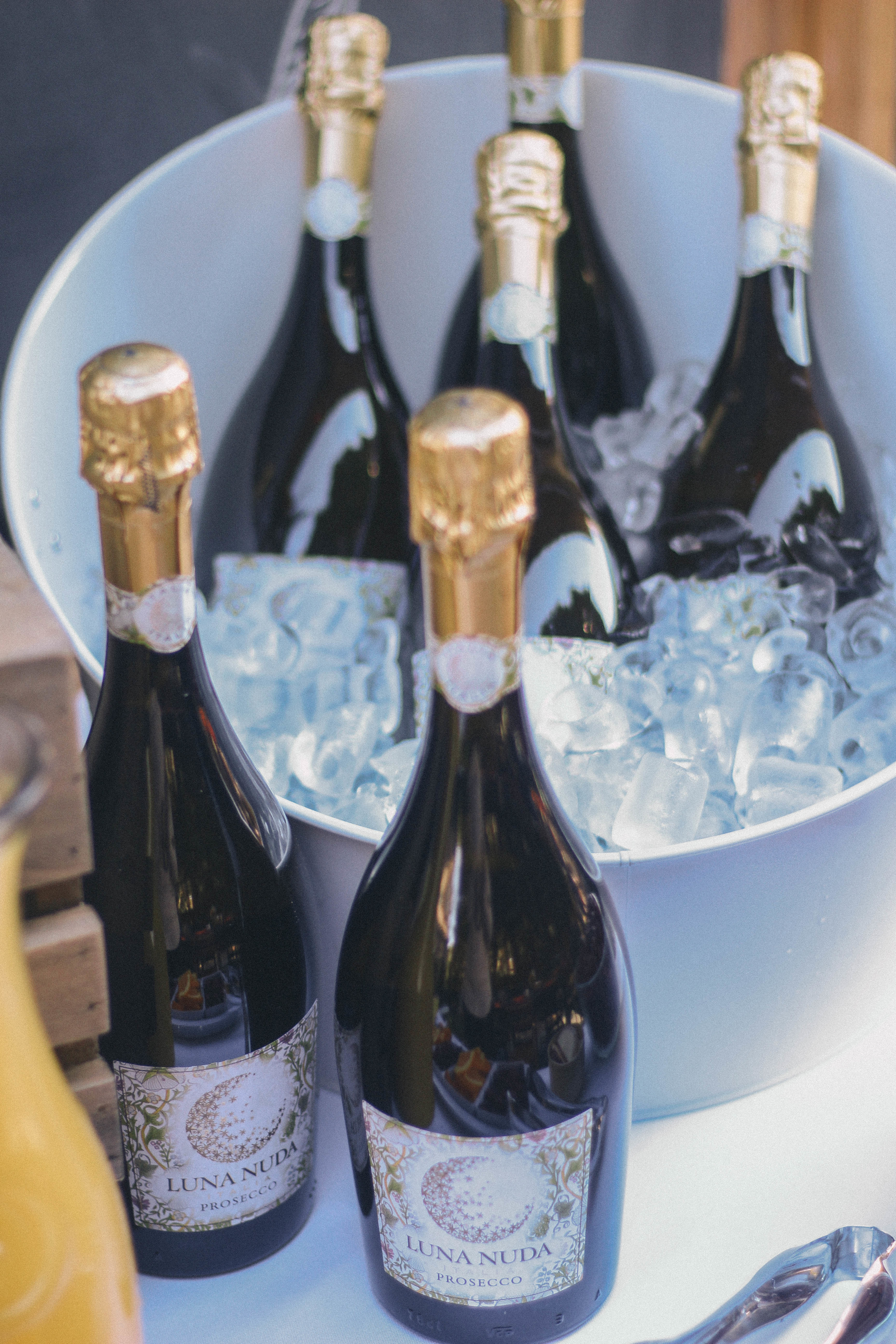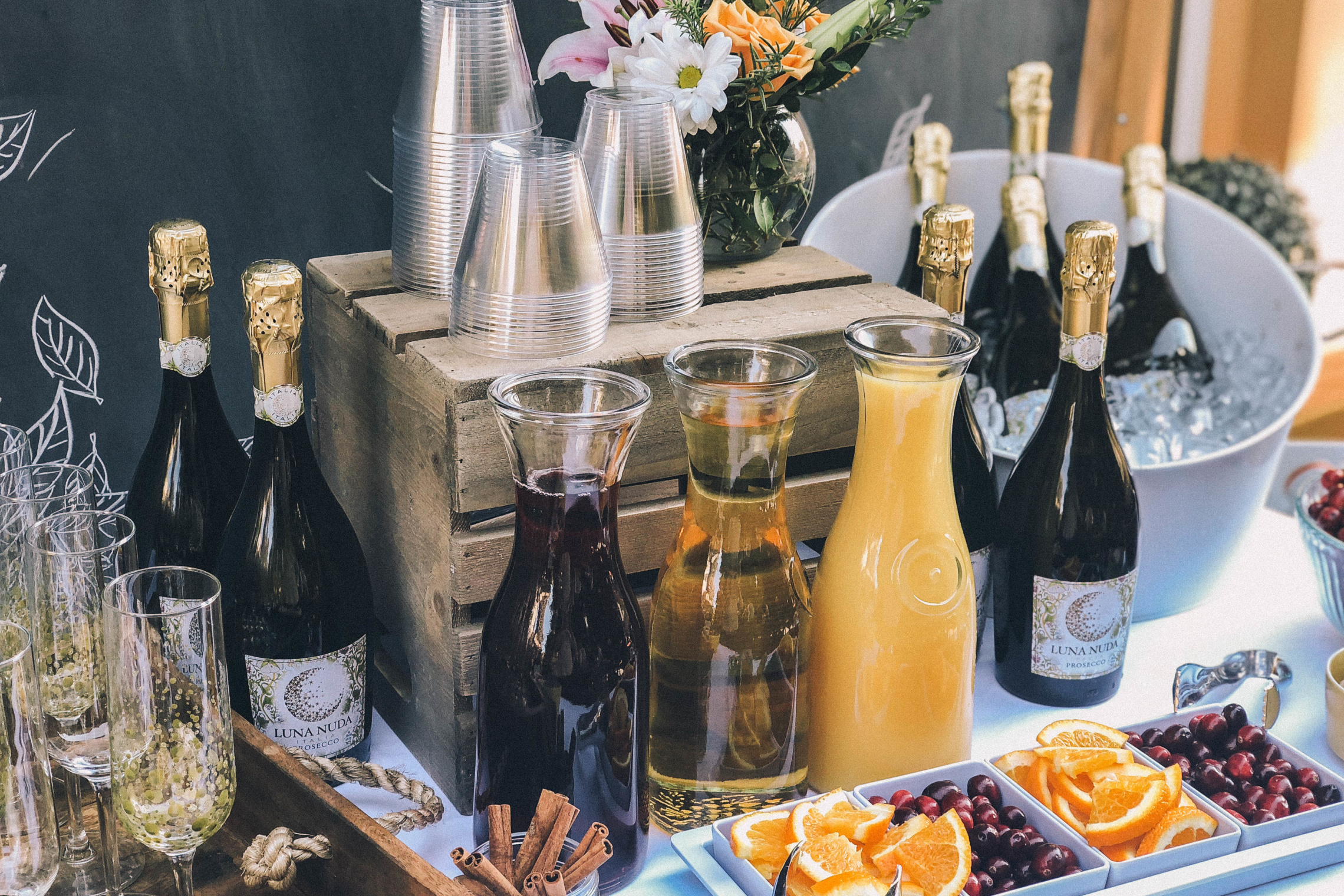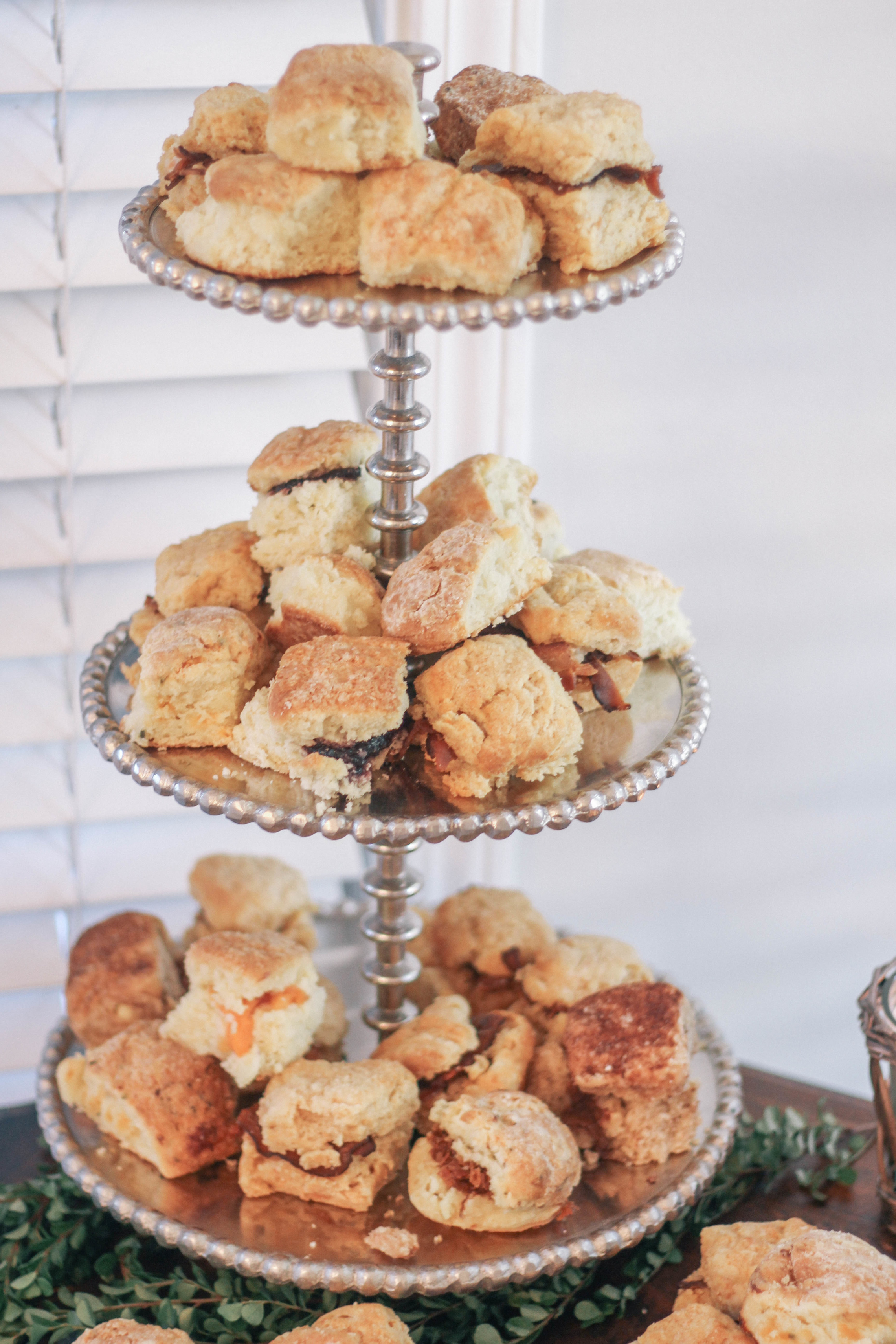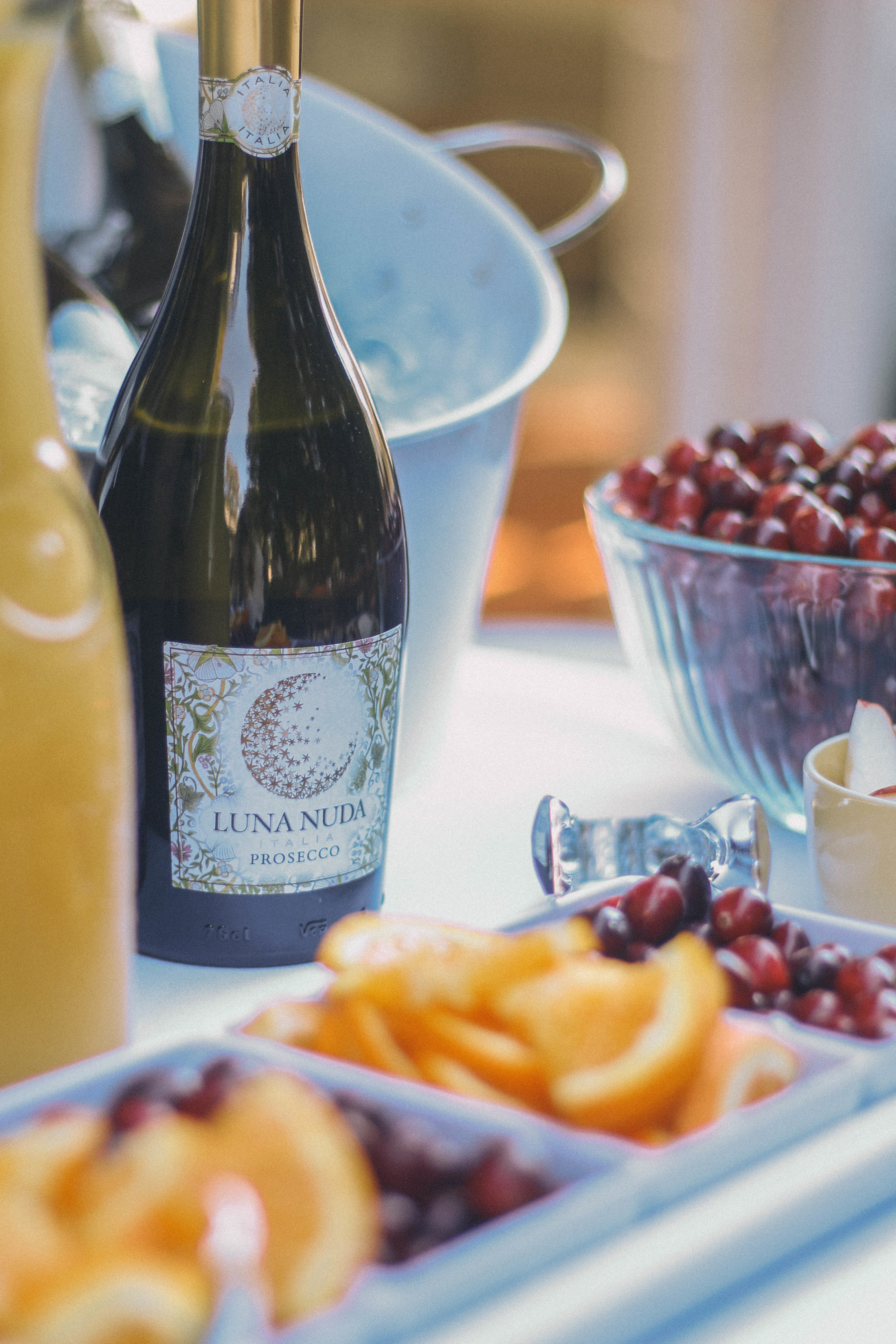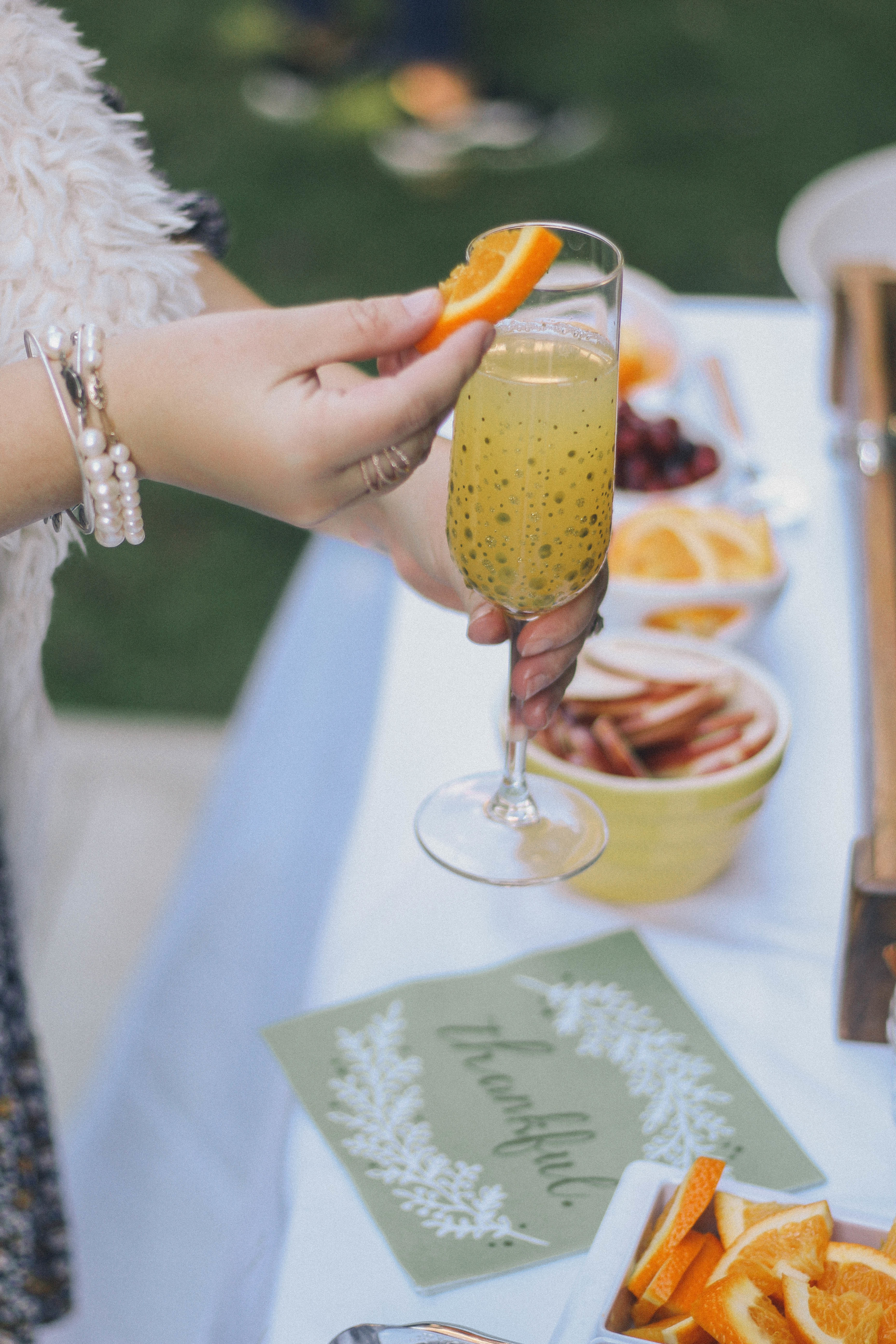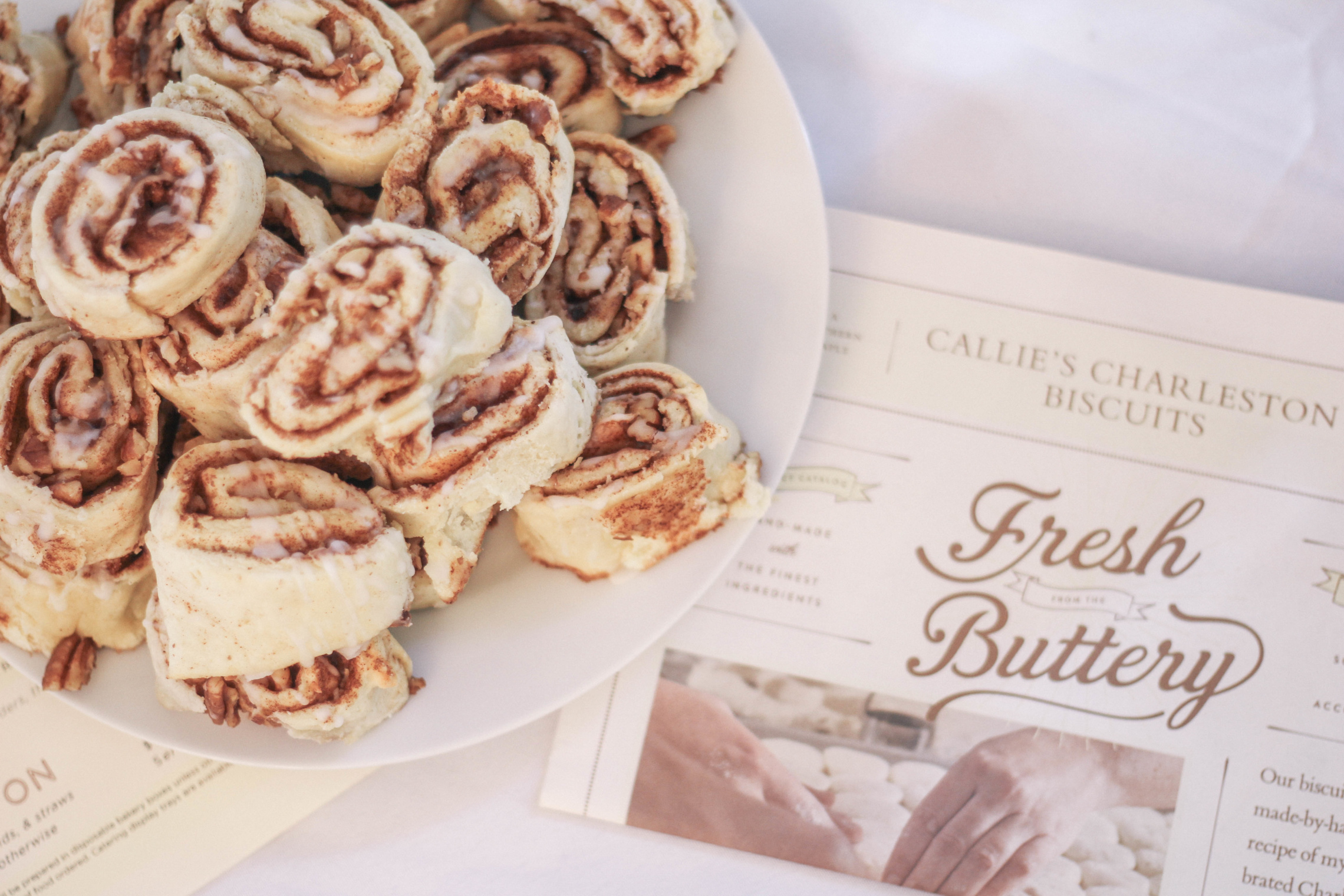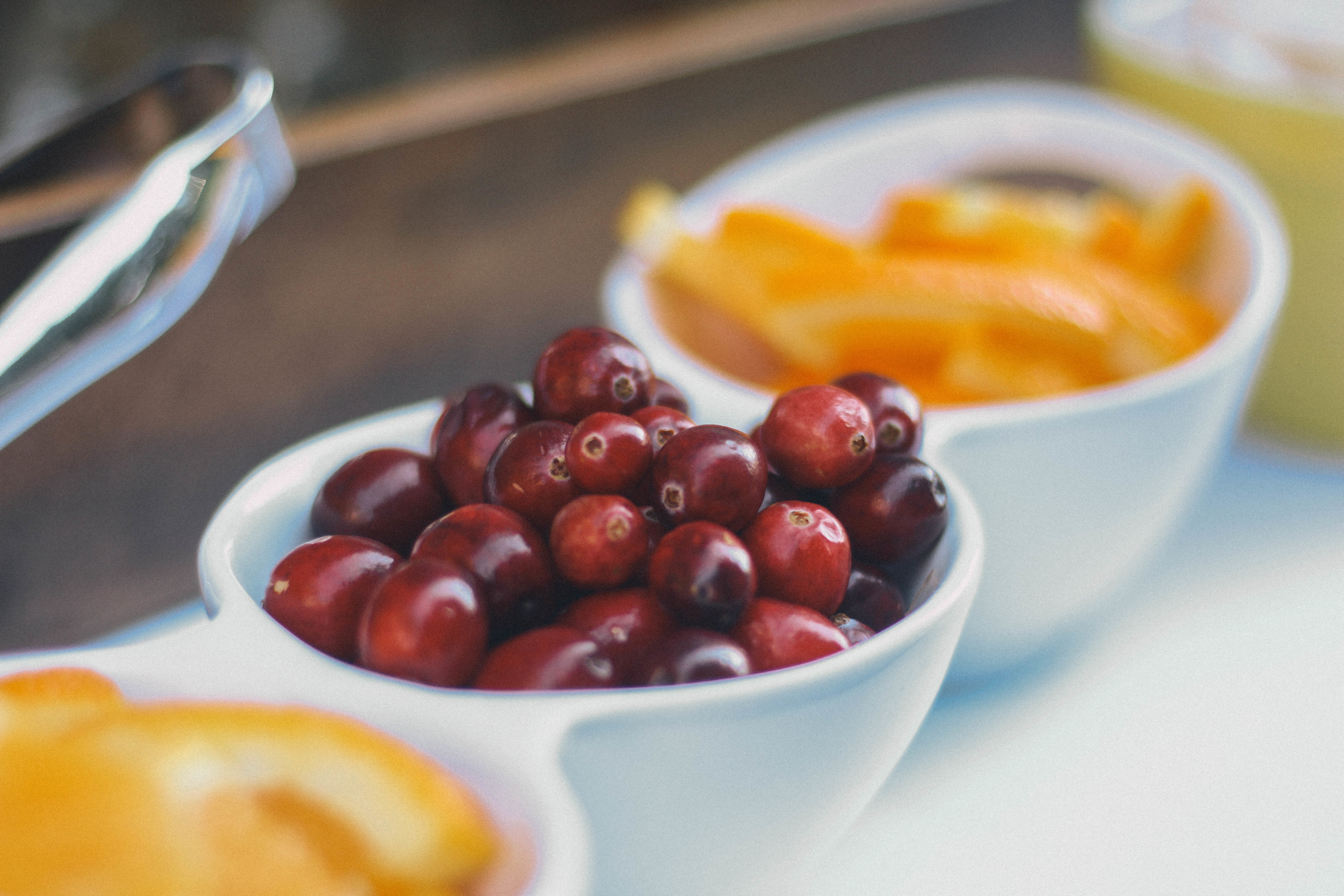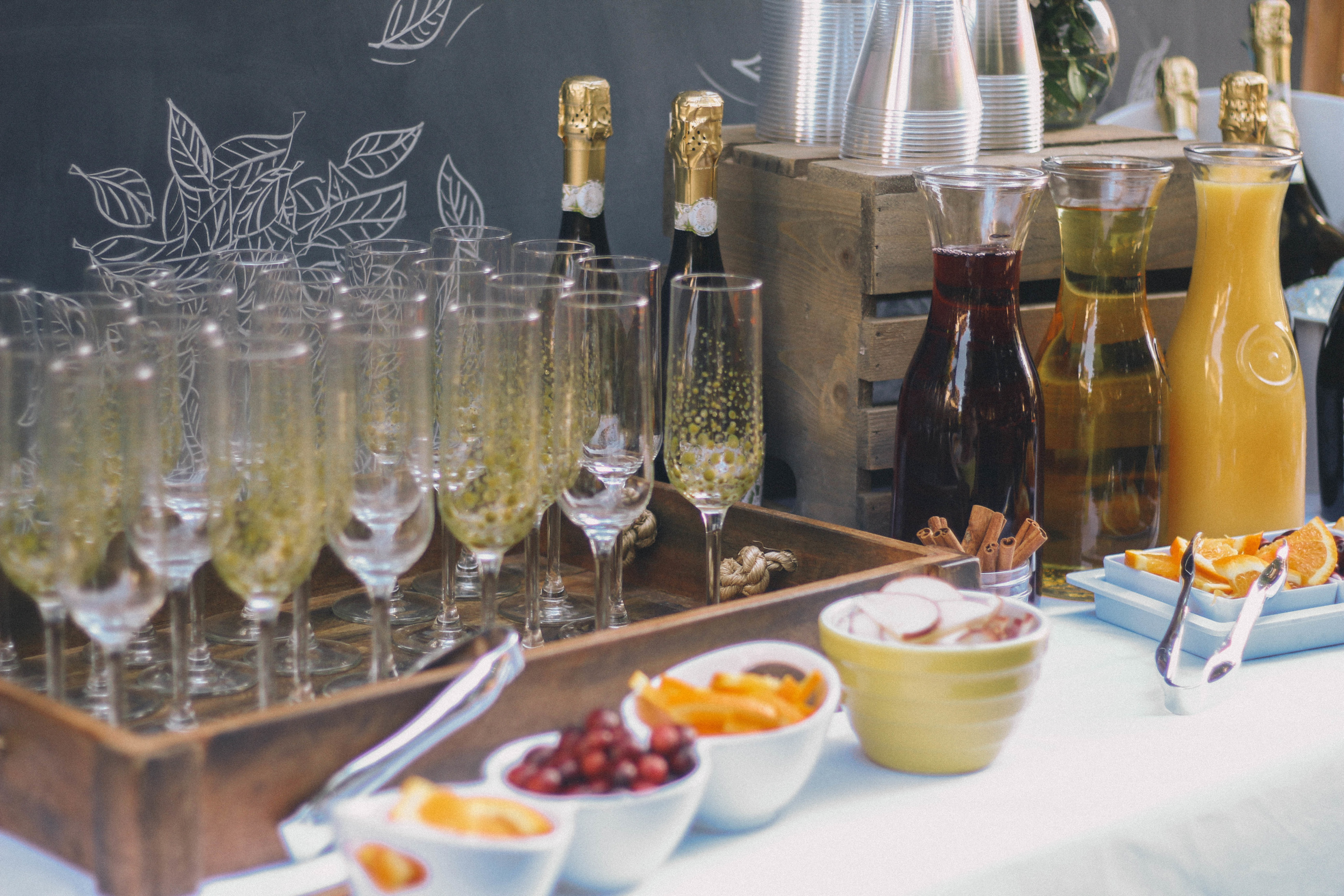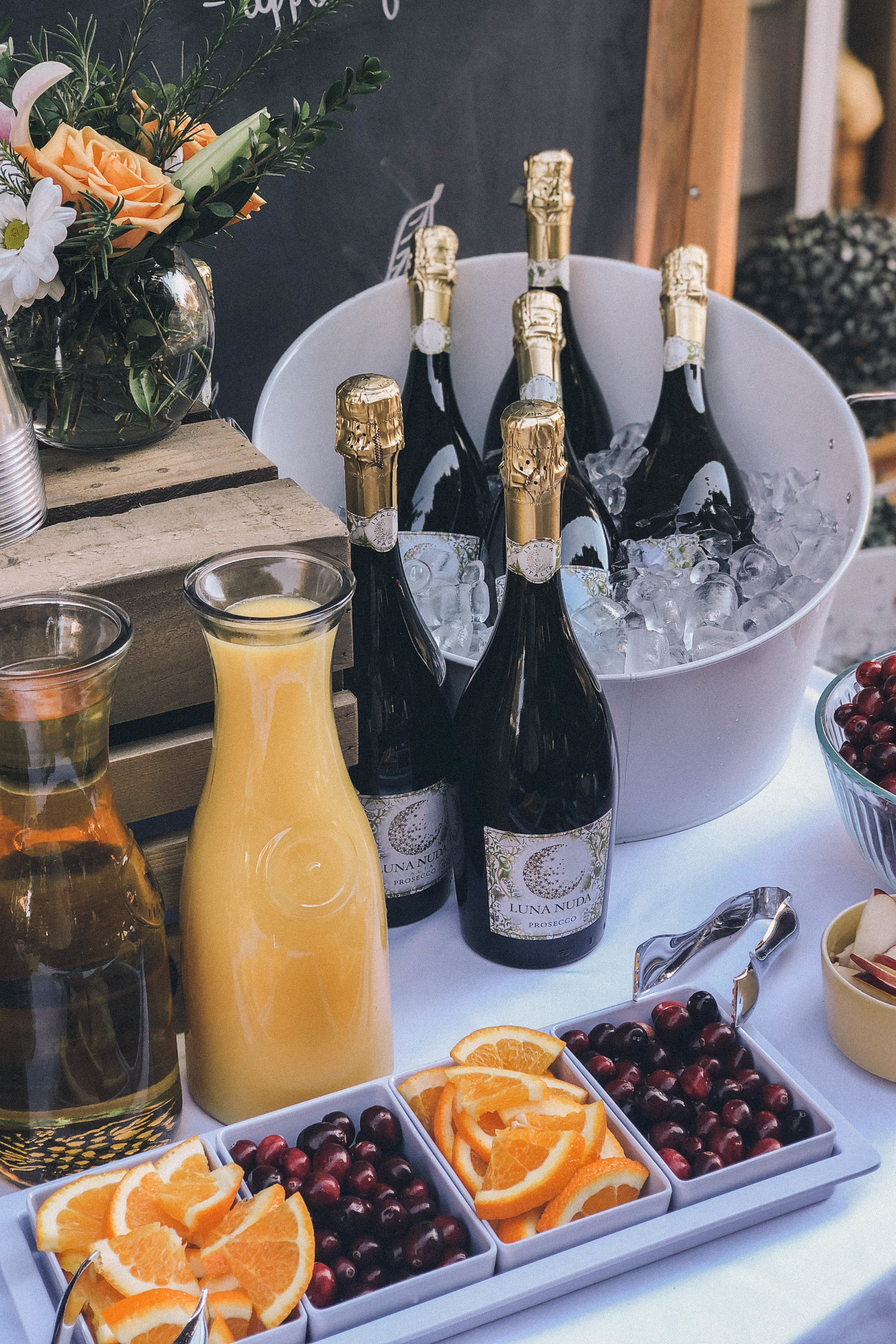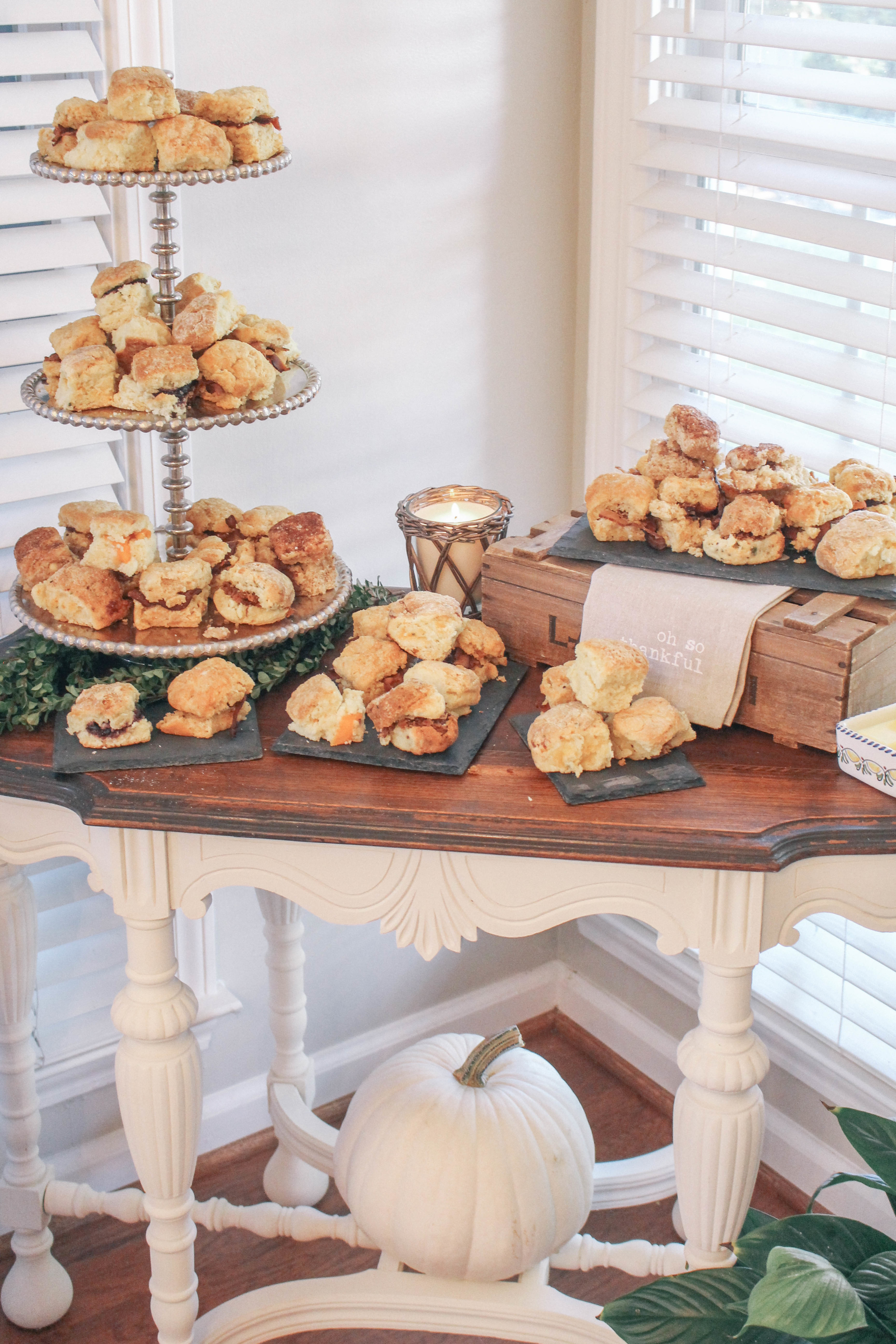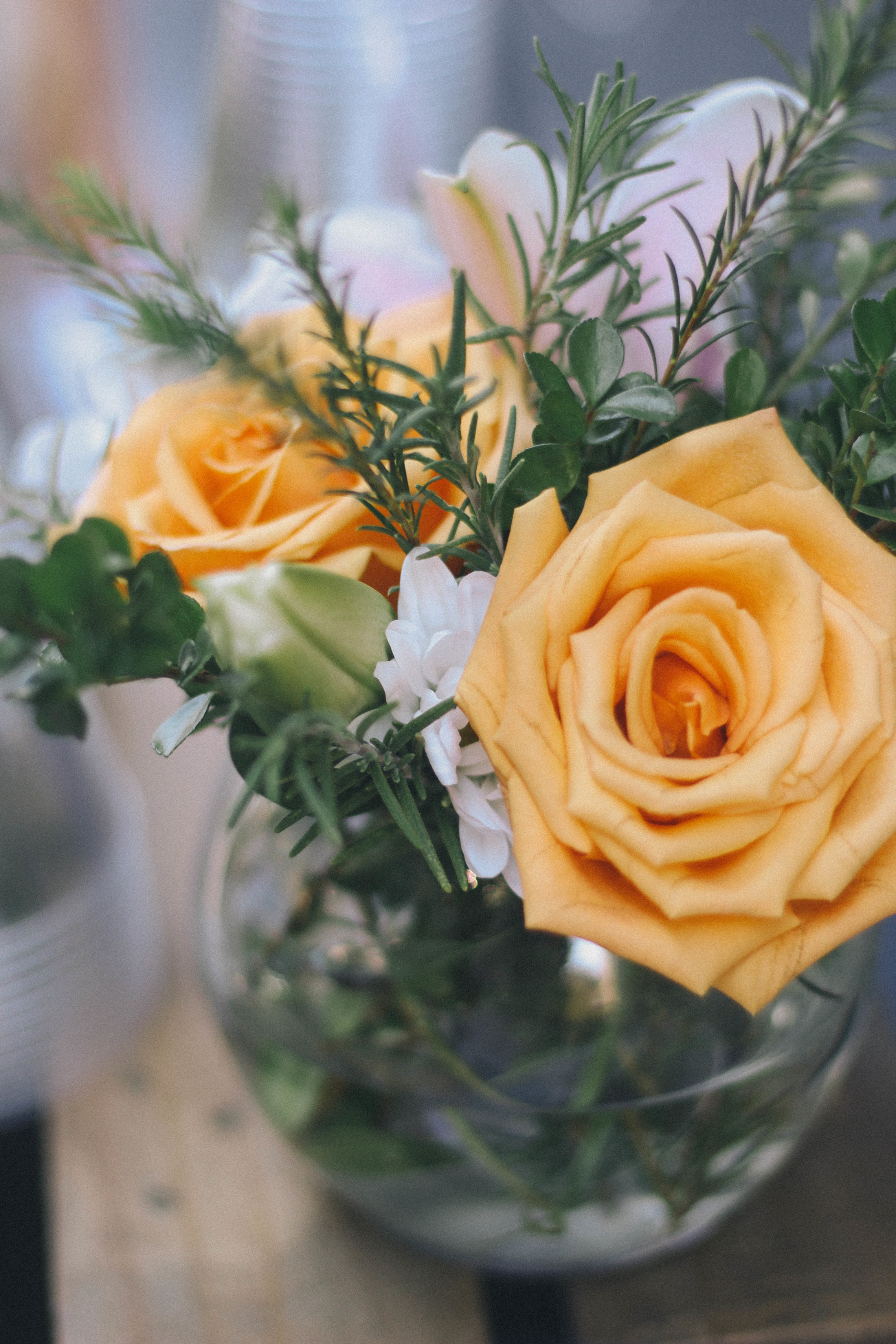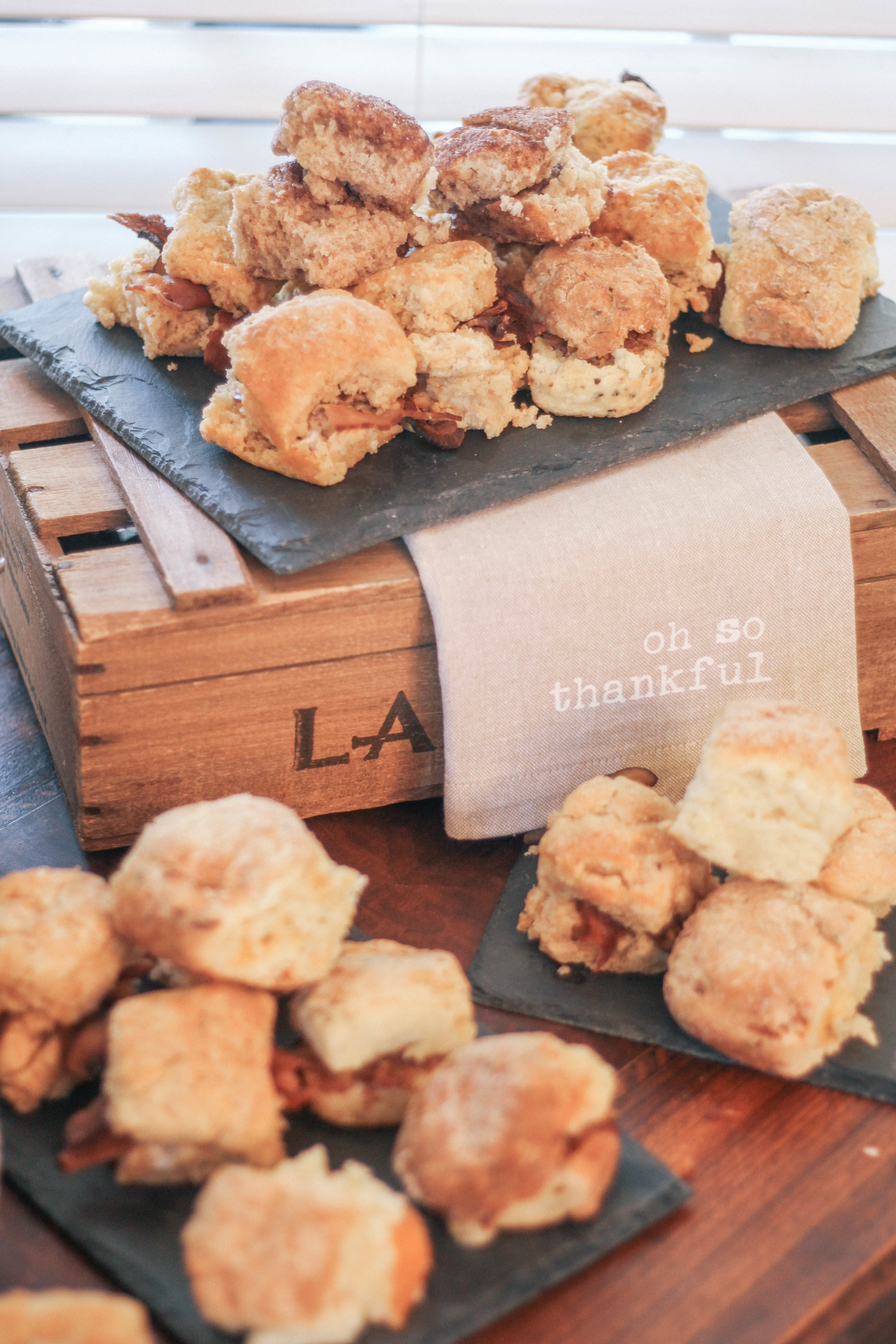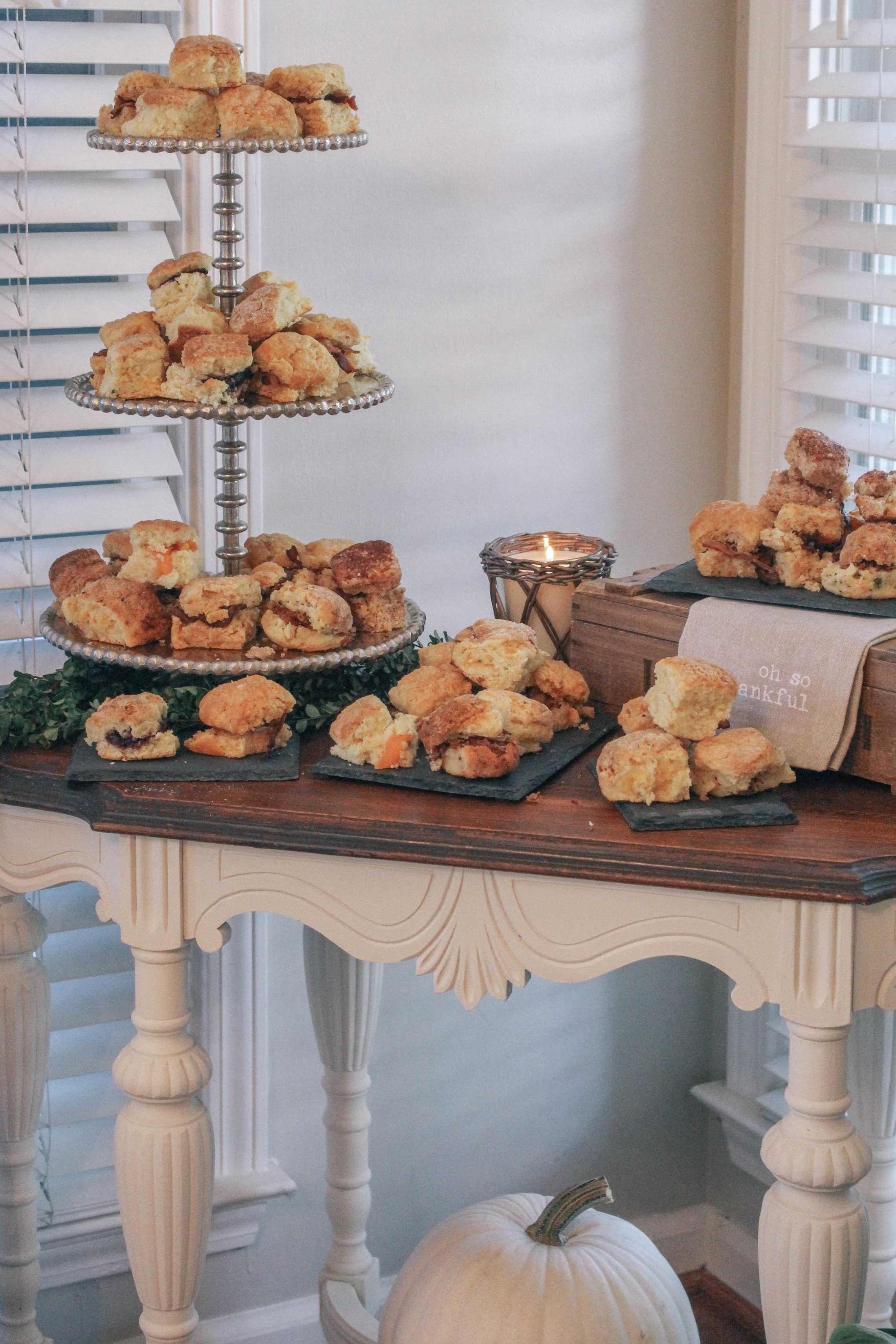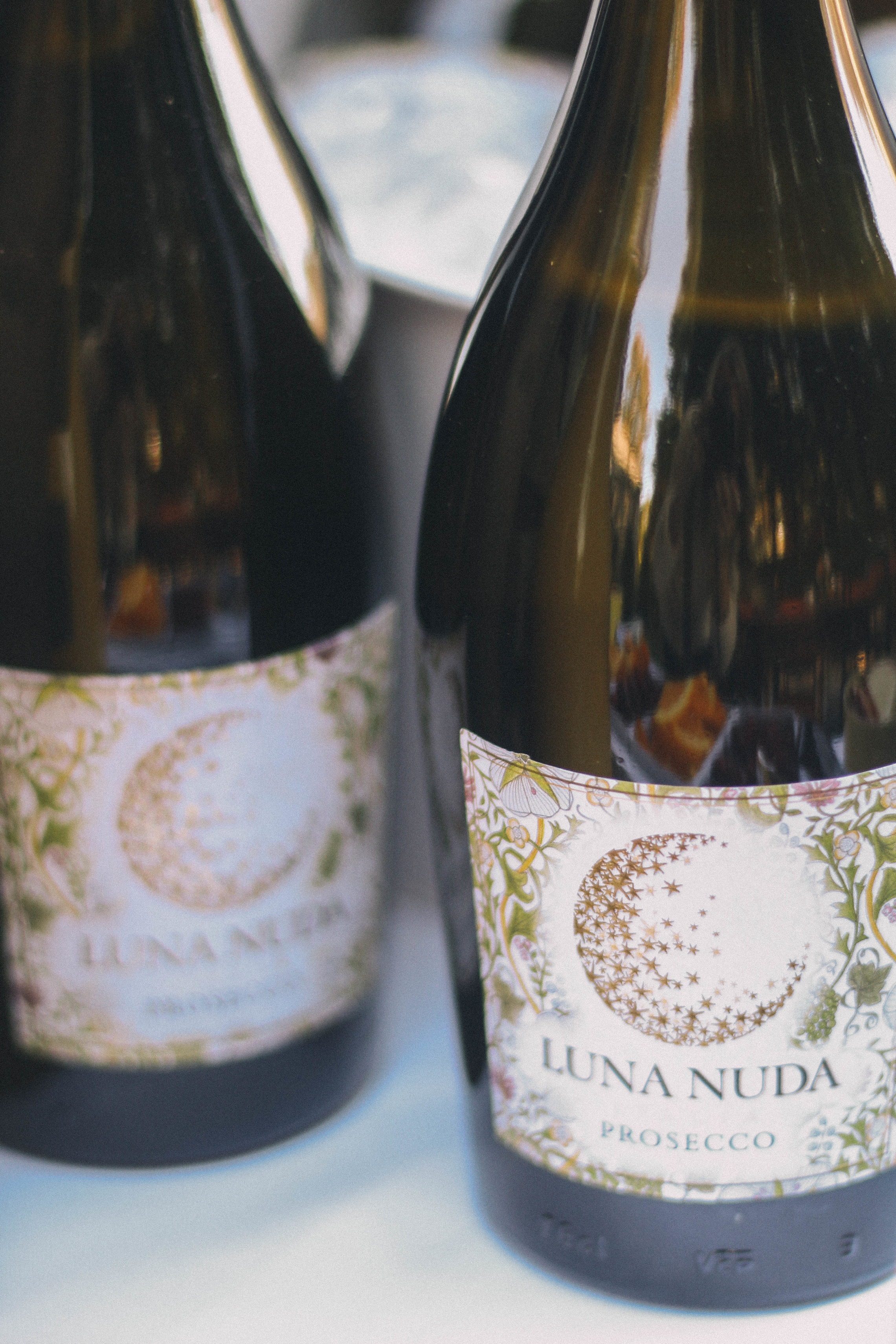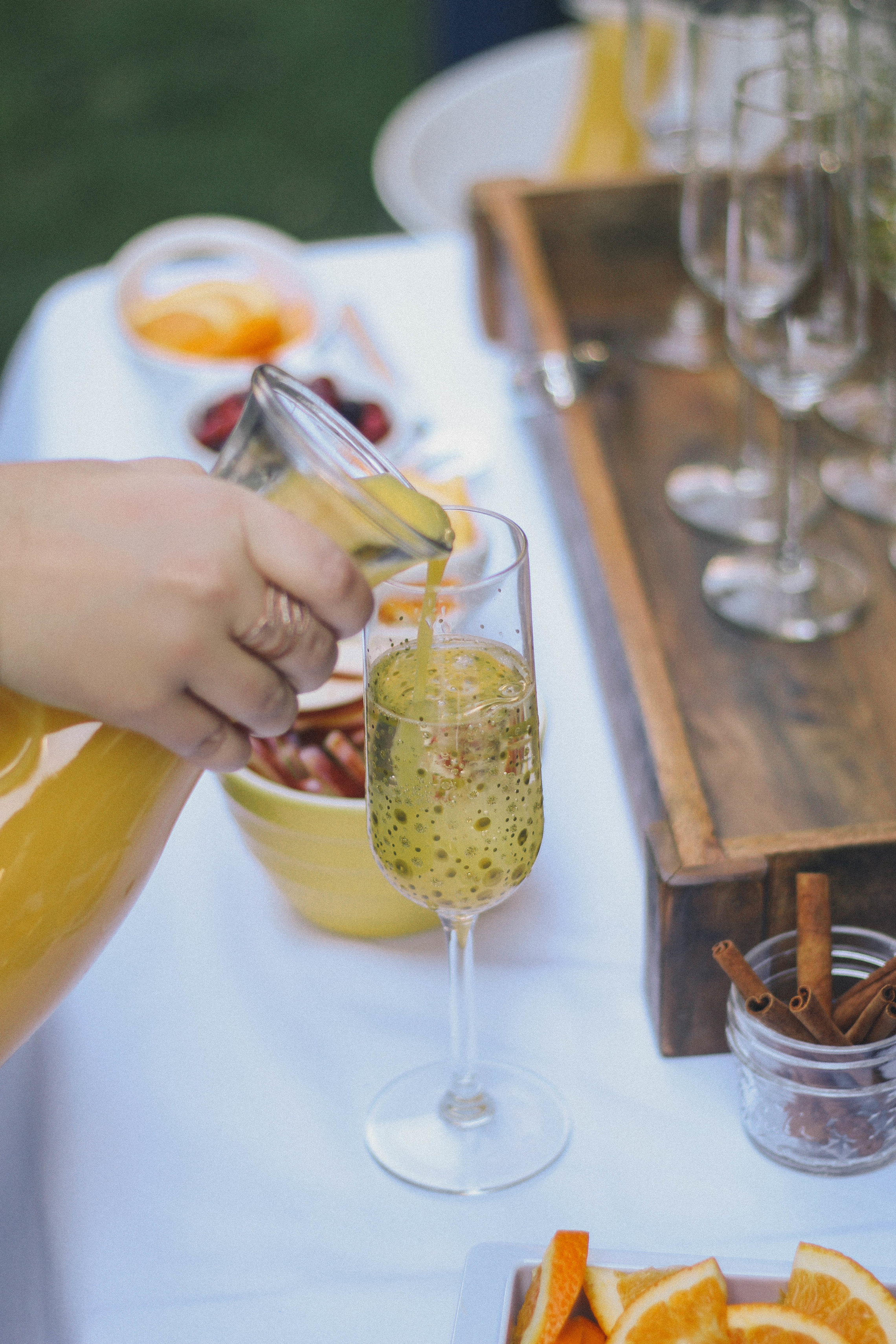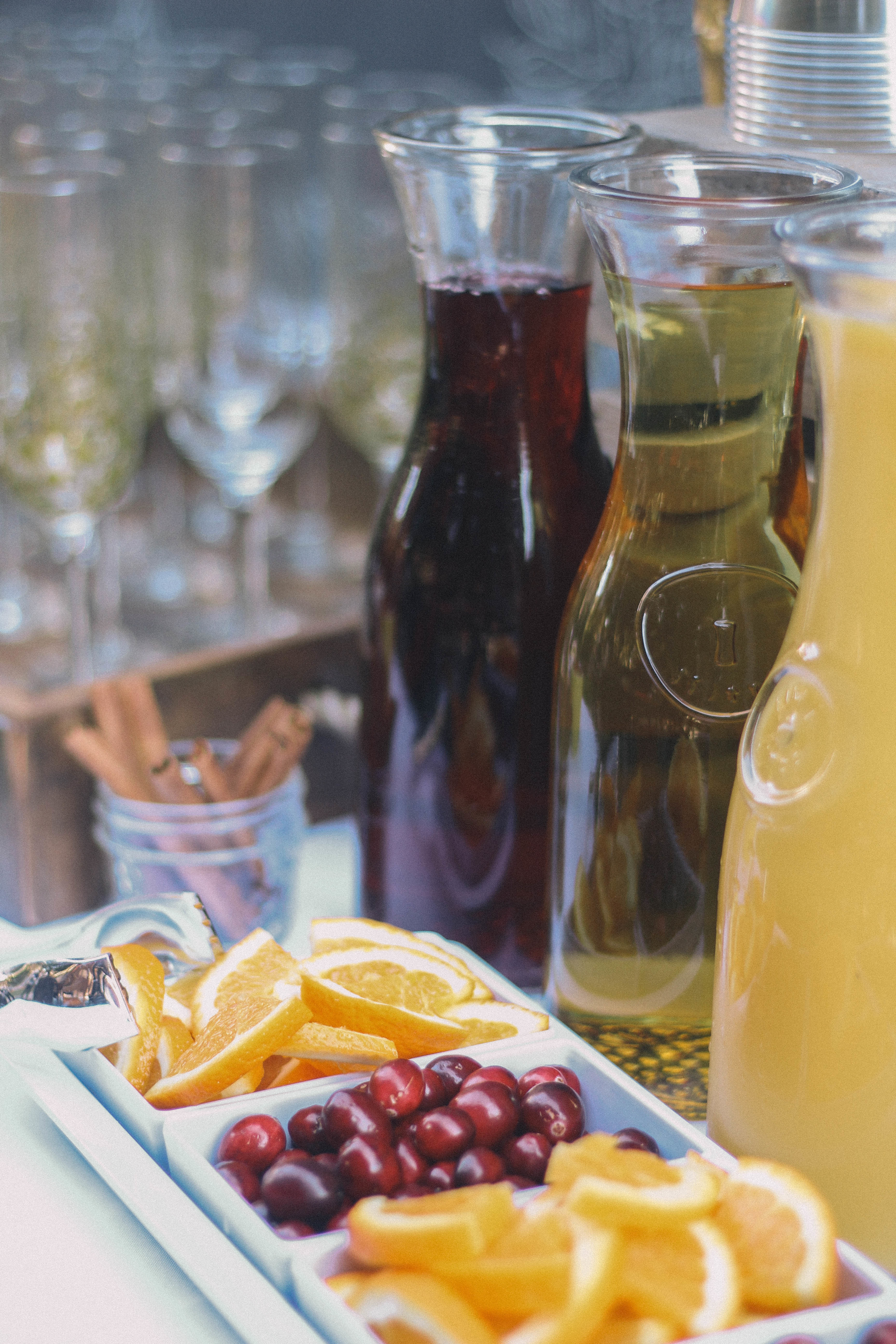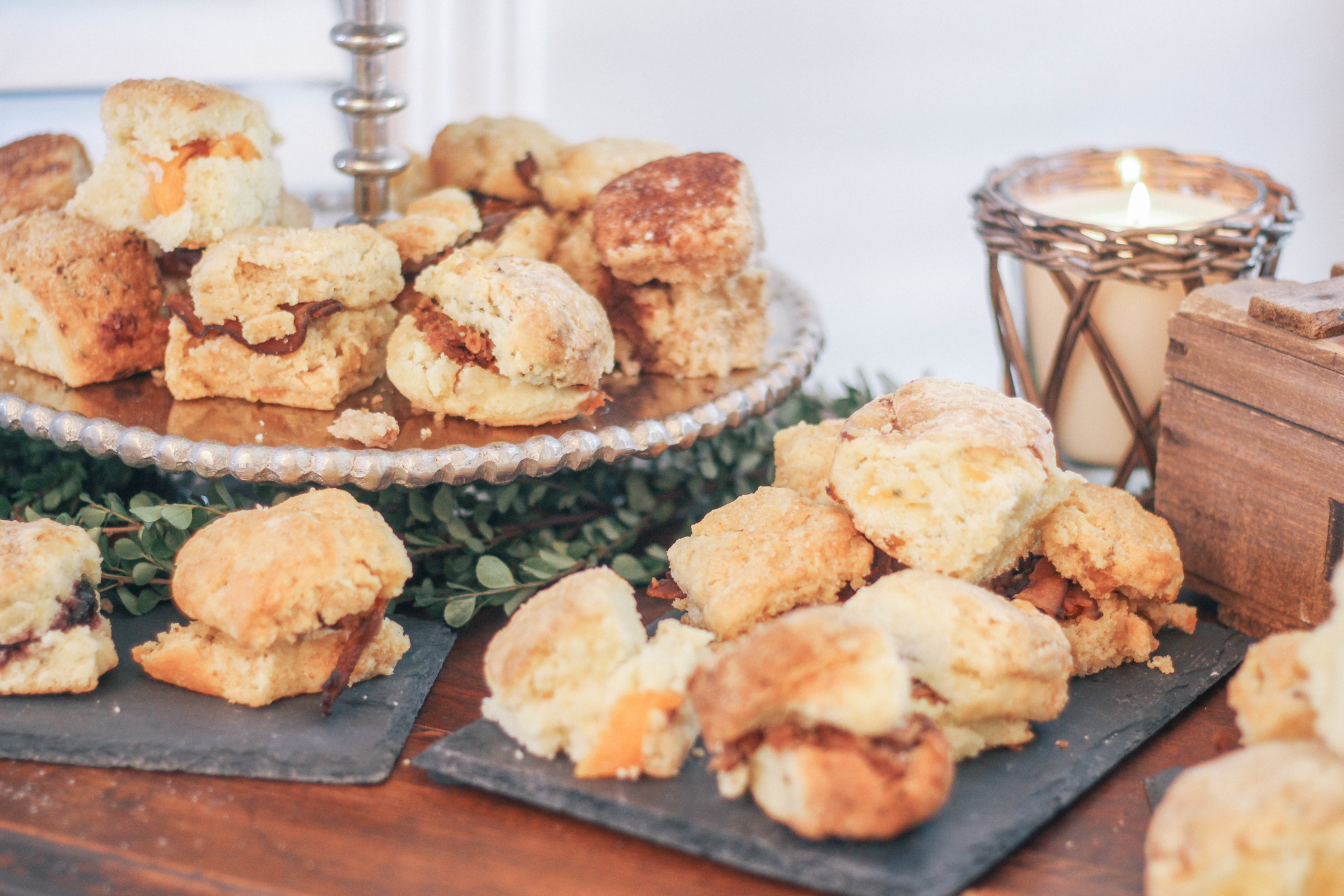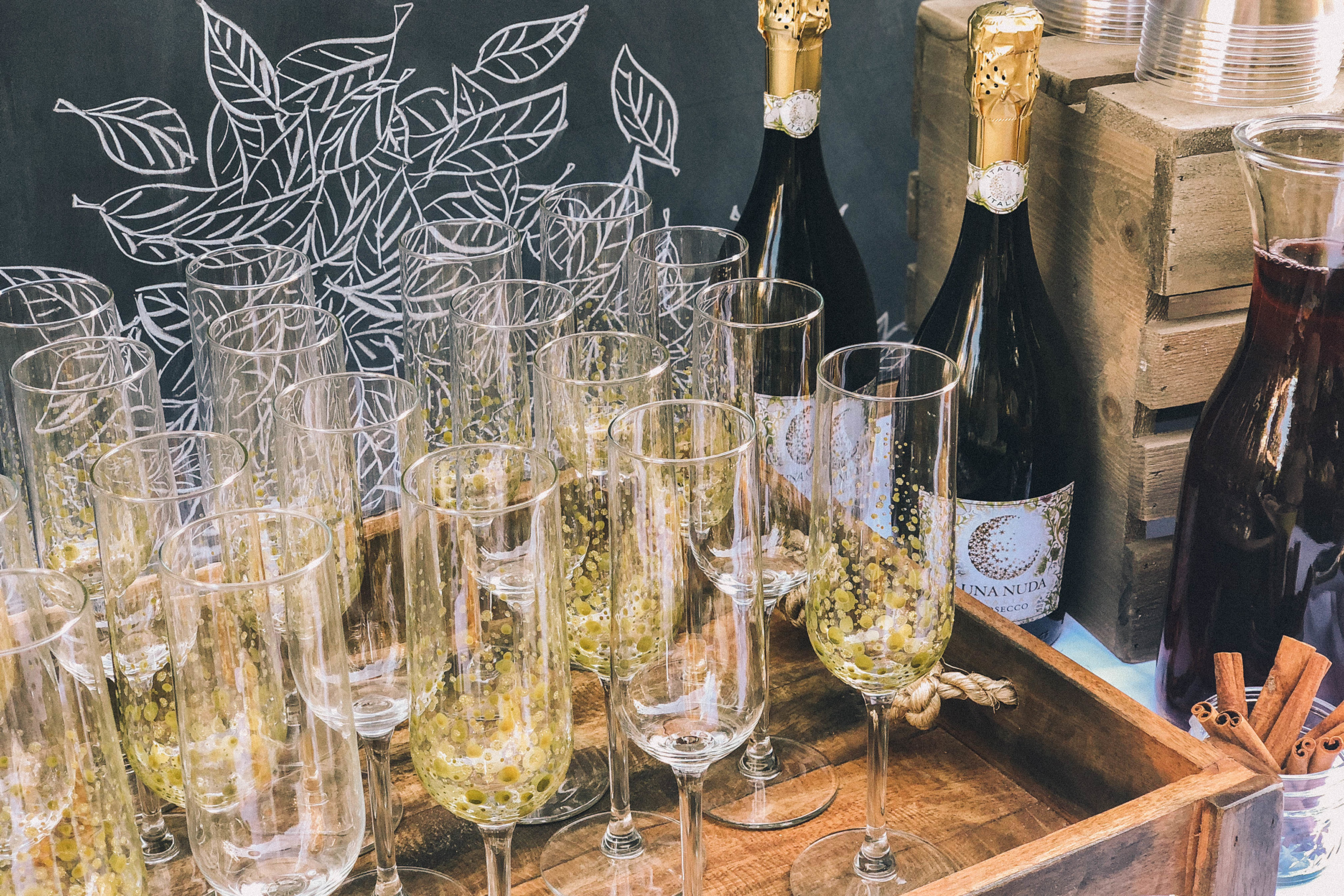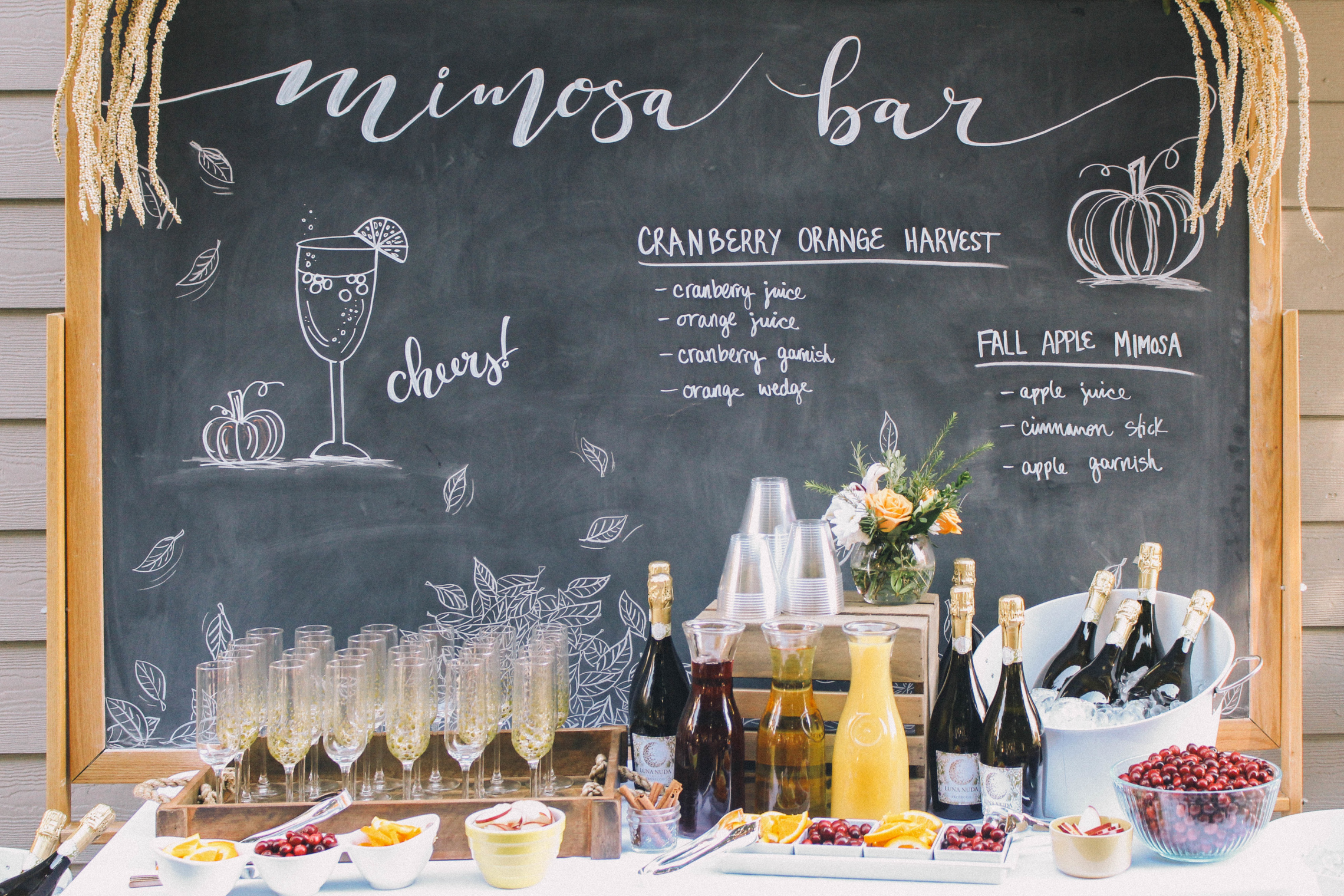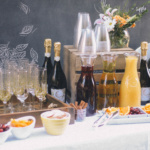 Fall Apple Mimosa
Ingredients
2

Parts

Luna Nuda Prosecco

1

Part

Apple Juice

1

Stick of Cinnamon

1

Slice of Apple
Instructions
Pour your bubbly. Tip: Tilt your glass and pour the prosecco slowly down the side of the glass to prevent foam on top!

Add a splash of apple juice.

Add a cinnamon stick. Tip: If you break your cinnamon stick in half it will saturate your drink with more cinnamon flavor.

Garnish with a slice of apple & enjoy!
Fall Brunch Bar Ideas
Everyone raved over the Biscuit Bar with so many delicious selections from Callie's Hot Little Biscuit and the Mimosa Bar was a huge hit as well.  Luna Nuda Prosecco was the perfect focal point for our Mimosa Bar and guests loved creating their own seasonal mimosa flavors.  Overall our friends and family really enjoyed having the flexibility to grab food and drink from the Biscuit Bar and the Mimosa Bar while they mingled and caught up with one another. If you are looking for an alternative to a big family sit down meal this Thanksgiving, I would say consider creating a Fall Brunch Bar on your own.  Of course if you're having out-of-town family stay with you, this would be a great option to kick off Thanksgiving Day while you prepare for the big dinner as well!