Fabrics by the Yard:
I'm a fairly creative person when time in my busy schedule permits, and beyond the typical craft stops to the big guys (Michaels, Hobby Lobby, Jo-Anns, & Hancock Fabrics), there are a few fabric stores in Atlanta that I can't help stopping by when the urge to sew and get crafty pops up.  I wanted to share with you some of my favorite spots to find fabric of all materials around Atlanta and the places I frequented in New York City.
Forsyth Fabrics
1190 Foster Street NW, Atlanta, GA 30318
(404)351-6050
http://www.yelp.com/biz/forsyth-fabrics-atlanta
Located west of midtown Atlanta, it's tucked down a little road behind the old Star Provisions area along with a few other upholstery specific fabric stores.  The selection of beautiful, rich fabrics is wide open for you to scan by color shade and find exactly what you are looking for, as long as you don't mind paying for it.  The prices aren't outrageous (mostly), but this is not the spot to go for the cheap stuff… unless you plan on hitting up the clearance section to the right when you walk in.  One thing to keep in mind if you are buying more than a yard or two, some of the fabric must be ordered and it takes a week or so for it to arrive, plus they charge you a processing fee.  I did find some beautiful bolts of various blue textures when I sewed new pillows for my couch and I thought the investment was worth it for the quality – see pics down below.[line]
Fine Fabrics
6624 Dawson Blvd, Ste 11, Norcross, GA 30093
(678) 894-2067
http://www.yelp.com/biz/fine-fabrics-norcross
Save this place for your weekend errands list – you'll want some time to explore. It's located just north of Spaghetti Junction on I-85, on a small access road, so you'll be hitting heavy traffic any afternoon during the week.  I stumbled upon this place just after moving back to Atlanta in 2012, and it's my hidden gem.  Fine Fabrics may not seem like much as you drive up with their small colorful sign out front, but looks are deceiving in this case. You walk in to find notions in bulk of almost any kind you can imagine, and then you see the bolts of fabric on row after row.  This is a place to really spend time searching each row for the perfect fabric.  There are tons of patterns and it's never crowded.  Their prices are fantastic, and if you are a skilled negotiator, you can haggle for a discount.  I'm a deal huntress, so this place is definitely one of my favorites.  In fact, I try not to buy from the big chain stores unless I'm in a hurry and I can't make it to this place.  Fine Fabrics doesn't have a website, but you can find them on Yelp so don't let that deter you![line]
Gail K. Fabrics
2216 Cheshire Bridge Rd NE, Atlanta, GA 30324
(404) 982-0366
http://www.yelp.com/biz/gail-k-fabrics-atlanta
Located off Cheshire Bridge road, you might miss it if you're not looking for it. For those familiar with the layout and chaos of a fabric store in the NYC fashion district, this place will bring you back with nostalgia as soon as you walk in.  While it's not as big as some of the NYC stores, there's tons of fabric and notions spewed out everywhere, and it's always busy with people dreaming up fun projects to sew.  If you know what you need, I recommend just asking an employee to point you in the direction; they've always been extremely friendly.   The prices can be steep, but given they may be the only place that carries what you are looking for, you may end up just biting the bullet.[line]
And for those of you lucky enough to be in NYC… here are a few to keep an eye out for:
New York Elegant Fabrics
222 W 40th St, New York, NY 10018
(212) 302-4980
http://www.yelp.com/biz/new-york-elegant-fabrics-new-york
I spent hours in this store just looking through all the different fabrics they have.  The store is laid out VERY different if you are used to only shopping at say a Hancock Fabrics type store, but it's still VERY organized.  The staff is always around for help and they are extremely knowledgeable.  I know everyone is obsessed with Mood, the fabrics store featured on Project Runway (and to be honest, I didn't spend as much time in there), but I'm still a bigger fan of New York Elegant Fabrics.  Definitely one of the larger fabric retailers in Manhattan, so don't forget to check them out!  Last time I checked, they offer a student discount (like most NYC fabric stores) so don't forget to show your student I.D.![line]
M&J Trimming
1008 Avenue of the Americas, Manhattan, NY 10018
(800) 965-8746
http://www.mjtrim.com/
I have a love/hate relationship with M&J Trimming.  I'm in love with pretty much everything they have in their store: from ribbons, to buttons, to appliques, etc… BUT they are well known and in a prominent part of Manhattan off of 6th Ave by Bryant Park, which basically means they charge higher prices.  Again, I don't think I've ever gone in this place and not bought something; however, it's definitely not the place to find a bargain.  You can sift through the other fabric stores further west in the Garment District for a better deal, but I had to share this place with you. I wanted to call M&J out, because they actually have a great website with ALL of their products available online for purchase – which is good news for everyone not living in NYC! So if you're looking for that perfect rhinestone or lace trim for your next project, this place most definitely will have something to fit the need.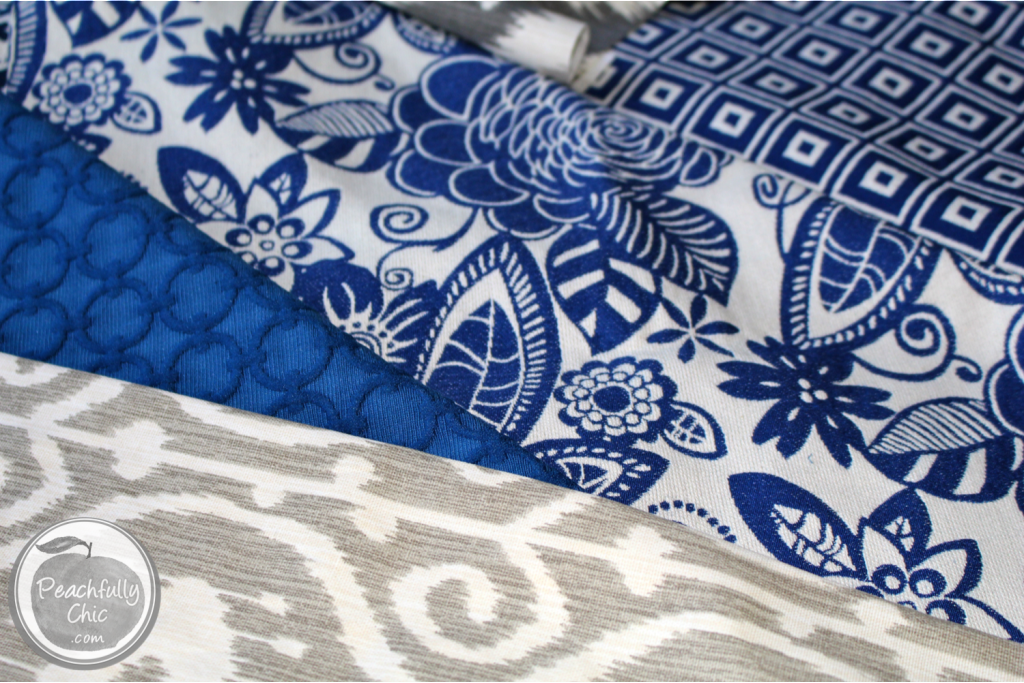 The photo above is just a sample of some of the upholstery fabric I bought at Forsyth Fabrics to sew new accent pillow covers for our couch.  And since our dog, Berkeley, loves hanging out right in the middle of anything that I'm working on, he had to make a cameo!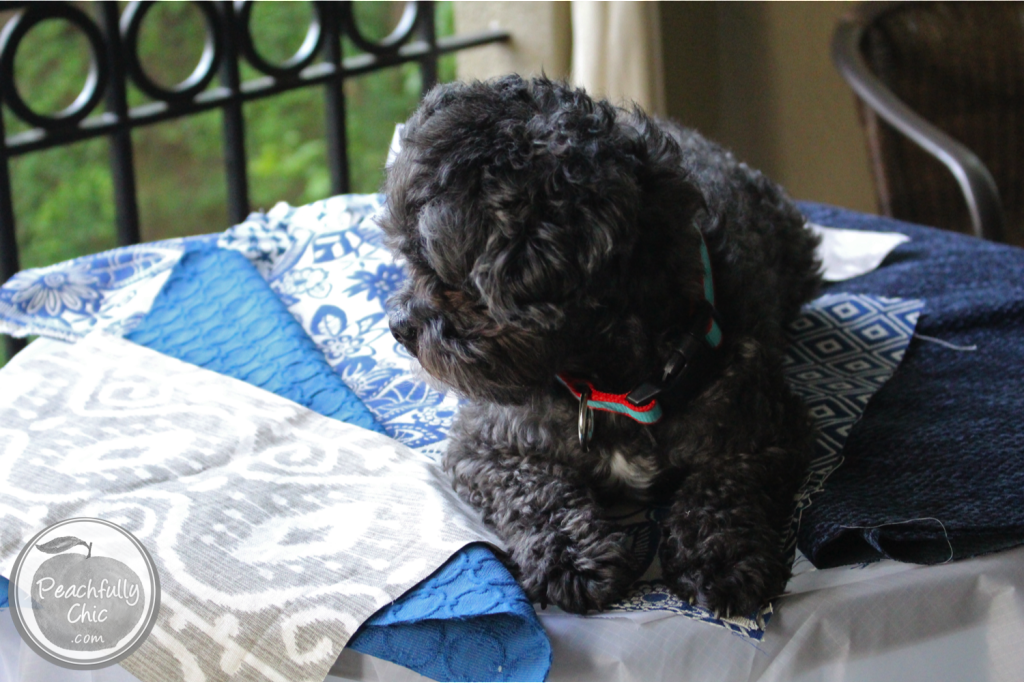 While these are just a small few of the independent fabric stores out there around Atlanta and New York City, these been my go to spots for a while depending on the project.  What hidden gems do you love to shop at for fabric & crafts?  Does your favorite fabric store make the cut?