Recapping the Highs & Lows This Month:
It's been a crazy few weeks y'all…   I don't know what it is about the month of May, but last month in particular ALWAYS seems to be the busiest month of the year.  Does anyone else feel like that????
Thankfully I survived all the wonderful and exciting things this May rolled through with, but I'm not lying when I say that I'm glad I have a full year to mentally prepare for another month as crazy as May.  I don't even have kids yet so I can't imagine how to throw in graduations, summer vacay, and little feet running around into the mix!
Anyways, in my 2015 tradition of rounding out monthly highs and lows, I've gathered up my Peaches and Pits of May to share with you!
Before you dig in tough, I have to say that last month was so busy but also so special… which means I was blessed with many "Peaches" to share!
[line]Peaches (aka The Highs):[line]
Date Night for STK Atlanta's 3rd Anniversary!

 I was invited to attend STK's 3rd Anniversary in Atlanta at the tail end of April so the event didn't make the deadline for last month's Peaches & Pits, but I had to include it for May because we ended up having so much fun!  Caren West PR hosted another fabulous event (she also planned the Tod's Grand Opening in Buckhead earlier in the month) this time at STK in Atlanta… Kevin joined me and we turned it into a fun little date night.  We stayed after the party and had a delicious dinner with a complementary bottle of Vueve Cliqout since they were an event sponsor for the night.  As you can see from the blurry pics… we had a marvelous time sipping champagne, eating oysters, and devouring some fantastic steak, spinach, and mac & cheese!  We wrapped the night with a tasty little house shot and some sweet dessert bites… talk about delectable!
My Actual Birthday Night Out at the Braves Game:

  Fun times at the Braves game on a weeknight with some friends!   Big love to my bestie Christina for organizing the group, bringing a yummy cookie cake, and gifting me a gorgeous little Navy Lilly P laced dress.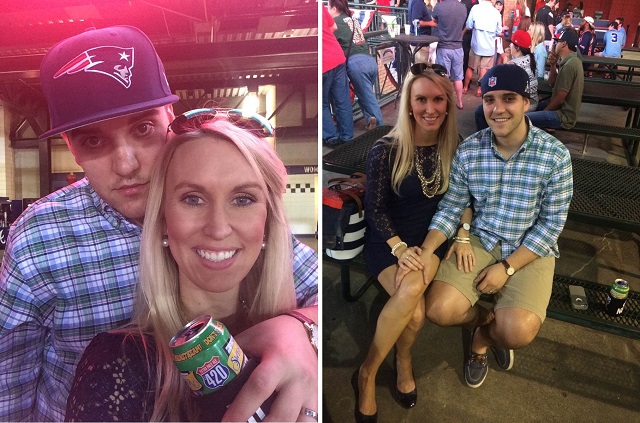 Peachfully Chic's First Year Blogiversary!!!

 I won't beat a dead horse on this one since I could honestly continue to shout it from the rooftops how happy I was to hit my first year blogiversary for Peachfully Chic… but if you missed the celebration, you can check out the festivities on my event recap here with photos by the talented Angie Webb.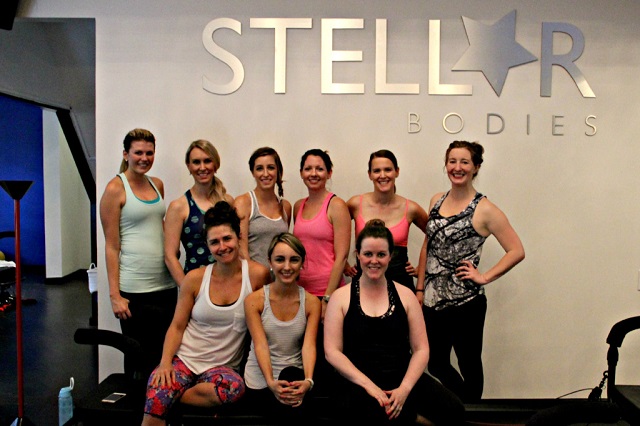 Photo Credit c/o Peachtree Roadies
Featured on Verbal Gold Blog!

 I was honored when my girl Ady over at Verbal Gold Blog featured little 'ol me as one of her #GoldRushCrush ladies of her new Friday series.  Ady is hilarious and if you haven't checked her out you should!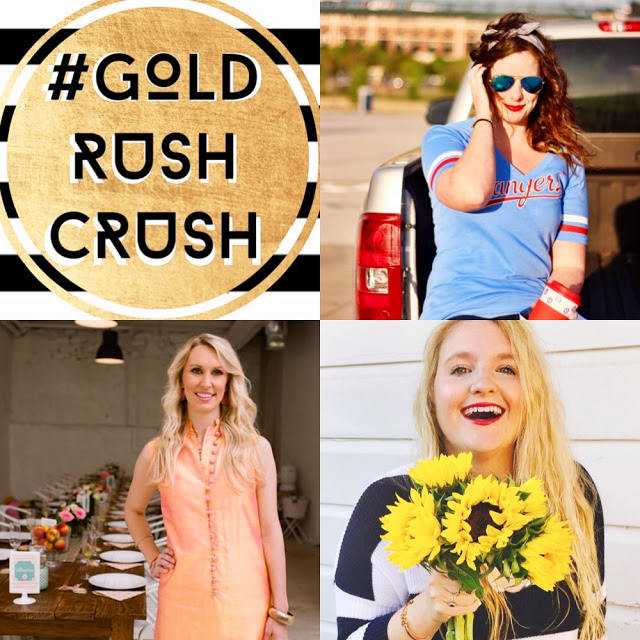 Memorial Day Fun w/Family: We had a ton of fun over Memorial Day weekend when Kevin's little bro (my brother-in-law… it's still so weird to say that!) and some friends came down from New England.  We enjoyed the weekend with a great hike up Stone Mountain, a day of boating on Lake Allatoona, and a ton of grilling out on our new Big Green Egg!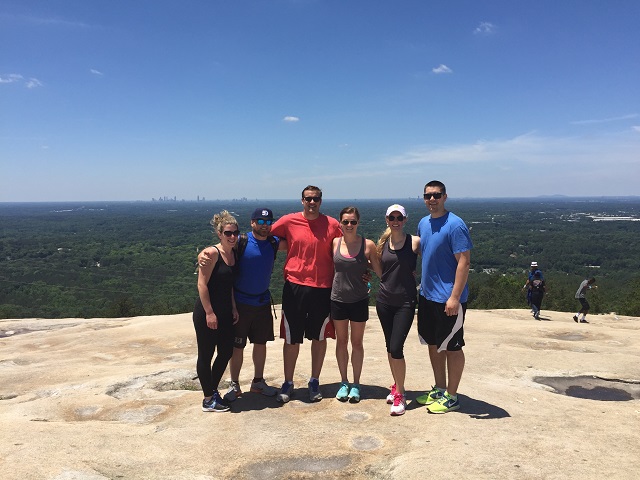 [line]Pits (aka The Lows):[line]
Allergies On Blast!

 I absolutely love the spring/summer.  I could definitely live in a place that sees no temps drop below 70° F all year long, unfortunately, that's not how Atlanta works… so I've just got to take advantage of this beautifully warm season while I can.  The problem is that allergies follow every spring though, and this month was super rough for me.  So while everyone is hanging around outside enjoying the weather, I've had to beef up my supply of allergy medicine!
Allergies On Blast Part 2:  I'm pretty sure that I am allergic to something in my home.  What it is exactly I'm not sure.  And I'm not talking about the seasonal allergies that roll in this time of year (see Pit #1 above), but I'm talking about more of the itchy hands, feet, and head… which has been afflicting me pretty much the entire last week or so which has been only slightly mitigated using antihistamine medicine.  I've never had an allergic reaction to anything like this, so I'm keeping my fingers crossed that I figure out what's causing my reaction sooner than later! [line]
Peaches & Pits Flashbacks:
What have been your Peaches and Pits of the month?
Feel free to vent or share your blessings below!
'Til next time….