Sometimes you just need a weekend away to relax and recharge the body and mind.  So, when the Sheraton Bay Point Resort invited me to join them for a Wellness Weekend at their newly renovated waterfront resort in Florida, the timing couldn't have been better.  Just a quick flight from Atlanta, or in our case an easy 5 and 1/2 hours drive, we arrived one evening just in time to see the cotton candy sunset light up the bay.  It's easy to see why the Sheraton Bay Point Resort should be considered one of the great places to stay in Panama City Beach, Florida.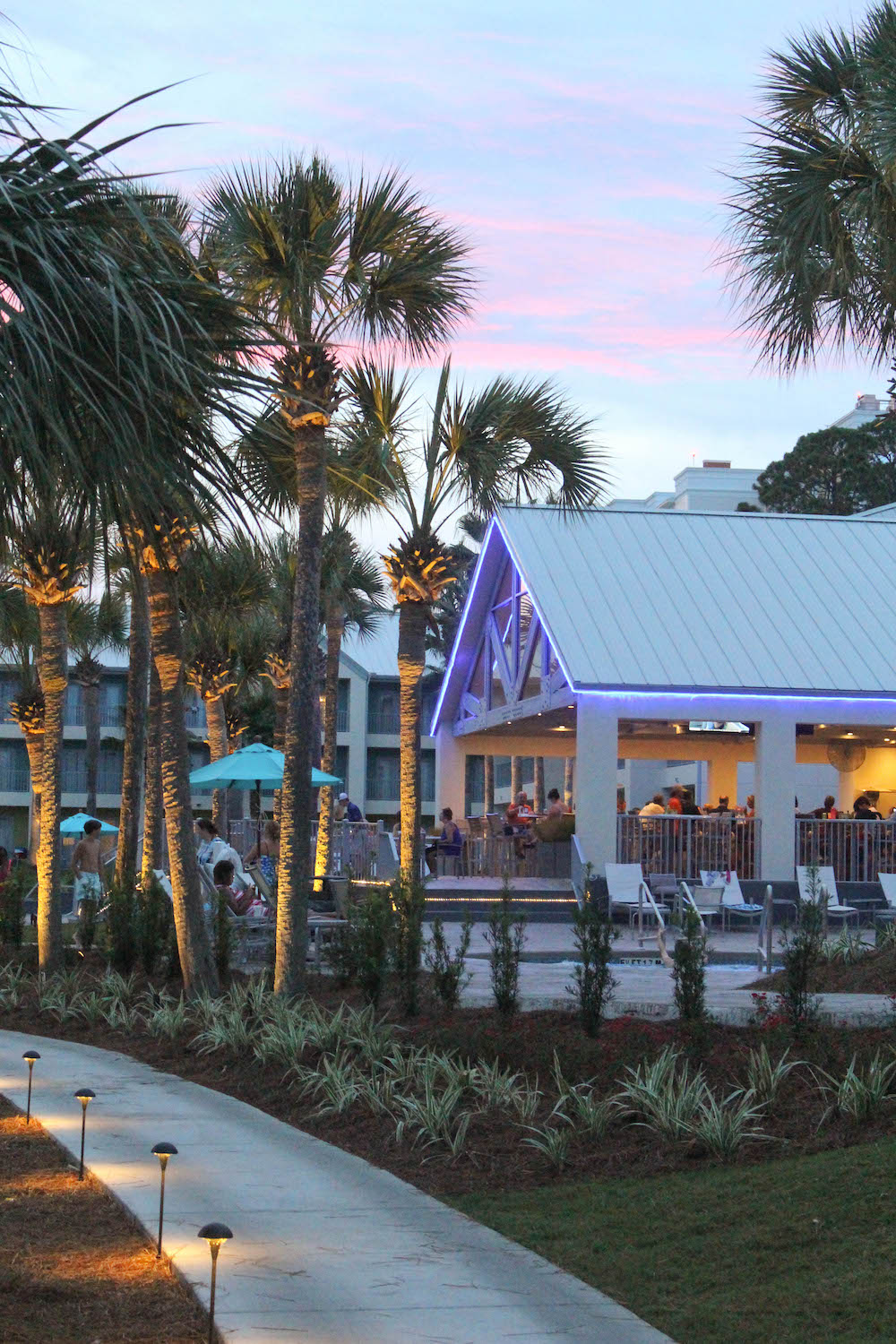 Our Arrival:
We had a wonderfully warm welcome both in the staff's temperament as well as the beautiful weather.  The hubby and I checked into our stylishly redesigned room overlooking the water and headed out for a quick tour of the property.  As we meandered around the property, I was so impressed with the gorgeous ballrooms and lobby for special events because the layout seemed perfect for a big wedding party.  After touring the property a bit more, we made our way over to Flip Flops, the outdoor bar, and ordered the most delicious cheeseburger I have had in a while.  Flip Flps oozed all the beach vibes you could ask for on a coastal vacation complete with live music too!
Wake Up Call:
I'm not typically a morning person, but I always try to make an exception when I'm on vacation.  Our first day on the bay started early.  We woke for breakfast at Tides Restaurant where we filled up on delicious "build your own omelets" as we watched the sun come out.  Having a great place like Tides Restaurant at the resort made it super easy for me to get in and out in time to join the morning yoga class at the outdoor pavilion.    There's nothing better than starting your day with a morning workout, and the outdoor yoga class was just what I needed to set the wellness weekend off right.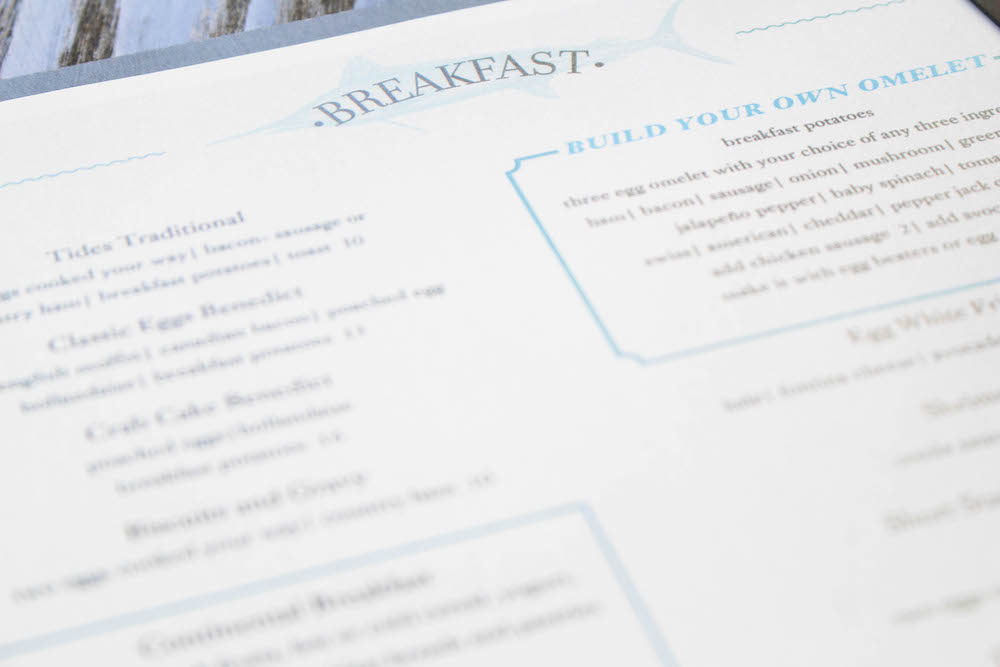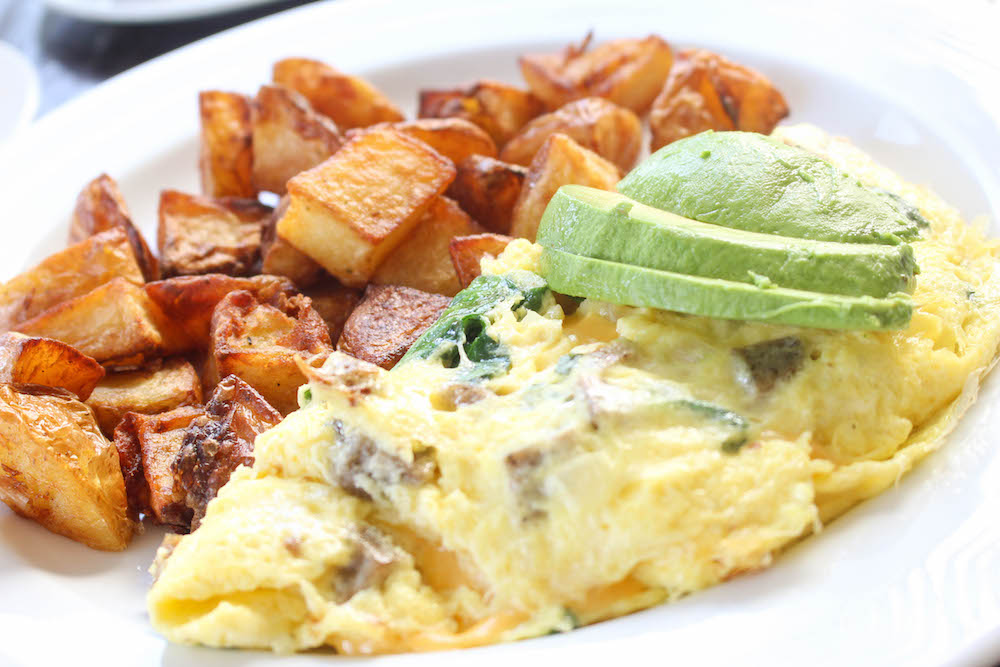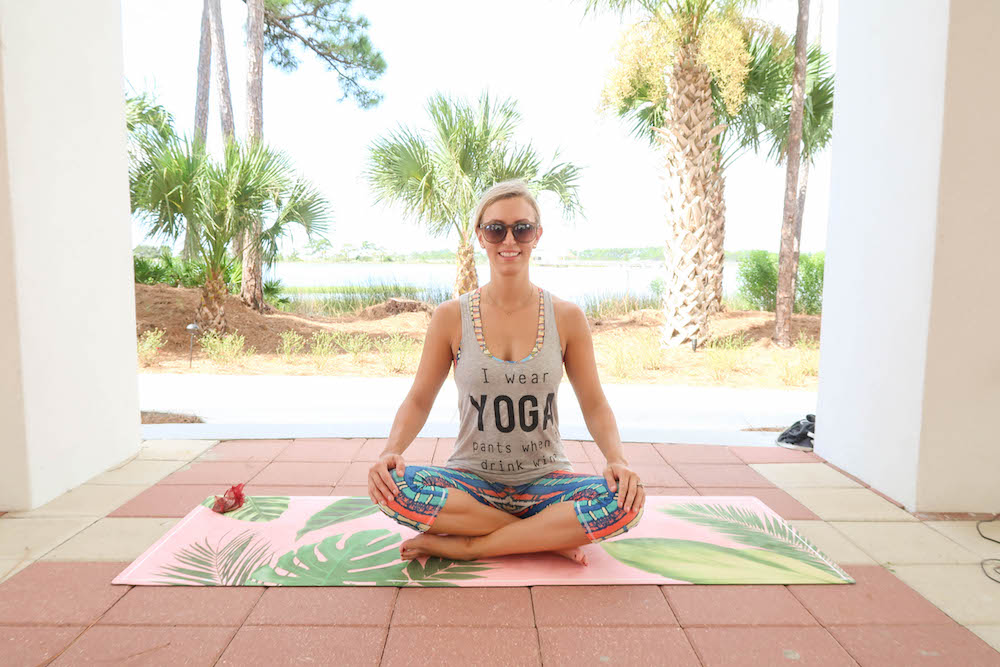 Yoga Top & Bottoms c/o Cypress & 5th
---
Boardwalk & Lunch:
After yoga, we returned to our room to change into our swimsuits, take a dip in the pool, and explore the resort further.  We ventured out to the pier and made our way to the end of the boardwalk where we decided to have lunch at the open-air restaurant and bar overlooking St. Andrew's Bay called Pelicans.  With a family friendly menu that anyone could enjoy, we settled on the perfect shrimp salad and buffalo wings.  Pelican's was pleasantly packed with cheerful guests and PCB locals but we found a table immediately and enjoyed the company.
Shell Island:
One of the coolest features of the Sheraton Bay Point Resort, is that it offers several options to enjoy the water.  From the heated pools to jet skis, paddle boarding and kayaking in the bay, or chilling on the private bay beach (complete with wi-fi) to enjoying the waves on Shell Island – there is no shortage of outdoor fun at the resort.  We opted for the short 20-minute ferry over to Shell Island for the afternoon.  It's one of Florida's most pristine beaches complete with white sands and crystal clear emerald waters.  Shell Island is actually a 7-mile wide undeveloped barrier island that divides the Gulf of Mexico with St. Andrew's Bay.
The hubby broke out our drone and grabbed some really fantastic aerial shots of the beach.  We also featured some great video footage in my video recap coming next week, so make sure you come back to check that out.  Hands down you have to pop over to Shell Island if you're in the area.  We loved spending our afternoon on the beach unwinding under the summer sun and soaking in the salty air.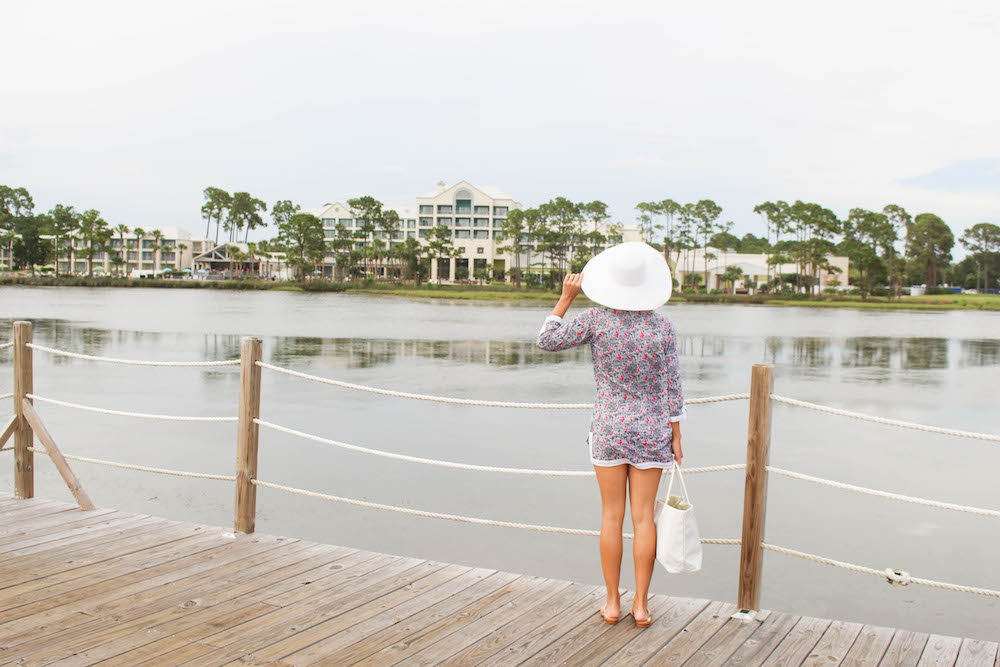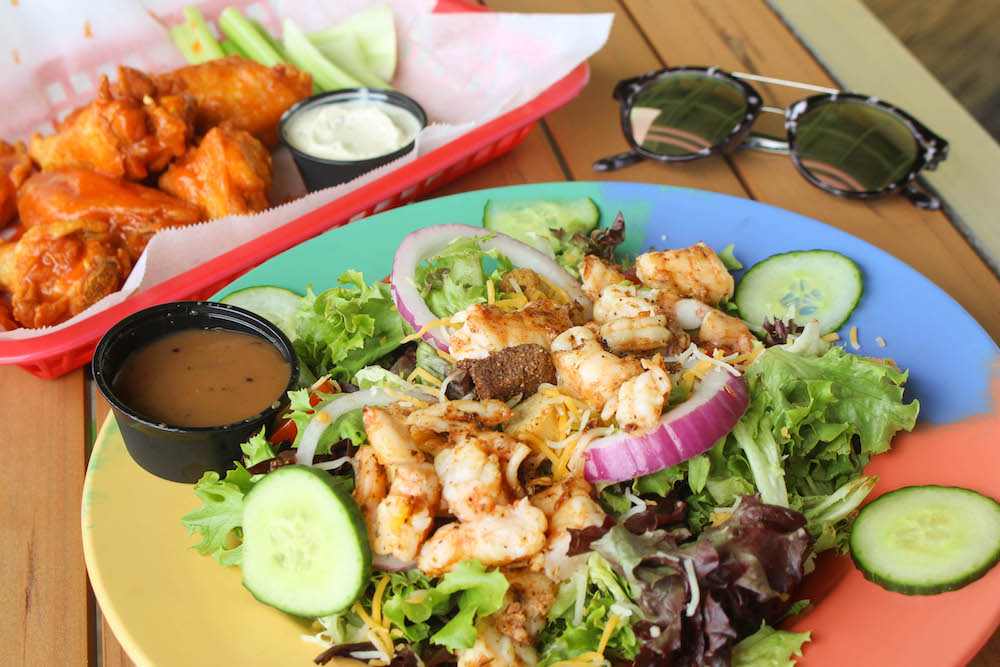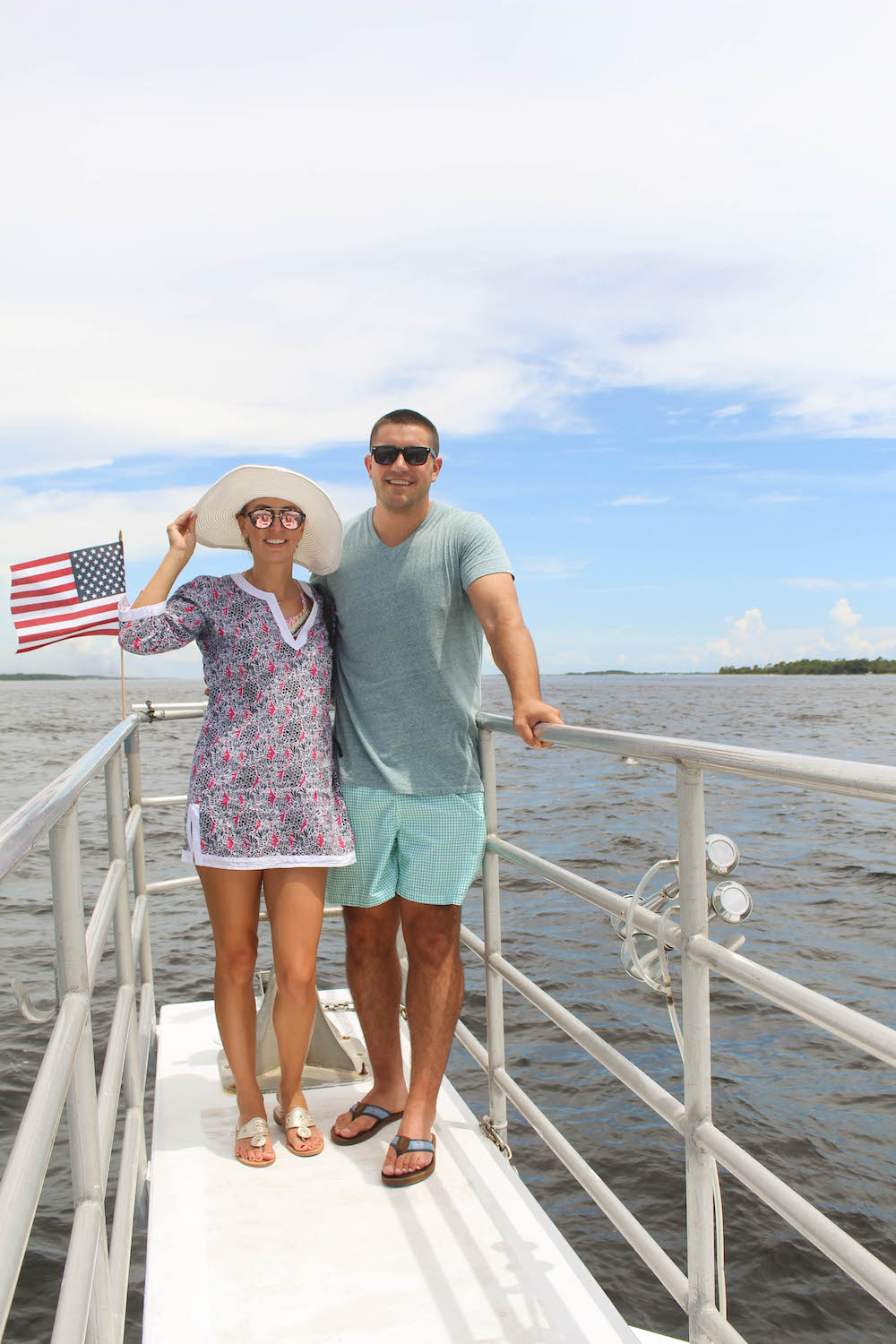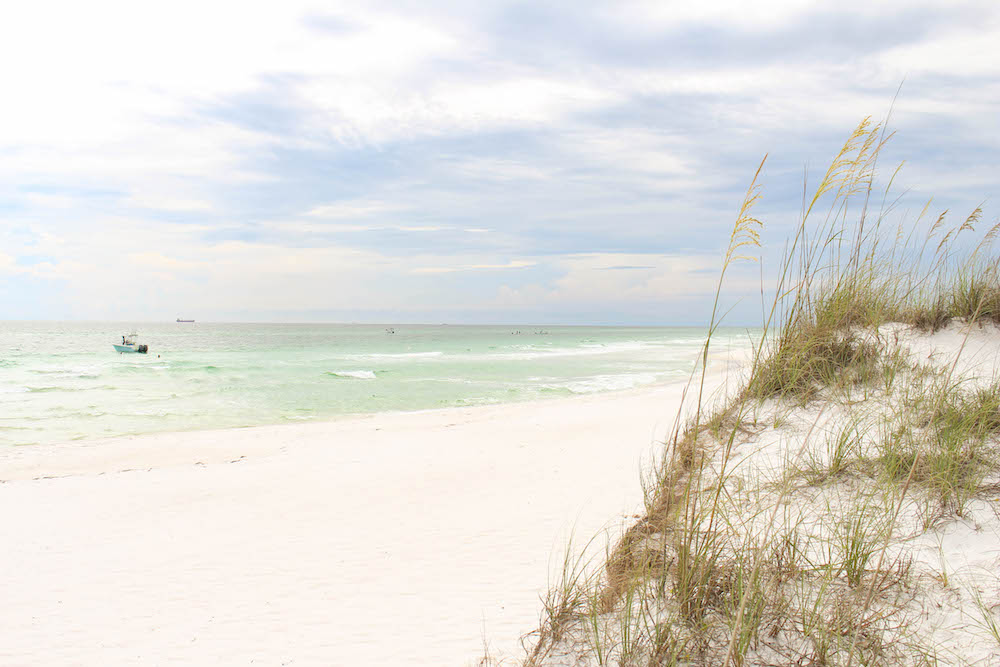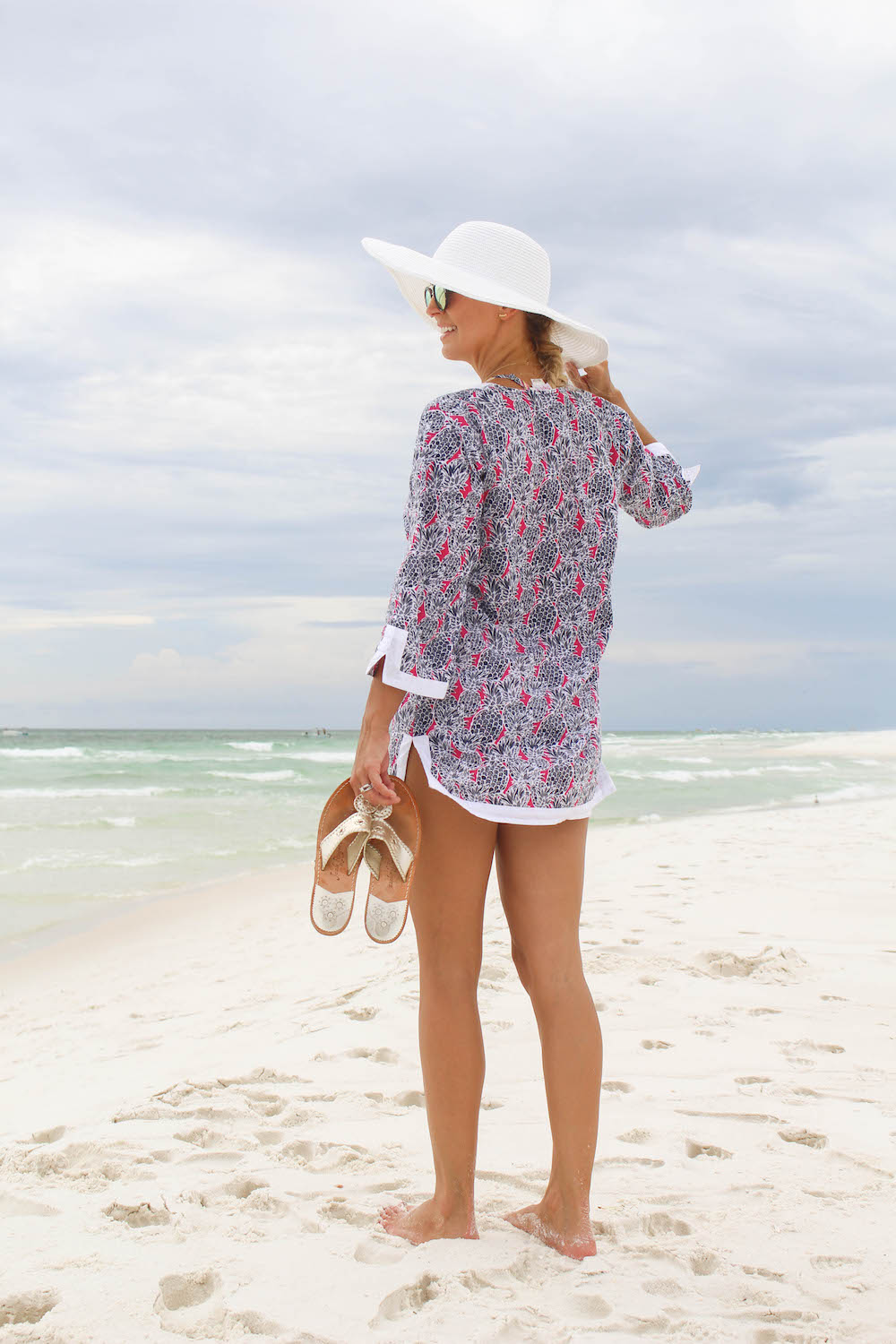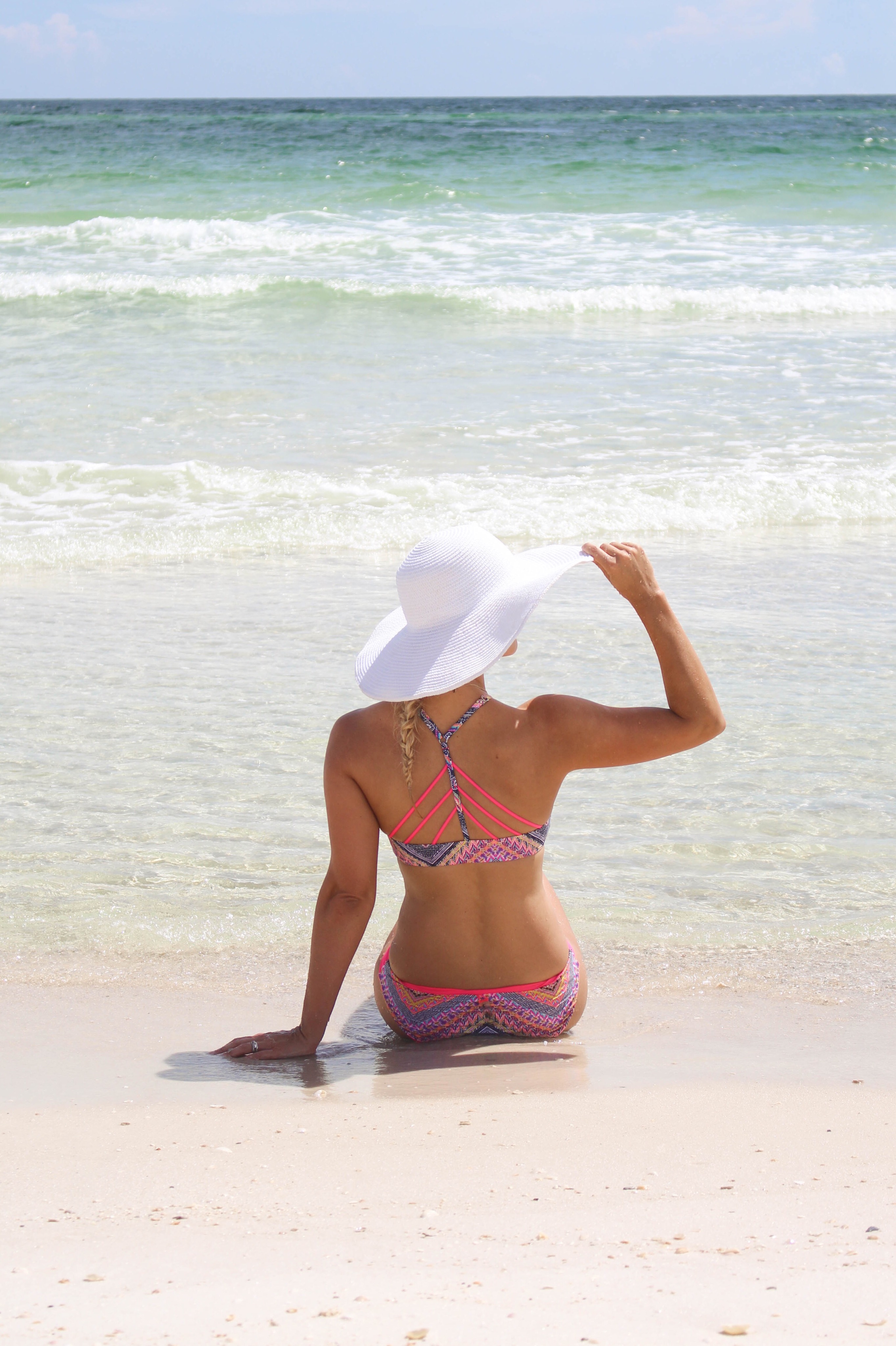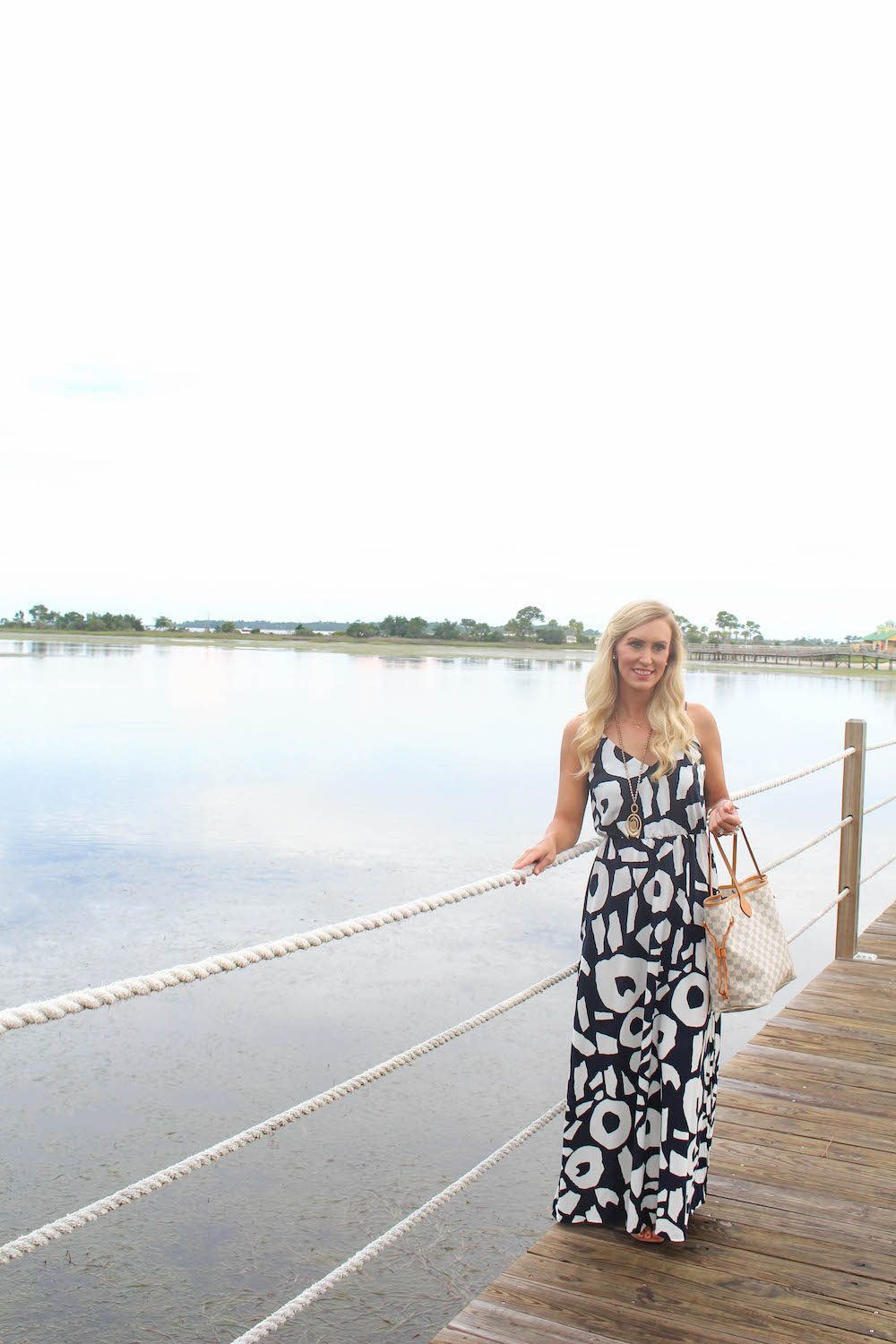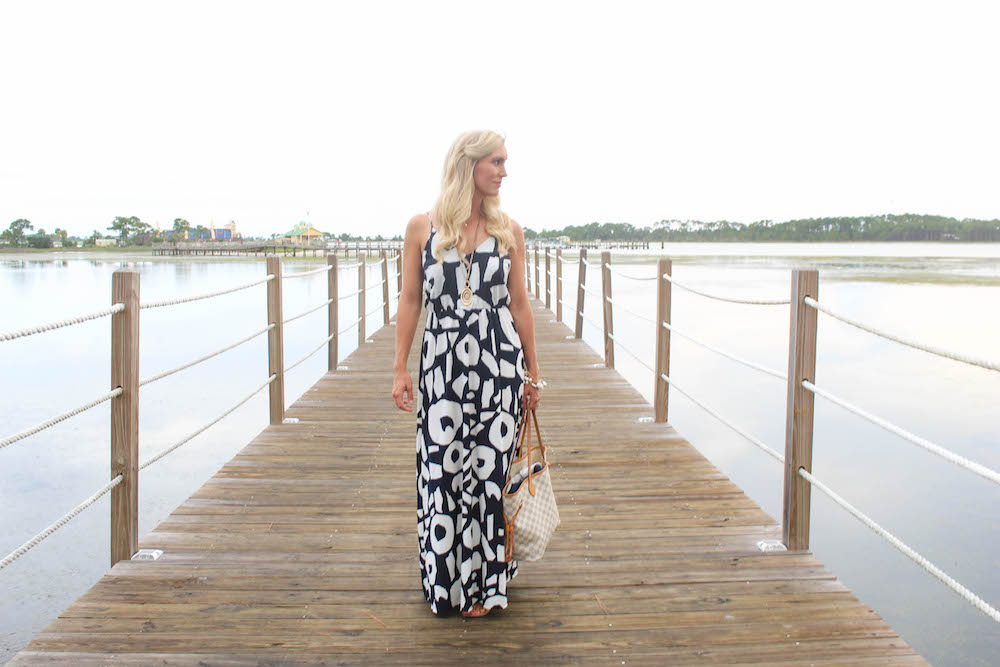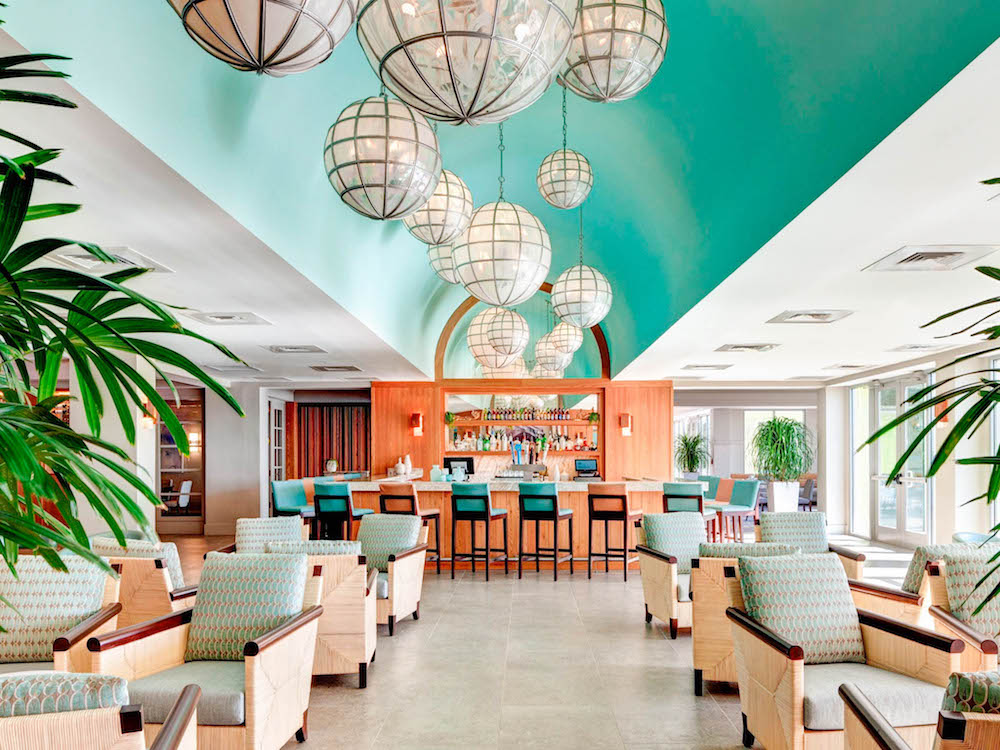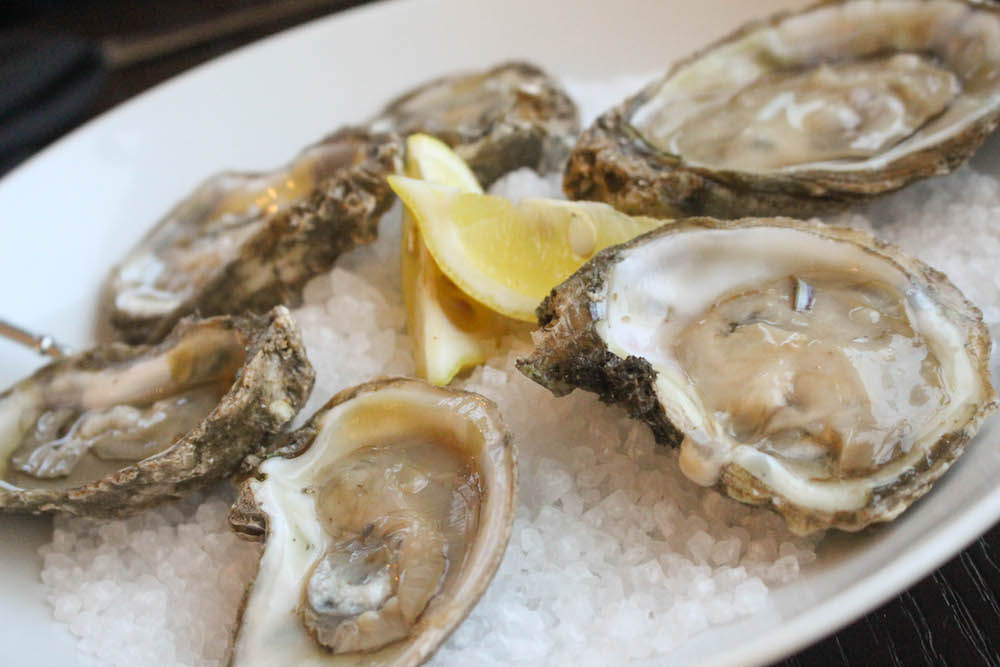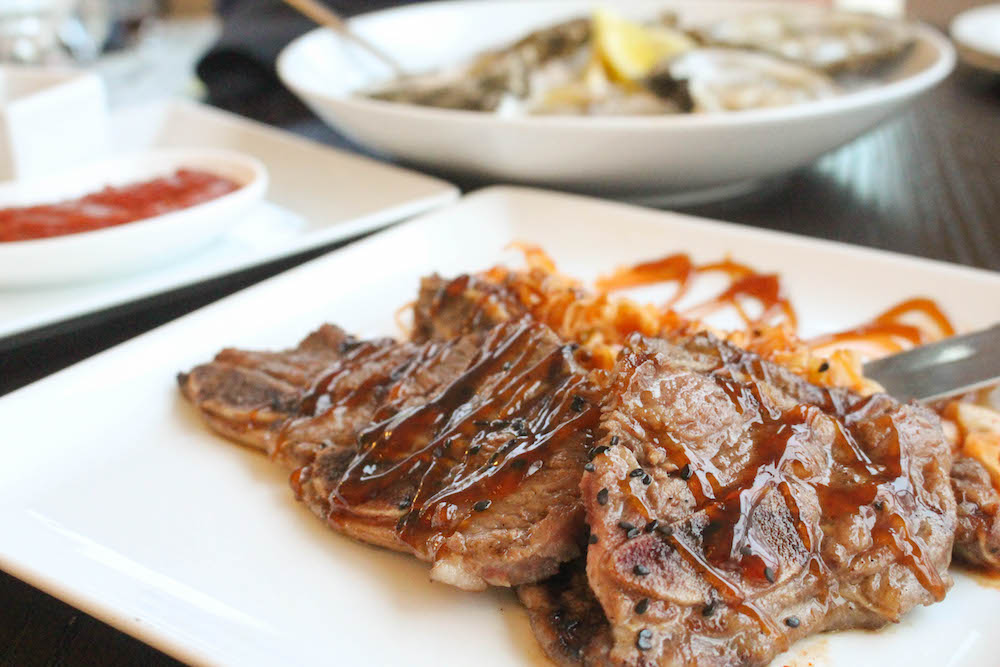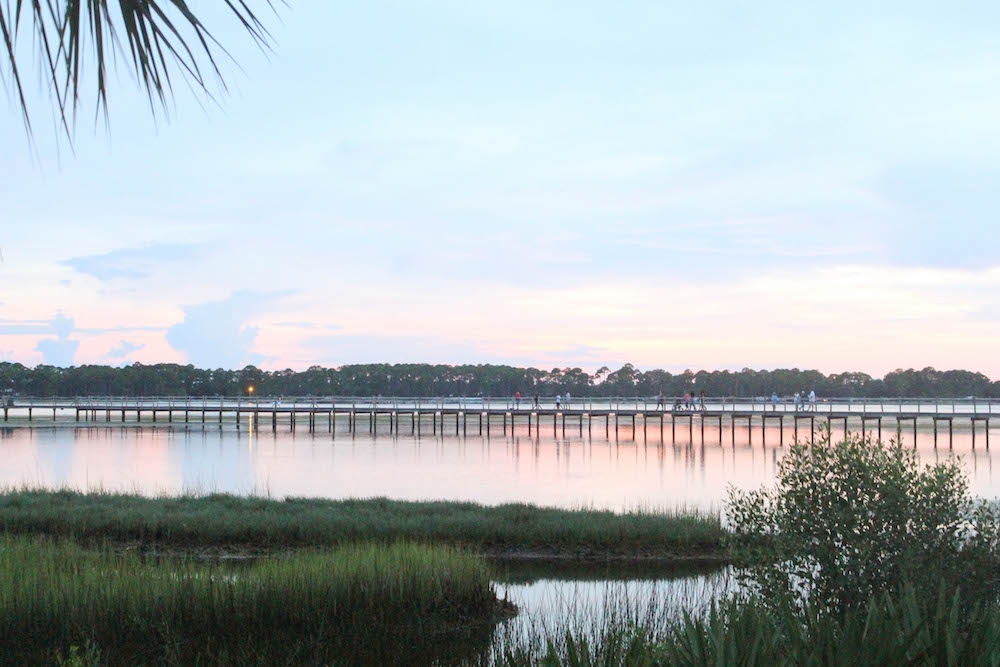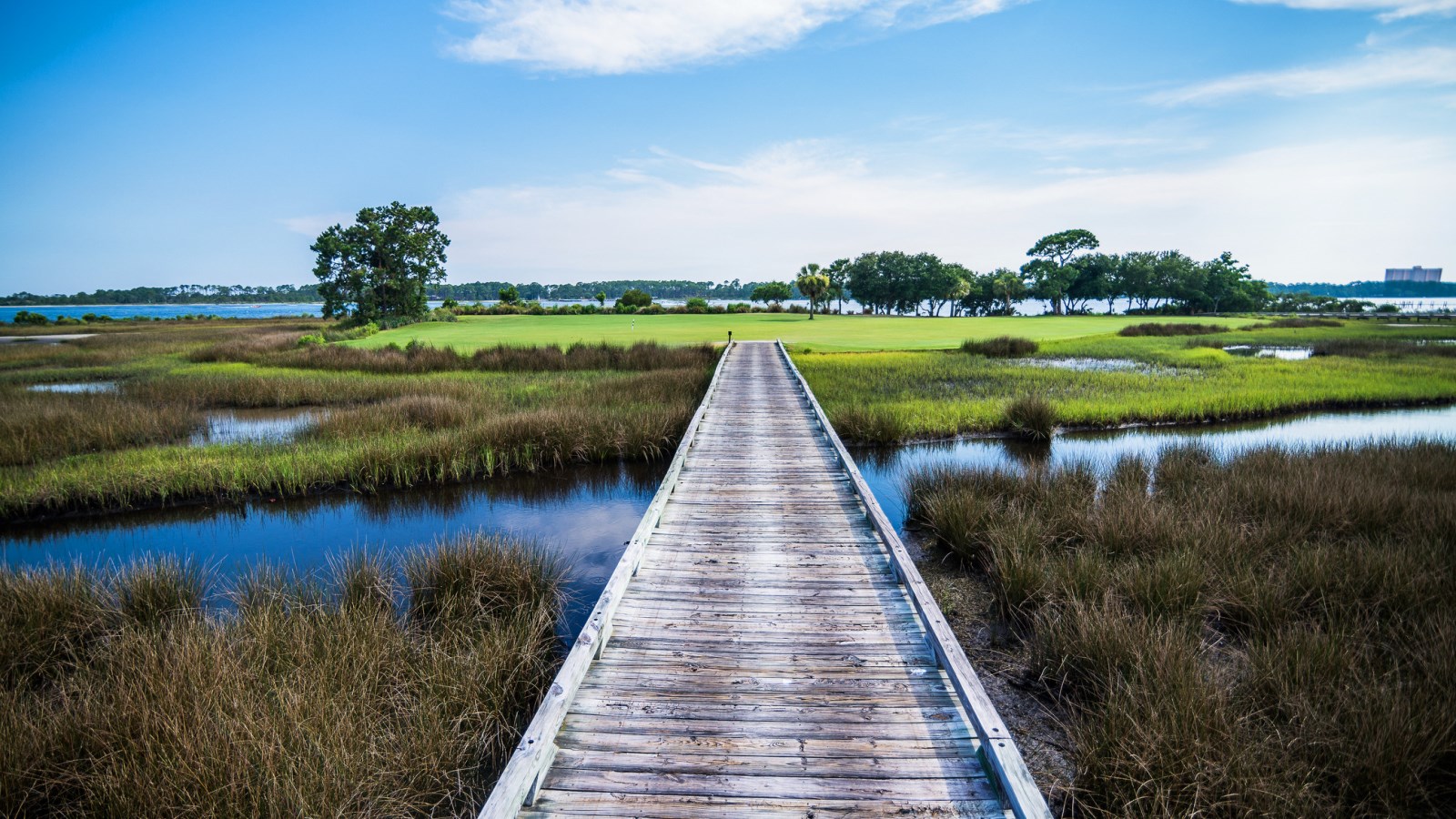 Dinner at Tides:
We returned to our room and changed up for dinner.  Before heading back over to Tides, we took a stroll down the boardwalk again to enjoy the cooling summer temperatures that accompanied the evening sunset.  Just in time for dinner, we caught the most stunning golden hour glow that cascaded over the water.  Plus, we didn't miss a second of the beautiful sunset as we were seated at our table with panoramic views of the bay through the floor to ceiling windows in the dining room at Tides.  Our tasty dinner of fresh bay oysters, kalbi short ribs, miso sea bass, and a few other delectables perfectly wrapped our adventurous day around the bay.
Good Morning & Golf:
Our last day at the Sheraton started with breakfast in bed.  Then we headed downstairs to our golf cart to find the staff had already loaded it with our golf bags from when we checked in.  This of course was perfect (me = always running late) because we were able to zip over to the Bay Point Golf & Tennis Club just in time for our tee-time.
Of the 36 holes of championship golf, we played the only Nicklaus Design course in Northwest Florida.  The course was very fun to play and very competitive.  I have to admit that the hubby and I lost a healthy amount of golf balls to various water hazards during our morning game. #oops
Playing a round of golf while on vacation is one of my favorite things to incorporate into a weekend getaway as you may remember from my trip to Jekyll Island last year.  I don't play at home as much as I would like to, but playing golf with the hubby is a great way to spend some time together, get active and enjoy the scenery of our vacay spot.  In the end, we competed in a vigorous round of golf where I will leave the details on who won… up to your imagination 😉
Serenity Spa
On the final note of our wellness weekend, we wrapped our game of golf and headed over to the Serenity Spa to indulge in a couples massage.  To no surprise, the spa staff was just as friendly as the rest of the resort and conveyed a calm serenity that lived up to the spa's name.  While I am almost always late to everything in life, one of the few things I'll actually be on time, or possibly even early, for is a spa appointment.  I always want to soak in as much zen tranquility as possible.  I sipped on a glass of champagne as I unwound in the spa lounge.  Although the steam room was calling my name, I opted to dip into the warm bubbles of the whirlpool while I waited for our massage to start.
After checking in, I was escorted to the spa lounge where I sipped on a glass of champagne to unwind.  Although the steam room was calling my name, I opted to dip into the warm bubbles of the whirlpool while I waited for our couples massage to start.   While I can't think of a more pleasant way to relax than over a great massage, it's even more special when you get to share it with that special someone.
Our Weekend Away:
The Sheraton Bay Point Resort sits in a quiet bay just south of the hustle and bustle of Panama City Beach.  While we didn't leave the resort, this did mean that we were close enough to pop over for the day if we wanted.  And while it's been years since I've visited Panama City Beach, I was so pleasantly refreshed to hear that the city of PCB has set forth new initiatives to improve family experiences in the area.  The gulf coast is so beautiful and it's awesome to know that the beauty of this place will be preserved.  I look forward to seeing what comes with the new Panama City Beach, and I am excited that I got to experience the wonderful gem of the Sheraton Bay Point Resort and it's new amenities.
Spending time at the Sheraton Bay Point Resort was a great weekend away in itself.  They really cover everything you may need on site for an awesome experience for a couple's getaway, group of friends, or a family gathering.  But taking a step back and truly relaxing through a wellness weekend with delicious dining experiences, gorgeous sunsets, peaceful spa moments, and activities like swimming, yoga, and golf really makes you appreciate the little things in life.  So if you're looking for a great place to stay in Panama City Beach, consider the Sheraton Bay Point Resort next time.