How to Pack for a 1-Week Sailing Trip:
So you've got a big vacation coming up and you're wondering what to pack for a sailing trip?  Lucky for you, I recently spent a week sailing around the U.S. and the British Virgin Islands and I've got the list of everything you'll need to pack for a 1-week sailing trip listed below.
The thing to remember about sailing around the Virgin Islands is that everyone is on island style.  While you might want to dress cute and do your makeup, spending a full week on a sailboat in the Virgin Islands is totally different than spending a week at a resort.  You've got a seriously limited amount of space so there's no need to pack a ton of extras.
Plus, everything is salty once you get there, so you'll get away with wearing something a couple times more than if you were at home.  And trust me, taking a dinghy to shore anytime you want to leave the boat makes you really think about dressing a bit more practical as you climb in and out of a tiny inflatable boat.
Using your "soft" luggage or tote that can be easily stored in small spaces and without further ado, I hope my list below helps you decide what to pack for your next sailing trip.
---
1-Week Packing List:
---
Clothing:
---
2 Tank Tops or Cover-ups
To throw on over your swimsuit. Most of the daytime treks to shore will involve you still wearing a swimsuit, so there's no need to get fancy, just throw something on over it.
2-3 Swimsuits
This is discretionary based on how often you want to change into a dry suit or change up your look 😉 They're small so you can always pack extra!
3 Pairs of Shorts
1 quick dry sports material
1 normal cotton/jean/etc for heading to the mainland
1 light soft pair to sleep in
1 Short Sleeve T-shirt
To sleep in… unless you are going to bed in your birthday suit 😉
1 Long Sleeve T-shirt
(or Half-Zip Pullover)
For those cool nights on the water. Trust me.  The temp dips when the sun goes down and you'll be happy you had this.
1 Windbreaker
For sailing/riding in the dinghy/rainy weather
1 Sundress
You probably won't need this… especially if you're taking a dinghy to shore, but it's nice to have a backup just in case you want to mix things up for a nicer dinner on land.  As an alternative, just pack a nice cover-up that can double as a sundress
Underwear
You know… for however many days you're actually going
2 Sports Bras
To throw on something dry under your tank tops when you don't want to wear a swimsuit
1 Regular Bra 
Depending on your attire…
1 Ballcap (or Sunhat)
 Keep in mind, a straw hat will fly off when you are sailing.  So make sure you bring a ballcap or some sort of hat that you can secure on your head to combat the winds but protect from the sun!
1 Pair of Sandals/Flip Flops
There always seems to be a little puddle of water on the bottom of the dinghy, so throw a pair of flip-flops in a dry bag as you ride the dinghy ashore.  Embrace the salt life!
Sneakers (optional)
Depending on how active you want to be, there are tons of great hiking opportunities when you go ashore
---
Toiletries:
---
| | |
| --- | --- |
| Toothbrush & Toothpaste | |
| Hanging Toiletry Bag | The best way to keep your toiletries together is by a hanging bag because there's very little counterspace to set anything out |
| Wetbrush Hair Brush | If you don't have one of these for everyday life, now you have an excuse to get one… they are the best! |
| Eyedrops | I felt better rinsing my eyes of the salty air, plus I have dry eyes in the morning since I had Lasik |
| Lotion | Your skin will thank you after you rinse off the salt water |
| Scopolamine Patch | Motion sickness patch. You'll need a prescription for this…it's better to be safe than sorry, just keep in mind some people (like me) have a touch of motion sickness when you remove the patch |
| Dramamine | Even if you get the scopolamine patch, it's a good idea to have a backup just in case the patch falls off when you're swimming |
| Shampoo / Conditioner / Body Wash | Coordinate with your group on these.  It doesn't make sense to pack tons of little bottles, so designate someone to bring normal size bottles that everyone can share.  Maybe split it up so one person doesn't get stuck with all the extra weight |
| 1 Small Travel Conditioner Bottle | I always use a dab of conditioner as soon as I stop swimming to give my hair some relief in the interim of a shower. You can leave a small bottle of conditioner above in the cockpit during the day which makes it a lot easier than climbing below in  a wet swimsuit |
| Bugspray |  You might not see them, but they are there!  Make sure you get the lotion so that you're not spraying it all over the boat while putting it one |
|  Sunblock | Same as Bugspray, avoid the aerosol style spray bottles. |
|  Zinc Oxide Facial Sunblock |  Make sure you've got the best to protect from wrinkles & discoloration. This is another bottle that I would keep in the cockpit during the day to reapply throughout the day |
| LipBalm w/SPF | |
---
Electronics:
---
| | |
| --- | --- |
| Lifeproof iPhone Case | MUST HAVE.  shop >>  |
| GoPro w/Floating Hand Grip & Filter Kit | |
| DSLR or some other camera | I took my Canon Rebel T5i but kept it in my dry bag most of the time because a week in the salty air isn't great for the camera |
| Extra Batteries |  shop >> |
| Skyroam Mobile Hotspot  |  I actually didn't have this on my trip but really wish I did… because when I did have service, my phone was roaming all the time |
| Laptop |  I really only recommend taking your computer if you are a blogger like me and need to edit photos or actually work remotely during the trip… Regardless though, make sure you embrace your trip and take time to step away from the screens! |
---
Other:
---
| | |
| --- | --- |
| Eyemask & Earplugs | Trust me… you will want these when you need a little more quiet time or the sun shines through |
| Polarized UVA & UVB Protective Sunnies | One of the most IMPORTANT things you'll pack, but make sure you've got 100% UV protection |
| Insulated Water Bottle | Go for a wide-mouthed double-walled vacuum insulated bottle that will be easy to get ice inside and keep it freezing cold while under the beating sun.  Here's what I use… |
| Clear Dry Bag | Really any dry bag is great to have, but I liked clear since it's easier to find what you're looking for |
| Canvas Tote |  You don't need any bag too large or fancy, and a small canvas tote is perfect to stuff a dry bag inside if you take the dinghy to shore |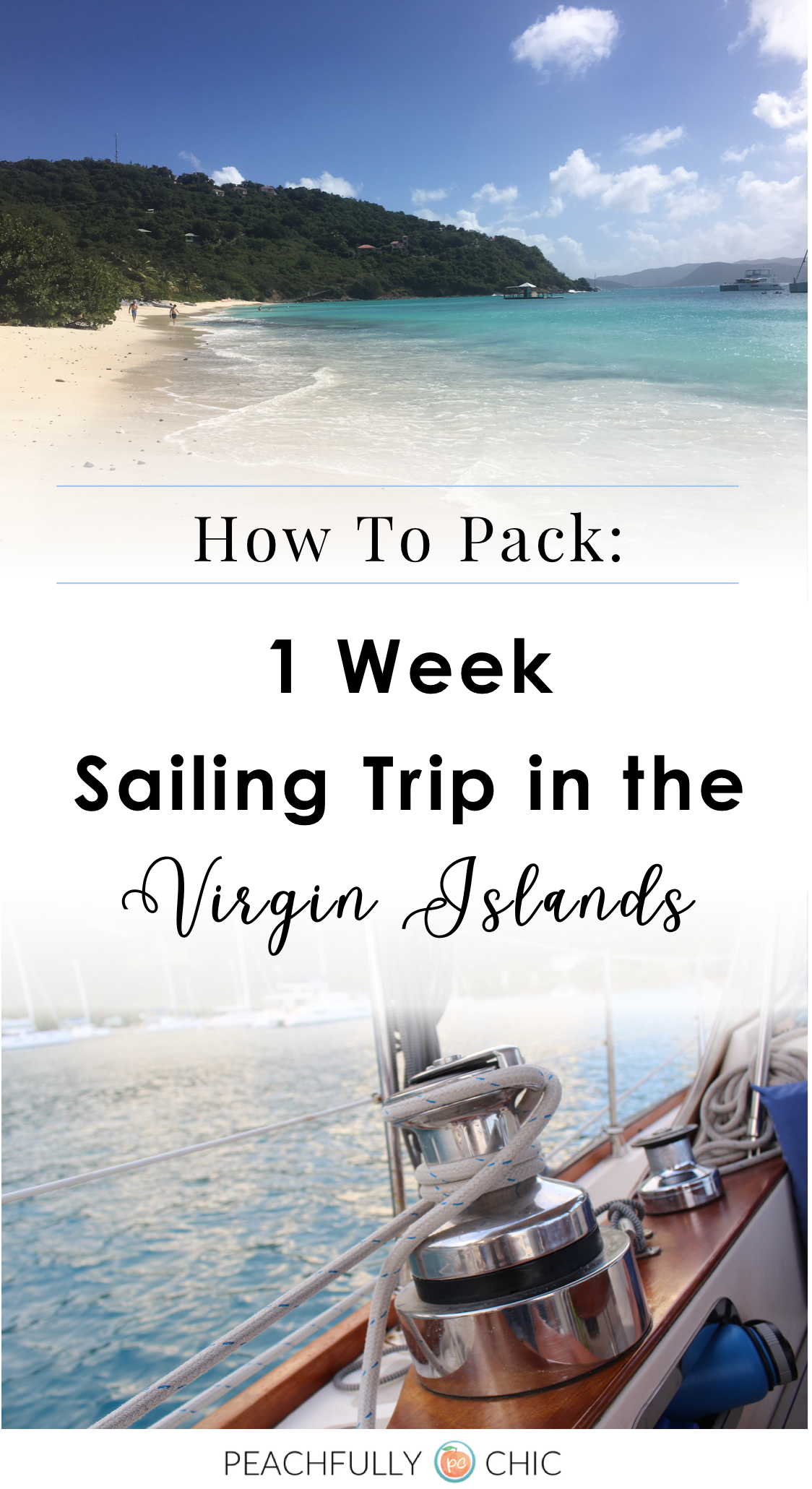 So there you have it.  The comprehensive list of all the things you would need to pack for the perfect week-long sailing trip.  My trip wasn't some extravagant yacht or extra large catamaran, it was 44 feet of perfectly quaint but fairly tight quarters and this list was really all I used and needed for the whole week sailing around the Virgin Islands.
It's really casual when you hop off the boat and dinghy over to shore, so my advice would be to bring only the necessities for dress & toiletries, and focus on your time in the islands soaking up the sun!