A busy local restaurant is always a nice signal to me that a place is worth a wait.  This was definitely the case for Mary's Gourmet Diner in downtown Winston-Salem, NC.  My mom and I wrapped our last day visiting this beautiful Southern city with an early brunch at this funky little restaurant.  Owned and operated by Mary Haglund with her two daughters, Mary's Gourmet Diner provides a deliciously fresh breakfast and lunch menu for Winston-Salem foodies and families.
From the moment I entered Mary's Gourmet Diner,  I could tell it was a place filled with love and eclectic design.  The unique wall murals and bright mismatched colors that decorated the diner aligned well with Mary's vibrant personality.  As she walked us to our table, Mary provided a bit of background on her passion for providing great breakfast and brunch, working with her daughters, and her love for the Winston-Salem community and Arts District.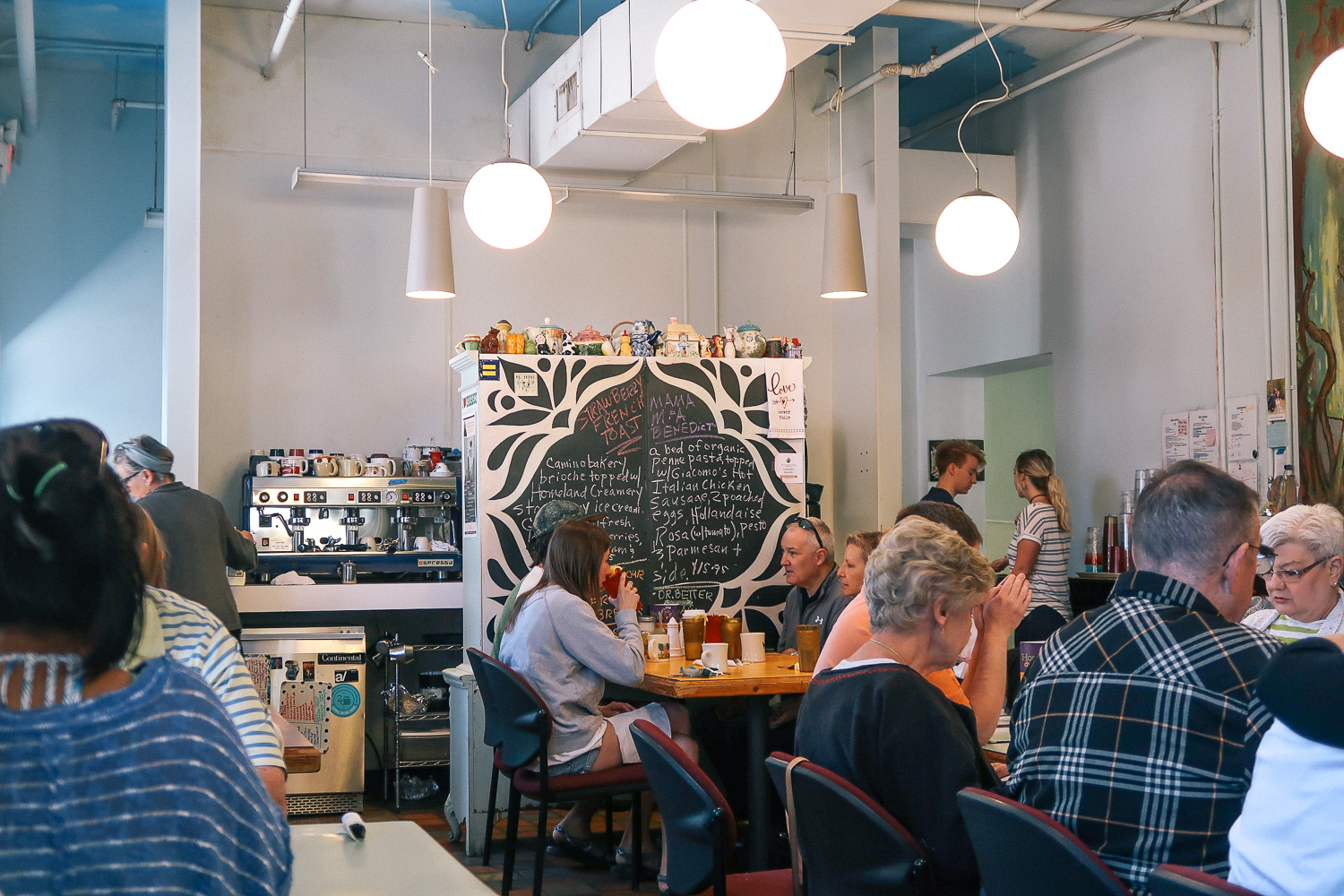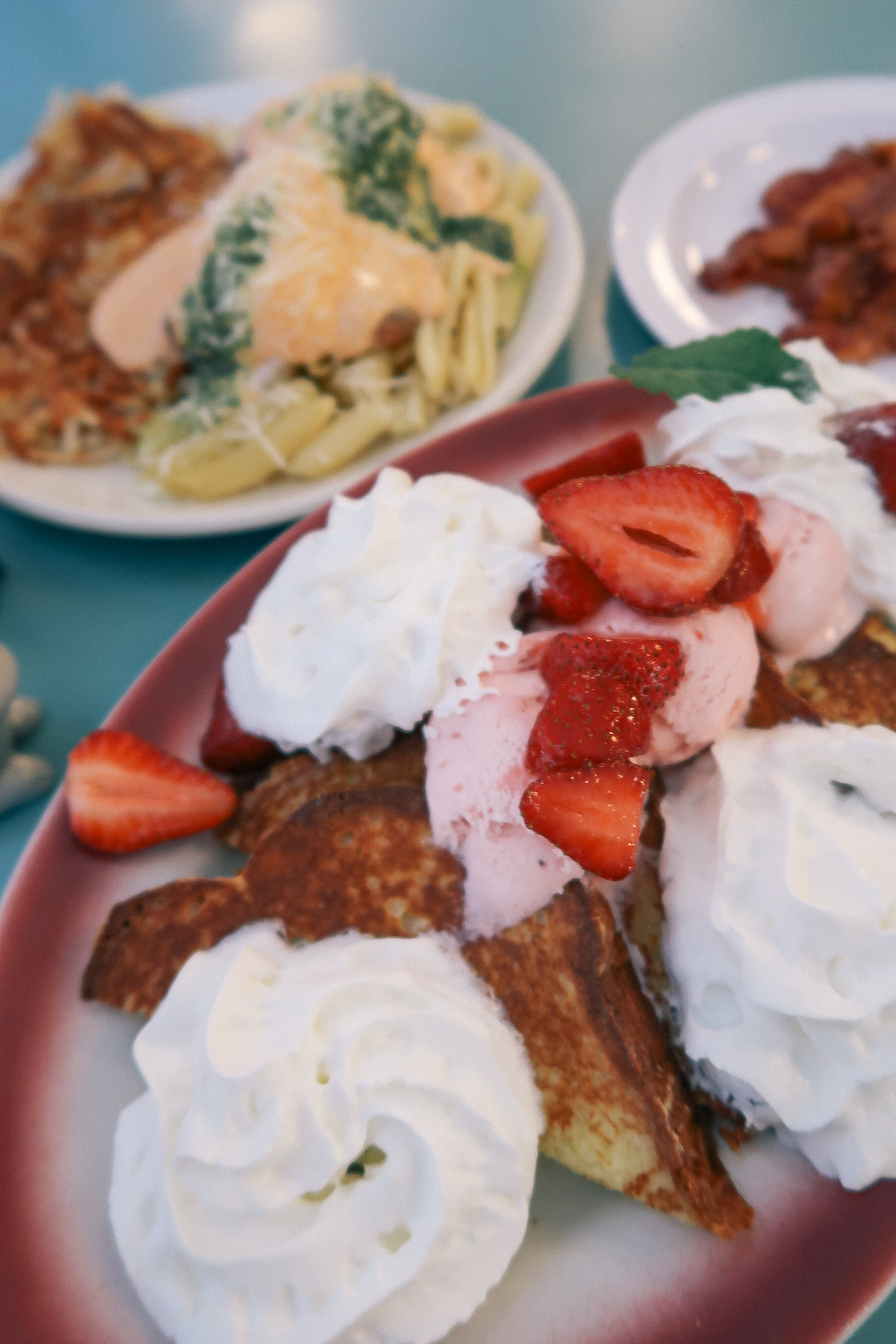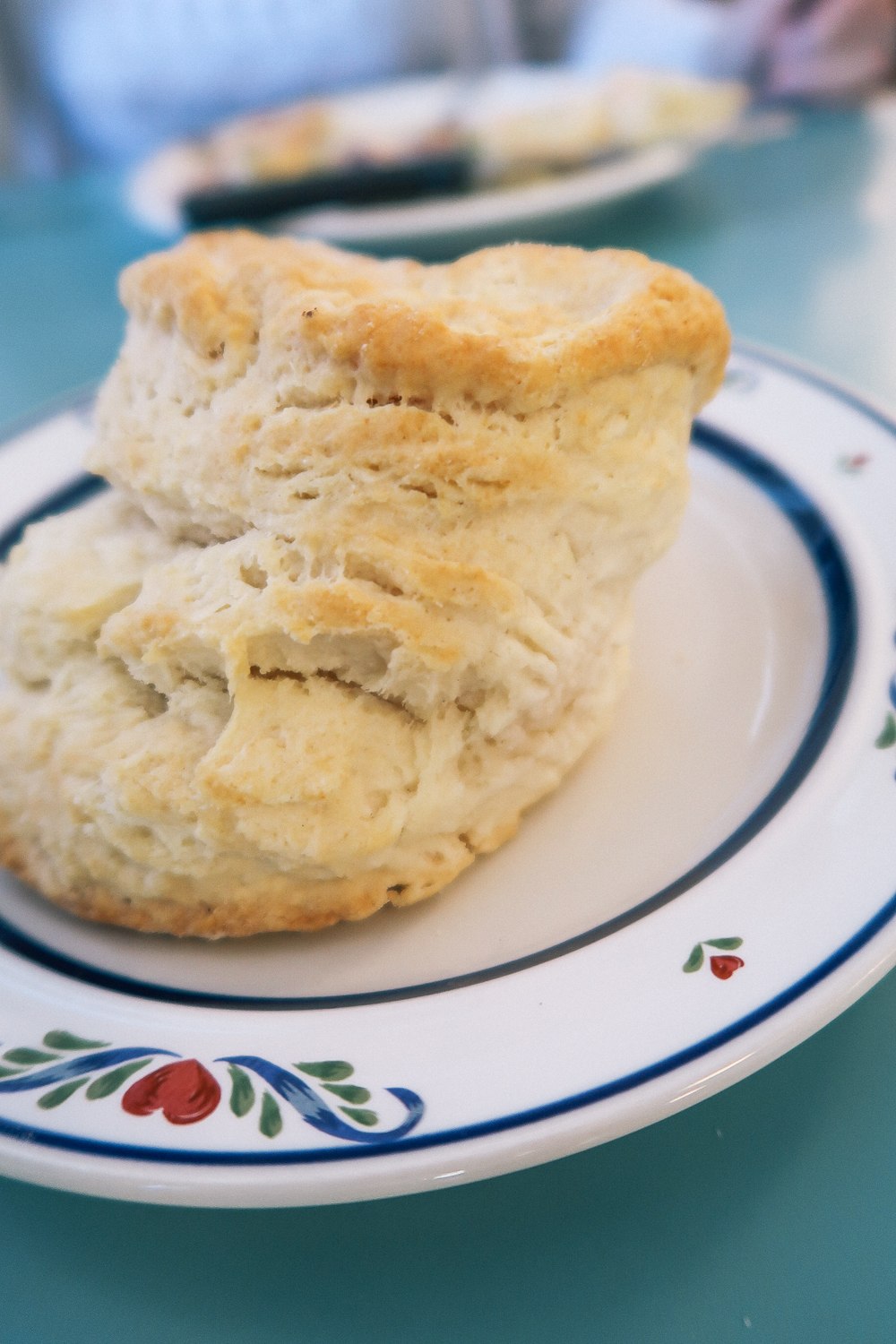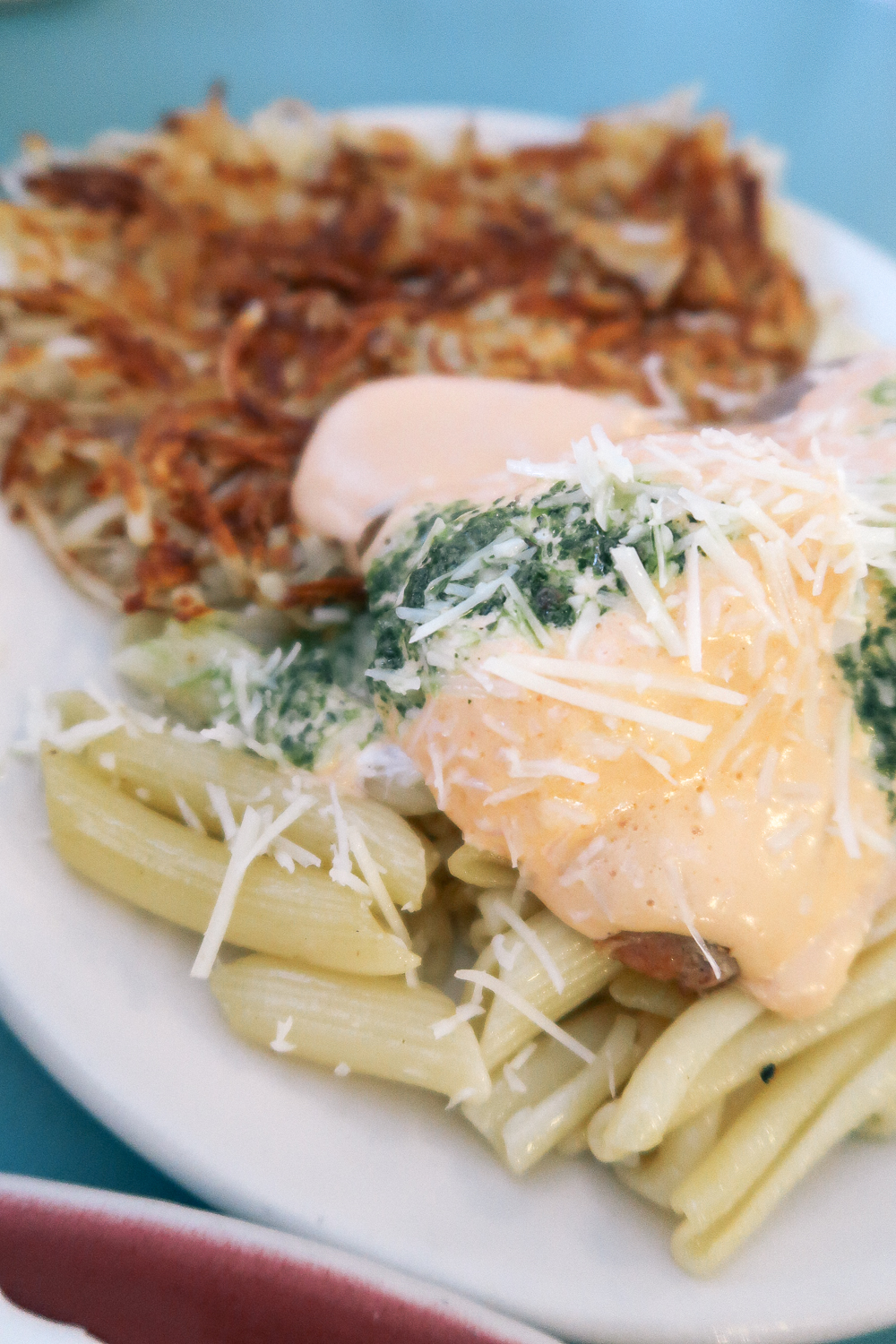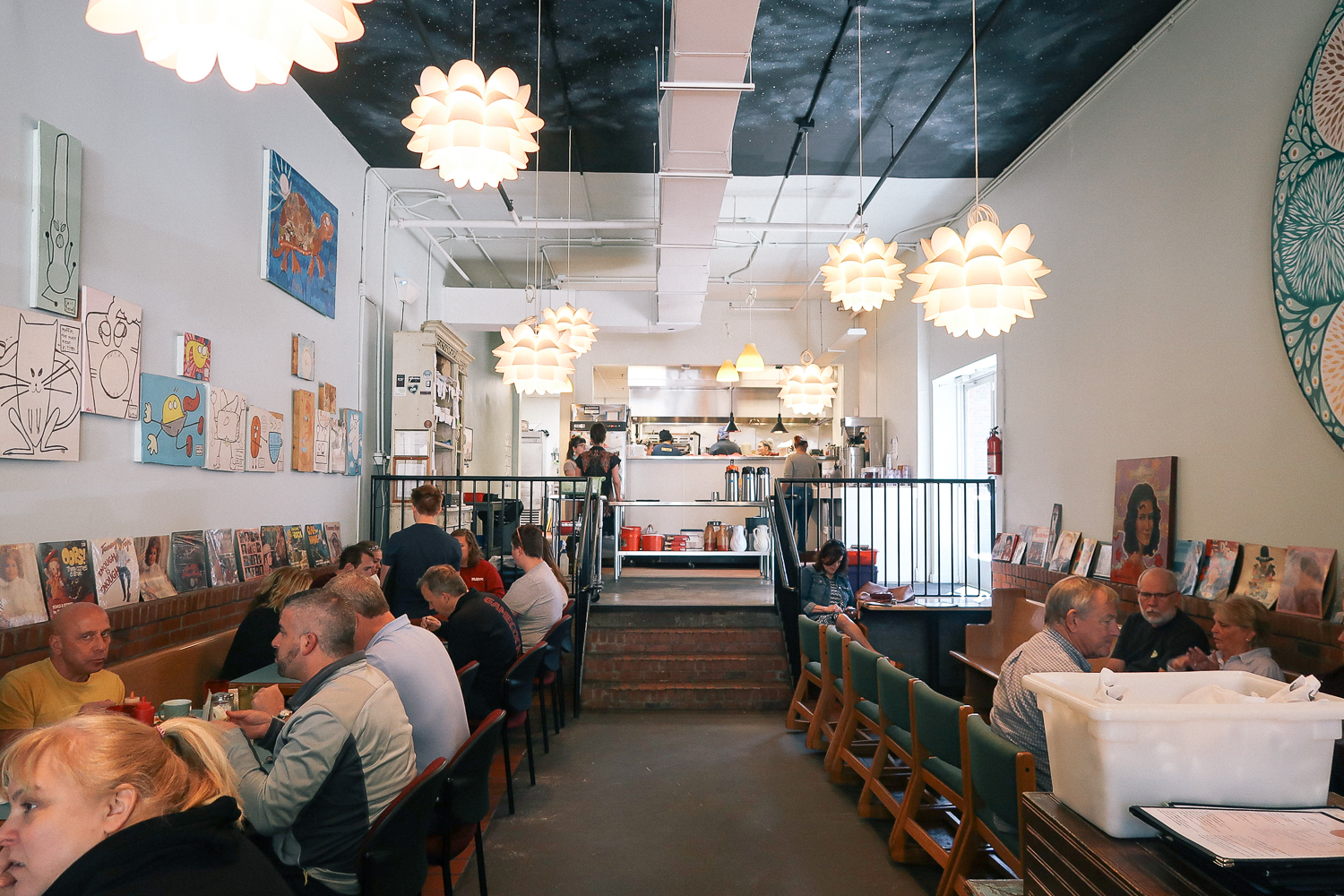 Once we were seated, we started making our way through the menu. I'm a sucker for French toast, so if it's on the menu, chances are I'll be ordering it.  So when I heard that Strawberry French Toast was one of the specials for the day, I knew I had to try it!  The dish featured Camino Bakery brioche with Homeland Creamery strawberry ice cream topped with fresh organic berries and whipped cream.  Sounds healthy right? 😉 Just call it my pursuit of the perfect French toast (And if you're in Atlanta, R.Thomas' is the spot for that!).  Mary's uses fresh local ingredients for their dishes and the strawberries with my French toast were grown locally at the Chrossnore School & Children's Home.   
Mom ordered the other special of the day which was the Mama Mia Benedict.  Her dish featured a bed of organic penne pasta topped with Giacomo's Hot Italian Sausage, two locally sourced poached eggs, hollandaise rosa with tomato, pesto, parmesan, and a side of hash brown.  We decided it was imperative to try one of Mary's famous biscuits so we shared the giant fluffy goodness as a side even though it could have served as our main meal!
Our last meal in Winston-Salem ended on such a high note as we soaked in the relaxed vibes and welcoming community feel at Mary's Gourmet Diner.  If you're in Winston-Salem, you should definitely check out this woman-owned restaurant and see what this mother-daughter trio is cooking up!   And if you are interested in reading more about Winston-Salem, check out part 1, part 2 and part 3 (coming soon) of my mother-daughter weekend getaway too!