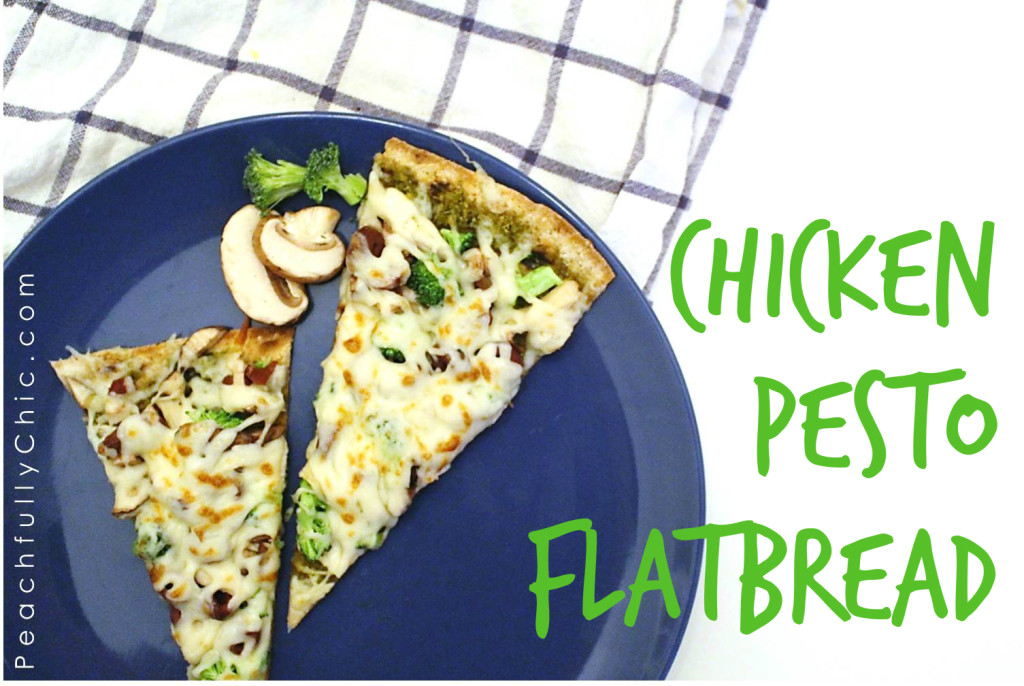 Looking for a Tasty Pizza Alternative?
Here's an easy recipe to make a custom quick snack to give you a delicious chicken pesto flatbread alternative to pizza!
Over the weekend, I was looking for something that gave me the crunch of pizza crust but didn't require the effort of making dough from scratch… so using what I had around our pantry and fridge, I threw together this chicken pesto flatbread recipe.
Ingredients:
– Pesto
– Shredded Mozzarella Cheese
– Mushrooms
– Chicken Tenderloins (Amount depends on how many flatbreads you are making – I used 1 lb which yielded about 5 flatbreads)
– Broccoli
– Kalamata Olive Halves
– Multi-grain Flatout Flatbreads
Instructions:
Preheat the oven to 350° (optional: with baking stone)
Grill chicken tenderloins in a pan over the stove.  Let cool.  Shred the chicken into bite sized portions.
Finely chop mushrooms and broccoli to bite size.
Spread a spoonful of pesto on the flatbread and then sprinkle chicken, mushrooms, and broccoli over.
Add kalamata olives & top with shredded mozzerella cheese.
Bake at 350° for 5-10 minutes until cheese is melted on top  (if preheated over with baking stone, you'll have a crunchier flatbread crust.
Cut into wedges, serve, & enjoy!
Bon Appétit!