There's nothing I love more than pulling together a festive tablescape or party decor that immediately welcomes guests into the fun the moment they step into a room.  One of the easiest ways to add a touch of flair to any party is by featuring food or drinks that complement the theme.  I did this by serving a lemon spatchcock chicken at my Lemon-themed Amalfi-inspired Dinner Party and chocolate dipped basketball Oreo bites at my Game Time Basketball Party.  At my recent Pastel Halloween Party, I decided to add a touch of semi-homemade action by serving up these Halloween Macarons.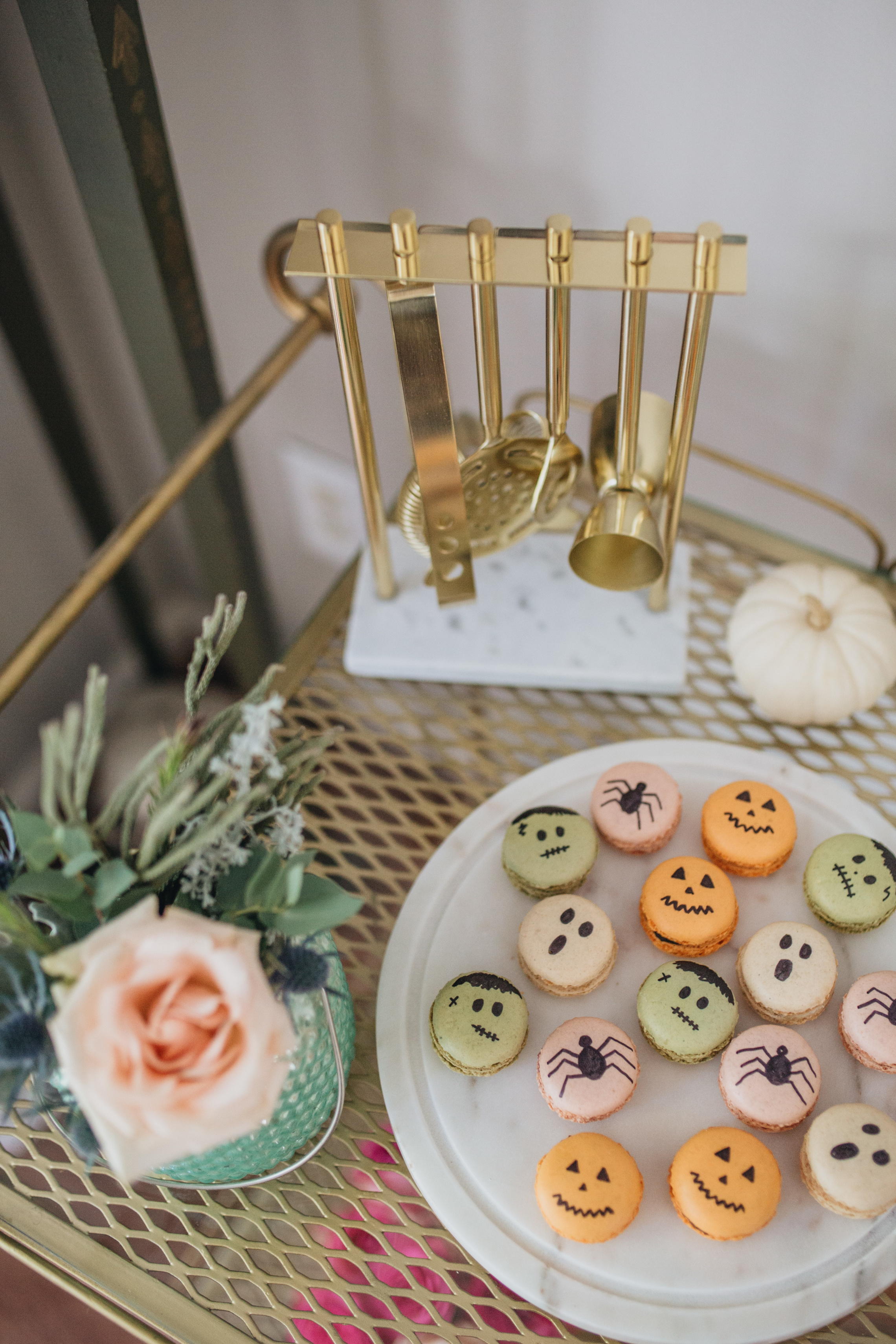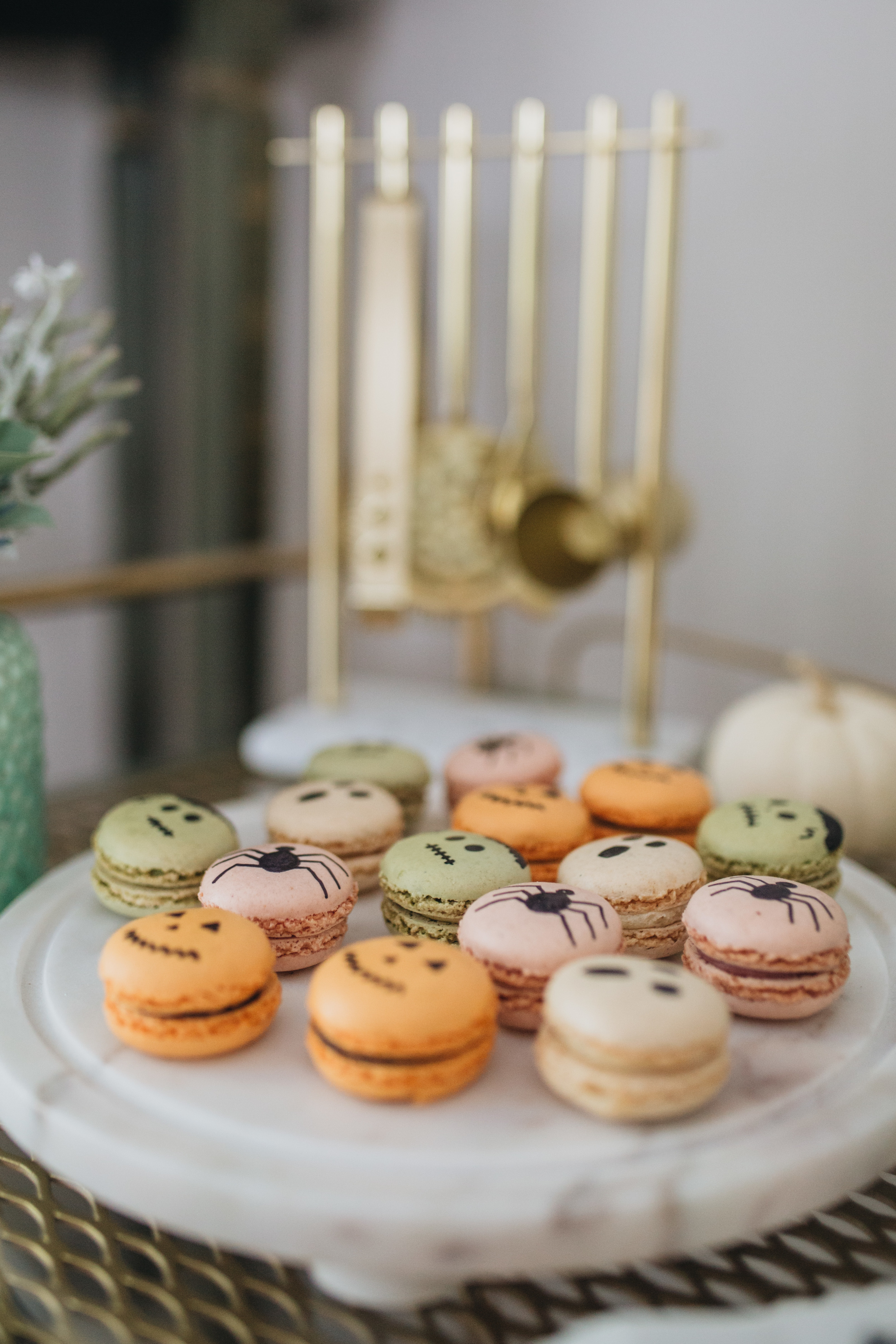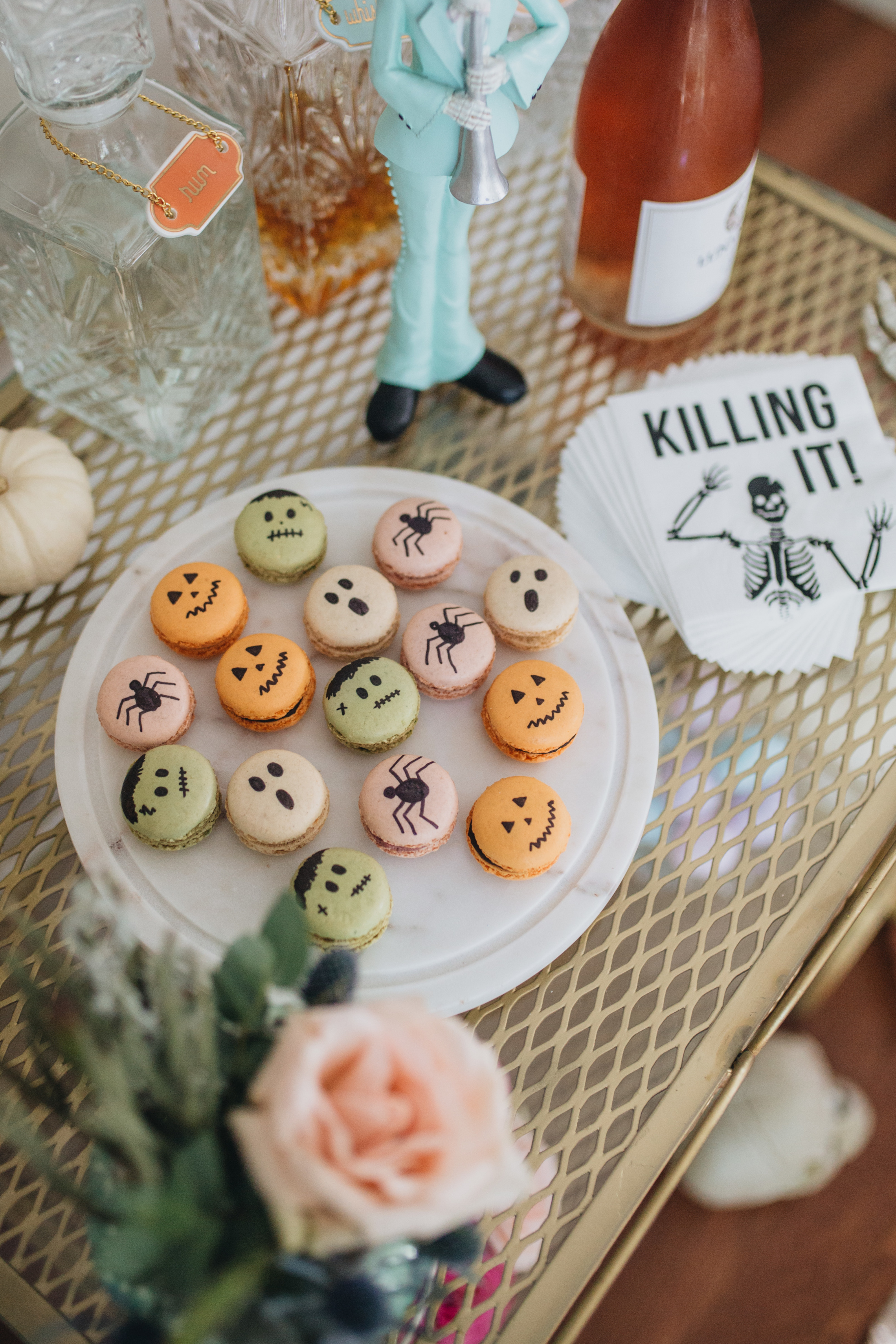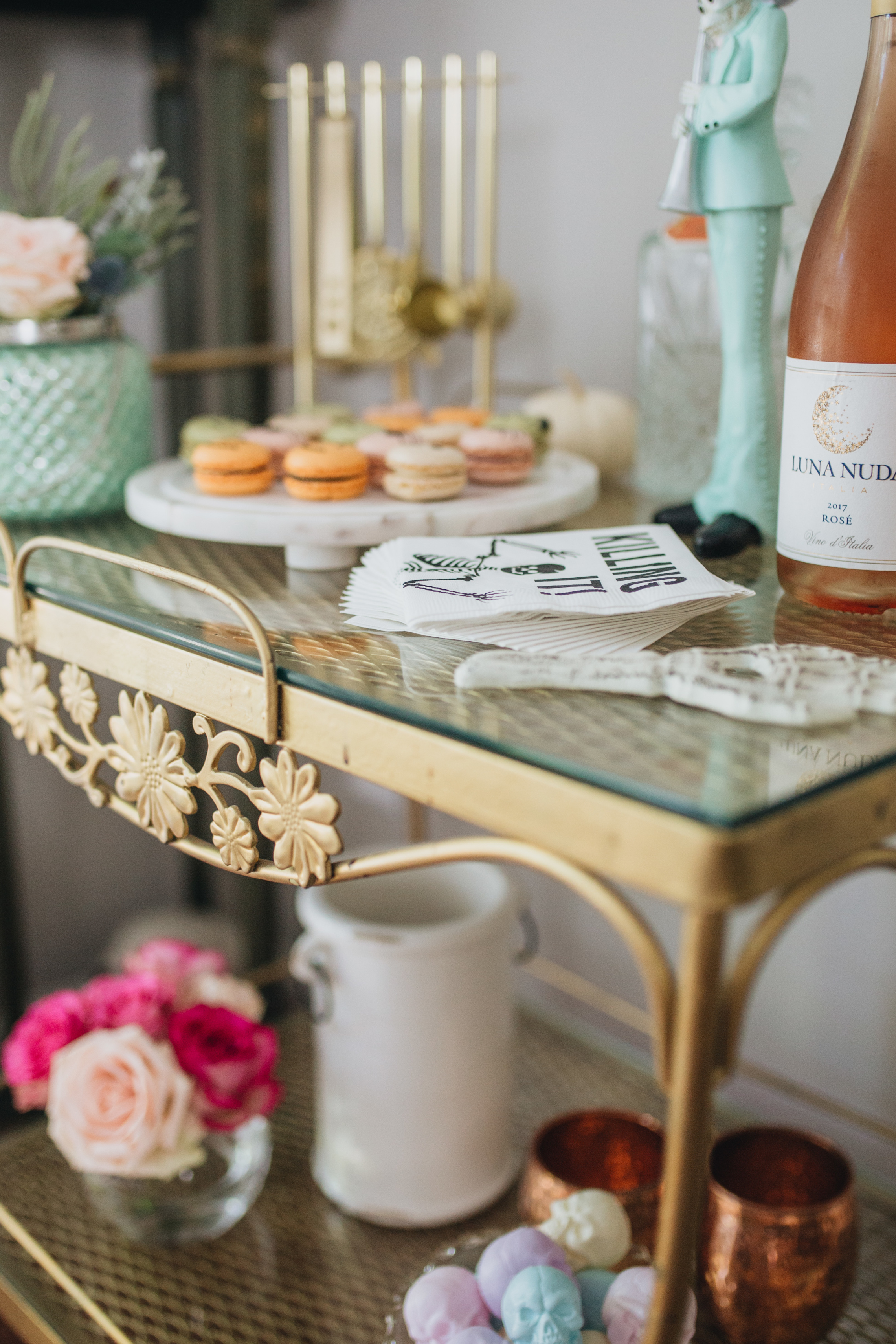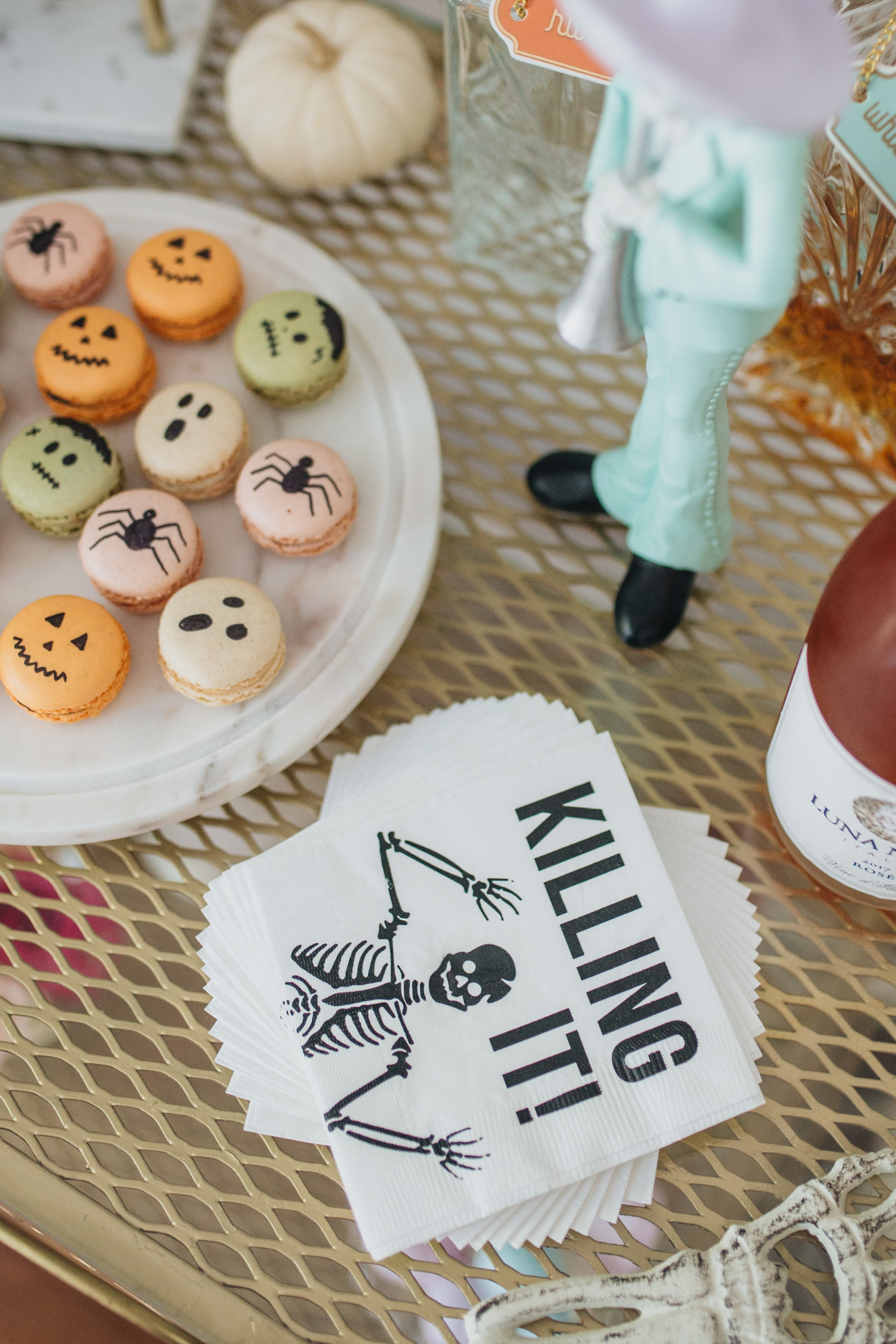 This may have been one of the easiest party decorations/recipes that I've ever had the fun of making.  For these semi-homemade DIY Halloween macarons, you only need a black edible ink marker.  I picked up a 36-count box of French multi-color macarons from Costco for only $20 and they were perfect!  I was very impressed with the freshness of the macarons from Costco, but I know you can pick up macarons from other grocery or specialty stores like Trader Joes. To ensure they stay fresh longer, keep the macarons refrigerated until about an hour before you are ready to set them out. I used the black edible ink markers to draw various ghost faces, Frankenstein, pumpkins and spider designs on each macaron.  The designs dried very quickly and I set the macarons on a marble plate for serving.  Voila!  Easy-peasy simple DIY Halloween macarons.
I'm sure you could probably apply this technique to any occasion (ie: flowers in the spring) but the multi-color pack of macarons I picked up from Costco matched my pastel Halloween decor perfectly.  If you don't have edible ink markers though, you can also use a paintbrush and some food coloring dye to paint on your designs instead.  Unless you have a steady hand and a very tiny paintbrush, I would imagine it's harder to get as precise of a design as you can using a marker – but that's another option!
Now that I've had a little bit of crafty fun making these DIY Halloween macarons, I'm curious to think of other fun ways to use these markers. Until then, if you've ever used edible ink markers in other applications, leave a comment below!