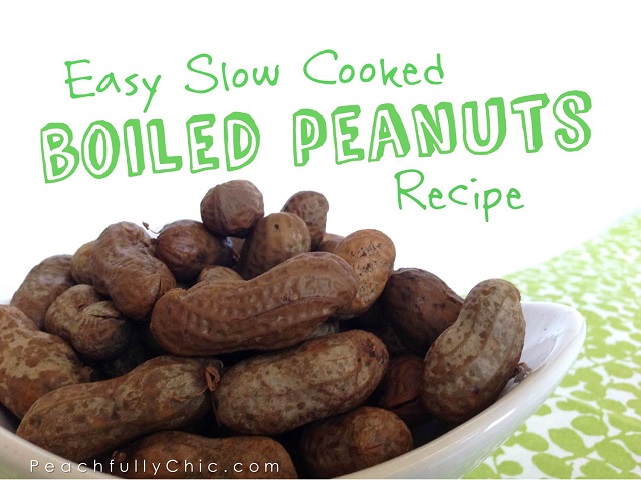 Delicious 3 Ingredient Slow Cooked Boiled Peanuts:
We had a few friends over this past weekend, and I thought it might be a fun and hopefully easy to try my hand at a slow cooked boiled peanut recipe.  One of my favorite things to do is throw a bunch of random food in our crock pot, and come home from work to smell the deliciousness that I've made!
Then I love saying, "I slaved over this all day long!"  haha 😉
Back to the peanuts…
What You'll Need:
1x – 32 ounces of raw or "green" peanuts
6-7 cups of water
1/4 cup of table salt
Optional: Hot Sauce or Old Bay Spices to add a kick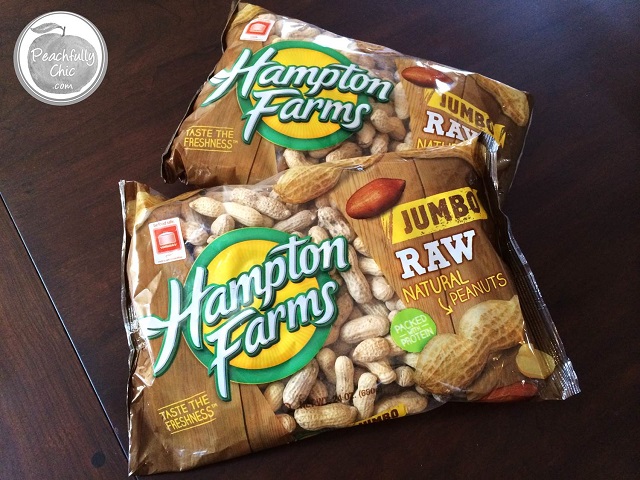 How To Make Boiled Peanuts:
Rinse the raw peanuts in a colander until water runs clear
Place peanuts in the crock pot
Pour in water until peanuts are fully submerged
Mix in the salt
Turn the crock pot on low
Cook for 20 hours
Check on the peanuts occasionally and add water if needed to keep the peanuts submerged in water.
Full disclosure…. I kept sneaking a few peanuts here and there after I thought they were about halfway cooked.  I couldn't help myself and needed to do a taste test.   It was so hard to resist that delicious smell of boiled peanuts filling the house!
Yummy!!!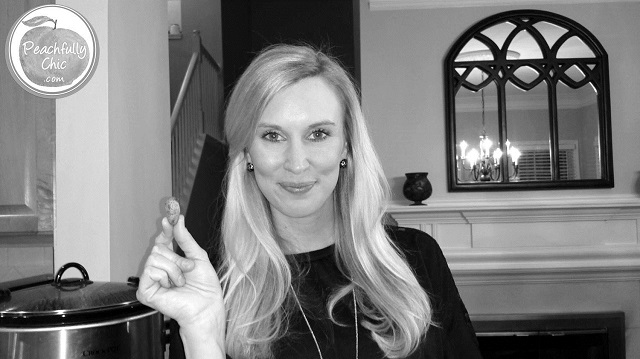 Side Note:  Your entire house will smell like boiled peanuts if you make these.  Kevin and I agreed that next time we would cook them, we would set up shop in the garage or on the back patio.  As delicious as they are, I can do without our entire house smelling like boiled peanuts for so long!  I don't mind the smell for a bit… but 20+ hours is a bit much.
—>>> Childhood Flashback: The smell of boiled peanuts in my house immediately brought me back to childhood and all the times my mom would take me to a knick-knack shop called Fat Man's in downtown Augusta.  They always had boiled peanuts available for sale! <<<—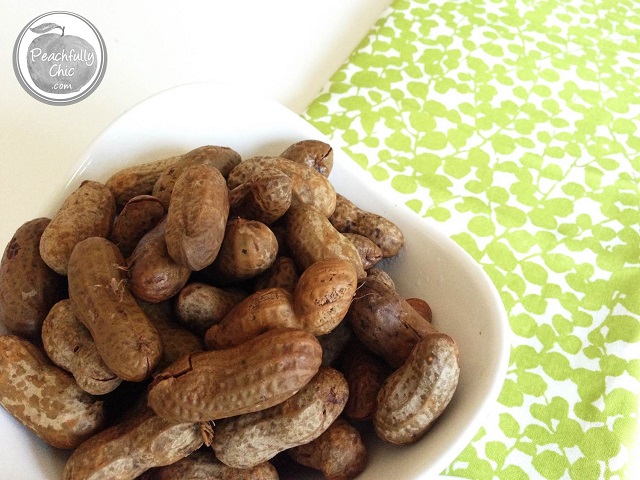 This was one of the easiest things to make for guests to snack on.
And beyond the fact that it was super simple,
they were super inexpensive!!!  
Just $3! 
I had Kevin pick up the peanuts for me from Publix (near the produce section), and he grabbed 2 bags of raw uncooked peanuts for just $3!   We already had the table salt around the house… so you really can't beat that!   We had so many peanuts leftover from making just one bag, I'm excited to throw the other bag in next time we have guests!
Just make sure you throw these easy slow cooked boiled peanuts on the crock pot a day in advance to make sure they have plenty of time to cook!!!  Let me know how it goes if you decide to make theme yourself!