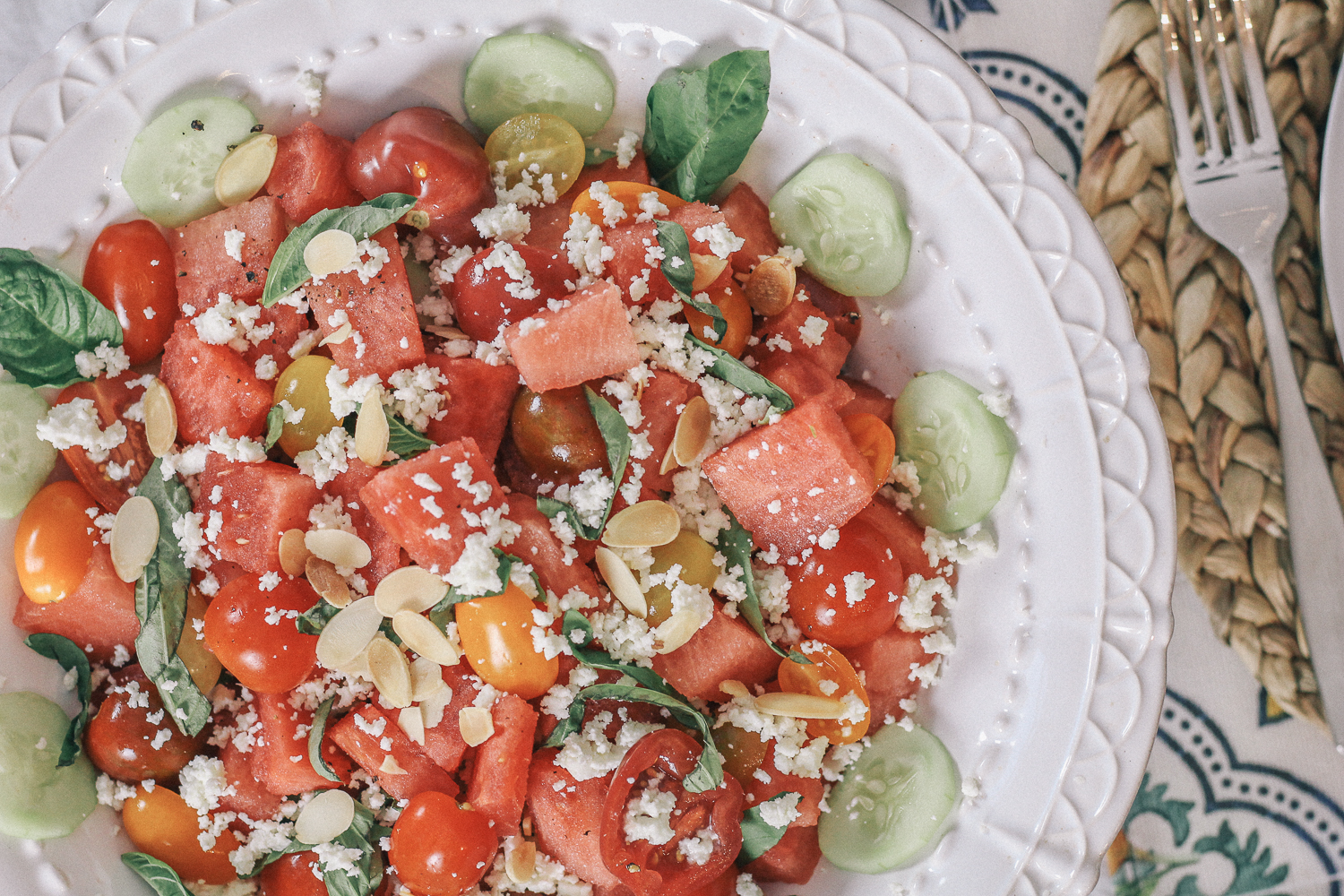 The perfect summer salad may vary depending on who you ask.  With such a variety of salad recipes out there, it's easy to create something super light or hearty and healthy depending on the ingredients you choose.  Regardless of the occasion, there's always a great salad recipe out there that can complement your dinner party.  With summer coming to an end but the heat of it still lingering, I have an amazing and easy summer salad that you have to try.
When we hosted a few friends for an end-of-summer lemon-themed dinner party, my dear friend Maryashley brought a delicious and refreshing watermelon tomato salad.  Everyone at dinner delighted in the fresh bold flavors delivered in this tasty salad and I knew I had to share this colorful recipe with you here on the blog.
Maryashley was generous enough to pass on the recipe below so I've included the details for you to make your own and enjoy it yourself!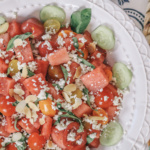 Watermelon Tomato Salad
Ingredients
1/2

Large

Large Watermelon

1

Whole

Cucumber

1/4

Cup

Fresh Basil

1/4

Cup

Honey Goat Cheese

1

Container

Rainbow Cherry Tomatoes

1

Handful

Shaved Almonds

Cracked Pepper
Instructions
Cut watermelon into bite-sized cubes and set aside in a bowl. Cut cucumbers into small slices and set aside in a separate bowl. Slice tomatoes in halves and set aside in another bowl. Place each bowl in the fridge to chill until 15-30 minutes before you are ready to serve.

Mix watermelon, cucumber, and tomatoes into a container then lightly mix in basil and goat cheese and top with pepper.

Just before serving, sprinkle almonds on top and enjoy!