If you love the summer time as much as I do, you probably love a great pool party as well.  And while it's always fun to lounge by the pool, it can be even more fun to gather up your girlfriends and plan the ultimate girl squad pool party.  It's never a dull moment when you get the girls together… Couldn't you tell from our pool party earlier this summer?
I co-hosted an influencer focused Summer Pool Party with makeup artist, Erica Bogart, which turned out to be a blast!  We invited a few of our favorite Atlanta bloggers and influencers for a day of yoga, pop-up shopping, quality girl-time and a little bubbly & light bites.  We kicked things off with a yoga class from Highland Yoga, shopped new looks from Cypress & 5th and Admiral Row, donned swimsuits from Gianine Bikini, and lounged on Sunny Life floats from Swoozies as we caught up on our tans and all the latest blogging trends.  It was a day to take advantage of the summer's heat and grab a few Instagram-worthy photos as well 😉  Big thanks to Chelsea Patricia Photography for snapping some of these gorgeous photos during the event too!
Hosting a summer pool party??
To throw the perfect pool party, there are a few basics tips to keep in mind that will make sure everyone has a blast!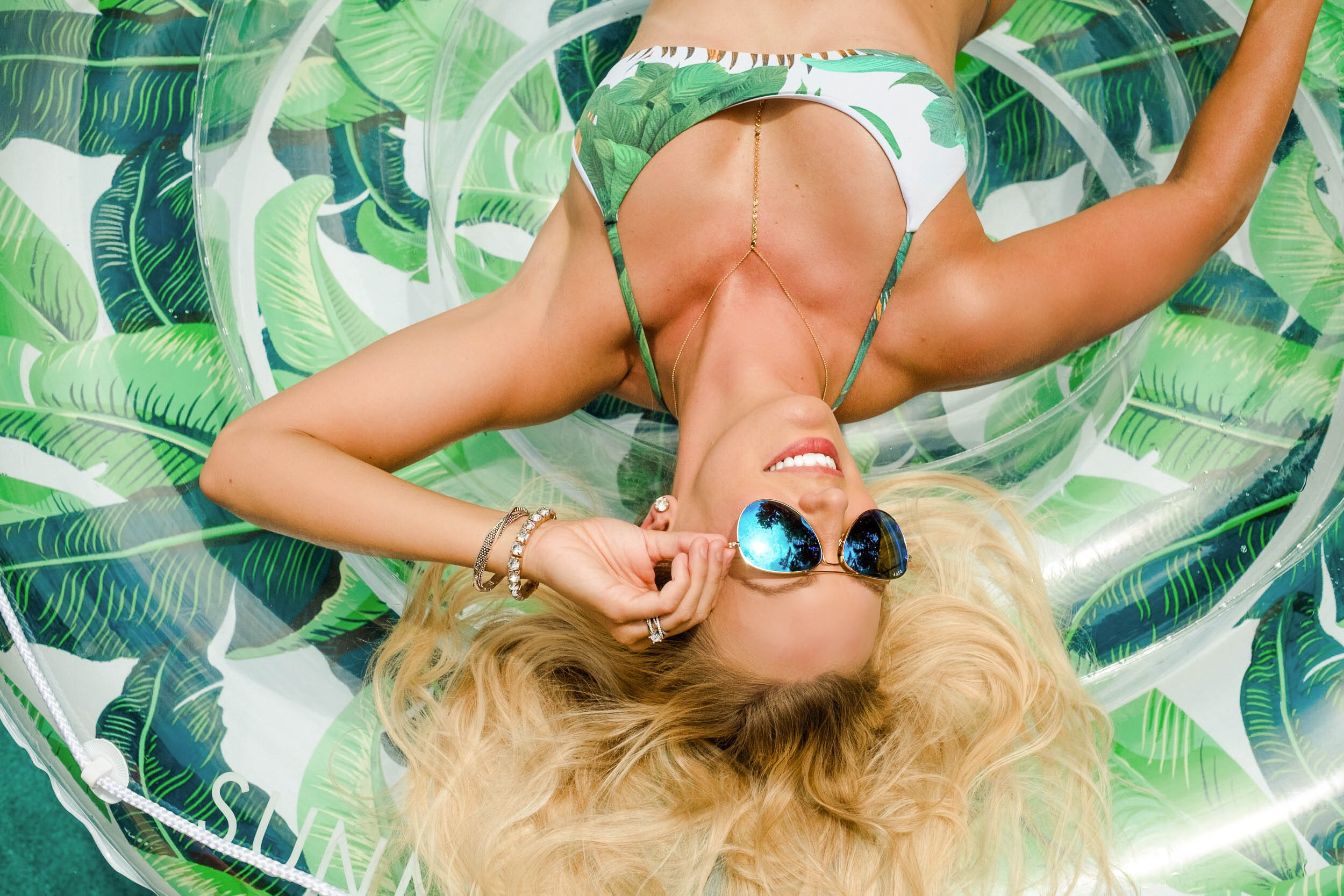 ---
 Choose a Theme
As with all parties, I start by choosing a theme.  Whether you're going simple with a specific color palate or focusing on all decor around something fun like Pineapples and Palms, picking an overall theme will help you as you decorate and plan details for your adult pool party.
---
 
Send a Save the Date 
…or an early invite.
The sooner you know the date, the sooner everyone can pencil it into their calendars.  If you're anything like me, then you've got very limited availability during the summer because of travel, holidays, birthday celebrations and other events.
---

Entertainment Factor
Beyond the swimming and lounging, think about how you'll entertain guests.  We planned a yoga class to kick things off but also had a couple pop-up shopping for guests to enjoy.  Consider adding cornhole or other yard games that guests can pick up and easily play around with.
---
The Food
 Making sure you have adequate amounts of food is crucial.  But it's just as important to choose the right type of food.  Think about what types of food guests might enjoy eating in the heat – something that won't feel too heavy but will keep them satisfied.  Consider finger foods that are easy to nibble on throughout the party.  We kept our food inside shielded from the heat and served cucumber tea sandwiches, various sliced fruit, carrots & celery with dip, mini waffles with strawberries, and a few other light bites.
---

The Bubbly
It's not a real girl squad pool party without a little bubbly!  In addition to cocktails like mimosas, rosé, margaritas, or other alcohol infused beverages, make sure you've got extra cold water on hand to stay hydrated.  We served premixed mimosas, an alcoholic fruit punch over ice, and cucumber water.
---
Find Your Floats
 Gather all your floats for lounging in and out of the pool.  We picked up some great floats like the round Sunnylife Banana Palm float from my favorite occasion store, Swoozies. They're the perfect place to lay back and catch some rays.
---

Fun Props!
Who said sparklers are for kids??  I grabbed a few inexpensive packs of sparklers and a bundle of multi-colored balloons for guests to play around with.  It's always fun to play around with random props.  Check out your local dollar store as a great place to find cheap props that you won't need to worry about getting ruined in the pool!  Plus, the pool floats doubled as interactive props as we all snapped a few instagram-worthy photos! 😉
---

Jazz Things Up
 Set up some music & make sure you've got a great spotify station playing.  If you're going all out, consider hiring a DJ to spice things up.  
---

Sun Protection
There's not much worse than having a great time outdoors ruined by sunburns.  Prevent that by providing sunblock on hand for your guests to reapply throughout the day.  Of course, you'll also want to make sure you've got a great pair of sunnies (mine are from DIFFeyewear) & a hat for extra protection from those bright rays.
---

Dry Things Off
Don't forget your towels!  Most guests will probably bring their own, but it's always a great idea to have a few extra on hand if the need arises.  Plus, cute towels double as an extra prop when you're shooting cute photos by the poolside but don't want to ruin the bottom of your swimsuit!