PC Holiday Soiree
It's that time of year… and the first Peachfully Chic Holiday Soiree was a delightful success! I'm no stranger to hosting parties and entertaining.  In fact, I'm what some people might consider a serious hostess.  I LOVE any excuse to plan a party and entertain a group of family or friends (reference: Whiskey Tasting Birthday Party, PC Anniversary Brunch, Travel Themed Baby Shower, Fantasy Football Draft Party, ….the list goes on).   Actually, I love any excuse to help friends plan parties too as evident by the "You Are My Sunshine" Baby Shower that I helped a friend decorate for.
So when Christmas rolled around this year, I thought it was the perfect excuse for a fabulous holiday soiree with some of my closest Atlanta bloggers.  I worked with some fabulous sponsors and pulled together a magical night filled with delicious food and wines, great company, lots of fun, and some generous gift giving.
Dantanna's in Buckhead Atlanta hosted our group in their private room sectioned just off the main dining area.  Dantanna's is Atlanta's only upscale sports restaurant that exudes the sophistication of a five-star restaurant and the entertainment of having a private box at your favorite game.  Their event space was the perfect size for our intimate holiday soiree.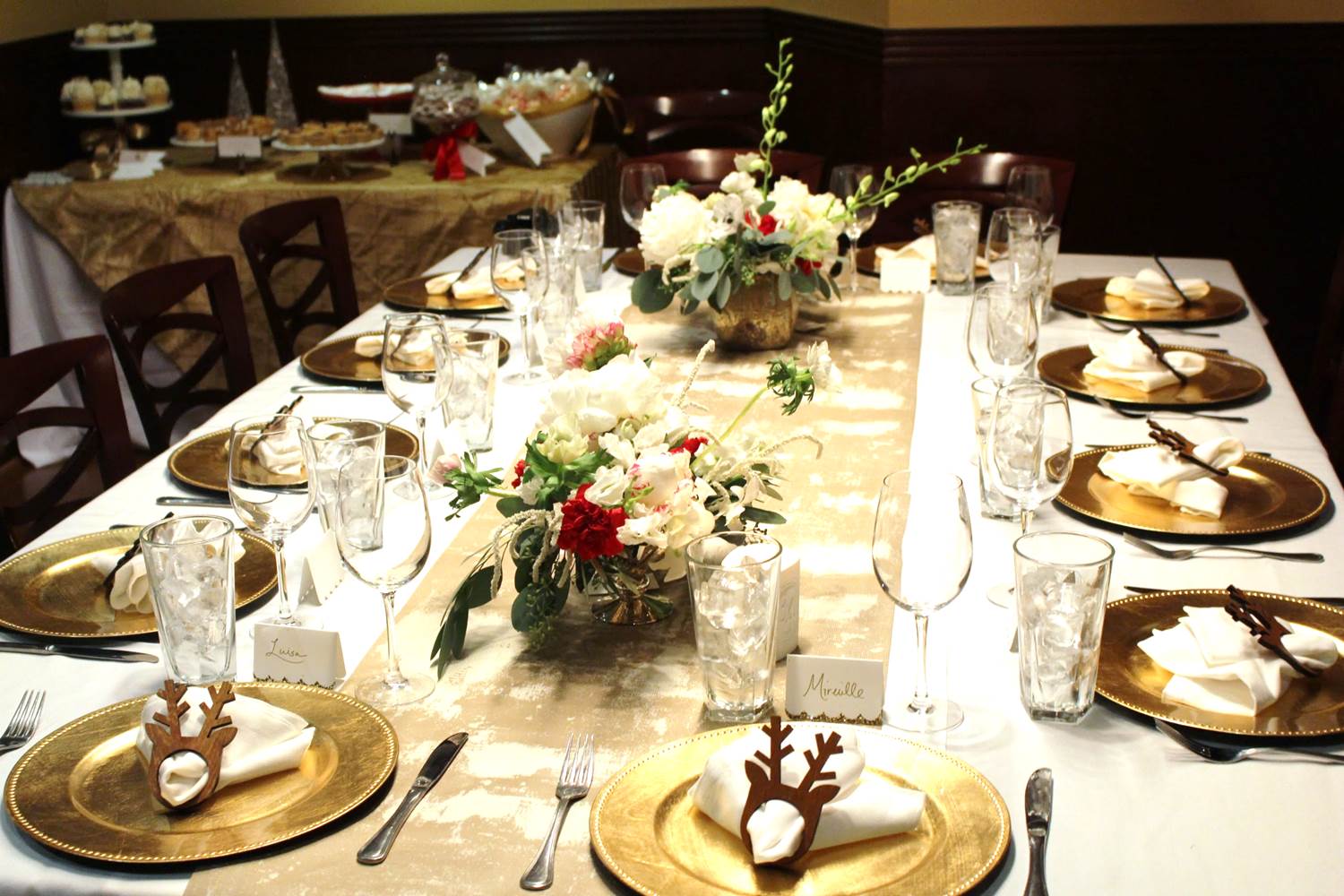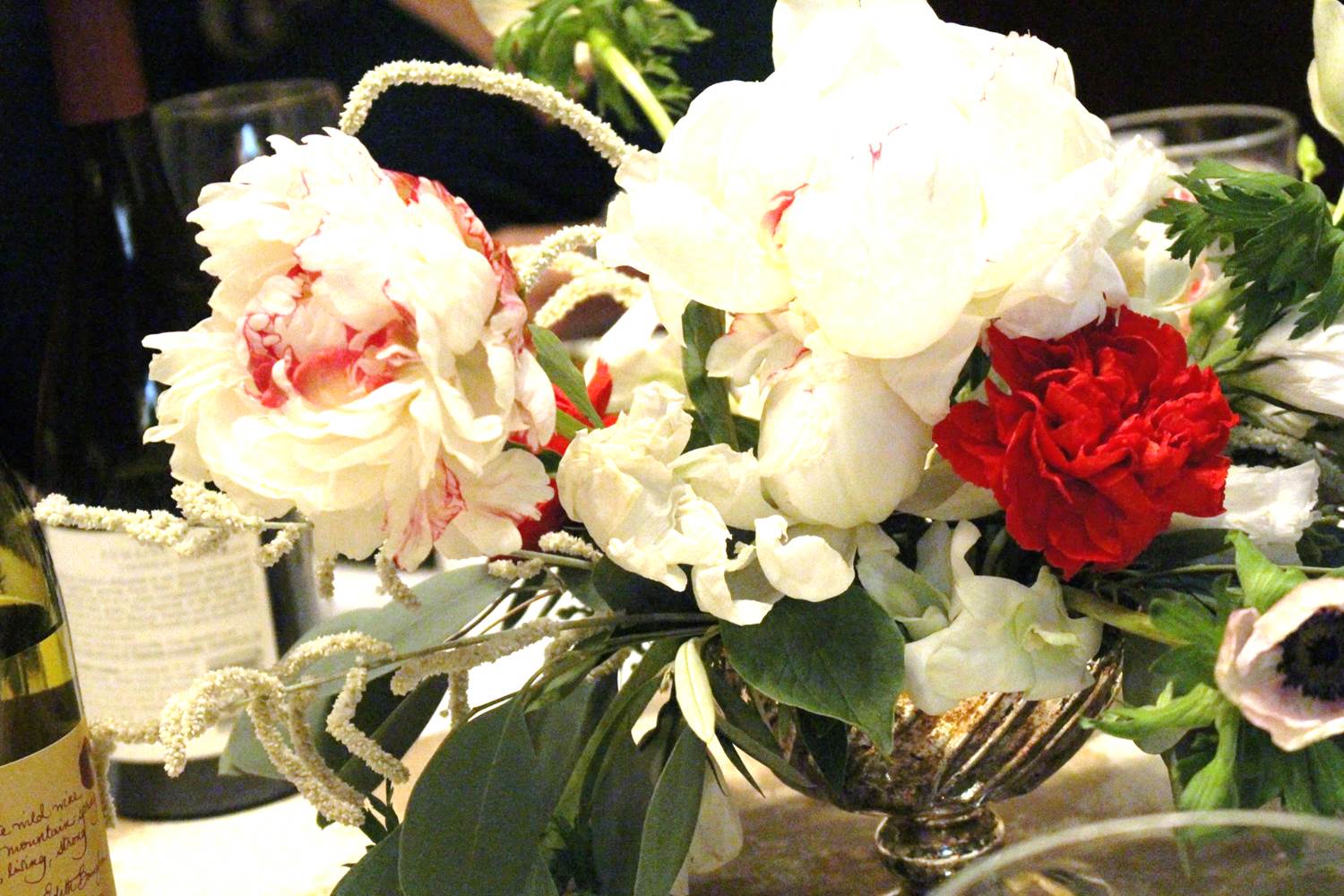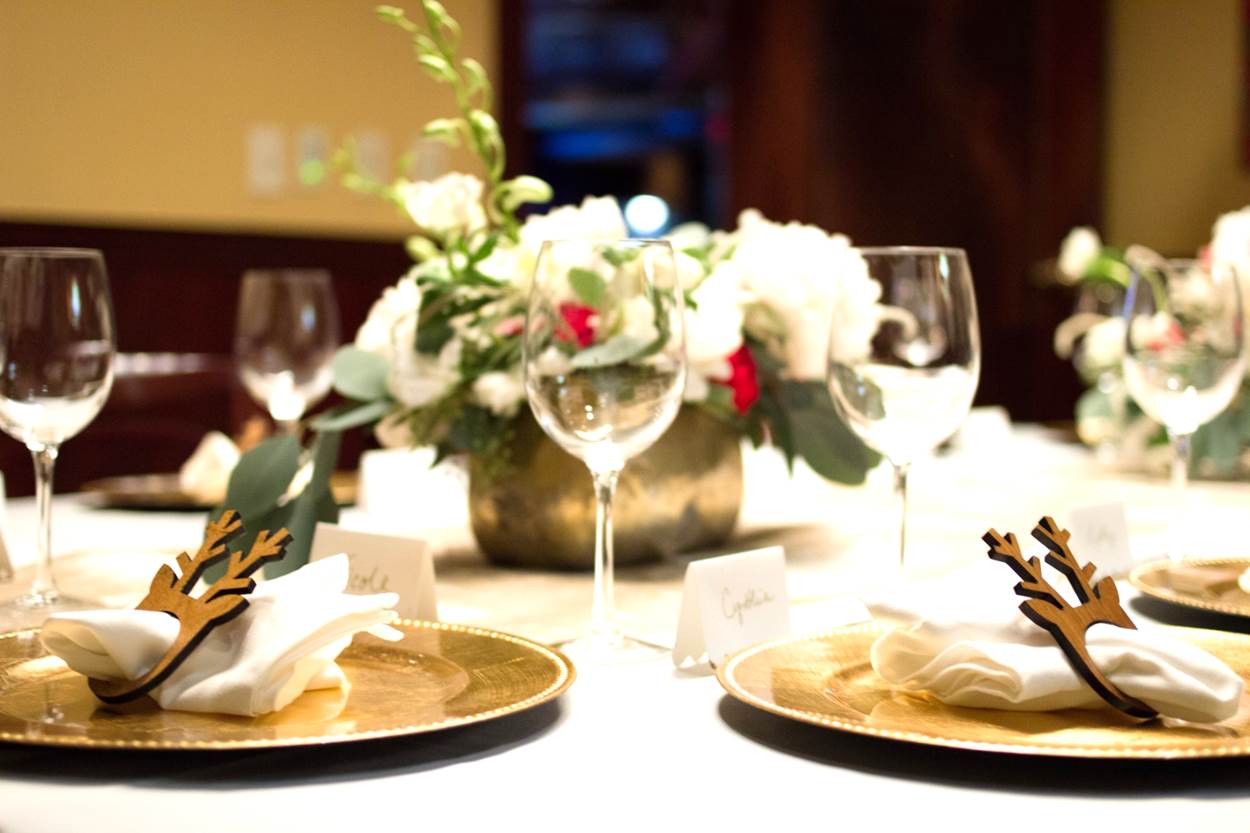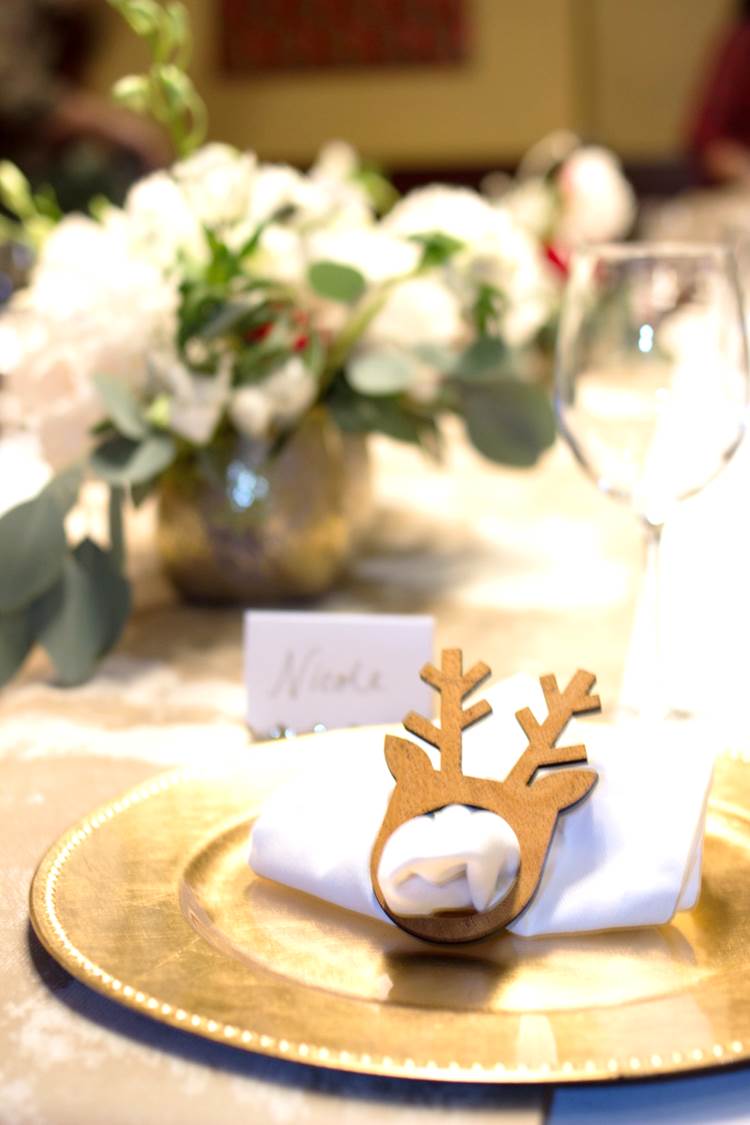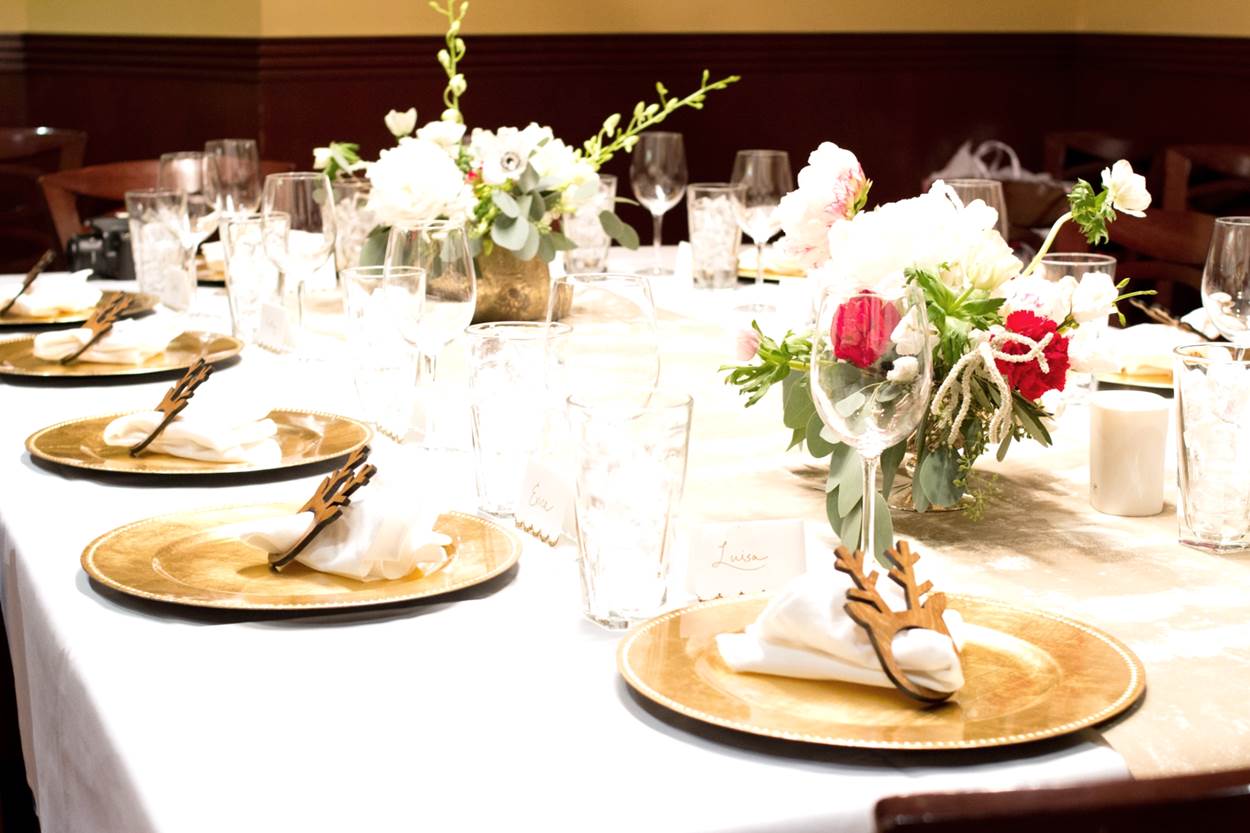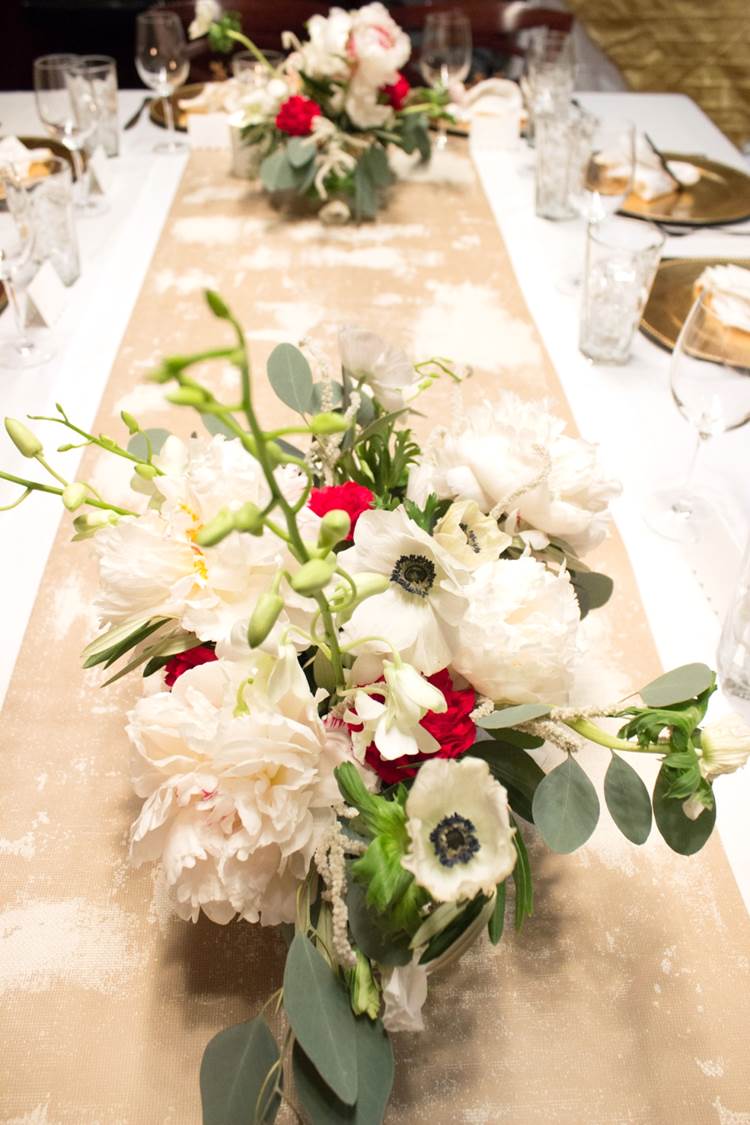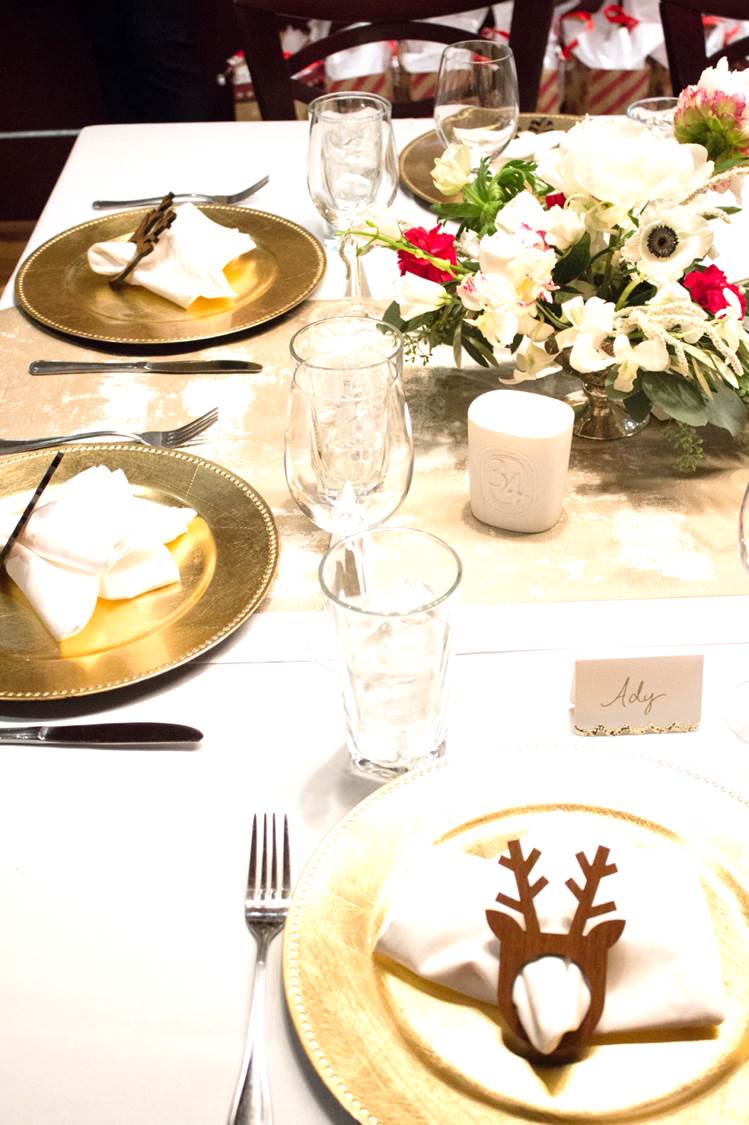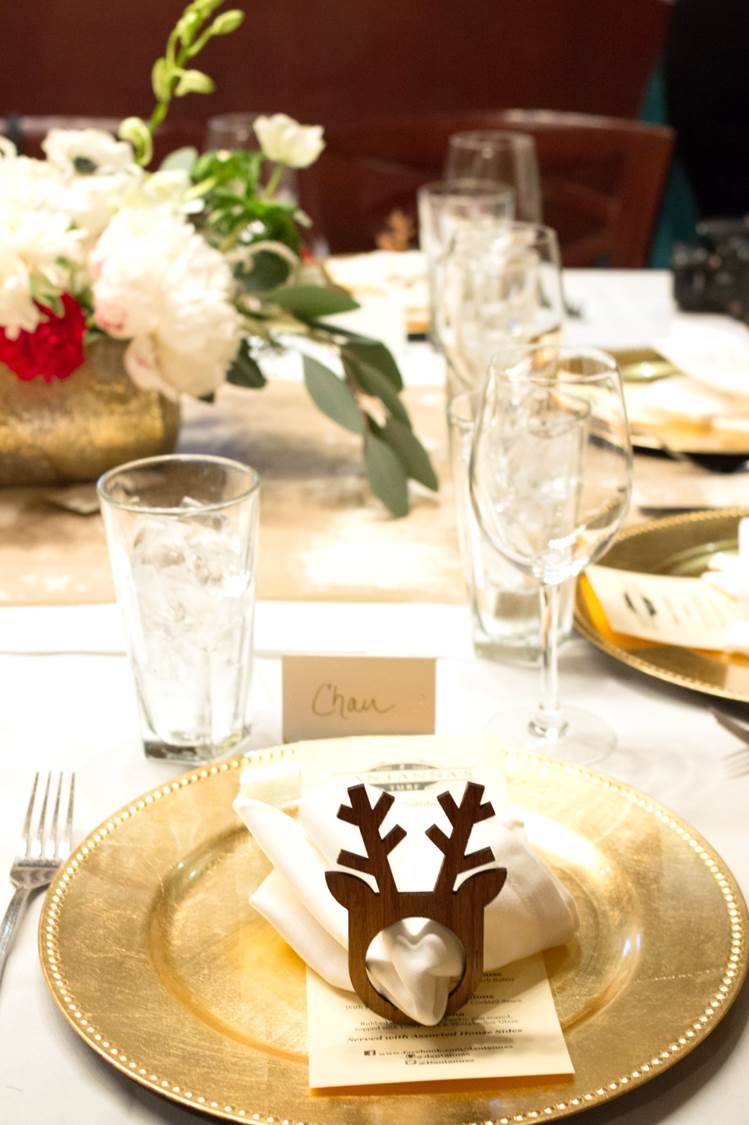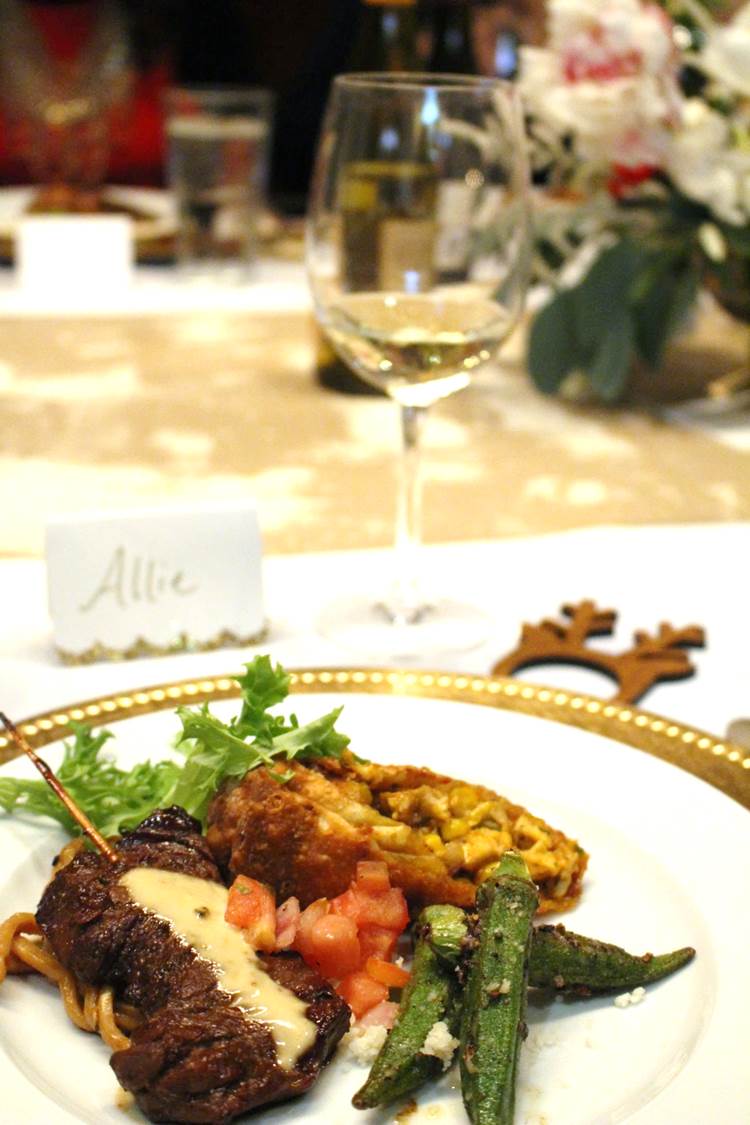 Surrounded by beautiful floral arrangments provided by the very talented Gold and Bloom with darling reindeer napkin rings and table runner provided by Swoozies, the mood was set for a night of joyful celebration.  Diptyque's signature candle from their unique 34 Collection entertained and invoked our senses welcomed guests and scented the private room throughout the night.
We began the evening with an appetizer sampler plate that featured the most tender Sesame Steak Skewers, mouthwatering Cajun Chicken Egg Rolls, and Charred Okra with hints of lemon and parmesan.  I could have made a meal of just this plate.  Each item was presented in perfection and awoke our tastebuds as we began our culinary adventure for the night.
Our second course consisted of a multitude of salad dishes served family style.  We tasted a Crab and Berry Salad featuring organic grown greens, seasonal berries, tropical fruit tomatoes with a raspberry vinaigrette to top it off; a super food Kale Salad that had the most refreshing granny smith apples and chopped pecans with blue cheese and herb vinaigrette; an Organic Quinoa Salad under a balsamic dressing that pulled together the flavors from the edamame, red peppers, dry cherries, goat cheese, and shallots; and finally a Spinach Salad of tomatoes, red onion, mandarin oranges, carmelized onions, a bit of blue cheese with a champagne-lime dressing that was so refreshing and light.
As if we weren't treated to enough excellent bites, the main course arrived family style with the most delectable selection of Maine Lobster Tail Medallions with citrus-caper cocktail sauce; Wasabi Tun pan seared with a shiitake-soy glaze, lump crap, panko crusted ahi; and Creekstone Farms Porterhouse with Dantanna's house signature rub, char-grilled with herb coumpound butter.  I can't begin to tell you how amazing the entire meal was from beginning to end… but trust me when I say you MUST try this place.  When Dantanna's says that it combines culinary excellence with the entertainment value of sports to create the ultimate restaurant experience… they do not shy from the accuracy of their culinary excellence.
Finally, a table of beautiful desserts was provided by The Sweet Trend. The display Lisa from the Sweet Trend designed for the party was not only beautiful… but it complete the night with perfect bites of sweet indulgence.  The Sweet Trend also provided the darling travel inspired sweets for my dear friend's baby shower and the delicious brunch from my PC Anniversary Blogger Brunch last year.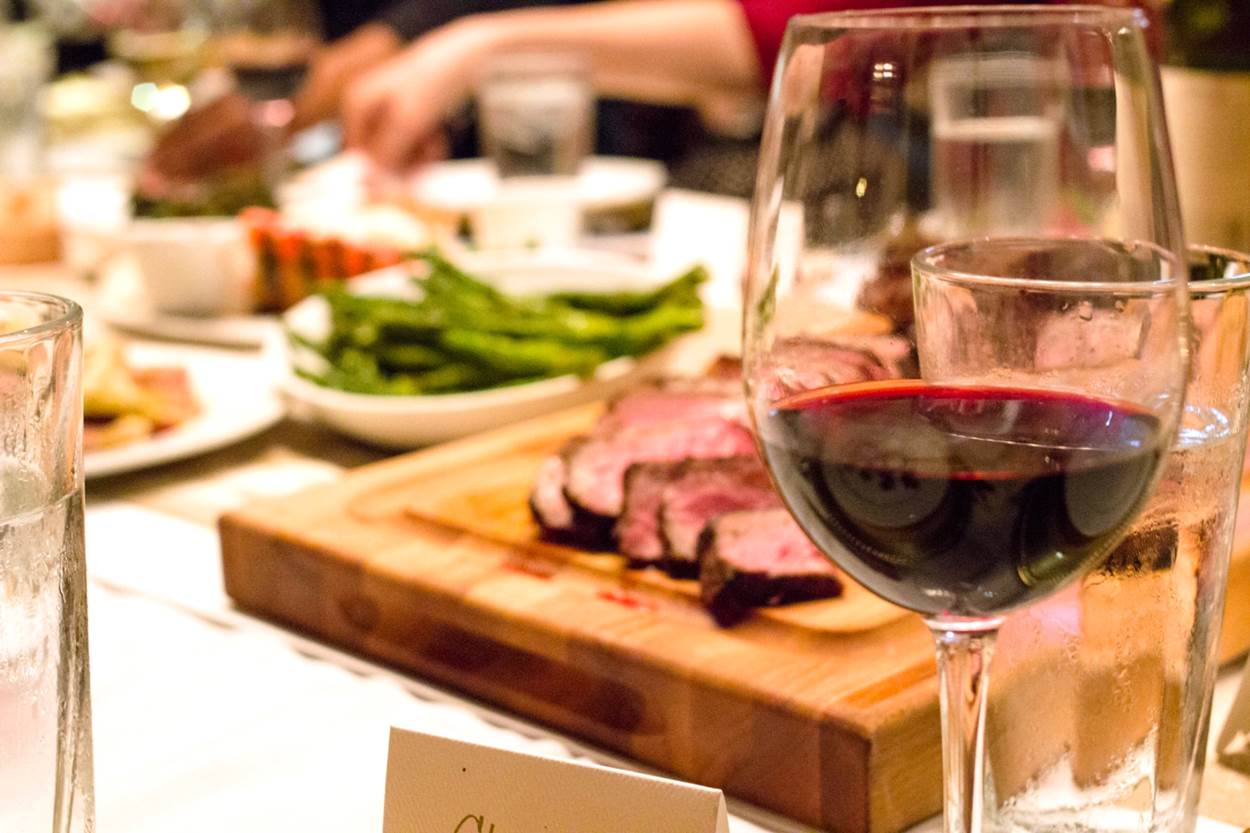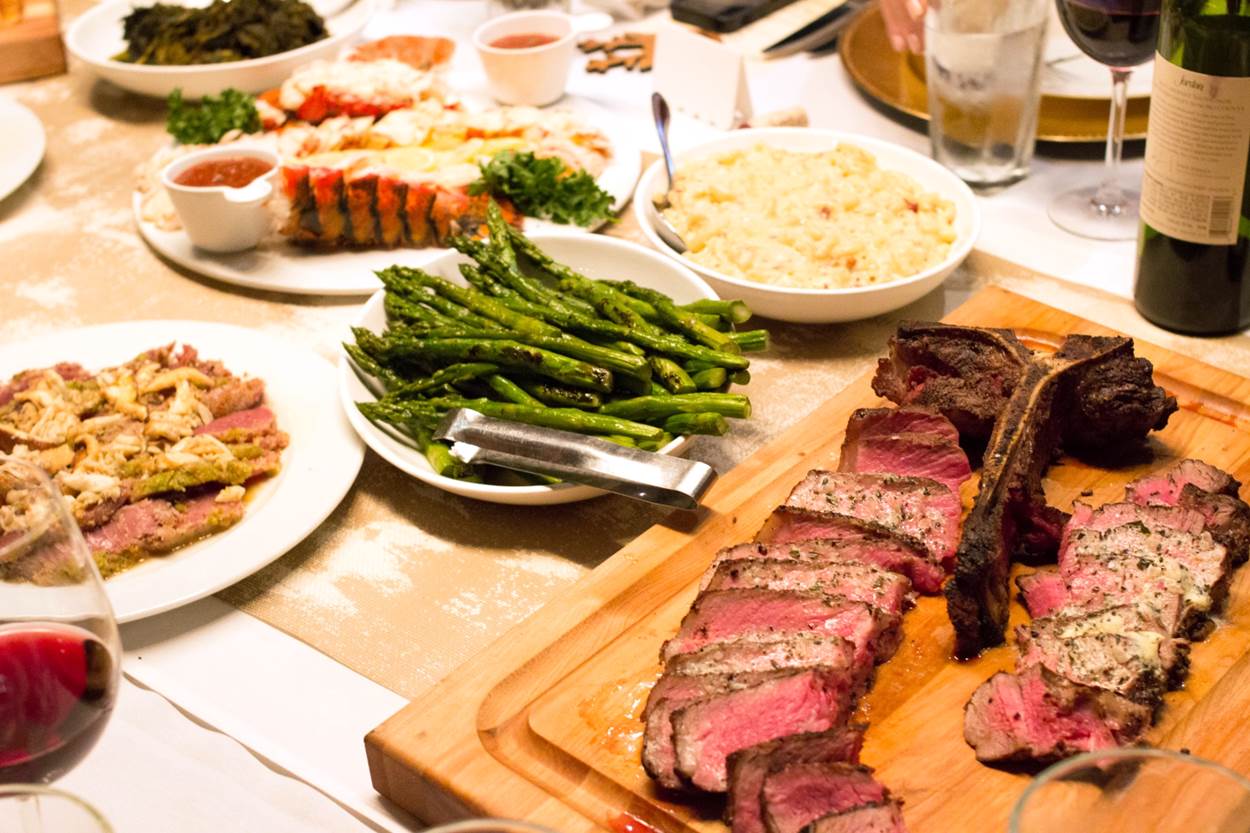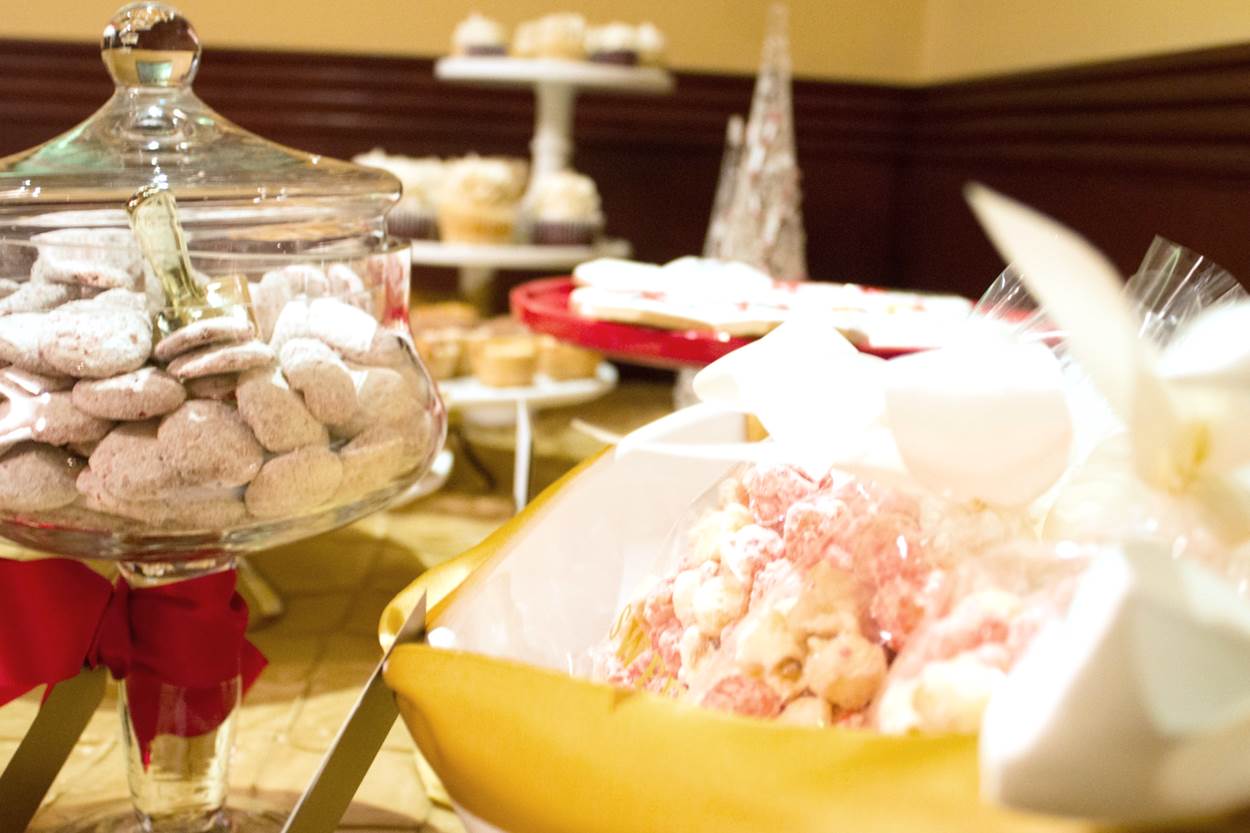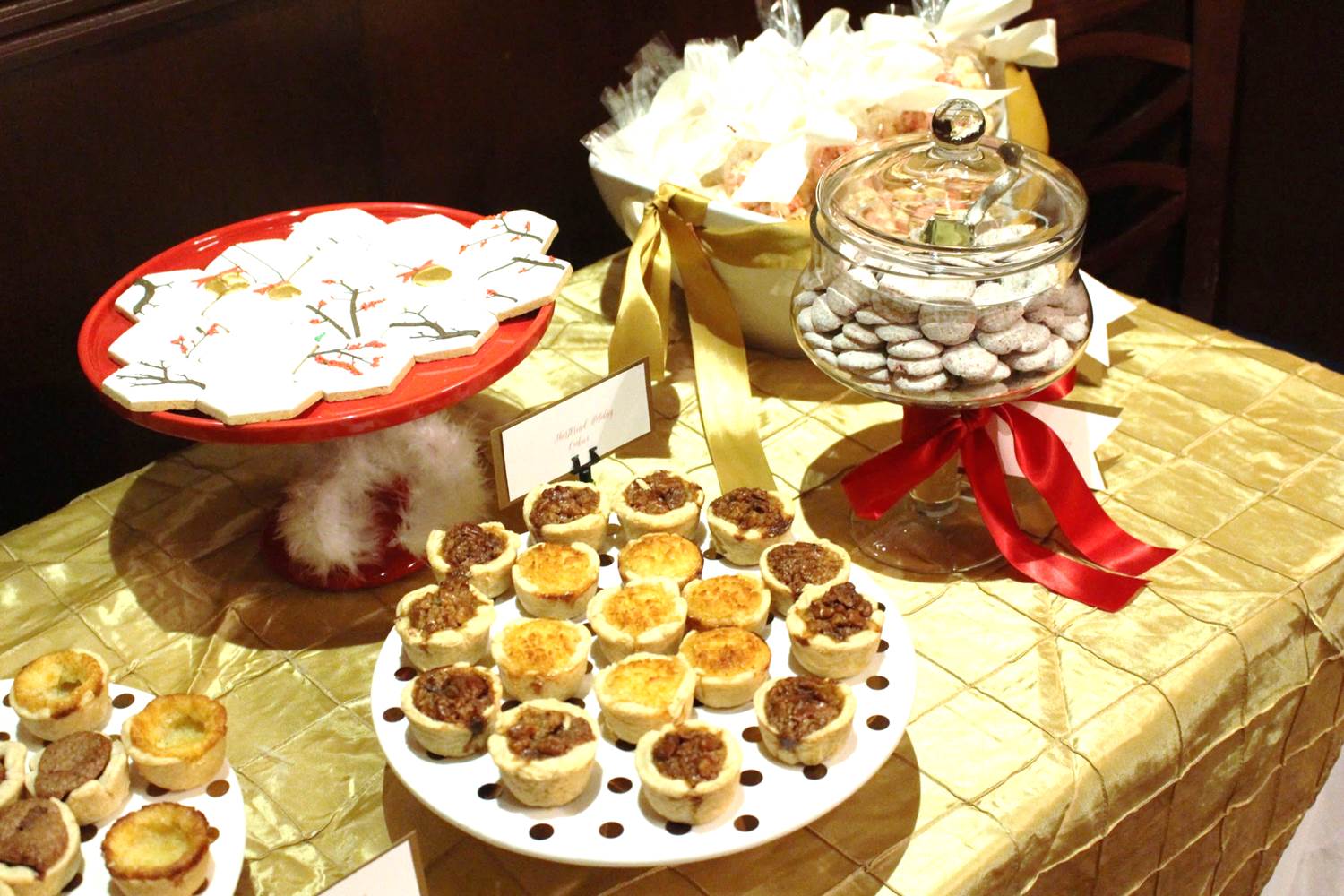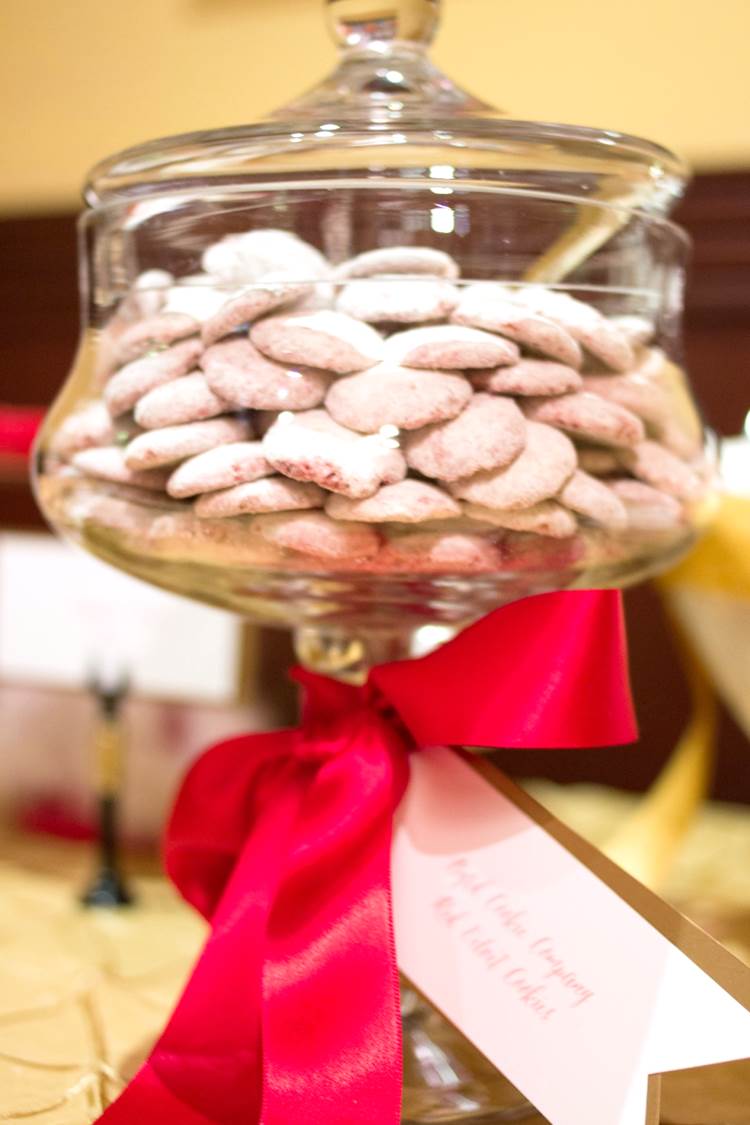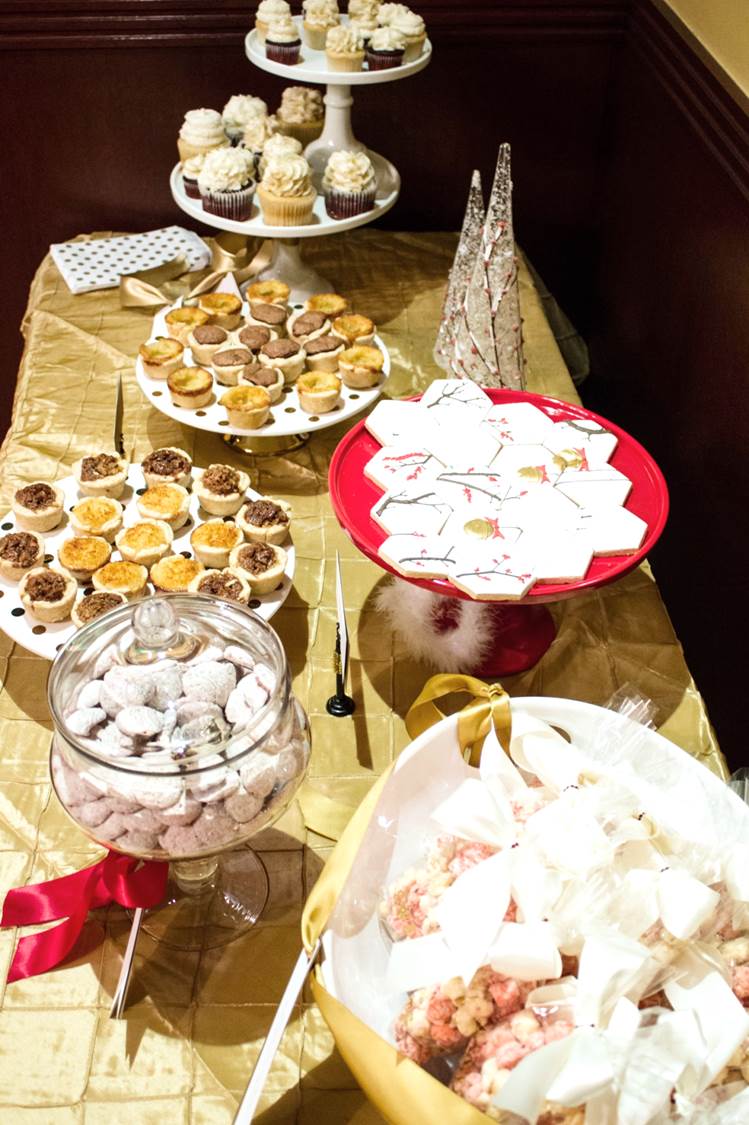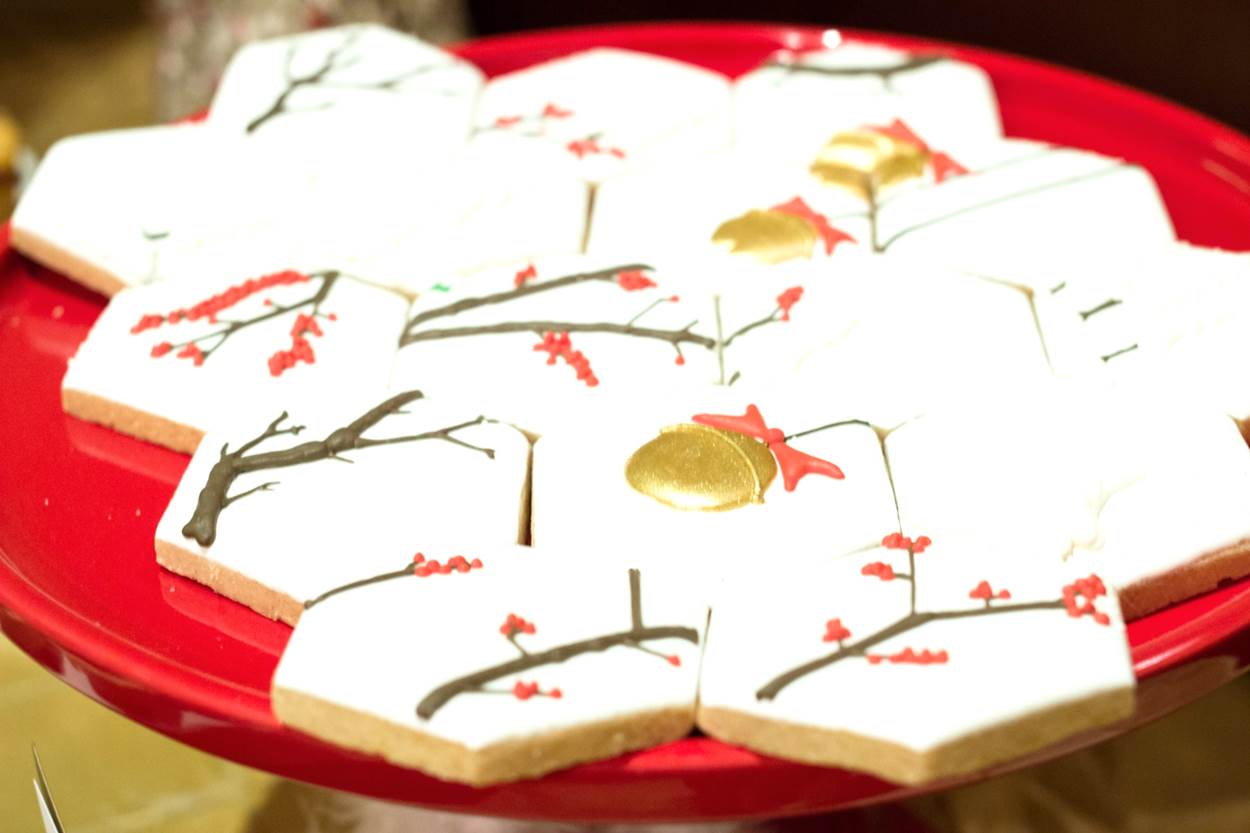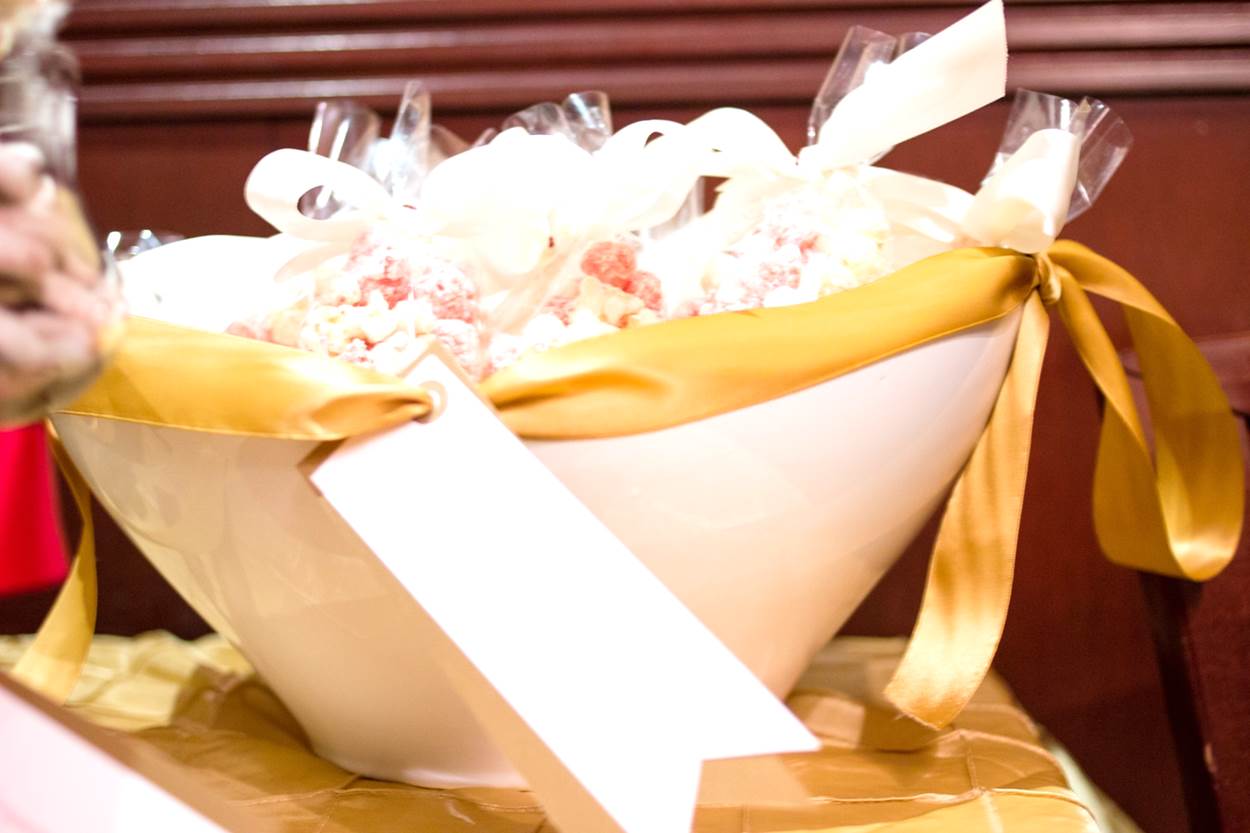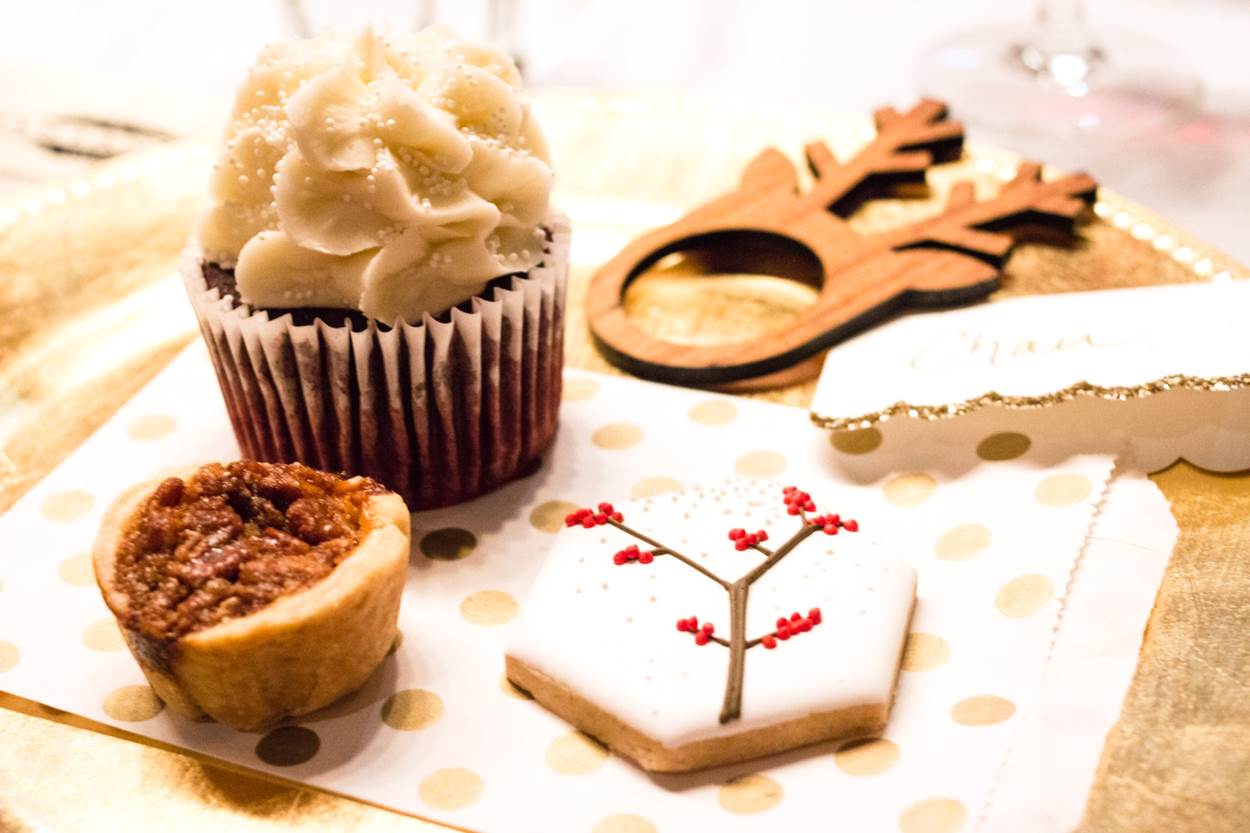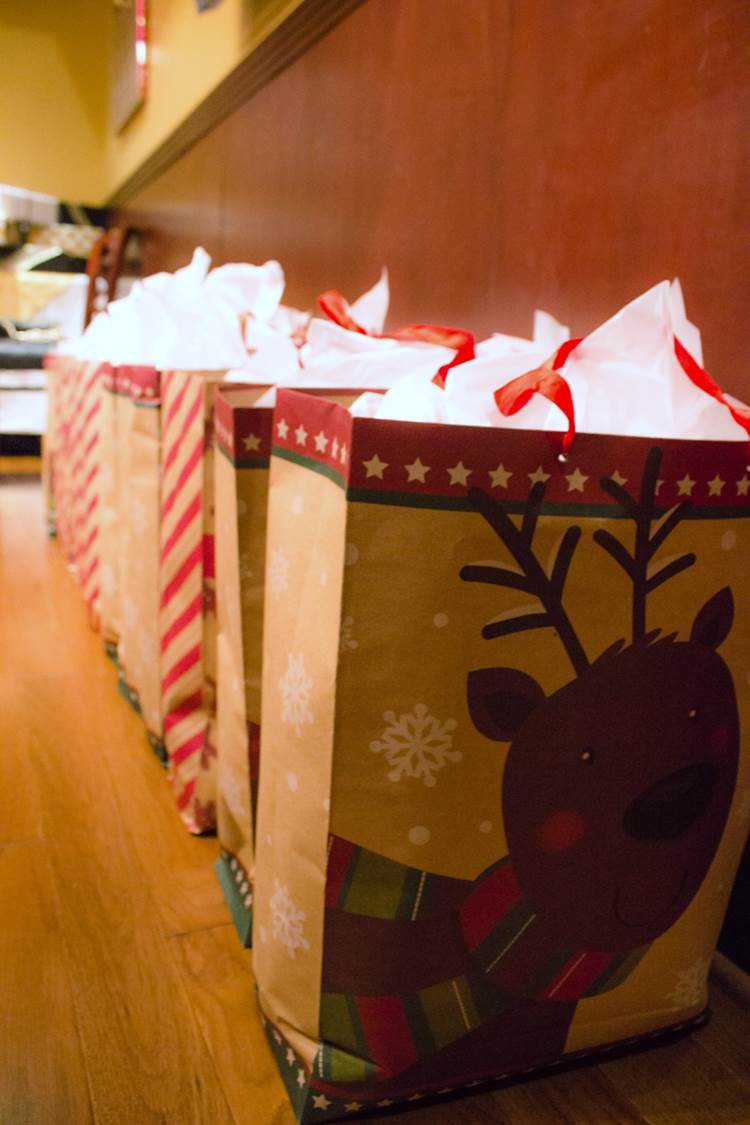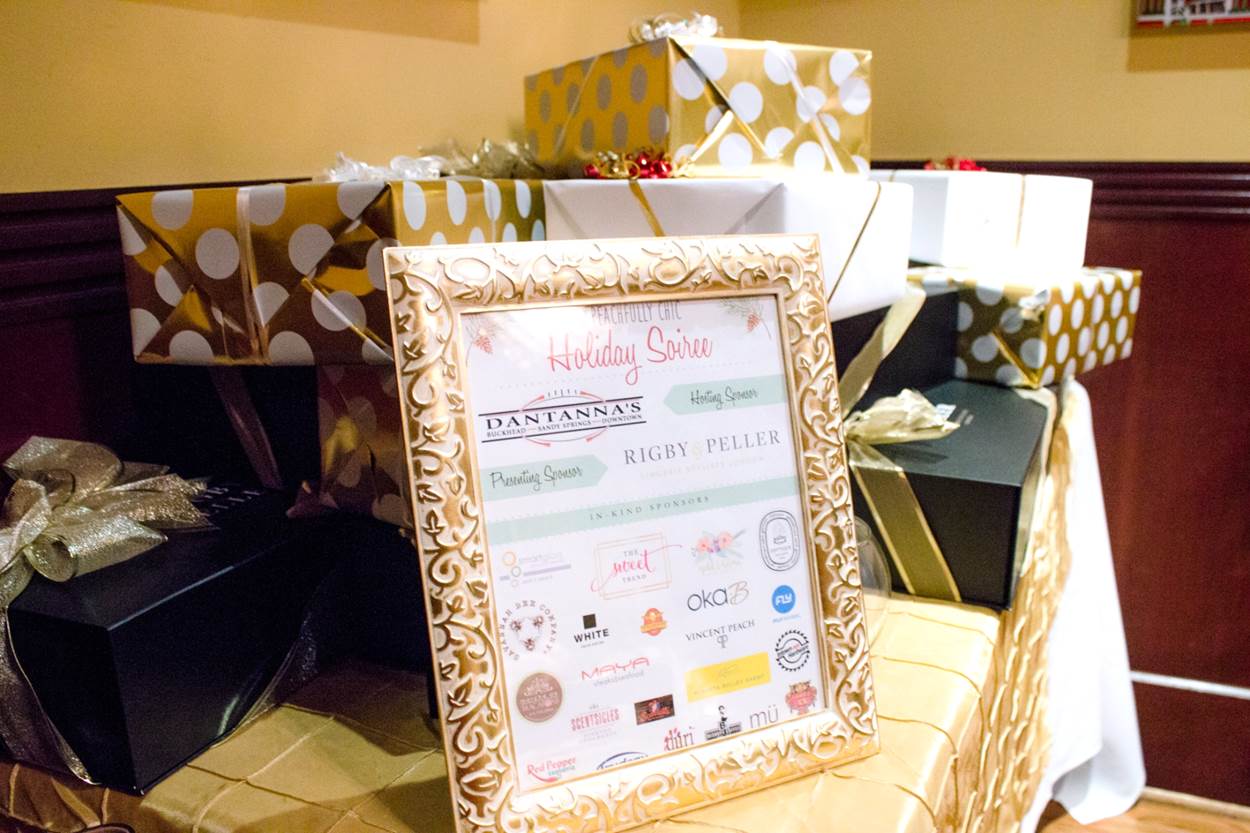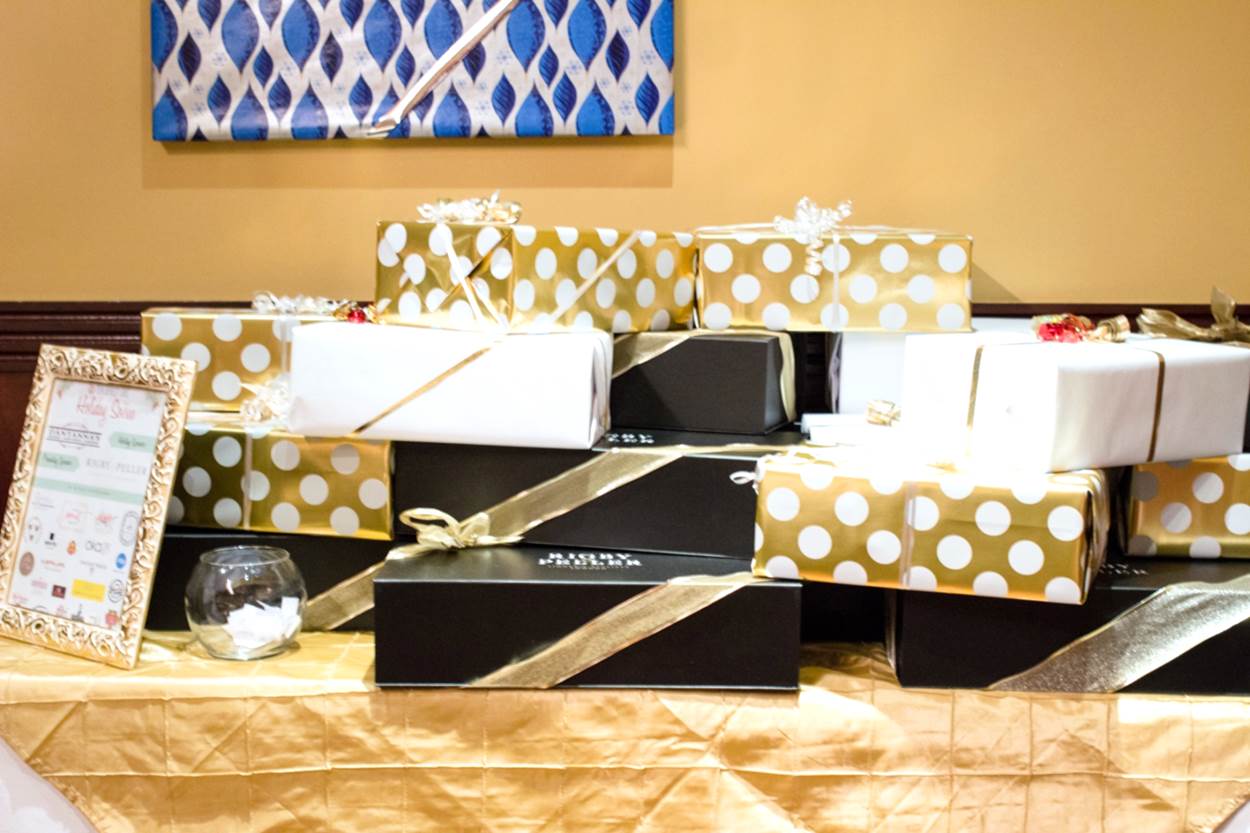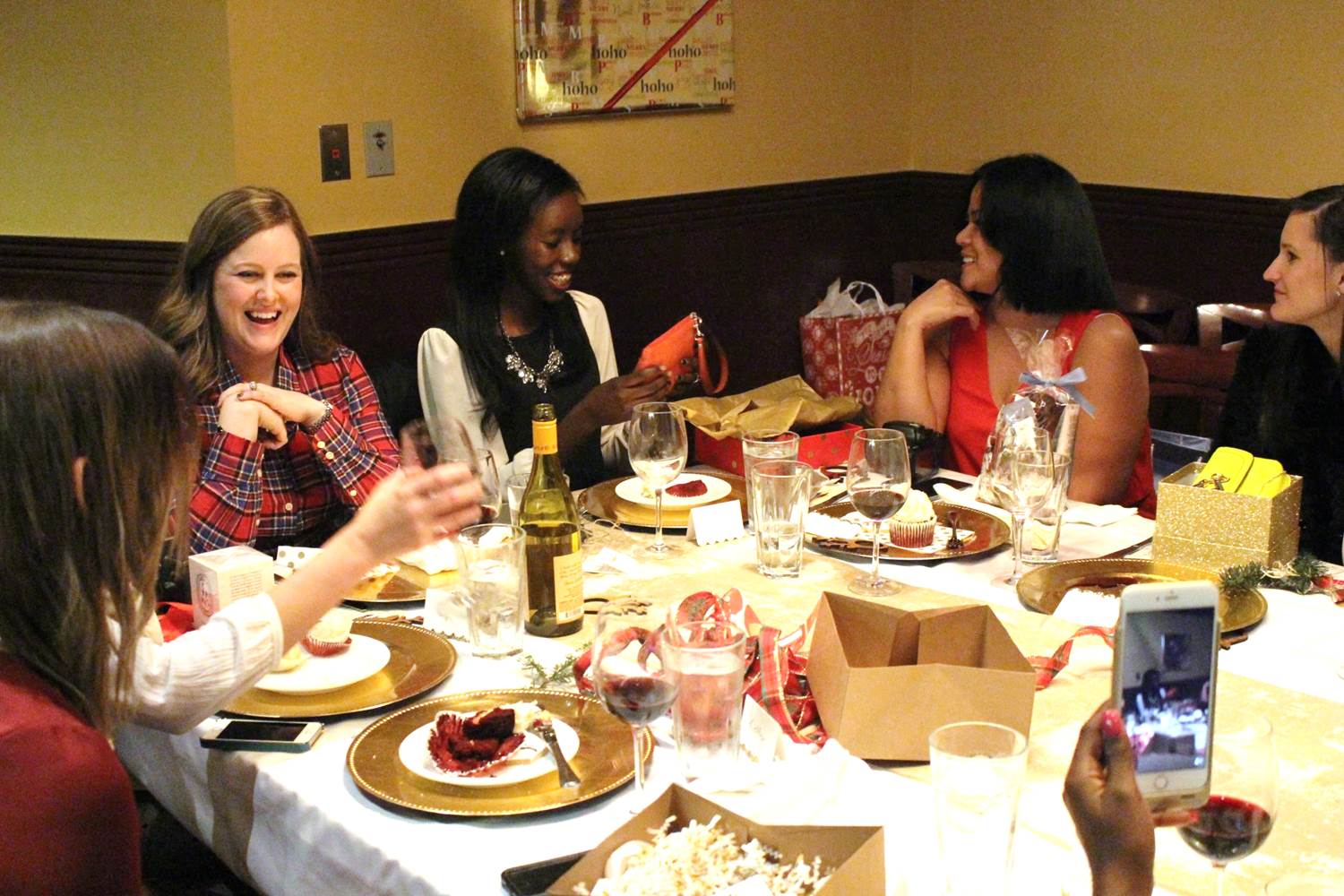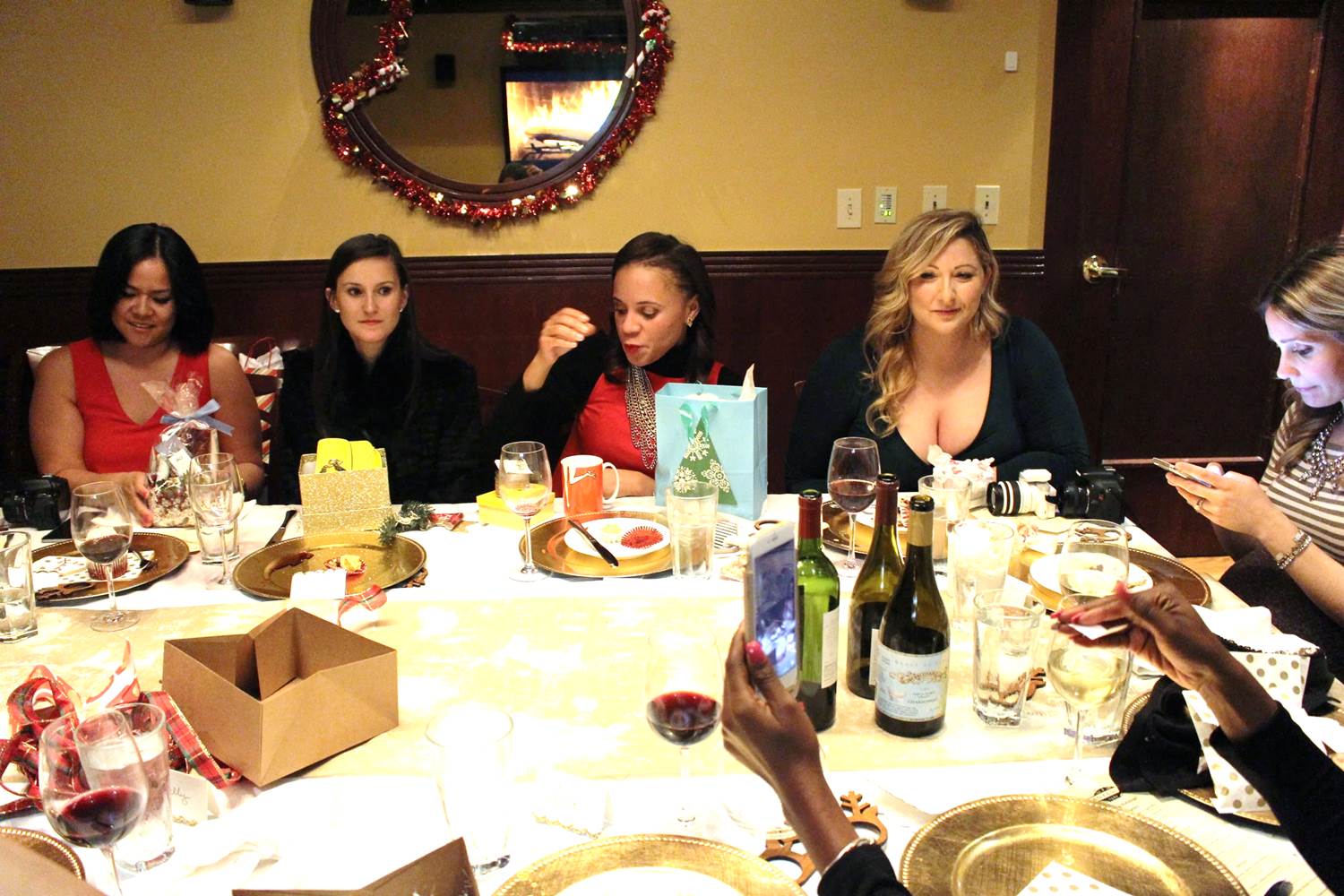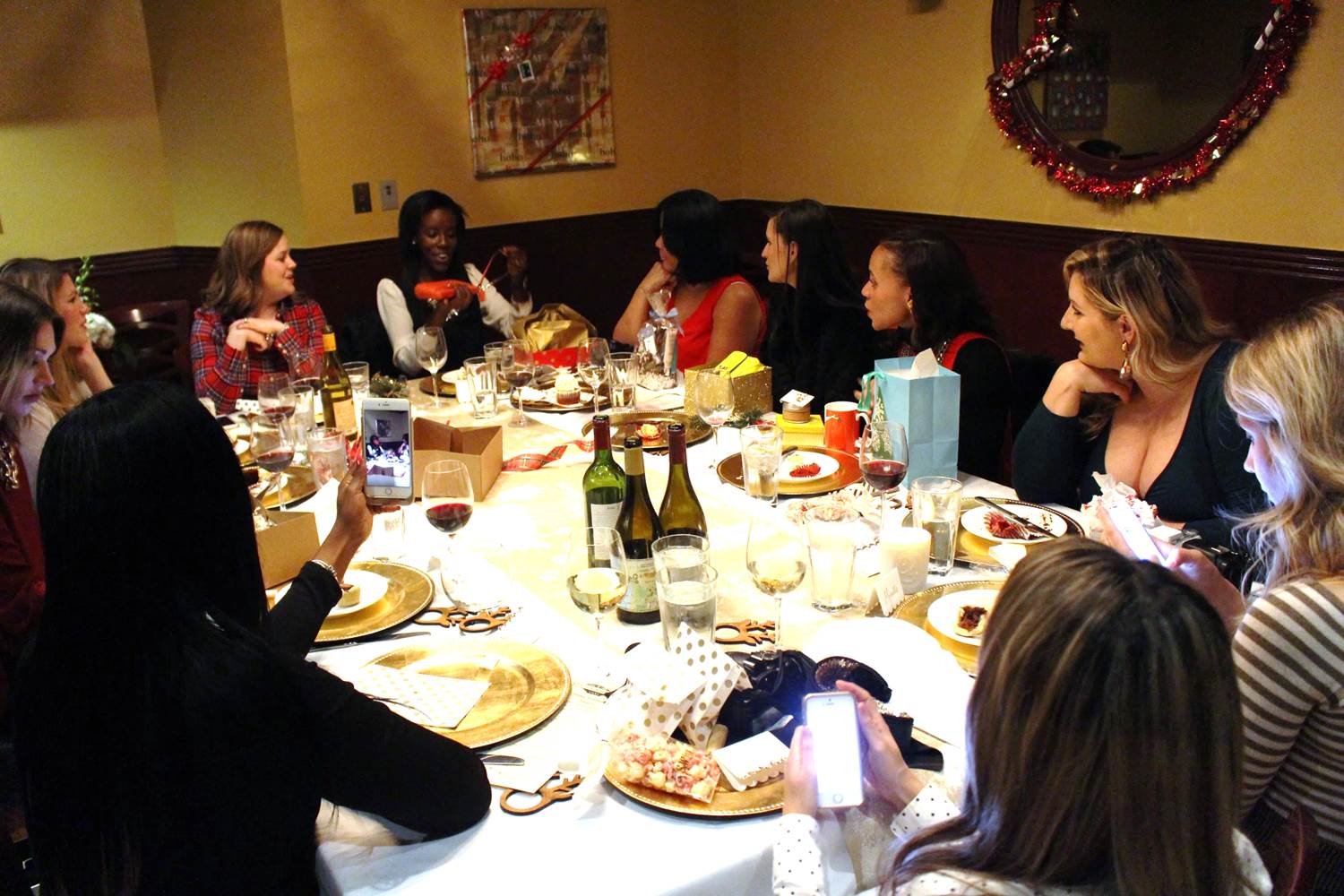 After the sweets were finished off and our plates were cleared, we began the White Elephant exchange of gifts which was so much fun.  We all had a blast opening the goodies and seeing what treats everyone brought.
Before everyone left, each blogger was gifted with a fabulous swag bag filled by all our generous sponsors….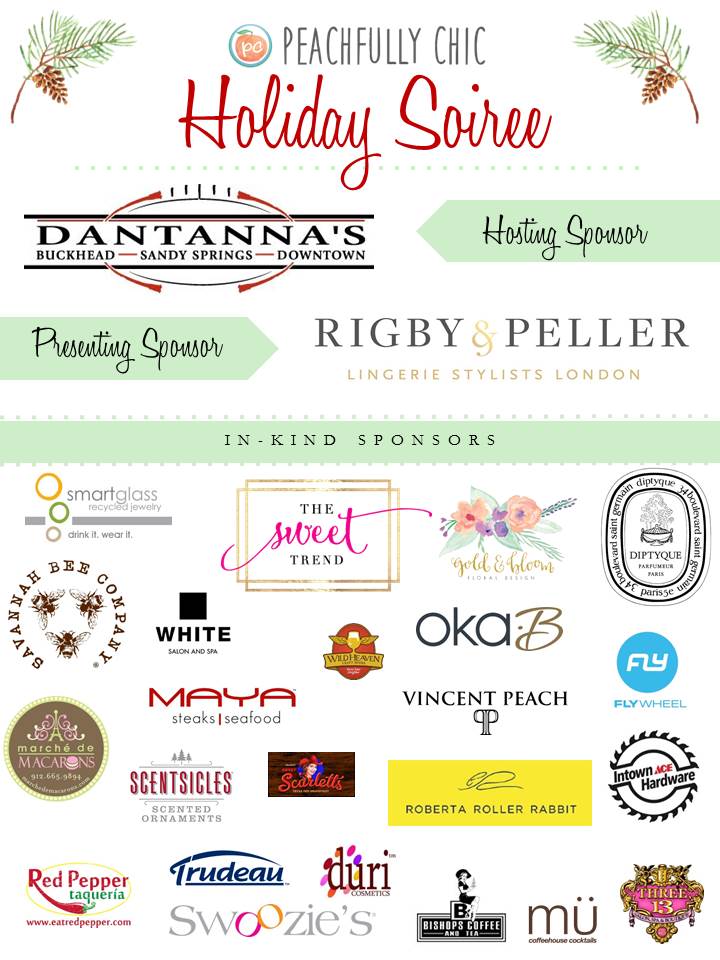 Huge thank you to all my inspiring Atlanta blogger babes that attended and our generous sponsors!!!!

You can actually check out everyone's recap of the event through the links below:
Verbal Gold Blog  ♦  Eating With Erica  ♦  Kale Me Kelly   ♦  Fashion to a T  ♦  Peaches to Pearls  ♦  Nicole to the Nines  ♦  Off the Kat Walk ♦  Probably Polkadots  ♦  Darling Down South  ♦  Sweets By Chan
HAPPY HOLIDAYS FROM OUR BLOGGER FAMILY TO YOURS! 😉