Must Have Master Bedroom Essentials:
Ok folks… when we bought our house last year, you may remember I shared a quick tour before we initially moved in.  And I also talked about the upgrades that I had in mind to make our house really feel like our home.  So I've slowly tackled bits of the house (which seems to be a never ending project!) and I've finally made my way around to our Master Bedroom.
I've already made a few investments in key pieces for the room including a beautiful dual-toned area rug, romantic (almost sheer) curtains, and two mirrored side tables.  We're getting there.
As we wrap up the final stages of our Master Bedroom Makeover, there's one major thing I'm missing.  Luxurious bedding to snuggle into at night.  So when it comes to figuring out the highest thread count and the finest linens, Frette makes it insanely easy to decide what exactly you need to look for in their Buying Guide.  For over a century, Frette's finest Italian linens have dressed the beds of the world's most prestigious hotels across the globe.  You know how I'm from Augusta???  Even the Augusta National Golf Club uses Frette linens.  That's enough validation for me 😉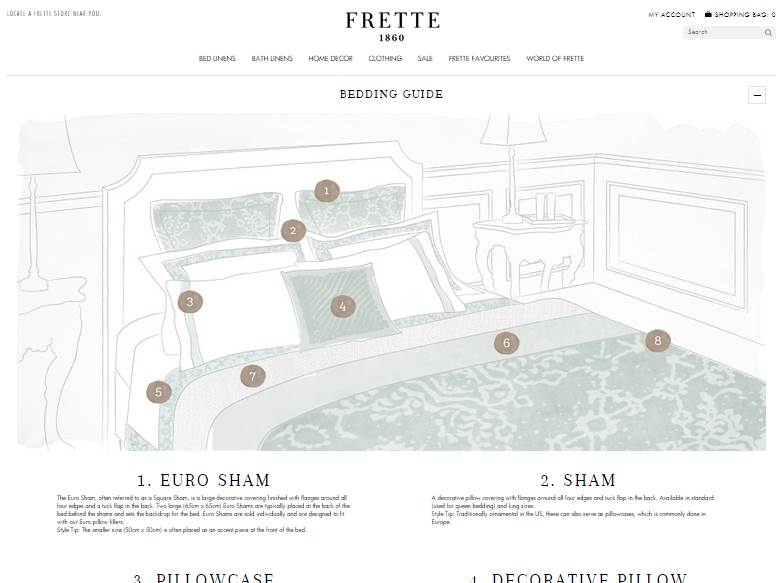 So I've purused Frette's many bed linen collections (plus their bath linens, home decor, and clothing), and have narrowed it down to a wishlist that includes my top 5 favorite Frette bed collections.
[line]
Made in Italy these super-smooth Egyptian cotton Sateen combines Sicilian lace trims with interlocking rhomboids.  Now if that doesn't combine romance with timeless design I don't know what does.   And since the neutral color fits in perfectly with my agreeable gray walls and snow white trim, I can already imagine waking up under bright light linens and settling in to enjoy my first cup of coffee of the morning.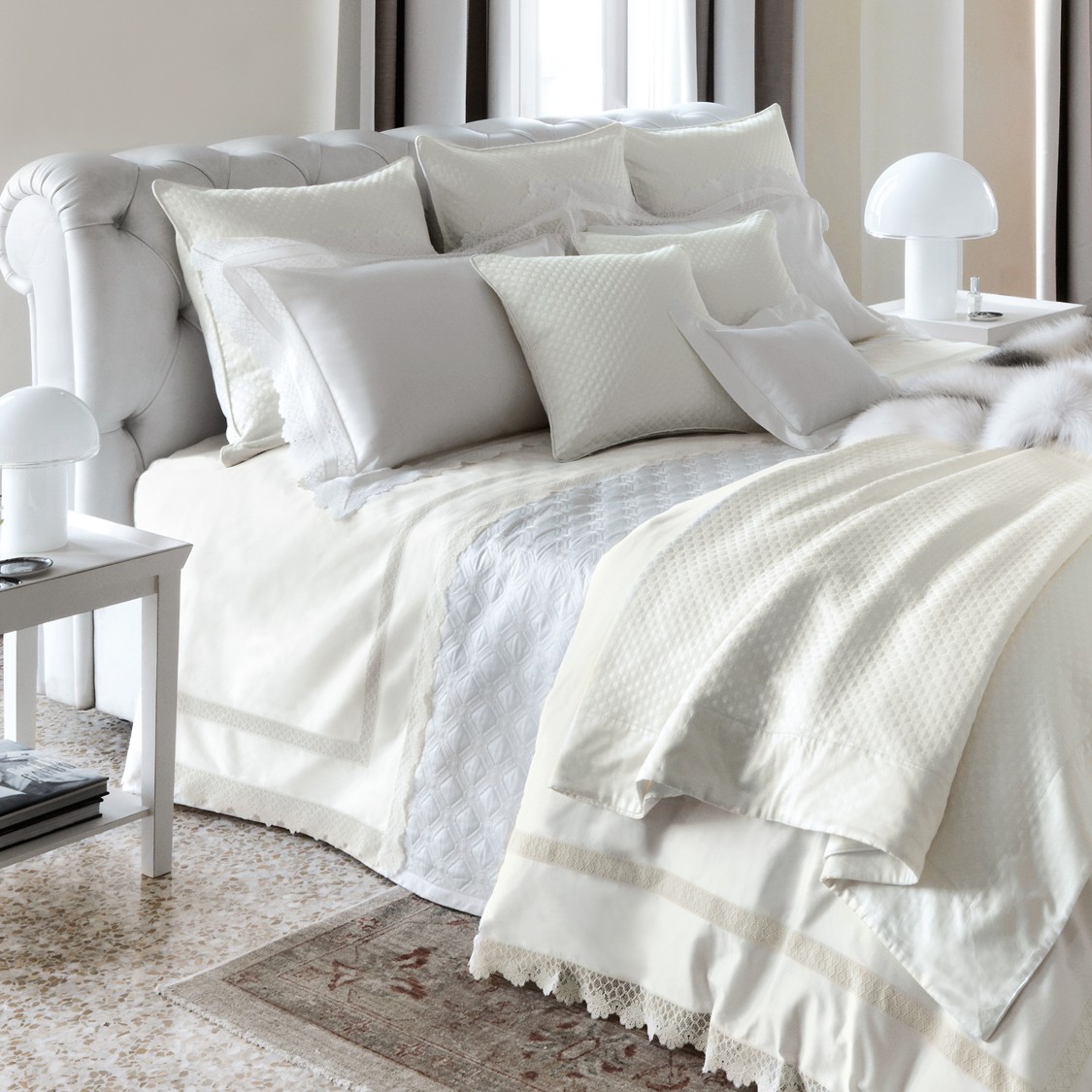 Interlocking hexagons on a mixed silk jacquard create lustrous texture and sheen that remind me of a more sohpisticated but casual spin on a very inviting gender neutral style.  The hexagon pattern provides a distinctive look while the pearl blanket brings a softness to the sleek weathered silver bedspread.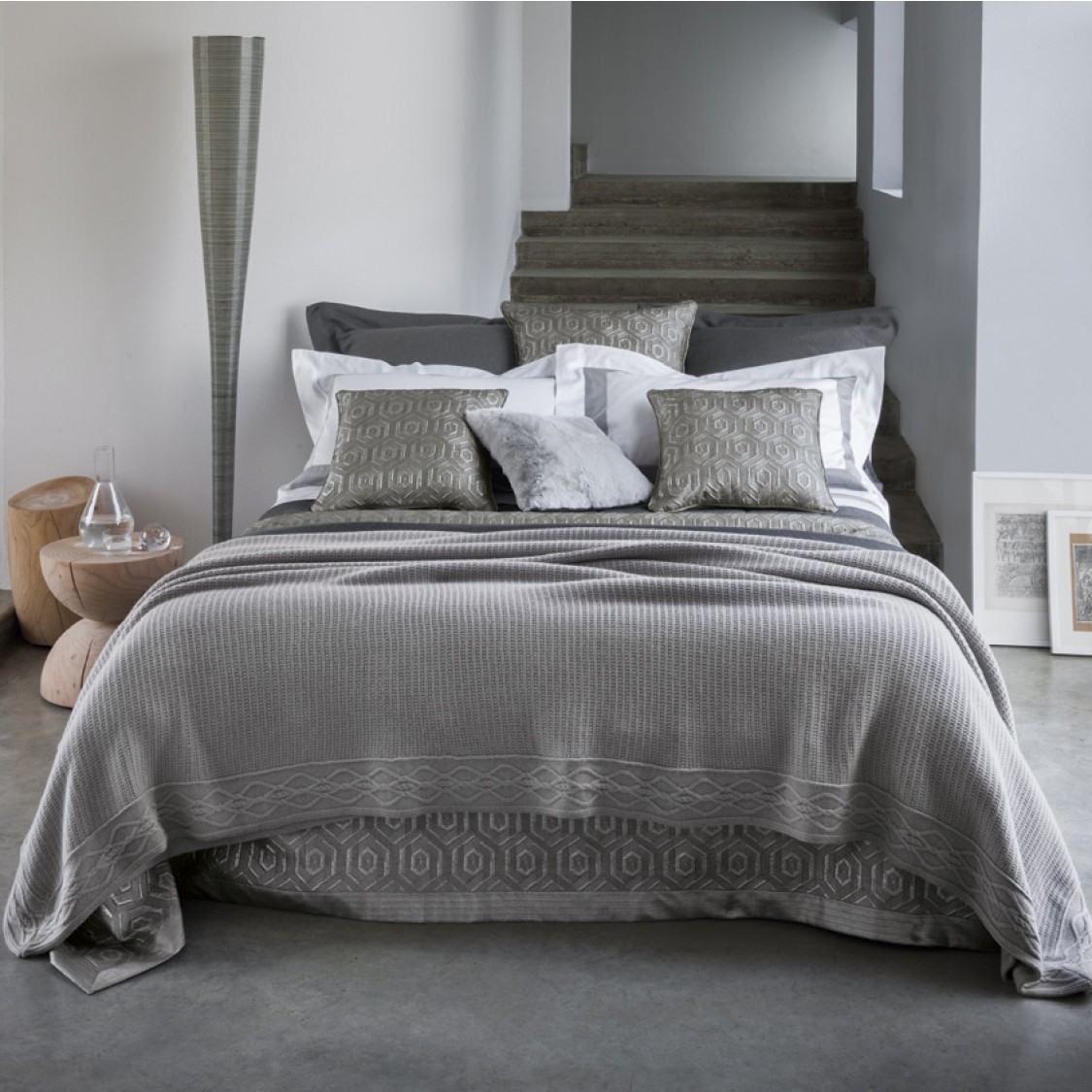 The ivory quilt pops against the beige duvet but the stylized representation of Milan's endlessly twisting tramlines on the Tram Sheet Set ties in perfectly with the camel bed cover, decorative pillow, and euro sham (you know… the giant square pillow).  This is probably one of my favorites from the new Fall Winter 2015 Collection.  The warm tones just seem so inviting… it might actually be hard to get me out of bed!
I love the clean navy lines layered against the stark white sheets, shams, and duvet.  Combing high-quality fabrics with 150 years of craftsmanship this is the same cozy indulgence of a luxury hotel stay but at home.  There's really nothing more classic than navy and white… which I guess is why this style has the perfect name.  And although these colors might not be the perfect fit for our Master Bedroom Makeover, I had to include it on my wishlist.  Actually it would be perfect for our family beach house in Beaufort, SC – right!?!?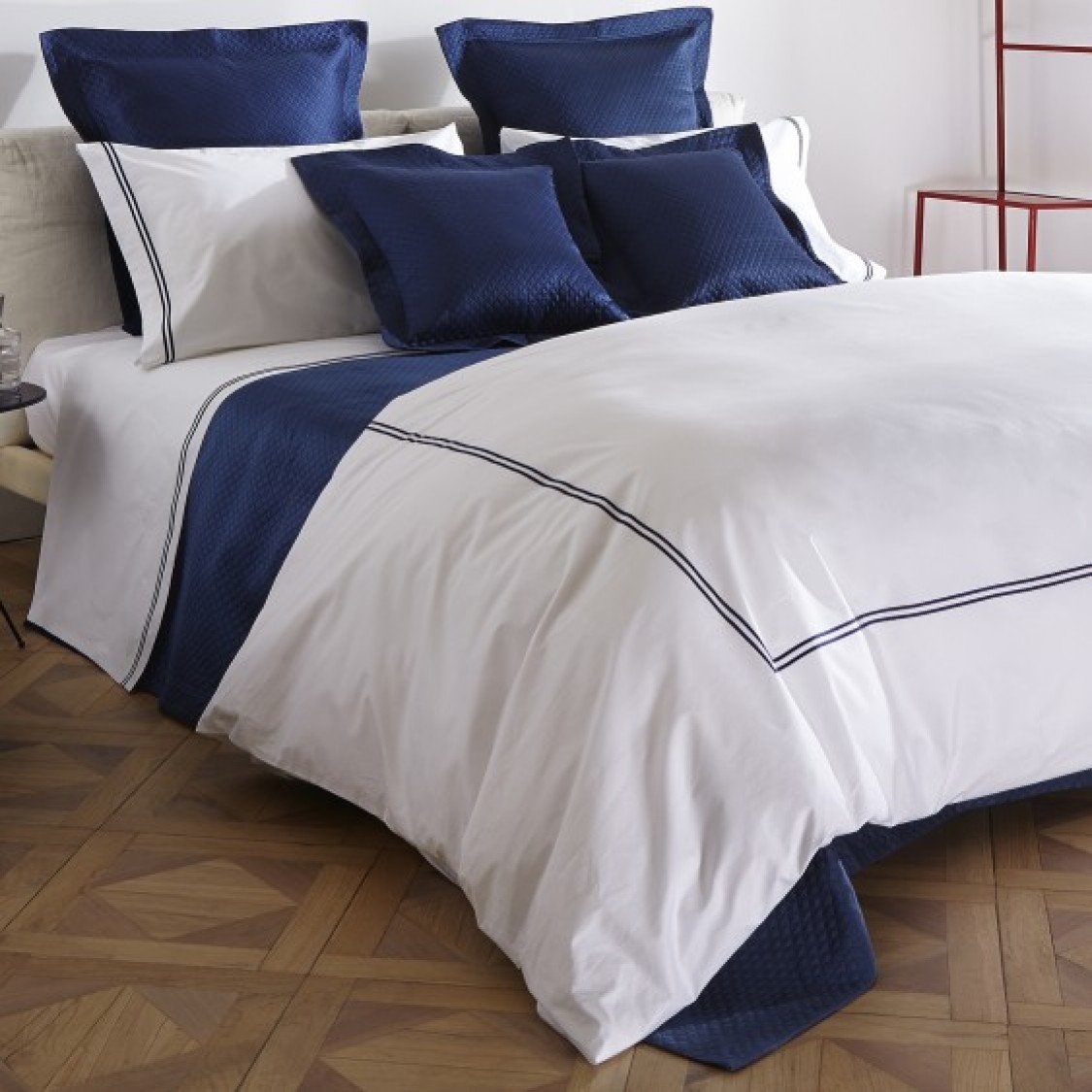 While I love the newest designs that Frette's Fall 2015 Collection brings to the table, I would be remise if I didn't add this Glass Beads look from their Spring Collection.  Beyond the color (which I LOVE), this design has a charming backstory that just brings this a little more character and personality to it… Centuries ago in Southern Africa, wealth, power and status could be symbolically represented by glass beads-meticulously crafted and expertly coloured. Frette drew on this ancient tradition to create a compelling contemporary pattern for this set, presented in a spectrum of aquatic and cerulean blues that evoke the seas and skies of the South African coast.  Plus the spring collection is on sale!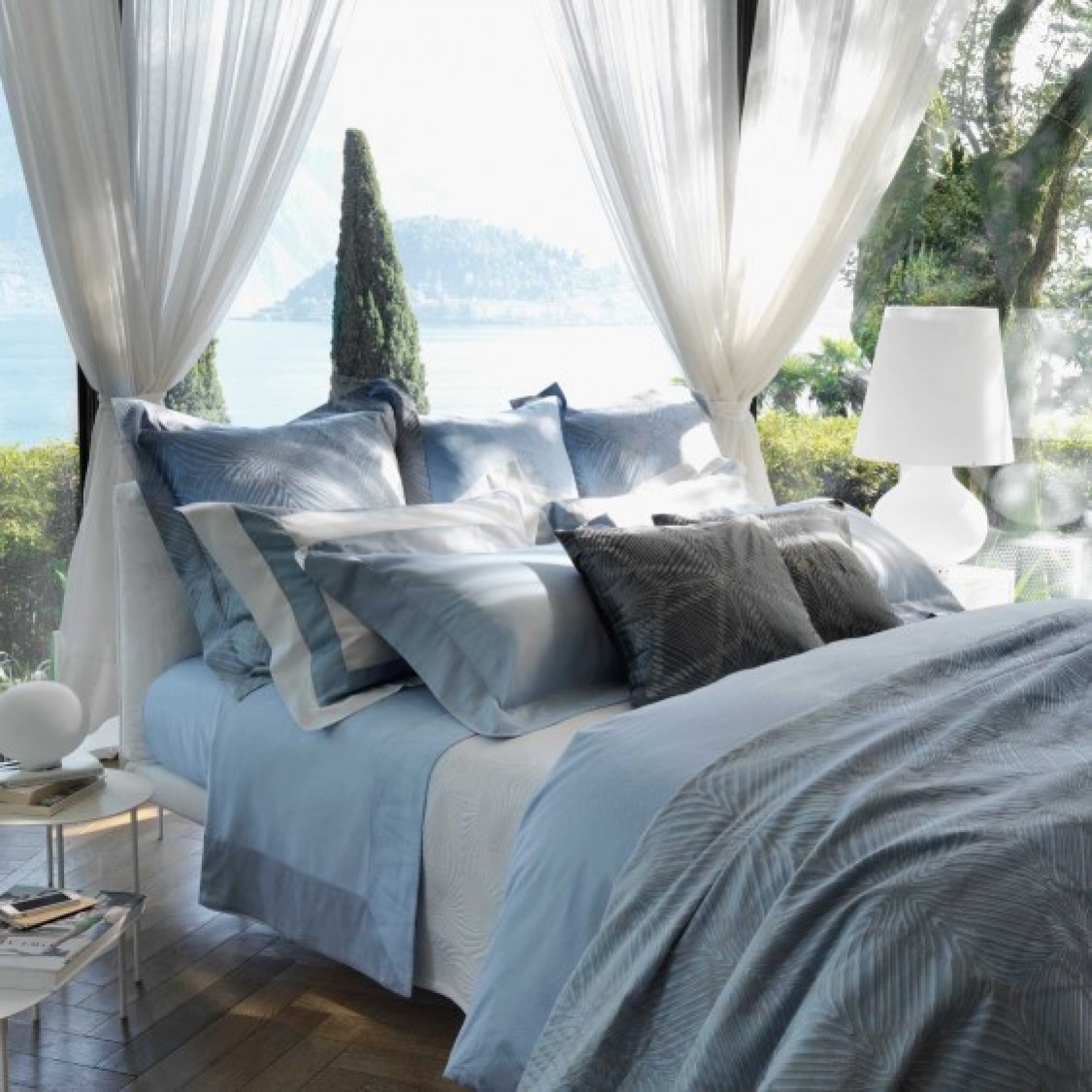 All in all, I'm a big fan of neutrals, but trying out new bedding is a great way to switch in some color when you are in the mood for it… or switch back to the classics.  I've had a tough time trying to decide which of the Frette luxury bedding linen is my favorite of those I've included on my wishlist… but I guess they are all my favorites because I love them all!   Regardless, you should check out their site and tell me which style is your favorite!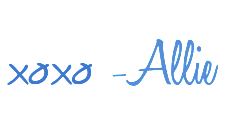 Note:  While this is a sponsored post, all thoughts and opinions are my own.  Photos featured above were c/o Frette.  Find out more about the disclaimer for Peachfully Chic here.