Ahoy – It's a Boy!
I told you all that I had babies on my brain when I shared my imaginary baby registry last week and prepared for my sister's upcoming baby shower in Augusta.   Well, I made it there and back safely, and took tons of photos to share with you!
Since I live in Atlanta, I wasn't really involved in the planning or executing of the beautiful nautical baby shower that my sister's friend, Emily, and our mom hosted in Augusta.  But they really embraced the nautical theme from the baby's new nursery and it turned out fabulous!
I hope some of these baby shower ideas really inspire you.  They certainly made me ready to go to the beach…. haha!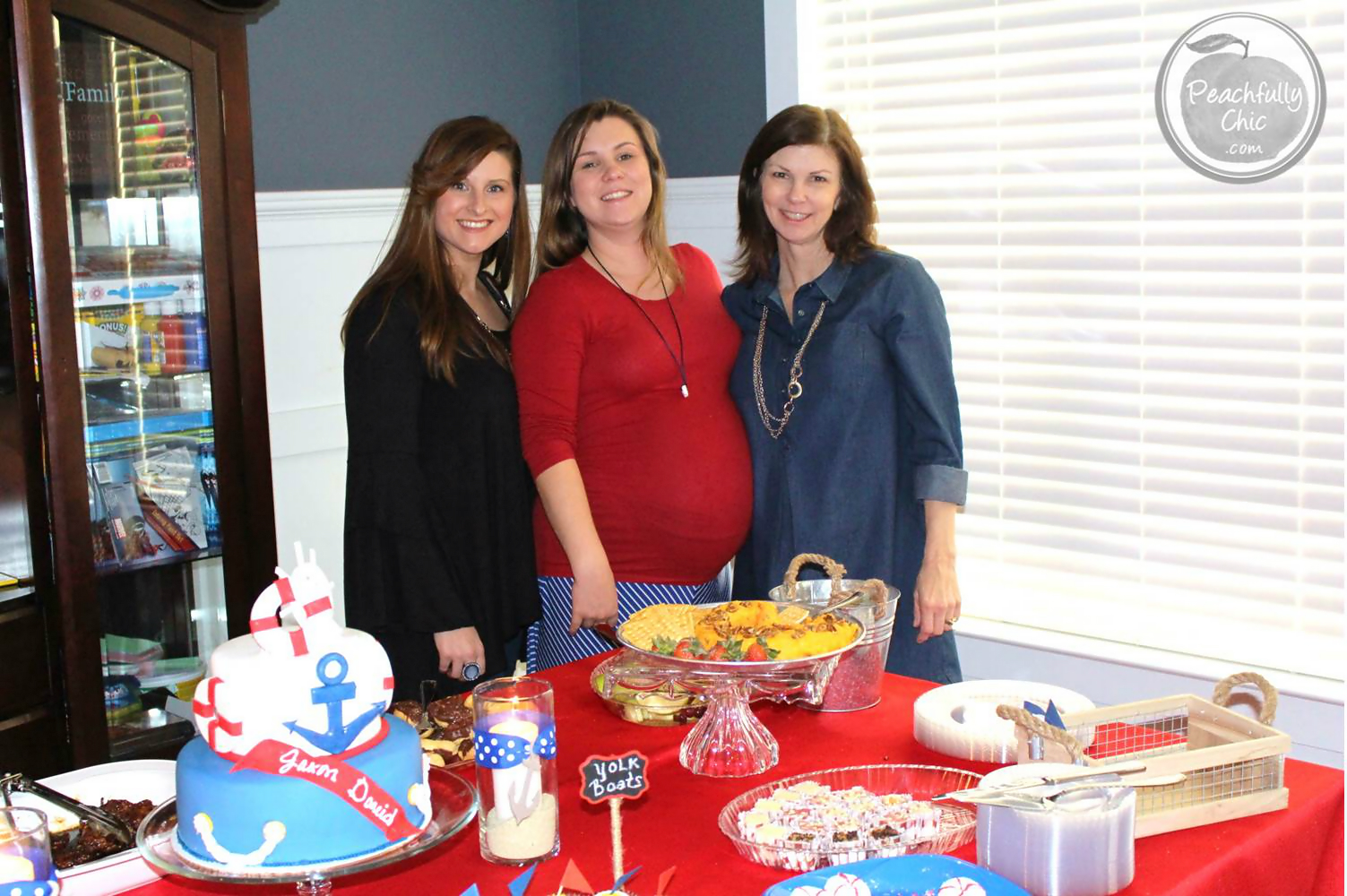 Although I didn't have anything to do with planning the shower, Emily shared all the details on pulling this special day together, so now I've got the details to share with you!
They decorated the front door with an adorable Pinterest inspired wreath.  My mom owns a Cricut machine (which I'm super jealous of and counting the days until I buy one for myself!) and she used that to cut out the vinyl letters for the sign, "Welcome Aboard Baby Ford"  — My sister's last name is Ford 😉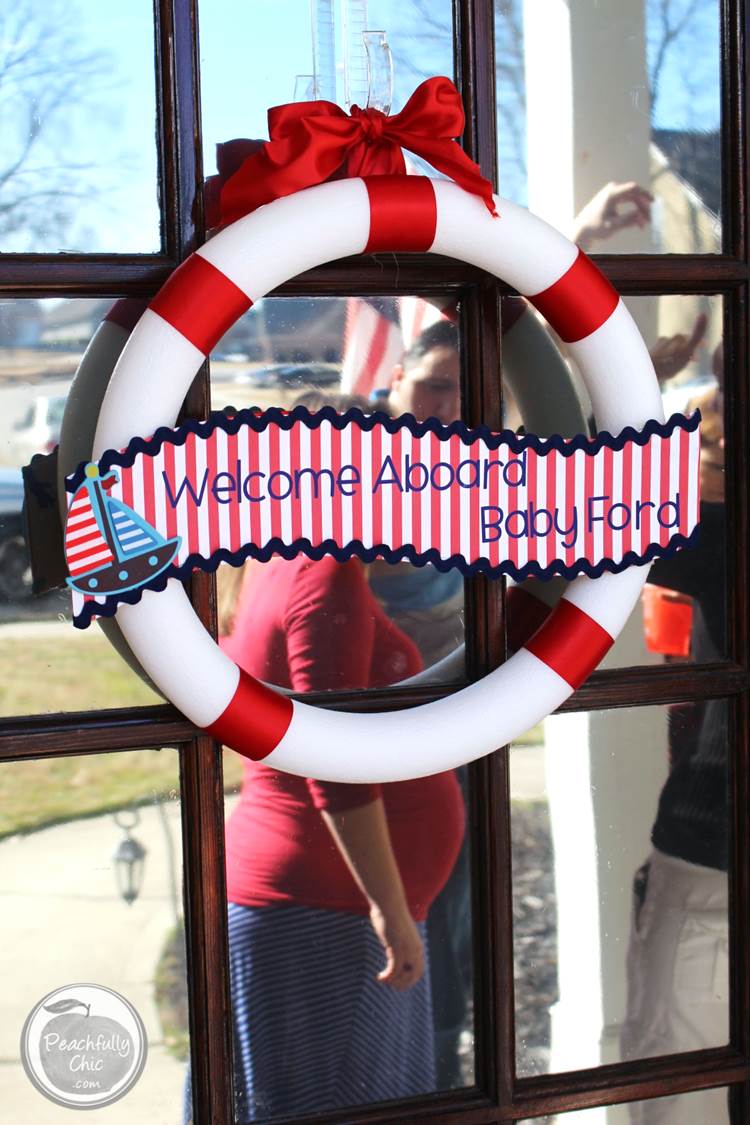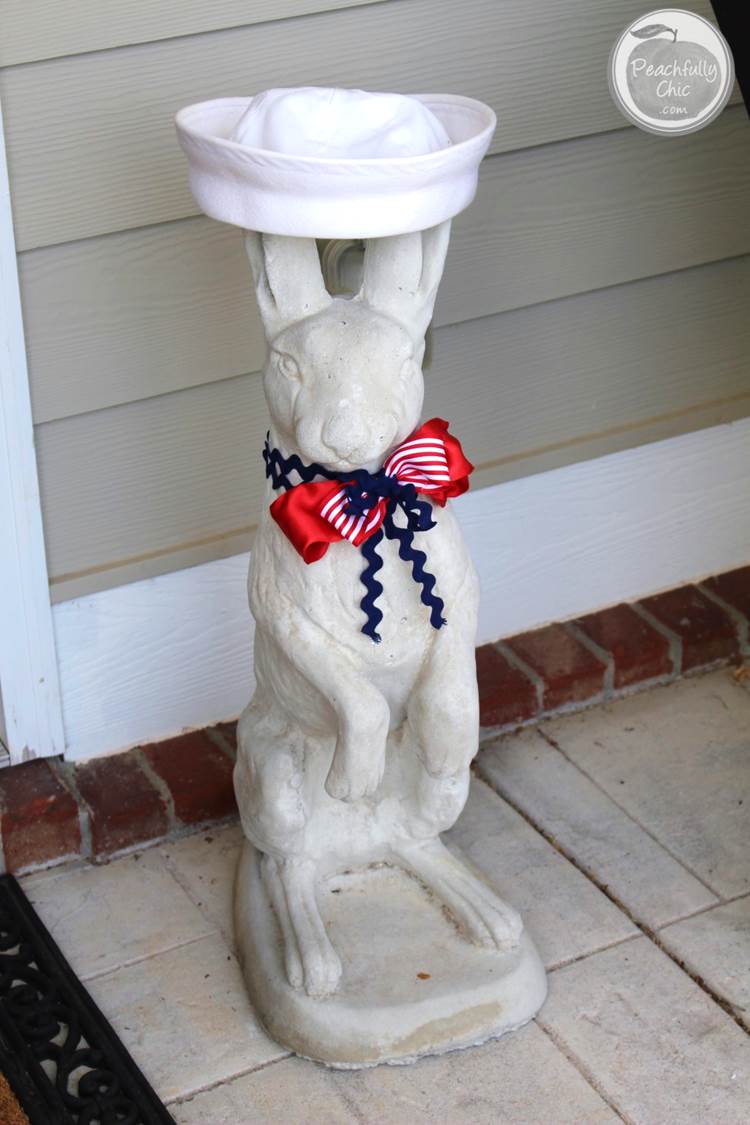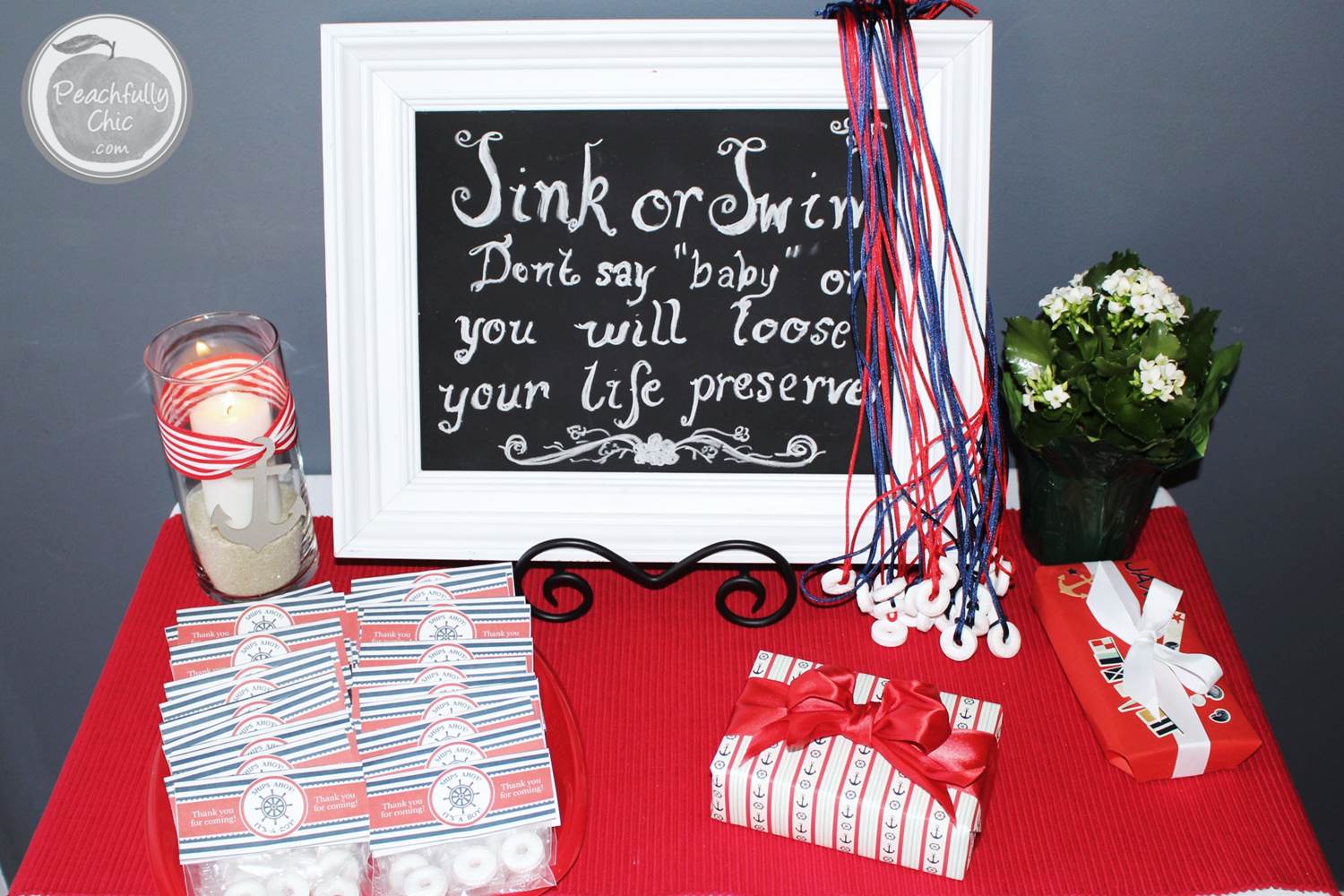 Nautical Baby Shower Game 1:
Near the front door, guests could pick up a "life preserver" necklace made of mints as they walked in.  This was part of the "Don't Say BABY Game" where guests could steal each others' necklaces if they were caught saying 'baby' and the person with the most necklaces won a prize.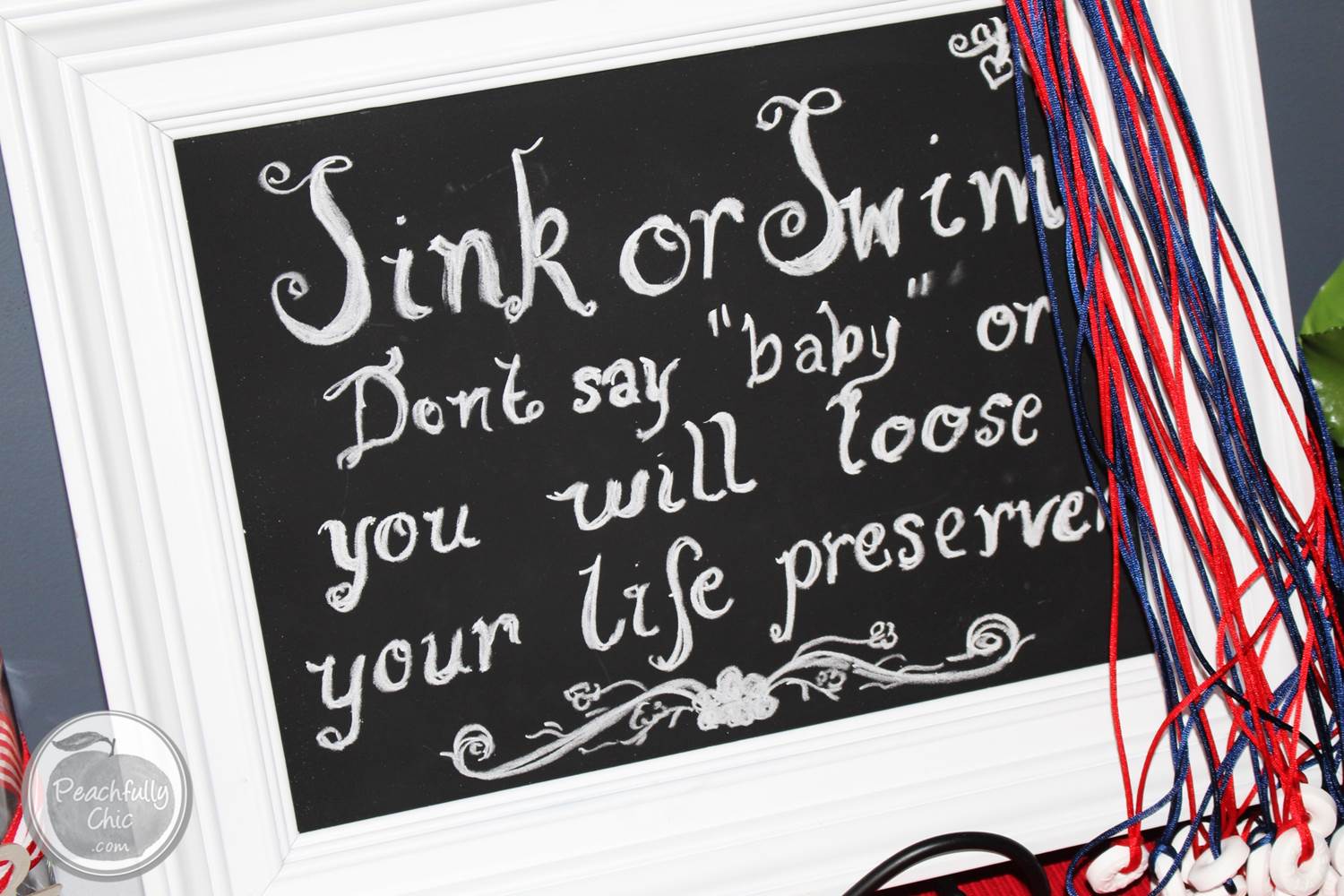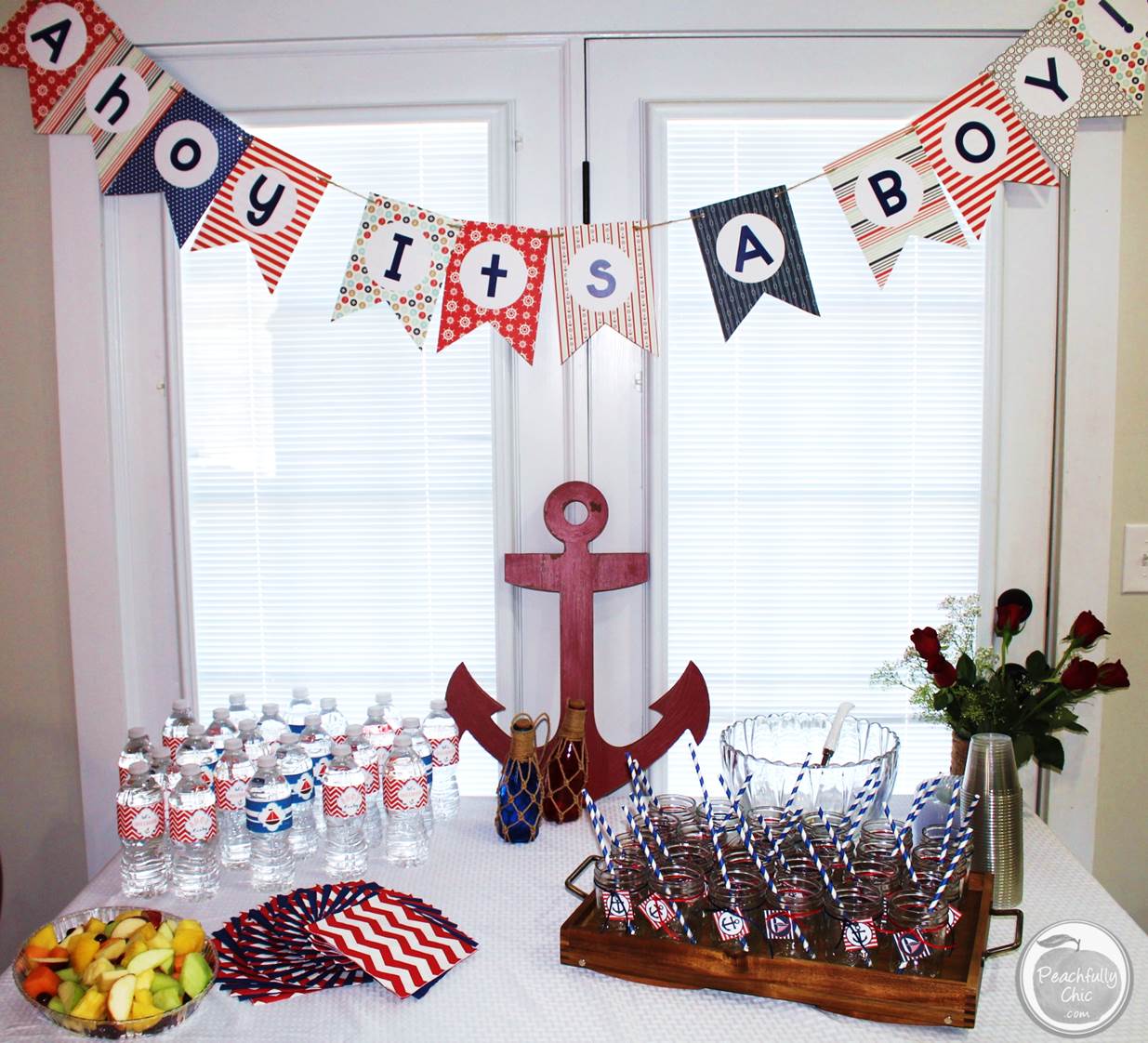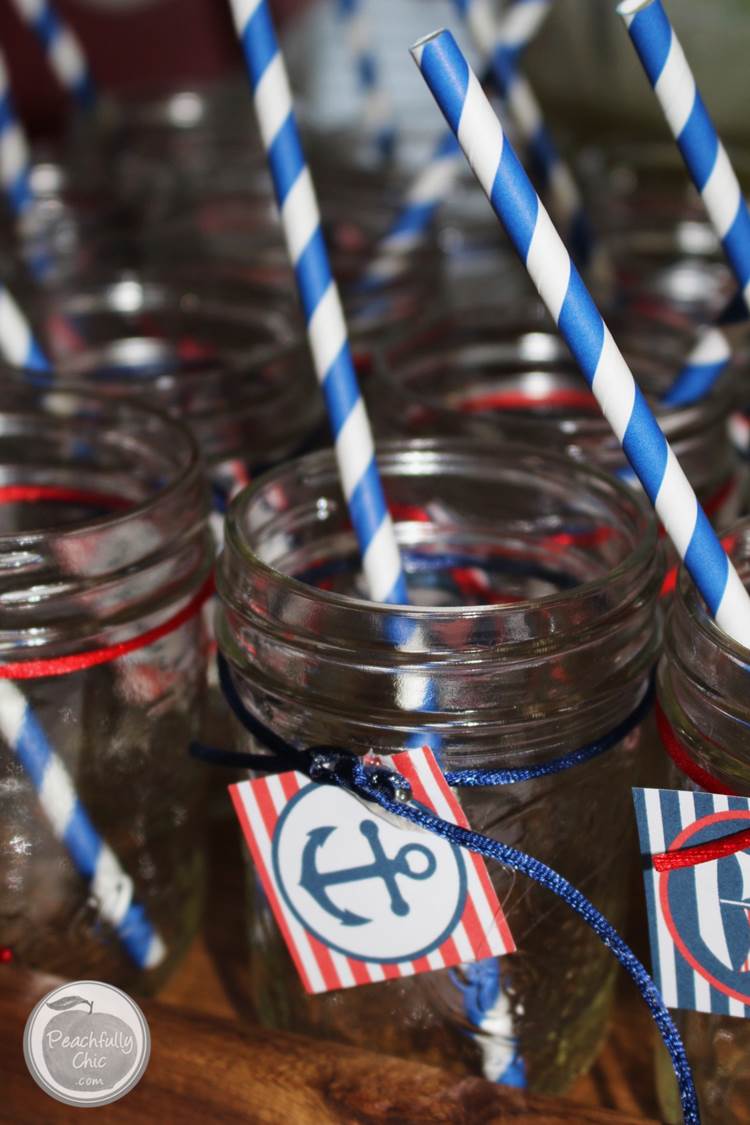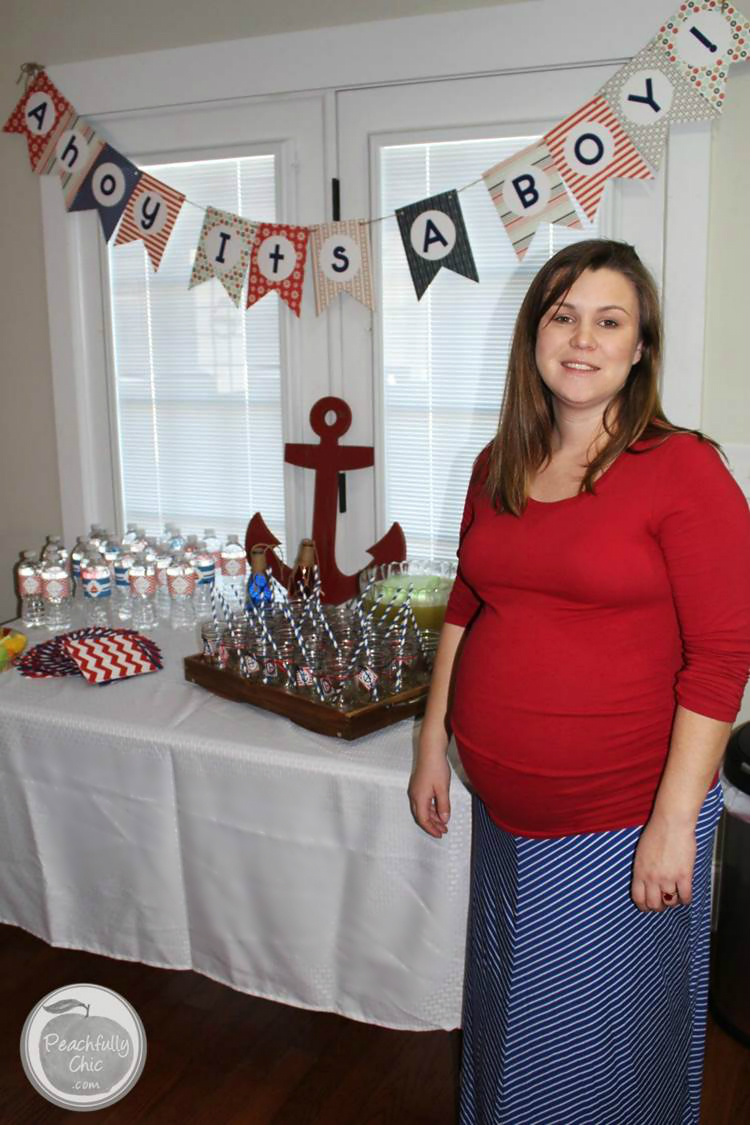 DIY Nautical Baby Shower Banner:
The Nautical-themed pennant was another Cricut machine project.  My mom purchased different nautical print card-stock from Hobby Lobby and added the letters she cut out using the Cricut.  They made punched holes in the top of each flag and then wove twine in-and-out to make the banner.  You don't have to have a Cricut machine to make this DIY Nautical banner though.  With a steady hand and a new marker, you can always free-style the letters with a hand-drawn option.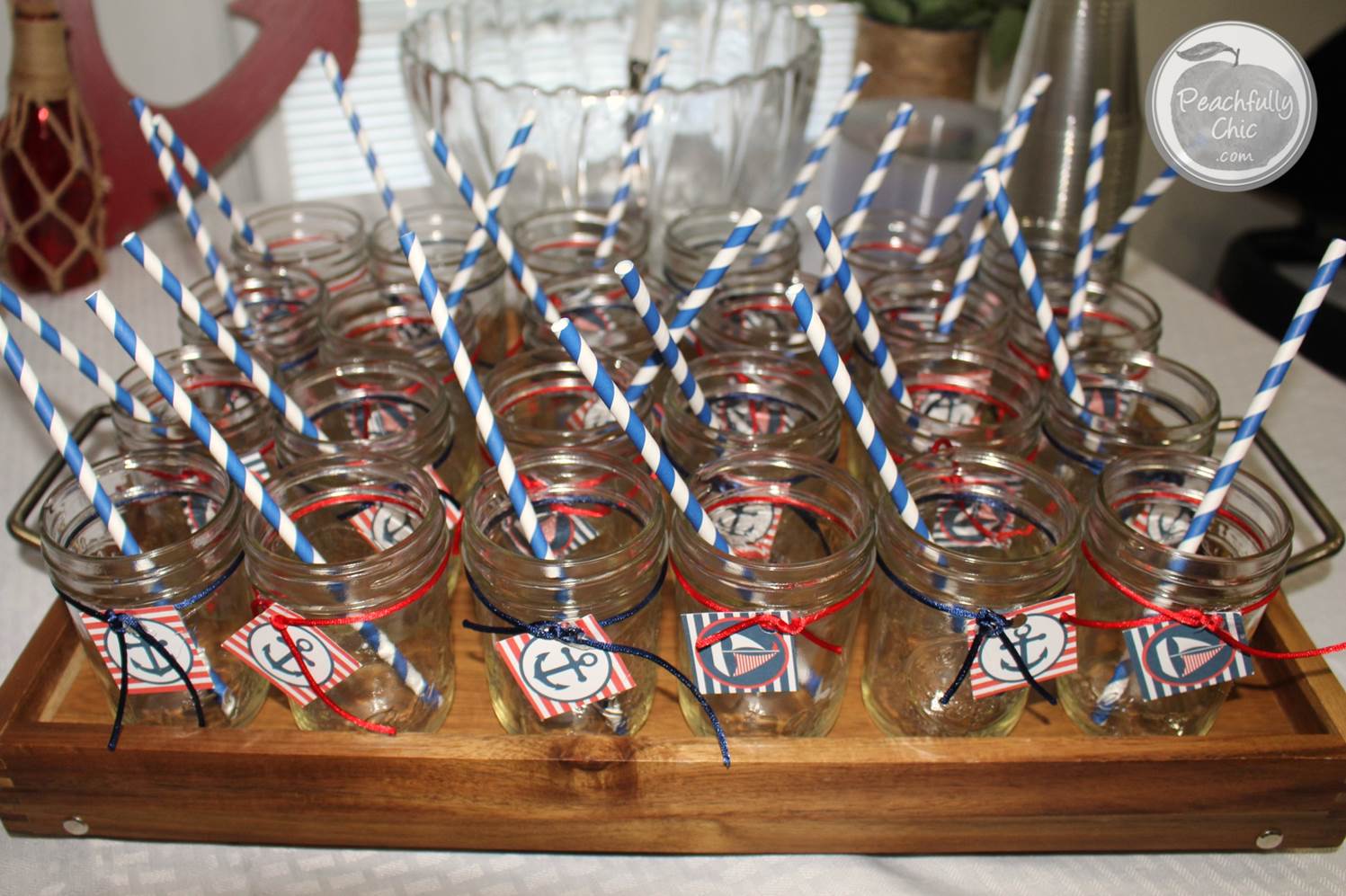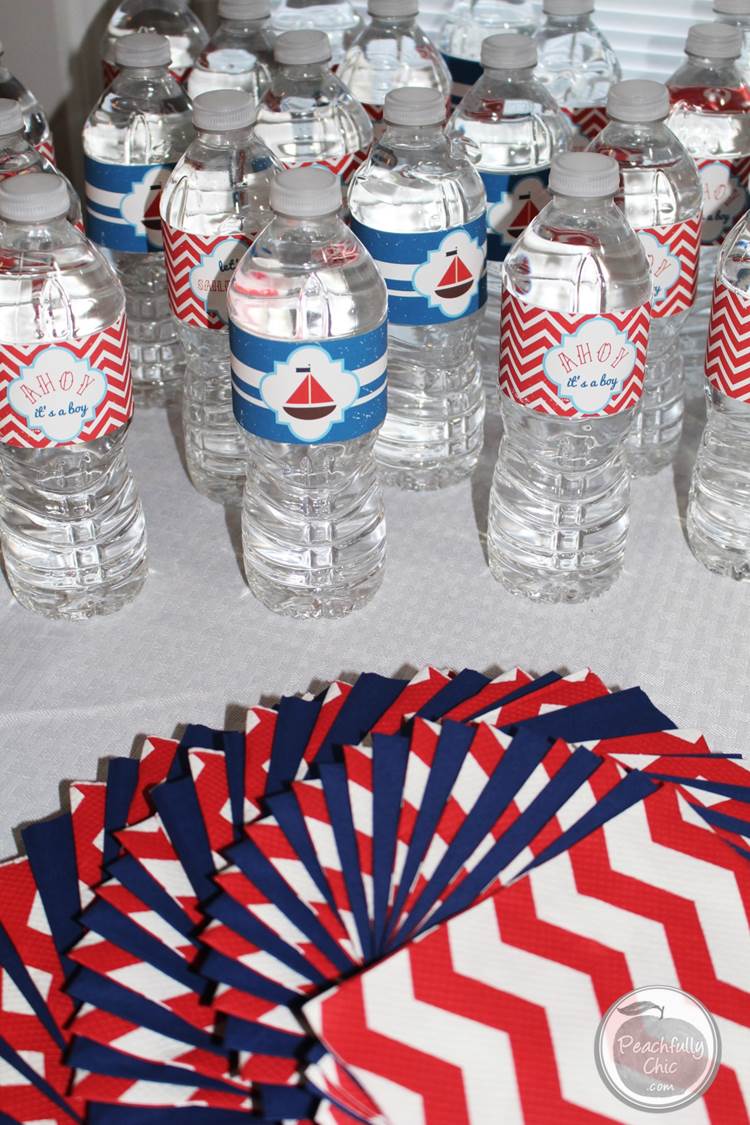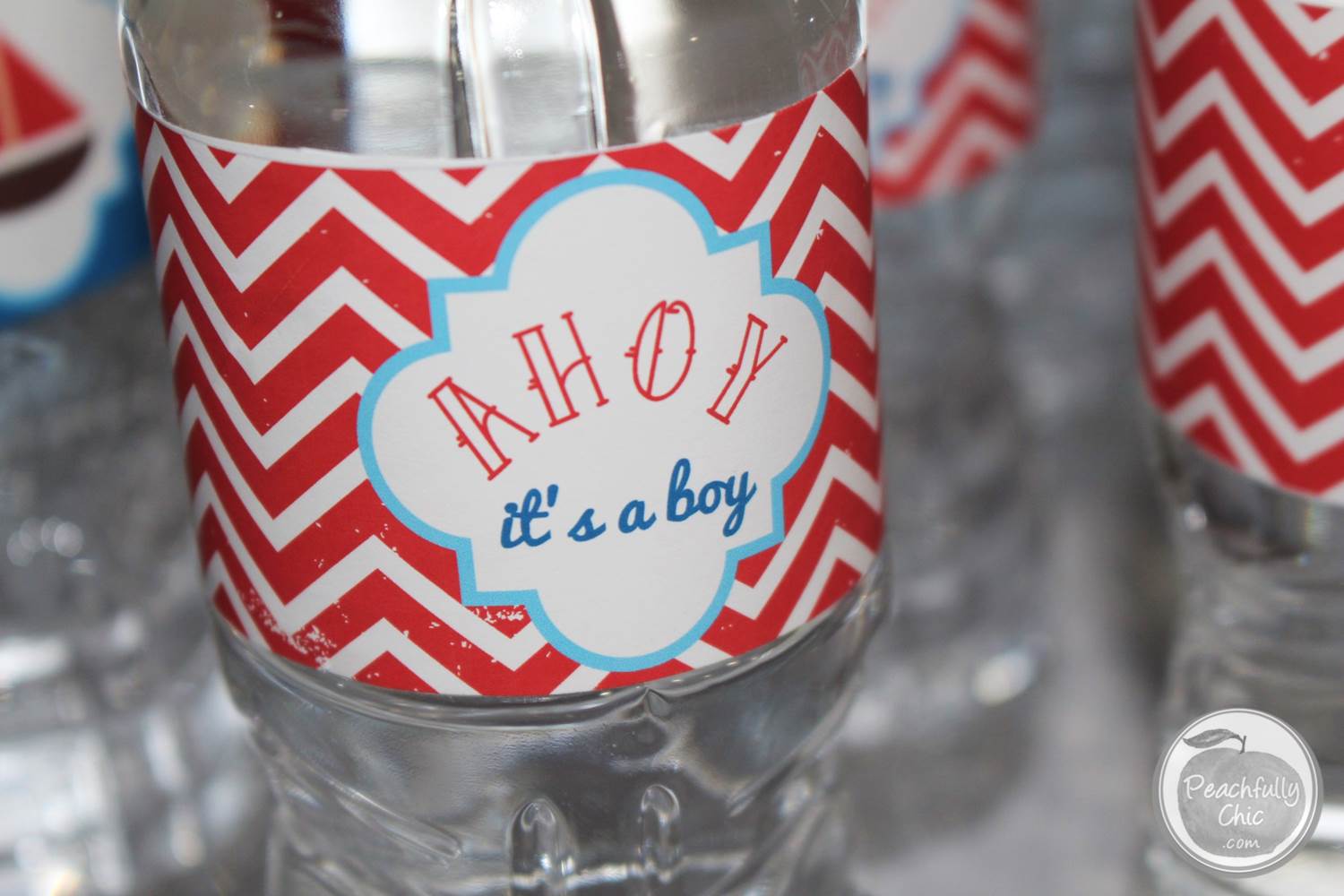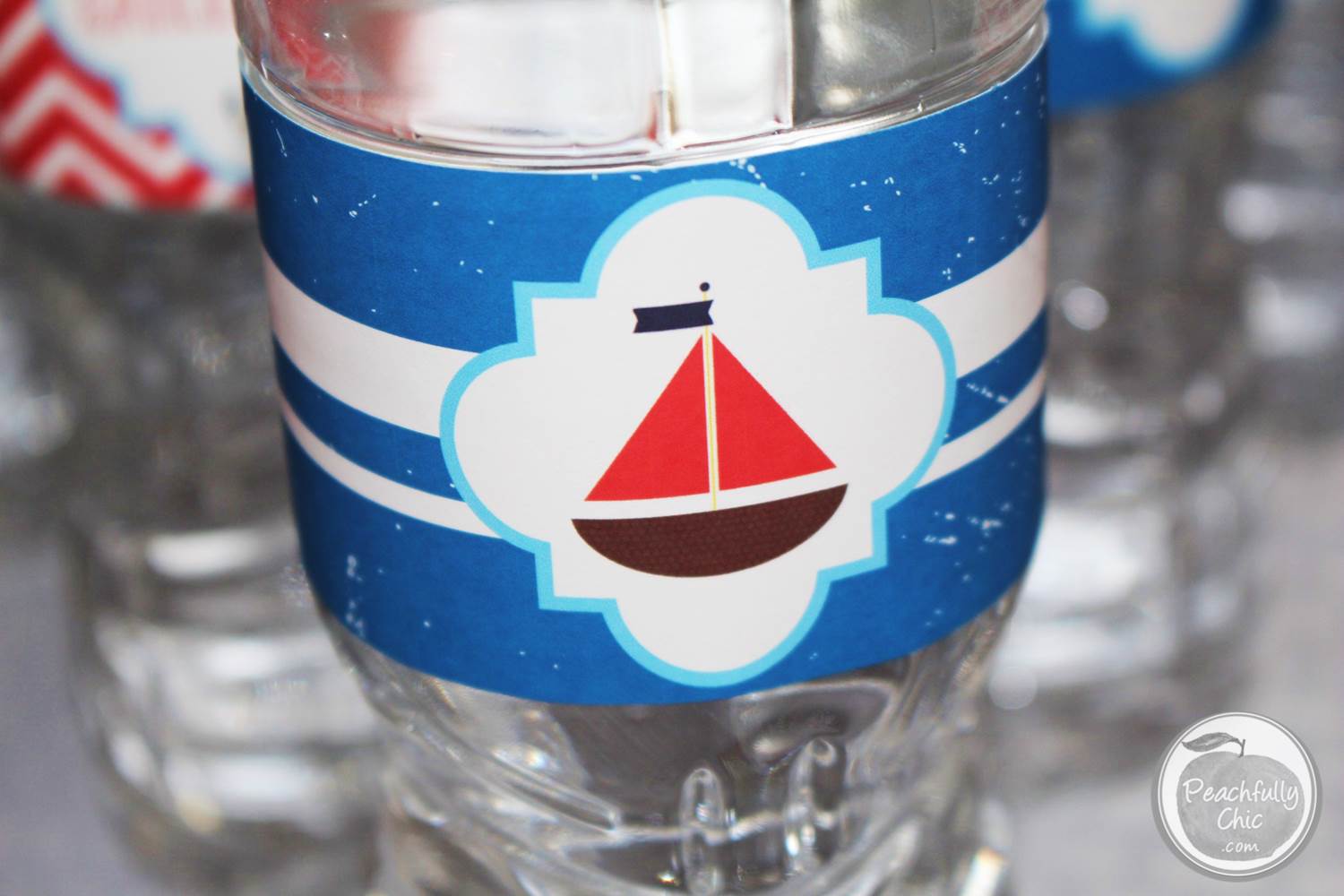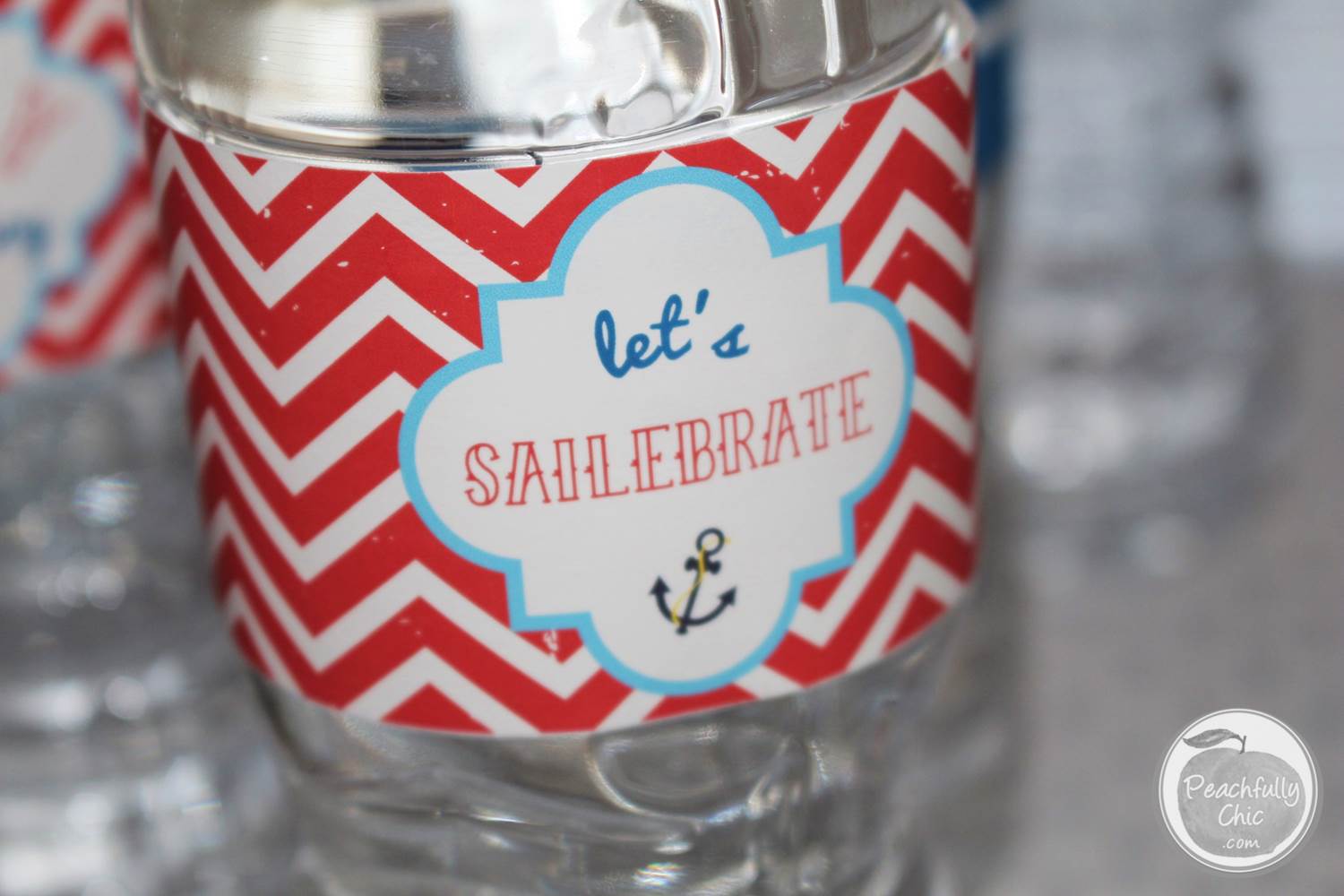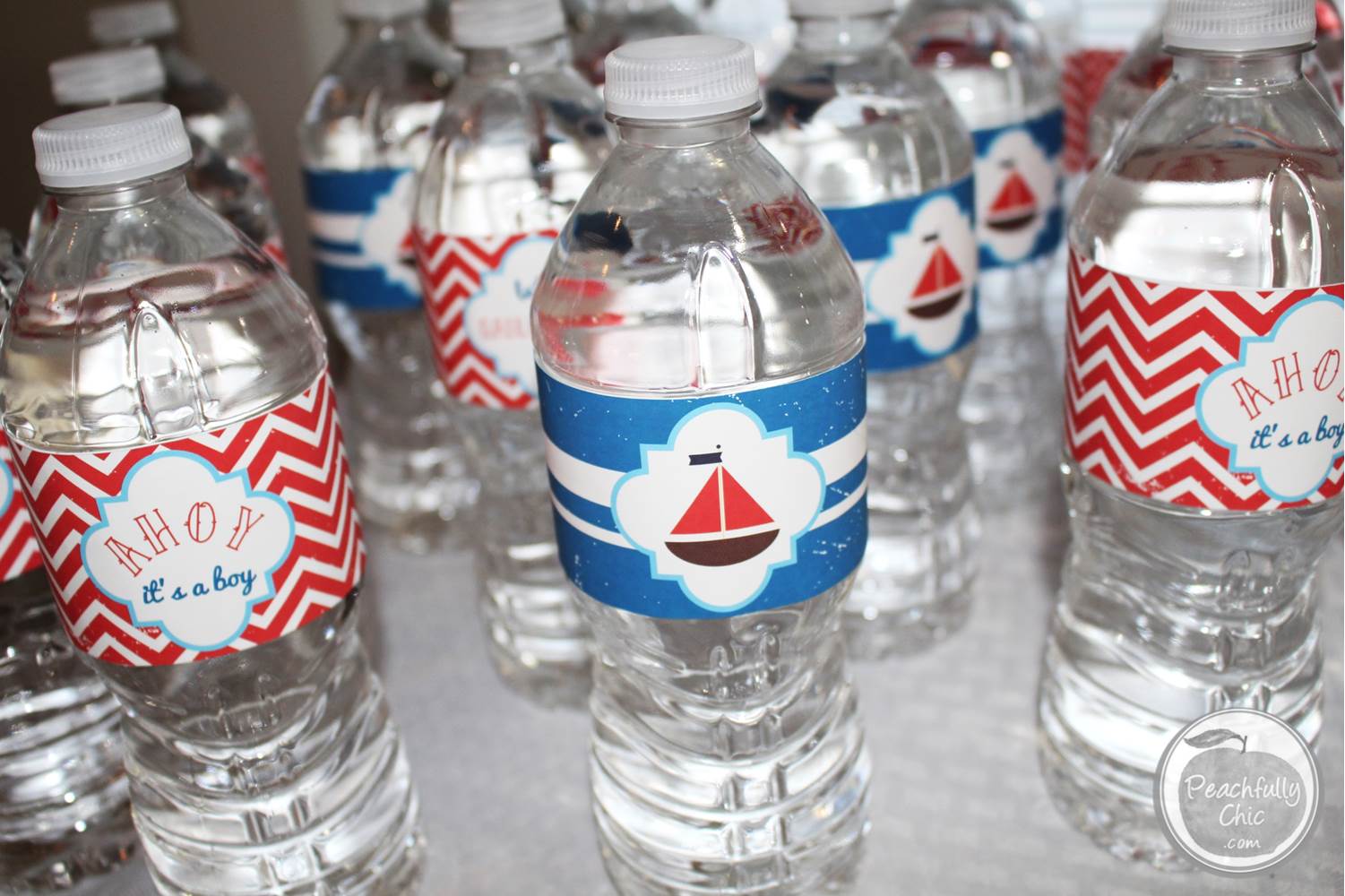 DIY Custom Water Bottles:
These adorable water bottle labels were found on the Purdy Prints NYC Etsy shop which Emily purchased for $4.99 and printed on regular sticky labels. The waters were slightly chilled and kept inside at room temperature. These may have been my favorite custom-decor from the party!
Insider's Tip:   Purchase waterproof sticky labels if you want to store the water bottles in a cooler with ice.  This way the ink won't run when the water bottles sweat.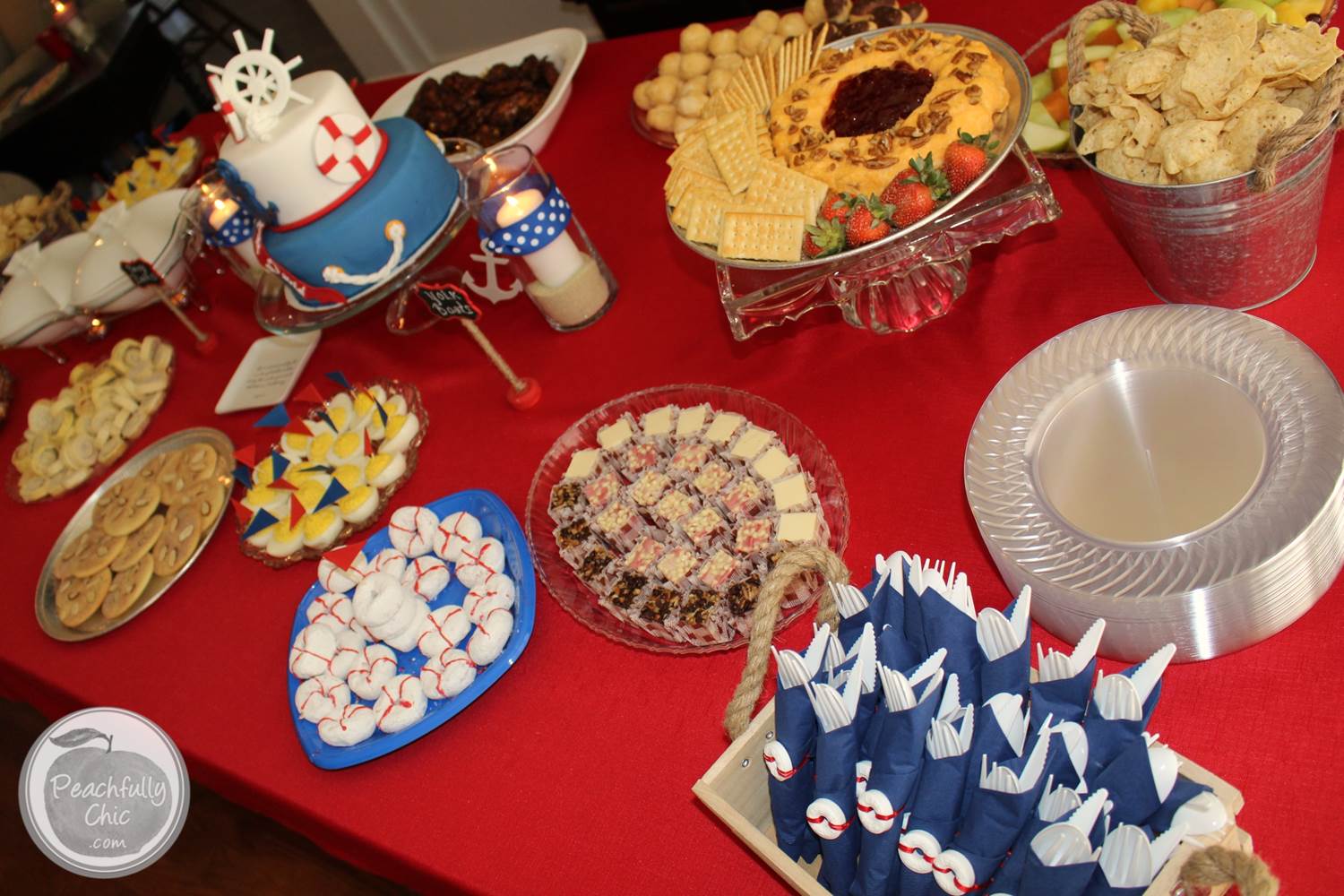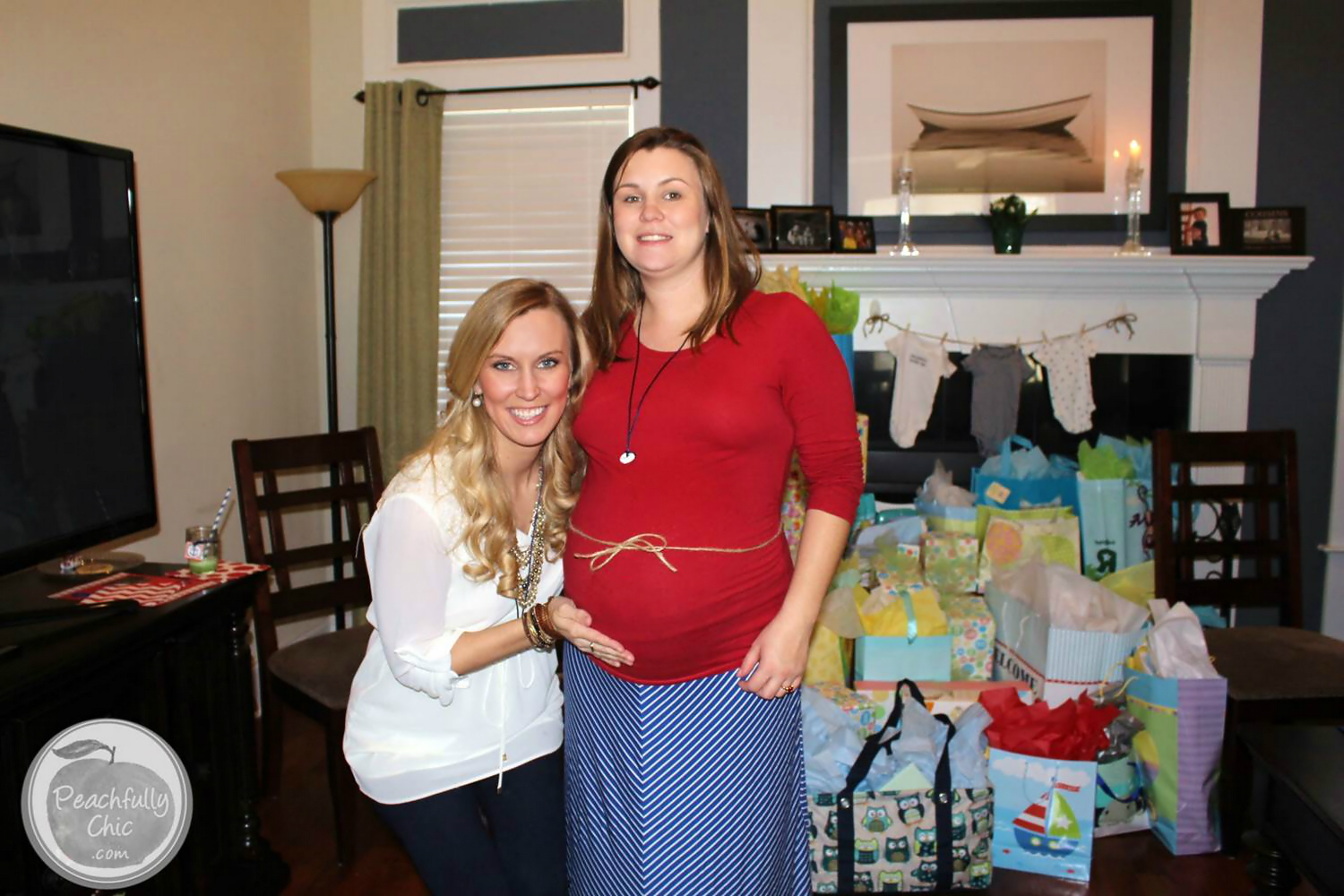 Nautical Baby Shower Game 2:
The other baby game we played was to estimate the length of twine it would take to wrap around my sister's pregnant belly.  If you know me, you know how challenging that was!  I was that kid in class who always guessed 500,000 jelly beans when the teacher said, "Whoever estimates the closest to the number of jelly beans in this jar, wins the jar and jelly beans!" and it would turn out to actually have only 500 in the jar.
LOL It's sad… but I don't have the best judgment when it comes to estimating quantifiable values.  I didn't win the game at the shower, but I at least had some extra twine to tie a nice little bow! 😉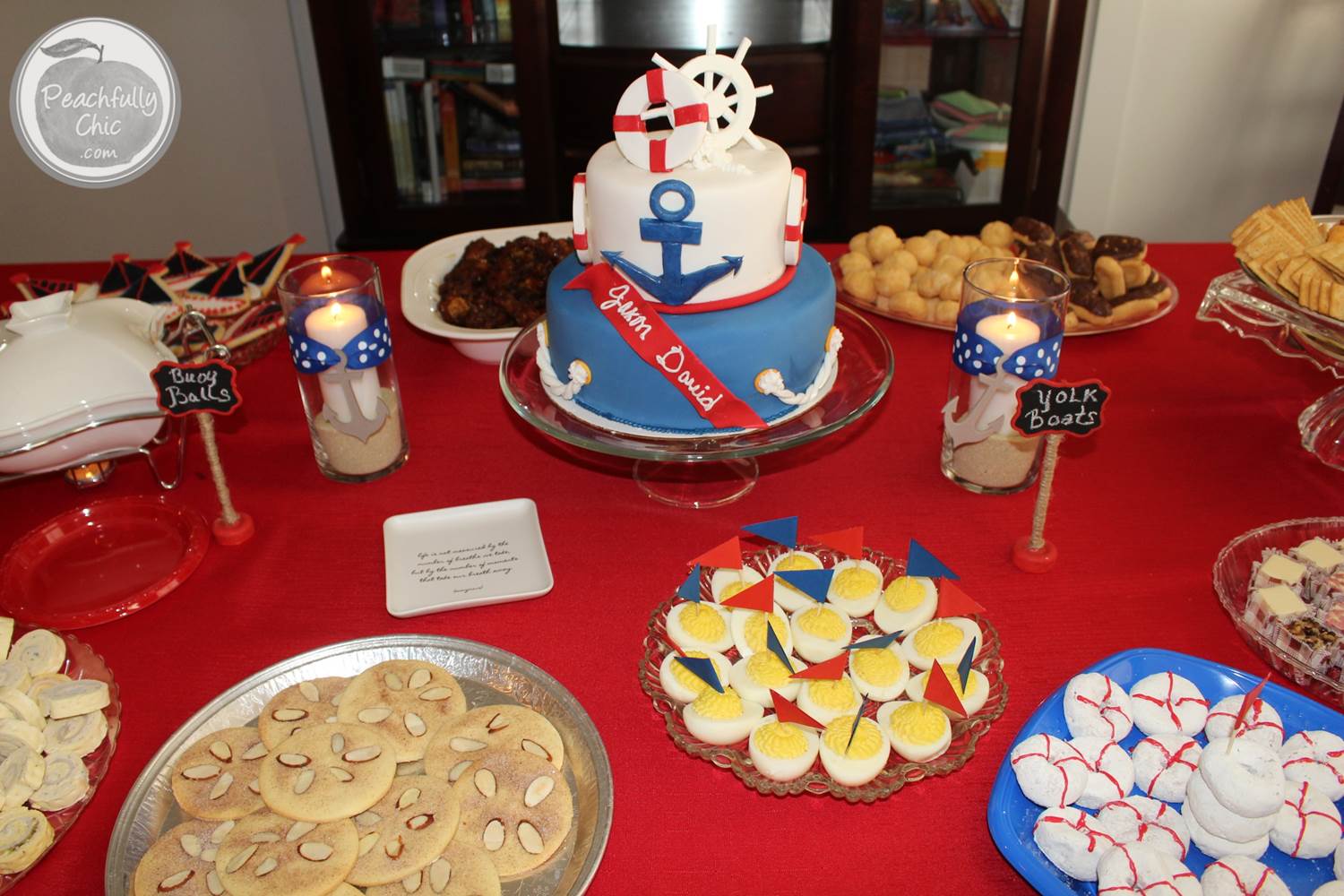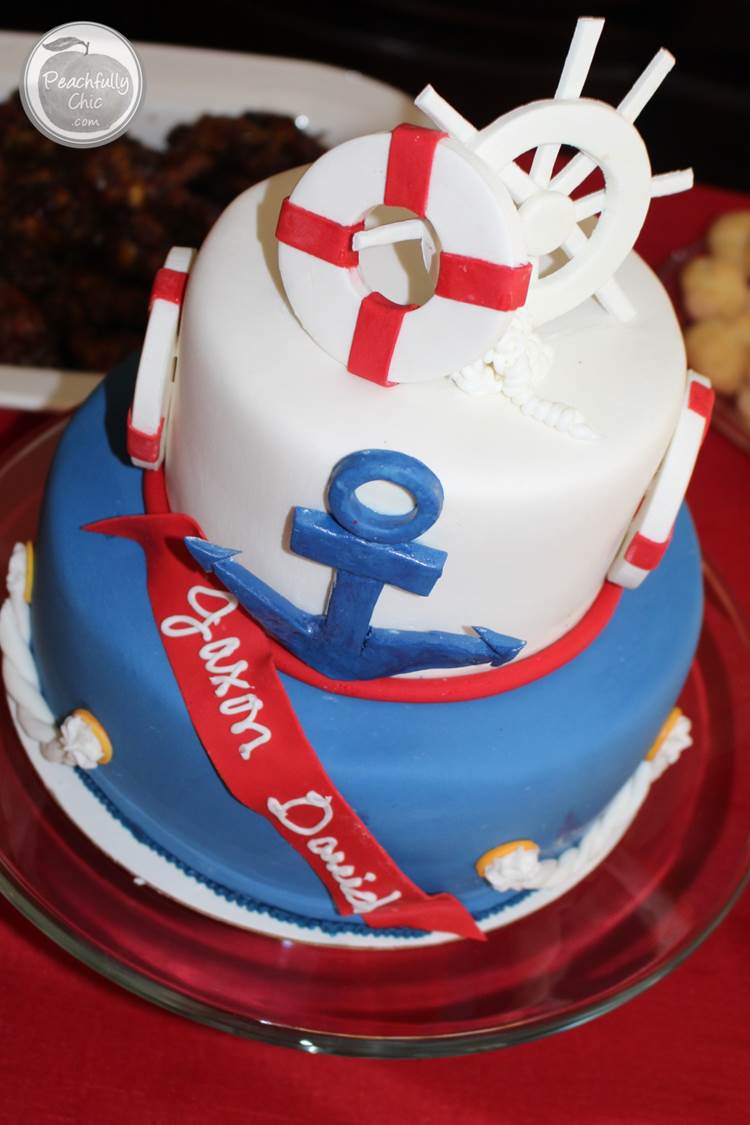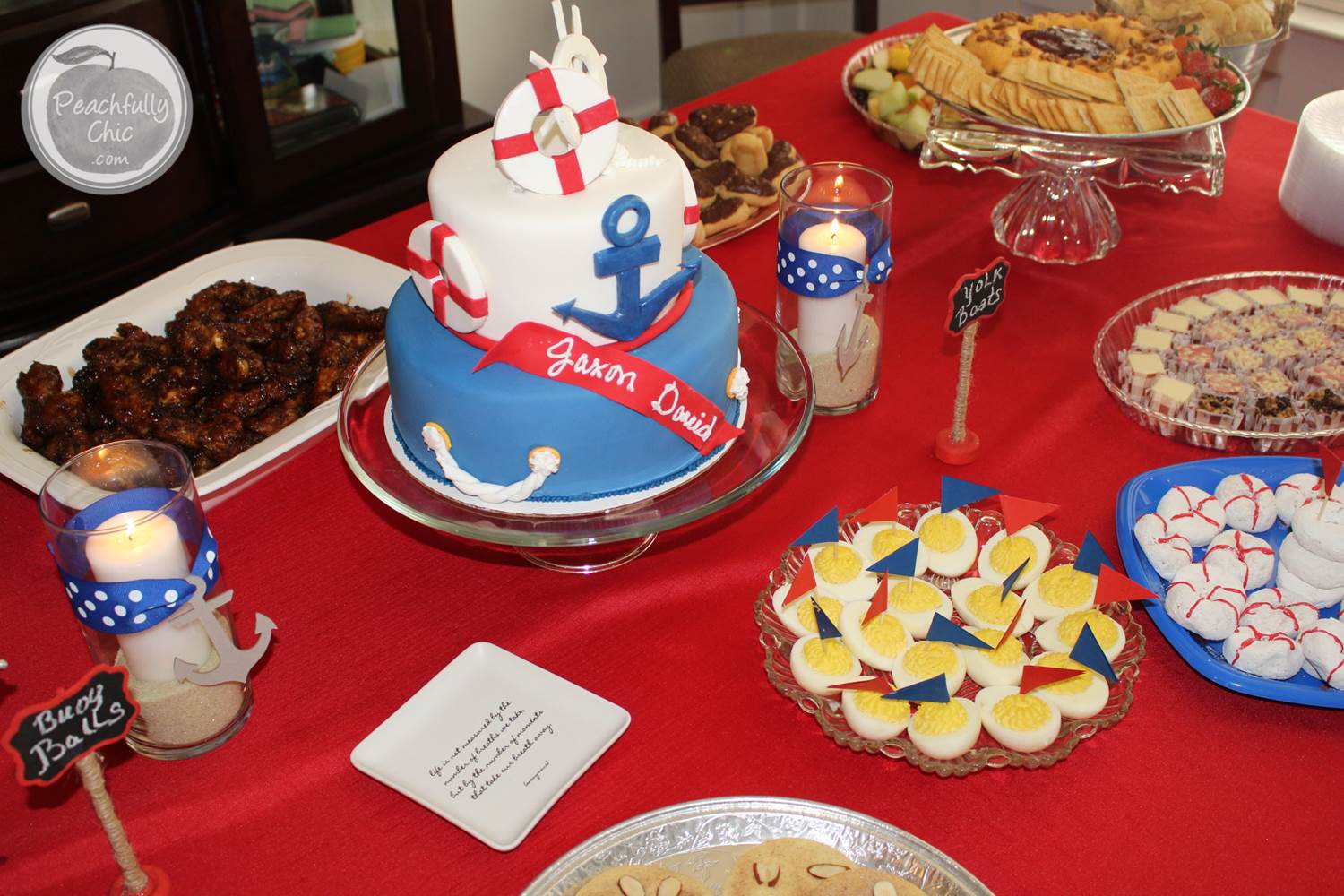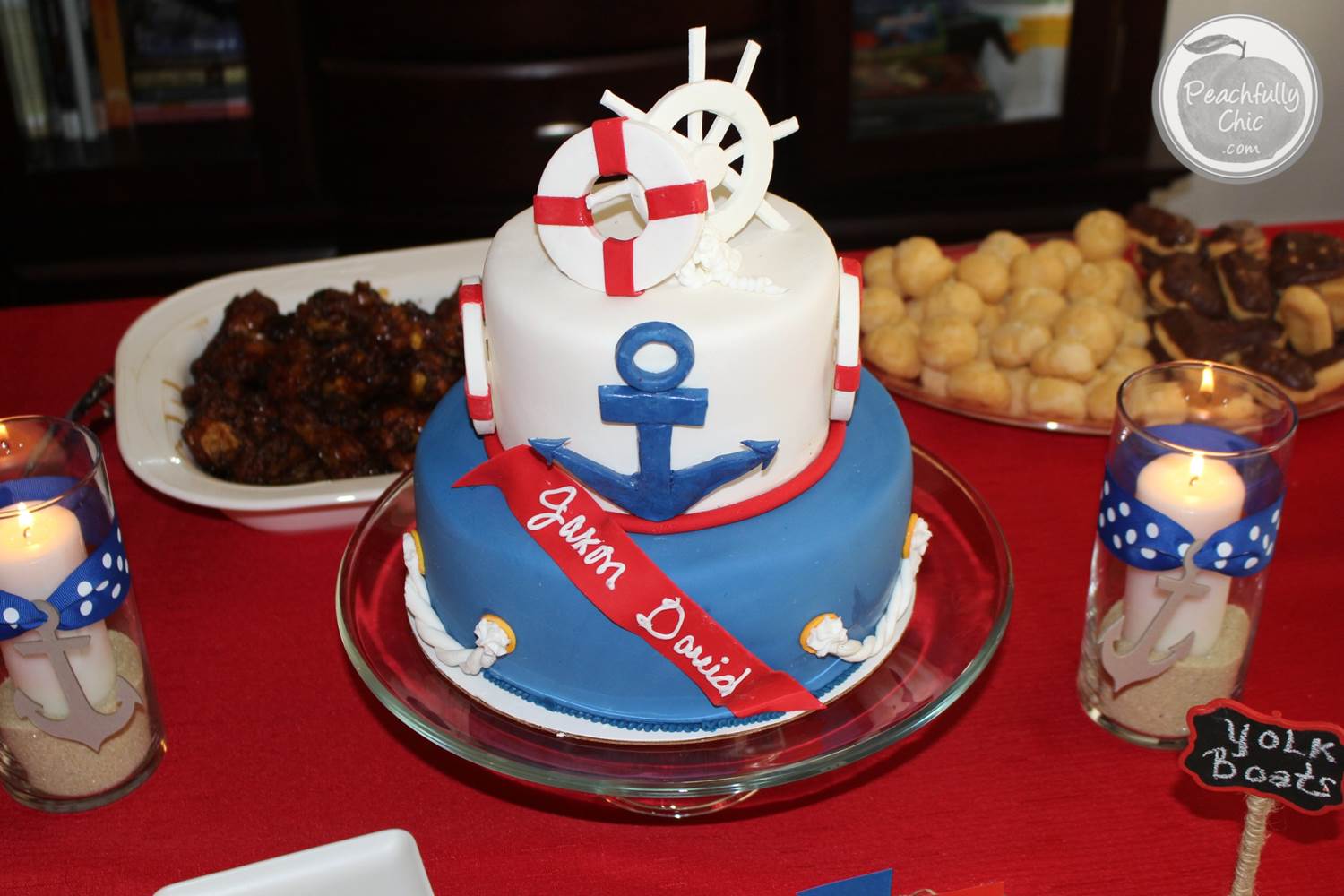 A Sea-worthy Nautical Cake:
As you can see…. the cake was gorgeous!  It fit the theme perfectly!
I was a little skeptical when I saw how much fondant was used though.  From my limited cake buying experience…. while a baker can make a cake look beautiful using fondant, I had yet to find one that can make the fondant actually taste great.  Until now…
I was pleasantly surprised at how delicious this cake tasted and that's including the fondant!  They ordered the cake from Lil' Dutch Bakery in Augusta, GA – and it was perfect!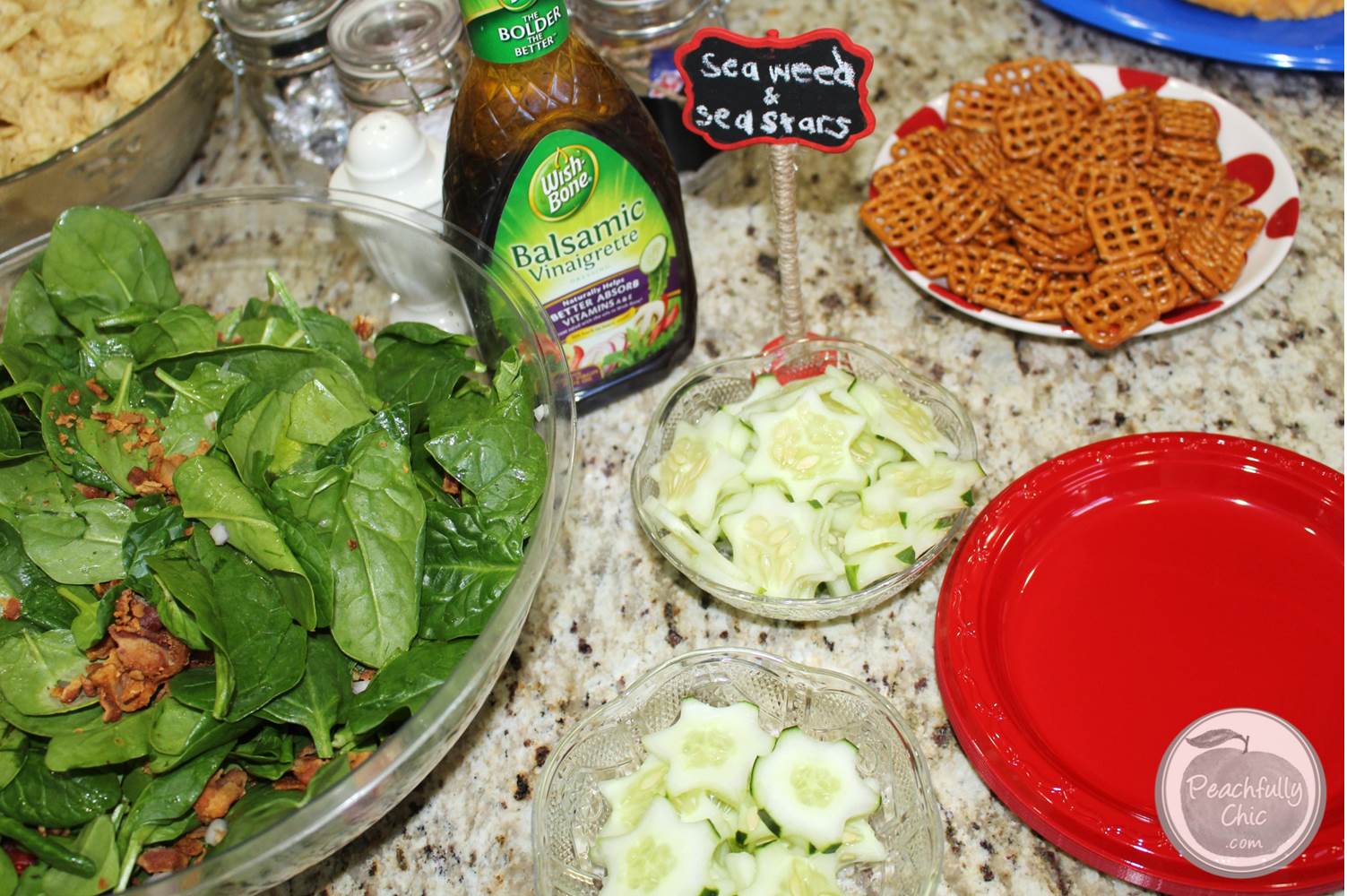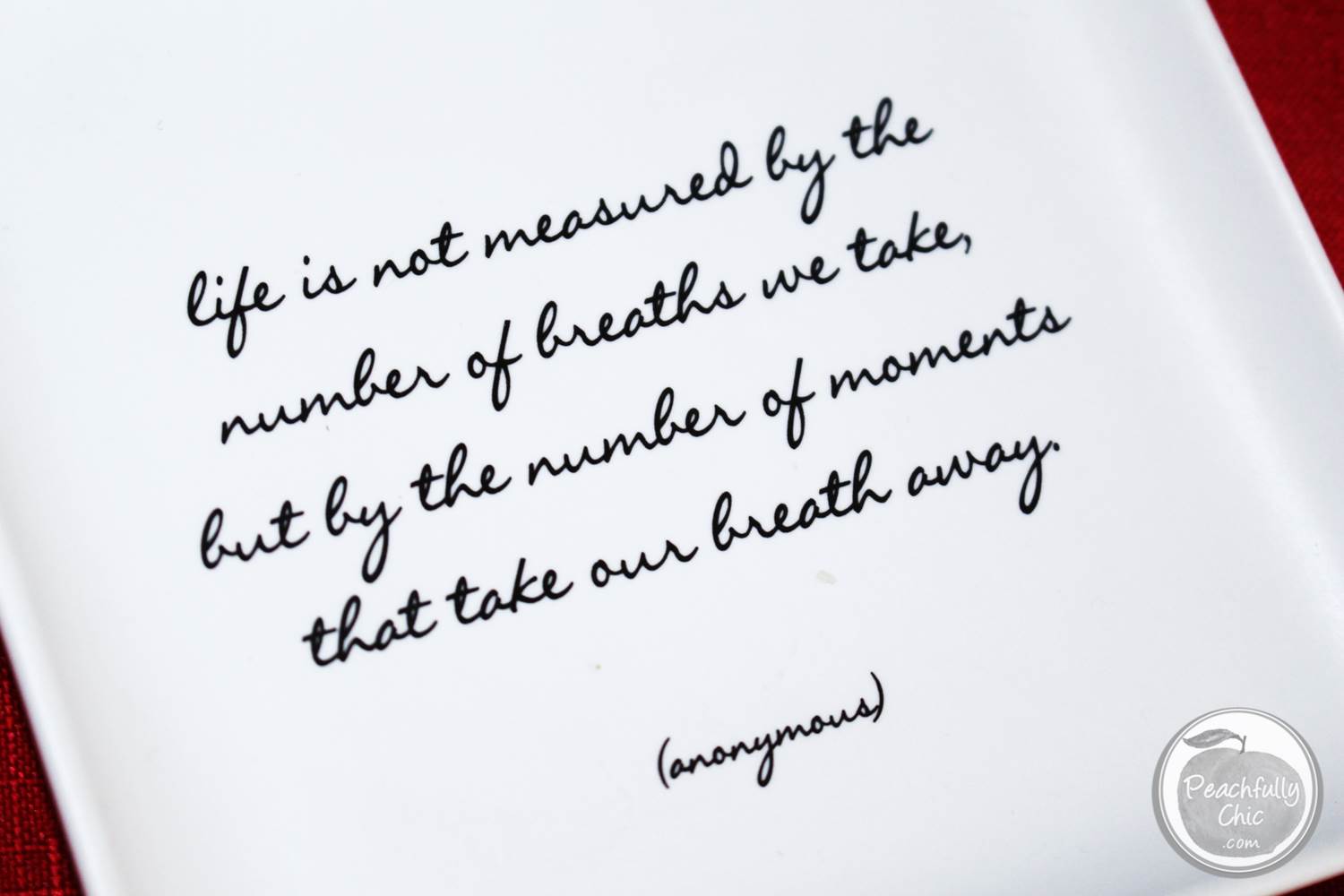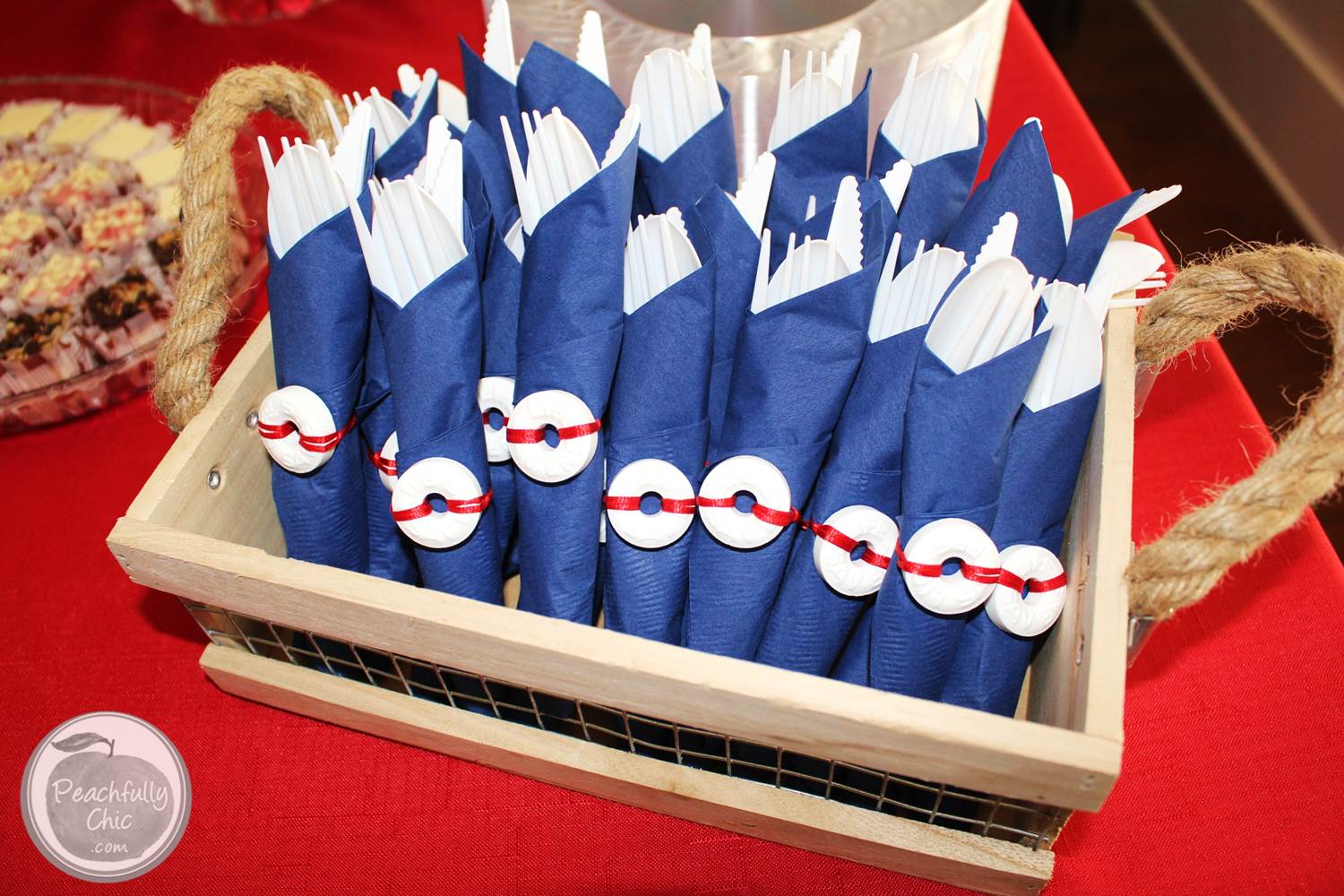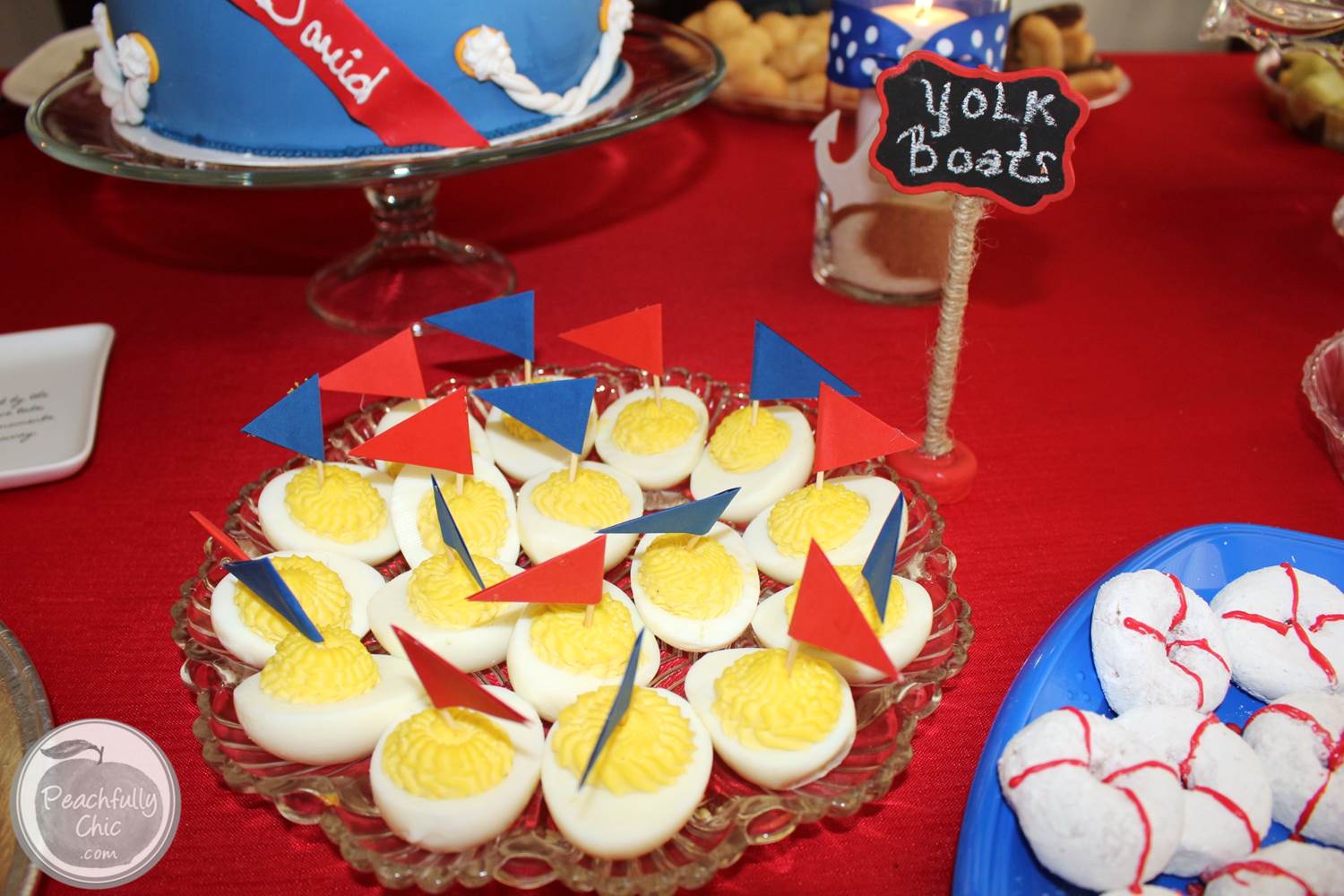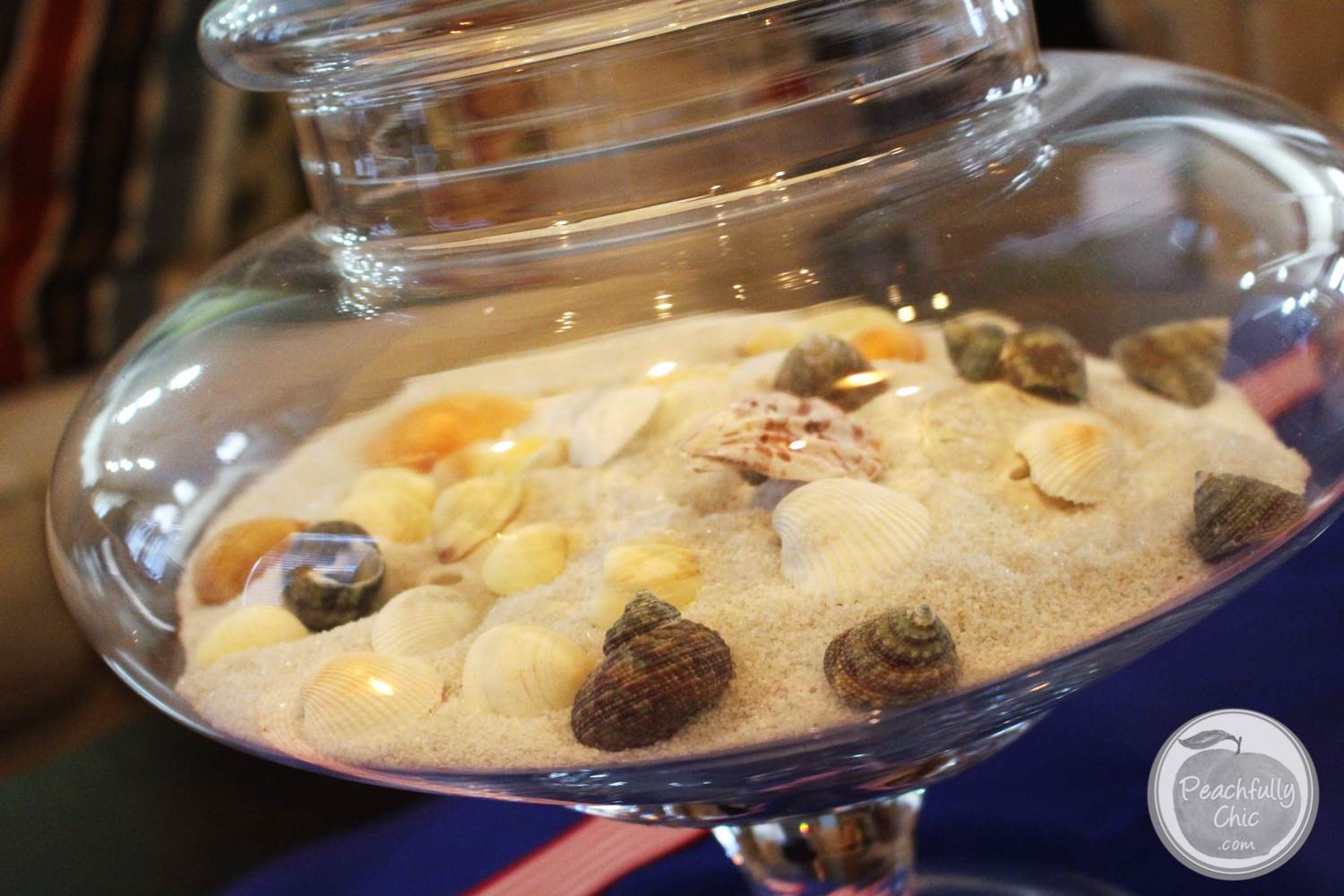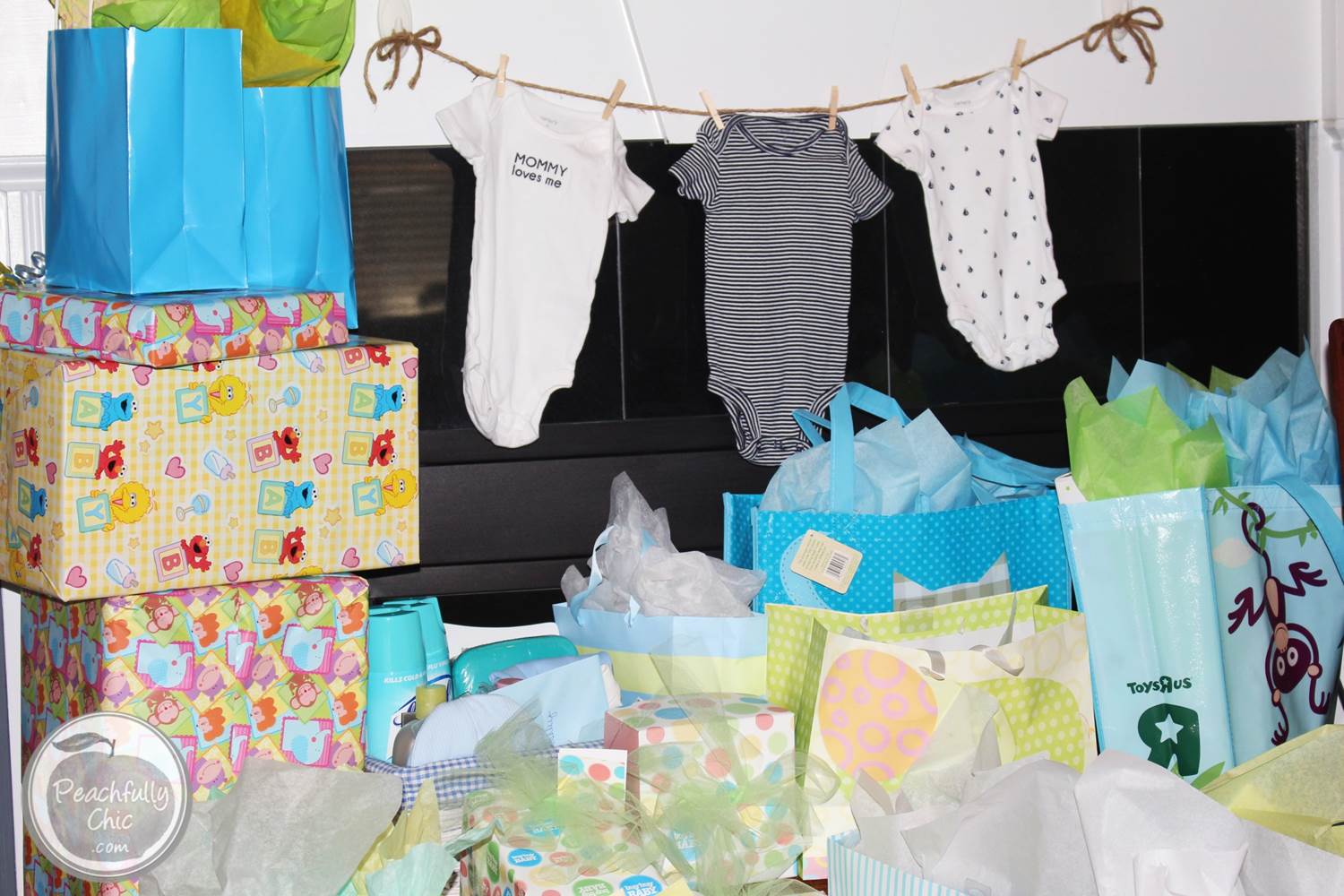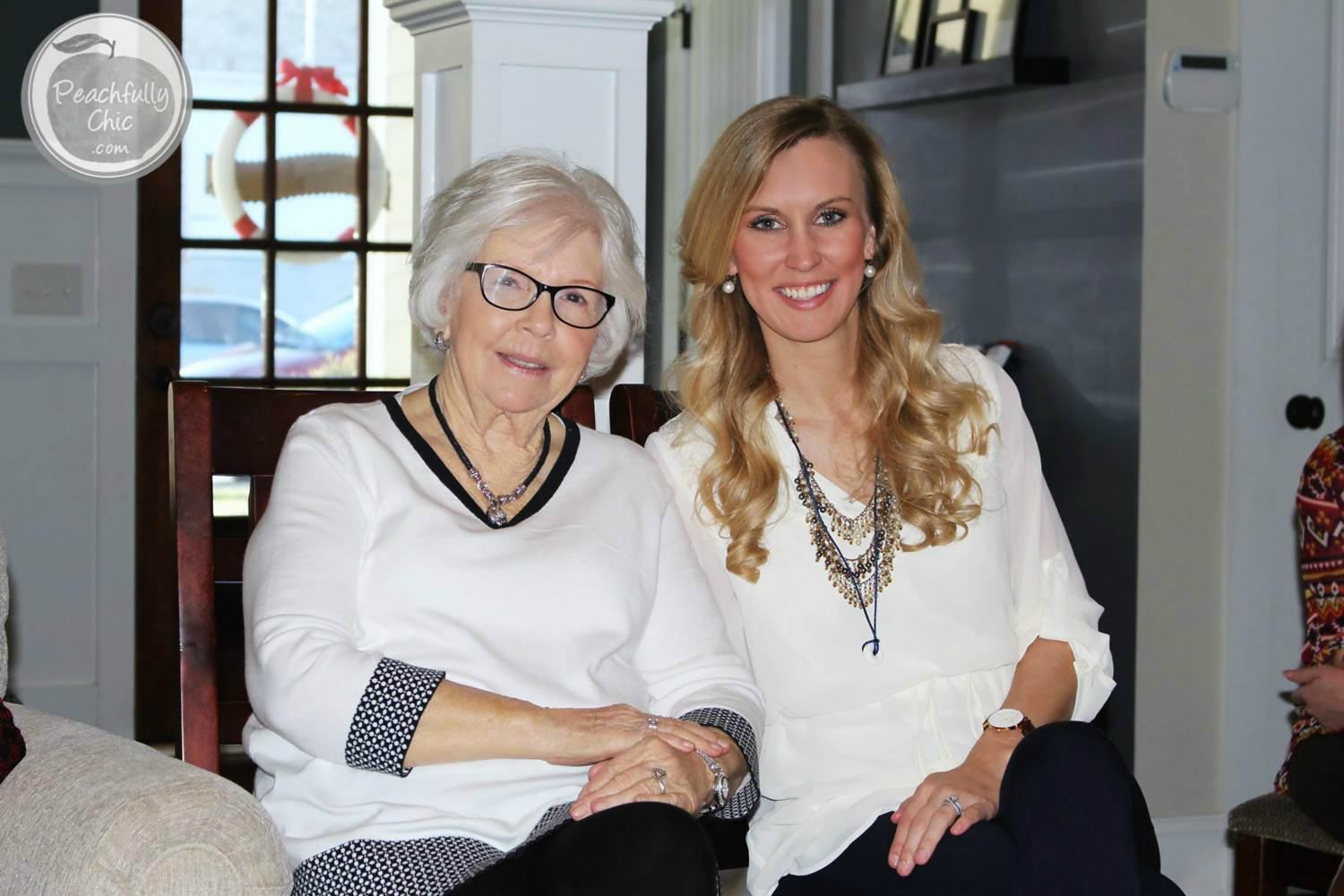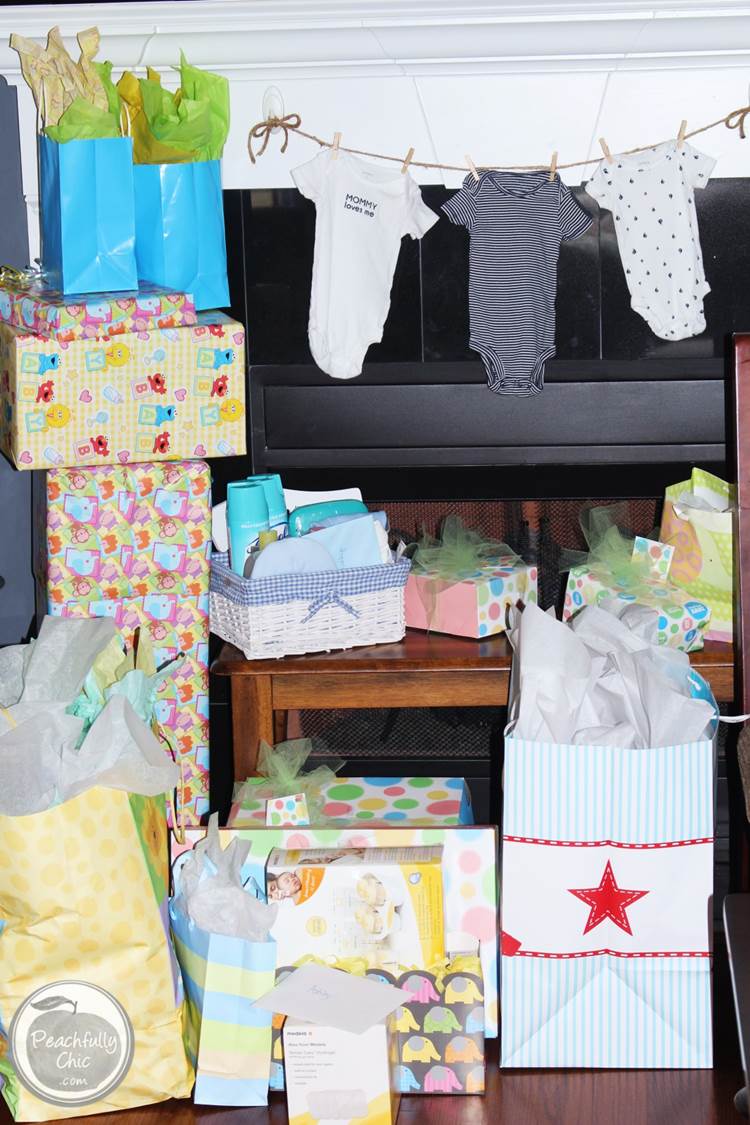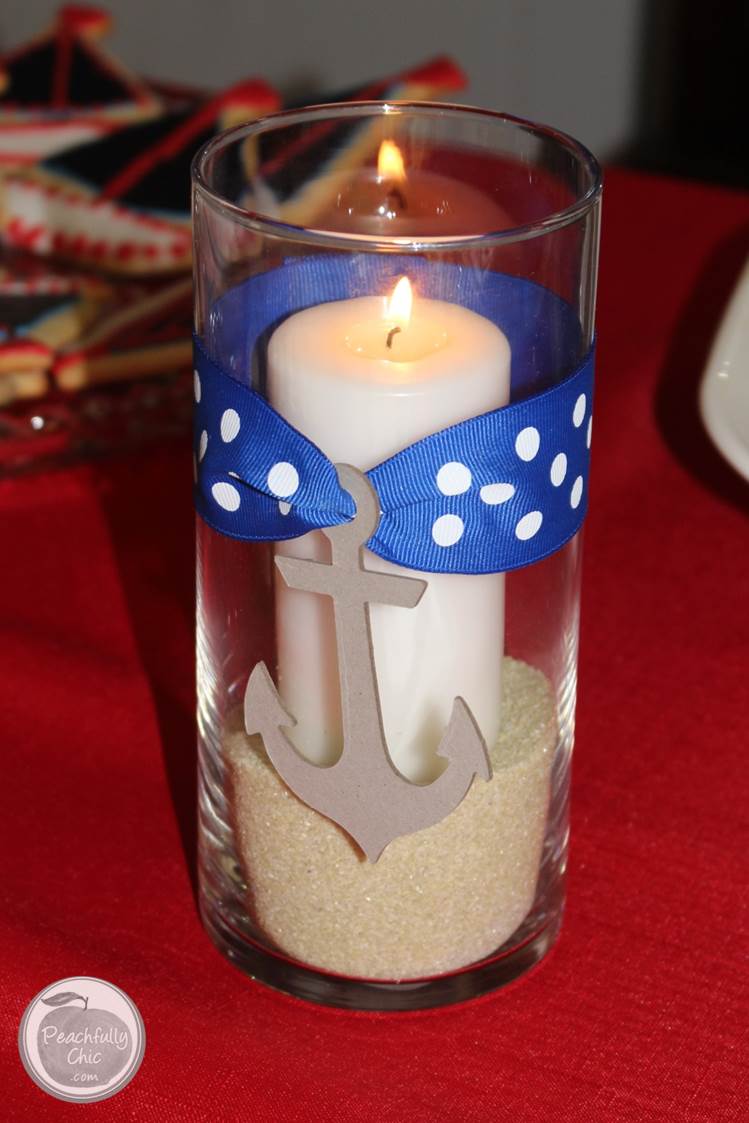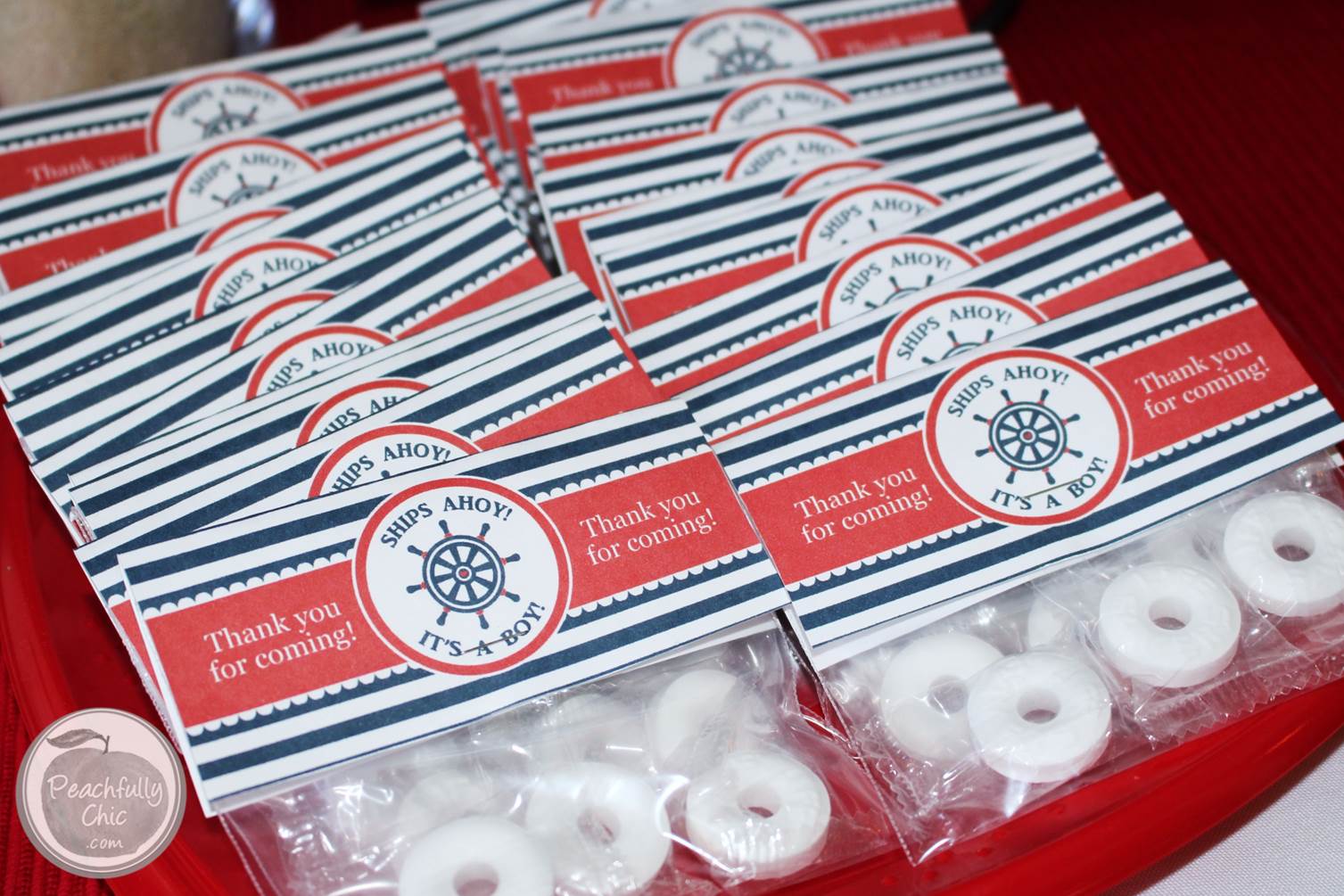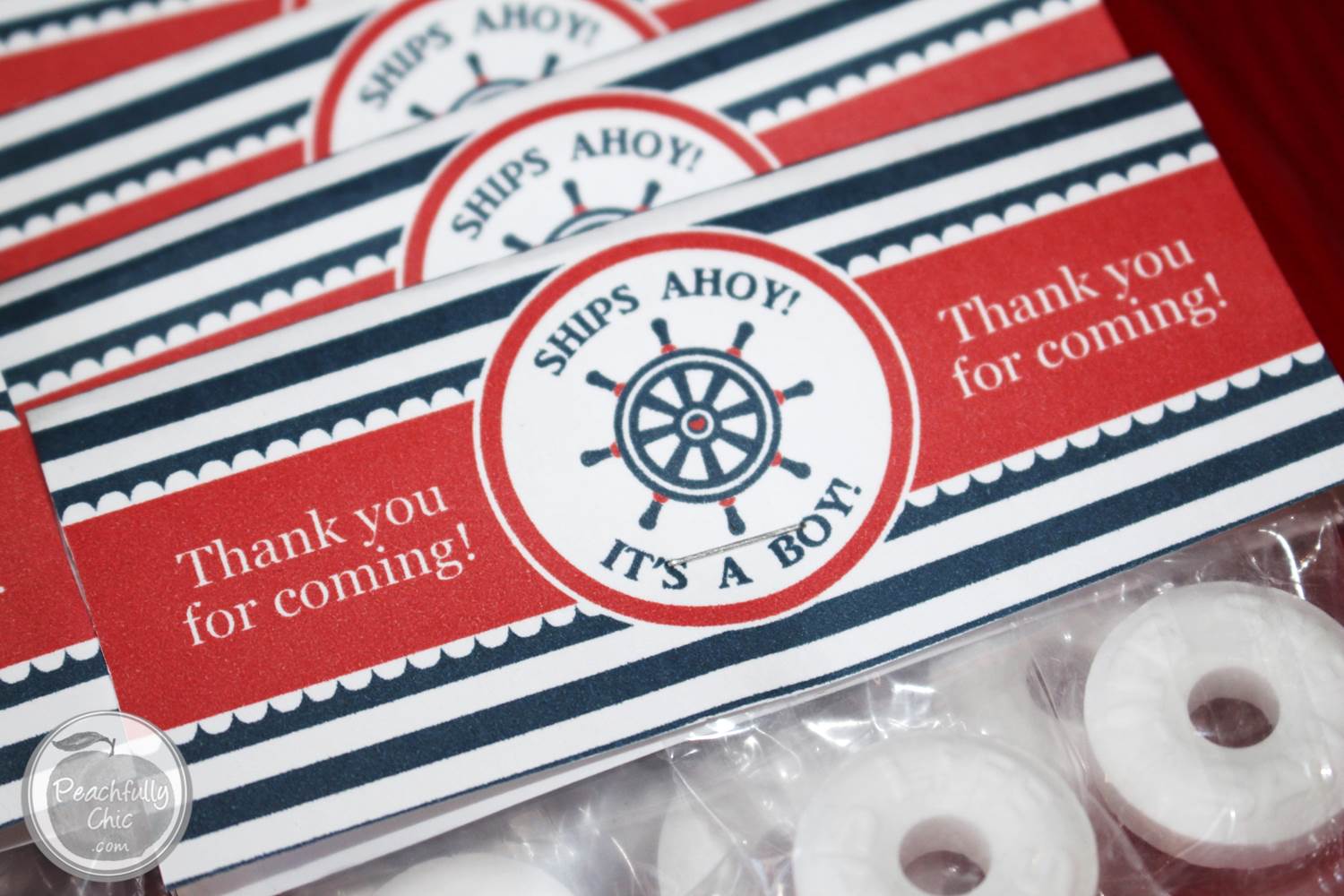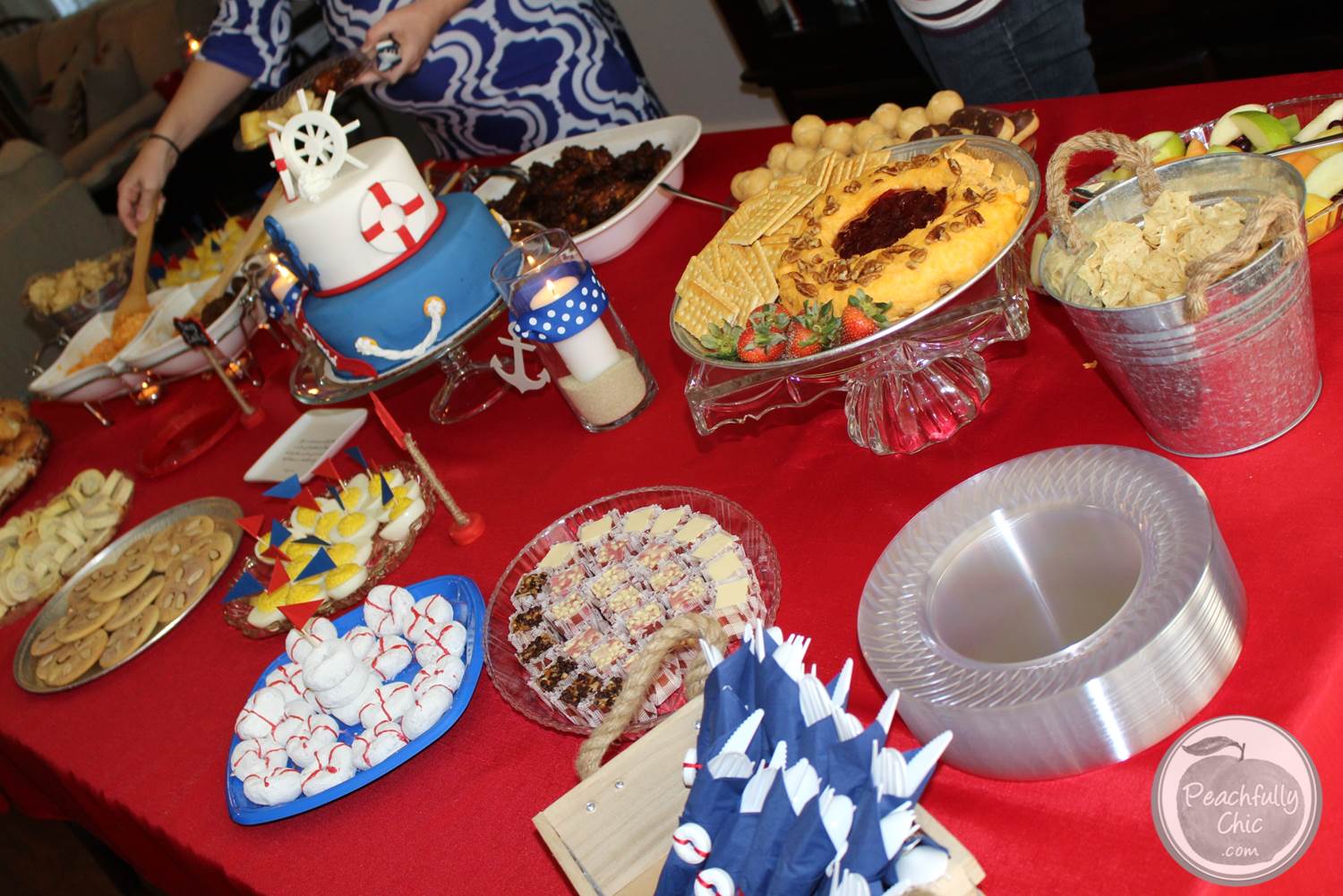 DIY Nautical Baby Shower Favors:
For a refreshing and sweet gift, little mint filled favor bags were put together for each guest to take home.  Emily found the favor labels from Adly Owl Invitations' Etsy store and printed them at home.  It was nice to have a little set of mints to eat during the 2-hour car ride back to Atlanta!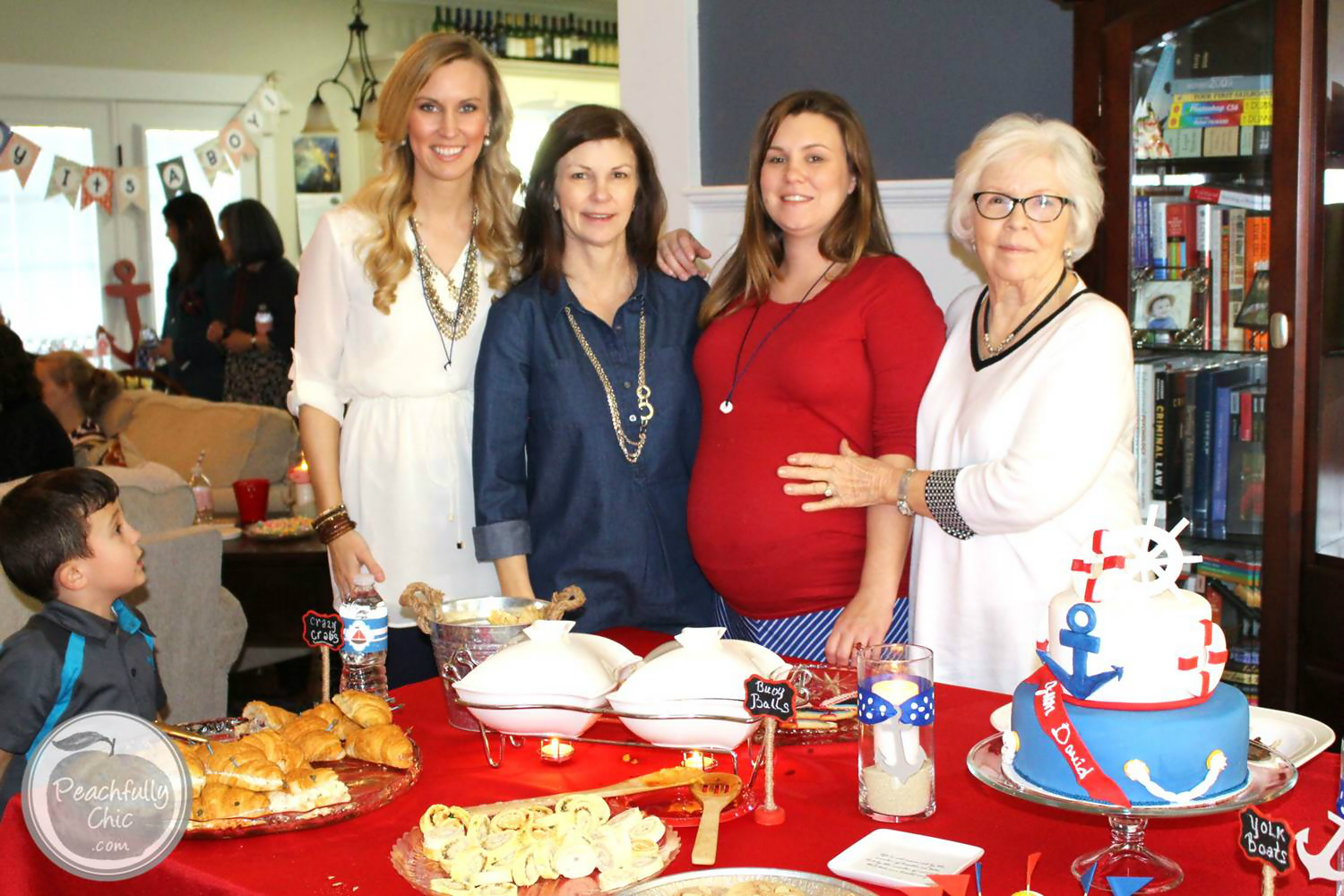 So that's a look at my little sister's Nautical-themed baby shower and the inside scoop on how my mom and Emily made some of the decor and pulled everything together.
It was fun seeing everyone and getting to celebrate at my little sister's new addition to the family.  With her due date pending only a few weeks away, I'm sure I'll be making another trip to Augusta soon!
Emily and my mom did such a great job decorating… hopefully this recap will inspire your own nautical baby shower!  Leave a comment below and let me know if you end up using any of these ideas at your next Nautical party!