Beauty Product Roundup for April:
I've had a few go-to beauty products this past month that I wanted to share with you and maybe it will give you an idea of whether you might want to try them yourself!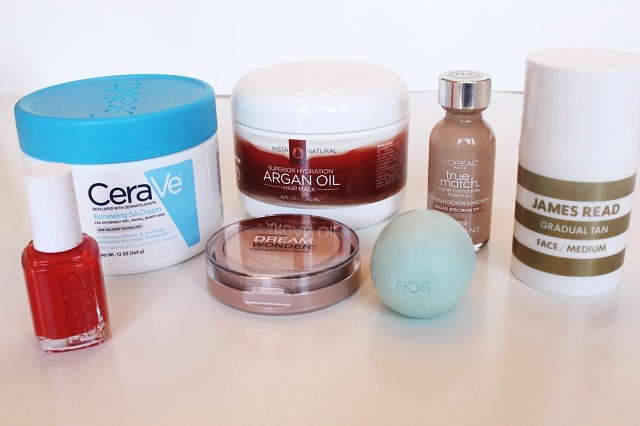 Current April Primp and Pamper Products:
Even though the weather's warming, my skin is still recovering from the cold dry winter weather and I'm all about moisturizing with CeraVe Renewing SA Cream for extremely dry and rough skin.
While I love the department store brand make up as much as the next gal, my budget sometimes takes a hit when unexpected house expenses pop up like those pesky flying squirrels!  So when I'm looking for the best bang for my buck with drug store makeup, I pick up L'Oreal True Match for a smooth super blendable foundation that really does have great coverage and lives up to its name.   The other summer essential that helps cut down on shine is Maybelline's Dream Wonder Powder.
Speaking of summer essentials, the EOS Organic Lip Balm in Sweet Mint is a must to keep your lips soft with the light freshness of mint.
I've also been testing out complementary jar of InstaNatural Superior Hydration Argan Oil Hair Mask that left my hair conditioned and shiny, but light and flowy too!
And finally the other favorite product that I've been using is the James Read Gradual Face Tan from BeautyKind.  Not only does the face tan work gradually to give you an even healthy glow which makes me love this product, but what really tugs at my heart strings is that Beauty Kind donates 5% of each purchase to the charity of your own choice!  How wonderful is that?!?  Shopping for a good cause is always a good reason to go shopping! 😉
I took the liberty of jazzing up the note-card BeautyKind sent with my face tanner… I kind of like the blue!
Let me know if you have any recommendations I should check out!  I always love going off of recommendations instead of buying items only based on anonymous reviews I find online… Hopefully these highlights might help you!