Tod's Atlanta Grand Opening:
If you haven't seen it yet, the Tod's Atlanta store opened last week and it is simply fabulous!  Caren West PR hosted another beautiful and buzzing event, this time to highlight Tod's grand opening in Buckhead (Thanks again Caren!).
We know Tod's is known for their classic Driving Shoe offered in a rainbow of colors, but I was swooning over some of their handbags!  Each product is hand-crafted with highly-skilled techniques, intended, after laborious reworking, to become an exclusive, recognizable, modern and practical object  – which basically means these are investment pieces people.  
When I was at Vanity Fair, I worked on the International Fashion and Luxury accounts and Tod's fell into that category… so it was a little bitter sweet for me to attend the opening because it reminded me of New York and made me miss living/working there!  I have to say though, it was a real treat to view all the beautiful products Tod's has in their new Atlanta boutique.
It was a great turnout and 10% of sales from the event benefited to Meals On Wheels.  It's one thing to attend an event that is fun, but when you combine a fun event with a great cause… you really can't beat that!
I decided to stick with neutrals for the event… wearing my fitted faux leather Armani Exchange dress, vintage belt, Paris pumps in Blush Nude from Ukies, necklace from H&M, Beaded Clutch from BHLDN, and bangles from H&M and H.M.Willow.
Tod's is known for their perfect combination of tradition, quality, and modernity.  And with this being their 9th nationwide boutique to open, it's no surprise that they wanted to created a statement at the grand opening event for Tod's in Buckhead Atlanta.  I thought it was quite clever to have live demonstrations by an artisan who was flown in from Italy to handcraft the iconic Tod's Gommino at the event for everyone to watch!
As we were leaving, Atlanta Flower Bar was set up by the front door to pass out stunning bouquets of fresh flowers which was the perfect touch to wrap up the evening and one of the most darling gifts I've received at an event!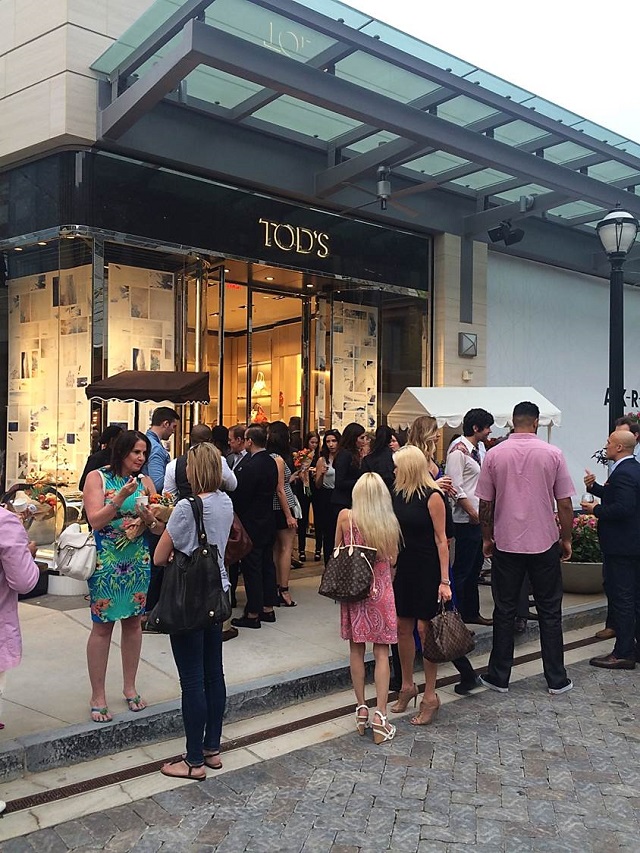 If you haven't had a chance to pop over to the new shops at Buckhead Atlanta, you've been missing out!! Trust!
Besides some of the sweet dining they have like Gypsy Kitchen, The Southern Gentleman, and Georgetown Cupcake; if you're into shopping (or just window shopping), this is the area you want to be.  With brands like Brunello Cucinelli, Etro, Canali, Moncler, Theory, Louboutin, Hermès and of course Tod's… I can't image you wouldn't be inspired by the boutiques and dining experiences at Buckhead Atlanta.
If you want some company just let me know… you won't have to twist my arm too much 😉