Simple Bar Stool Reupholstery, Big Makeover:
When we moved into our new home and started unpacking earlier this year, one of the things that made it's way with us was a pair of barstools that I bought with some roommates back in college.  These things have been through a lot.  So while they've served their purpose quite well over the years, I've grown tired of their boring old tan upholstery and decided it's time for a change.
So with some extra fabric I had from the throw pillow covers I made for our couch back in the day, I gave these bar stools a mini-makeover.
The only supplies I needed:
Scissors
Fabric
Screwdriver
Staple Gun
And it was simple!  I shared all the how-to pics in the step by step view of this process over on my most recent DIY post on Craft Box Girls.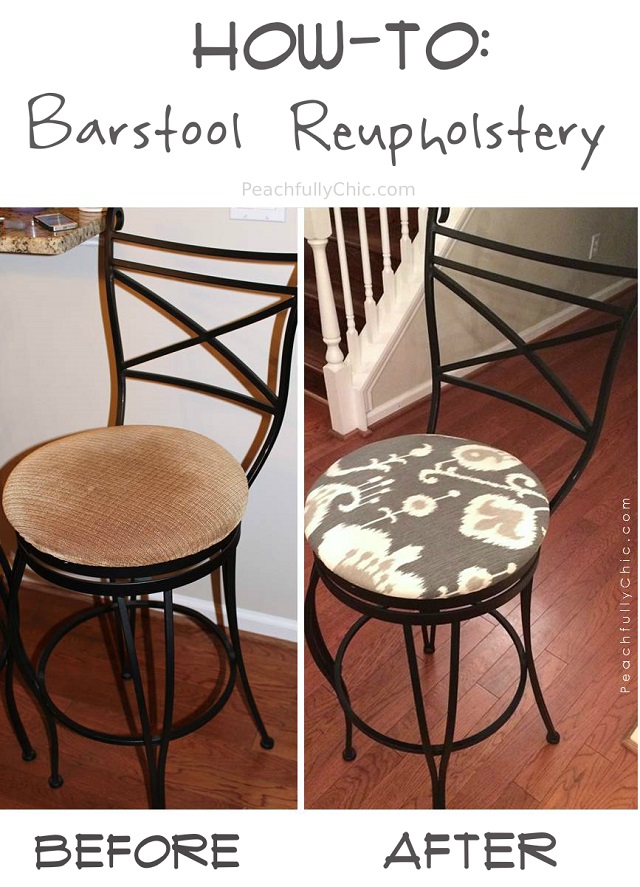 Two things to look out for in the pics on CBG…
1.  Berkeley (our peek-a-poo) is all about creeping in the background of a few of the pics.  He's a camera hog – what can I say?
2.  I had to get Kevin's help on doing the labor part so I could take photos of the process.  Just wanted everyone to be warned that those are not my hairy legs and giant hands in the pics haha 😉
Even though I supervised him, but this is definitely a project that I could have tackled on my own… it just makes it a lot easier when you are pulling the fabric tight to have someone helping to staple!
And that's it folks!  Easy peasy…. you've done a complete DIY bar stool reupholstery in the blink of an eye!  I'm telling you now, you can really breath new life into old pieces of furniture around your house if you just use a little creativity and elbow grease!