Dear Santa…
It's the season of giving, and I've got more than a few holiday parties to attend that include a "White Elephant" element where I'm supposed to bring a gift with around a $20 value to exchange with others.  Combine that with the tacky sweater contests that will inevitably fill my Facebook feed in the coming weeks and now we're talking holiday party!
So while my wish list for the twelve days of Christmas might have more than a few items exceeding that $20 value, I thought it might be fun to share some of the things I've been eyeing recently.  Since Kevin and I just moved into our new place, and most of the Christmas presents to ourselves will be new furniture, rugs, and other items to spruce up the place; maybe this list will help you brainstorm for that sister, mom, best friend, or some other lovely that is deserving this season!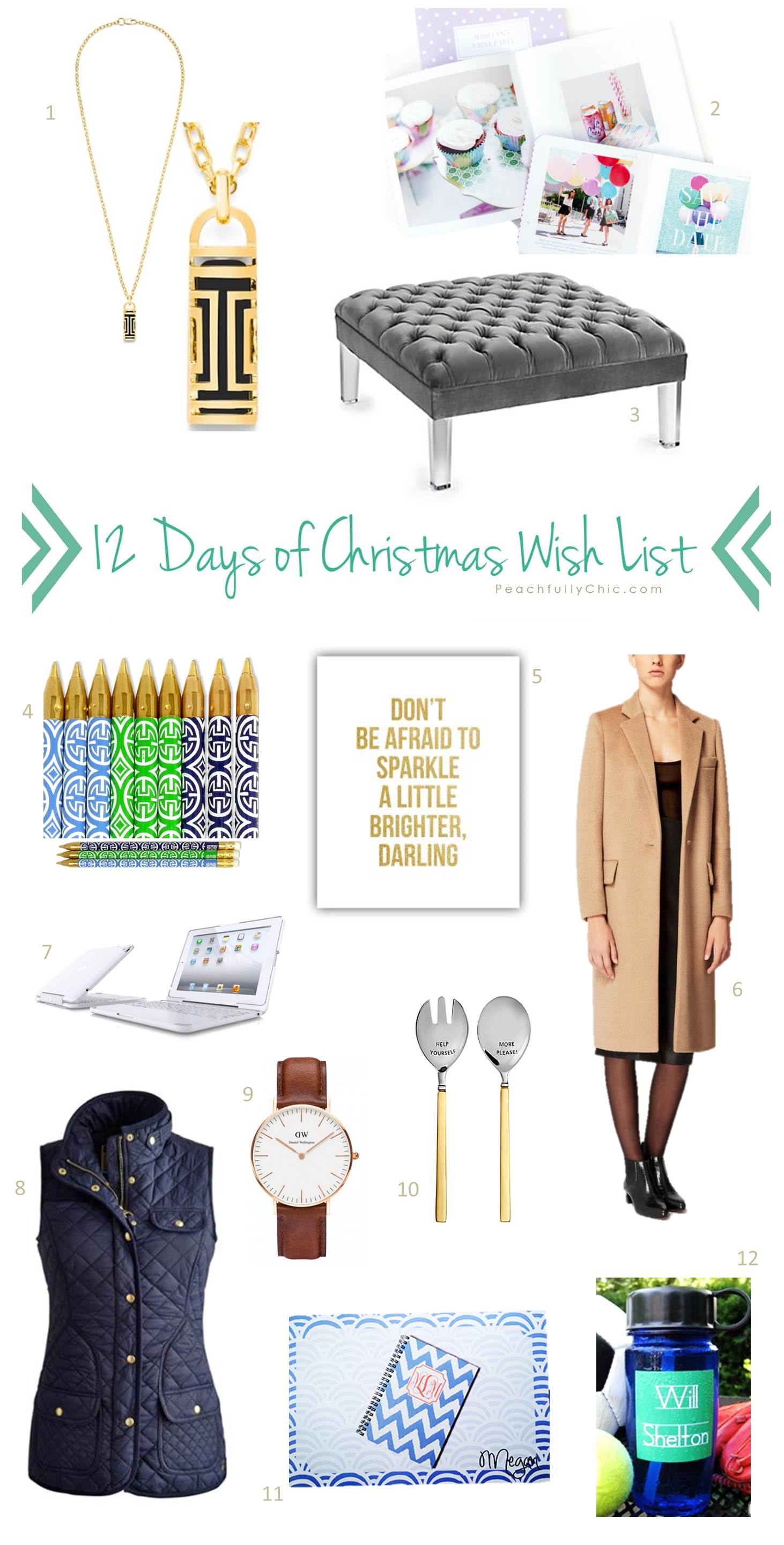 1. Tory Burch Fit Bit Fret Pendant Necklace: While fit bits are blowing up most people's holiday wish lists, I had to include the chicest fit bit cover up out there.
2. May Designs Instagram Photo Books:  Customizable 7.5″ and 5.5″ photo books that you can connect directly to your instagram account and you can create the most adorable covers – Standard photo books are available too!
3. Z Gallerie Eliot Ottoman: While I've been searching high and low for a gray leather tufted cocktail ottoman with decorative wooden legs (yes – I know it's fairly specific) for our living room, that task is proving harder than expected… so if it doesn't turn out, this is my backup: A gray velvet tufted version with lucite legs. And I'm sure I'll be just as happy with it! 🙂
4. Iomo Goody Pack Pens: I'm totally digging these colorful decorative pens. It was tough choosing just one color pack since there are so many choices!
5. Swoozies Sparkle Brighter Art Print: A little inspirational quote is always better with a southern twist and a touch of glitter!
6. Max Mara Pure Camel Coat: While I don't necessarily need or advocate for camelhair, I have been wanting a camel colored coat for a few seasons now and yet I still haven't pulled the trigger. Possibly this year?
7. iPad Clamcase: The ultimate wi-fi keyboard case. While I'm digging the sleek white, silver, and black options… there are new colors coming soon too!
8. Joules Women's Country Vest, Marine Navy:  Digging this great vest from Joules, along with all the others. I absolutely love their rainboots too!
9. Daniel Wellington Classic St. Andrews Lady: What better way to keep your day on track than with a classic watch with such a timeless feel to it.
10. C.Wonder More Please! Metallic Salad Servers: For all those upcoming dinner parties, I could definitely see how a great set of serving-ware will be beneficial!
11. Haymarket Designs Custom Desk Blotter: I love that these desk blotters are a twist on the traditional desk calendars. Not only are they simpler with a large empty writing space in the middle, but they are customizable with your favorite color, design, name/initials, etc.
12. La Plates Waterproof Stickers: Keeping with the customizable trend, not only do I love stickers, but these are great because they are actually waterproof too!
[line]
Now I'm curious to know what's on your own twelve days of Christmas wish list?!  Am I missing any must haves?  In the meantime of pulling together your own wish list, I hope you have a wonderful holiday season this year and that you keep in mind the root of the Christmas spirit!  May your white elephant gift be a hit and your Christmas sweater be deemed the tackiest!