This post has been compensated by Collective Bias, INC., The Coca-Cola® Company, and NABISCO, all opinions are mine alone. #TheWinningBasket #CollectiveBias. All opinions and content are my own. Thank you for supporting the brands that support Peachfully Chic!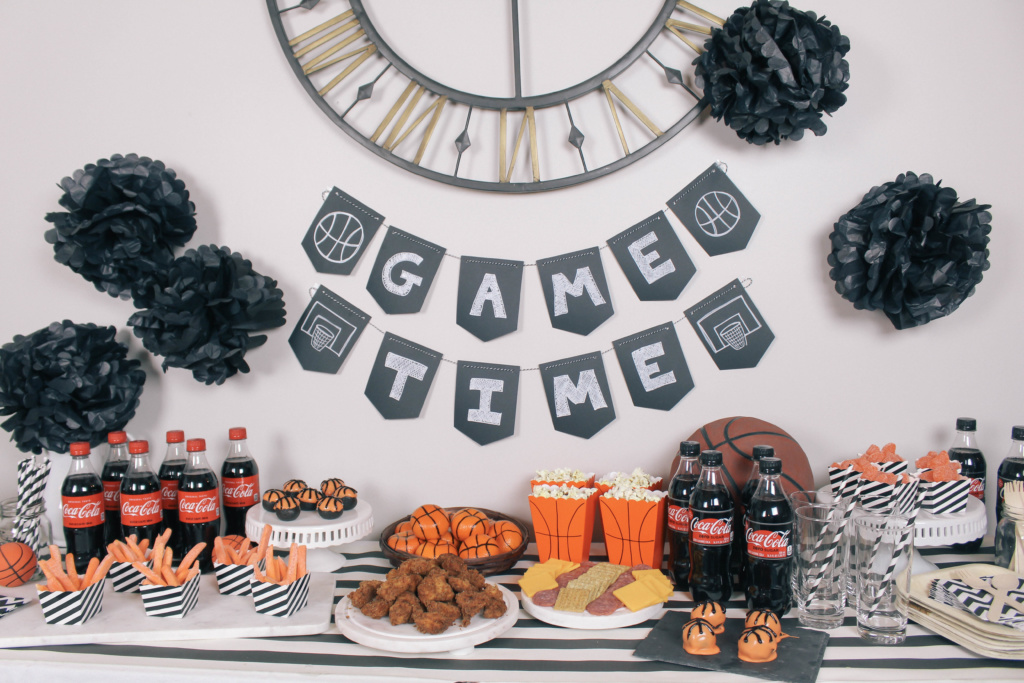 Sports have always played an integral part of my life.  I've had the pleasure of trying my hand at a variety of sports throughout the years. I've tried everything from competitive gymnastics and archery in my younger years and then high school softball, soccer, and golf.  I continued to play club teams throughout my time at Georgia Tech and I played softball in Central Park when I joined the Vanity Fair team.
While I don't play as many sports as I once did, I still love watching and celebrating with family and friends as we cheer on our favorite teams. I also love hosting parties, so I pulled some inspiration from the big basketball tournaments this month and I'm excited to share a fun basketball themed party complete with food and decor tips.
I stopped by Target on the way home from work and grabbed everything I needed for a great game day party …along with a few extra things for spring decor 😉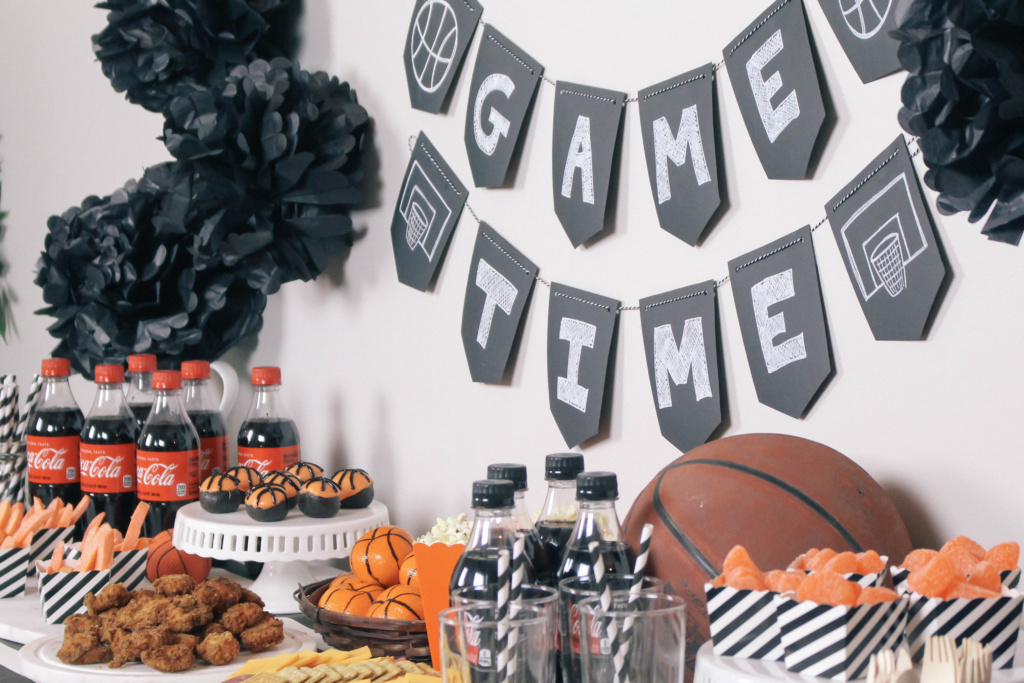 ---
The Food:
---
I picked up some of my favorite game time snacks like RITZ® Crackers, TRISCUIT® Crackers and OREO® Cookies, Coca-Cola® Classic, and Coca-Cola® Zero Sugar to make sure my guests could snack a bit and stay refreshed while they watched the tournament games.  I also threw in a variety of fruits and veggies to accompany the mix.
It's important for me to serve a variety of options when guests come over that are easy to snack on and delicious, so I decided to make both a savory and a sweet recipe.  I've included both recipes below for savory Game Day Crispy Chicken Bites and sweet Chocolate Dipped Basketball Bites.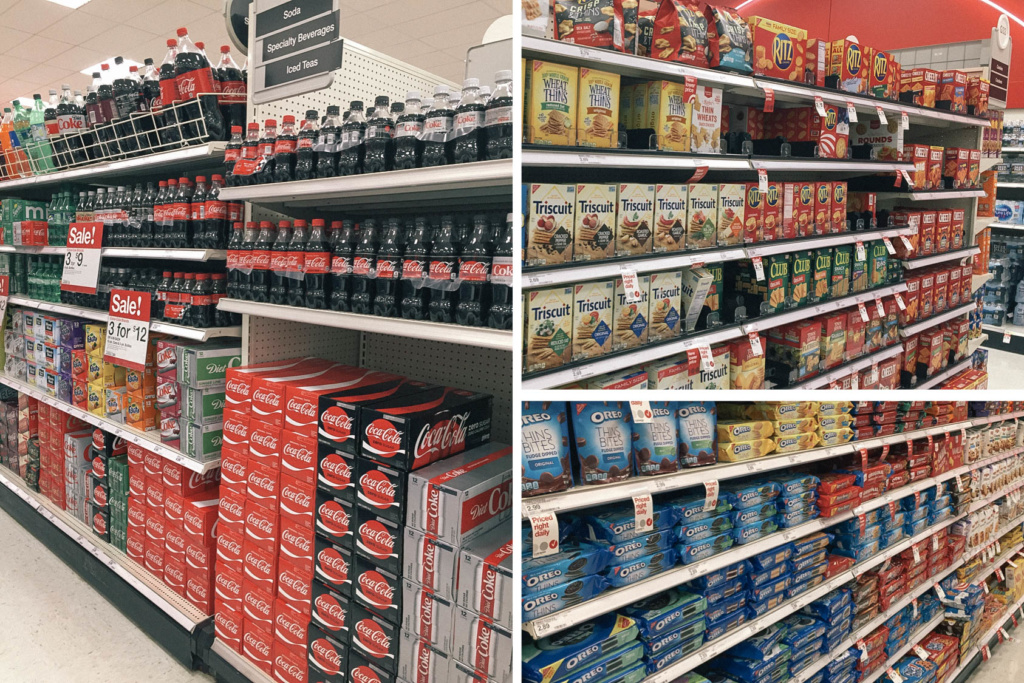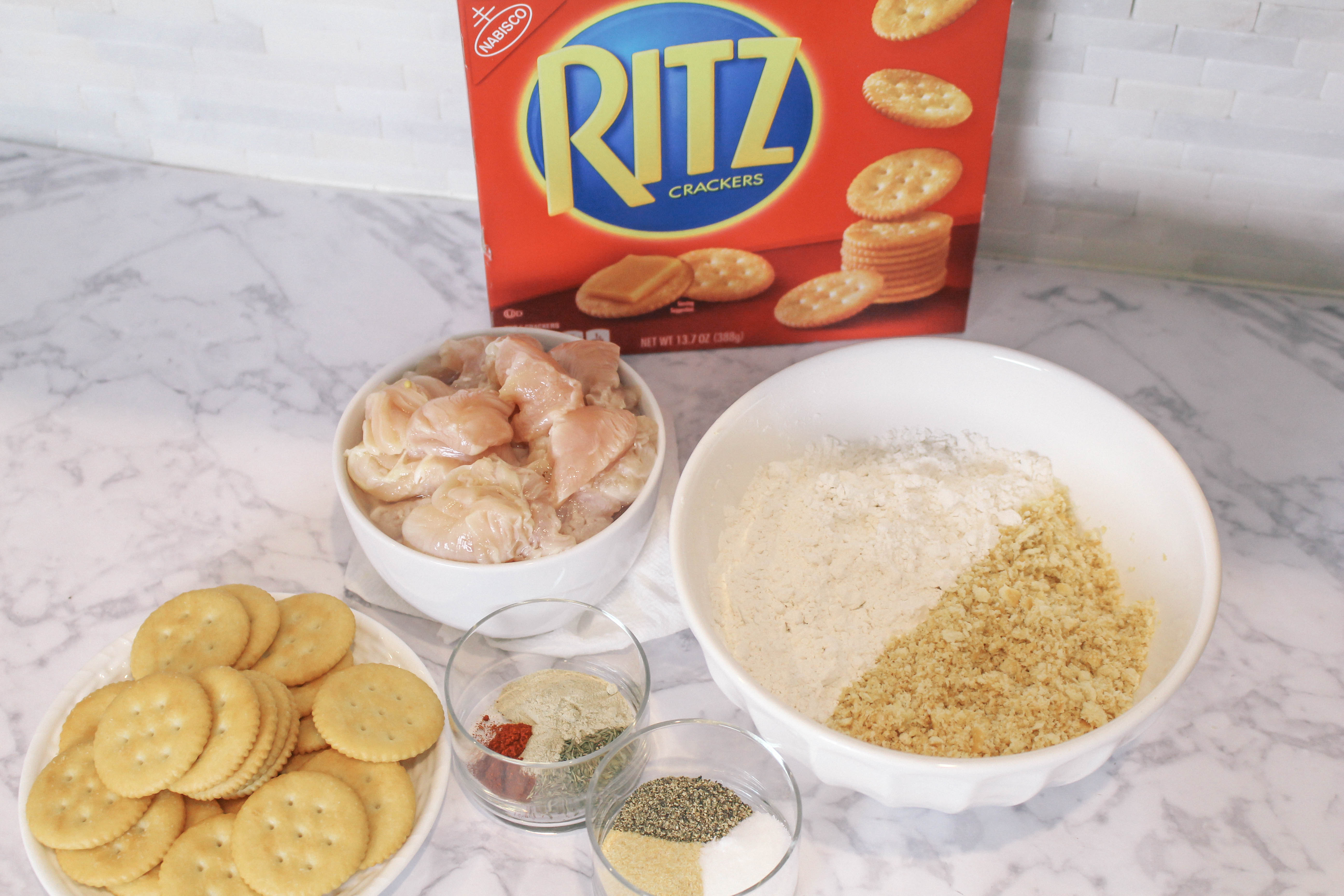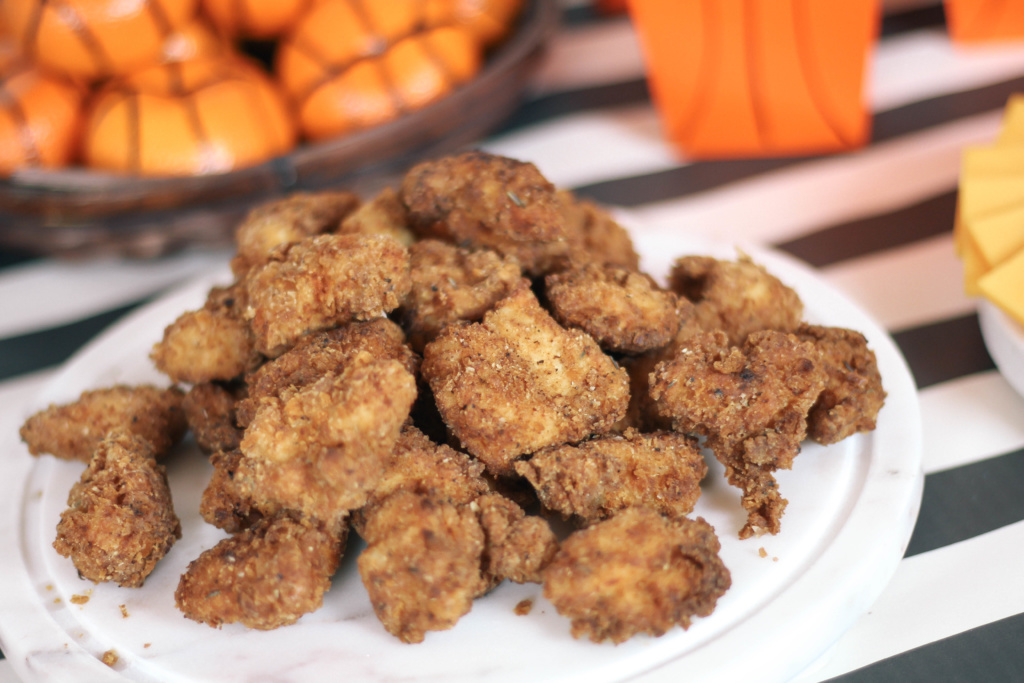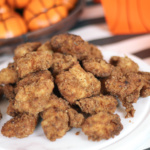 Game Day Crispy Chicken Bites
Ingredients
1

cup

Crushed RITZ Crackers

1

cup

Flour

1

tbsp

Salt

1

tbsp

Black Pepper

1

tsp

Paprika

1

tbsp

White Pepper

1.5

lbs

Cubed Chicken Tenders

1.5

cups

Buttermilk

1/4

cup

Canola Oil

2

Eggs

2

tbsp

Milk

4

cups

Peanut Oil
Instructions
Combine the buttermilk and canola oil in a large bowl. Add in cubed chicken tenders to marinate. Refrigerate for 4-6 hours.

In a separate bowl, combine all dry ingredients (RITZ Crackers, Flour, Salt, Black Pepper, Paprika, and White Pepper).

In a different bowl, whisk the eggs and milk together to create the egg wash.

Heat a cast iron skillet and add enough peanut oil (or some other high smoke temperature oil) to cover the chicken you will add but NOT so much that the oil will overflow when you add the chicken. The amount you add will be determined by the size of your skillet so you may not need all the oil or you might need more. This could be a fire hazard if the oil overflows on a lit gas flame - DO NOT use excessive amounts of oil.

Remove the chicken from the refrigerator and rinse the buttermilk mixture off the chicken. Pat dry with a paper towel.

Dip the chicken in the egg wash and make sure the entire bite of chicken is covered. Next dip, the chicken in the RITZ Crackers mixture.

Slowly add the chicken to the skillet, and fry for 4-6 minutes or until the crust has formed a rich, dark brown color.

Remove the chicken from the skillet using a slotted spoon and place on to a plate with a paper towel to absorb the excess oil. Let the chicken rest for a couple of minutes.

Place the chicken on a serving platter, serve with Coca-Cola Classic and enjoy!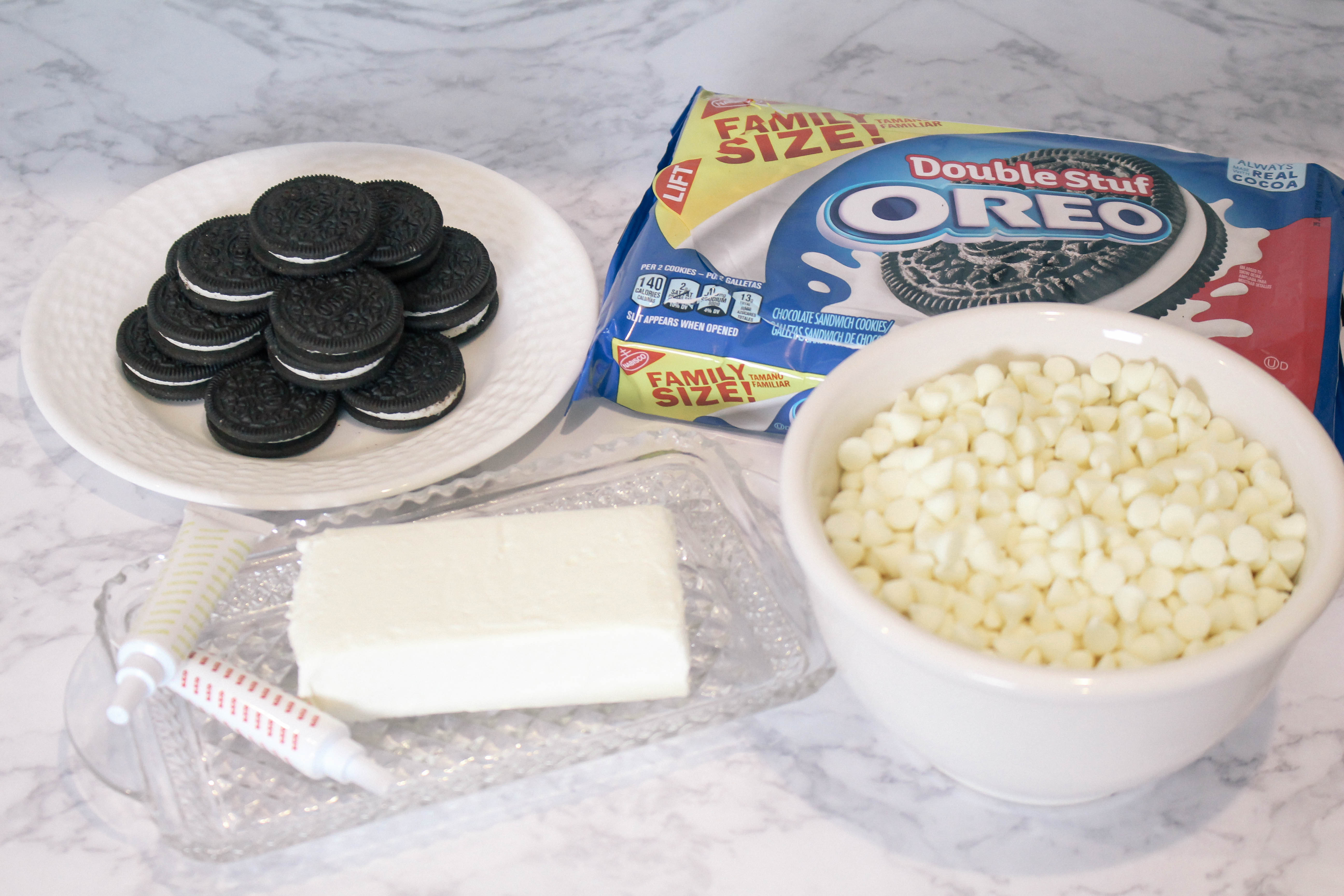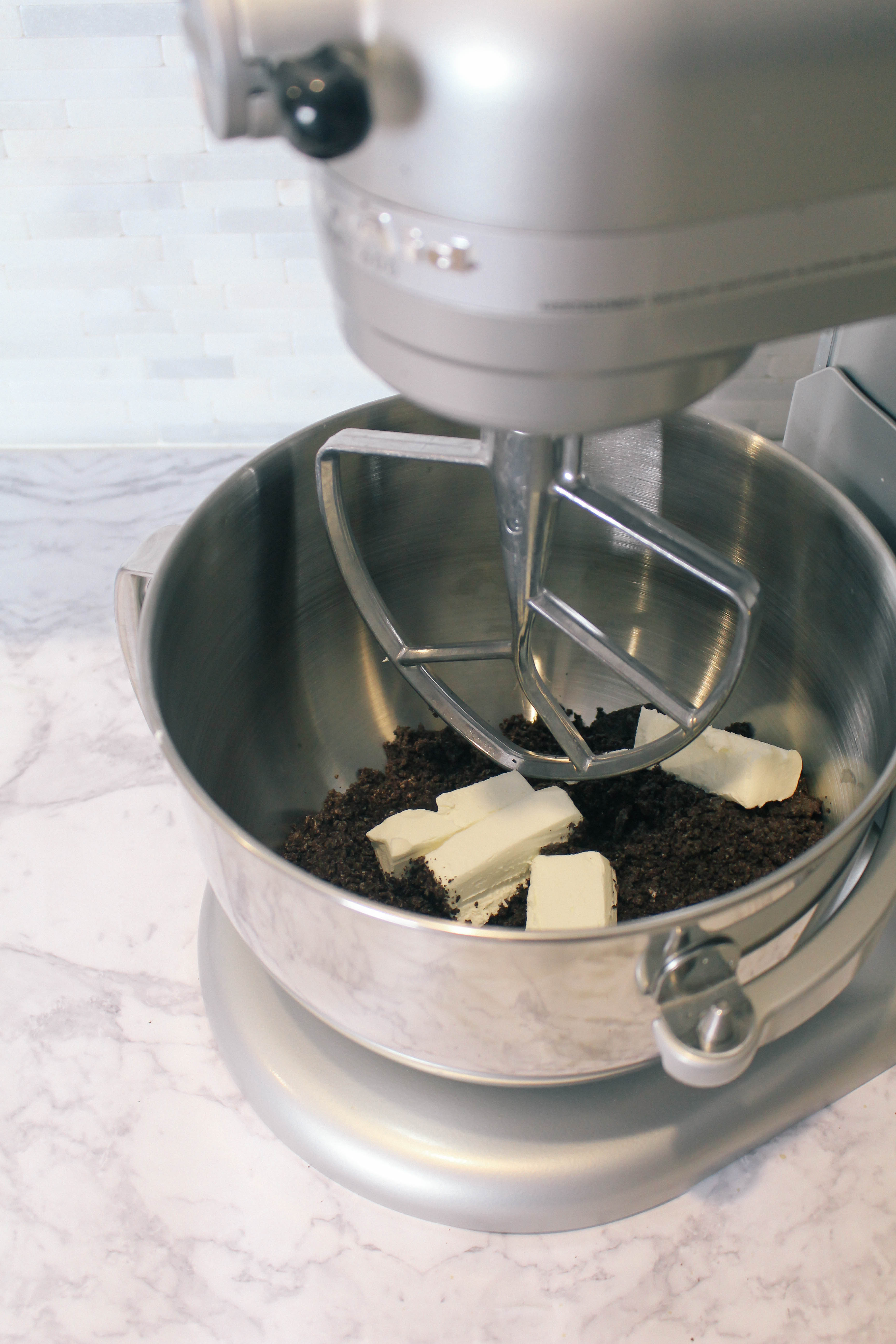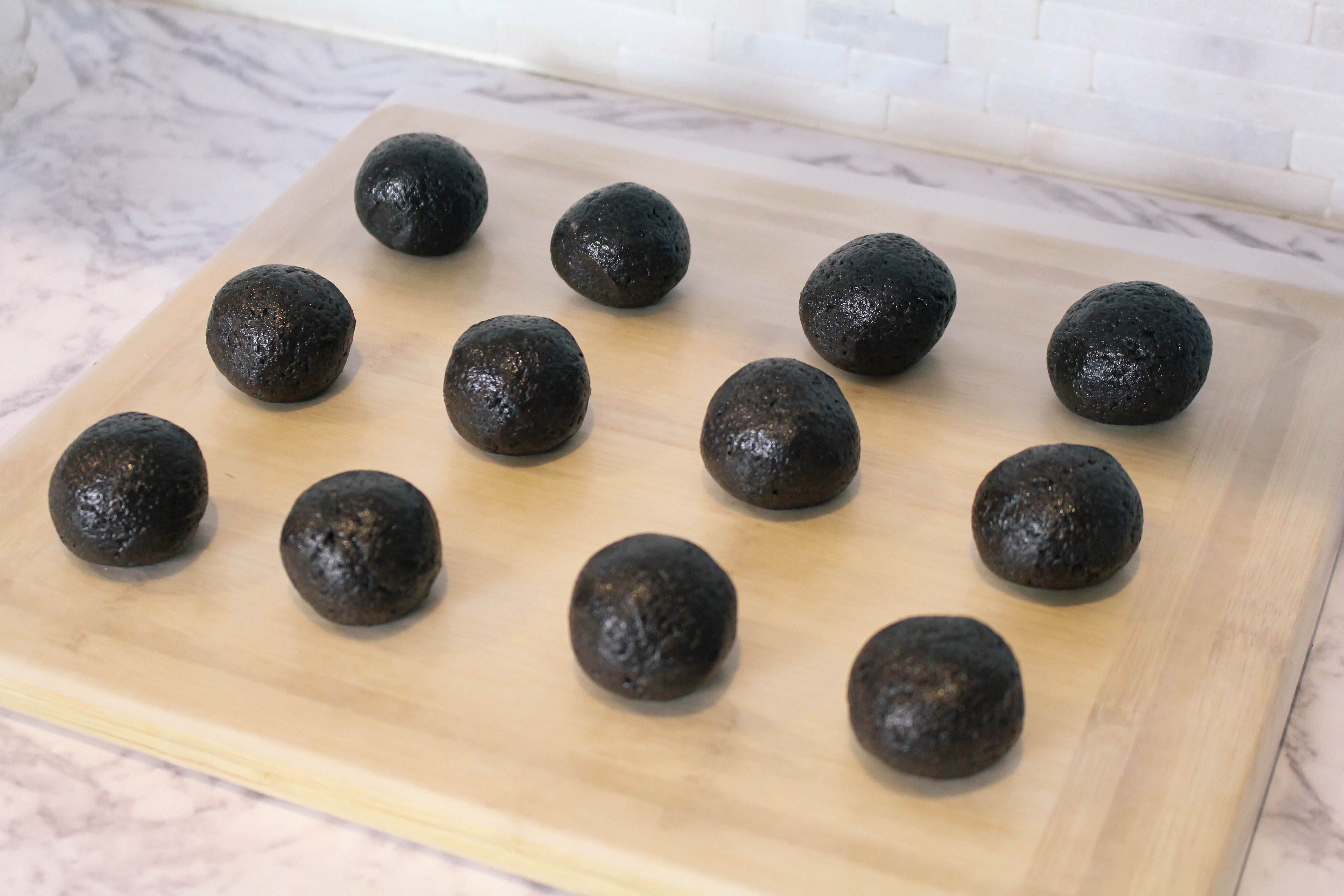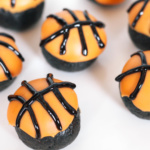 Chocolate Dipped Basketball Bites
Ingredients
1

pack

OREO® Cookies

8

oz

Cream Cheese

1

pack

White Chocolate Morsels

3-4

Drops

Yellow Food Coloring

3-4

Drops

Red Food Coloring

1

Tube

Black Icing

1

sheet

Wax Paper
Instructions
In small batches, crush all OREO Cookies in a food processor. If you don't have a food processor, you can easily put the OREO Cookies into a large plastic bag and use a rolling pin to crush the OREO Cookies inside.

Mix all OREO Cookies, and Cream Cheese together until a thick, smooth consistency forms. Begin scooping out the mix into small 1-1 1/2 sized balls.

Place each ball onto a waxed sheet of paper and put in the freezer for 30-45 minutes.

While the balls are freezing, you can start to melt your chocolate morsels. Fill a large pot on the stove with water, then place a smaller pot on top of it. This is a double boil method that will help prevent the chocolate from burning. Over medium heat, begin to add your chocolate to the small pot on top and continue to stir until all chocolate has melted.

Add in 2-3 drops of equal parts yellow and red food coloring. You can add more red to make the orange darker, or more yellow to lighten the color.

Remove the OREO Cookie balls from the freezer. Dip the top half of the ball into the warm chocolate and place it back onto the wax paper. Once all balls have been dipped in the orange chocolate, return them to the freezer for an additional 15-20 minutes or until the chocolate has hardened.

Remove the balls from the freezer and use black icing tube to create basketball seams on top of the orange chocolate tops.

Return the balls to the freezer until you are ready to serve.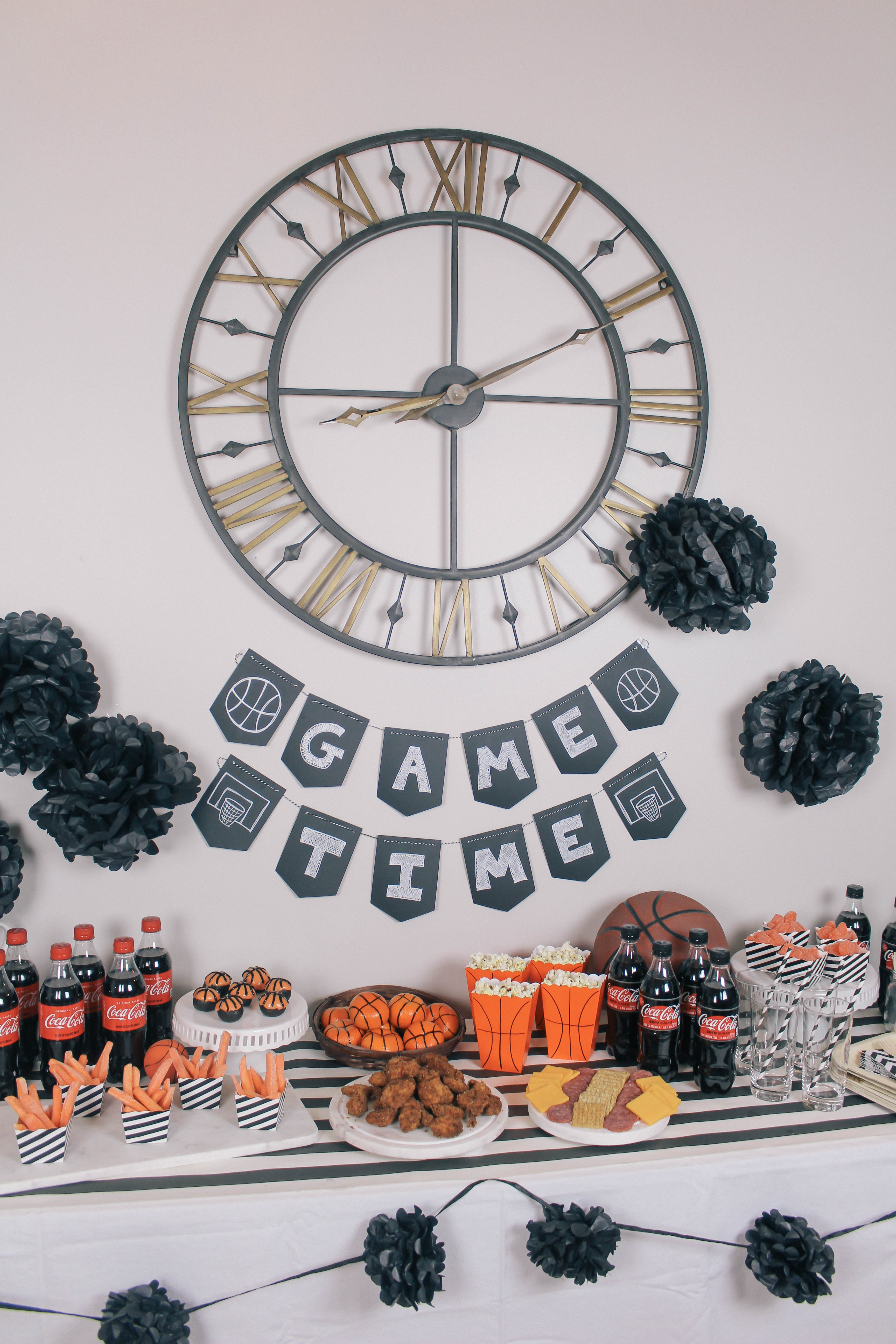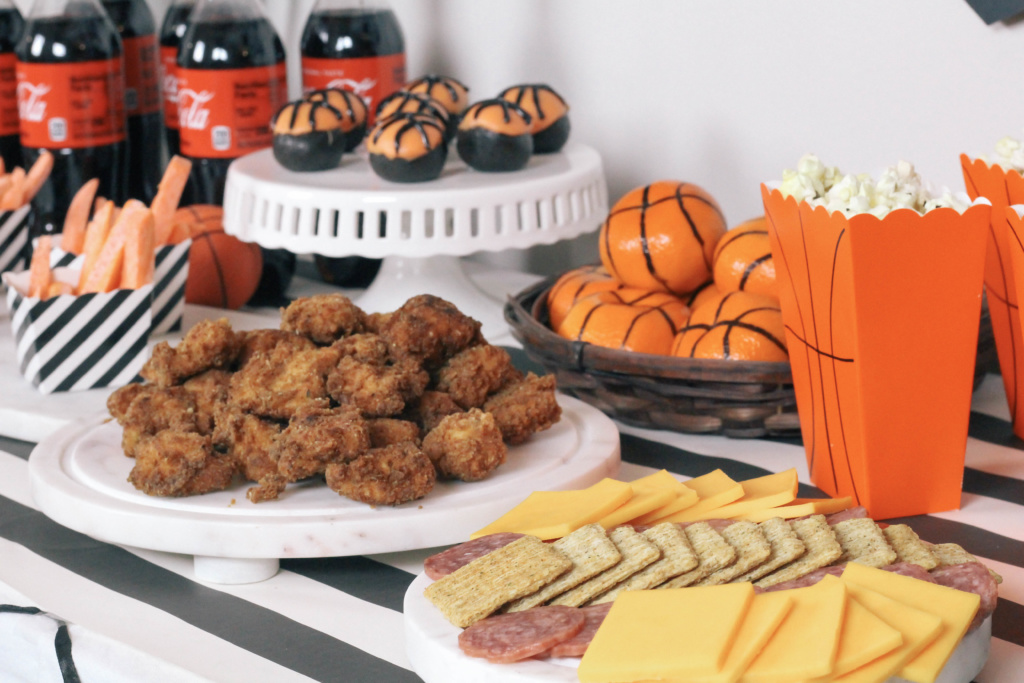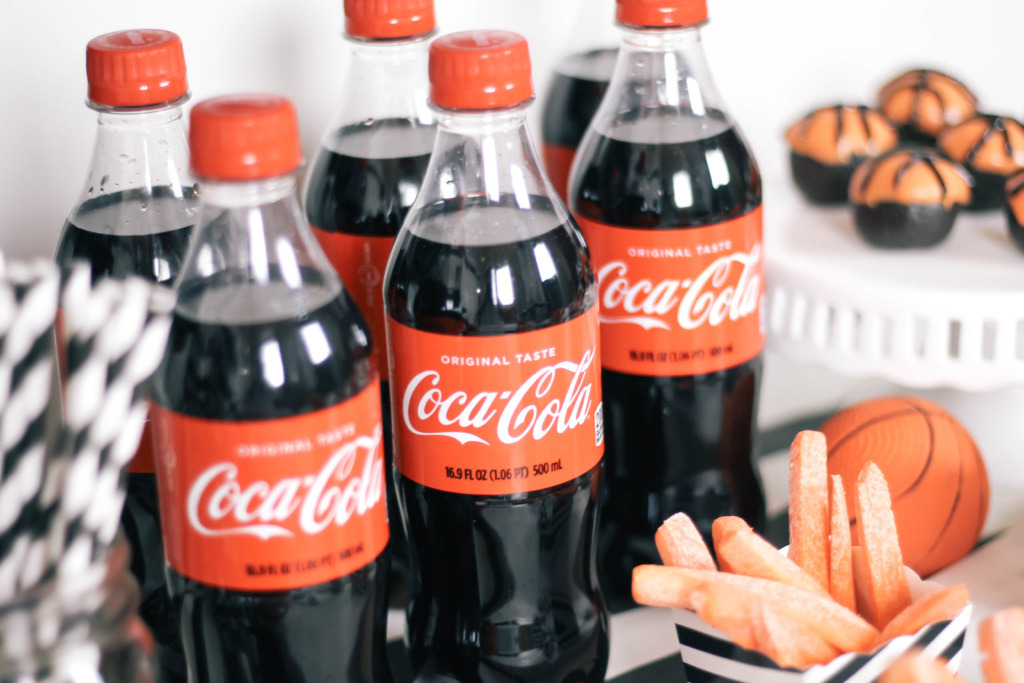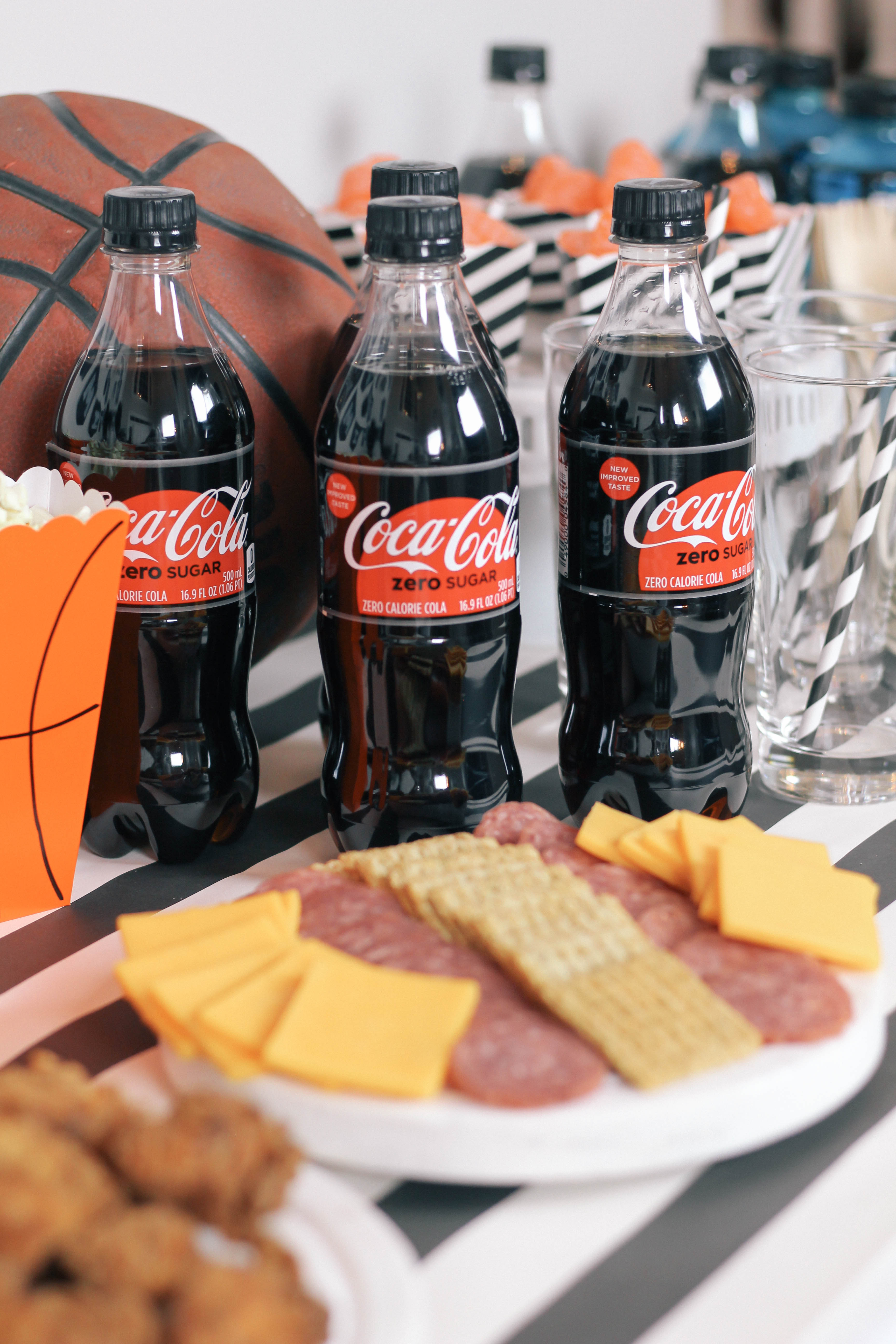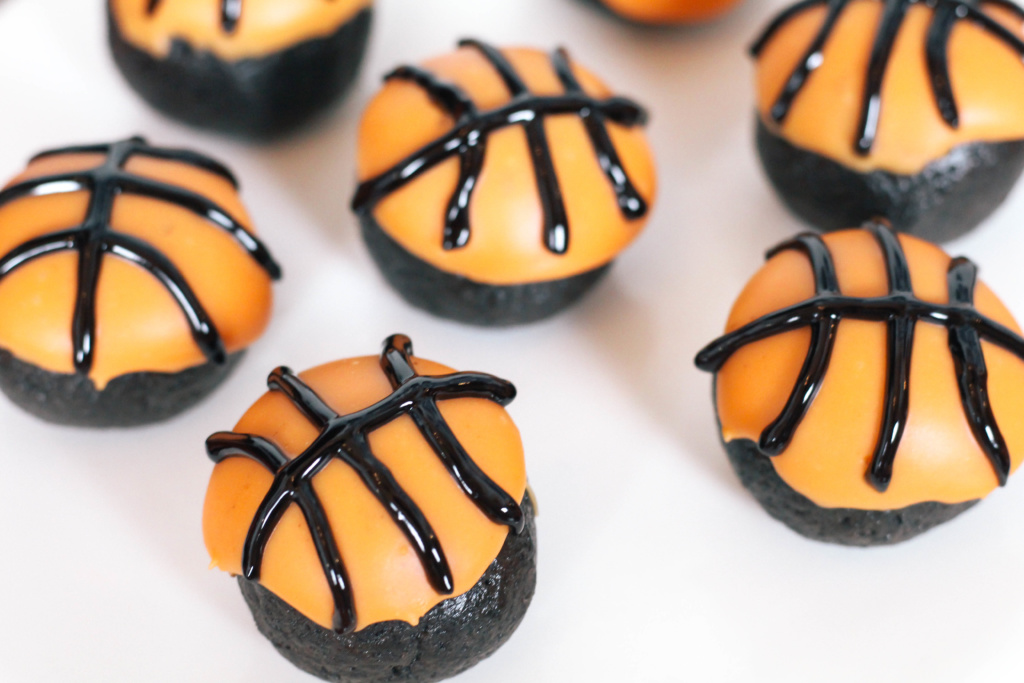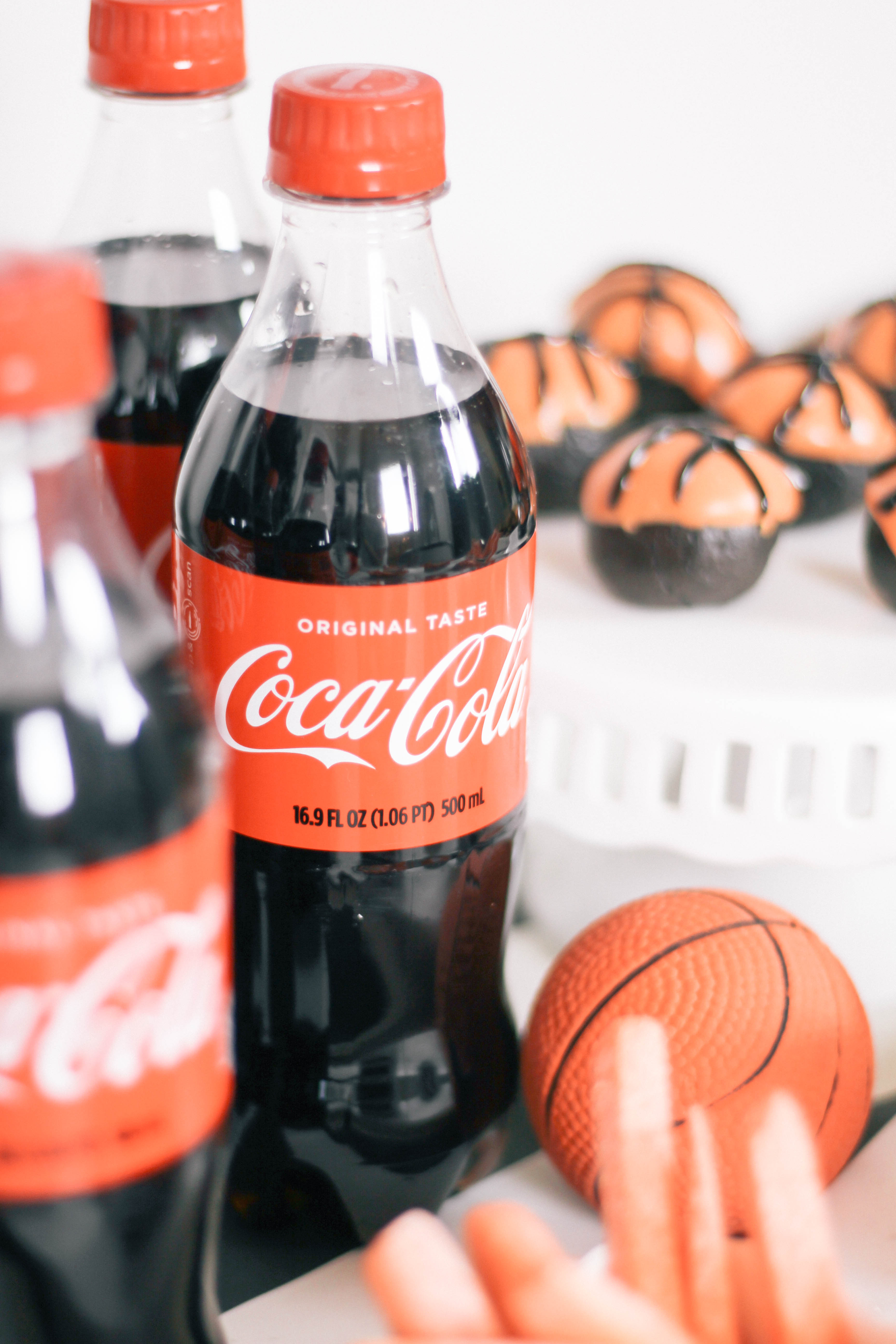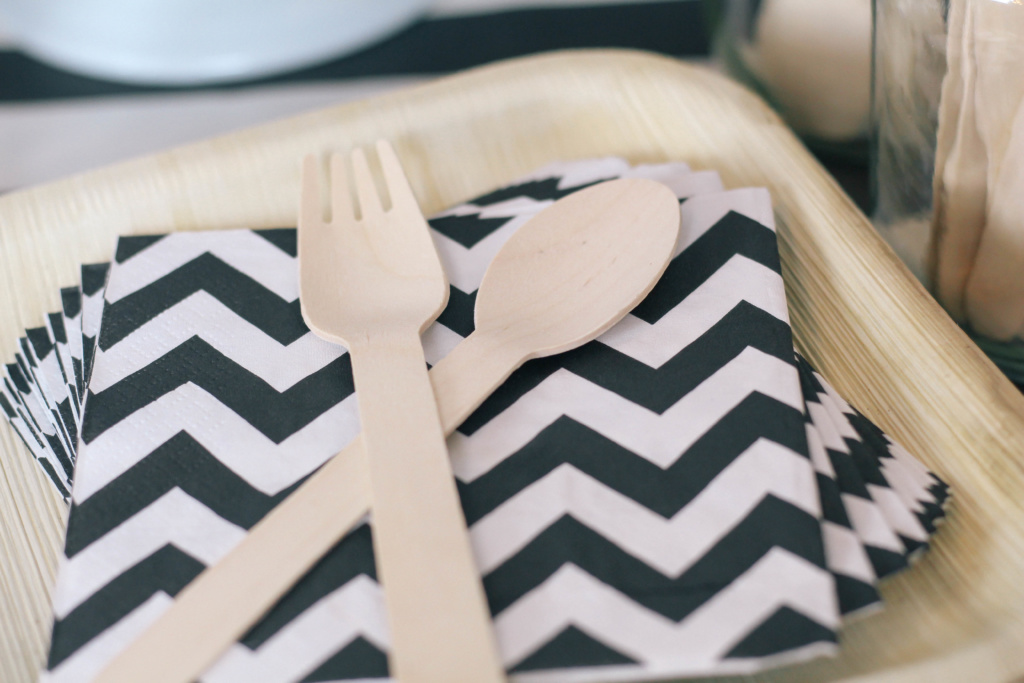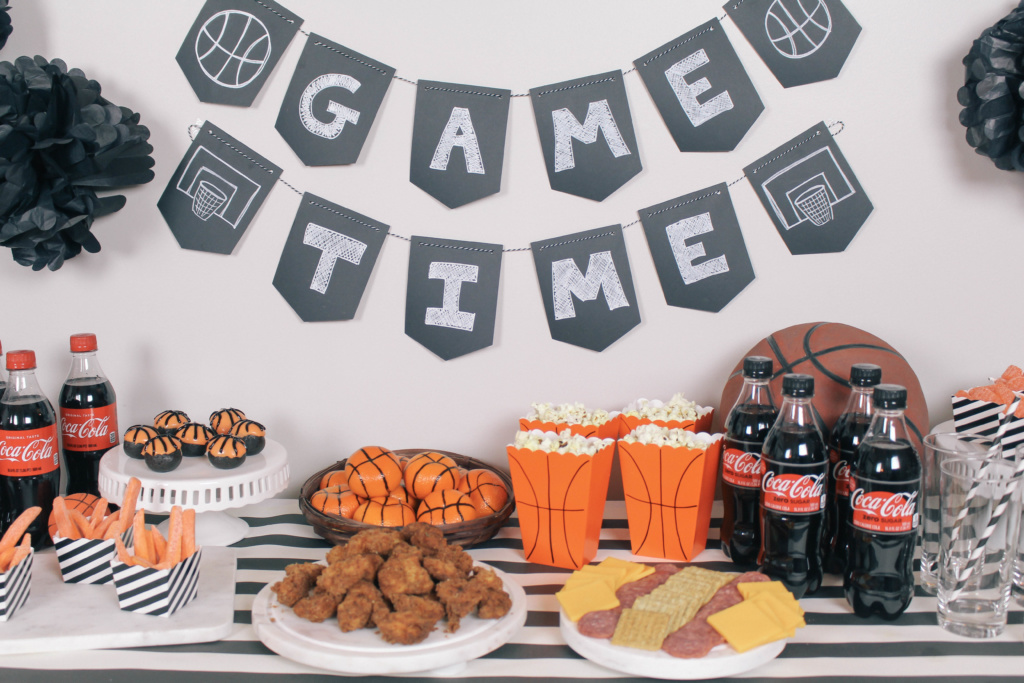 ---
The Decor:
---
I decided to go with a classic black and white themed party that featured pops of orange basketballs. The black and white color theme gives you just the right neutral color palette to make the orange standout.  I felt like the Chocolate Dipped Basketball Bites provided a great focal point for the table and made a sweet dessert for guests to enjoy.  
I created a fun "Game Time" banner that can easily be stored and reused in the future.  You can create your own Game Time banner by downloading my PDF here. I chose to make my banner read, "GAME TIME" because it tied in nicely with the theme and the huge clock I had hanging on the wall overhead.  
---
How To Make a Game Time Banner:
---
Supplies:
Black Construction Paper
White Chalk Paint Marker
Scissors
Hole Punch
Baker's Twine or String
Instructions:
Decide what your banner will say. We went with "GAME TIME" but the possibilities are endless.
Collect enough black construction paper so that you can build the flags out on each page similar to the
Print the template (download here),

 

and cut out an example flag as your template.

 

You can either just cut out all the letters (and use the white flags with black lettering an option on the printed place.
Hole punch a small hole in the corner of each flag.
Thread the baker's twine back and further through the holes you just cut in each banner.
Enjoy!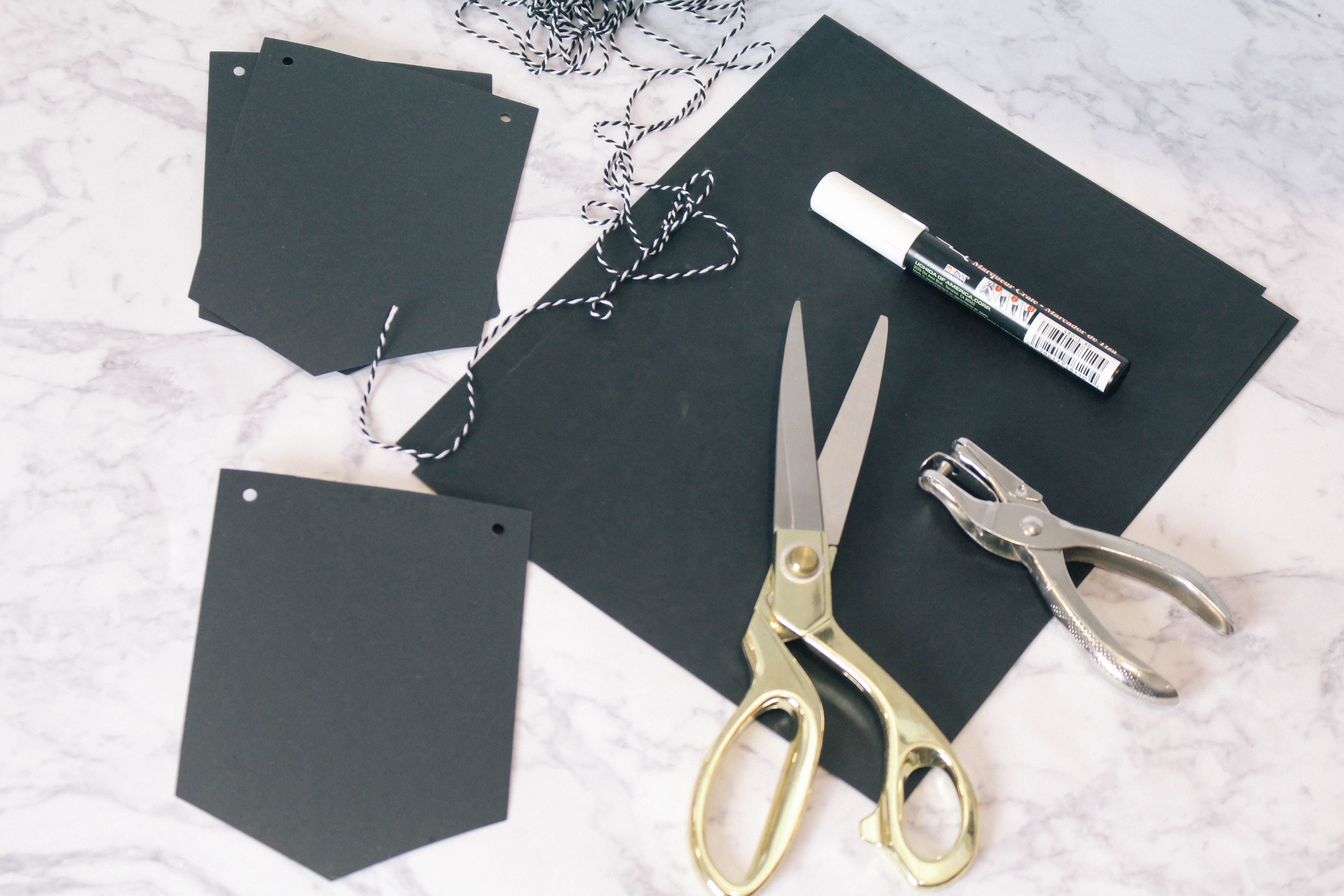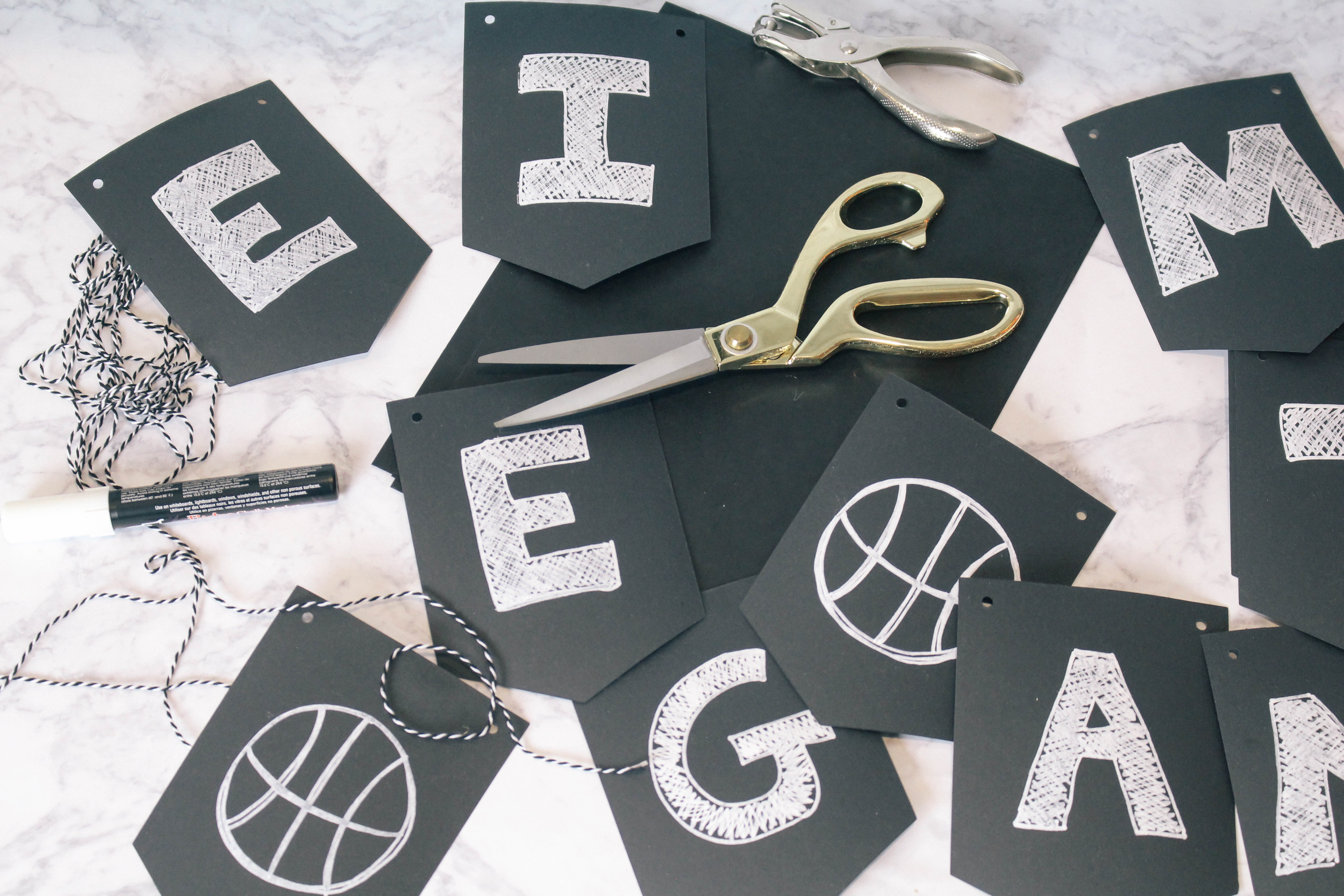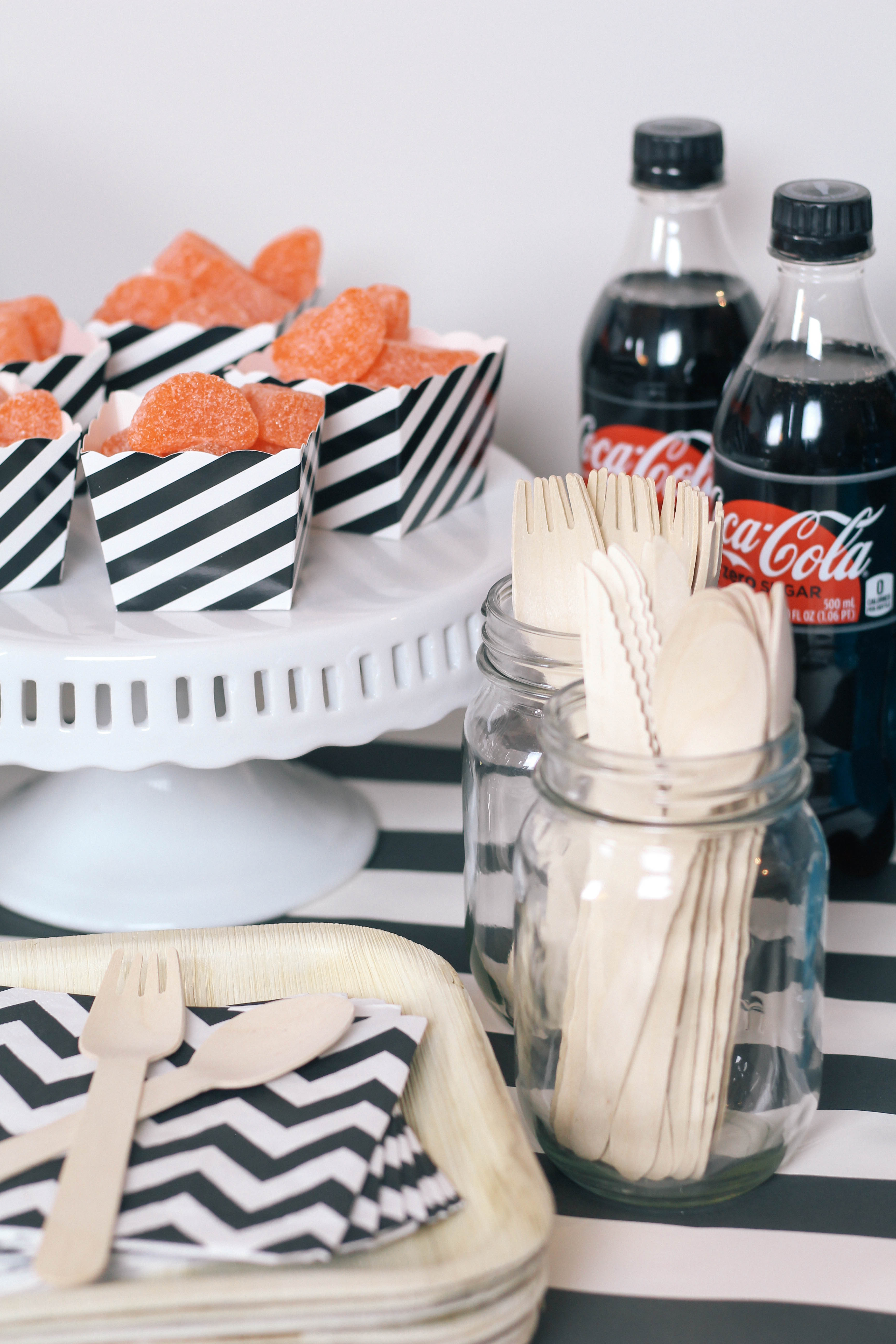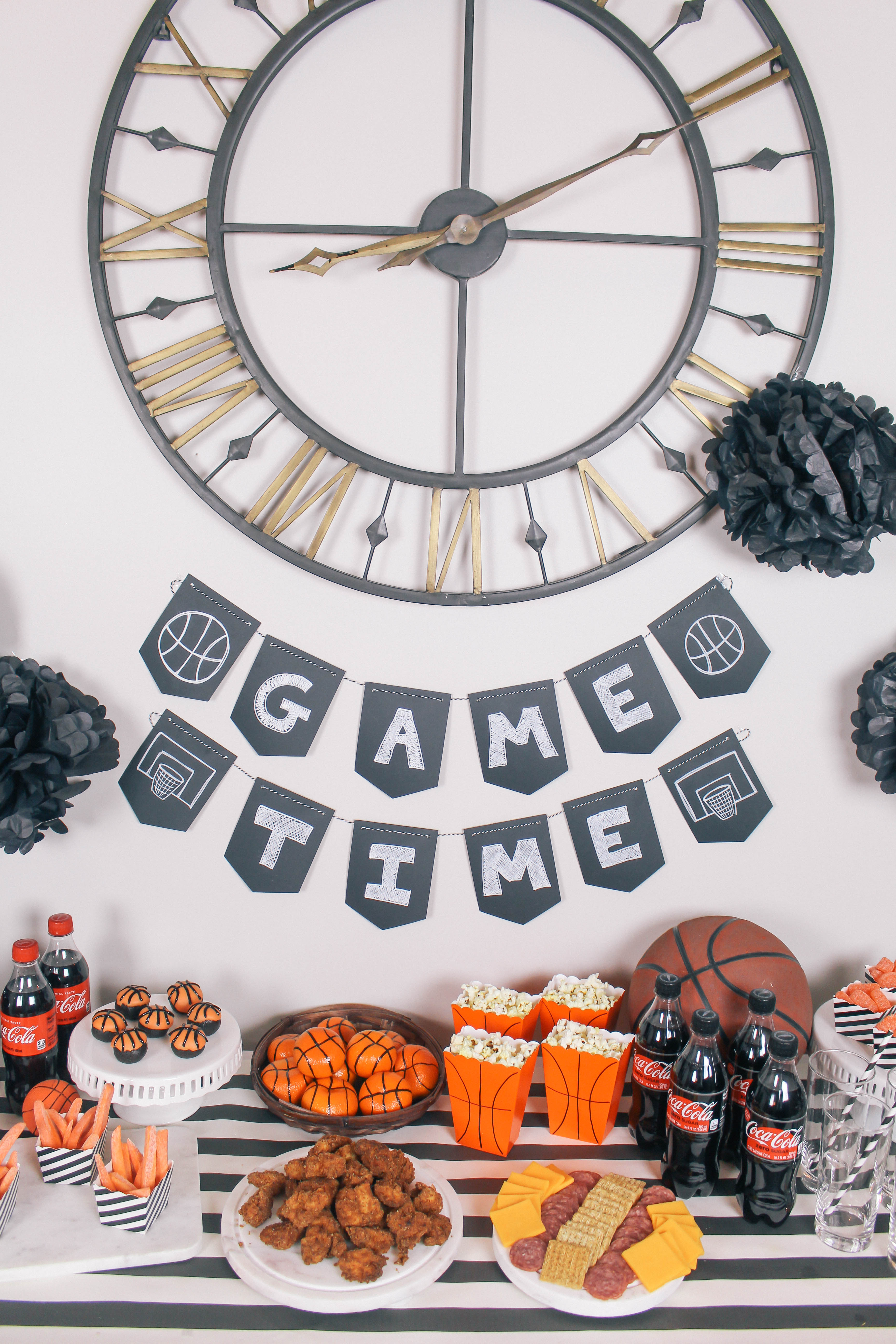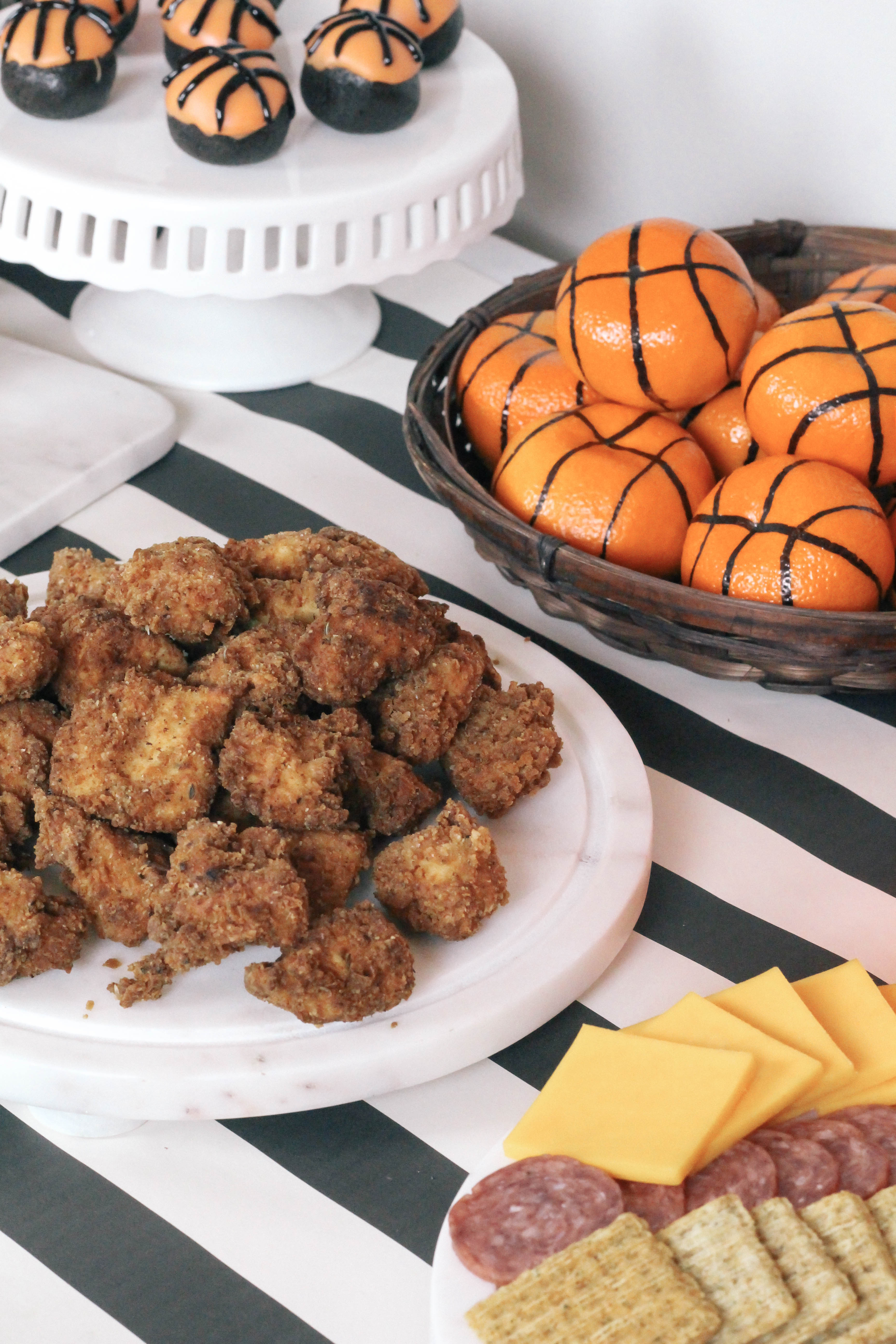 For a few extra decor touches, I used a black sharpie to draw seamlines on tangerines so that they looked similar to stitches on a basketball.  I laid out a black and white paper table runner to mimic the stripes from a referee's jersey.  The black tissue paper pom poms made a great accent around the table to add a punch of texture and dimension to my tablescape.  The pom poms can be easily picked up at a store like Target while you are grabbing all of your other party supplies, or you can make them yourself if you have some tissue paper handy that matches your party color palette.
Regardless of the route you take, you can easily transform some of the most basic party items and delicious ingredients to make your party basketball ready!