A Lowcountry Girls Weekend:
There's something about packing a bag and getting out of town with a few of your best gal pals that makes you feel like there's a weekend of fun and exploration ahead.  So when we revamped my family's beach house in Beaufort, SC earlier in the spring, I knew a girls weekend getaway was on the docket before the end of this year.
Just before the temperatures dipped and the leaves started to drop this fall, I gathered up my girls (Erica from Eating With Erica & Kelly from Kale Me Kelly) and headed to Beaufort, SC for the weekend.  Our weekend started with a deliciously southern breakfast dining al fresco at the local's favorite Blackstone's Cafe.  Opened for over 25 years and locally owned, Blackstone's keeps this down-to-earth cafe outfitted with over 230 various flags for decoration which started with a simple college flag. To add to the quaintness of this local dig, the staff says the pledge every morning at 8 am.  How patriotic is that!?!?
After breakfast, we decided to venture around Beaufort and take in the gorgeous view from the waterfront.  We ended up visiting Beaufort on a quiet weekend, but there are always so many festivals on the calendar throughout the year and they are definitely worth checking out if you're in town.  A favorite of mine growing up was attending the Beaufort Shrimp Festival held every year at the Henry C. Chambers Waterfront Park.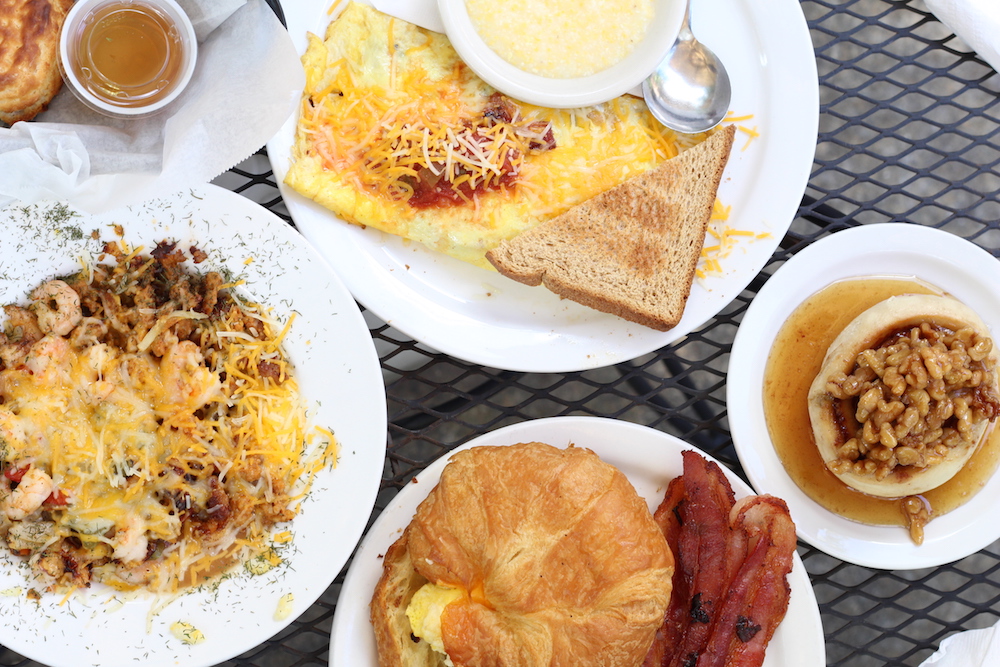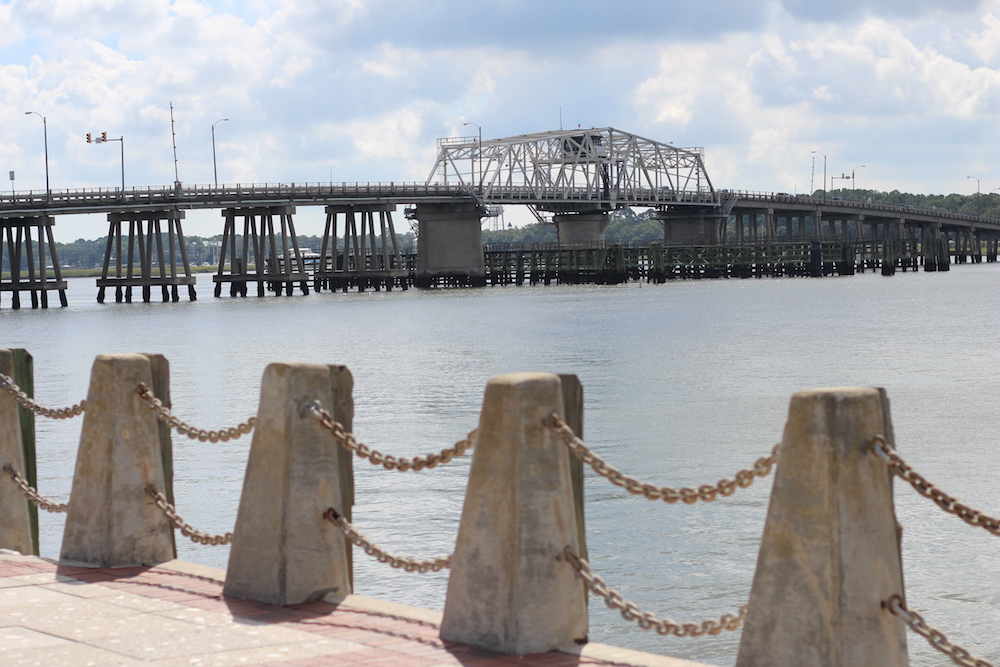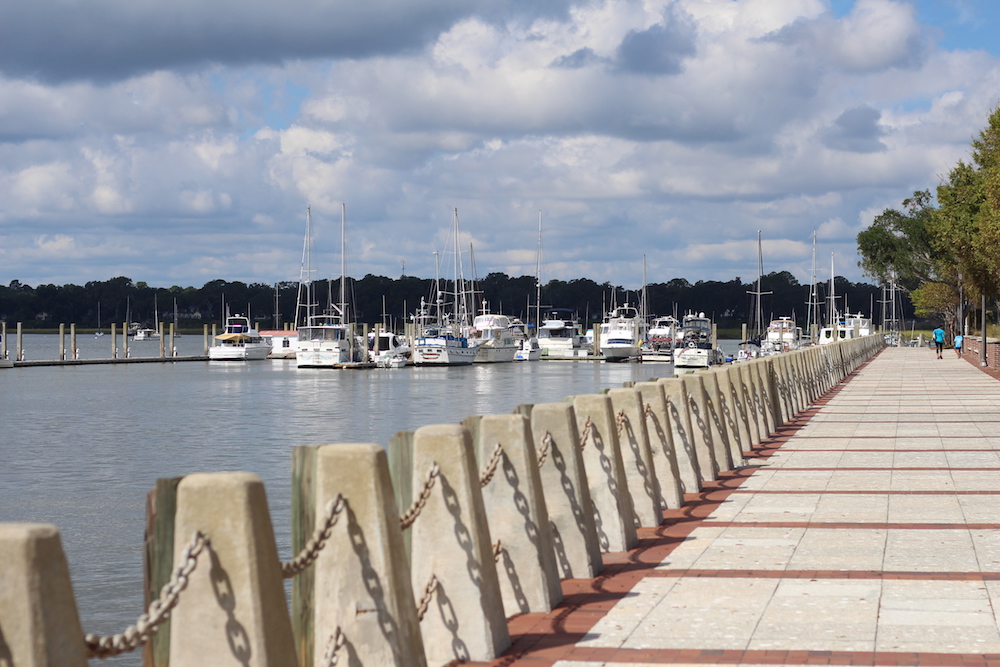 Next, we headed over to the Habersham community to check out the most darling little dining spot called 10 Market.  We had the pleasure of meeting the Father-Son-Founders who created and operate this cozy little restaurant right in the heart of the Habersham marketplace.  10 Market was developed to incorporate the taste of fine dining with the feel of an "at the counter" / casual lunch & intimate dinner destination.  In addition to a fantastic menu selection like some phenomenal acorn squash soup, one of the unique things from 10 Market is their fun play on unexpected flavors like offering punched up popcorn as a side.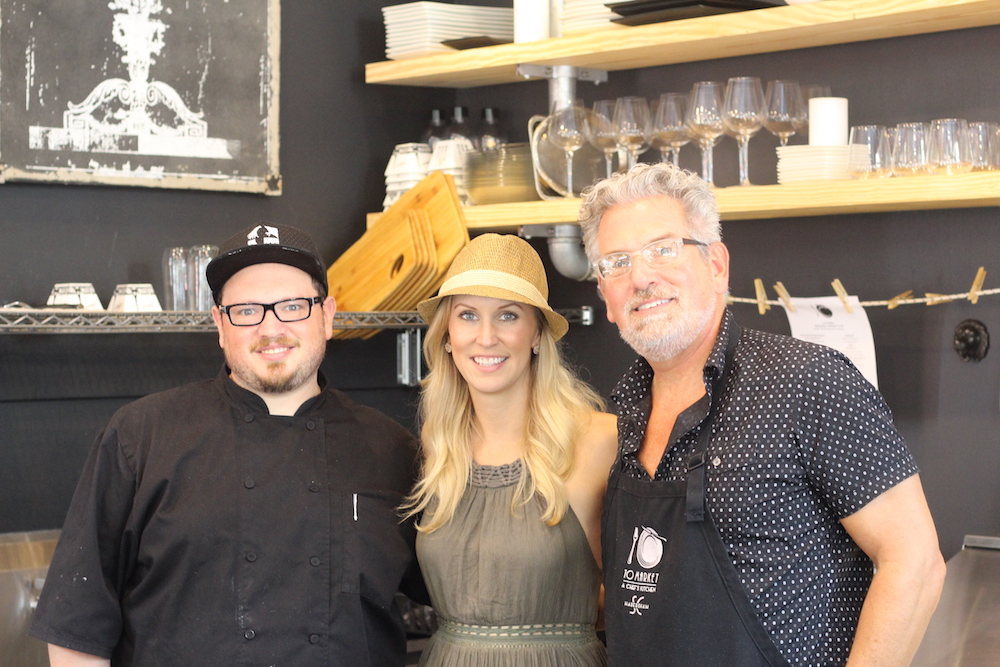 We popped into Scout Southern Market to do a little low country shopping in one of Beaufort's most adorable home decor destinations where we had to try their original Sweet Tea Float.  A mix of two scoops of sorbet topped with sweet (or unsweet) tea will deliver the most intoxicating and refreshing signature southern indulgence.
Of course, it doesn't hurt that some of the fabulous blue & white chinoiserie for sale at Scout was a perfect match for my own living room decor style.  Talk about another spirit animal for me 😉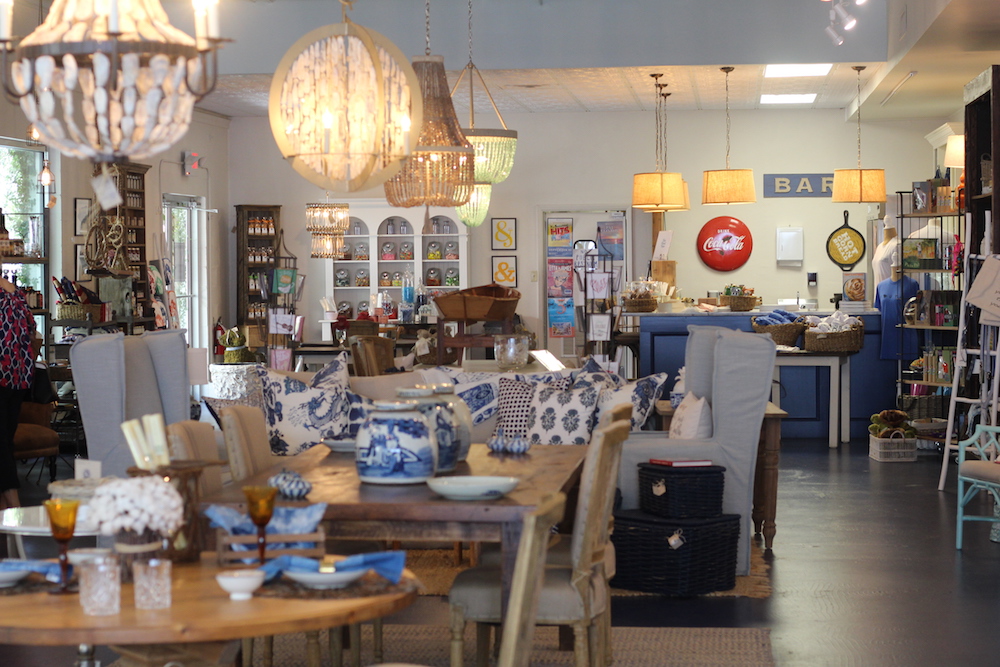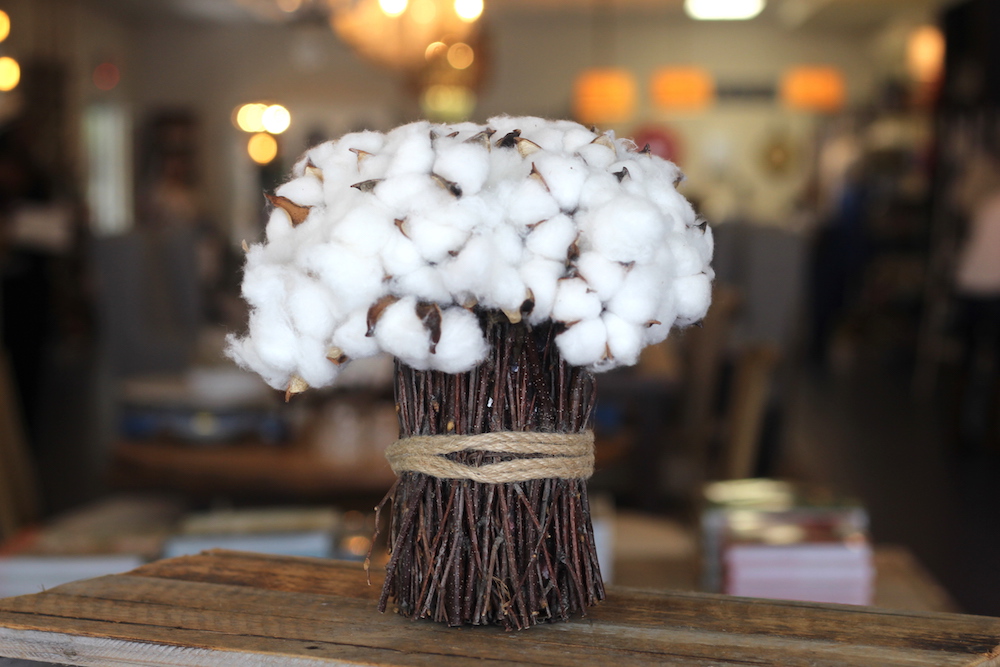 A short drive down the road to the boat landing just off the end of Hunting Island, we met up with Eric, owner & guide of The Kayak Farm.
After a quick rundown of the gear and our game plan to paddle around Fripp Inlet, we jumped in our kayaks and were on our way.  The salty air was invigorating and the waves beckoned us to explore.  We were blessed with the perfect fall day as we spent hours kayaking under the rays of the sun.  Eric gave us great insight on kayaking in fresh water vs. salt water, along with loads of other tips for enjoying nature and exploring Beaufort, and even showed us a few fun kayaking tricks!  Taking an excursion with The Kayak Farm is also a really great way to burn off all those calories you enjoyed from stopping by The Chocolate Tree – a must visit for delish sweets!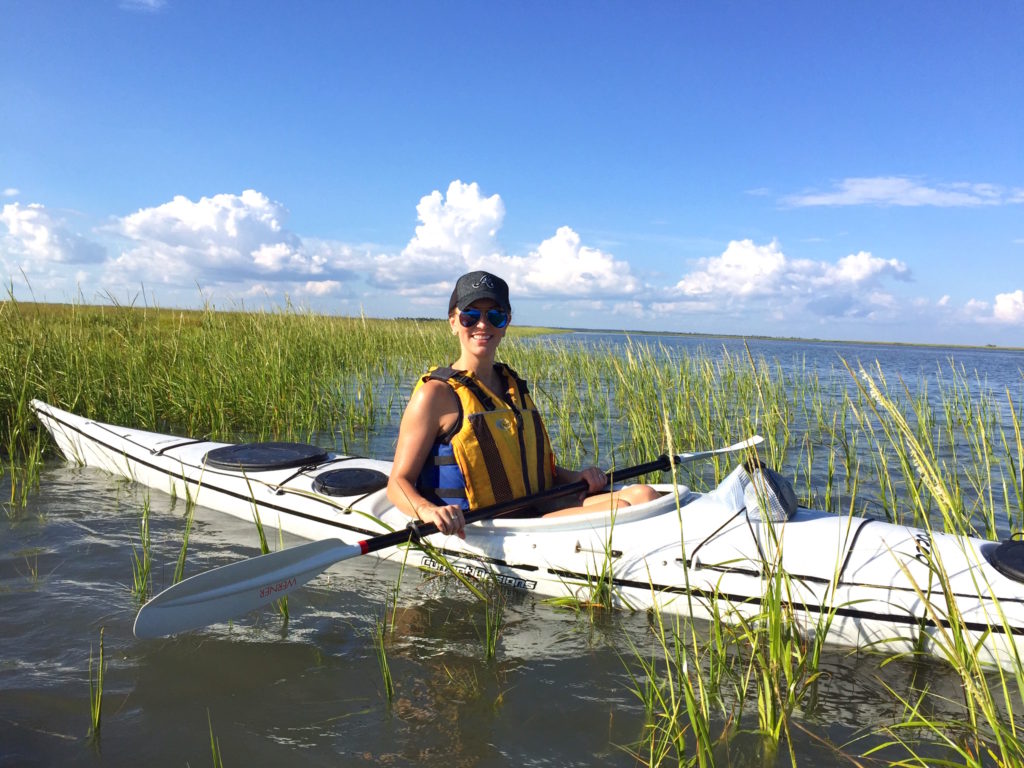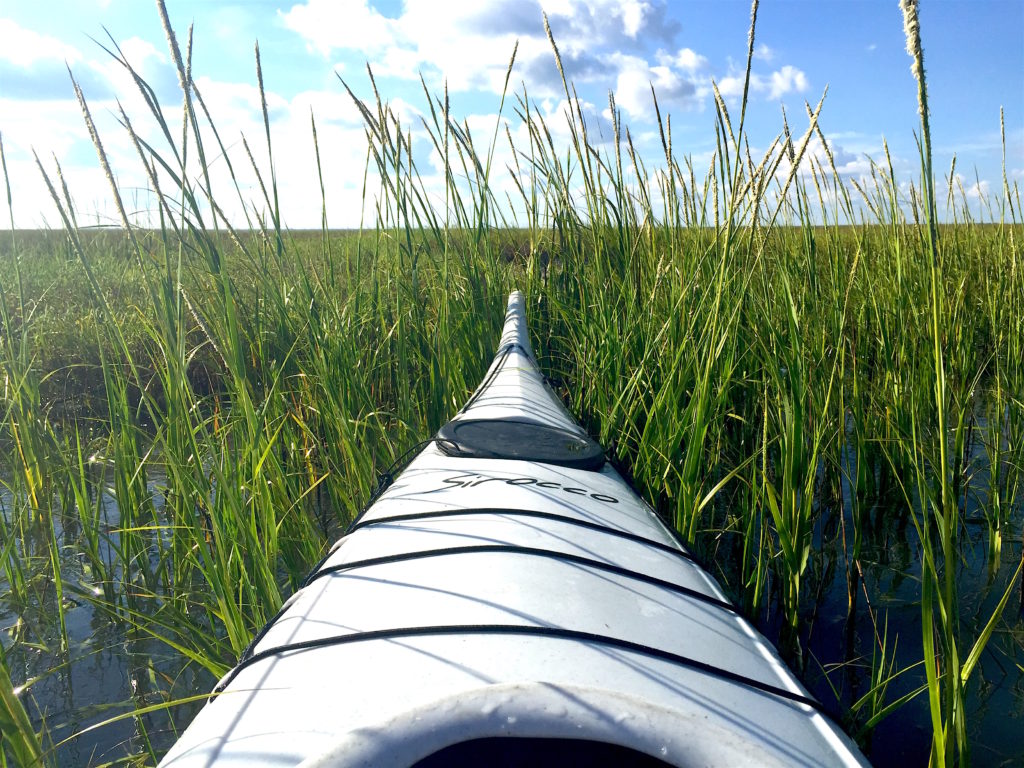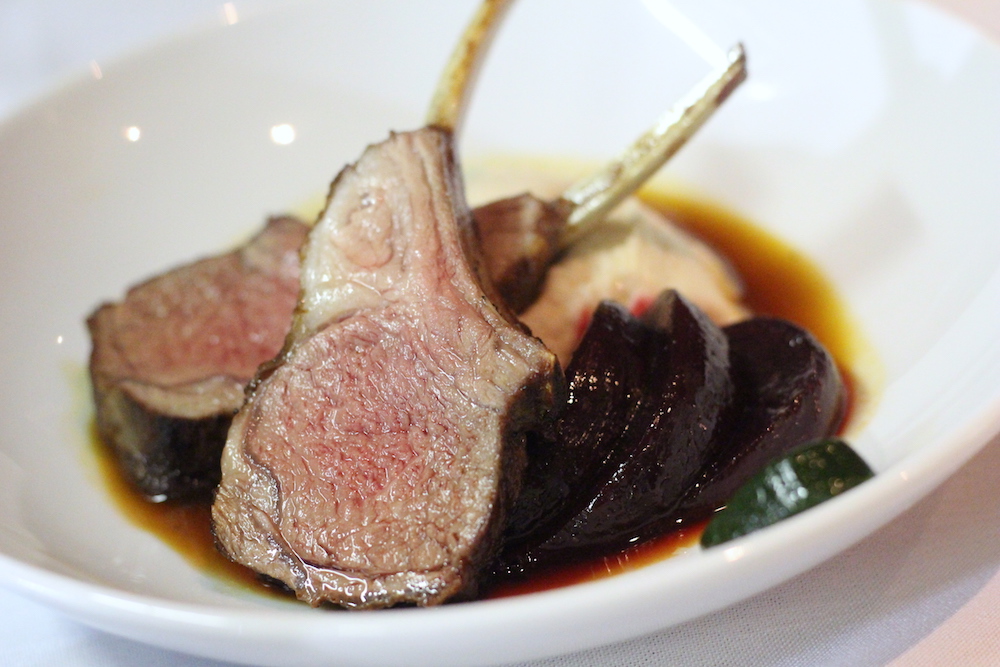 After freshening up after kayaking, we headed back into Beaufort for dinner to sip on a little red wine and enjoy some of the best dining available in this charming coastal city, Breakwater Restaurant & Bar.  With juicy wagyu beef sliders, a pimento cheese plate, southern fried shrimp, lamb chops, and so much more… this is the place for a great southern style meal.
♦ ♦ ♦
The next morning, we ventured back over to Hunting Island State Park for a quick look at the lighthouse and a refreshing walk on the beach before heading to brunch in Beaufort and hitting the road home.  We actually ended up having another gorgeous day of beautiful weather as we explored the island.
Thankfully, we had the pleasure of seeing the state park the weekend before Hurricane Matthew blew through this fall.  Unfortunately, the park is closed through the end of the year, but you should definitely plan to stop by next year when the park reopens – especially to climb that lighthouse with such an amazing view!!!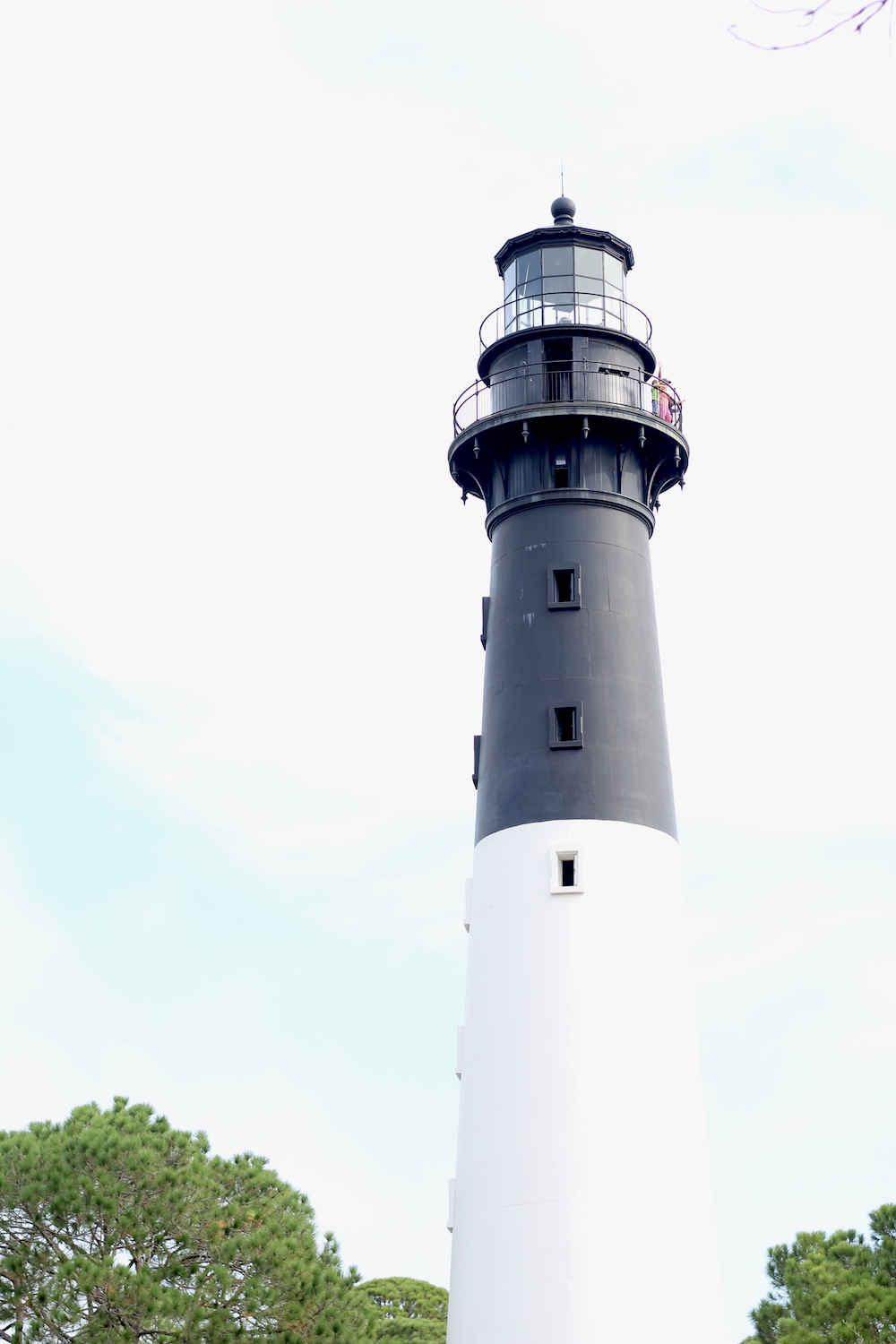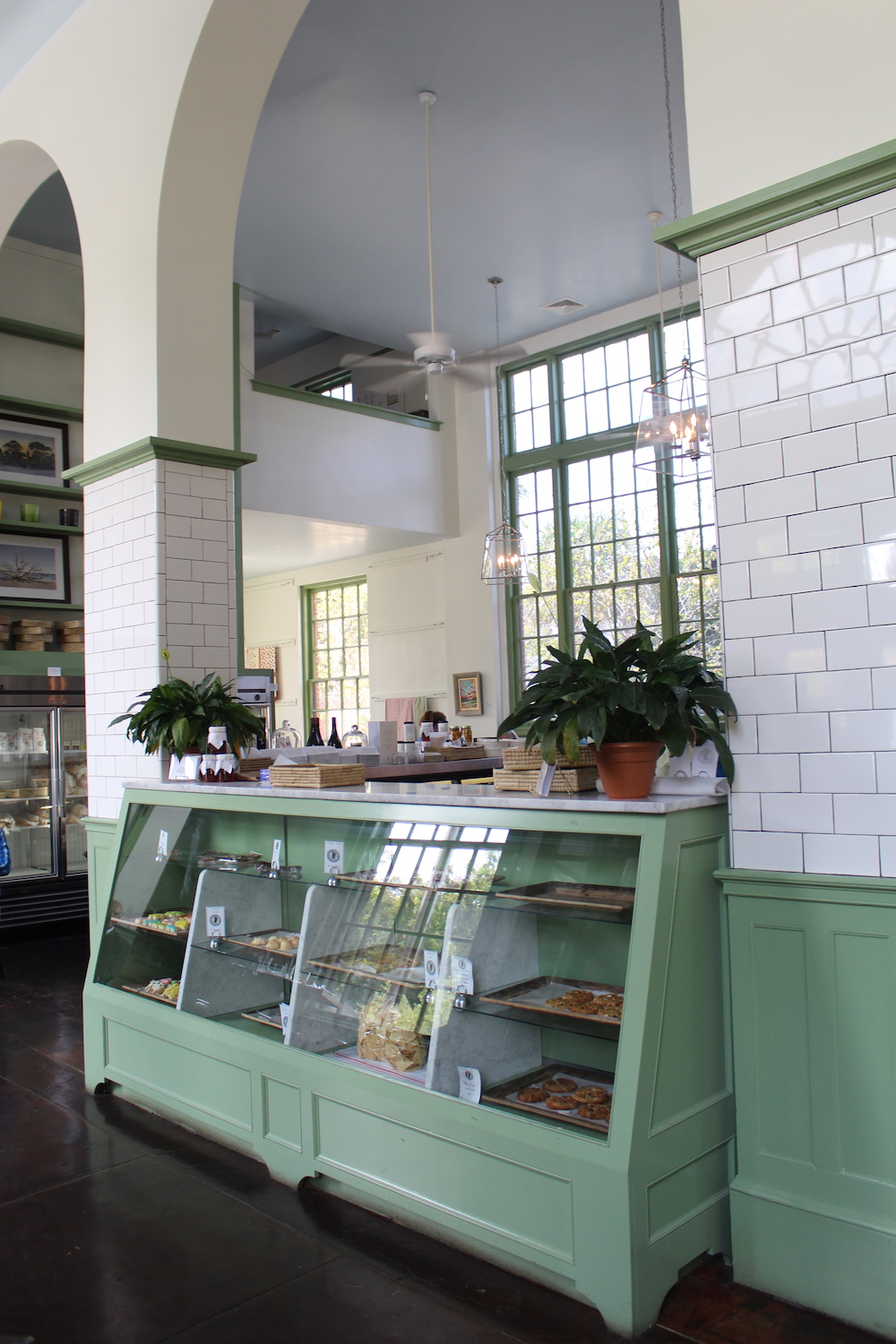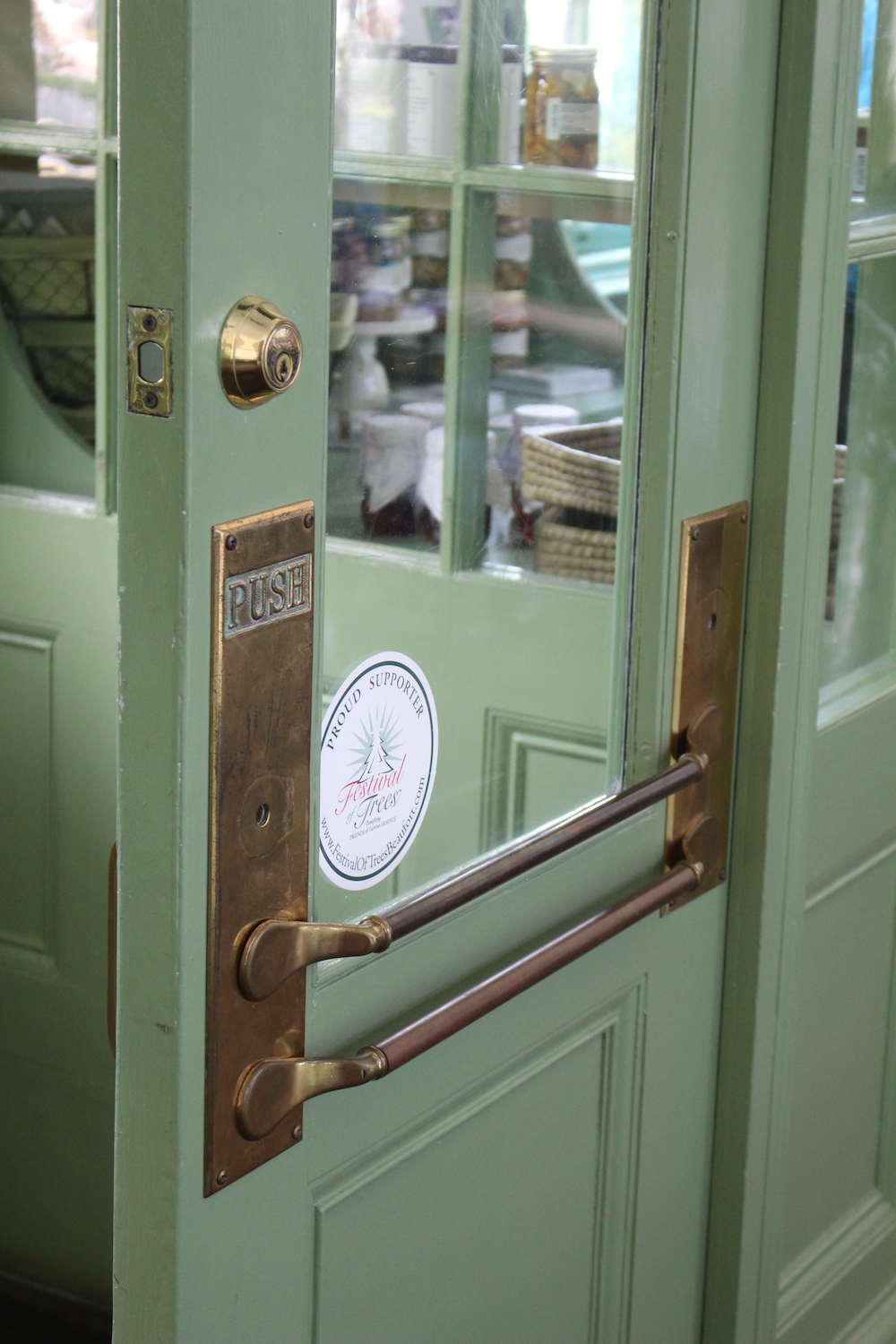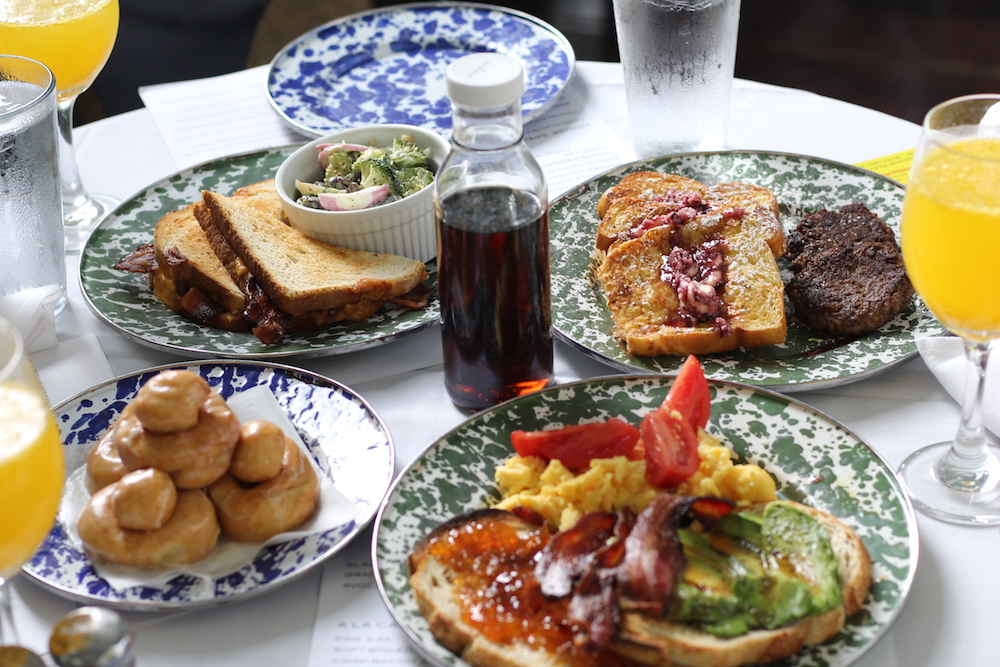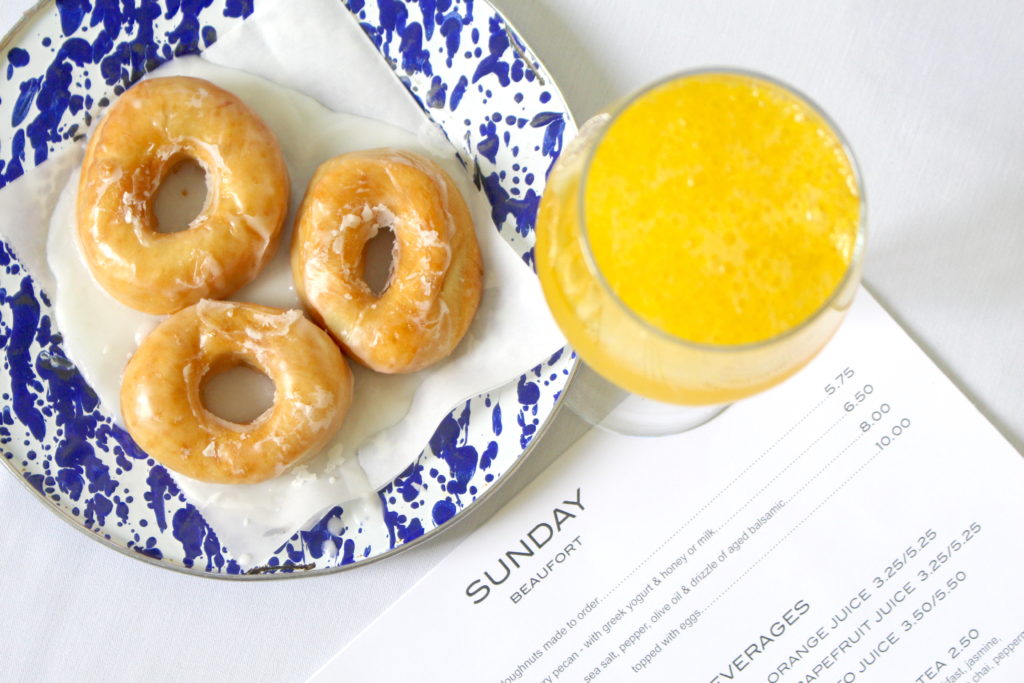 On our final stop in Beaufort before heading home, we dined at Lowcountry Produce for a bountiful brunch complete with mimosas and the most adorable interior design I've seen.  I've always been a sucker for great architectural design especially if involves arches, and the perfectly pleasant pea green & subway tiled interior look inside Lowcountry Produce was delightful.  Trust me when I say those donuts literally melt in your mouth!  And how cool is it that Lowcountry Produce is actually operating out of the former post office and city hall… Can we say history buff?!
So the next time you're looking for a charming coastal town getaway, check out Beaufort, SC.  Everything you can think of doing in the quaint low country is available from kayaking and eating (+ drinking) at delicious local joints, to fishing & paddle boarding, shopping, or even checking out a wide variety of historical, jogging and film scene tours (…here's looking at you Forest Gump).  You can see the full video recap here or check out more from Beaufort by following them on social media too: Facebook, Twitter, or Instagram.