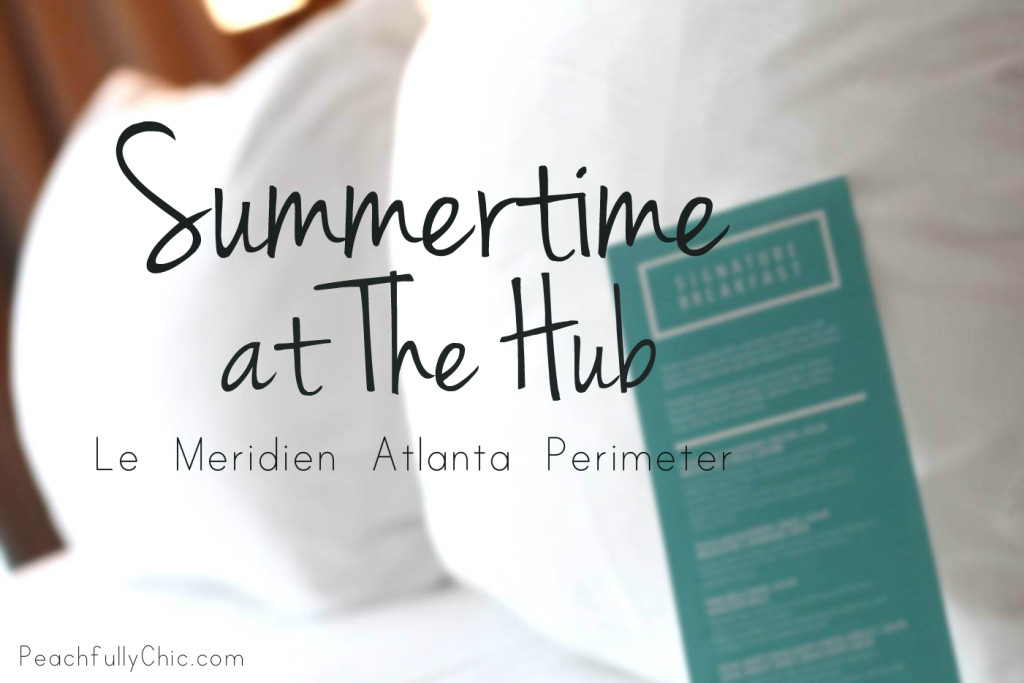 OTP Style Fun:
If you're a familiar with Atlanta, you might have heard the term "OTP" or "Outside the Perimeter".  The perimeter in this case refers to I-285 that circles Atlanta.  There are always those people who have strong feelings about crossing the Perimeter… some who live outside the Perimeter don't want to deal with the intensified traffic as you get closer to Buckhead, midtown, or downtown Atlanta; and some who live inside the Perimeter that rarely cross outside into suburbia.  But I'm now challenging everyone to think outside the border, and realize there are perks that you can find both inside and outside of the Perimeter.
One of the biggest perks to venturing outside the Perimeter, is that you get to enjoy some cool new developments that really raise the standard of luxury.  And right at the border of Route 400 and I-285 you'll see exactly what I mean.
Beyond the great shopping found at Perimeter Mall, the many headquarters of various corporate companies (ie: the new Mercedes-Benz USA is moving in!), the impressive restaurants, and more…. you'll find the first Le Méridien in Atlanta.  The new Le Méridien Atlanta Perimeter is part of Starwood Hotel & Resorts, and mixes contemporary culture with its European heritage to bring an upscale boutique hotel to the area.
Last week, I had the opportunity to partner with some of my blogger besties, Eating with Erica and Kale Me Kelly, to host a fantastic evening of delectable bites and innovative cocktails at Le Méridien bar & lounge, Longitude 84, called "Summertime at the Hub".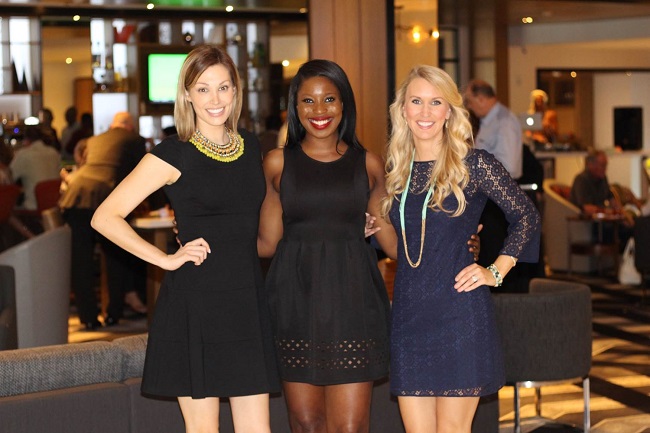 Le Méridien Atlanta Perimeter provides a modern sophisticated take on the standard happy hour.  We started off with a variety of cheeses, honeycomb, and some fruits.  Then taking cocktails a step further, the team at Le Méridien featured a full bar with specialty options for vodka and whiskey and mixers to meet everyone's taste-buds.
I loved the jumbo ice spheres!  They were so neat and slow melting – perfect for preventing watered down cocktails!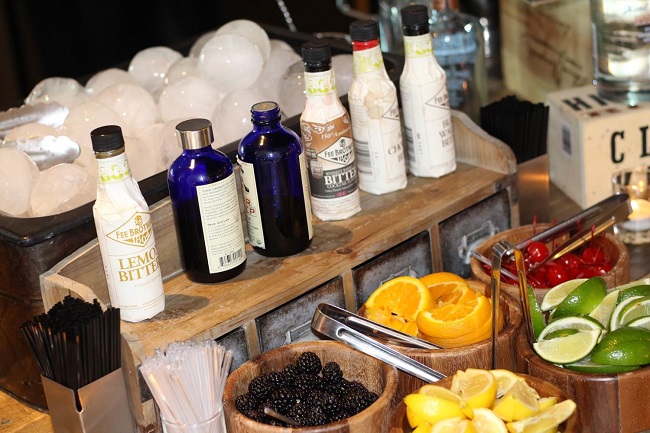 Following the theme of "Sumertime at the Hub", Executive Chef Fabien Biraud featured a variety of summer inspired delicacies.  We were treated to a full display with tomato being the main ingredient.
The menu was as followed: 
Georgia Heirloom Tomatoes served with fresh mozzarella, Honeycomb and Crispy Shallot
Extra Virgin Olive Oil (from Georgia), Balsamic Vinegar and Micro Basil
Roasted Albino Eggplant, Cherry Tomatoes
Pomegranate oil and Seed
Tuna Tartar
Sesame Cone, Shallot, Chive and Avocado Cream
Bonito, Tomato Confit
Roasted Tomato Soup
Onion, garlic, Tomato (grilled and baked)
Extra Virgin Olive Oil, Vegetable broth
Tapenade
Green, Black Olives
Roasted Pepper, Garlic, Olive Oil and Xeres Vinegar.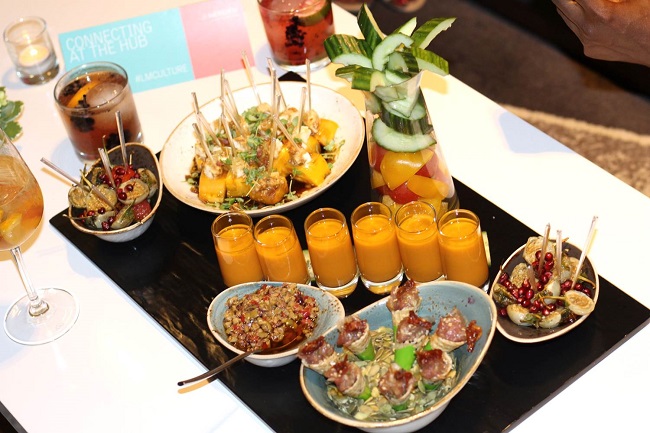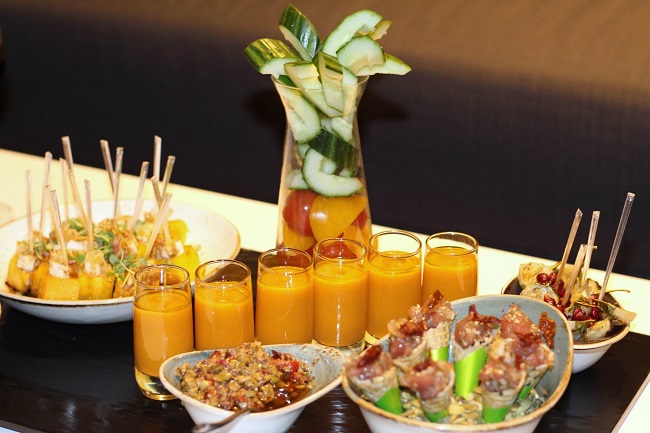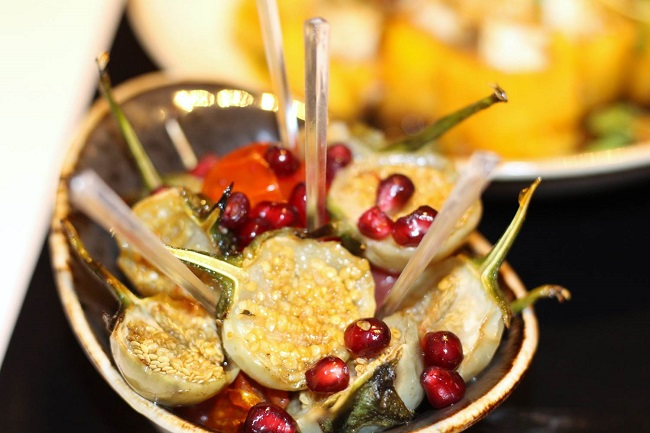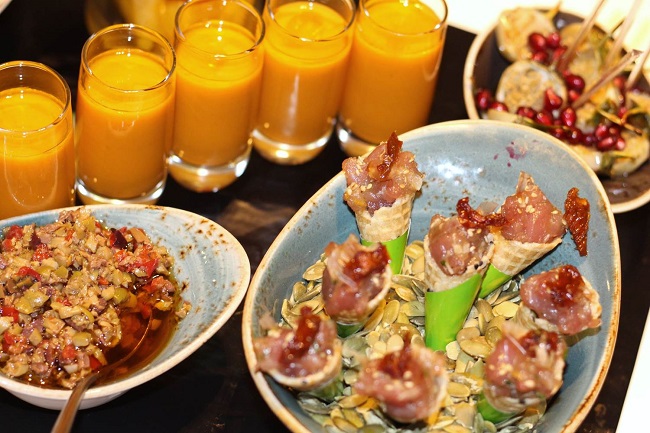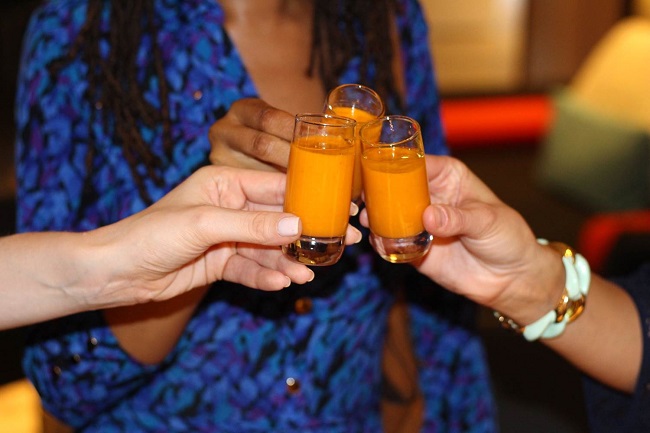 (L-R: Kelly, Chef Biraud, Erica, myself)
The food was delicious and we had a tough time picking our favorite.  We also snagged a photo with Executive Chef Fabien Biraud after he ran through the tasting details with us.  It was fun to hear his take on the cuisine offerings and to find out that he's actually responsible for choosing and sourcing food for the entire Le Méridien Atlanta Perimeter hotel, their bar & lounge, Longitude 84, as well as for Portico, the beautiful Global Cuisine restuarant in the hotel.
As if I were not stuffed enough, I then headed over to the Charcuterie station to grab a small plate of tasties.  When there are a variety of prepared meats and other types deliciousness to try… I can't really turn that down!
After I had fully indulged in scrumptious bites and some creative libations, I dipped away for a quick tour of the rest of the hotel.
I think I'll have a plan a staycation one weekend where I'll give you the full recap of the rooms and amenities, but for now… here's a sneak preview.
And talk about calming… I'm sure you'll find a tranquil place to unwind and take relief from the heat of the Georgia sun at the picturesque outdoor pool!  I can already imagine a relaxing day under one of those cabanas… with a cocktail in hand of course! 😉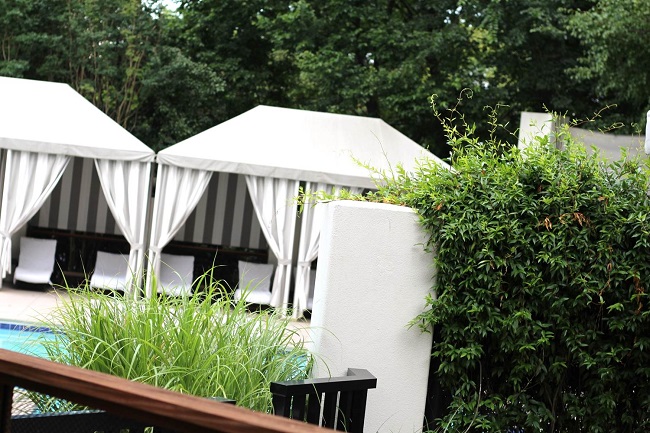 This darling Four Diamond Award hotel features over-sized deluxe rooms and suites (the only hotel in Georgia to offer two King bed suites!), a smoke free environment (woo-hoo!), and the most important in my book…. DRUM ROLL……  They are pet friendly!!!!!
This means the next time I plan my staycation in Atlanta, I've got a small partner in crime named Berkeley that can join and keep me company!  😉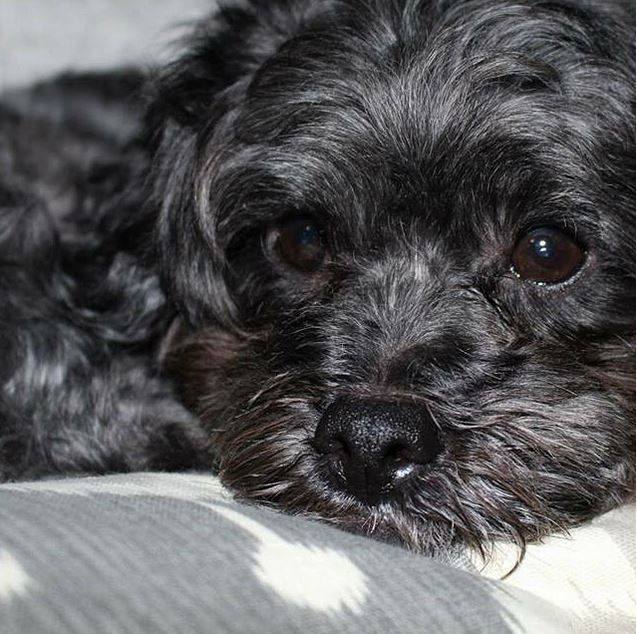 After the tour, we headed back to the lounge to wrap up the night with another cocktail and some fun creativity.  As a sometimes artist myself, I love that Le Méridien encourages the unfolding of creativity and a new perspective by offering guests unexpected and original experiences that will enhance their stay.
While we were there, a large canvas collage was set up for everyone to grab a brush and some paints, and contribute to the design!
Of course I had to join in… and I went straight for the blue paint (my favorite color!).  Everyone added their own touch here and there, and although I didn't grab a photo of the finished product at the end of the night, it was so much fun seeing this giant piece of art come together by some many different hands!
Remember that photo I shared above of the relaxing poolside cabanas?  The image outline on the canvas was designed afterLe Méridien's own poolside!
After a little more painting, I grabbed a few more drinks and photos with friends and enjoyed the rest of the night listening to music from DJ Hands of Grace.
I left the evening having had so much fun and really being so impressed with Le Méridien Atlanta Perimeter.  This was my first time visiting and while I'm not traveling from out of town, as I mentioned before, I can imagine this would be a wonderful place to stay.
If you're interested in following along on all their updates and knowing just when the next event takes place at the Hub, you can follow Le Méridien Atlanta Perimeter on twitter @lemeridienatl and on Facebook.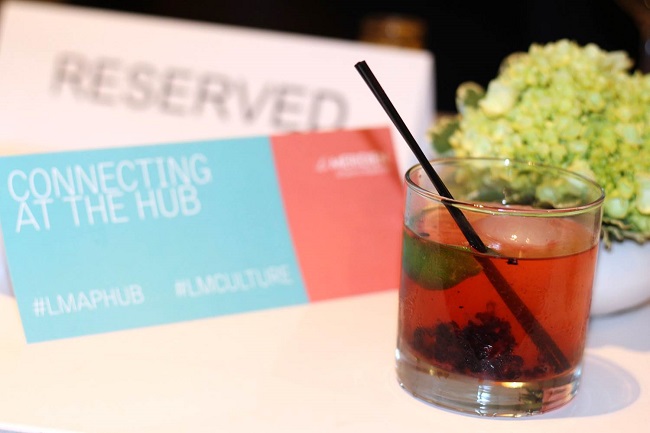 My takeaway is that regardless of whether you're visiting Atlanta or you're a native… if you're looking for a modern punch on the classic happy hour, you should check out Le Méridien Atlanta Perimeter.  They've really kicked it up to a new level of indulgence!
And hey… you don't have to twist my arm to meet you for a drink at Longitude 84, or even perhaps dinner at Portico?  I don't mind crossing the Perimeter for a good cause 😉
So if there are any other must visit Le Méridien locations out there with great staff and digs, please let me know… I'm pretty sure I need to check those out too if they lead anywhere close to the fun I had at  Le Méridien Atlanta Perimeter!