Healthy Fried Rice Alternative:
While I love the feeling I get from working out and staying fit, since I was raised in the south where butter basically debuted as it's own side item, eating a healthy diet has always been something I have struggled with.  I love a great meal, but I'll never be the person to say that I have a sophisticated taste palate.  Thankfully I have a fantastically talented hubby who helps keep me on track and loves innovating with healthy new recipes in the kitchen.   Remember when we made that fun zucchini pizza and zucchini fries?
Well now I've got a healthy alternative to fried rice.   It's actually quite similar in texture and taste to fried rice, but we subbed-in cauliflower instead!   Yep, you heard that right.  Healthy homemade cauliflower fried rice.  Yum!
---
Ingredients:
---
1 Head of Cauliflower
3 Whisked Eggs
Shredded Carrots
1 Frozen Package of Peas
Mushrooms
Finely Chopped Onion
Finely Chopped Garlic
Olive Oil
Salt
Soy Sauce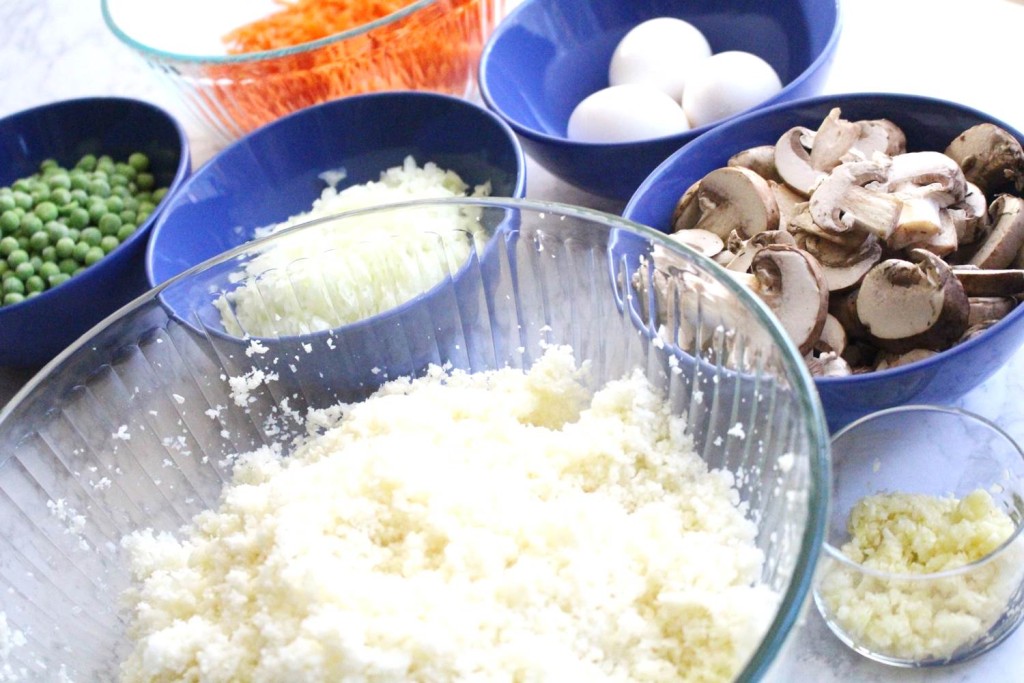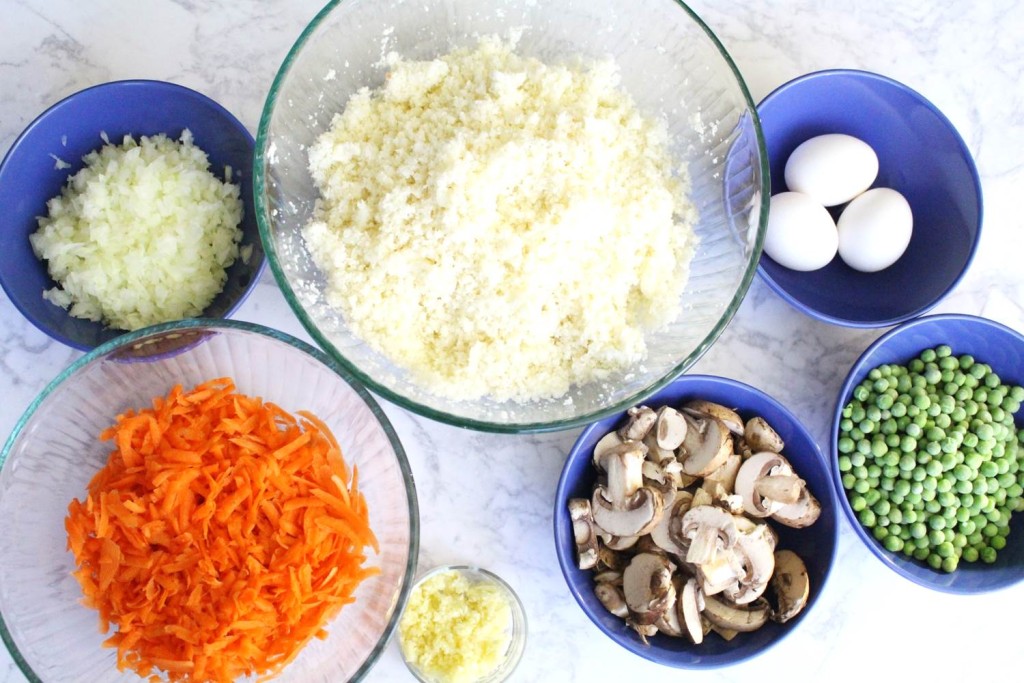 ---
How-To:
---
Cut up the cauliflower into small florets and add them into a food processor.  Chop/Grind the cauliflower into "rice" like consistency.
NOTE: We had a small food processor, so we actually filled and chopped the cauliflower several times in small portions.  If you add too much to the food processor at one time, the cauliflower will turn mush at the bottom before you chop the top portion.
Heat 2 tablespoons of olive oil (you can sub in coconut oil if preferred) in a large skillet or wok. Add in the cauliflower and cook on medium heat, stirring regularly to prevent it from burning!
In a separate skillet or wok, add 2 tablespoons of olive oil over medium heat and add in the mushrooms, garlic, onion and carrots. Let cook for 2-3 minutes stirring regularly then add in the peas.  Cook 5-10 minutes or until mushrooms, carrots, and peas are soft and edible.
Drain the mushrooms, carrots, and peas. Add them to the cauliflower.
In a separate skillet, add 2 tablespoons of olive oil over medium heat and add in the eggs. After a few seconds of letting the eggs cook, gently stir them into scrambled eggs making sure they are not too clumpy. After they are finished cooking, add the eggs to your cauliflower.
Add in 2 tablespoons of soy sauce to the cauliflower mixture, and then cook for an additional 2-3 minutes all together. Add salt to taste as needed.
Serve & Enjoy!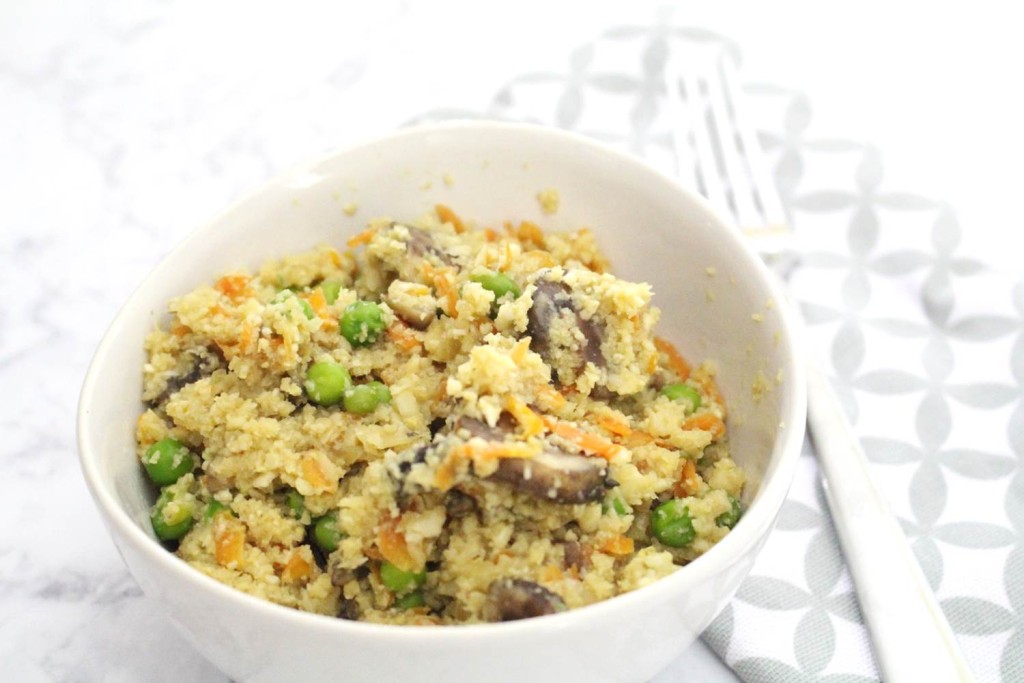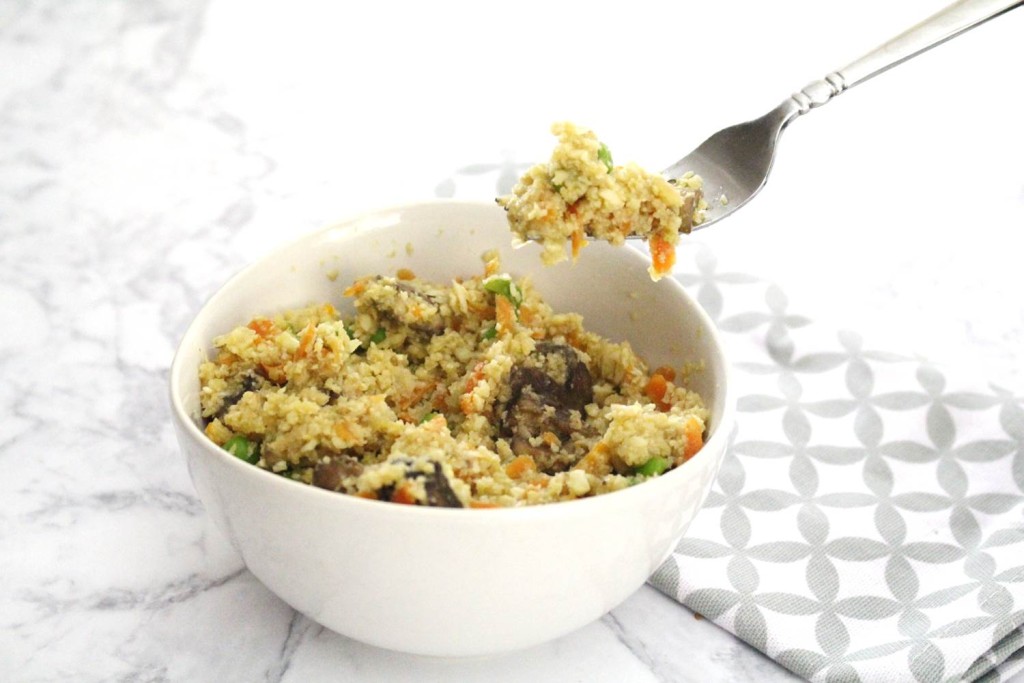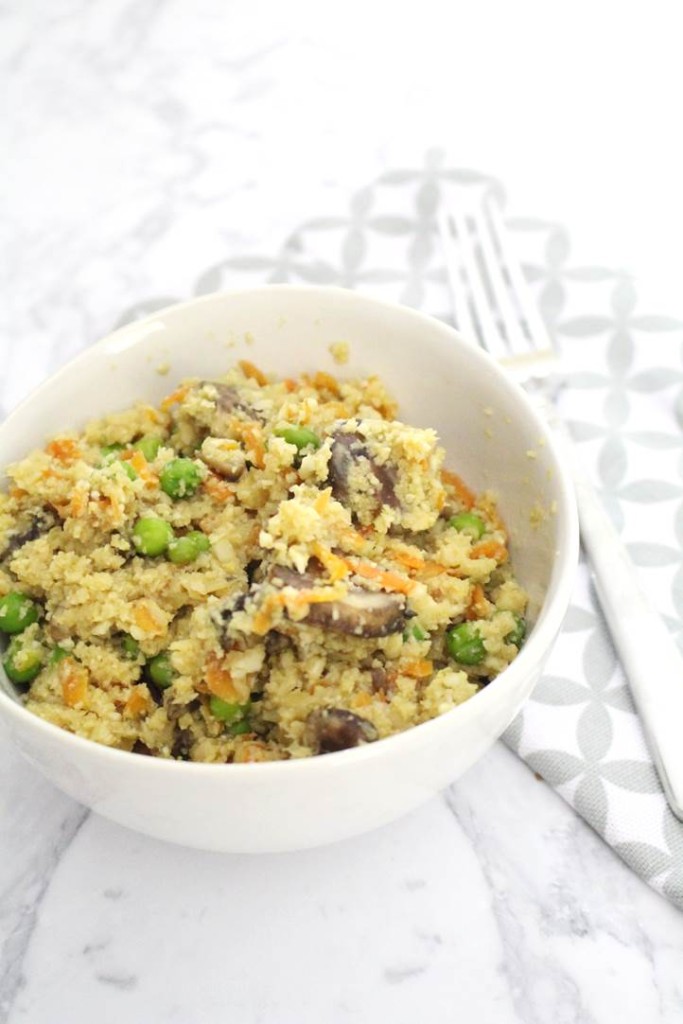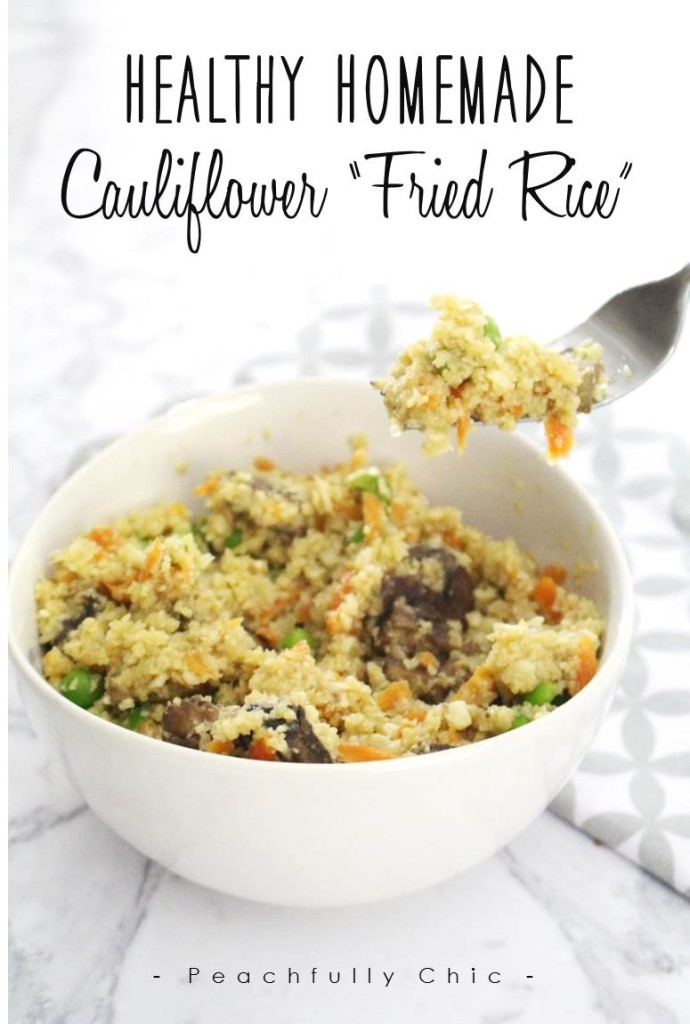 This is seriously my go-to meal fix for any night I'm craving fried rice.  If you are looking to add a protein of some sort, we've added grilled chicken to this Homemade Healthy Cauliflower Fried Rice recipe and we've also tried ground turkey as well – both have been delish!  Next time I might even try adding a little pineapple with some hot sauce to give it a sweet & spicy twist!
Do you have any go-to meals that you substitute cauliflower in like this homemade cauliflower fried rice?  Share your recipe below!!