Healthy Taco Night:
Just to let you know I'm a taco fanatic. Yep, it's my all-time favorite food and I don't think there's ever a time when I'm not in the mood to throw down a few soft tacos.  I'm the kid who wanted tacos every year for my birthday dinner… and I could literally drink white queso or eat sour cream like yogurt if it weren't socially awkward to do so – not to mention super unhealthy!  So in the spirit of transforming my taste buds and developing healthier eating habits, I've got this Turkey Taco Lettuce Wrap recipe for you that will satisfy that taco craving and not make you want to roll onto the couch and sleep for 100 years.
What You'll Need:
2 tbsp EVOO
1 Clove of Garlic (finely chopped)
1 tbsp Salt
1 1/2 tsp Ground Cumin
1/2 tsp Cayenne Pepper
Pinch of Salt
1 1/2 lbs 93% Lean Ground Turkey
1 bunch Fresh Cilantro (finely chopped)
1/2 cup Green Onions (finely chopped/sliced)
1/4 cup Red Peppers (finely chopped/sliced)
4 tbsp Fresh Lime Juice
2 Avocados (diced)
1 pack Cherry Tomatoes (sliced in halves)
2 Heads of Boston Bibb Lettuce
Optional: Shredded Cheese
(Note:  You can use iceberg, romaine, or any other variation of lettuce – I just like bibb lettuce because it's rounded and can hold the turkey inside the wrap better, plus it's smaller so it helps me portion out my wraps easier)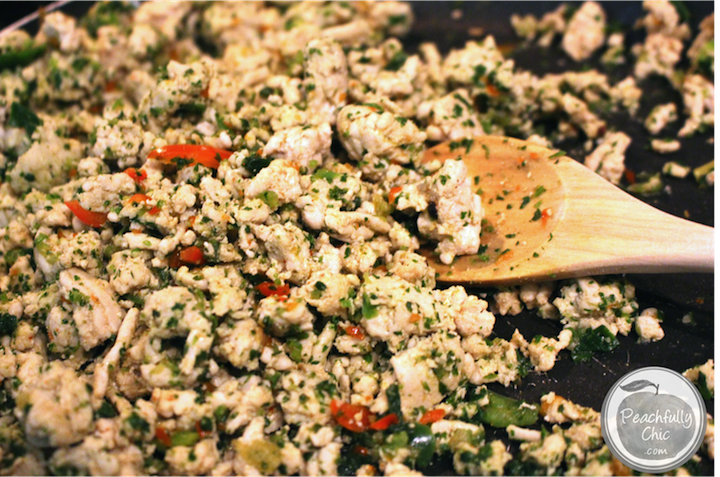 How to Make The Turkey:
Thinly slice the garlic, green chiles, & red peppers separately and then set aside.
Wash and dry the cilantro in a spinner or using paper towels.  Finely chop the and then set aside.
Wash and dry lettuce in a spinner or using paper towels. Set aside the lettuce in the refrigerator.
Heat the olive oil in a frying pan and then add the garlic, green chiles, & red peppers.  S

auté

 for ~2 minutes until slightly cooked (less time needed if using minced garlic or canned chiles).
Add cumin, cayenne pepper, & 1/2 the salt. Then cook for an additional 1 minute.
Add turkey and stir frequently to break apart the meat as it cooks over medium heat.  Cook until turkey is browned – typically takes around ~5 minutes.
Turn off heat, stir in 3/4 of the chopped cilantro, & add 2 tbsp of lime juice.
How to Make The Salsa:
Peel, remove the pit, & dice the avocados. Set aside in large mixing bowl.
Chop the cherry tomatoes in halves. Add to the mixing bowl with the avocados.
Add the remaining olive oil, 2 tbsp of lime juice, pinch of salt and the remaining chopped cilantro.
Fold together all ingredients in the mixing bowl.
Assembly:
Add 2-3 large spoonfuls of turkey inside of a piece of lettuce, & top with a spoonful of salsa.
Sprinkle with shredded cheese (optional).
Enjoy!
And there you have it!  A healthy alternative to my all time favorite. I'm not even a fan of tomatoes most of the time, but these Turkey Taco Lettuce Wraps have so much flavor packed inside each bite, it didn't even bother me!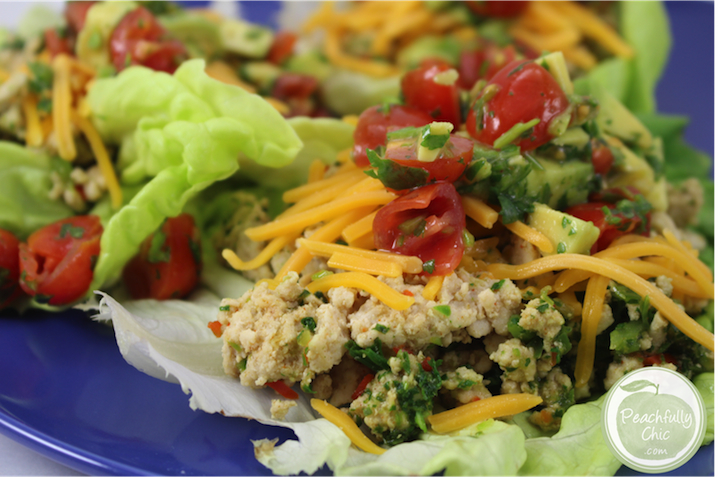 These Turkey Taco Lettuce Wraps will definitely fill you up, but you can always use whole grain tortillas (look for them in the refrigerated section of the grocery store near the cheese) if you need a little something more than just the lettuce.
The colors really pop so these only stand to enhance your next fiesta, or just brighten up your day with a colorful dinner!  Let me know if you've tried these, or if you have any fun alternatives. And don't forget to pin this recipe to make later if you've already got plans for dinner tonight!