Travel Themed Baby Shower:
I won't lie, this has been the year of Baby Showers for me.
Between my younger sister's "Nautical Themed" Baby Shower last spring, my friends' "You Are My Sunshine" Baby Shower, and most recently my bridesmaid's Travel-Themed Baby Shower… you might think I'm about to catch baby fever.
Well not so fast.
I'm not about to make some big announcement that the hubby and I are expecting 😉
But I am going to share the most recent Travel Themed Baby Shower that I hosted last weekend for one of my dear friends, Maria.  As one of my close friends and bridesmaids at my wedding last year, as soon as I found out that Maria was expecting, I called dibs on hosting her baby shower.
Next steps were to determine a theme, and when Maria told me the baby's room would be decorated around an adorable baby chair she found upholstered in this darling aeronautical pattern I knew that was the direction we needed!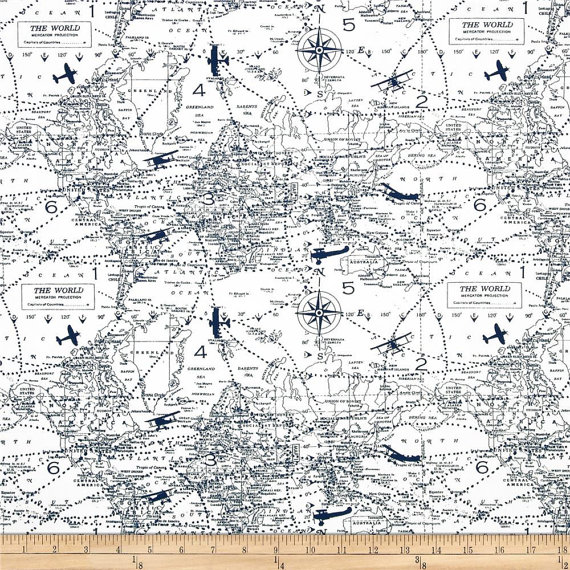 So I immediately searched online to find the matching pattern and ordered 4 yards of the fabric from an Etsy Store Fabric Supply Co. I figured I could use the fabric for decoration at the baby shower with the intention of making pillows or something out of it later for the baby room.
After deciding on a theme and choosing navy, mint green, and gray as the color scheme, I set off to design the invitation below.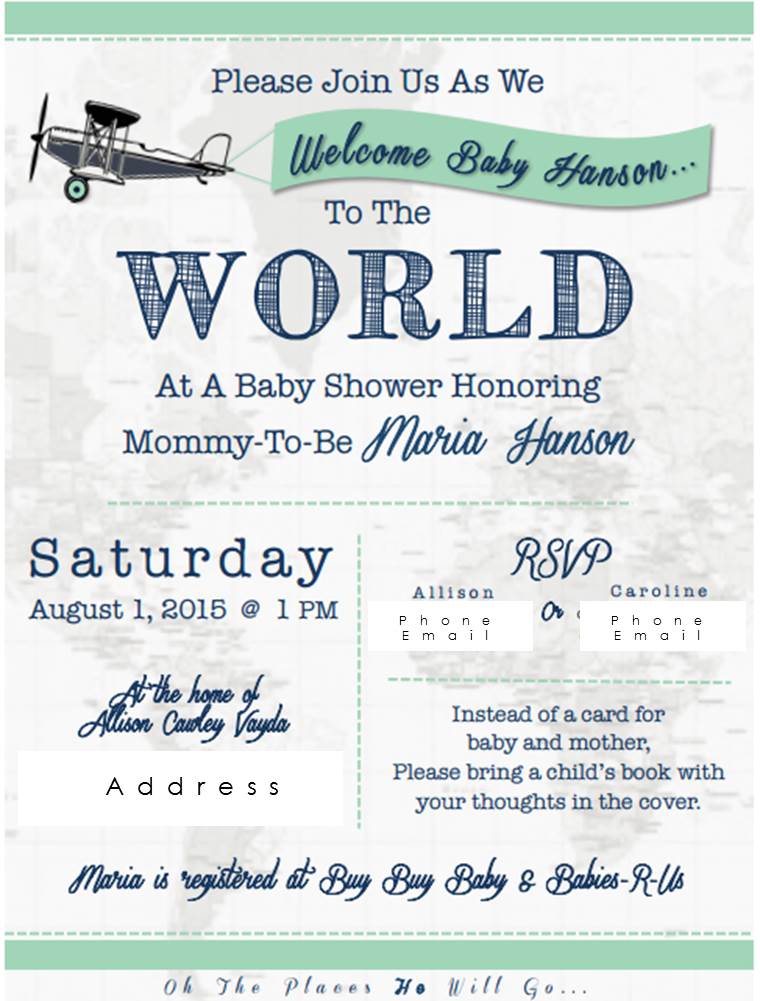 I hosted the baby shower at my house so that Maria didn't have to worry about having that many people in her home right before she has the baby, and since she's only about 10 minutes away, it was super close!
We greeted everyone with a request that they sign a white photo mat that Maria could use in the baby's room.  I'll share the tutorial on how to make the baby's initials next week – it was so easy.  Sticking to the theme, we included a metal painted airplane and small wooden travel emblems from Michaels.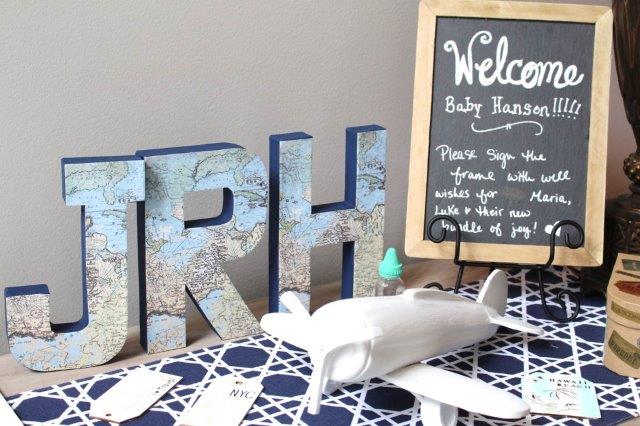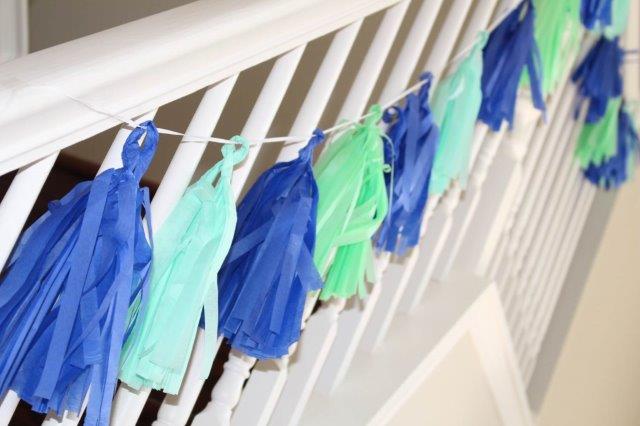 I found old world blue shaded posters online, but you can actually purchase the print above already framed and ready to go here from World Market.
To give the party even more of a travelers theme, I found an old wooden rocking bi-plane on Craigslist that needed some TLC.  I used white Chalk Paint from The Home Depot to give it some new life with a classier look than having the outdated primary colors everywhere.  I'll share the tutorial on that soon so don't forget to come back to check it out!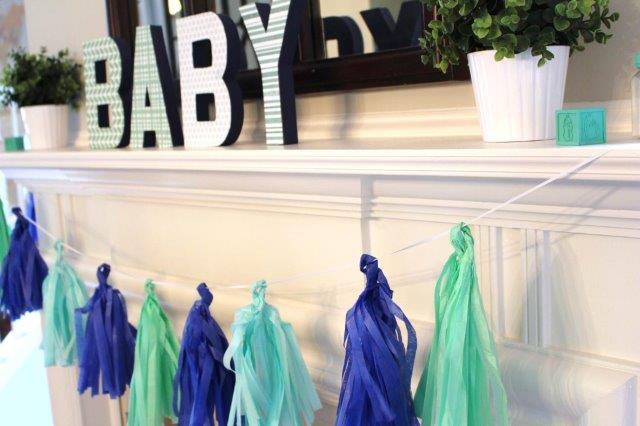 The tassels were made using my new Martha Stewart Fringe Cutter. I was so excited to use this thing and it was definitely worth the small investment.  I'm sure you'll see a lot more from this in future posts!
We painted the cheapy baby blocks, bottles, and pacifiers that I picked up from Michaels to match the mint green decor.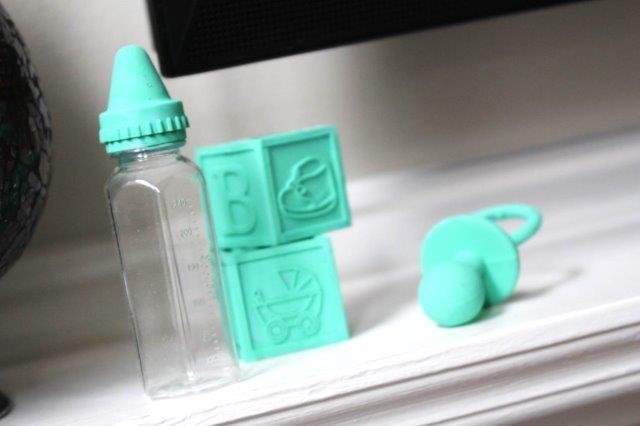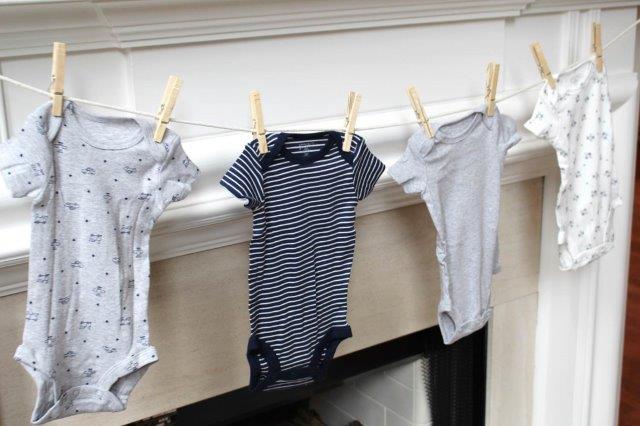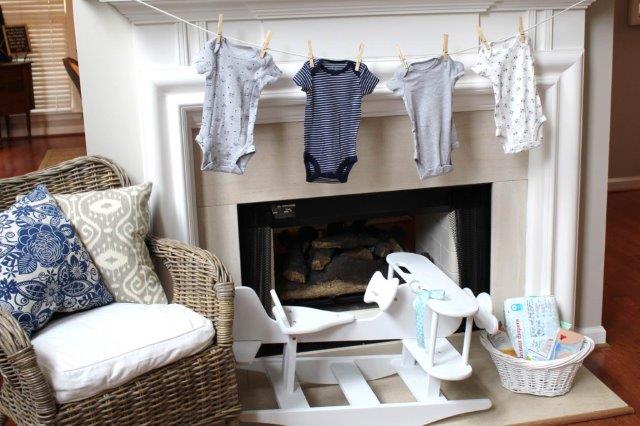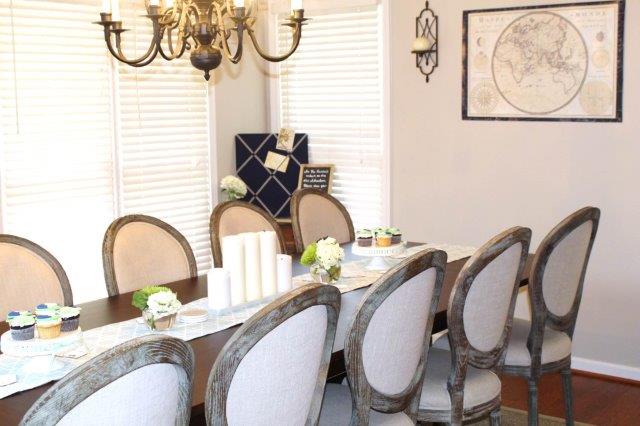 We included an area where guests could design baby bibs for the new bundle of joy.  We thought it would be easier than trying to have guests use fabric markers to draw their own design.  It turned out really well and some of the bibs were adorable!
It was nice to have a fabric marker available though, so guests could sign the back of the bibs when they dropped them into the finished basket.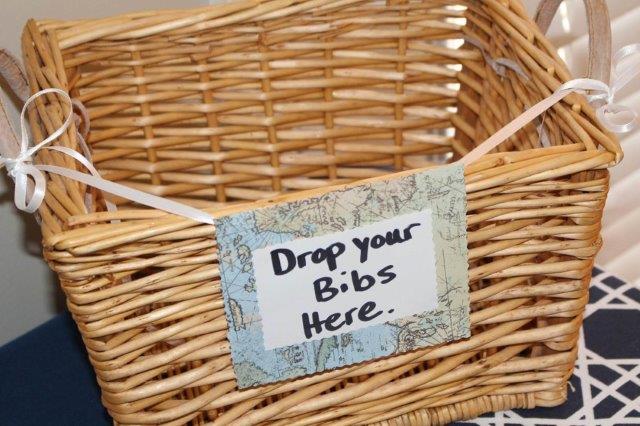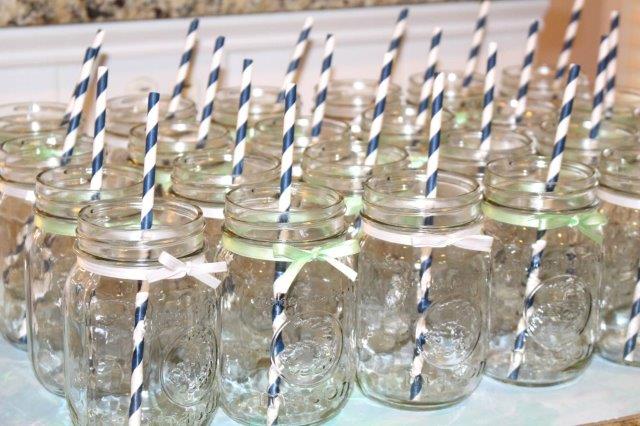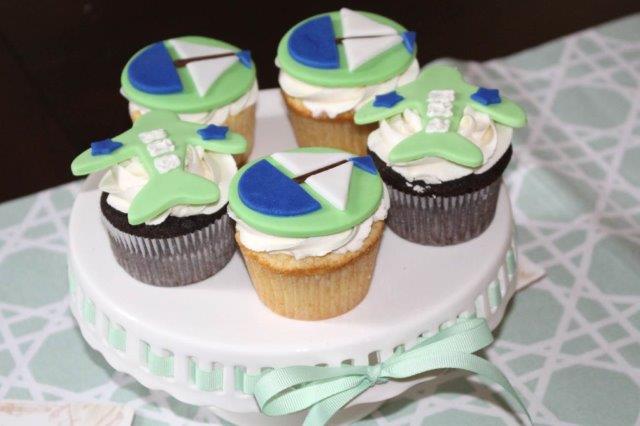 Beyond great food, dessert was delicious with these sweet little travel inspired cupcakes.  We opted out of a huge cake for these sweet cupcake treats because we thought they would be easier for guests to enjoy or take to-go.
As a little memento station, we put out vintage-inspired postcards and asked guests to write their best advice for the new family and slide it into the ribbon board.  It was so funny to see what types of tips and advice some people shared.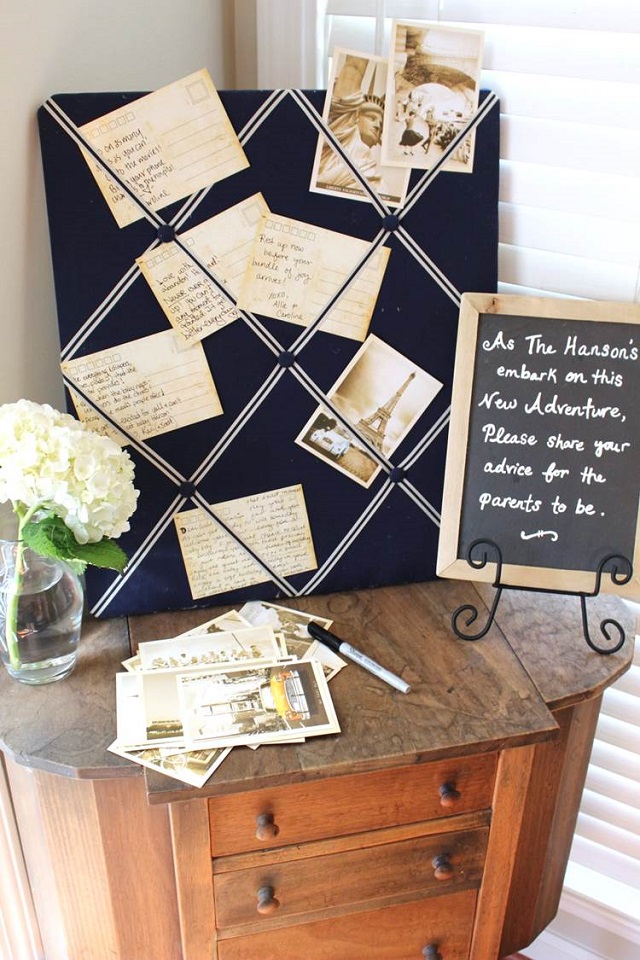 The only game we decided to play was "The Price is Right" which Maria loves.  So we put together a little basket of baby goodies with prices pre-written and she assigned each baby product a value.  For the most part, she was actually really spot on!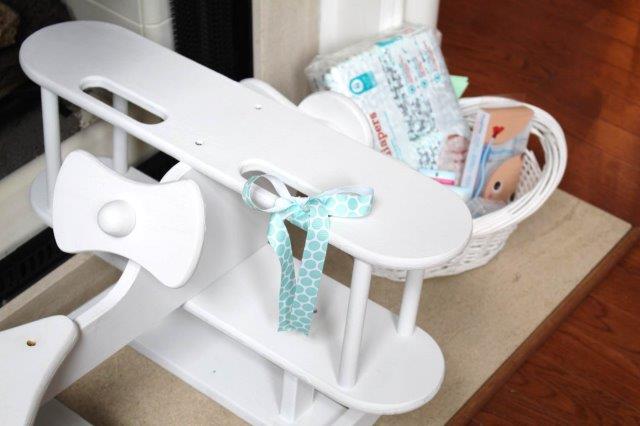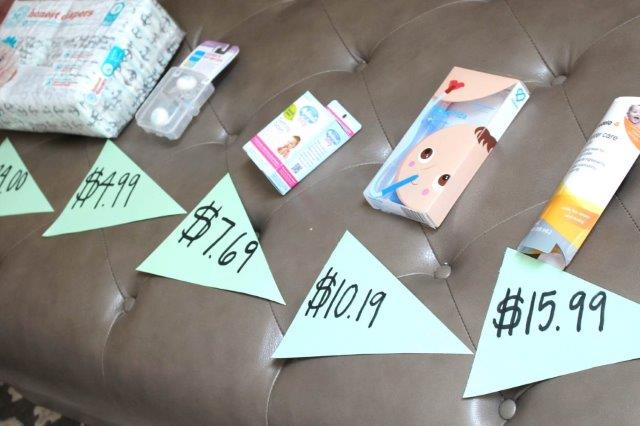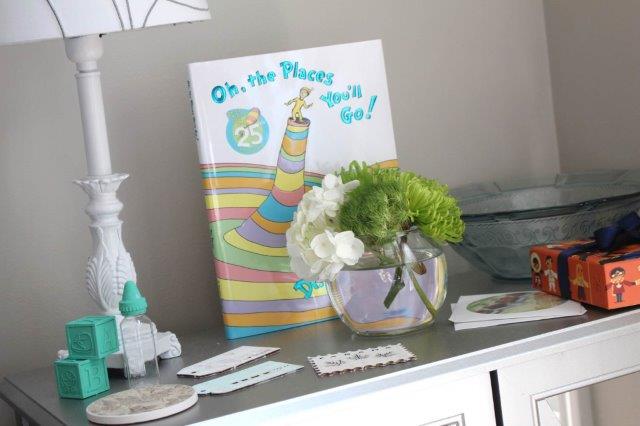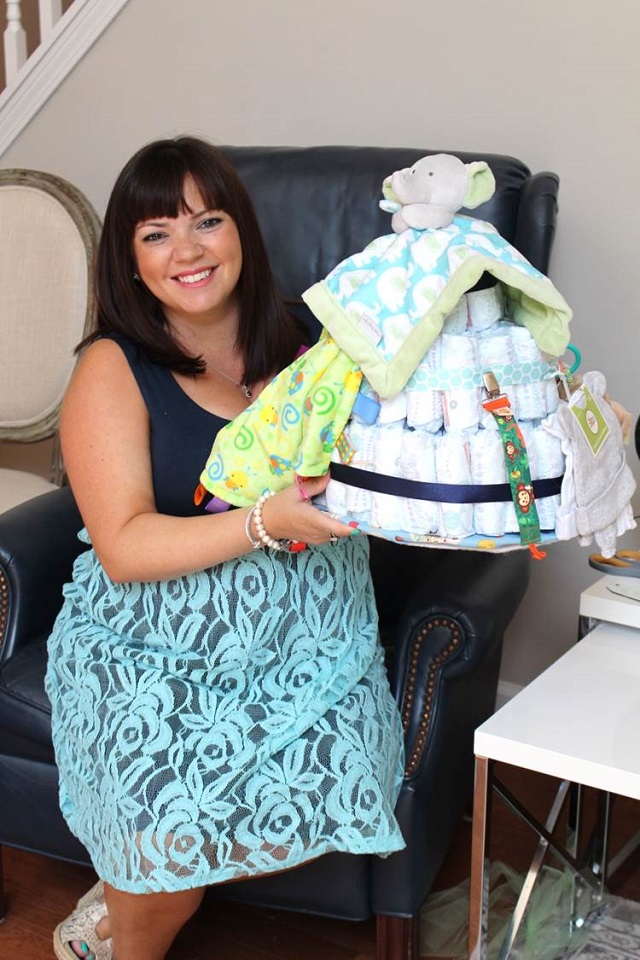 That's Maria above holding her diaper cake looking so cute!
I made a mini-photo booth for guest to act a little silly with maps as a background.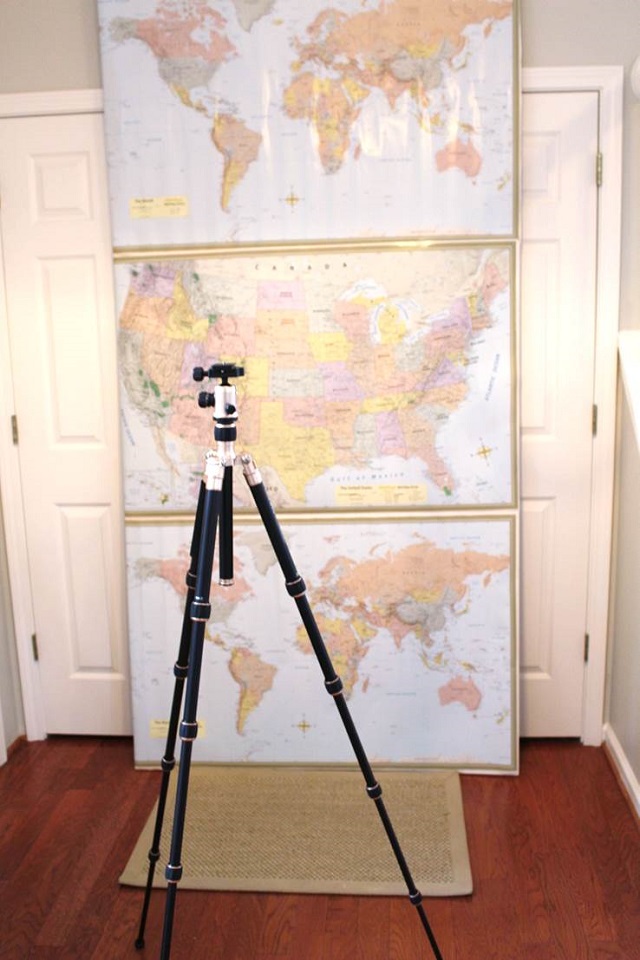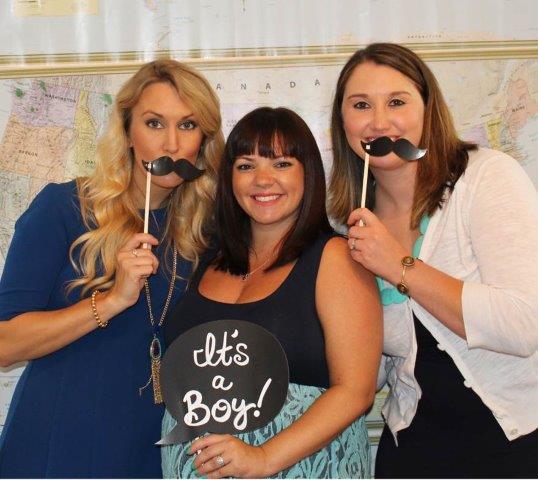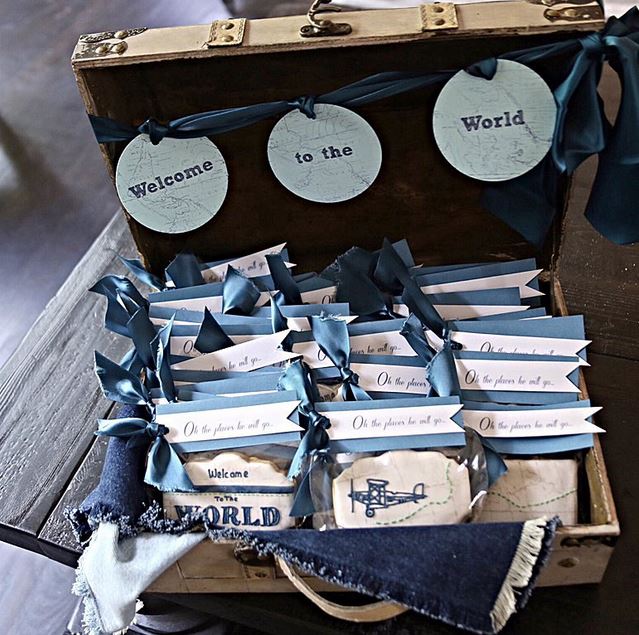 Photo c/o: @thesweettrend on Instagram
Then before guests left, we had a perfectly theme-fitting treat for them from The Sweet Trend to grab as a cookie favor by the door.  I worked with Lisa from The Sweet Trend for my First Anniversary Blogger Brunch for Peachfully Chic a couple months back and she was so amazing!  If you remember seeing all that yummy food and adorable "PC" logo cookies, yeah, that was her.
The Sweet Trend is awesome because they customize every display for each individual event that they do and it's always a beautiful and tasty end product!  I highly recommend checking out her site here and following along on instagram or facebook… just know that you may be hungry after seeing some of her photos!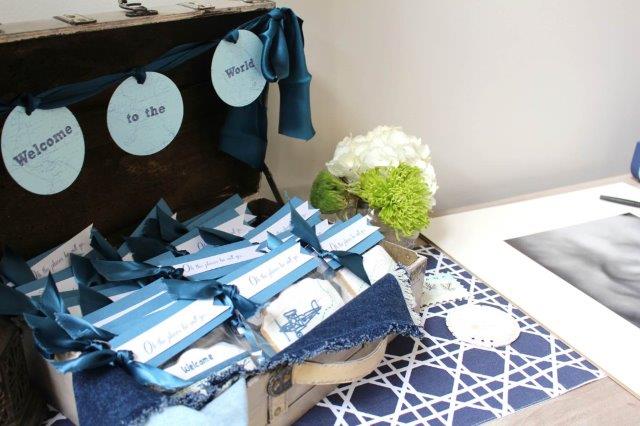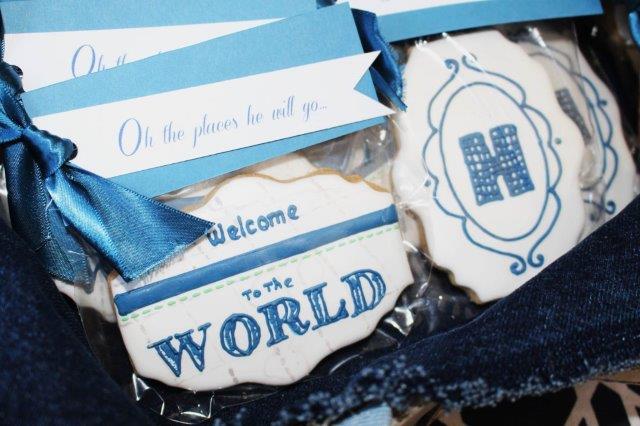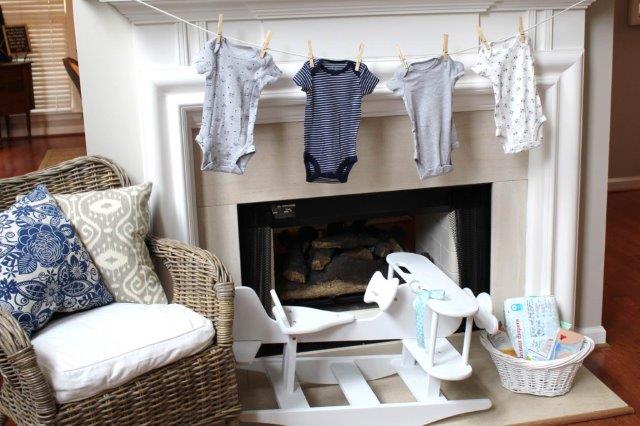 And that's pretty much it!  So hopefully some of these ideas inspire you when planning your own Travel Themed Baby Shower.
Share your thoughts and comments below!