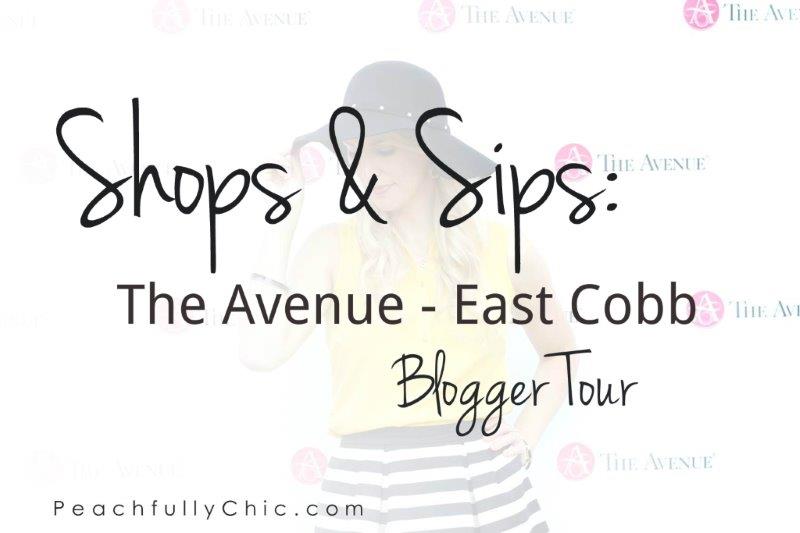 As I shared with you before, there are a lot of fun events and experiences that blogging opens the door to you for.  Case in point, I was recently invited to The Avenue East Cobb Blogger Tour where I was treated to a fun day of brand experiences and fall previews among many of the shops in The Avenue East Cobb.
First off, when you set out for The Avenue East Cobb, know that your must double check your GPS that it's not taking you to the West Cobb location.  Mine did that and I drove an extra 15 minutes out of the way before I realized I was heading in the opposite direction  😕  I never claimed to be an navigational expert!
But once I got Waze sorted out, I arrived just in time to be pampered by the fab staff from Van Michael Salon.  I had my curls touched up and my makeup refreshed and I felt like a million bucks…. those ladies sure know what they are doing!  They even suggested I try a dark plum shade of lipstick (which is seriously out of my comfort zone) but I could totally see the look working well through the fall.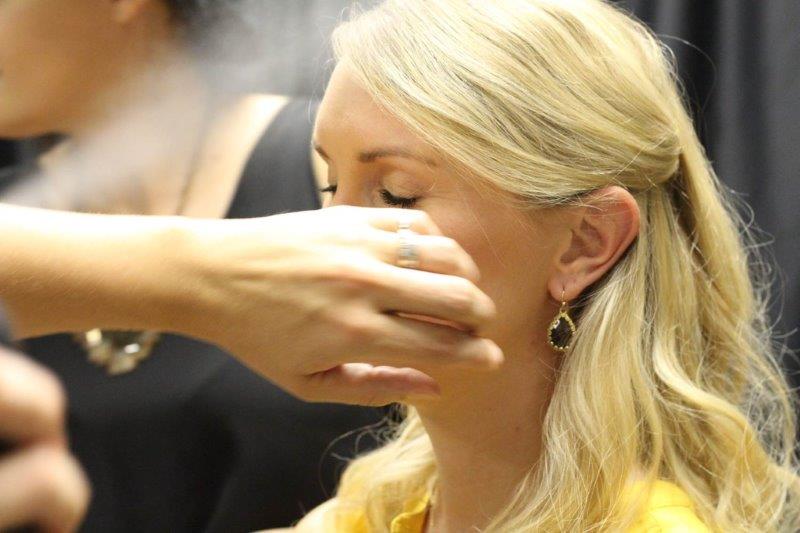 After being pampered, we headed over to Ann Taylor to hear the scoop on the Fall trends and newest looks.  I was very excited to hear that Ann Taylor would be bringing back their wrap dress this fall.  We talked a lot about layering and the power that it brings to taking a look from day to night be adding or removing simple elements of an outfit.  As always, the Ann Taylor fall collection was beautiful, polished, and ultra-feminine so I'm excited to start adding more pieces to my fall wardrobe… now I just need to make a little more room in my closet!
After Ann Taylor, we popped next door to Barre 3.  If you are not familiar with Barre 3, their classes are "where ballet barre meets yoga and pilates."   They have a signature 3-step sequence delivers a balanced, total-body workout that you can do anytime, anywhere. All movements are low-impact and designed to burn fat, build muscle and break through plateaus.  And the neat thing about Barre 3 is that they really help you figure out what the best "Formula for Success" is combining elements of your life outside of barre class too.
I was definitely impressed with all the women in the Barre 3 class that was taking place behind our group tour.   They all looked way more graceful than I ever look when I'm  sweating working out.
After a quick tour of Barre 3 and all their fascilities, we stopped by Williams Sonoma (seriously one of my all time favorite happy places) and purused the gorgeous cookware, cooking utensils, and other splendid home products before we were off making our way to the next stop on the tour.  On our way out, we saw an engaged crowd of eager students huddled around an isntructor for one of the in-store cooking classes… which then made me wonder if I should look into them and work on beefing up my own kitchen skills.
After Williams Sonoma, we made our way over to Hand and Stone for mini-massages and walk through their endless spa services and relaxing fascilities.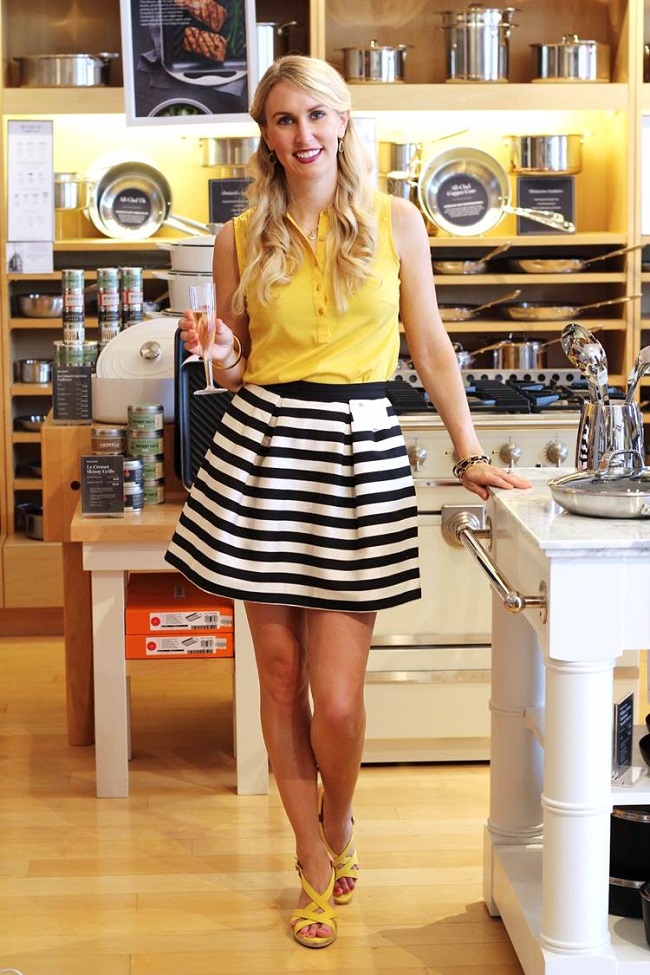 Banana Republic Top & Wedges ♦  Charming Charlie Bracelets ♦ H.M. Willow Bangle ♦ H&M Skirt
[line]
Our time at Hand and Stone was cut short too soon (who can really walk away from a soothing massage?), but we found refuge from the heat across the street in Versona where we were warmly welcomed into the cool air and boutique accessories.
I even had the opportunity to participate in a "stylying" contest where I won the black floppy hat (similiar) that you see me sporting in all of these photos.  It actually reminded me of Rebecca Minkoff designs a black quilted leather handbag I have with the gold stud adornments, which I love, so it was a perfect fit!  I'm sure I'll be pairing these babies up sometime agian in the near future, so pop back over if you want to see what it looks like!
I am actually kind of glad we were on a tight tour timeline, because I could have literally stayed in Versona for days.  No lie.  I'm so indecisive and with so many jewelry and accessory combonations, I would have really had a tough time rushing my visit.
As we concluded the day and we realized just how tired we were from all the fun activities, We roundied the tour out at Cheeky Mexican Taqueria.  We were generouslly feed mouthwatering helpings of quesadillas, guacamole, drinks and other tasty bites.
Although we decided not to partake in it, the coolest part of Cheeky is that they actually have beer taps at each table ready to go.  This immediately made me think about the hubby and where he woulnd like to go.
With hat on head, we said our goodbyes and pleasure to meet you's exchande, and then  headed out the door on the way home.  It was such a fun day, but it was also almost intolerable with the temperature being well about 95º F.
Do you have any pockets in GA that might have a similar look and feel that I should check out?!?  Let me know in the comments below!