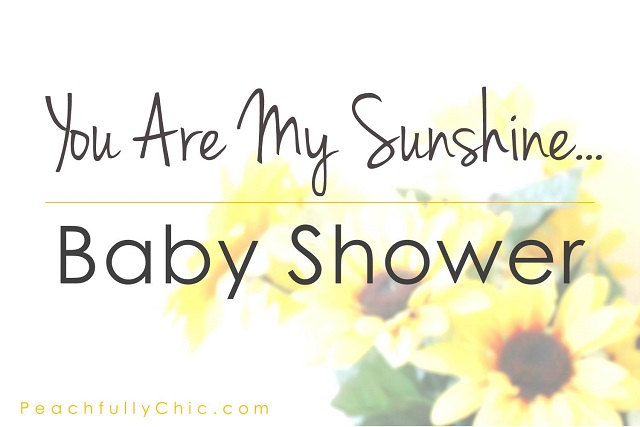 You Make Me Happy…
Seriously one of my all-time favorite songs during my childhood was, "You Are My Sunshine."  So when a coworker asked if she could borrow some of the WHITE and GOLD decor that I used last fall at my Ultimate Tailgate for the GT vs Clemson game, I jumped at the chance to help her as she planned a You Are My Sunshine Baby Shower!
While a lot of the decor and platters were straight from my entertainment arsenal, I'll admit I was only responsible for dropping off the supplies and designing a "Welcome" chalkboard sign… My coworker and her friends hosted the You Are My Sunshine Baby Shower at their townhouse in midtown, and I was lucky enough to nab a few photos of the final product before the shower was in full swing!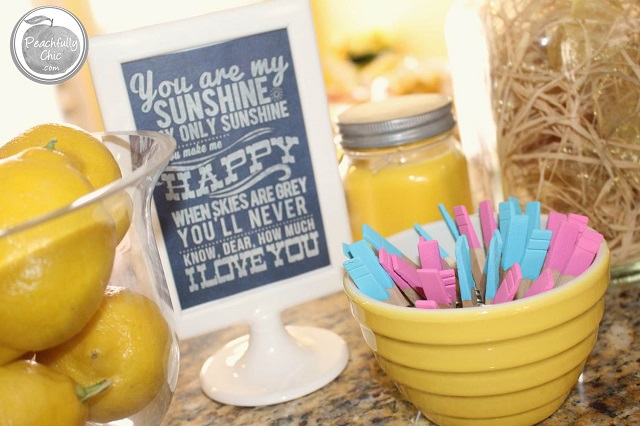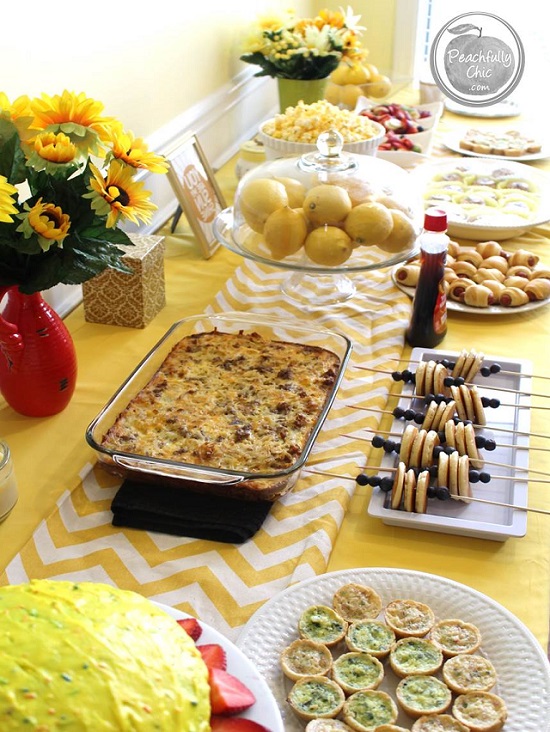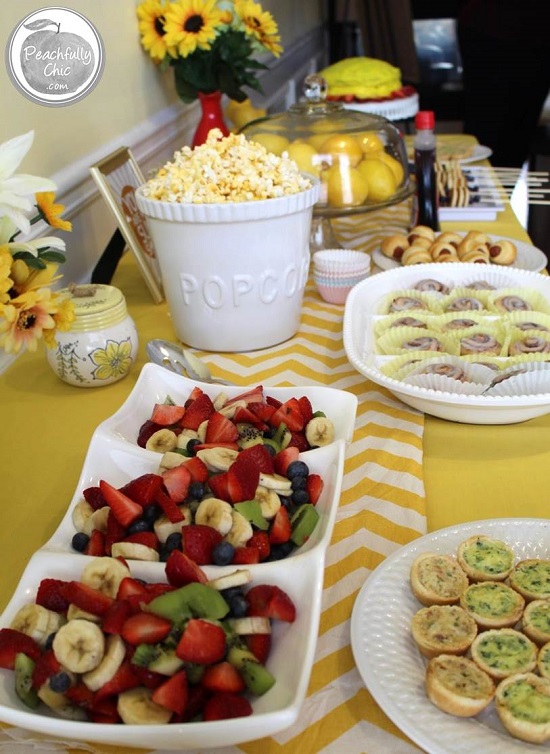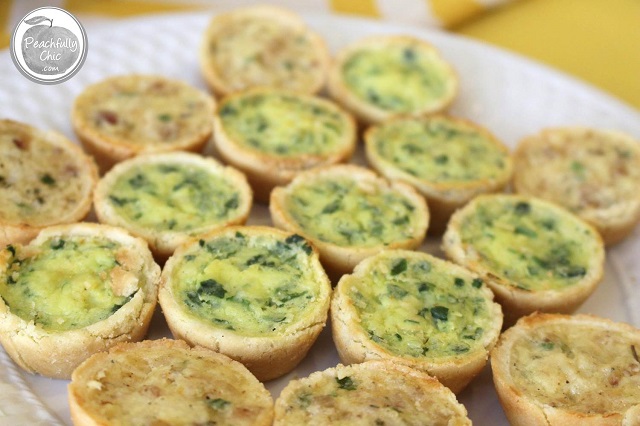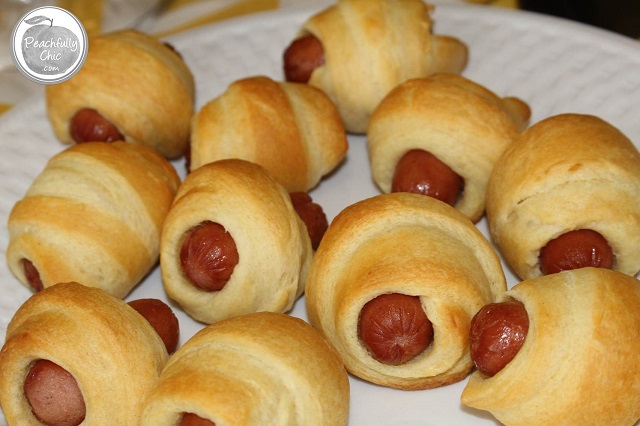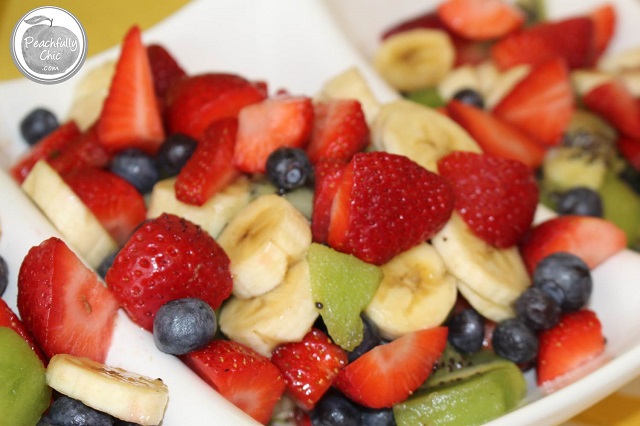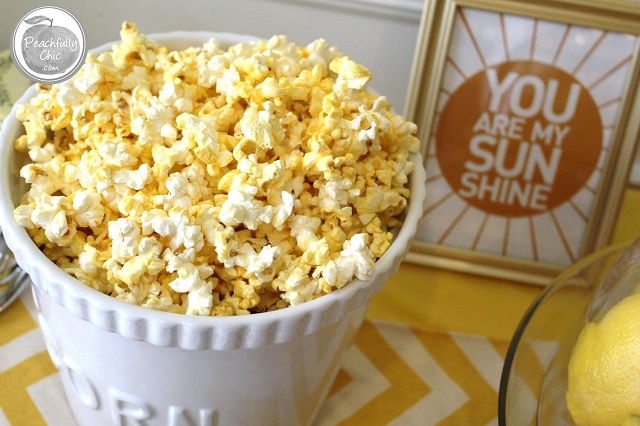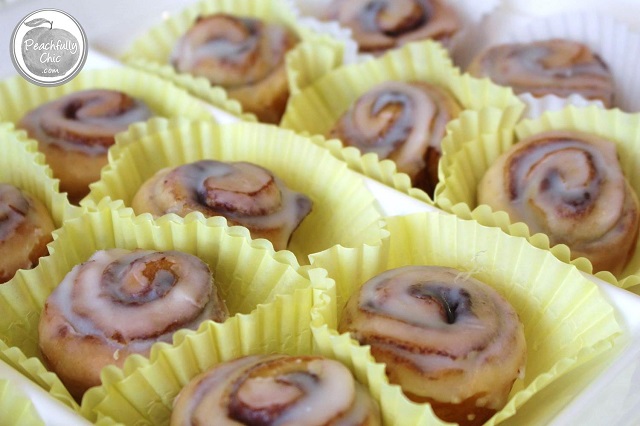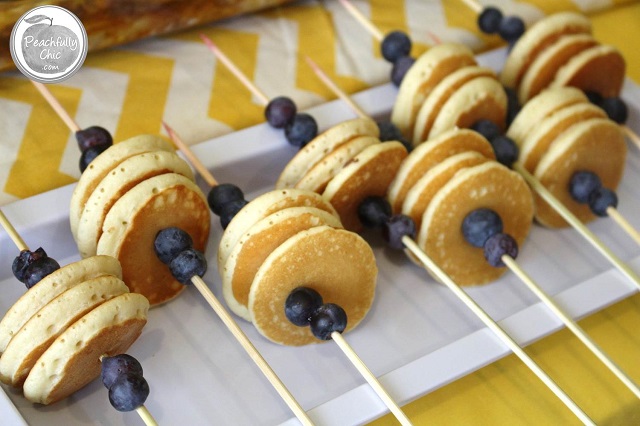 A Little Sunshine Food Fun:
How adorable are these mini pancakes!  They were baked in the oven and then just secured them to skewers with blueberries.  The overall tablescape featured a chevron yellow and white table runner topped with brightly colored bites to nibble on like fruit, mini-quiche, breakfast casserole, popcorn and more.  Cinnamon buns were placed inside yellow cupcake holders to match the theme and make it easy for guests to enjoy without getting their hands sticky.
I can't even begin to tell you how sweet everything looked in person.  To add a little extra pop of yellow, lemons were placed inside a glass cake stand to accompany the beautiful vase of sunflowers.
The baby shower was complete with a full juice bar to complement the wonderful brunch… even down to the raspberries!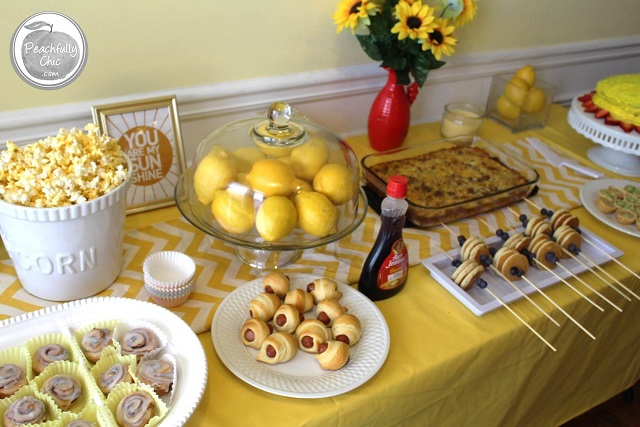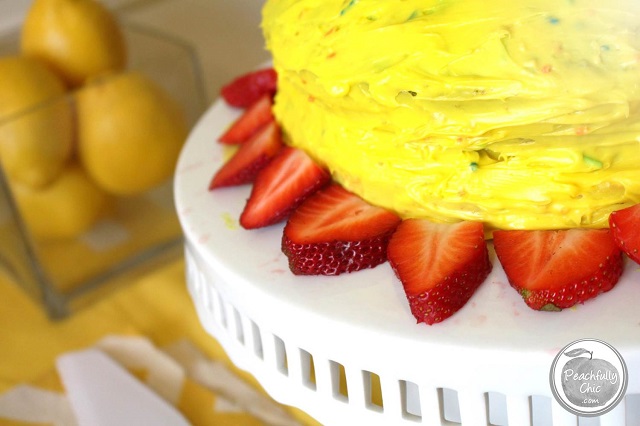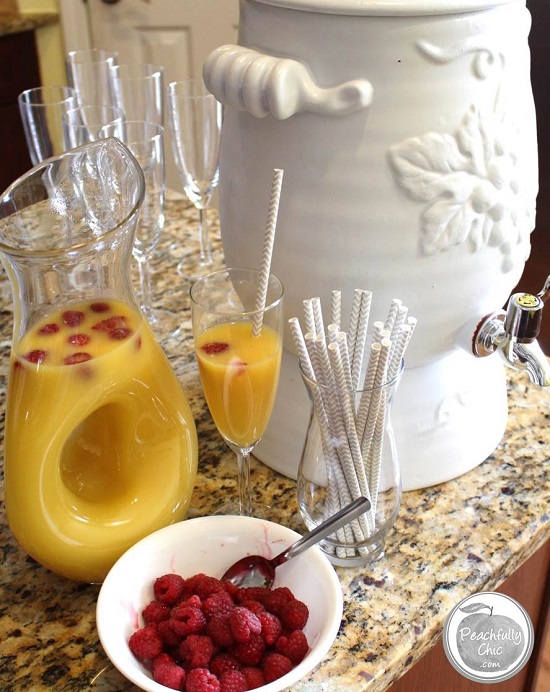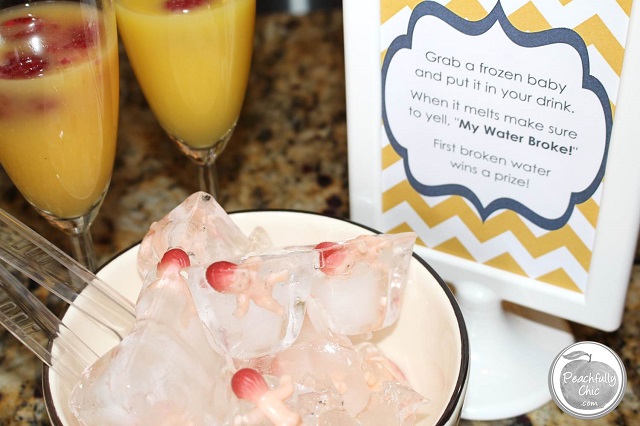 You Are My Sunshine Baby Shower Game 1:
One of the fun games included mini babies frozen in ice cubes for everyone to use in their drinks…. The first to yell "My Water Broke!" when the ice cube melts, wins the game.  Everyone seemed to get a kick out of this little game and it was extremely simple to prepare and play!
I tried several angles to take a photo of one of these bad boys floating in someones' drink, but the babies were always floating head down with their butts in the air – And I didn't want to moon anyone 😉
Baby Shower Gifts:
Another cute idea was to have each friend of the expecting mommy design their own bibs for the new little ray of sunshine…
I thought this was a cute twist on the typical baby shower beyond the normal games and added something that really allowed guests to get involved and let their creativity flow!  The mom got instant gifts that were custom designed by each family member or friend.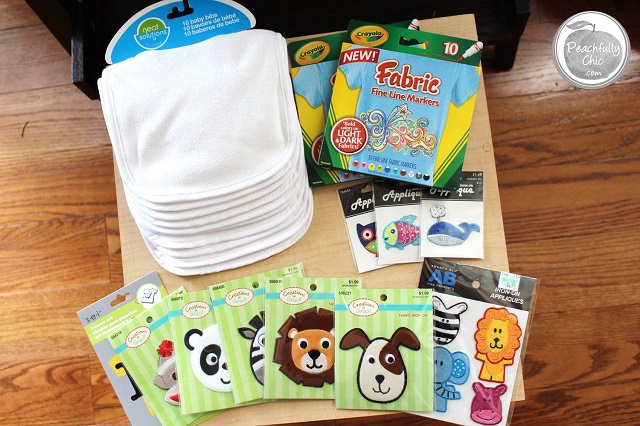 You Are My Sunshine Baby Shower Game 2:
Another bit of baby shower fun was a matching game that had guests paired unique baby names with their celebrity parents.
I knew there were some out of the box baby names floating around the celebrity circuit these days (we're looking at you Apple), but after reading over some of them… I was surprised at the creative and straight out weird levels some celebs have gone!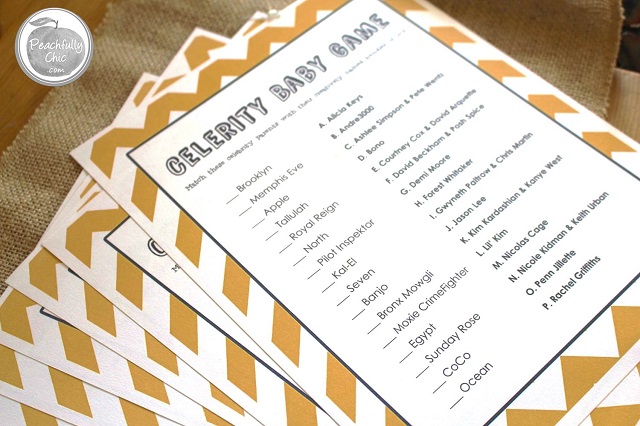 Baby Shower Favors:
Sweet little "Sunflower Kit" favors fit the theme perfectly for this "You Are My Sunshine Baby Shower"!  Although it's tough to bottle up sunshine, it's nice to send guests home with something unique and fun that will provide a longer lasting reward than just a bag of candy.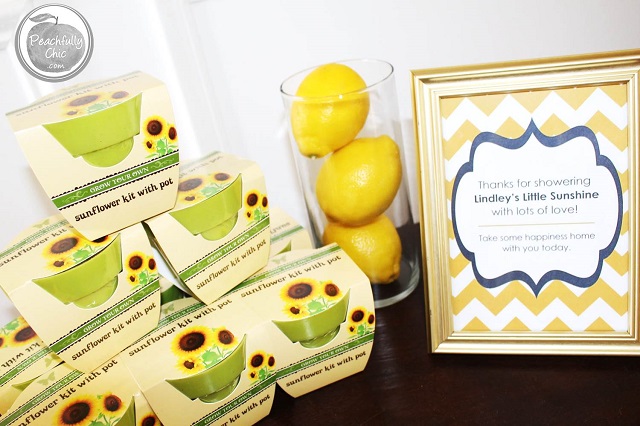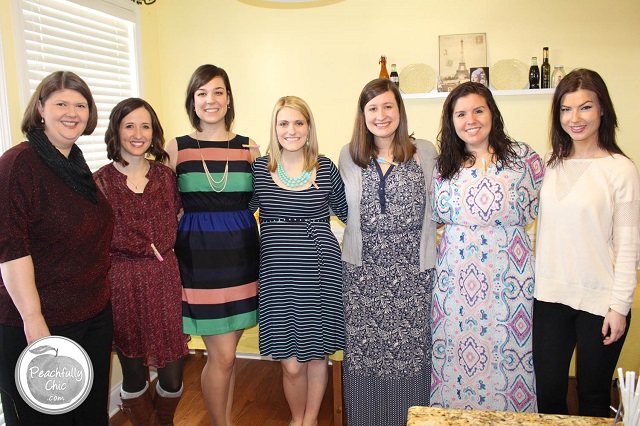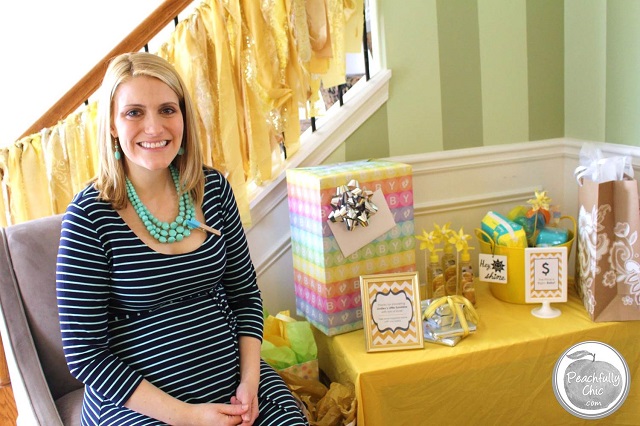 Hopefully, some of these ideas will help inspire you if you're planning a "You Are My Sunshine Baby Shower" for someone who's expecting a new baby.
It was so bright and cheerful that you couldn't help but feel the positive energy in the room as we celebrated the mother-to-be. The colors were the perfect combination of yellow and white to get you in the mood for something sunny coming your way… especially since it coincided with spring!