Georgia Tech vs. Clemson Tailgate 2014:
As you might have picked up from some of the other PC posts and many instagram pics, I'm a Georgia Tech alumni… GO JACKETS!  While you may or may not be a fan of the Yellow Jackets (I won't hold that against you), if you're a fan of football, I can't imagine you don't enjoy a good tailgate!  In that spirit, I decided to throw a fun tailgate before the end of the season to get together with some fellow alum, and what better opportunity than for the GT vs. Clemson game this year!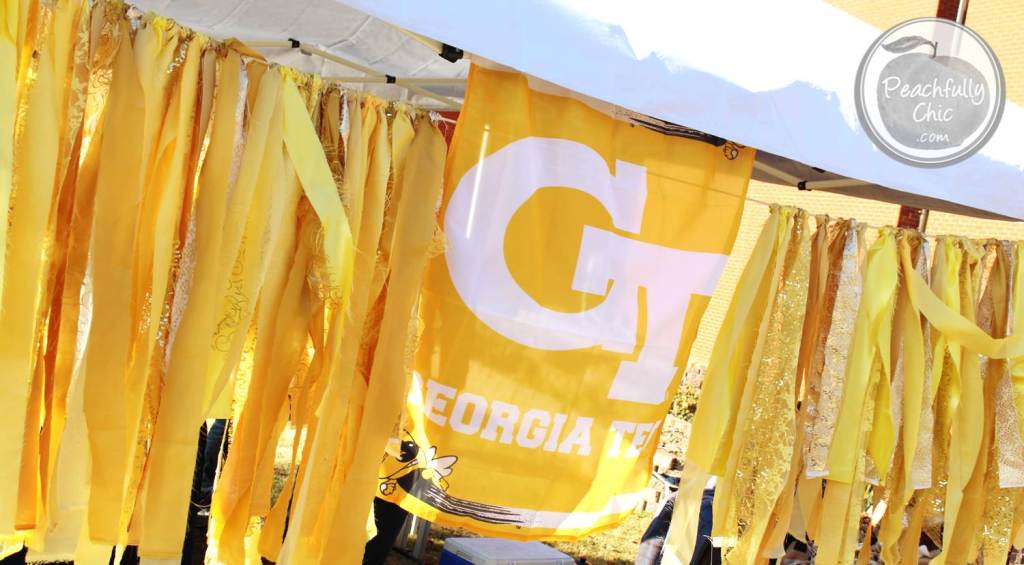 Last weekend was a blast, and I had so much fun working with a few friends to get everything together on Friday night!  I hosted some friends over after work and had a prep-party in my tiny little kitchen to make all the tailgate food and finish off a bottle of wine or two.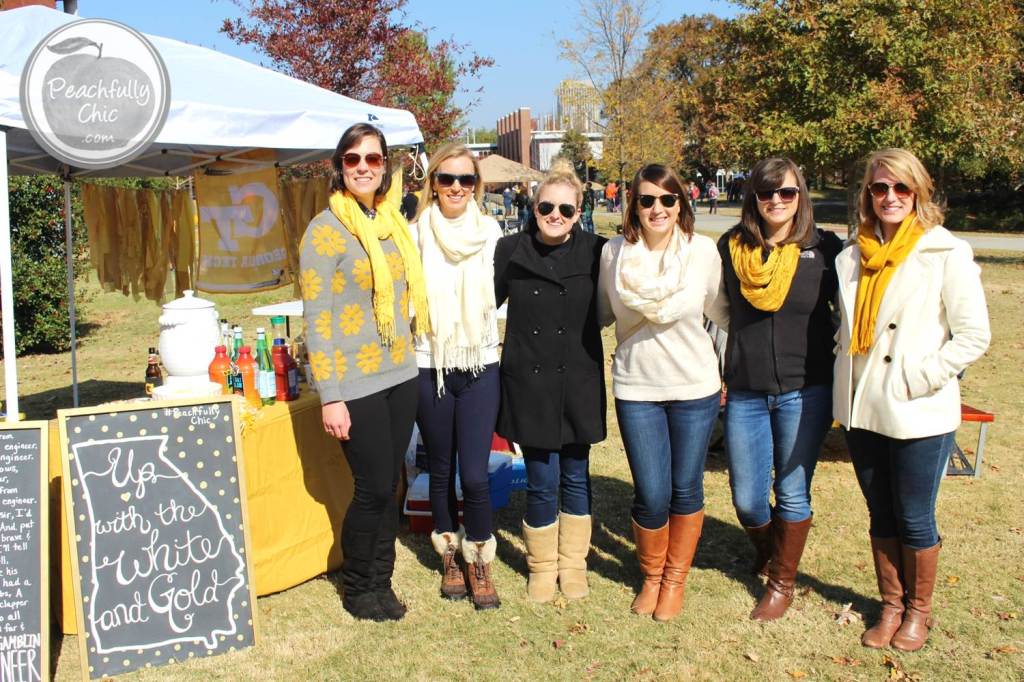 Menu:
This was what we came up with:
Monkey Muffins (check out the recipe here)
Pigs 'N Blankets
Popcorn
Breakfast Casserole
Strawberries & Blackberries
Breakfast Burritos
Mimosas
Bloody Marys
Hot Apple Cider (w/Rum!)
We made all the food the night before so all we had to do was set it out in the morning and warm it up on the grill.  All the breakfast burritos got their own individual aluminum foil wraps so we could easily throw them on the grill as each person requested.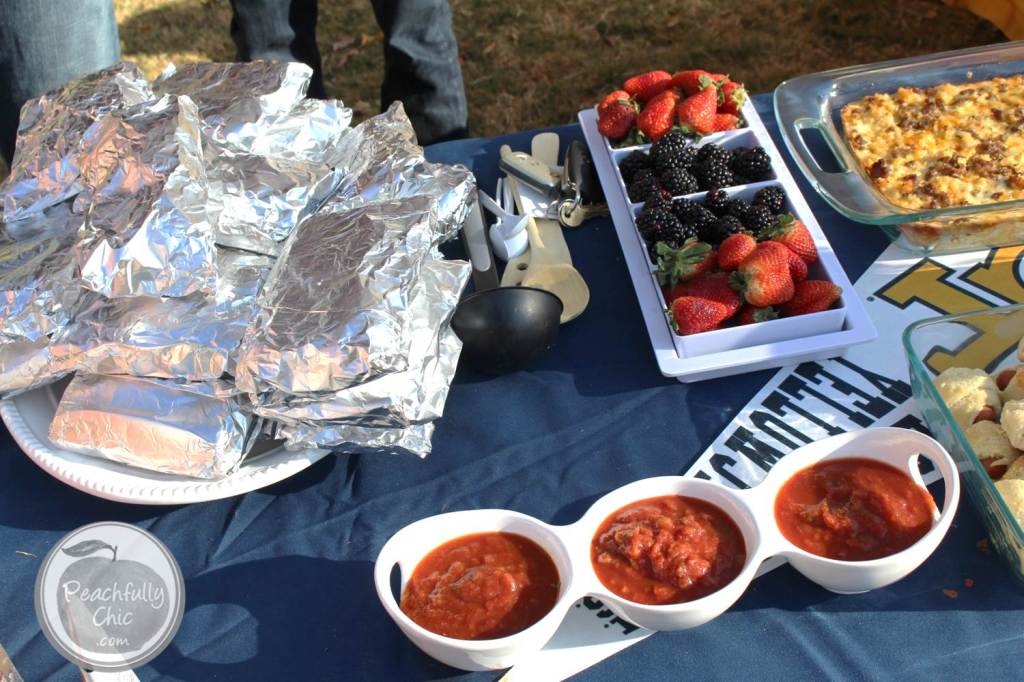 I packed an old pot with lid so that we could set it on half the grill to keep the apple cider warm. It was so COLD that morning, and it was incredible to have something hot to sip on.  The rum was optional hehe!  😉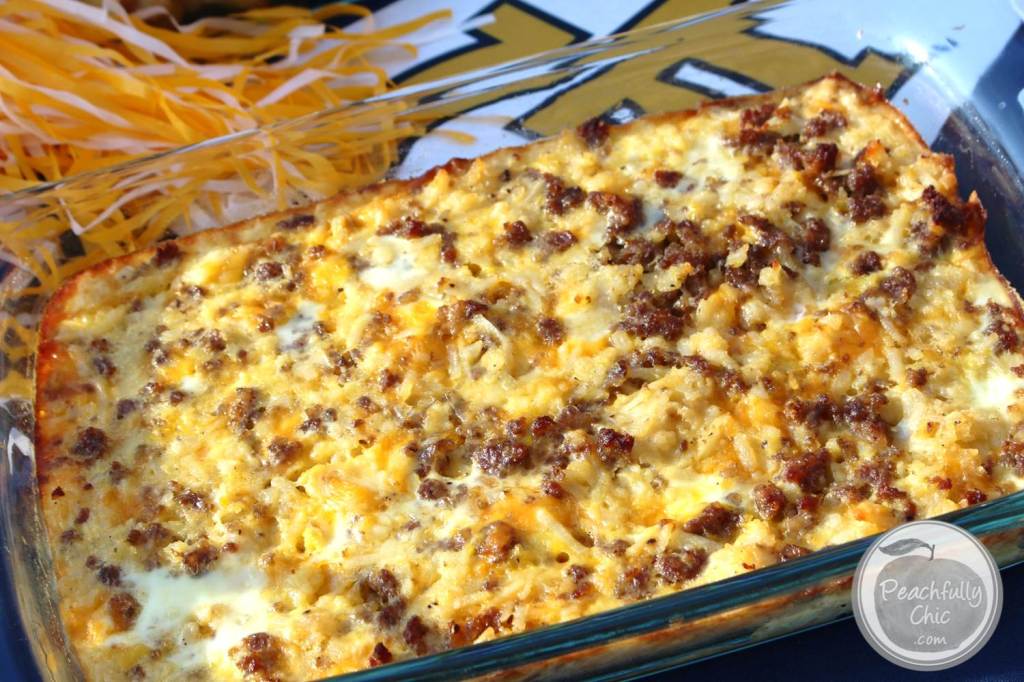 Breakfast Casserole – Yum!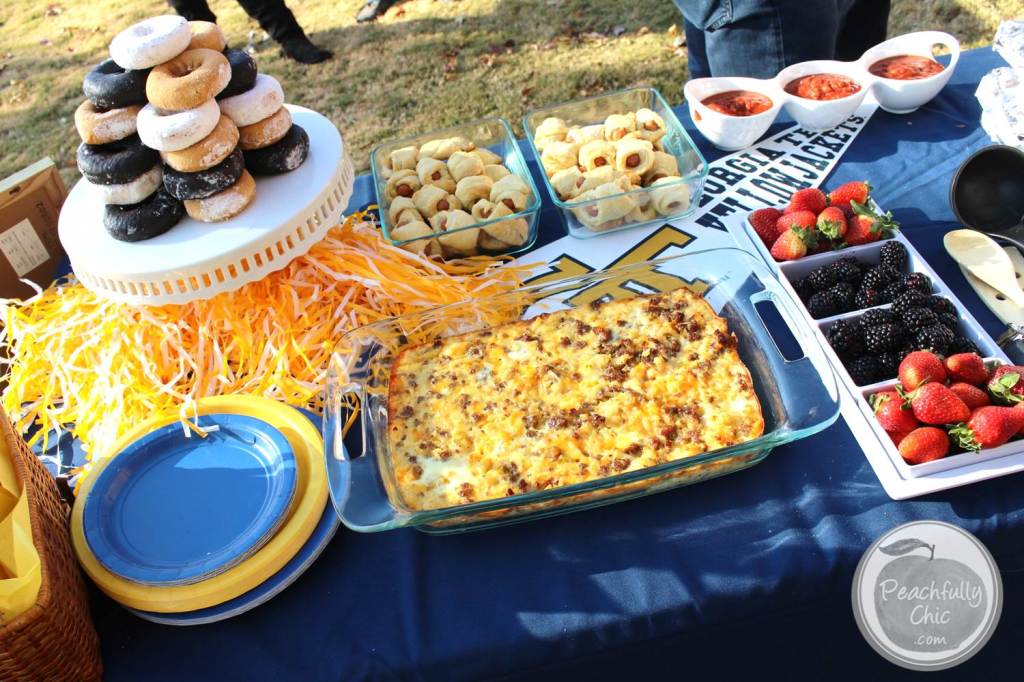 I'll share the recipes for the Monkey Muffins, Breakfast Casserole, and Breakfast Burritos later, so check back if you're interested in finding out how we made them!  For now, I just wanted to share the photos of our chilly morning and our cold weather tailgate.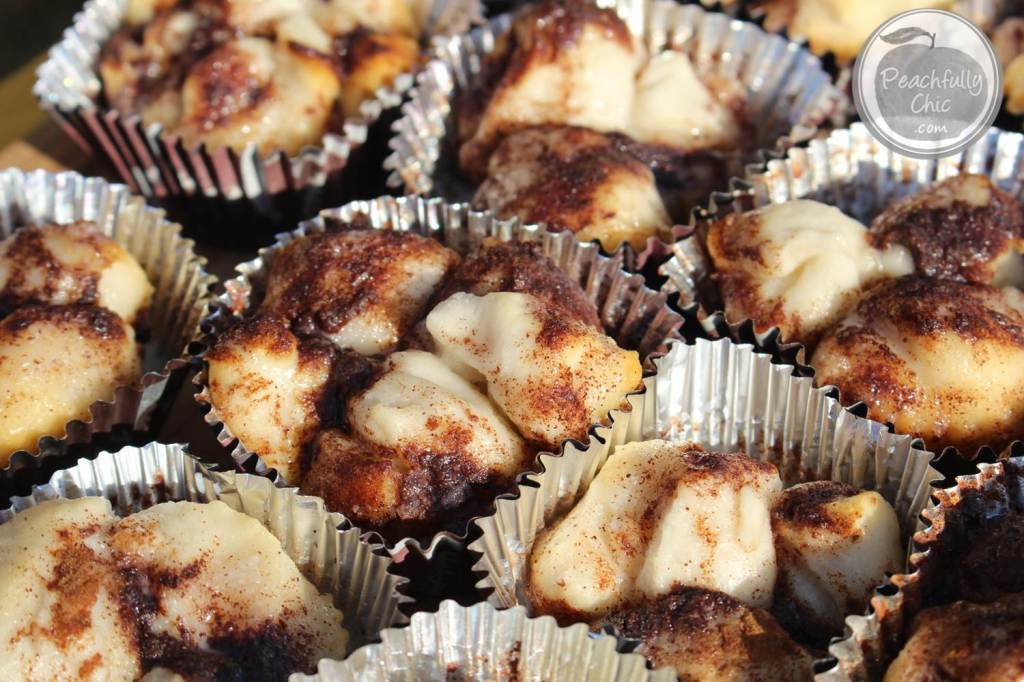 These were the Monkey Muffins!!!!
Supplies:
We had some new toys for the tailgate that ended up being quite useful.  We picked up a Coleman RoadTrip LX 20,000 BTU 2-Burner Propane Grill that I found on craigslist for $50 (score!) and a Portable Buddy MH9BX 9000 BTU Radiant Propane Heater from The Home Depot for a little extra warmth (it was so clutch… as long as I stood close enough).
We were also excited to use our new Tailgate Wooden Folding Table that was one of our wedding presents!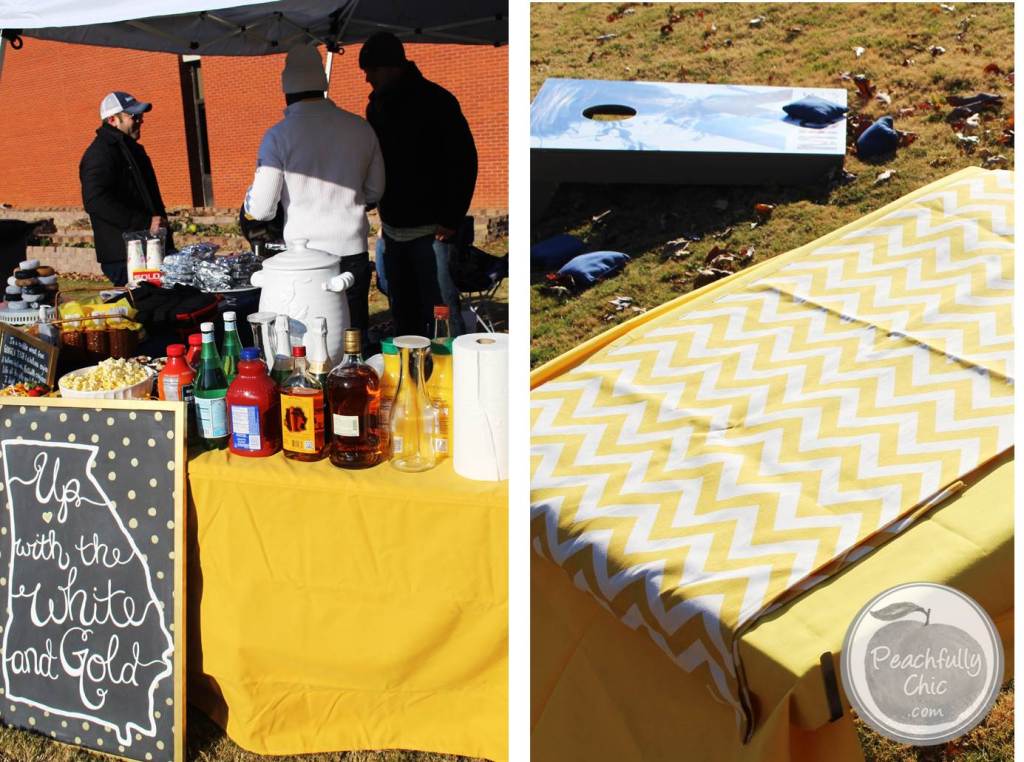 Although this technically isn't a supply we used for the tailgate, I also had to tell you another trick I used to keep warm beyond my shearling lined Ralph Lauren Quinta Boot… I stopped by The Home Depot and snagged a pack of insole foot warmers and THEY ROCKED!  After using them for our 8:30 pm softball league last week when temps were in the 30's, I knew I needed these again to keep my feet warm for the tailgate too.  Once again they worked like a charm and kept my feet warm as an oven!!!
Decor:
And one of my favorites of the day…
I'm super excited to share these cool heavy duty fitted table covers from TableVogue!   I saw them originally on southernliving.com and thought they would be perfect for our tailgate!
They have a ton of beautiful solids in many different table sizes, and even carry them in your favorite team colors.  Since they are machine washable and stain proof, it's perfect for a rowdy tailgate party where spills are bound to happen (yep – bloody mary mix was dripping down the side by EOD – oops)!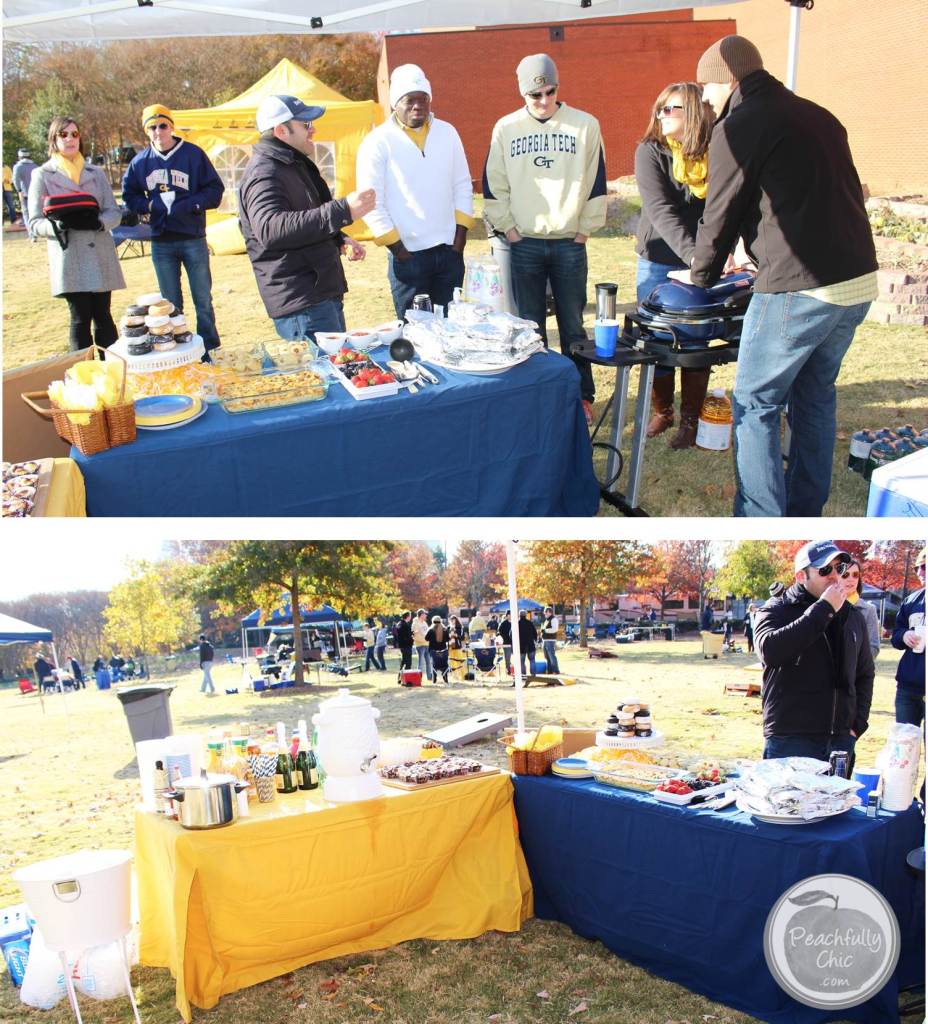 TableVogue was so generous to send over a gold and navy table cover in GT colors to help get us ready for our ultimate cold weather tailgate!  I didn't have to worry about buying tablecloth clips since the 5 foot covers fit our plastic 5 foot tables perfectly…  which also meant I could easily hide extra supplies under the tables without having them in the way of our awesome photos  😉
If you're like me, I'm already wondering how many red table covers I should plan to order to make sure that I'm all set to celebrate the holidays!!  
Let me know if you do end up ordering some and what you think… they really are a great find and a perfect alternative to those cheap plastic tablecloths I used to buy at the Dollar Tree haha.  CHEERS to feeling like a grown up now!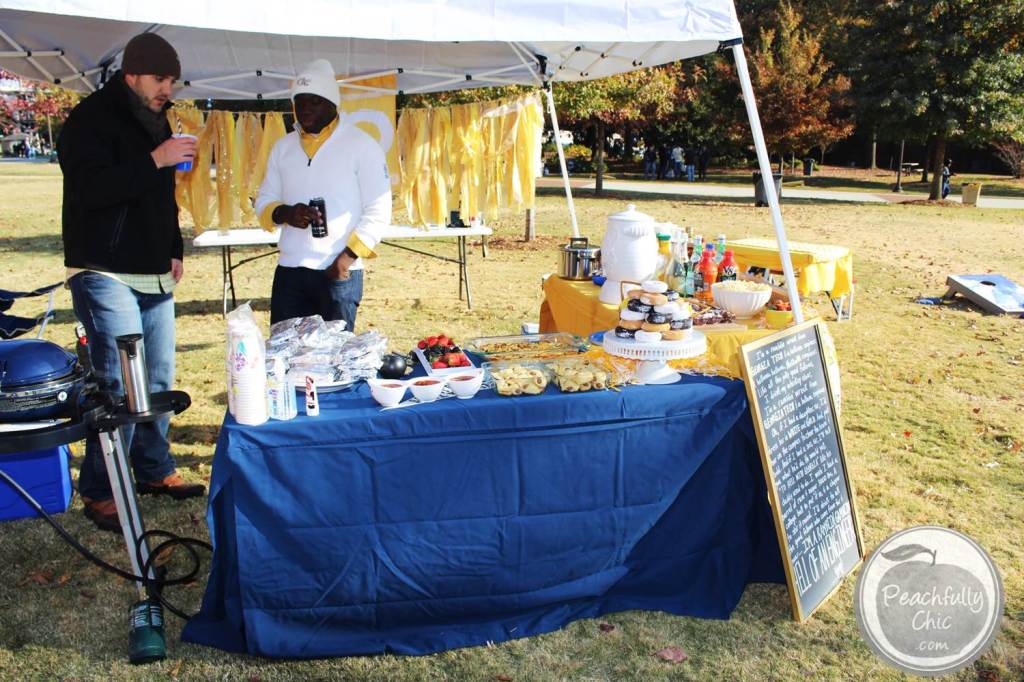 But in all seriousness, the TableVogue table covers were a great way to easily jazz up our tailgate and I'm excited about using them again!  Now onto buy the red ones for Christmas….
I re-purposed the DIY Chalkboards that we made for our wedding with some GT spirited designs.  It took a little elbow grease and windex to clean the boards from the writing we left on there from the wedding, but it was totally worth it and they were a big hit!
I also took another page out of our wedding playbook by making a similar garland to the blue one from our wedding, seen here, but this time in yellow to accompany our GT flag.  We hung it from the edge of the tent and it was so fun having the sign and ribbon fly around in the wind… Just make sure you secure everything so it doesn't blow away!
I sprayed a ceramic red beverage dispenser that I got from my mom with white semi-gloss spray paint.  There's no way I could have hosted a Georgia Tech tailgate using anything red!  I avoided spraying the inside of the container though because I still wanted it to function as a drink holder and the spray paint was not suitable for touching food/drink.
Lastly, I grabbed whatever extra yellow fabric & tissue paper I had tucked away in my craft closet and decorated here and there when needed.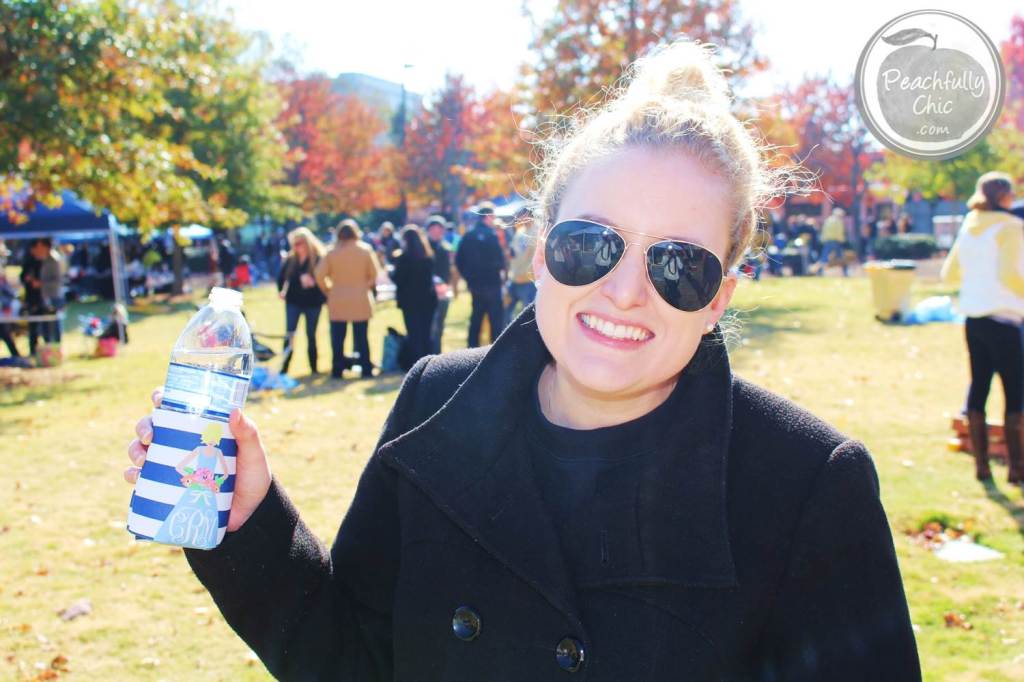 One of my favorite people and bridesmaids, Christina, even broke out the custom koozie I gifted each bridesmaid from our wedding – Cheers!!!
The band even stopped by for a private little session during our tailgate… of course they played the Georgia Tech fight song!  😀
So that's a recap of our cold weather tailgate.  It was a success all around… warm food and drinks, bright sunny skies, a visit from the GT band, and a WIN for the Yellow Jackets!  Georgia Tech beat Clemson 28-6 Woohoo!!!!  Thanks to everyone who came out and shared in all the fun!  Looking forward to the next one!