If you're visiting North Carolina and interested in history, take a dive back in time to check out the community of Old Salem.  Settled by the Moravians in 1766, the historic district has been preserved to showcase authentic life through costumed interpreters, interactive workshops, and historic buildings and gardens.  During my Spring 2018 mother-daughter trip to Winston-Salem, my mom and I spent an afternoon to exploring Old Salem Museums and Gardens.  After lunch at The Tavern in Old Salem, we walked the timeworn streets and ducked in and out of some of the most beautiful and well-preserved buildings from the eighteenth-century.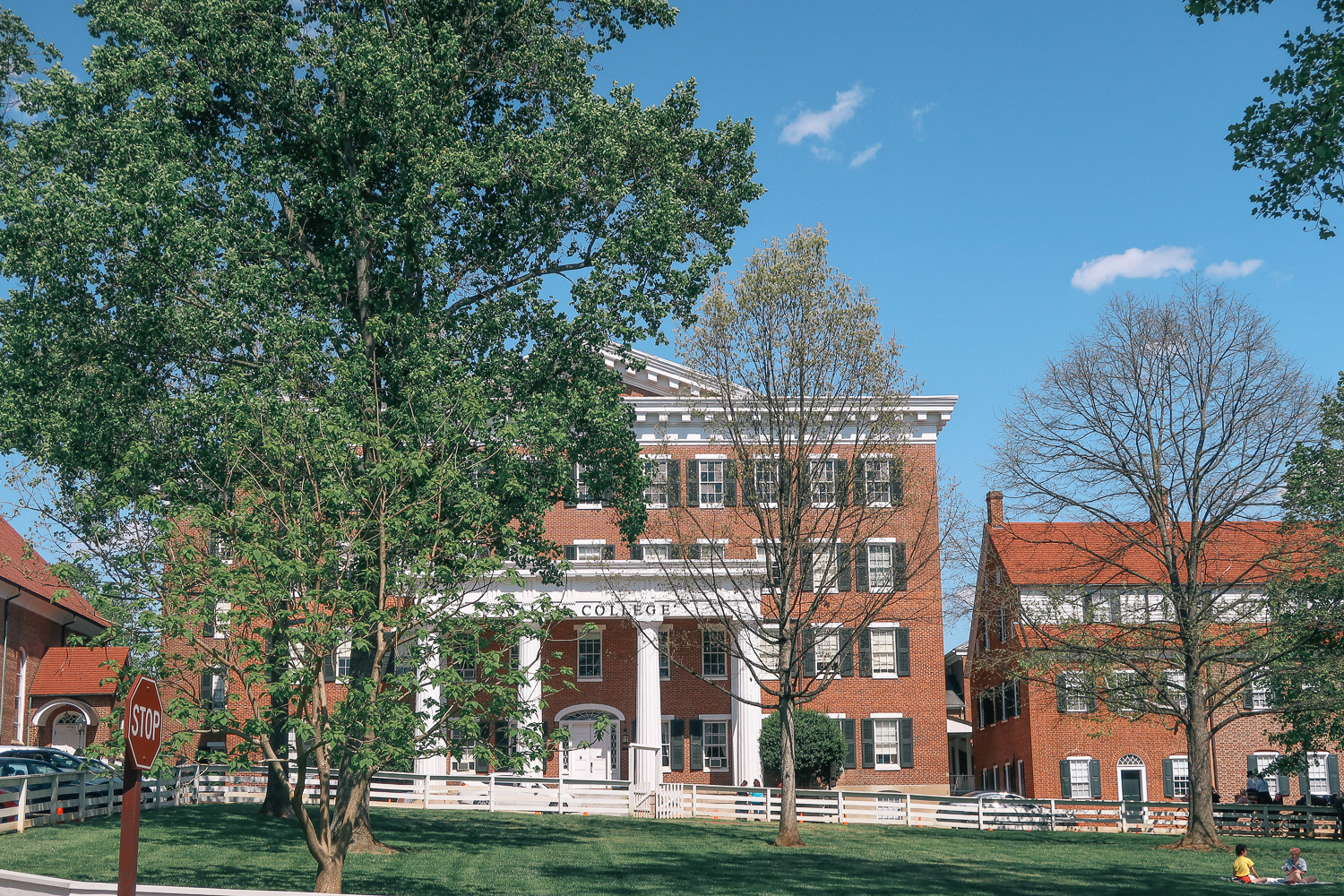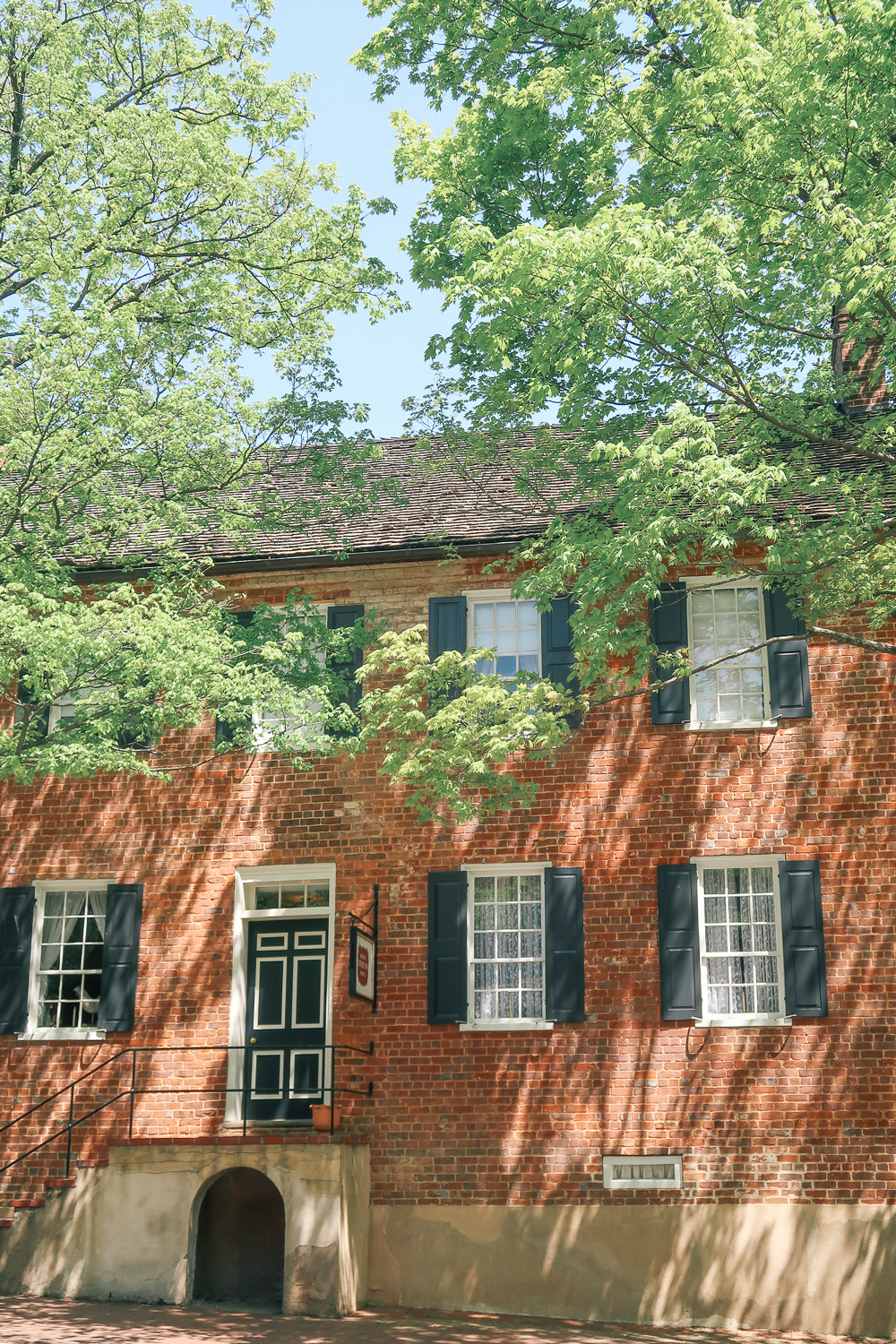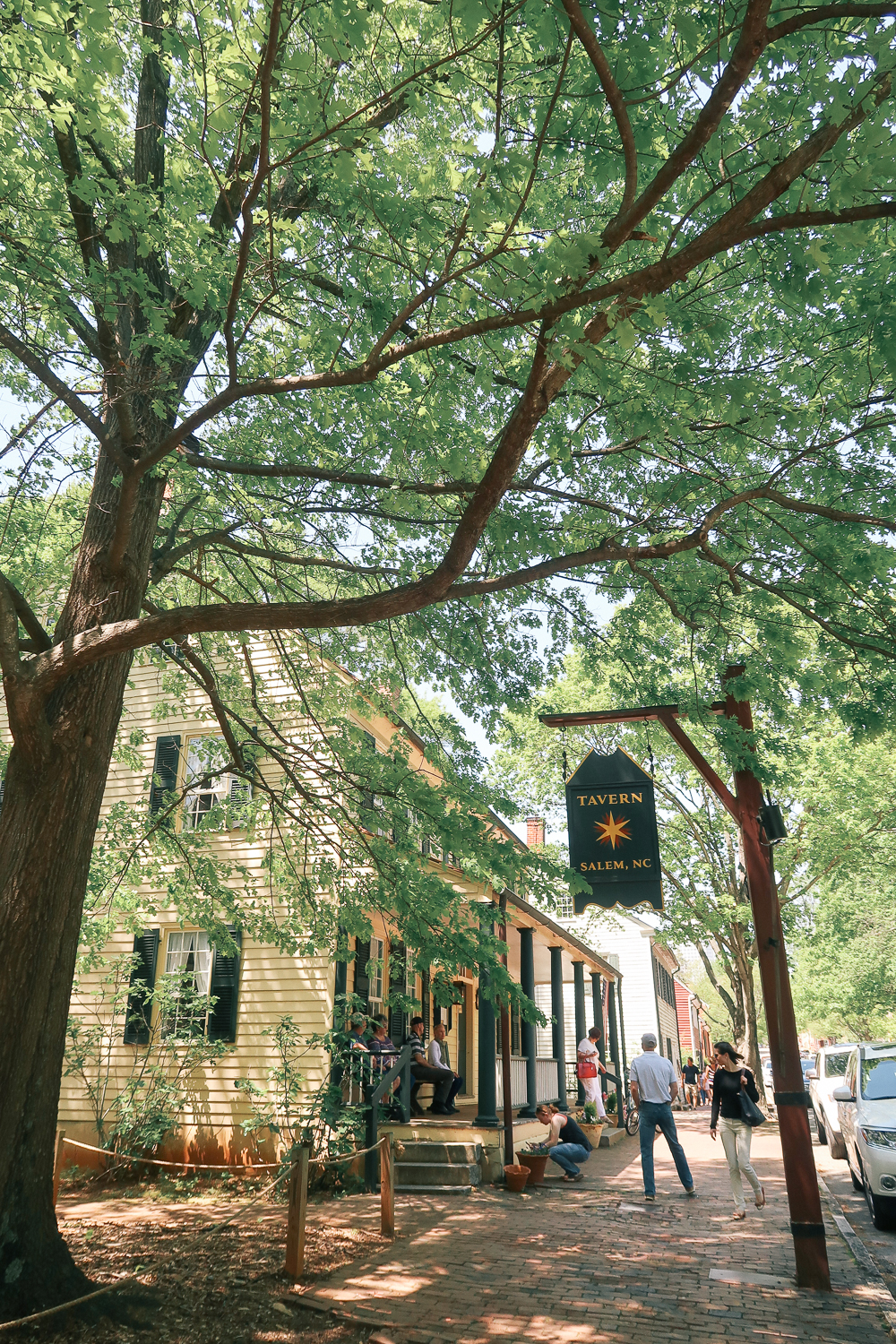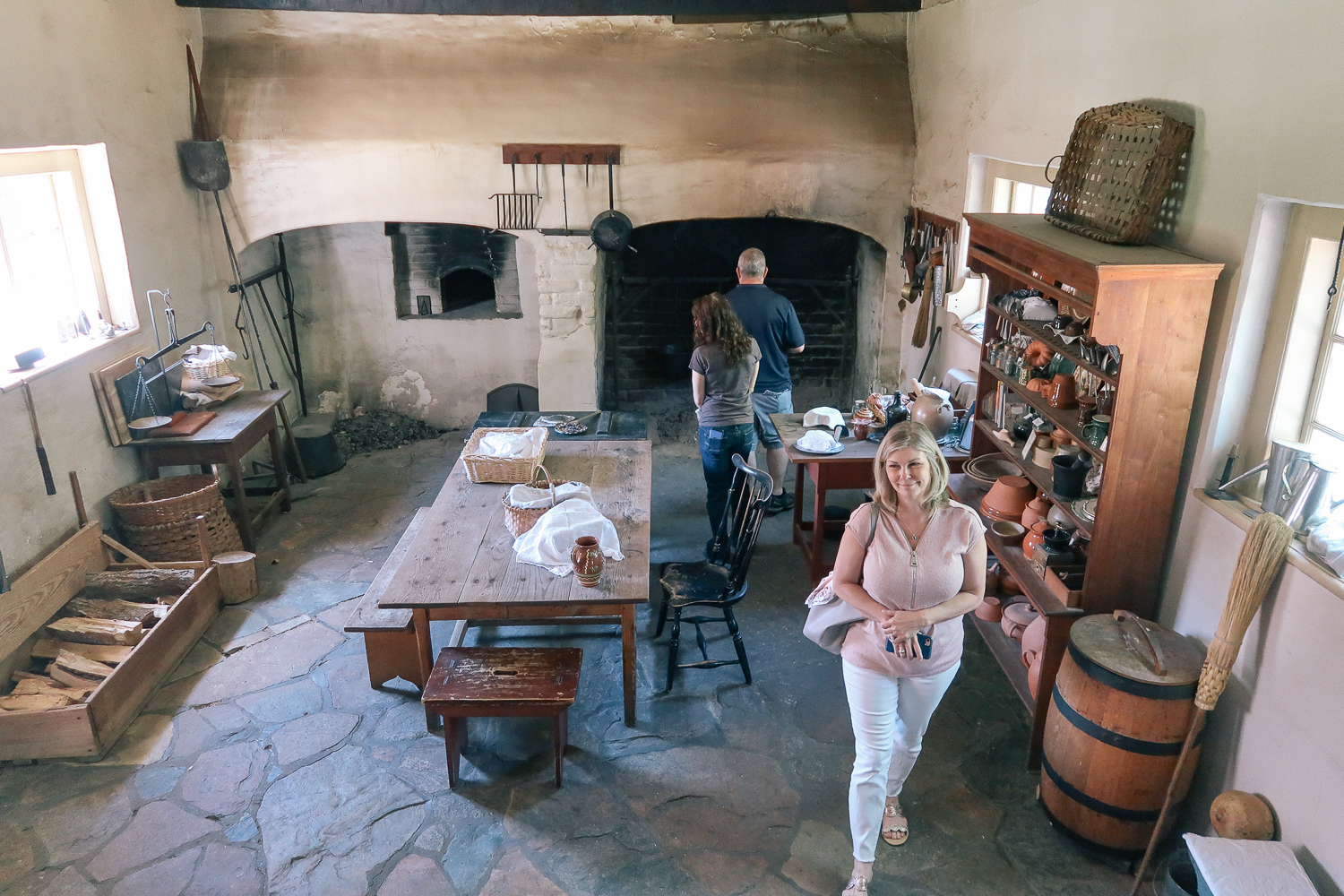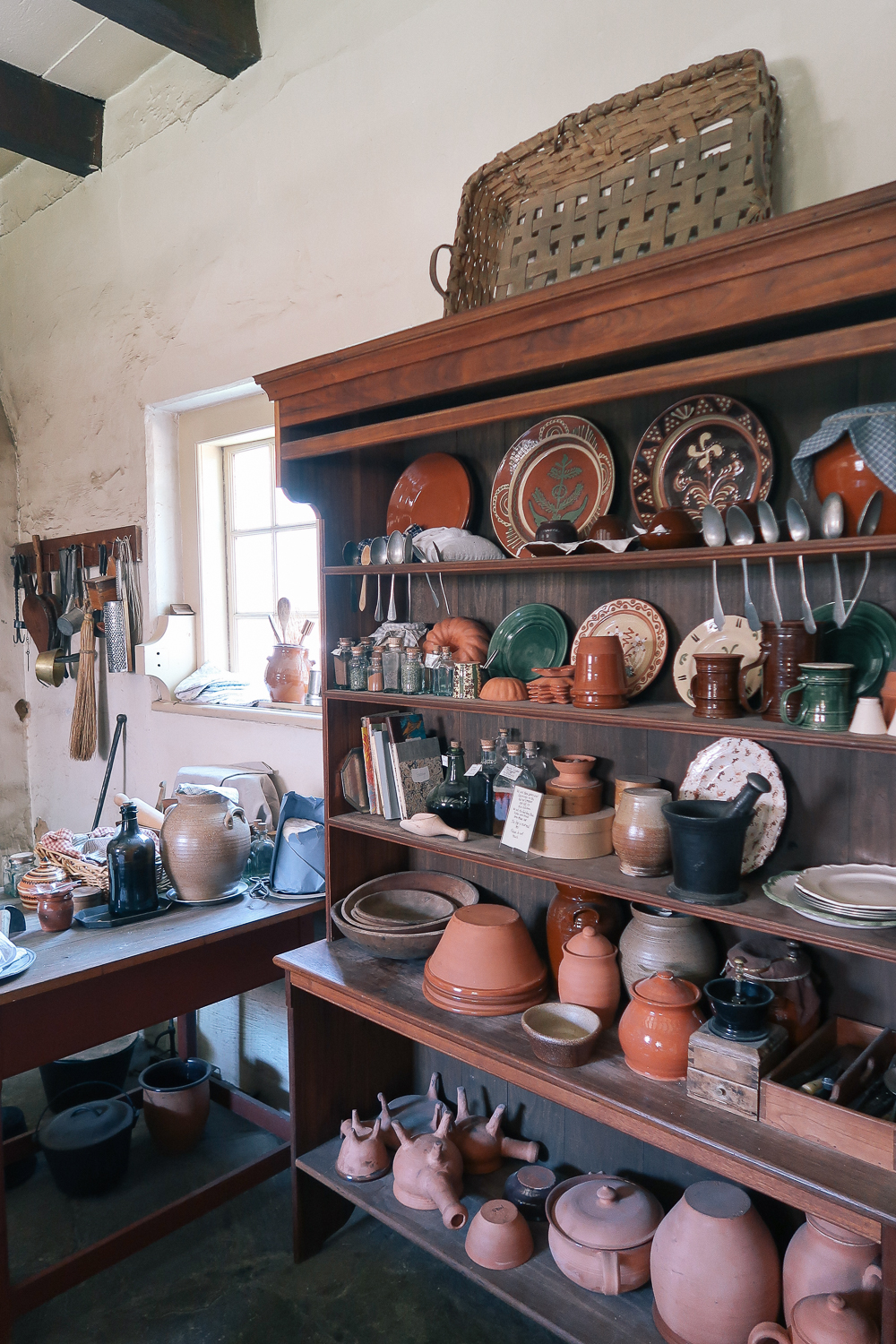 The Religion:
Old Salem was planned, built, owned and operated by the Moravian Church.  Although The Moravians called themselves the Unity of the Brethren, English Christians began calling them Moravians in the 1730's.  The movement started in Bohemia and Moravia near the area we now know as the Czech Republic.  In 1457 after years of religious persecution, a society built on the principles of the New Testament and emulating the life of Apostles was established in Bohemia.  Fast forward over 300 years and the Moravians new settlement of Old Salem follows their faith and idealism with a focus to serve their neighbors, establish a "town where the Moravian ideals of Christian living might be practically realized," and preach the gospel to the Indians.
The History:
It was fascinating to me when I learned the story of Old Salem's past.  Although I'm not Moravian, I was inspired by the religious faith and idealism that drove the development of this backcountry settlement.  The Moravians who built Salem were led by Bishop August Gottlieb Spangenberg who was an ideal pioneer in colonial America with many skills and vast knowledge that allowed him to thrive in Europe and in the wilderness.  The Old Salem community was known as "a sober, quiet, and industrious People."  Old Salem had better education (for both men and women), more culture, better medicine and self-sufficient practices with a strong tie to the world through their connections to other Moravian communities in Pennsylvania and Europe.  As a result, Old Salem developed to be more cosmopolitan than most of their Backcountry neighbors with the majority of the settlement speaking German. 
The Moravians named their land Wachovia because it resembled the Wachau valley along the Danube River, Europe's second longest river.  Yes, if you're familiar with the financial institution called "Wachovia" it is named after the land that the Moravians acquired.  The Moravians focused on "common labor for the common good" as they built their settlement and developed homes and other businesses.
The Choirs:
As we walked the town, we explored in and out of various buildings.  Along with a progressive view of educating women, the Moravian communities had another distinct aspect of living.  Their congregation was divided into a choir system based on age, gender or marital status.  There were choirs of Married People, Single Sisters, Single Brothers, Widows, Widowers, Older Girls, Older Boys, Little Girls and Little Boys.  The choirs would live, eat, pray, attend school, work, and were even buried together at God's Acre, the Moravian cemetery.  As we toured the town, we saw the large home where all the Single Brothers in Old Salem once lived.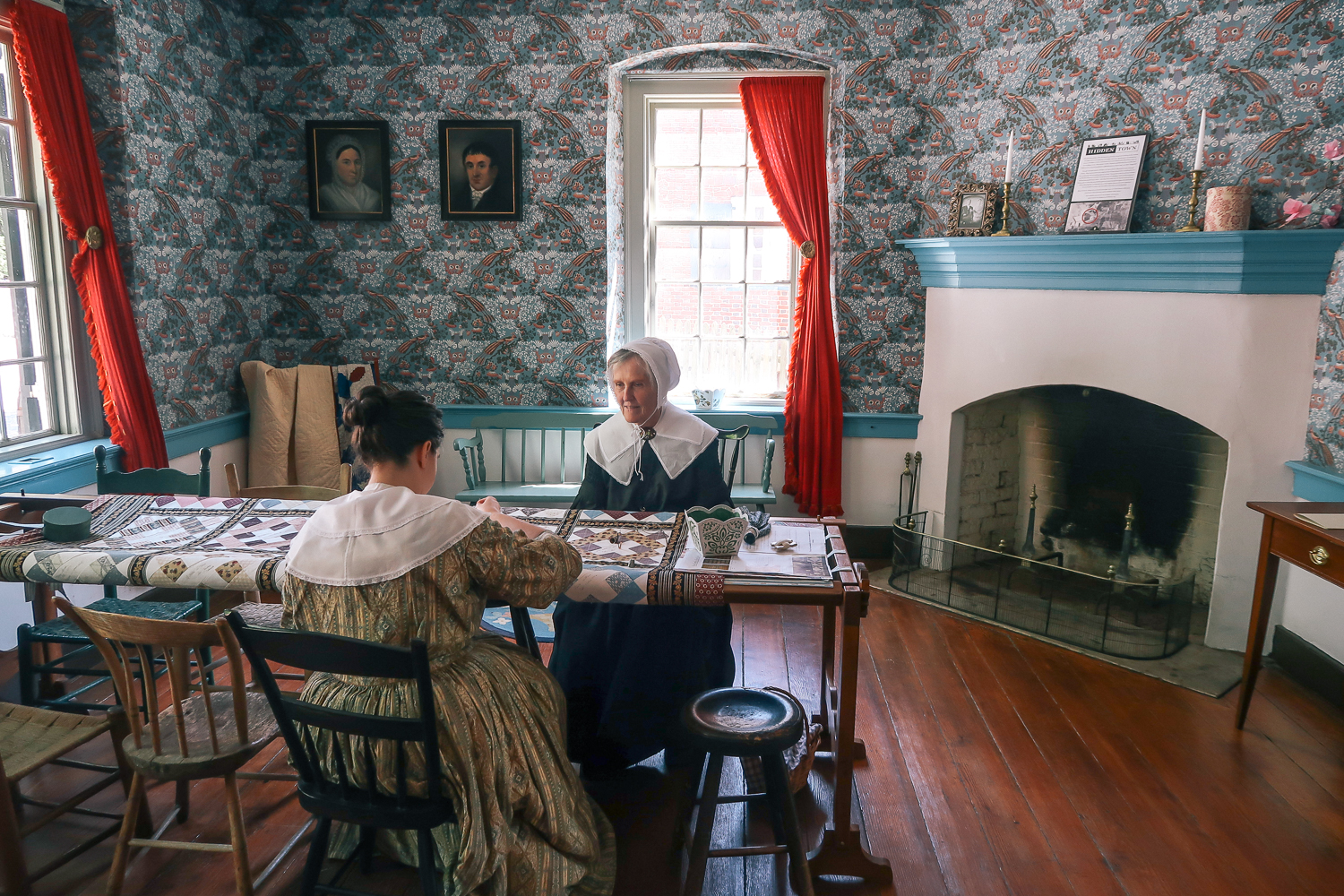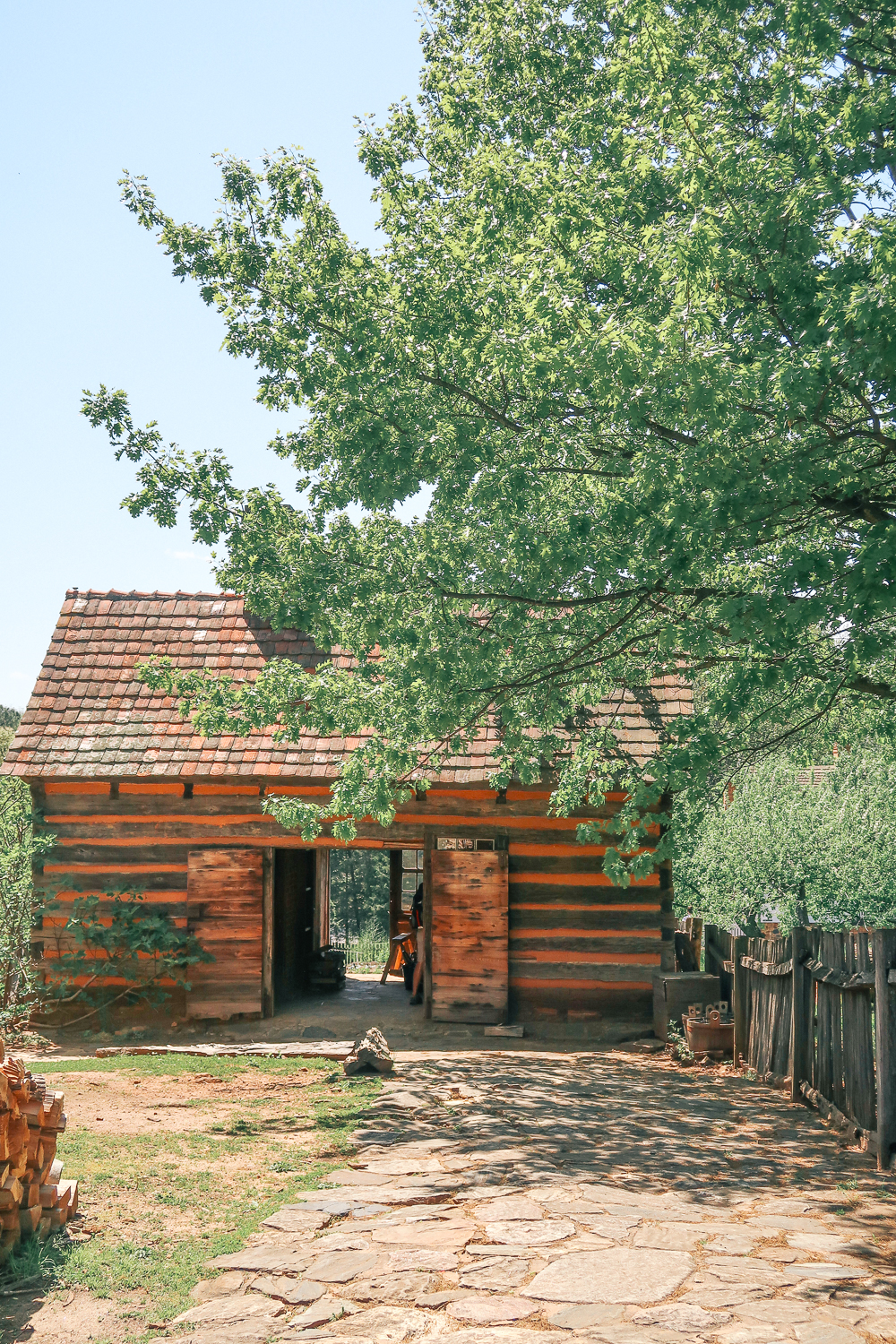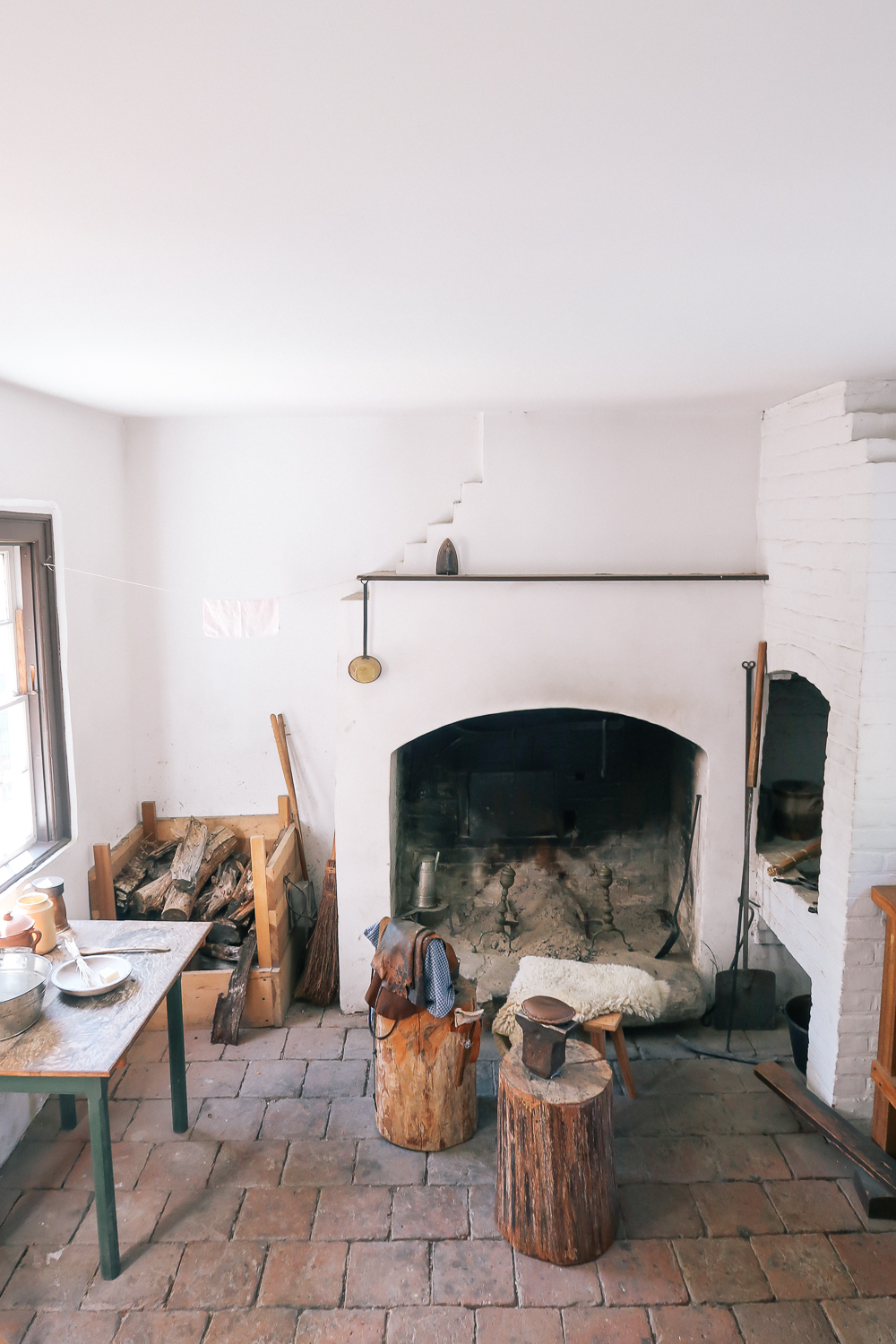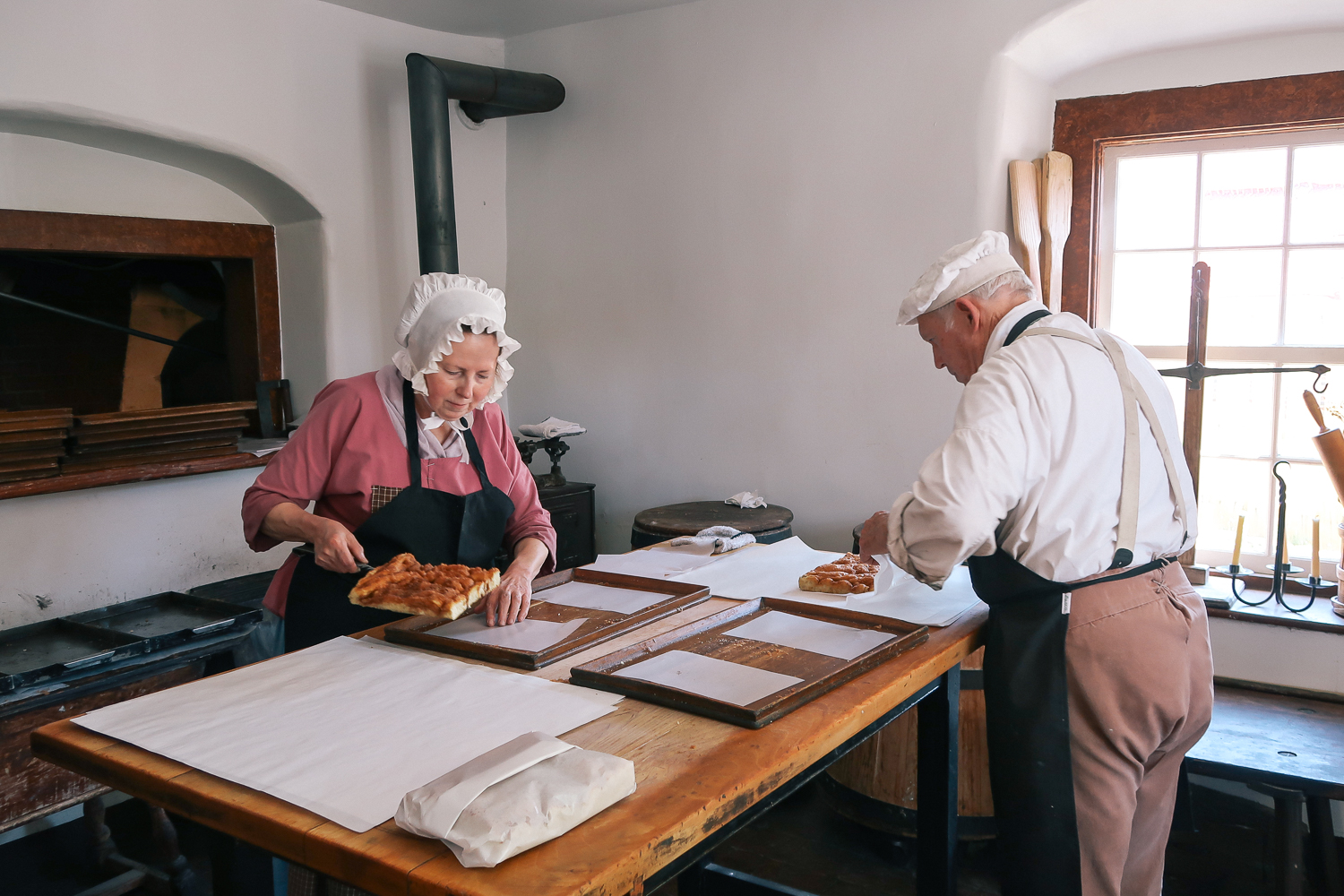 The Trade Shops:
There were many tradesmen in the community of Old Salem that kept it running and developing at an industrious pace.  Men from the Single Brothers' choir would be trained as tradesmen and develop their hand at a particular craft.  There were many different trade shops in Old Salem such as the Blue Dyer, Shoemaker, Tailor, Tin & Pewter, and the Potter.  Due to its popularity in the Carolinas, the pottery from Old Salem was the largest commercial enterprise in town.  We popped into the Potter's Shop where a costumed interpreter was creating a vase on an old-fashioned potter's wheel.  It was fun to see replicas of pieces excavated in Old Salem being created in the Potter's shop.
We stopped by the Joiner's woodworking shop, and I tried my hand at old-fashioned wood planing to see if I could use one of the authentic tools to smooth a piece of lumber.  I wasn't great, but it was neat try.  I can easily see why it might be therapeutic to create wooden furniture because once I tried wood planing, I wanted to continue until I mastered it!        
We loved stopping to take a turn and add a stitch in the community quilt being made.  I'm no stranger to sewing so my mom and I have talked about making a quilt using all my childhood dresses.  It has always seemed like an overwhelming task given how much sewing it would take.  I felt like my concerns over making our own quilt were justified when it seemed to take forever when I made a few stitches in the community quilt.  I guess it's a good thing we have the help of modern sewing machines now 😉 Nevertheless, it was a very fun and unique experience.  Guests who visit Old Salem are encouraged to stop by and leave their stitch in a quilt too.
The Bakery:
One of the things I looking forward to in Old Salem was to drop by Winkler Bakery. I'm a sucker for fresh bread!  As one of the oldest and longest continuously running bakeries in the U.S, I was excited to try the famous Moravian sugarcakes! We watched how some of Old Salem's signature "sweet bread" was being made and bought some to take home with us.  However, of the two packages purchased, only one made it past our afternoon sweet tooth to actually go home with us though 😉 Beyond sugarcakes, Winkler's Bakery continues to sell bread, cookies, and a slew of other baked goods.  Just as it was over 200 years ago, the bakery keeps up tradition by heating it's dome bake oven with wood every morning.  The oven bricks are warmed to a white-hot 600º F before the wood & embers are removed to allow the oven too cool for the remainder of the day.  As the temperature drops, bread is baked first while the oven is still the hottest (up to ninety-six at a single time!).  Sugarcakes are baked throughout the day and then sugar cookies are saved last for the end of the day.  One thing that I didn't get to try was their chicken pie, so I guess I'll just have to plan a return trip!
Years later in 1937, another bakery that you might be familiar with opened in Old Salem.  Founder Vernon Rudolph opened the original location of his Krispy Kreme Doughnut Company on Main Street.  While the original location is no longer in existence, it's fun to know where one of my favorite donut shops got it's start!
The Apothecary:
Since my mom is a nurse, we had to make time to see Dr. Vierling's apothecary and check out some of the medical instruments and health practices performed in Old Salem.  It was interesting (and sometimes a little alarming) to see some of the tools used and read stories of various medical conditions that Dr. Vierling treated.  He was one of Old Salem's most renowned early physicians and his beautiful home supported that.  It was interesting that the Apothecary stayed fairly up-to-date on modern medical techniques while also leveraging herbal knowledge of local plants for healing & treating illness.  I would like to mention that some of the stories in the home's museum include limb removal and other topics that may not be suitable for the faint at heart… I mustered through it, but recommend skipping some of the stories if you get queasy hearing about medical stories like me!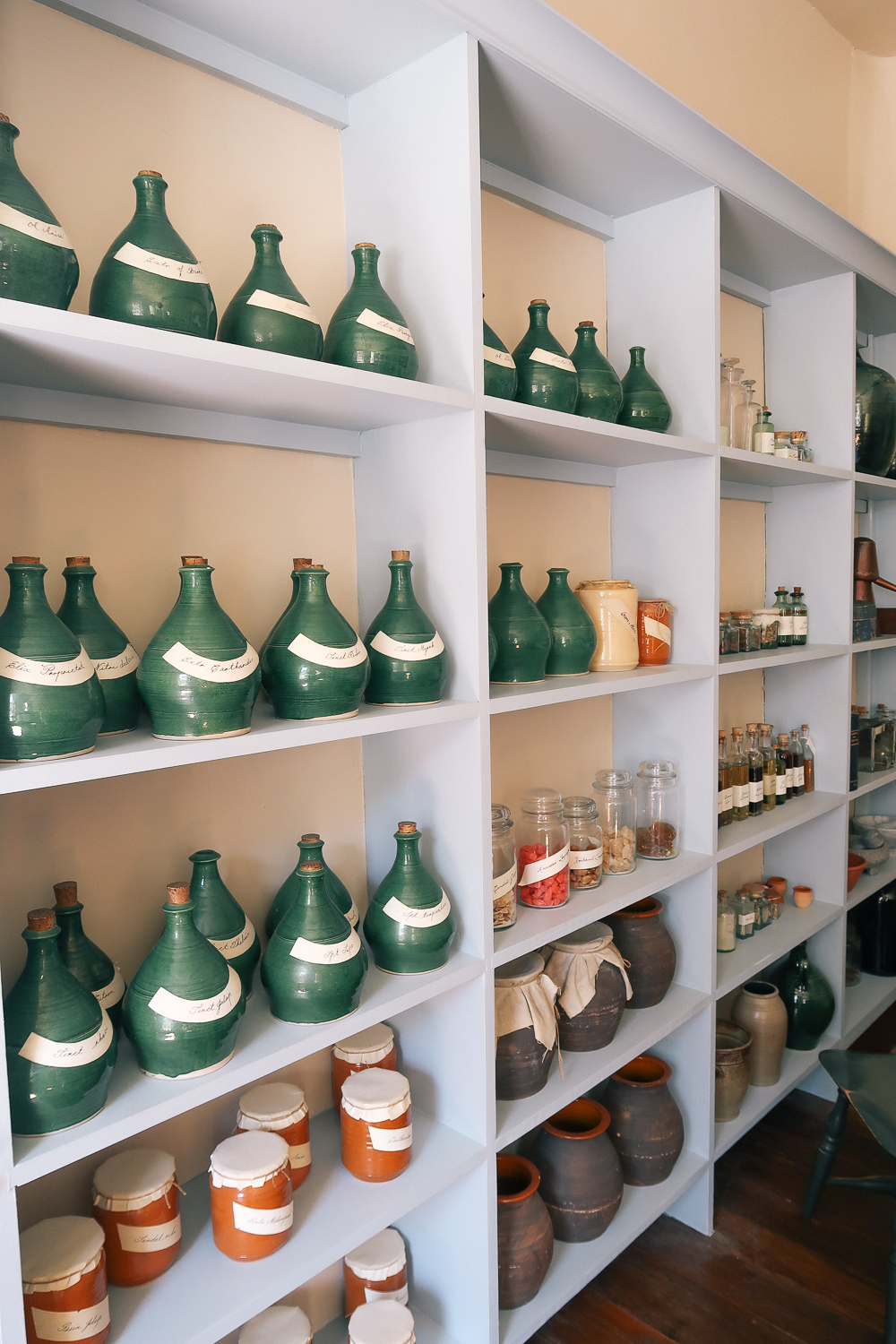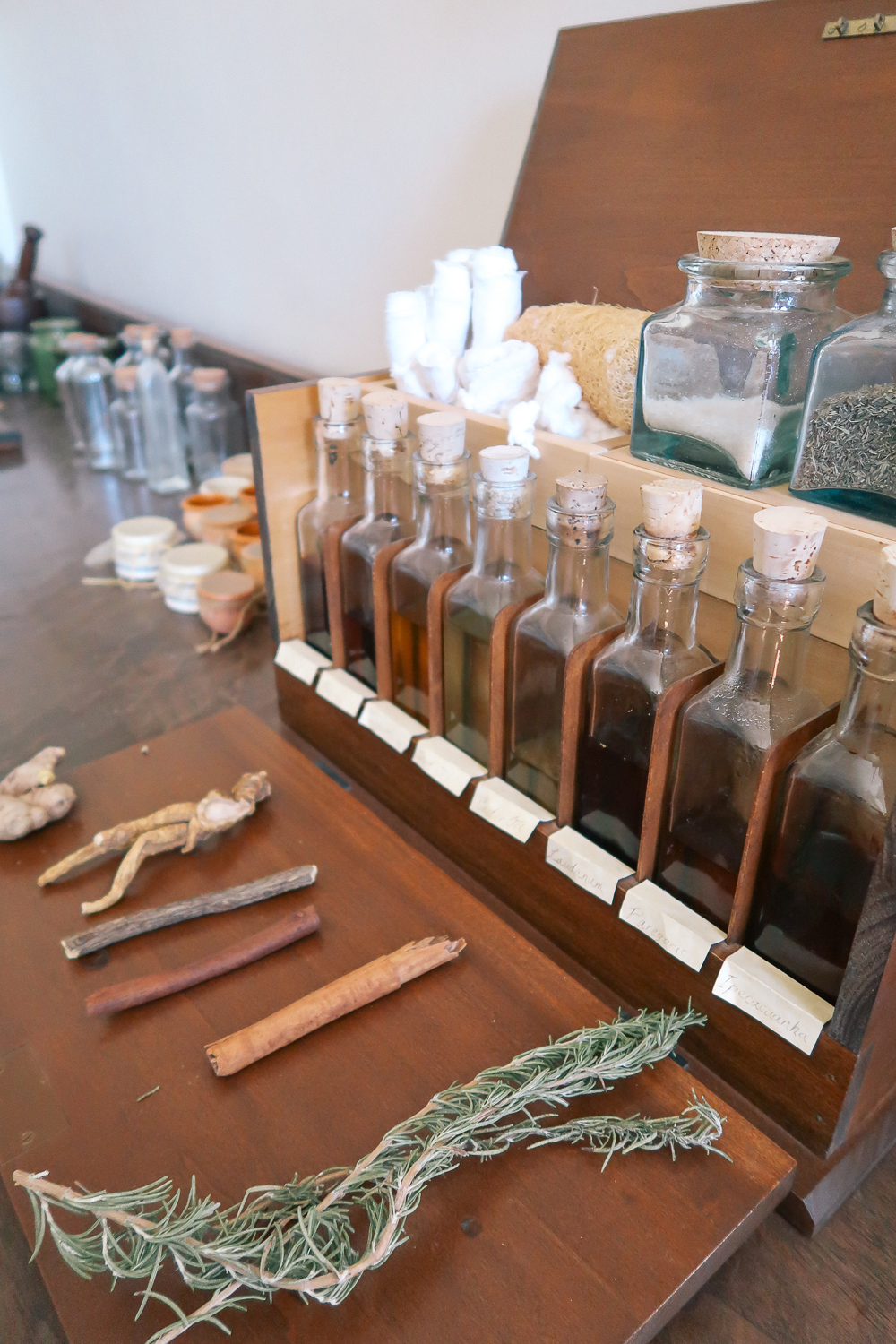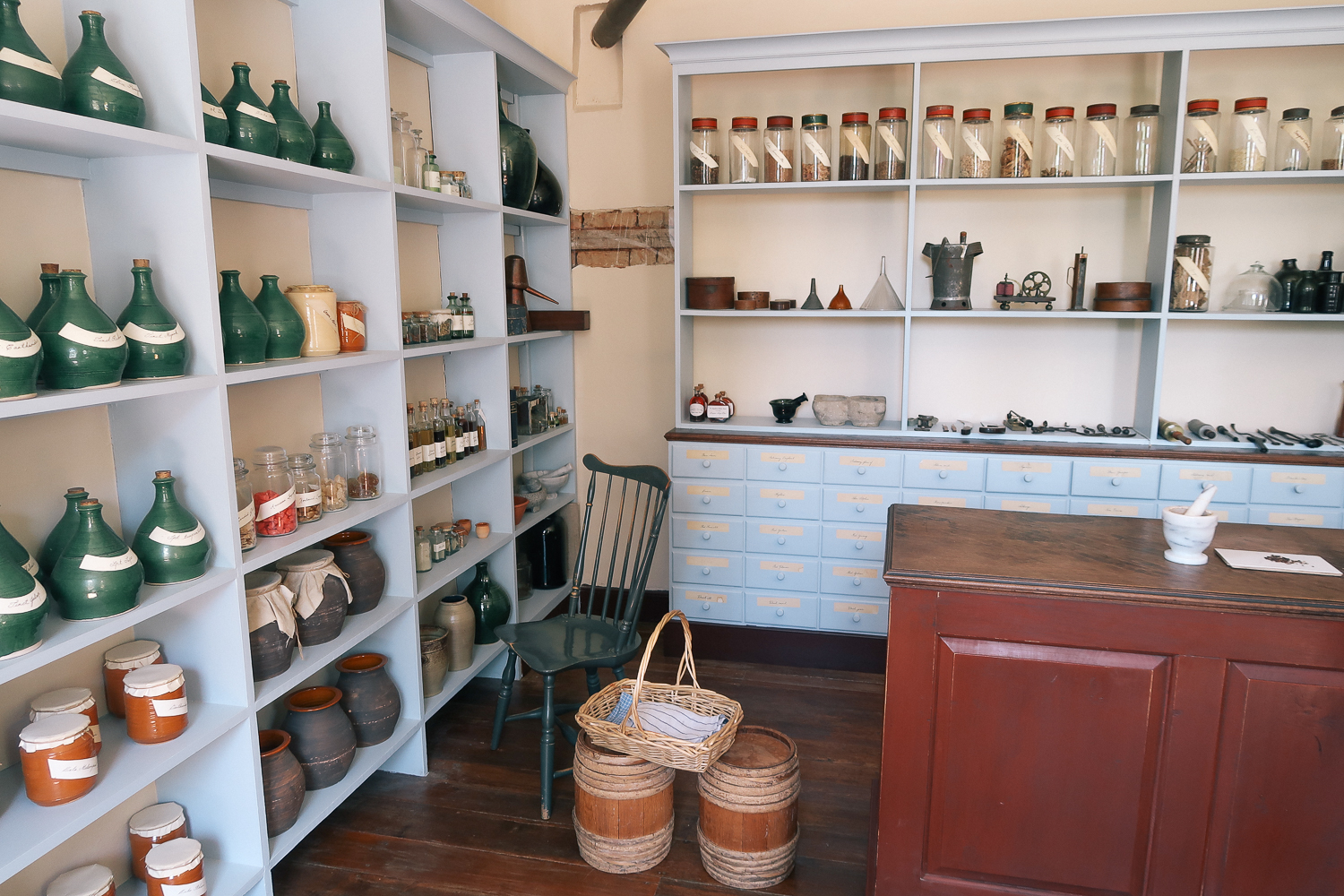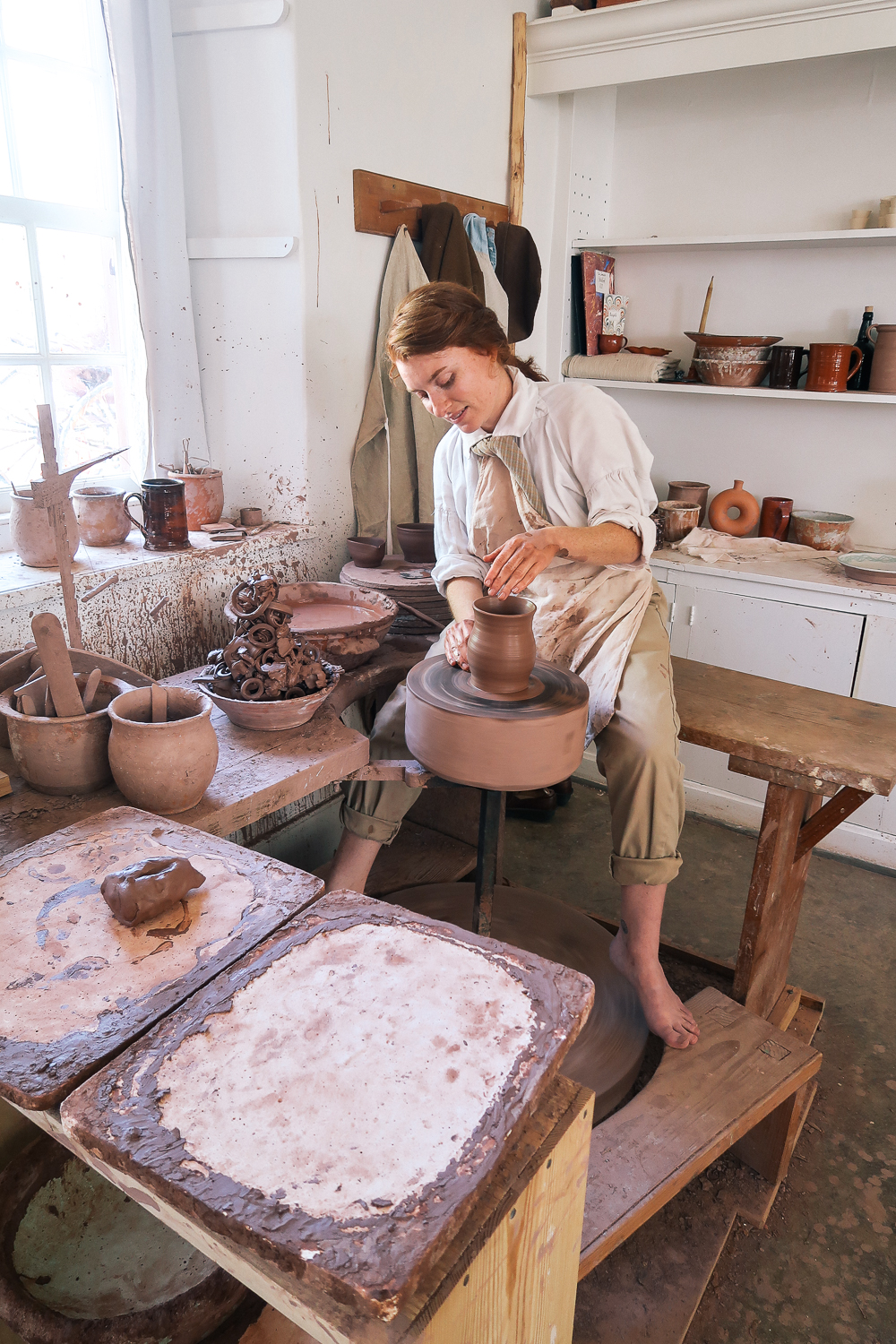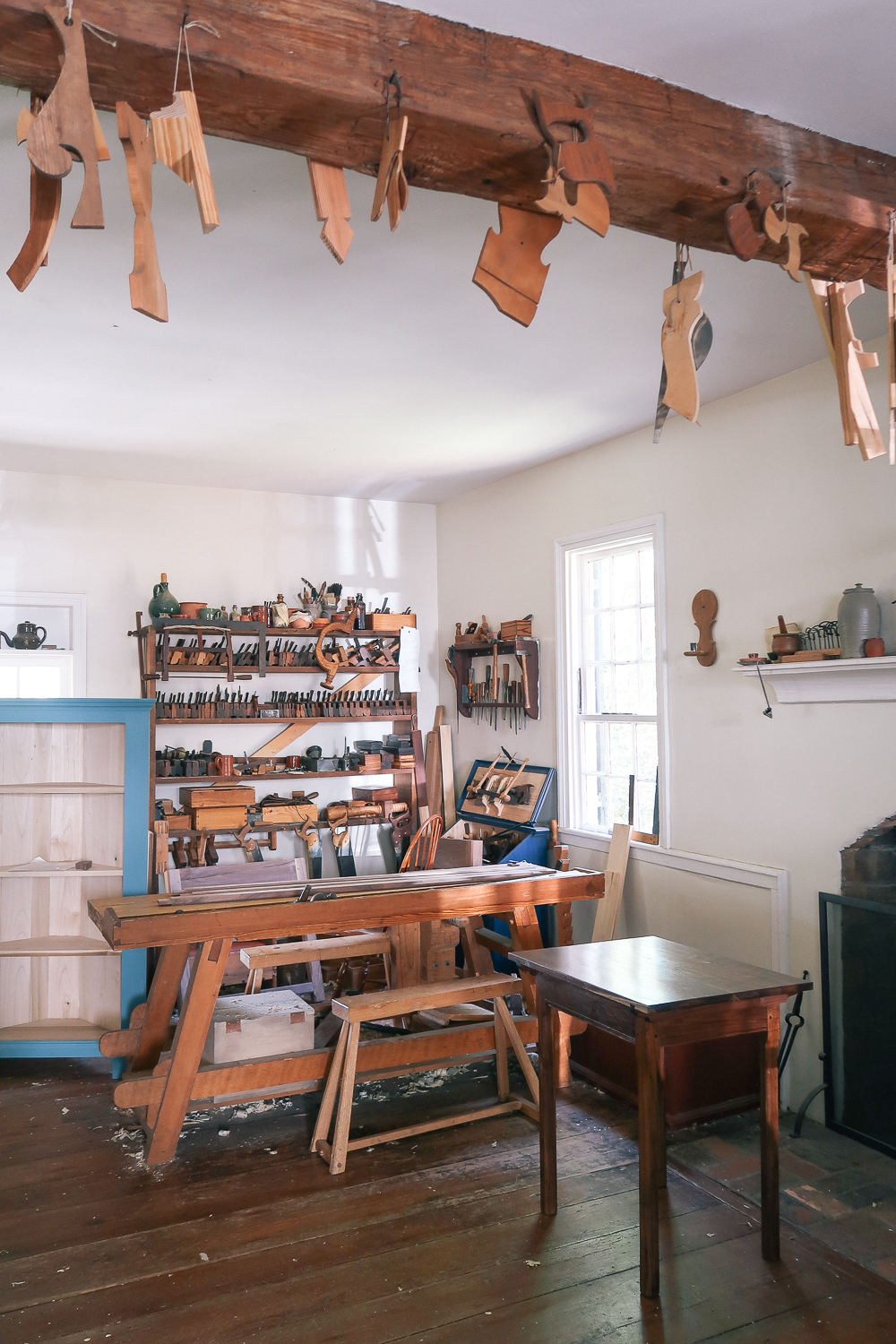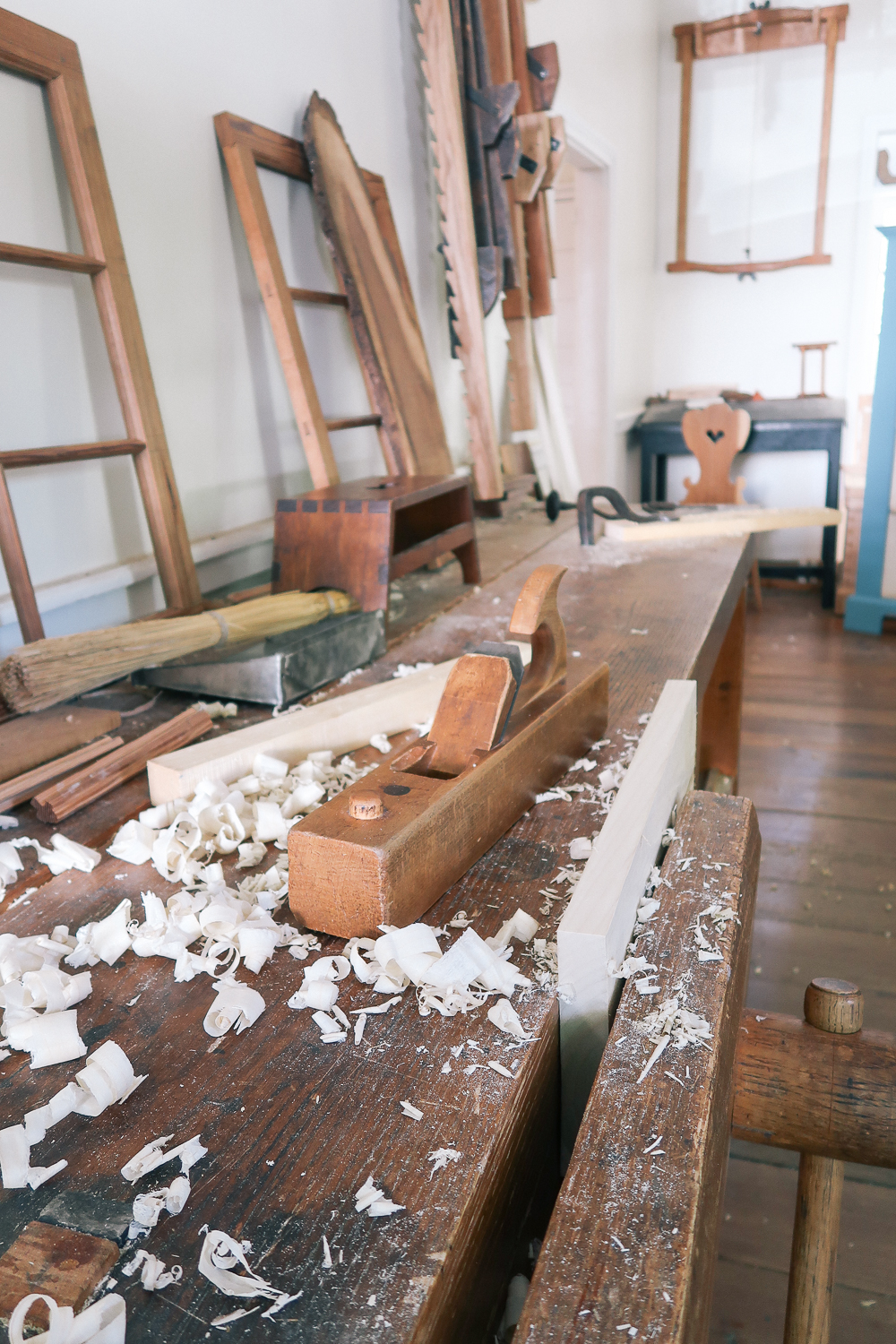 Salem College:
In line with the progressive nature of the Moravians and their strong belief in equal education for women and men, Salem College was established as a girls' school.  Later it became a high school academy and then a college.  It is a liberal arts women's college and the oldest educational establishment for females still in use.  Salem College is a relatively small college with around 1,100 students and it shares it's campus with Salem Academy, a residential high school for young women.  I loved that the Moravians emphasized equal education among genders and that Salem College is still upholding that intention.    
Old Salem Today: 
In 1948, Old Salem was actually established as the first National Historic Landmark District in North Carolina and only the fifth locally zoned historic district in the country.  It was such a pleasure to walk through the streets and see some of the beautifully restored buildings that make up Old Salem.  With such a rich and interesting background, interactive costumed interpreters and great sweets and more, I can see why Old Salem is a popular destination for both young and old.  My mom and I loved our afternoon in Old Salem and are so grateful for our fun opportunity to experience a hands-on history lesson in this sweet little town.