A Smart Alternative to French Fries:
I've got FOOTBALL on the brain as college games (Go Jackets!) are in full swing and my girls only NFL "Fantasy Football – Lipstick League" enters it's 4th week… and nothing compliments a good game better than some great food, like this easy zucchini fries recipe.
I'm planning a big tailgate with friends for the Georgia Tech vs. Clemson game on November 15th, and I've started experimenting with fun easy recipes I can mix into the standard burger & dogs menu.  I think these baked easy zucchini fries are a great option (especially if you want to switch it up from standard 'ol french fries).
What You'll Need:
2 zucchini
1 egg white
½ cup Panko bread crumbs
½ cup shredded Parmesan cheese (the fresher the better!)
¼ cup low-fat milk (or almond milk)
¼ cup Italian seasoning
1 tbsp garlic powder
Olive Oil
Large baking sheet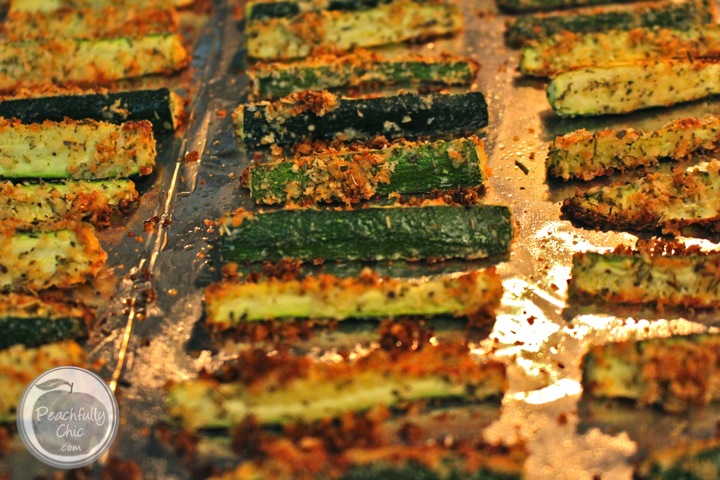 How To Make It:
Preheat the oven to 425º F
Prep a large baking sheet with a light coat of olive oil rubbed on it to prevent the zucchini from sticking to the pan (cooking spray works fine too)
Rinse the zucchini
Longways (I know, it's the least technical word I could use here)… slice the zucchini into 8 sticks each
Whisk the milk & egg in a bowl until mixed
In a separate bowl, combine: breadcrumbs, cheese, Italian seasoning,  & garlic powder
Dip the zucchini strips into the milk/egg mixture thoroughly
Roll each zucchini strip in the breadcrumb mixture until completely covered
Lay the zucchini strips along the baking sheet so they are not touching
Bake for approximately 25 minutes, or until golden brown
Serve & enjoy!
[disclaim]Note: The thinner you slice the zucchini sticks, the crispier they will be (same concept as french fries).  So if you want crispy zucchini fries, cut more sticks than 8 each!
Be careful not to cut the sticks too thick though, otherwise you'll end up with a soggy mush in the middle when you bite into them.[/disclaim]
So even if you're not a big fan of my beloved alma mater, GA Tech, it doesn't really matter… because if you're a big fan of finger foods, this smart alternative to french fries is your key to wowing everyone with a healthier and delicious game time snack!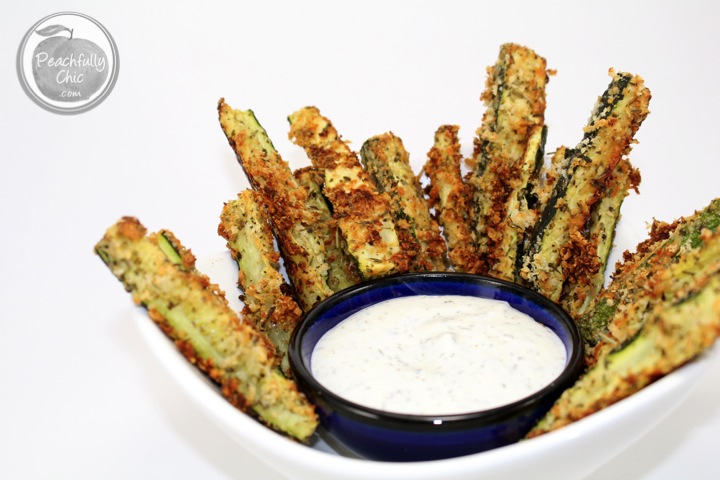 Let me know what you think next time you serve up these baked zucchini fries!  I would love to hear about your easy or healthy game day recipes – don't forget to share them with us in the comments below!