Lipstick League – End of the Season Tips:
And that's a wrap.   I've finished the season of our fantasy football "Lipstick League" with the girls and I'll be honest, the season didn't go so hot for me.  If I were a pinterest project, this is about the time you would stamp "FAIL" across my photo attempt.
I like to think of myself as a pretty sports centric gal.  I've realized this past season though, that while I'm super competitive and I LOVE playing really any kind of sport… I can't say that I really was all that committed to my first season of being in a fantasy football league.
This past fall has definitely been a learning curve – I don't think I've ever known more about the NFL before now… but there's still SO much that I just don't know.  I could never really get into watching Sportszone or any of the other multitude of sports newscasts/recaps that I probably should have been watching in order to best select my lineup each week.  So here's a few takeaways I'll remember going into next season:
 Set a Calendar Reminder:  I'm a busy person, and adding in the Lipstick League to my schedule this year might not have seemed to be much, but I could never quite get into the habit of setting my lineup every week.  That being said, I should have set a calendar reminder each week on my phone.  Then maybe I wouldn't have forgotten to get my roster in order those various four weeks throughout our sixteen week season. Oops.
Stay up to date on NFL news updates: You should definitely watch a little more ESPN than I did… I might have casually listened in while Kevin watched Sportszone and I typed up the latest PC post, but it wasn't nearly enough to know who was projected to do well, injured, or any other random facts that probably could have helped me set my lineup.
Speaking of Injuries…. Injury reports usually have to be submitted by around noon on Sundays. So make sure you've got a good back up to fill your roster if you've got anyone injured on your team, and trade up if you don't!  I was nervous to trade around players at first, and I avoided doing so the majority of the season just because I wasn't really impressed with what was open the few times I did look, but it helped me after the fourth week when over half my team had season-ending injuries. Ouch!
Ask the Experts: While I made pretty much all of my weekly lineup decisions on the go… whether I remembered to set it as I was walking out work or walking into my weekly softball game…. I never had anyone around to bounce opinions off of.  And since I wasn't an expert, I relied heavily on the projected points that each player was given in the Yahoo! app we were using.  The few times I had a football fanatic around to ask for their opinion, it really helped.  I'm not suggesting you have your boyfriend/hubby/brother/dad/whoever play your league for you, because I never really even got Kevin's help, but if you can bounce your ideas off of someone who knows more about NFL than you… I say take advantage!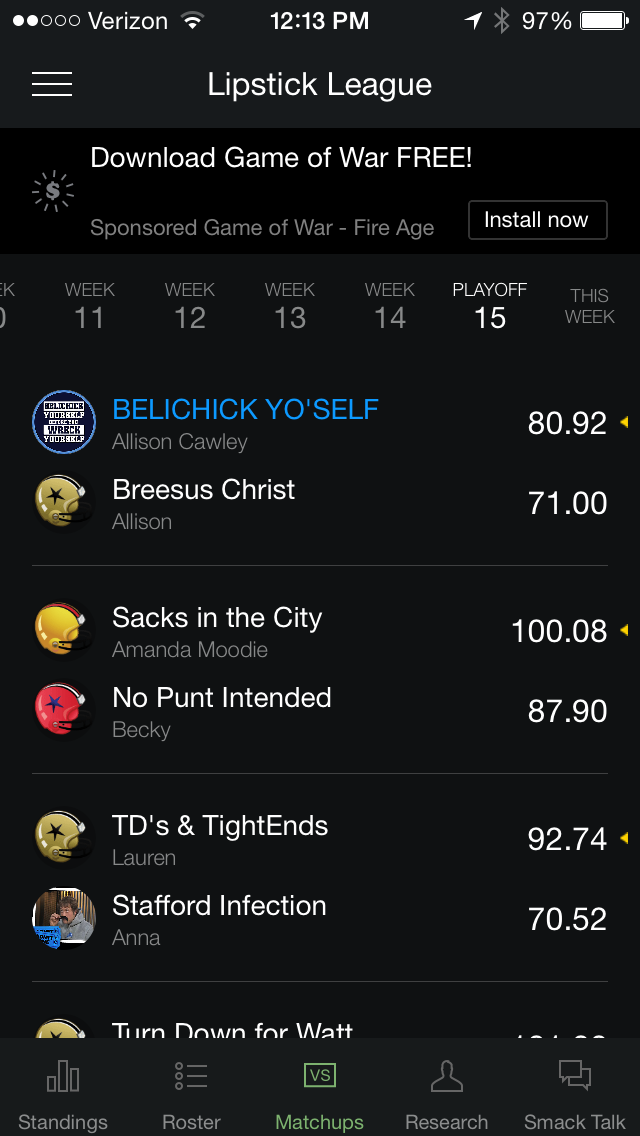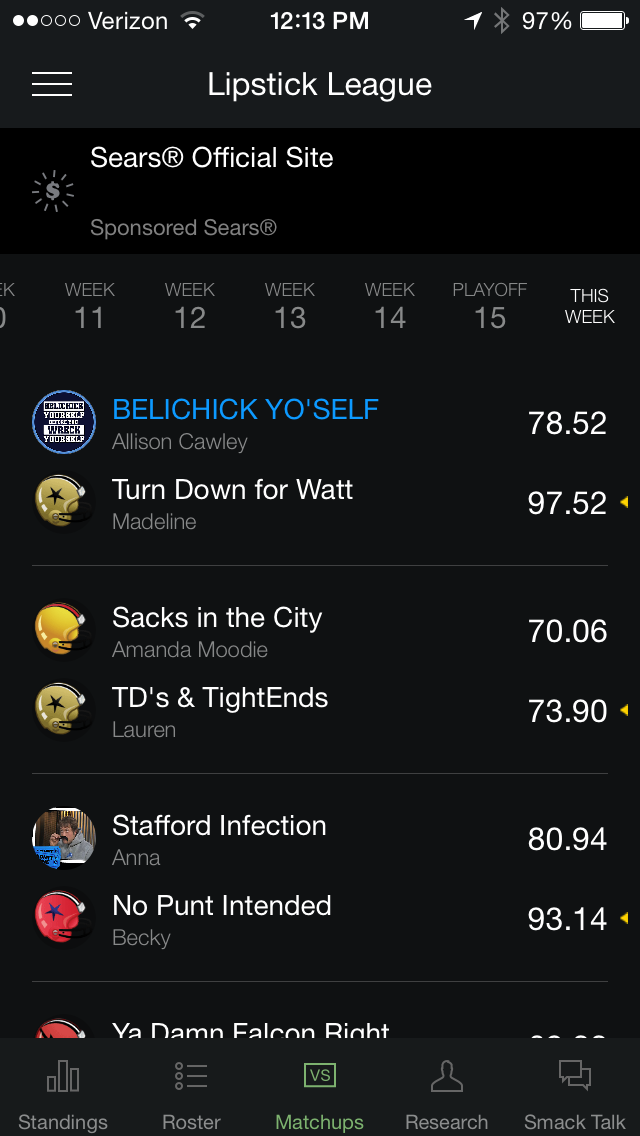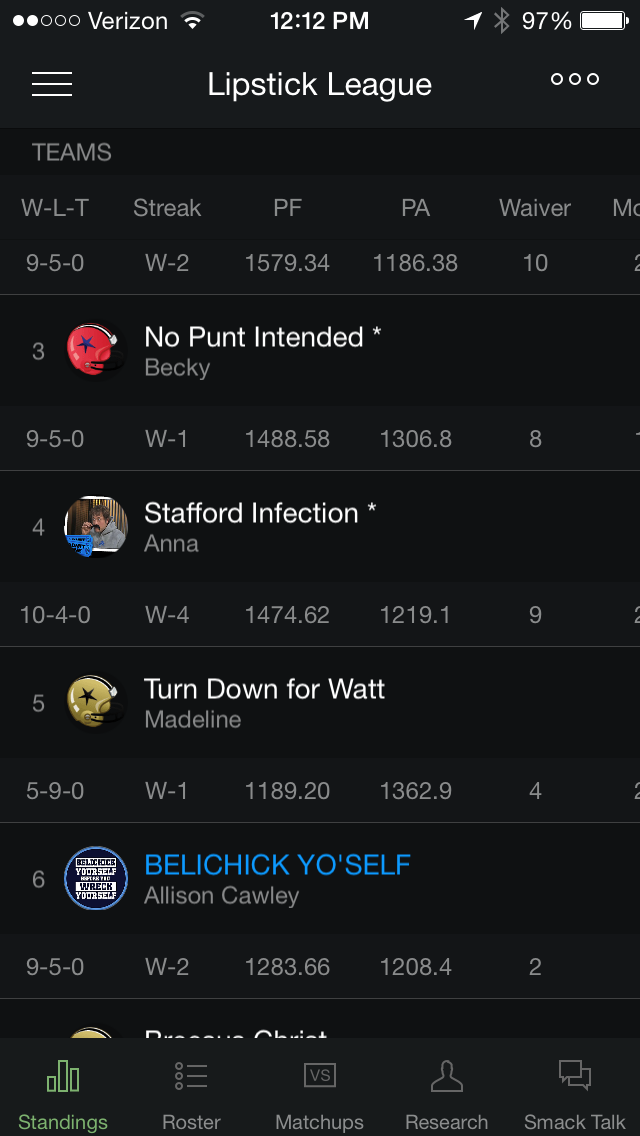 So I finished the season in sixth place of eleven ladies. Not great… but on the bright side, I wasn't last!!! 🙂  Anyways, this past season was a huge learning curve for me and I'm excited about playing in the all girls fantasy football league!  
If you have any other tips for me beyond what I already shared above and in the original all girls fantasy football league intro and then the first week recap – please let me know!  I probably need all the help I can get to make sure I'm a little more legit next season!
Also, I would be interested in knowing if any of you prefer an all girls fantasy football league compared to playing in a co-ed league. I'm not stuck on either, but I would be curious to know if any of you have seen a big difference between the two types of leagues 🙂
See you next season!